As a web and mobile app development company, we not only build software. We strive to build trust and lifelong partnerships with our clients. Of course, I've seen doubts reflected in the eyes of many clients at the start of our cooperation but all of those fears gradually disappear as the fruits of our cooperation began to speak for themselves.
I don't ask you to wait that long. Just 6 minutes of your time to read this article.
We keep your ideas protected by the law
For this purpose we employ transparent legal support for each of our projects.
The first step in this process is signing a Non-Disclosure Agreement (NDA). We recommend doing this before telling your future development partner about the idea or concept of your project and sharing related documents and files. This way they are legally bound to keep all information 100% confidential.
Originally, NDA aims to ensure that all of your trade secrets stay strictly confidential. A trade secret is a very wide notion that encompasses anything, from a new more efficient way to run your business to a unique app architecture. A nice bonus here: NDA doesn't have a specific expiry date.
Secondly, we sign the legal agreement (contract) in which we spell out everything concerning terms of cooperation, including the Intellectual Property (IP). We usually do it at the very beginning of each cooperation.
As a general rule all the IP rights belong to our clients. It's you, the person behind the idea of a project who will own the ensuing product and all of its components.
To protect your competitive edge our contracts even contain a Non-Compete Clause (NCC). It states that for a period of time MindK shall not launch or develop its own solutions that are direct competitors of yours. Likewise, it restricts our ability to accept similar offers from other customers to avoid direct competition with your product.
We provide our clients with templates for both NDA and contract which can be adjusted and perfectly tailored to your business requirements.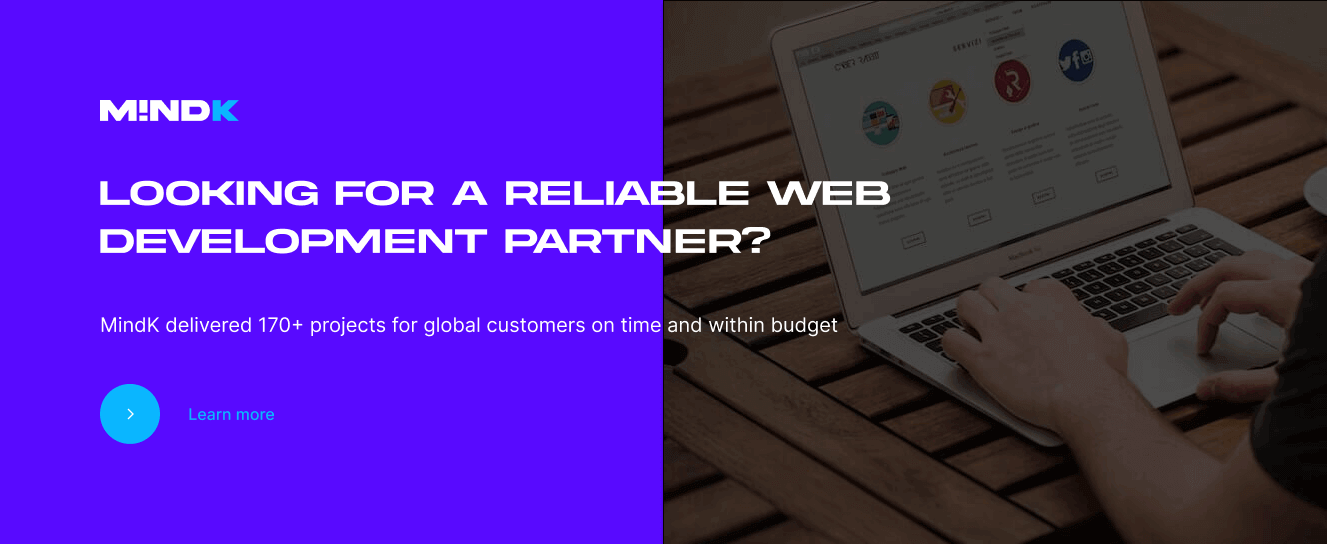 Full transparency from day one
We preach the gospel of transparency at every stage of development, from the very first crude estimate up to the launch of your product:
1. We introduce you to the team that'll bring your vision to life. We do this long before a single line of code is written.
You'll get to know each of its members via a video conference. You'll learn about their technical expertise, language proficiency, soft skills, and even discover what makes them tick.
This is not a one-time offer but a right you can use at any point of development. For instance, you can also join Slack chat rooms to be in the loop. You can even request them to visit your location or you can come over to our R&D office.
2. We take your budget and spendings seriously. MindK employs professional Project Managers who are responsible for budget control and risk management.
One of the most common woes in outsourcing is companies that go over budget. They estimate that implementing a feature will take a week but then a month passes and nothing happens, then another one but there is still no end in sight. You can literally feel your money going down the drain.
We do our best to avoid such situations. We employ various risk management techniques. We always warn our clients if there is even a slight chance of cost overruns. Together we negotiate any changes to the budget or the scope. We don't spend your money until you agree to it.
That's an ironclad rule.
Moreover, we offer all our clients a warranty to fix all the bugs that appear during a set period of time. Free of charge! The warranty is spelled out in the contract and its period depends on the project's type and complexity.
3. Our Project Managers are always there to keep you updated on the current state of your project.
They send you (via emails or any other preferred format) weekly reports detailing the task progress, expenses, and the risks. You can also expect regular video-and-voice-calls from our Project Managers.
To better illustrate the point, here's some some quick statistics. In 2016 alone our clients have received 6674 emails, 492 phone calls, and 523 reports. Our PM have spent 1192 hours onsite with our customers. There is no way you'll be left in the dark.
4. We'll provide you with access to the test servers and repositories where we store the source code of your project, as well as give you access to project management tools like JIRA and Trello.
5. We make regular demos so that you'll always see the intermediate results of our common efforts. We do this even for our Fixed Price projects that use the Waterfall methodology.
6. As your partner for development, we won't leave you alone with any tech issues.
Sometimes the systems we develop for our clients turn out to be too complex to grasp at once. In such cases we offer free remote training so that your crew learns how to use the created system to full capacity.
Even though we don't work 24/7, you can rest assured we'll take care of your product in the case of any emergency.
We make regular backups and set up monitoring systems that will alert our engineers of the problems with your systems even if it's 3AM out there.
Our reputation is at stake
Over the years we've built up a considerable reputation that is in fact our main achievement.
MindK has been in the business since 2009 and we're here to stay. During this time, we've delivered more than 110 complex web and mobile solutions. Among our clients were ambitious startups and established businesses, digital agencies and large associations. The fact that the average partnership with our clients lasts for 5+ years really warms our hearts.
You can check out what our clients have to say about working with us here.
Our reputation is at stake every time we take on a new project. The last thing we'd want to do is to let you down. Simply, our success depends on yours.
Still have inquiries? Contact us and we'll gladly clarify any questions you have about working with MindK as a development partner.