Better patient care and efficient operations
Obtain the expertise you need to transform medical care. Since 2009, MindK has been providing healthcare software development services for medical organizations, associations, and startups. You too can benefit from secure data management, smooth UX, scalable infrastructure, and powerful analytics.
OPTIMIZE your PROCESSES
Without effective automation, no business is operating at full efficiency.
We streamline critical workflows and administrative tasks with custom software development for healthcare companies.
Healthcare customer relationships
Electronic health records
Medical practice management
DIGITIZE PATIENT EXPERIENCE
Transform your entire patient care with custom medical software development. We focus on user-friendly UI, easy onboarding, offline access from anywhere, and continuing user engagement.
Patient portals
Appointment scheduling
eConsulting and telemedicine
Medical e-Commerce
ANALYZE Medical DATA AT SCALE
Make better decisions with AI and data analytics. Structure huge volumes of medical data, analyze test results, identify and treat rare conditions, and prevent diagnostic errors with ML integrations.
Healthcare data collection
Data warehousing
MDM integration
BI and visualization dashboards
Medical chatbots & LLMs
Simplify integrations
Easily connect third-party and legacy systems.
We make health information exchange accessible and safe with robust API design, HIPAA-compliant integrations, and data interoperability.
EHR/HIE integrations
ERP, CRM, medical LMS
HRM & workforce management
Billing & claims
Insurance databases
SECURE YOUR PATIENTS' DATA
Comply with healthcare regulations and defend against data leaks. We integrate the best security practices into the SDLC to proactively identify, detect, respond, and recover from cyber threats.
Secure cloud services
HIPAA-compliance
Encryption and access controls
ENJOY LONG-TERM SUPPORT
Work with an enterprise-level partner to support your solution for as long as needed.
Release new features, automate delivery, and quality with our expert healthcare software developers.
Support & maintenance
Cloud cost optimization
Site Reliability Engineering (SRE)
UI/UX and software modernization
CUSTOM HEALTHCARE SOFTWARE
DEVELOPMENT SERVICES
Explore the most common types of solutions we build as a medical software development company.
Electronic Medical Records (EMR)

Manage medical data with ease. Our custom healthcare software solutions allow you to manage patient profiles, medical histories, treatment plans, prescriptions, and client appointments.

Secure medical document management
Patient profiles and medical histories
E-prescriptions and treatment plans
Automated appointment scheduling
Medical billing, CRM, and HIS integrations
Robust reporting, analytics, and offline access

Provide expert patient care anytime, anywhere. Let us implement secure and HIPAA-compliant video consultations, instant messaging, and remote monitoring. Enable offline charting, automated patient scheduling, and EMR integrations for convenient healthcare.

HIPAA-compliant video consultations
Virtual visits for non-emergency concerns
Instant messaging for quick medical advice
E-prescriptions
Automated appointment scheduling
Integration with EMR systems

Doctor-on-demand applications

Arrange instant appointments, real-time video consultations, and speedy prescriptions. Our custom MedTech solutions allow users to find the best doctors, make easy payments, chat securely, build trust through feedback, and automate administrative tasks.

On-demand appointments for urgent needs
Remote video consultations
Location-based search for nearby doctors
Medical billing and in-app payments
E-prescriptions
Doctor ratings & feedback

Mobile health (mHealth) and IoT apps

Deliver medical and wellness services on the go. Our healthcare application development company builds all types of mHealth apps. They provide users with rapid, straightforward access to vital treatment, monitor fitness activity, manage medications, receive timely reminders, and engage in health communities.

Fitness and activity tracking
Medical charting
Telemedicine
Appointments scheduling
Mental health and meditations
Remote patient monitoring

Let users access all personal health information in one place. Ensure secure storage of health records, prescriptions, test results, and doctor visits. We can integrate your portal with medical billing, insurance, patient scheduling, real-time chatting, and eLearning features.

Personal health records
Test results and doctor's notes
Appointment scheduling
Telemedicine integrations
Built-in chat
Billing and insurance

Integrated healthcare systems

Develop a custom medical solution using a scalable modular architecture. We'll help you select the best out-of-the-box modules, integrate legacy systems, and build custom dashboards. Enjoy data security, compliance, and interoperability with data warehouse and MDM solutions.

Data interoperability
HIPAA compliance
Third-party integrations
Business process automation
AI, and LLM
MDM & data warehousing
TRANSFORM YOUR HEALTHCARE SERVICES
We offer full-cycle healthcare software development services to meet patient needs while addressing your corporate goals.
Secure medical data management
Compliance with healthcare standards
Deep analysis of healthcare data and AI insights
Focus on UX and performance for better patient service
High-speed data processing
Healthcare business process optimization
State-of-the-art data visualization
Integrations with 3rd-party systems
SECURE YOUR HEALTHCARE DATA
To protect your business, MindK follows all key industry regulations and data protection standards in healthcare software product development.
Healthcare regulatory standards and certifications
Our team follows NIST guidelines and key privacy standards like GDPR, HIPAA and HITECH.
We use data exchange standards HL7, FHIR, CDA, DICOM, ICD, ICPC-2 as well ISO 9001, ISO27001, and SOC2 certifications.
Secure data storage and transmission
To protect your product from system failures and harmful attacks, we exclusively use highly-trusted hosting servers like Microsoft Azure and AWS. We also encrypt data flow between the system, cloud, and users.
Robust data and access control
We employ a variety of security measures that have proven effective in the field.
They include multi-factor authentication, strong passwords, automatic logout, permission levels, and robust logging systems to retain previous user data.
Selected case studies
9/10 of MindK clients are ready to recommend our medical software development services. Here are some of their success stories.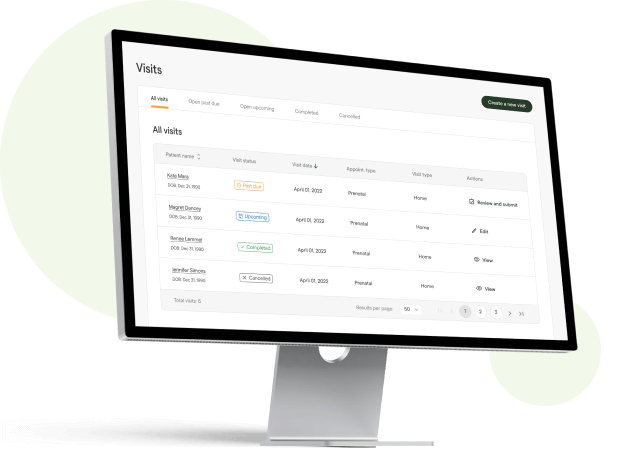 ELECTRONIC MEDICAL RECORD SYSTEM FOR LACTOLOGISTS
How do you organize and manage patient data?
The challenge
TLN is an American company that, through a lactation network, essential tools, education, and advocacy, revolutionized the standard of care for parents and babies. They provide insurance-covered lactation consultations and products that help clients feed their babies, as well as unlimited access to educational resources.
The solution
We helped TLN develop a massive cloud-based EMR system. It helps lactologists consult clients online and generate extensive patient documentation. The EMR secures and streamlines data flow between doctors, insurers, and parents. It features an offline mode, HIPAA-compliant video and Salesforce integrations. TLN now matches lactologists with more clients and streamlines the revenue cycle completion.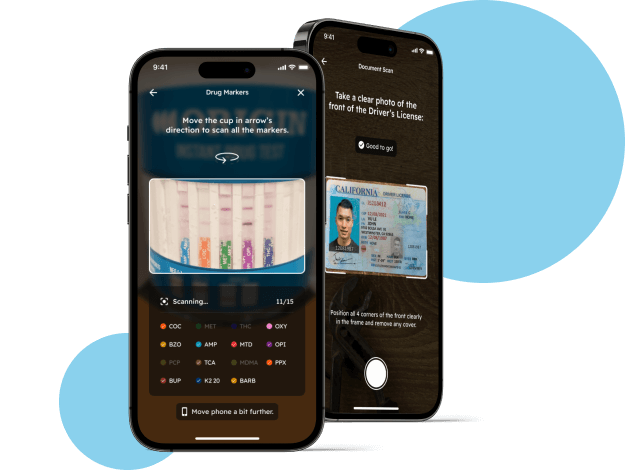 AI-POWERED APP FOR OCCUPATIONAL HEALTH SERVICES
How do you analyze and report medical tests?
The challenge
Our client is a US-based company that provides occupational health and background screening services. They also produce instant drug test kits that show accurate test results in minutes not days. The company needed to streamline the process of validating and delivering results to clients.
The solution
Our medical software developers built a mobile app that combines over 200 occupational health services. They range from instant drug screening with ML algorithms to vaccinations, blood and eyesight tests. The app features automated consents, background checks, EMR charting, and integrations with most HR systems. With no need for paperwork, employees can resume work faster and save the company's money.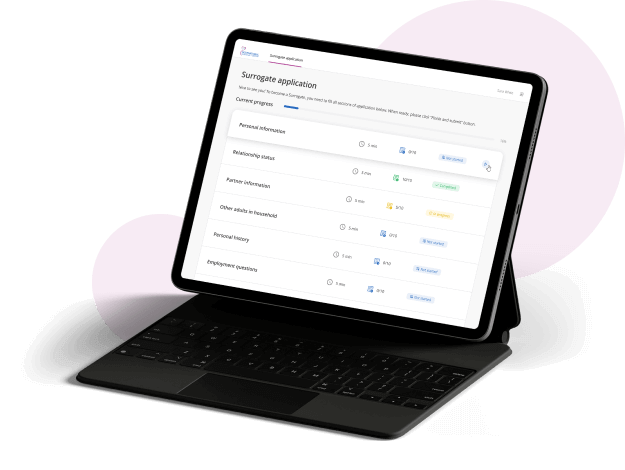 CLOUD-NATIVE SYSTEM FOR SURROGATE PARENTING
How do you automate administrative healthcare work?
The challenge
The International Surrogacy Center (ISC) is a Californian company that helps aspiring parents. It searches for potential mothers that fit each couple's requirements. It then supports both parties in their journey to happy parenthood. Previously, this process involved a lot of manual checks and costly administrative work.
The solution
We automated the entire process of matching surrogacy candidates with suitable parents. Both can apply via a secure HIPAA-compliant system. It includes both automated and manual checks to validate potential surrogates. A step-by-step application process allows users to submit personal information gradually. The system integrates with the client's CRM, saving a lot of time and money for the operational team.
We've been successfully cooperating with MindK since 2010. What we were impressed with about people at MindK during all years of partnership — they never give up. Software development is all about risks, problems, and finding solutions for us and our clients. We're not worried, as we know that MindK always finds a solution.

Jens Christian Bang
CEO of Already On
Why MindK
Deep understanding of healthcare regulations and business processes
01
Expertise with Big Data, AI, and cloud-native technologies
02
End-to-end custom MedTech software development services
03
Data security, privacy, and IP protection with NDAs
04
Develop your healthcare solution with MindK
Let us know about your technology challenges and we'll
help you resolve them.
Frequently Asked Questions (FAQ)
What is software development in healthcare?

It refers to the process of creating, designing, and implementing software that addresses the unique needs of the healthcare industry. It requires both technical expertise and a good grasp of healthcare regulations, medical science, as well as needs of providers, patients, and insurers.

Who develops medical software?

Medical software is typically developed by a team of software engineers – developers, QA specialists, DevOps gurus, UI/UX designers – who specialize in healthcare technology. These professionals collaborate using a variety of methodologies like Scrum or Kanban to create all sorts of innovative software. 

What is the SDLC model for healthcare?

Software Development Life Cycle (SDLC) is a structured approach to building medical software. The industry follows many alternative SDLC models. Yet, they all include the same key components. Requirements gathering, planning, architectural design, software development, testing, deployment, and maintenance ensure the product meets the needs of healthcare organizations.

What are the advantages of custom medical software development?

Custom software development provides a lot of benefits for healthcare organizations:

Meeting your unique requirements to improve efficiency and customer service.

Enhanced productivity with streamlined workflows and automation of repetitive tasks. An added benefit is higher productivity and reduced human errors.

Custom integrations with third-party tools and the company's internal systems for efficient data sharing and interoperability.

High scalability to handle any increases in data volume and user demands.

Excellent security and HIPAA compliance. A medical software company can implement a variety of features like multi-factor authentication, robust access controls, secure data storage, backups, anonymization, and VPN tunneling to protect your app. 

How much does it cost to develop custom medical software? What is the expected timeline?

The cost of developing custom medical software can vary depending on many factors. They include the project complexity, number of features, non-functional requirements, such as security and scalability, as well as the team's rates. Depending on these factors, custom medical software development might cost you from $90,000 to $500,000 and more.

Similarly, the timeline for development depends on the project scope and complexity. A healthcare software company might complete a small proof of concept in less than three months. Meanwhile, a complex healthcare system will usually take between 12 and 36 months to develop.

Are there any regulatory considerations for custom healthcare software development?

Custom software development for healthcare companies is subject to various regulatory considerations. They depend on your location and type of software. For example, most healthcare apps in the USA must comply with HIPAA, FDA guidelines for medical devices, as well as other relevant state and federal laws. That's why it's essential to work with a software development partner with experience in healthcare regulations.  

What security measures do you implement as a medical software company?

MindK is constantly searching for new practices that improve code security and quality. Depending on your requirements, we might implement the following features:

User authentication with secure passwords, SMS codes, biometrics, location control, automated logout, and more

Robust access controls to ensure only authorized users can access data that's limited to their role in the organization.

Secure data storage and backup – whether you need cloud hosting or dedicated servers to store data in the country of residence. 

Encryption with industry-standard protocols to protect sensitive data in transit and storage.

Auditing and logging to maintain audit trails and track any suspicious behavior.

Regular penetration testing. MindK works with certified providers that specialize in detecting security holes. We also regularly update the underlying technologies to patch any backdoors and vulnerabilities.

Automated vulnerability scanning with code analysis tools like Snyk and SonarQube.

Can you integrate custom healthcare software with my existing systems?

Yes. Software development for healthcare often includes third-party and internal API integrations. To save time, we might integrate your system with a variety of AI & Machine Learning tools, ERP and customer relationship systems, HIPAA-compliant email and video chat, accounting tools, and any third-party APIs.

How to choose the right software development partner?

Consider the following factors when choosing the right software development partner:

Expertise: look for a company with a proven track record in custom healthcare solutions. They must understand the industry's unique challenges and regulations.

Experience: assess their experience in similar projects during introductory calls. Look at the relevant case studies and inquire about their past client references.

Compliance: ensure they have a strong understanding of regulatory requirements.

Communication: choose a partner who actively involves you in the development process, understands your unique needs, and provides regular updates.

Quality Assurance: inquire about their QA processes and methodologies to ensure the developed software meets your standards.

Maintenance and support: consider their ability to support and improve the software post-development.

Carefully evaluate these factors to choose a healthcare software development agency that matches your goals and technical requirements.