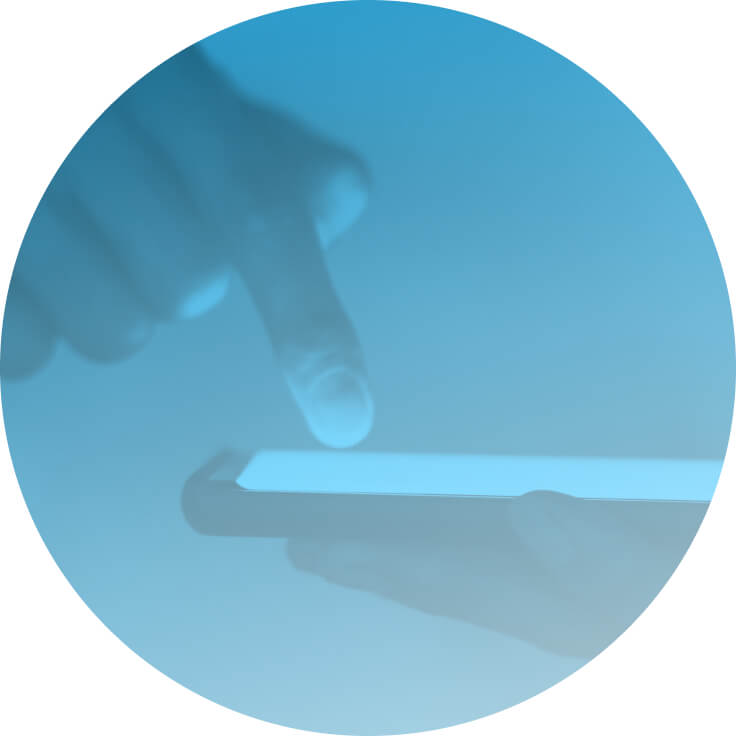 Product
Development
Services
Ideate a new product, develop it, and take it to market. All this with a strong team that delivers
result in line with your product vision.
Our workflow
Bring a winning product to the market through a cycle of iterative development carried out by our high-performing product team.
From concept
to release
Use our software product development services to build a valuable solution to your customer problem, prototype it so you can get feedback from your users, design an excellent user interface, and create a product that offers the bare minimum needed to validate your idea on the market.
Tackle the risks
upfront
The purpose of the product discovery – the first stage in our full-cycle product development process – is to tackle risks before we write even one line of code. During our discovery phase, we separate the good ideas from the bad to find a solution that is worth building.
Value risk
Discover a solution that users will choose to use and customers will pay for.
What you get:
A prioritized product roadmap
01
Usability risk
Make sure your target audience can figure out how to use your product.
What you get:
Designs based on UX research insights
02
Feasibility risk
Assess if a product can be built with available tools and experts.
What you get:
Required technical documentation
03
Business viability risk
Make sure a product fits your budget and works for your business.
What you get:
Effort estimate & schedule
04
Shape a
product collaboratively
We call ourselves high performers because, in our team, product managers, designers, engineers, and QA pros work side by side, in a give and take way, to come up with technology powered solutions that your customers love and that work for your business.
Product manager
Determines what needs to go into the product backlog.
UI/UX designer
Designs prototypes and refines the final look and feel.
Software engineer
Defines the tech stack and develops a software solution.
QA expert
Tests every build to verify that the product works as expected.
Focus on
solving problems,
not just implementing
features
When it comes to software product development,
we're not just delivering requested features.
As a software product development company,
we identify a problem that your product must solve
and implement a solution that gets the results
you're looking for.





Problem
Verify that the challenge you are trying to solve really exists.
Our team uses the Design Thinking methodology to discover user needs or pain points, identify gaps in your competitors' products and come up with unique solutions that the market is missing.
01
Solution
Implement a solution that satisfies your customer needs and works for your business. We use the most cost effective and the least time-consuming methods to build an early product version so you could spend less on development and validate the idea quickly.
02
Product development is about discovery and delivery.
The goal of discovery is to develop the right product. The goal of delivery is to develop a product in the right way.
You can count on us to do both.
Case studies
Learn more about our custom product development projects.
Melody

From PoC to a full-fledged product

Web application + iOS and Android apps, the USA

We helped a Grammy-winning producer acquire thousands of active users with a proof-of-concept built in 37 days. Based on the user feedback, we converted the PoC into a feature-rich web app and built iOS and Android mobile applications.

Bridge

Building an MVP in 12 weeks

SaaS platform, the USA

We spent only 12 weeks developing a minimum viable product of a recruitment management platform that helps companies streamline global hiring. The MVP helped our client partner with several staffing agencies and raise funds for further development.

Nevaal

MVP that won an award and helped raise funds

Web application, Germany

We built an MVP of a networking platform that helps companies visualize, analyze, and decode the value of teams. The platform won the Excellence Award by Deutsche Bank, and Atos in the female-fintech competition, and was nominated for the Fintech Germany Award 2020. The MVP helped the company acquire the first clients and raise funds for product improvements.
What
our
clients
say
Jordan Crone

Chief Experience Officer, Melody
USA

Smooth
communication flow

«Our project has been going smoother than I could have imagined... It's the first time I've worked with a dev team a distance away that didn't have major (or any, for that matter) hiccups or have things lost in communication. I wish we could snatch them and make them a part of our team.»

Jens Christian Bang

CEO, Already On
Norway

MindK always finds a solution

«We've been successfully cooperating with MindK since 2010. What we were impressed with about people at MindK during all years of partnership — they never give up. We're not worried, as we know that MindK always finds a solution.»

Ida Groth

Senior Product Manager, Building Materials Company
Norway

Responsibility
and proactiveness

«It's so comforting to know that they see the whole picture and take full responsibility. It's made all of the difference. I was most impressed with their proactiveness.»

Al Hariri

Co-Founder, Vitagene
USA

Results-oriented and
outcome-driven

«I can tell you confidently that they are different from your regular agency that just wants to charge as much money for their work as they can get away with. MindK is completely results-oriented and outcome-driven.»

Mark Lange

CMO, Reputation.com
USA

A client-first approach
shop

«It's been refreshing to work with a team that puts us as a client first no matter the circumstances and goes out of their way to ensure that our needs are not only met but exceeded. I have no reservations in recommending MindK to any business looking for a top tier team.»

Per Otto Larsen

Head of CSR Services, CEMAsys.com
Norway

High level of detail
and thoughtfulness

«The level of detail and thoughtfulness of what they deliver is so good, that a simple explanation of the next idea serves as the basis for them to take it and turn into reality. MindK's support allows us to focus on core business, product growth and our customers' needs.»

Philip Yancey

Partner at Converze Media,
USA

A reliable partner

«I appreciate how MindK was able to build such a platform from conference calls, emails and basically a wish list of what our company wanted and needed automated to make Converze a more efficient and effective player in our space.»

Zaheer Mohiuddin

Co-Founder, Levels.fyi
USA

Not your typical outsourcing
shop

«The quality of work and the interactions with the team felt akin to anyone that I've worked within the Bay Area in technology. MindK's expertise is for real and the bar is high. This isn't your typical outsourcing shop, MindK has top-notch engineers and PMs.»
Create a winning product
with MindK
Use our product design and development services to release a solution that is worth building.