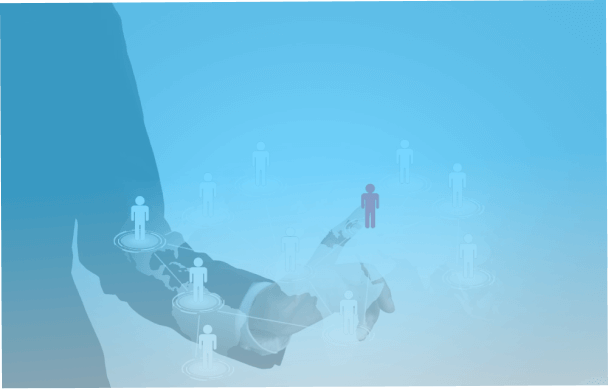 HR Software Development Services: Reshape Recruitment and Talent Management
Transform how organizations hire, develop, and manage their people. We can help you build your own custom product that makes life better for everyone: companies, HR and recruitment professionals, and employees.
Want to change recruiting & HR? We've got you covered
MindK has years of experience in recruitment software development. We've built different types of HR software for recruitment agencies and startups. Recruiting, employee management, benefits, and much more – we can build a custom product that addresses the biggest pain points in human resource management.
Applicant tracking
Build your own applicant tracking system to automate the entire hiring process and help managers save time and avoid human error.
Job search
Build a job board like Glassdoor for your niche to make it easier to find, post, and search for jobs and candidates.
Candidate assessment
Help recruiters weed out unqualified applicants and make better hiring decisions with tools that offer candidate assessment tests.
Interview scheduling
Make it easier for recruiters to schedule interviews. Integrate with calendars, notify all the participants by email, collect interview feedback.
Jobseeker marketplaces
Connect contractors, part-time workers, and freelancers with companies looking to outsource work to professionals.
HR automation
Develop custom HR software that automates workforce management, benefits administration, performance tracking, and more.
Employee engagement
Build tools that help companies recognize employee achievements and increase talent retention.
Payroll & benefits
Help companies process payroll, maintain employee salary details, calculate bonuses, and more.
Develop a new product for HR & recruitment
Here are some benefits you get from building your custom application with MindK.
Intuitive user interface
Custom workflows
Advanced analytics and reporting
Data security and compliance
High performance
Responsive on mobile
Continuous delivery and automation
Integrations with other systems
Selected case studies
Check out our latest case studies that showcase our experience in HR and recruitment software development.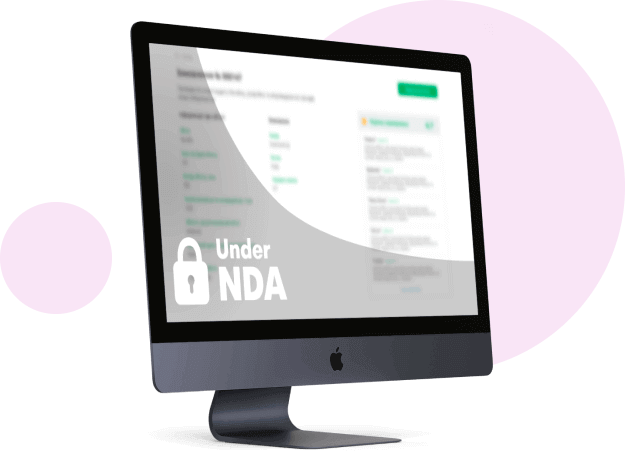 Reducing time-to-hire with resume parsing tools
How do you speed up the hiring process?
The challenge
A job opening receives 250 resumes on average. It takes a recruitment manager up to 23 hours per hire to screen resumes, rate candidates, and build a shortlist. By integrating AI-based resume parsing tools with your recruitment system, you can get a better shortlist in less time.
The solution
We have the expertise in integrating Sovren and Textkernel parsing and matching tools with recruitment software. Our team has also built a skill clearance algorithm that automatically cleans your database from parsing errors.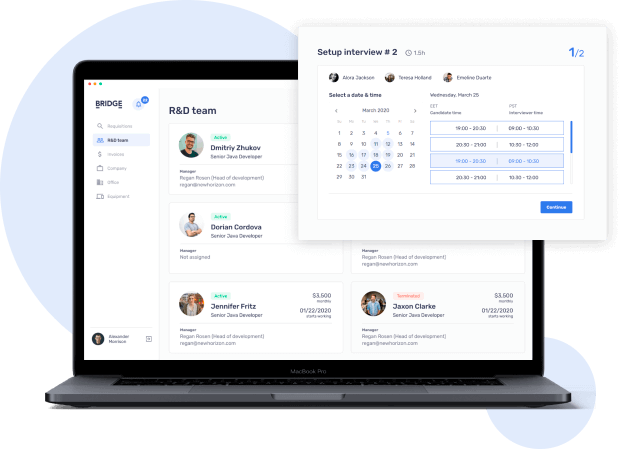 Streamlining the interview scheduling process
How do you schedule an interview in one click?
The challenge
Scheduling interviews is always overwhelming. Recruitment managers spend 2 hours a day on average to schedule interviews because they get caught in endless email chains with their candidates trying to pick an interview time that works for both of them.
The solution
We helped one of our clients build an interview scheduling system that pulls together availability from all the participants' calendars, suggests time slots that satisfy all parties across different time zones, and allows for making appointments with a single click.
Optimizing the hiring process with analytics
How good is your hiring process?
The challenge
What do your best hires have in common? Why do your candidates drop off? What channels bring in high-quality candidates? How is your recruitment team performing against their KPIs? You need analytics to drive meaningful improvements.
The solution
A recruitment platform that we developed for one of our clients offers convenient analytics dashboards and customizable reports that allow them to track the performance of their recruitment team and act on that data.
The level of detail and thoughtfulness of what they deliver is so good, that a simple explanation of the next idea serves as the basis for them to take it and turn into reality. MindK's support allows us to focus on core business, company growth, and our customers' needs.

Per Otto Larsen
Head of CSR Services, CEMAsys.com
Why MindK
Experts in HR & recruitment software development
01
Deep understanding of recruitment processes and workflows
02
End-to-end product development expertise
03
Hand-on experience with data parsing tools and AI-based solutions
04
Develop your software with MindK
Let us know about your challenges and we'll
help you resolve them.