In December 2020, an Australian startup myInterview raised $5M from a venture company Aleph. The startup builds a video recruitment platform that allows job seekers to film one-way interviews, reducing time-to hire by 70%. The same month, iCIMS acquired a NY-based startup Altru for $60M. And across the ocean, a Scottish video interview platform Willo has secured an impressive $855K in October 2021.
As a company that made numerous solutions for the recruitment industry, MindK considers video to be the future of job hunting. The success of the companies mentioned shows there's both investor's interest and customer demand for video interview software. To stay ahead of competitors, the creators of HR software will have to introduce video interview features or build new standalone products right now. This article will cover everything you should know about this new trend in the recruitment industry.
Table of contents:
How COVID has changed the recruitment market
According to LinkedIn, the number of US employers offering remote work increased by 357% in 2021. Remote positions are now drawing 2.5x more applicants than office-only jobs. They are especially attractive for top-class applicants, whose lifestyle doesn't fit the traditional office settings (for example, working parents).
PewResearch points out that 54% of Americans would like to work from home after the end of the pandemic. Although many businesses are still reluctant to embrace this new reality, the trend is here to stay. According to a May 2021's Mercer survey, 70% of employers are planning to switch to a hybrid working model while 10% are going for a fully remote work. 
As face-to-face meetings became impossible, recruiters started experimenting with video interviewing and virtual onboarding. Online interviews require less time and travel expenses, providing more flexibility for both HRs and applicants. Job seekers also appreciate when employers care about safety measures during the pandemic by organizing virtual interviews.
Businesses try their best to be as cost-effective as possible while streamlining recruitment processes. That's why things are unlikely to return to pre-COVID practices. Experts agree that video interviews will become an industry standard, especially at the vetting steps.
Use cases for video technology in recruitment
Entrepreneurs and HR professionals are now coming up with all kinds of creative uses for recruitment videos:
When competition for qualified candidates is at an all time high, it becomes hard to stand out. Adding an attention-grabbing video to your job description can give you as much as 800% more engagement and 34% more conversions. 
As seen in: VideoCV ($623K in funding),  Talentcube (acquired by Phenom)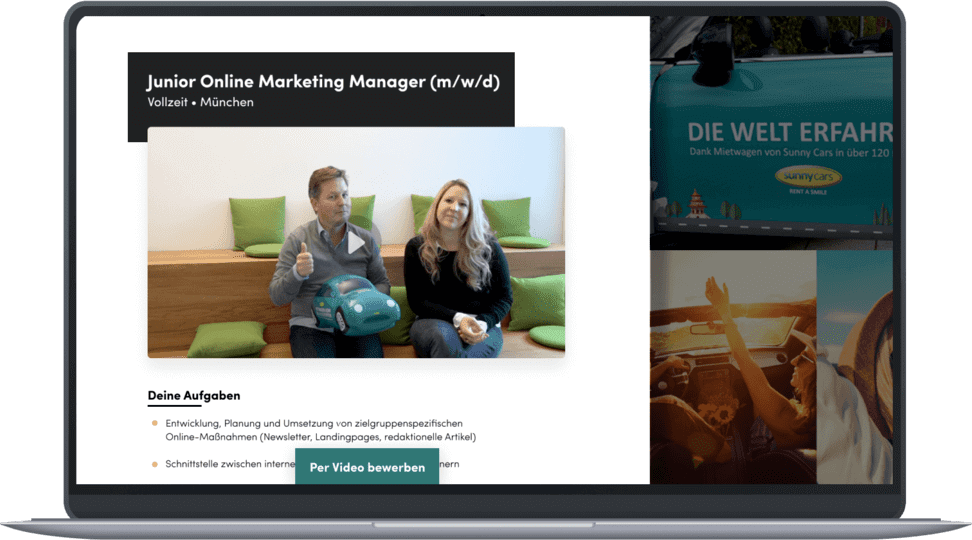 Source: Talentcube
A quick video interview is much more informative than a phone call. You don't have to worry about COVID, office space, or flying a candidate halfway across the country. So you save on travel expenses. Companies can, therefore, interview more candidates in the same time frame and hire faster than competitors.
As seen in:  HireVue ($93M funding) and Outmatch/Harver (€27.M in funding).Source: Talentcube
One-way video interviews in recruitment are another popular alternative to screening calls. All you need is software that allows you to record questions in the text or video form and film the candidate's responses. You can review the answers at any time, removing the need to schedule interviews. Video provides applicants more opportunities to stand out than a quick call or a standard CV. Consequently, recruiters can get to know candidates much earlier and save up to 50% of screening time. 
As seen in: MyInterview ($6.4M funding) and Spark Hire.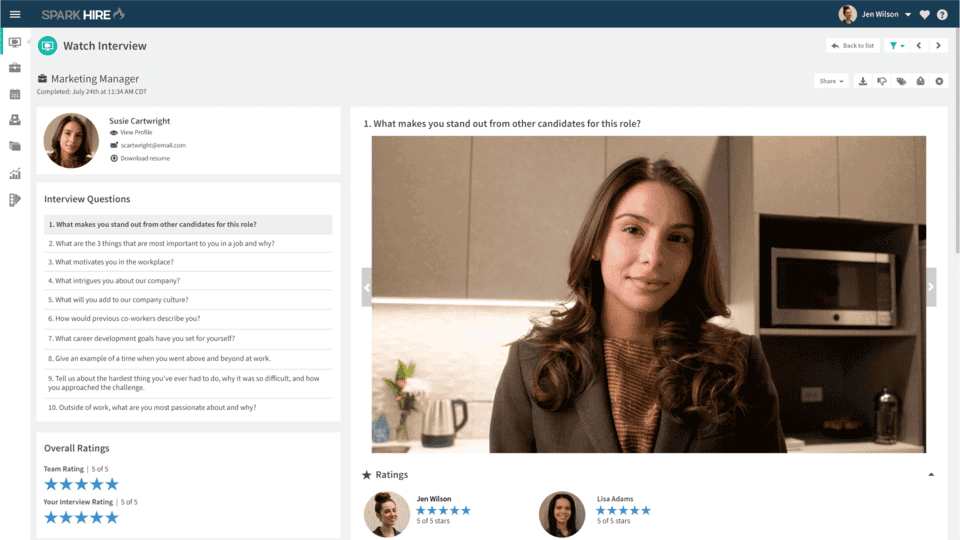 SparkHire pre-recorded interview, Source: SparkHire
Employee-generated video testimonials 
Adding a video testimonial to your job ad can give you 34% more responses from candidates. Some recruiting products like ICIMS have all the tools to record employee testimonials. You can create a list of questions that trouble real applicants and have workers answer them in front of a camera. The tool allows you to edit the video, add branding elements, and add the testimonial to a job description. 
As seen in: iCIMS ($92.6 M in funding) and Testimonial Hero.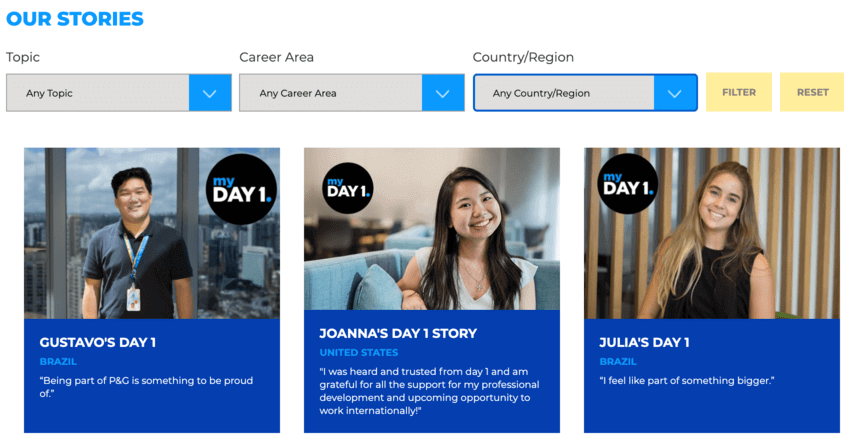 Training and onboarding videos
Onboarding an employee can cost as much as 30% of their yearly salary. Introductory videos allow you to onboard new workers and bring them up to speed with minimal investment. Pre-recorded videos can cover all the frequently asked questions, job duties, processes, and benefits.
As seen in: Panopto (50.9M in funding) and Biteable (9.8M in funding). 
Some startups have gone a different path. Instead of building a solution for recruiters, they target universities, professional associations, and private companies that want to find candidates in massive recruiting events. Such solutions allow to schedule online job fairs and chat with a large number of people. They usually support seamless switching between texting, video streaming, and 1:1 facecam interviews. 
As seen in: Handshake ($234 million in funding) and Brazen ($13.4M funding).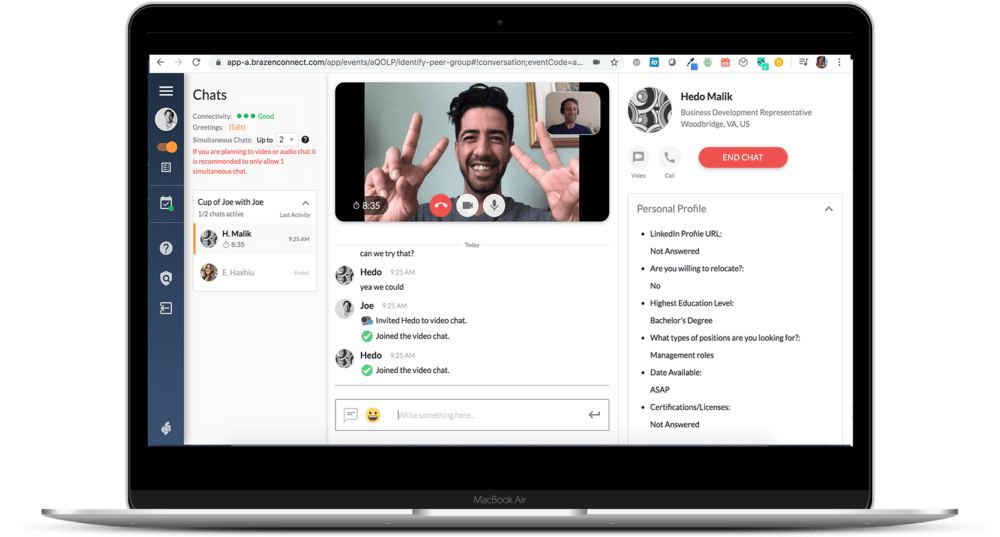 Brazen job fair software. Source: Brazen
Top startups that use video recruitment technology 
myInterview 
Based in: Sydney
Founded in: 2016
Total funding: $6.4 million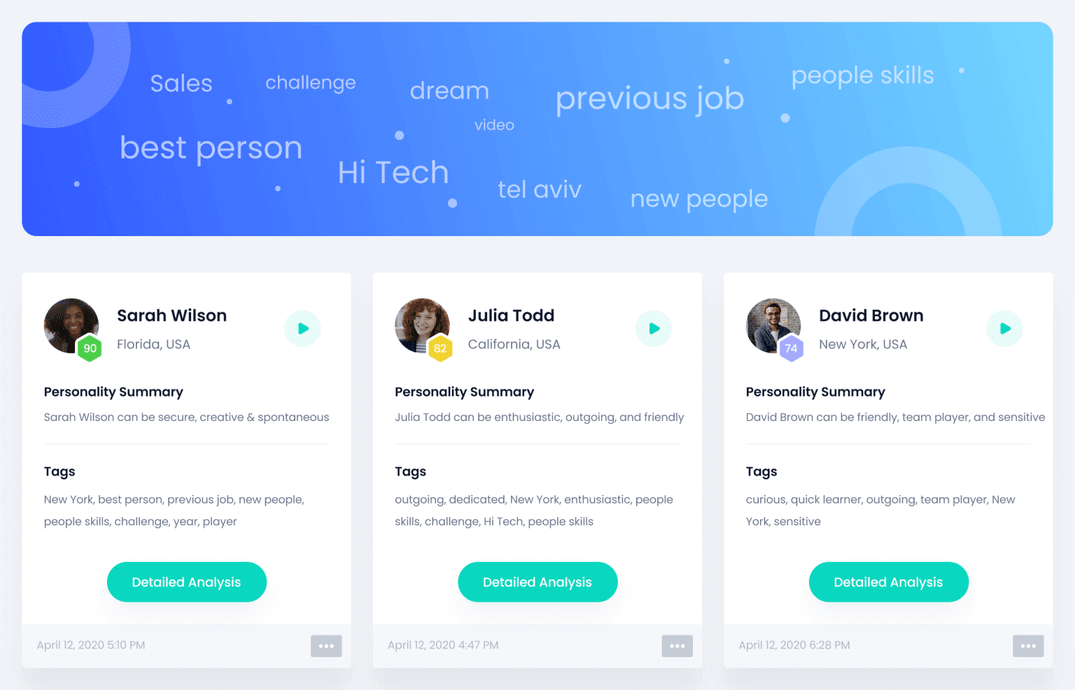 MyInterview Intelligence dashboard. Source:TechCrunch
MyInterview is an Australian platform for one-way video interviews. The platform allows recruiters to make a list of questions for candidates in text form. The applicants then film their responses, quickly edit the video, and send it back to the company.
MyInterview uses Artificial Intelligence to analyse the candidate's tone of voice, phrasing, and word usage. Its automated Big Five Personality assessment can help recruiters quickly screen hundreds of applicants for entry-level positions.
In 2018, MyInterview raised $1.6 million from Entrée Capital and LinkedIn's Cliff Rosenberg. A year later, MyInterview launched a standalone product that enjoys more than 2,000 corporate users, including Facebook, B&M, P&O Ferries, Ocado, and the largest British job portal reed.co.uk.
Business model: like most video interview solutions, MyInterview uses a SaaS business model. It has 5 plans, charging companies a monthly fee. The free plan has 1 job opening and a limit of 30 candidates per year. Fees quickly rise to $249/ month as you add additional users, candidates, and jobs.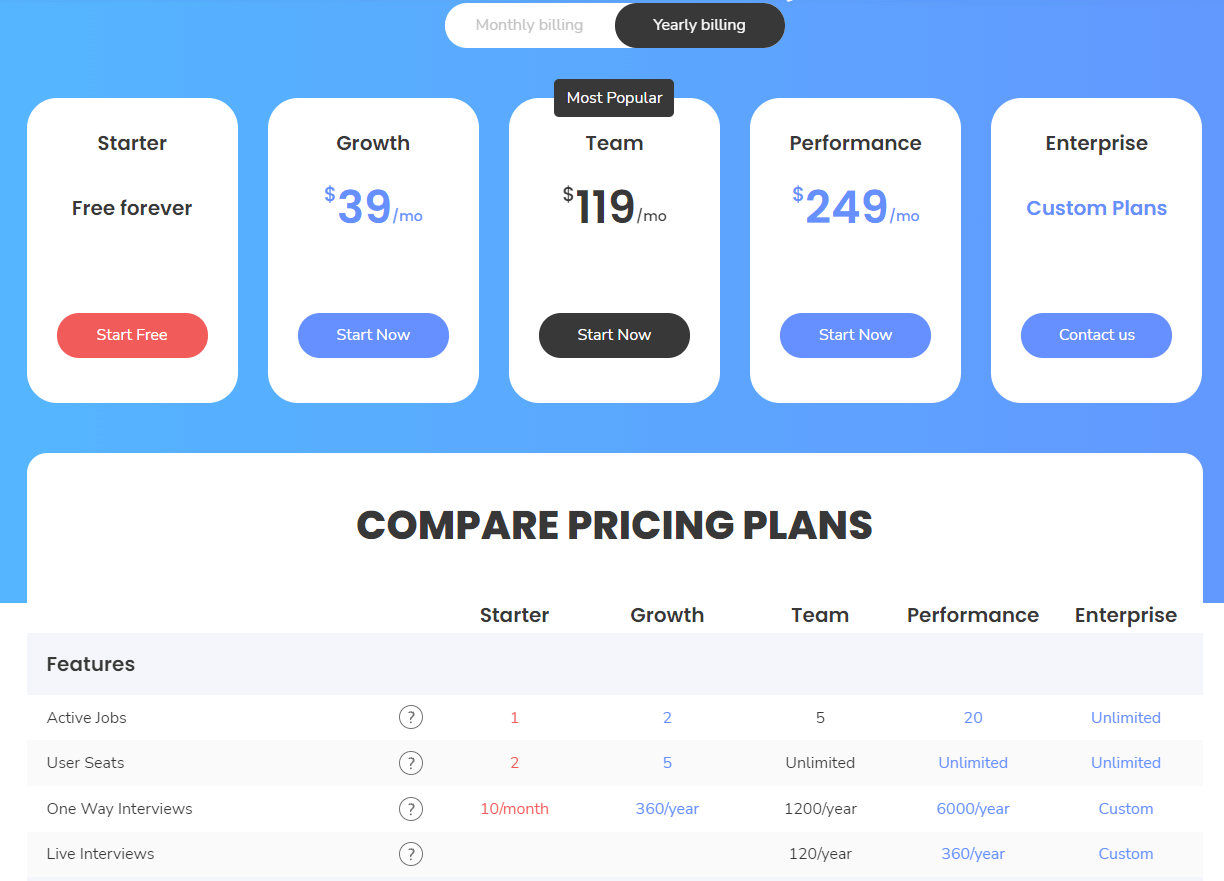 What users say about myInterview: most recruiters highlight the platform's great design and the ease of setting up a video interview. Still, some users claim that the platform lacks some features for proper candidate screening. For example, you can't automatically invite people to a video interview once they complete an application form.
Altru
Based in: New York
Founded in: 2017
Total funding: $1.4 million
It all started in 2017 when Alykhan Rehmatullah got fed up with generic job ads he saw all over the Internet. Together with Vincent Polidoro, they created Altru – a platform for employee-generated video testimonials.
The app allows recruiters to create a list of questions that trouble job seekers. Your colleagues can then answer those questions in front of a camera. As a result, you get short videos that advertise the work in your company. You can add these videos to your career pages, job ads, or share them on social media, increasing conversion rates by 34%. 
In December 2020, Altru was acquired by iCIMS for $60 million. Although the app's primary purpose is generating video testimonials, it also became a popular tool for one-way virtual interviews. With its help, iCIMS hopes to become a fully-featured video recruiting platform. 
Business model: iCIMS offer custom quotes depending on your company size and the modules you need to use. 
What users say about iCIMS: the app is user-friendly, has pre-made templates and screening questions, automated rejections, customizable UI, fields, and reports. However, it lacks optimized workflows, sufficient automation, accessible reporting, good candidate experience, and custom notifications.
Handshake
Based in: San Francisco
Founded in: 2013
Total funding: $234 million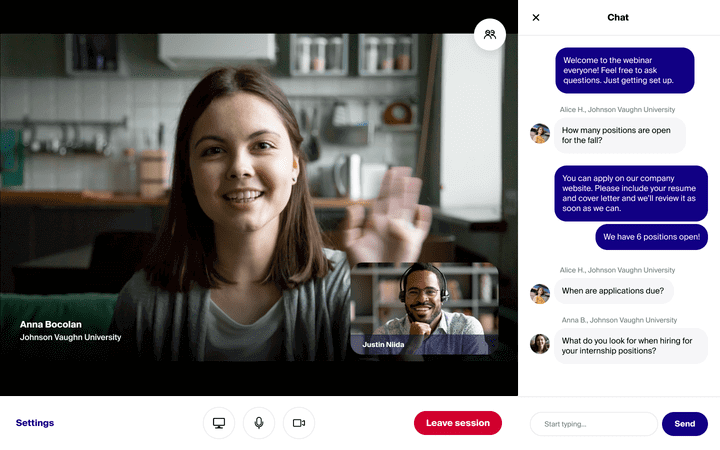 Handshake virtual job fair. Source: joinhandshake.com
COVID-19 put a stop to the once common college job fairs. As everything shifted to online, virtual event platforms like Handshake saw a huge spike in popularity. The app is now used by 18 million students at 1,200 universities across the country. 
In May 2021, the startup raised $80 million, putting its valuation at an incredible $1,5 billion. Video technology powers 90% of interactions on the platform. An online fair typically consists of several group calls with up to 50 job seekers. They can be followed up with quick 1:1 video interviews with up to 15 hiring managers.   
Handshake strives to build an equal opportunity networking platform for a younger audience. It both compliments and competes with LinkedIn and other job search engines. University partnerships allows Handshake to extract more data about its users without relying on manual entry. This can dramatically improve its search capabilities.
Business model: Handshake earns money both from universities and companies using its premium plan. The additional features support hiring at scale – robust analytics, custom campaigns, branding opportunities, event check-ins, scheduled messaging, and similar.
What users say about Handshake: the app has excellent search options, customer service, and job posting customization. The UI, however, can be too complex at times. Handshake lacks marketing features, automated rejections, and custom forms for students to fill.
Jobvite
Based in: Indianapolis, US
Founded in: 2004
Total funding: $255.5 million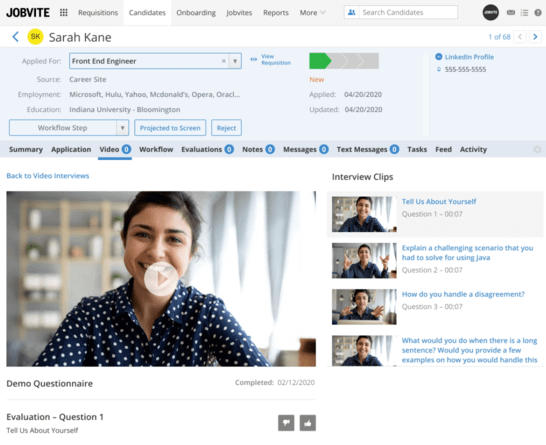 Unlike other solutions in the list, Jobvite is a comprehensive recruitment platform. It is one of the oldest and most popular enterprise Applicant Tracking System (ATS) on the market. Recently, the platform added video screening capabilities. The solution supports one-way interviews and screen sharing.  
Business model: Jobvite provides custom prices depending on company size and chosen products.
What users say about Jobvite: recruiters love the ease of use, quick application process, and comprehensive features. The solution seems to lack sufficient automation, the inability to save candidate's information after the application, and analytics that are easy to set up.
Must-have features to include in your solution
For any type of recruiting software you're planning to build, it's recommended to limit the number of features in its 1.0 version. You might know this strategy as Minimum Viable Product (MVP). For a video hiring platform, they are:
Quick sign-up (via LinkedIn/Google/Facebook).
Job creation via a flexible form constructor.
ATS integration (automatically adds candidate information to the company's database).
Real-time video calls (1:1 or group conferences)
Video recording and cloud storage.
Role-based access control that gives users different permissions depending on their role in organization (for example, recruiter, hiring manager, and candidate).
Push notifications to warn recruiters about interviews.
When you want to build one-way interview platforms, you will have to add:
Questionnaire for candidates (you can use different formats like text forms, audio, or video questions).
Templates for quick question creation.
Questionnaire branding opportunities.
Customizable time limits for candidate answers.
Interview link sharing (in job ads, social media, and so on).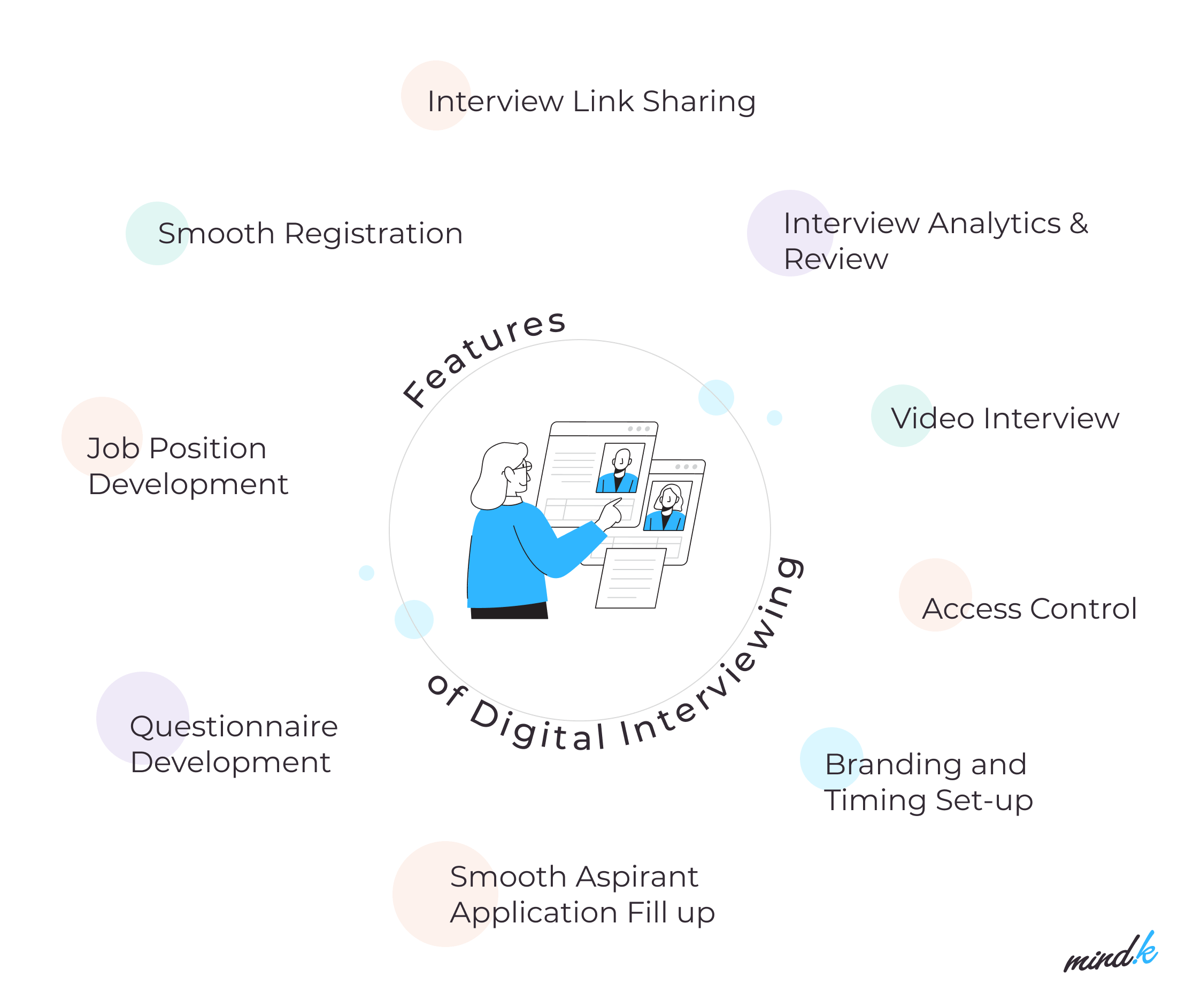 How to implement video chatting functionality
You'll need video features whether you're building a virtual interview platform, an app for employee testimonials, or a job fair website. So how can you implement them?
From our experience, Google's WebRTC (Web Real Time Communication) is one of the best video technologies out there. It is free, open source, and incredibly powerful. With its help, you can exchange video, audio, and all kinds of media directly between browsers and iOS/Android apps.
WebRTC supports both 1:1 video chats, group calls with up to 264 participants, and screen sharing. It is secure, mature, and works in all browsers. Among the apps that use WebRTC for video communication are Google Meet, Discord, Facebook Messenger, Amazon Chime, and many others.
But how does the technology work? It's simple on the surface but gets tricky under the hood. We described this in greater detail in our article on WebRTC and its main pitfalls. Here's the short version.
Although the communication is entirely peer-to-peer, you still need servers to set up the connection. The reason is simple: to get the connection rolling, you need to first locate the person on the other end with the help of an IP address. The trouble is that their true IP address will be likely hidden by local networks. To bypass this issue, browsers use a complex process called signalling.
You can use a special server to learn your public IP address. This server is called STUN (Session Traversal Utilities for NAT).
Once both parties know their public IP addresses, they can establish a peer-to-peer connection.
In some cases, your firewalls will block this connection. That's why most WebRTC apps also use a TURN (Traversal Using Relays around NAT) server. Their purpose is to relay traffic, bypassing the firewalls.
What we can say for sure is that any high performing WebRTC app will need to use both STUN and TURN servers. Free server is not an option. Especially for TURNs due to them being very resource-intensive. What's more, you'll need at least 3 TURNs in different locations to reduce latency for the global audience. That's why WebRTC can be both complex and expensive server-side.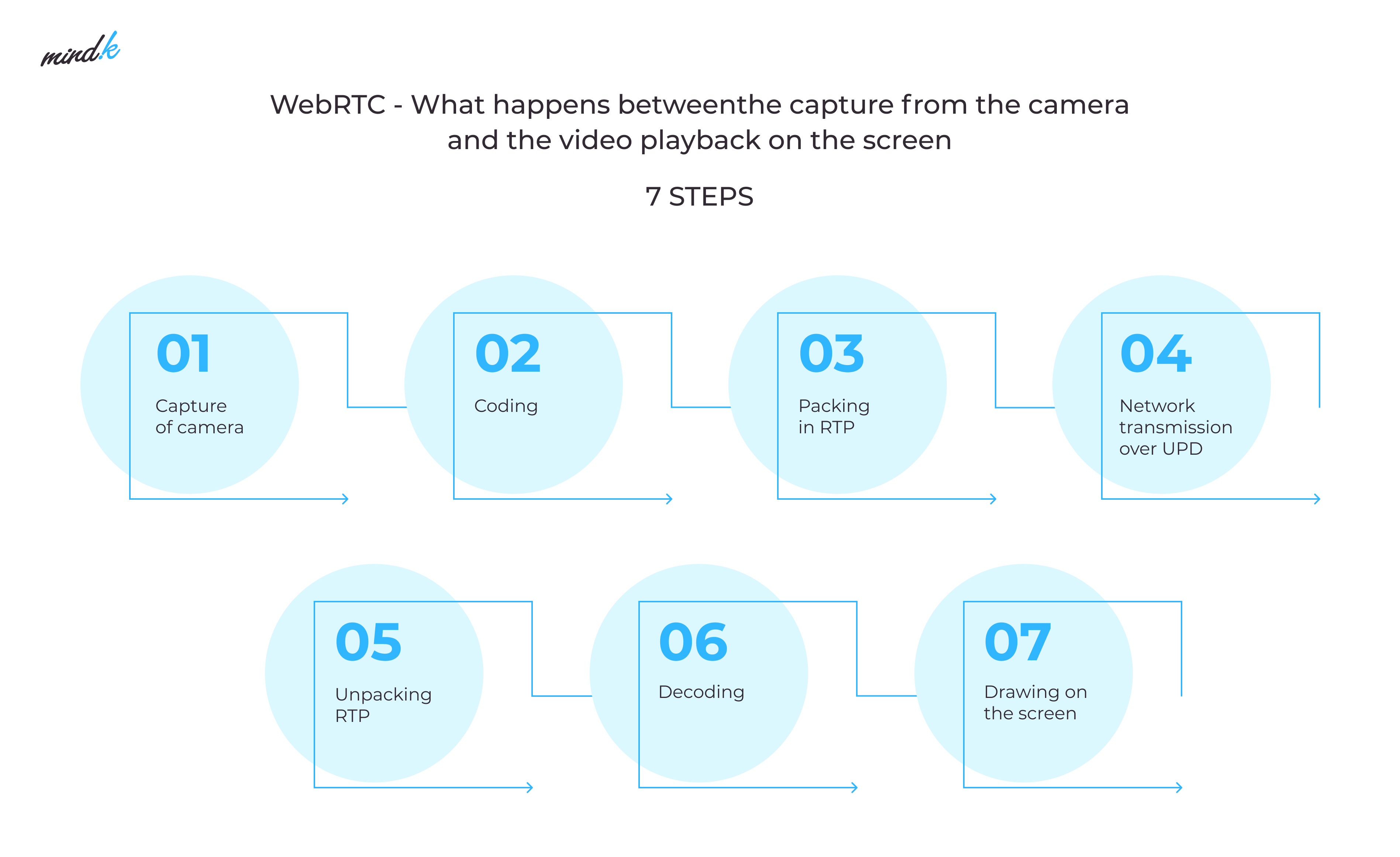 Conclusion
The recruiting industry is going through a massive shift. Video recruitment platforms make huge deals and attract investors from all over the world. The trend is clear – to win over competition, your staffing software must utilise video features.

WebRTC is one of the best ways to add 1:1 and group communication to your app. MindK has developed multiple solutions for the recruitment industry. So we'll gladly help build a video hiring platform or add video features to an existing app. Just fill the contact form and we'll organise a free consultation with our industry experts.