However, before you push forward implementing your real estate AI adoption plan, one must first see the big picture for an answer to key questions: "Why is the industry gaining speed towards the mix of real estate and AI?", and "What processes will win from AI to a greater extent?".
MindK, as a company that creates custom software products for industries including real estate, cannot walk by the most powerful trends that transform real estate before our eyes. That's why, in this article, we'll puzzle out these questions, review the current state, and using AI in real estate industry. It will give you the big picture of the market before you decide to invest in a real estate app.

Let's get started!
Why is the real estate market moving towards AI adoption?
AI in real estate began with the first AI-powered transaction that took place in 2018. The result of this deal was the $26 million purchase of two buildings in Philadelphia. These property objects were selected based on the so-called "soon to market detection" algorithm.
The algorithm analyzed thousands of data points like potential economic value, KPIs, characteristics of the property, state of the local real estate market, probability of natural disasters, and much more to define whether the purchase had potential.
Today, Artificial Intelligence has been pulled from the peripherals into the mainstream. Deloitte predicts that spending on AI will grow up to US$97.9 billion in 2023 that is x2,5 more compared to 2019.
Among the main benefits of AI adoption that most businesses set sights on are process improvements and fine-tuning of products and services.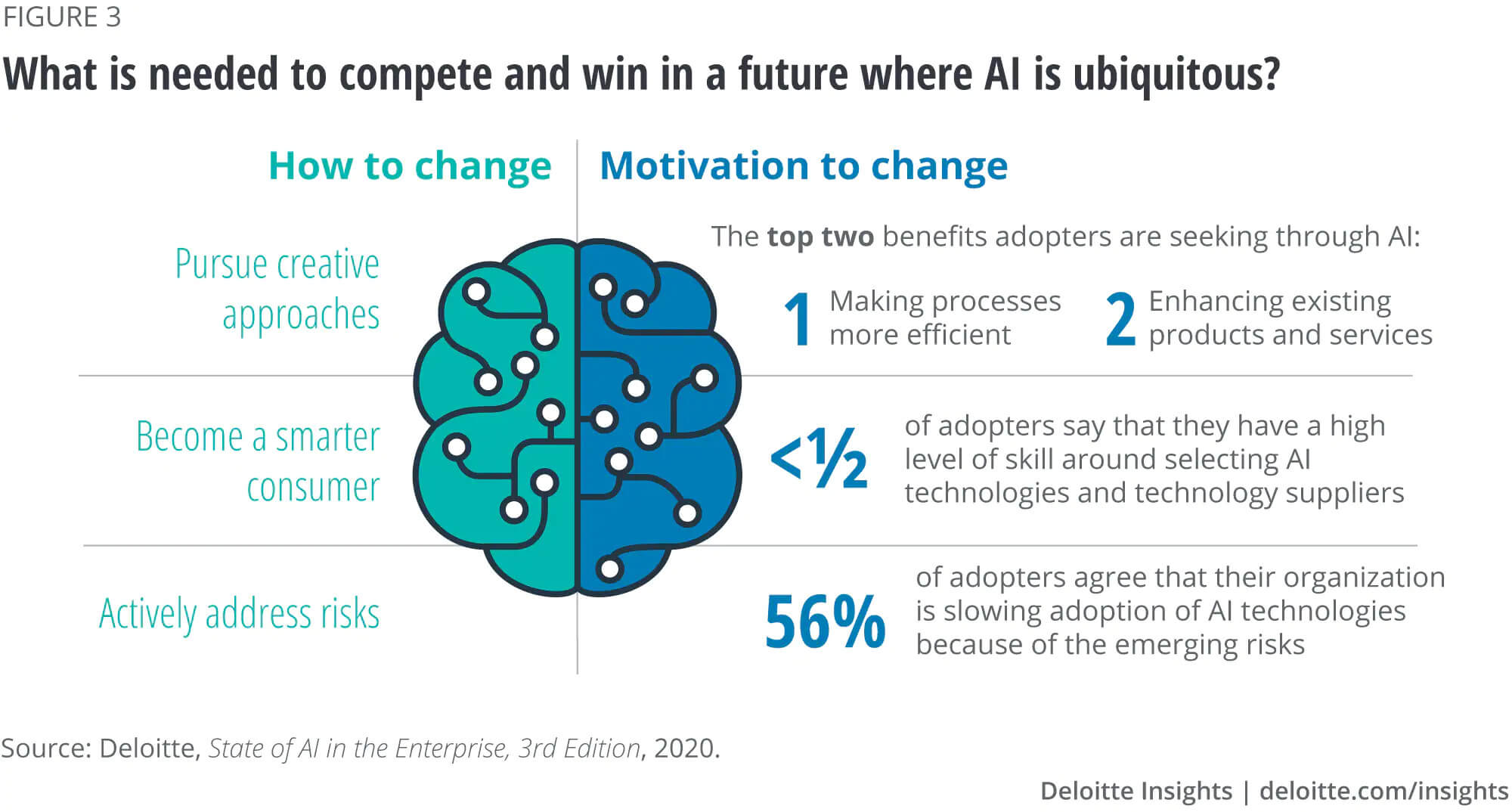 With this background, Deloitte also predicts that Artificial Intelligence technologies will soon (maybe even faster than we expect) become a standard. As a result, those businesses who have already embraced AI will continue to differentiate themselves with a great competitive advantage, while the ones that haven't – will begin to accelerate their efforts in that direction.
There are signs that this is already happening – most businesses plan to adopt AI in the near future. CRE Innovation Report 2020 found that almost 49% of commercial real estate executives (CRE) believe that Artificial Intelligence has a great potential for significant cost savings and operational efficiencies, while 43% suppose that it is able to create a major disruptive impact.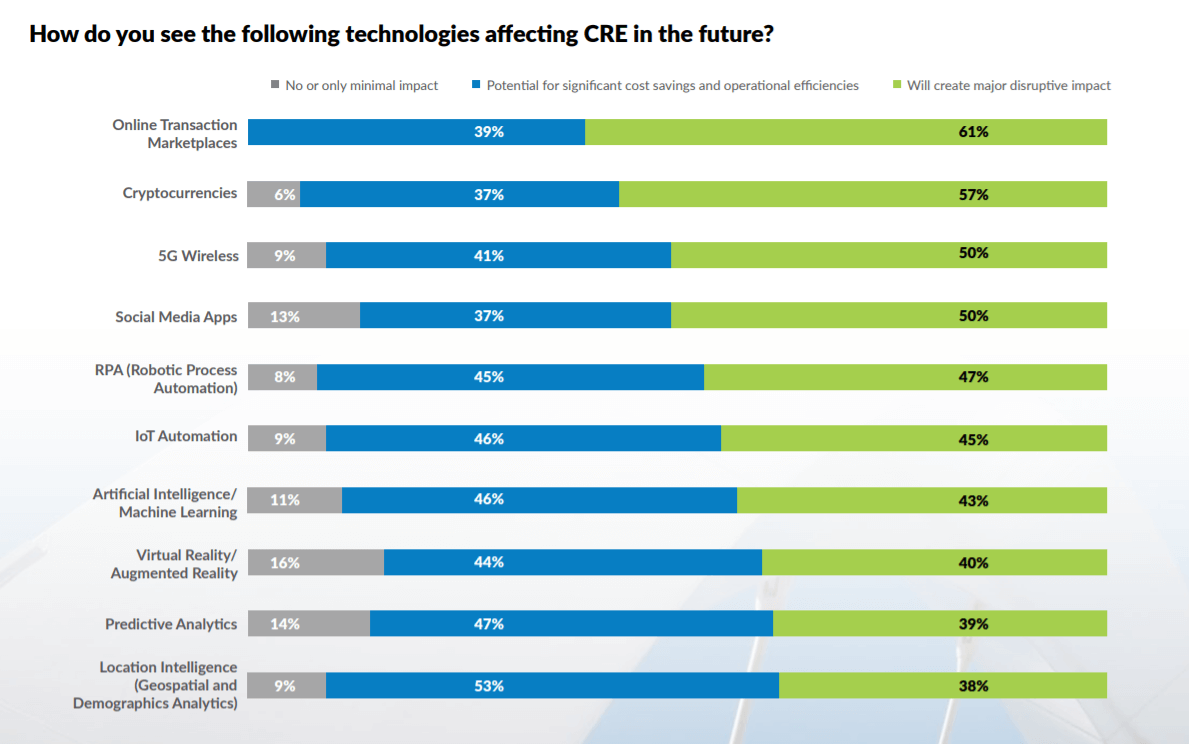 Source: CRE Innovation Report 2020
Summing up the above, a massive shift to artificial intelligence technologies and AI real estate investing trends fall into place. The main reason AI-powered real estate solutions are so appealing to companies (regardless of the industry) is the fact that they help to:
raise the effectiveness of processes;
add a new dimension to existing services and products; and
gain a competitive edge.
All these benefits have a positive impact on revenue and overall company performance. Around 63% of businesses reported revenue increases from AI adoption.
Now, let's see what processes can take great advantage of AI adoption and which apps that use AI are transforming the industry.
AI applications in real estate: what processes will play out in fresh colors with AI adoption
#1. Sales and marketing workflows
AI-powered applications, machine-learning interfaces, and chatbots have already become beneficial for a number of industries. Applying these technologies in real estate will help to streamline sales and marketing strategies by:
better identifying the target audience;
understanding buyer preferences;
revealing ideal clients;
turning user interactions into valuable marketing reports;
launching personalized ads and promotions;
building trust-based relations with customers;
covering more leads through chatbots;
and much more.
Indeed, the possibilities of implementing AI in sales and marketing are boundless. Let's take some examples!
Advertising is an art and science of marketing, so using AI for this purpose can significantly improve the result. For example, PropertySimple, a real estate social media marketing tool, creates innovative real estate ads across social media channels.
The platform uses artificial intelligence to display the ad to the right people. It ensures great results and provides reporting to track performance in real-time. Once users create an ad, AI displays it to the right prospects and reports back with real-time performance stats on views, clicks, and demographics.
One more example is implementing AI for real estate leads qualification that saves hours of work real estate agents can spend on interactions with unconvertible prospects.
Zillow, a large online real estate marketplace, has an AI-powered CRM that analyzes a number of data points to distinguish hot leads with serious intentions to buy a property from curiosity seekers. The algorithm can also determine the type of property the person is looking for.
And we cannot pass by the use of chatbots and virtual assistance for marketing purposes, as it definitely shapes the future of real estate business. A resource for realtors Real Estate Trainer recommends responding to inquiries within 5 minutes. Moreover, more than 78% of prospective clients stick by the agent who responds first.
So, AI-powered chatbots have the potential to help businesses bring in more sales. They can answer questions, help search for property objects, solve various issues, and much more.
Source: Revechat
For example, Roof.ai provides a robust virtual assistant or so-called AI realtor. Aside from just answering inquiries and booking showings, it collects data, prioritizes urgent requests, and routes conversations to the right people.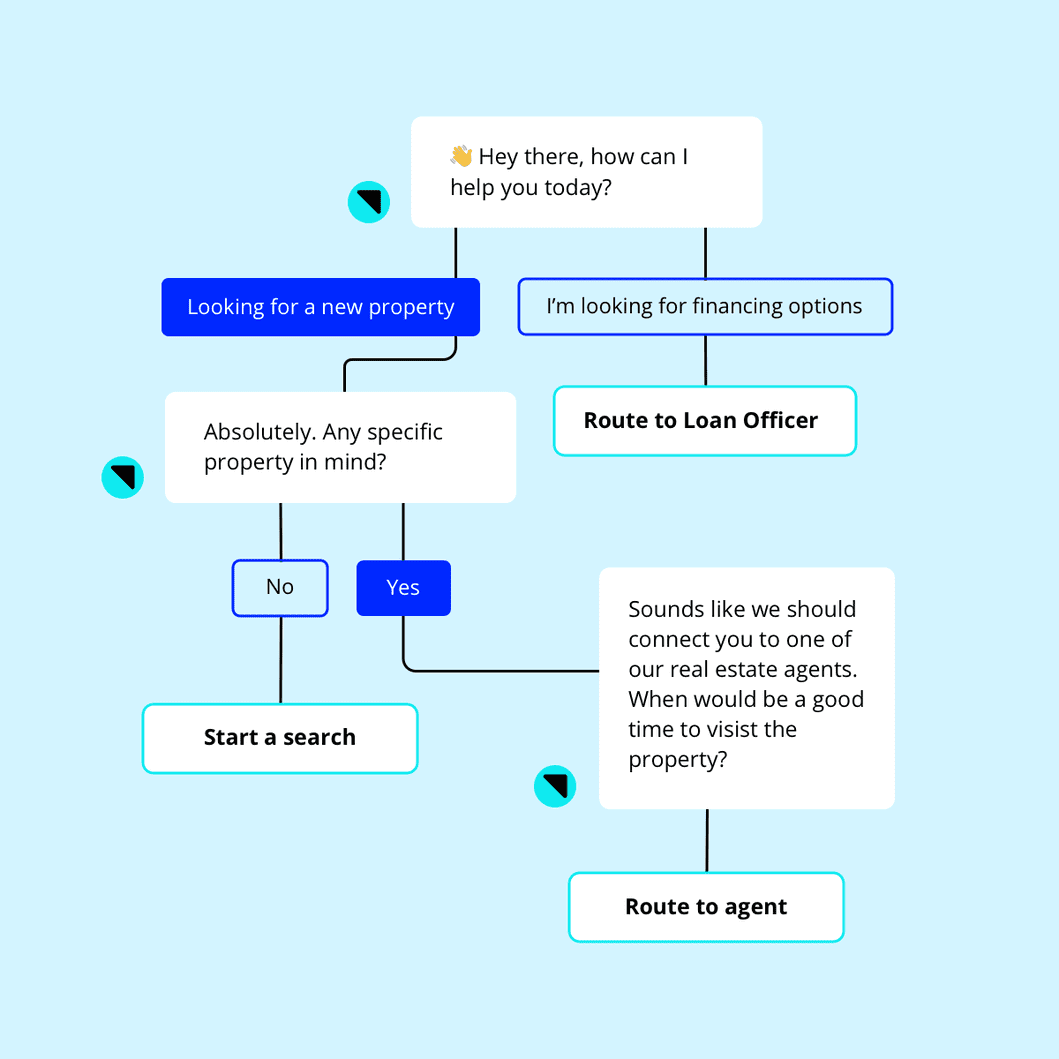 Source: roof.ai
#2. Property searching and matching
Most house searching apps have advanced search filters, including filtering by price, size, location, number of rooms, and others, yet finding a property remains a challenging task.
AI based search technology can help users make the right choices. AI property recommendation engines work similarly to other product recommendation engines like Amazon Personalize. They analyze a person's preferences and provide the most suitable options.
For example, online real estate marketplace Trulia uses AI-powered personalization to improve the search. The system analyses the user's preferences, extracts information from the user's photos thanks to computer vision, and makes suggestions.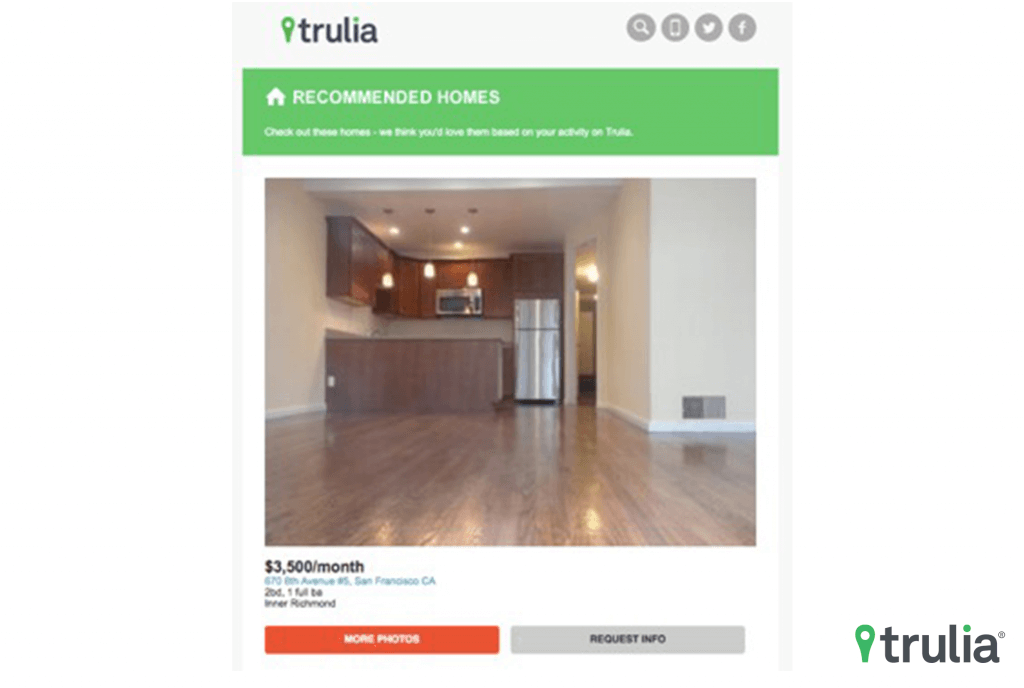 One more great example is Compass, a real estate app used by 14 000 agents in more than a hundred US cities. Compass implemented an AI algorithm that suggests personalized recommendations to every user based on previous searches and interests.
Among these, to help real estate agents grow their business, they've worked out a Likely-to-Sell recommendation algorithm that indicates people who have the highest likelihood of selling their homes this year.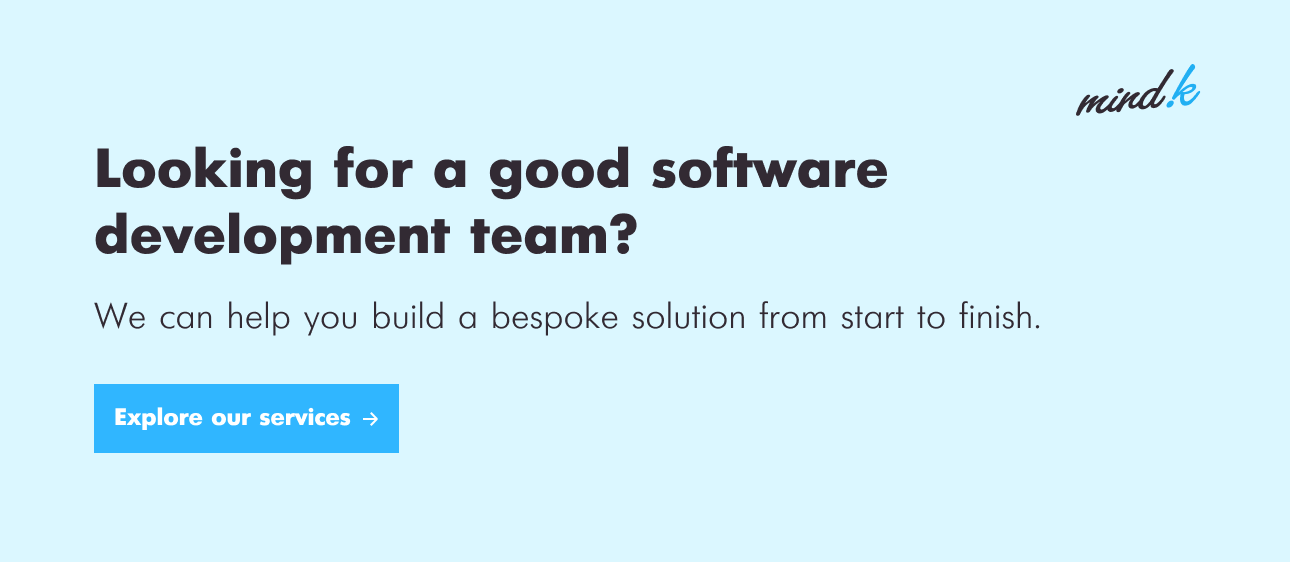 #3. Evaluation of property
Assessment of real estate property and predicting its market value is more than a challenge. For example, did you know that having two grocery stores within walking distance increases the value of an apartment while having more than four leads to a decrease?
If you deal with elite properties that have a designer renovation and custom planning, the assessment process is even more complicated. The price depends on several factors and may change unexpectedly. A person cannot always track all the small details, while the AI algorithm definitely can.
Along with the assessment, predictive analytics in real estate is a big draw. The value of the right prediction is much more important in the real estate industry than in any other. How much does it cost to buy an apartment today to sell it profitably tomorrow? These questions are crucial for any investment-focused real estate company. Answering these questions can make predictive analytics one of the best real estate technologies.
Artificial intelligence allows anticipating the right time to buy or sell a property and "predict" fluctuations in rental or sale prices. Businesses that use real estate valuation with artificial intelligence have a fabulous advantage compared to competitors.
For example, again the real estate intelligence agency Zillow has an AI powered home evaluation tool called Zestimates as one of the "cherry on the cake" features. Besides considering public and user-submitted information, the solution takes into account home facts and photos, location, as well as market conditions.
HouseCanary is another company that uses real estate data science for property evaluation. Their AI-powered algorithm evaluates the property at the current moment and up to 36 months ahead. It takes into account information during the past forty years and creates forecasts with a low error limit.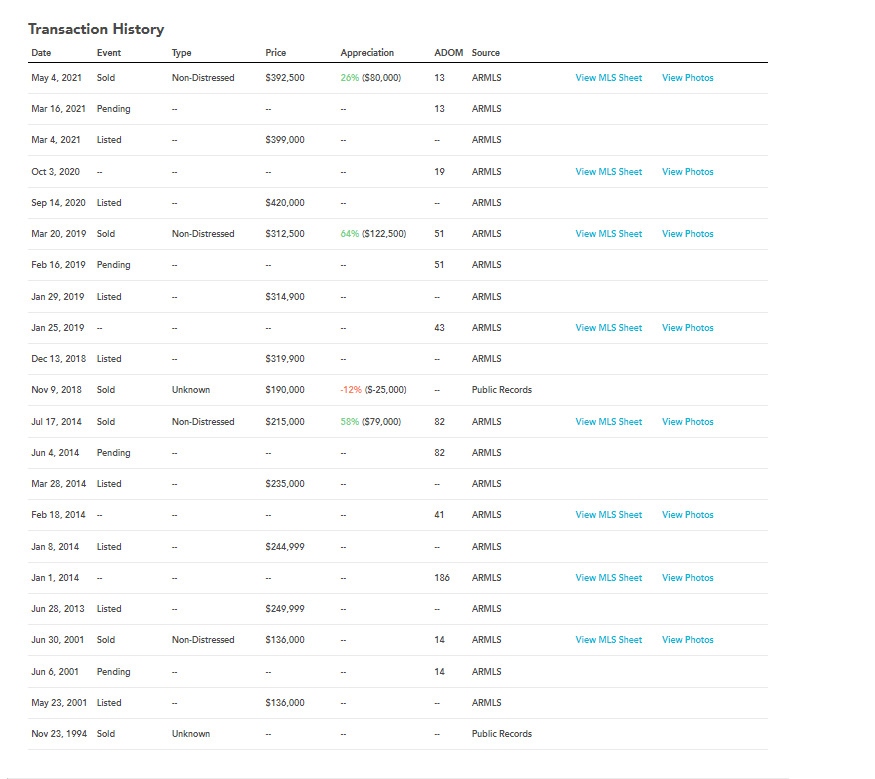 Transaction history as a part of the interactive online report by HouseCanary
HouseCanary's AI house software also provides a Home Price Index (HPI) to measure changes in property prices over time. Using AI, they recalculate HPI models each month based on a comprehensive national dataset.

Example of how HouseCanary develops HPI
#4. Property management activities
It's no surprise that managing a rented property is not easy. Real estate transactions as well as further property monitoring takes a lot of time and effort. Rental applications, lease agreements, landlord's notice to enter, disclosure statements are only a few documents involved in the process.
This is where intelligence property management comes into play. The application possibilities of AI for property management are extensive. For instance, artificial intelligence can be used to:
improve the document workflow: AI solution can generate documents automatically, thus freeing the agents from time-consuming tasks. It can also scan documents for inaccuracies like missing signatures, empty fields, or similar.
For example, eBrevia uses such AI technologies as machine learning and natural language processing (NLP) to extract data from contracts. It reduces manual review to 30-90% and allows analyzing contracts and lease documents more accurately. The algorithms can be also trained for individual requirements.
streamline communication between renters, landlords, and property managers: AI chatbot, as well a real estate AI assistant can answer common questions from renters, automatically send emails and utility bills, and more. It can also track and manage complaints and maintenance requests, and assist landlords and tenants to solve issues quickly and efficiently.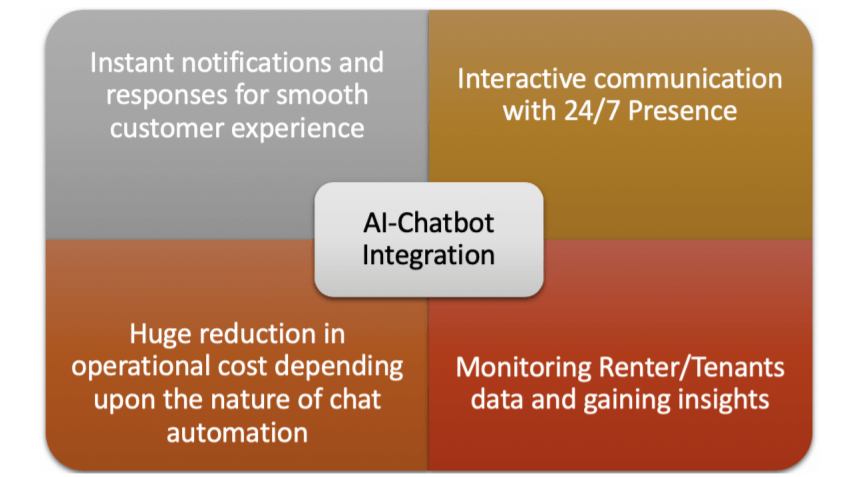 Benefits gained from integrating AI-chatbot to the property management workflows
Source: Artificial management in property management automation
take care of finances: accounting is a huge part of property management, so AI can help you deal with this without stress. It is able to maintain all the transactions, payables, receivables, as well as ensure accurate tax payments.
tune up property maintenance process: Artificial intelligence can not only analyze property management data but also improve efficiency and save costs. The range of applications is large. For example, based on weather data and other sources, AI can anticipate spikes in energy utilization and warn property managers beforehand.
Sounds futuristic, isn't it? However, more and more companies are starting to invest in proptech AI for similar purposes. For instance, Gridium uses AI to analyze energy data as a shortcut on energy consumption and see the whole picture of their expenses. The system collects data from smart energy meters, weather changes, rate changes, and displays energy wastage moments. People can get a report of their energy spendings and make informed decisions.
#5. Process of mortgage loans
Around 63% of Americans and 1 out of 4 families in Europe have a mortgage loan. Mortgage loans are a huge part of the real estate industry and we cannot pass over it. AI adoption in mortgage lendings is still in the early stages, however, it's gaining momentum.
The whole mortgage lending process is very time-consuming for both parties and has no room for mistakes. AI has the power to solve these main challenges and significantly streamline and secure the loan process.
Based on the fact that filling out mortgage documents and gathering paperwork to process a loan slows down the process, using AI here is more than appropriate.
For example, Bank of America applied Artificial Intelligence to automate the mortgage loan application process. Thanks to this, clients have to fill in only 10 fields instead of 330. The result wasn't long in coming – in the first three-quarters of 2019 loan originations increased by 6%, and the closing process was reduced to 20 days.
Besides just automating the workflows, AI can help to make better credit decisions and mitigate risks. By means of AI and machine learning in real estate investment, businesses can determine a client's risk level and the ability to pay back the loan.
Besides financial data, algorithms can also analyze a great number of non-financial factors like consumer spending habits, employment history, social media activity, and much more to create a complete picture of the customer's behavior.
All of this information helps the AI algorithm to define the creditworthiness of the client and reveal any discrepancies if they take place.
Such possibilities play a huge role in the mortgage process, as among the most common mortgage fraud scams are income falsification and identity theft. The Mortgage Fraud Report states that one out of every 123 mortgage applications has fraud indicators. A complex AI-powered analysis allows raising the possibility to indicate fraud in the early stages of the application process.
Above that, AI brings benefits to mortgage clients, too. For example, AI-based mortgage advisor Home Lending Pal allows personalized consultation on which mortgage the person is likely to obtain, and which mortgage he can really afford.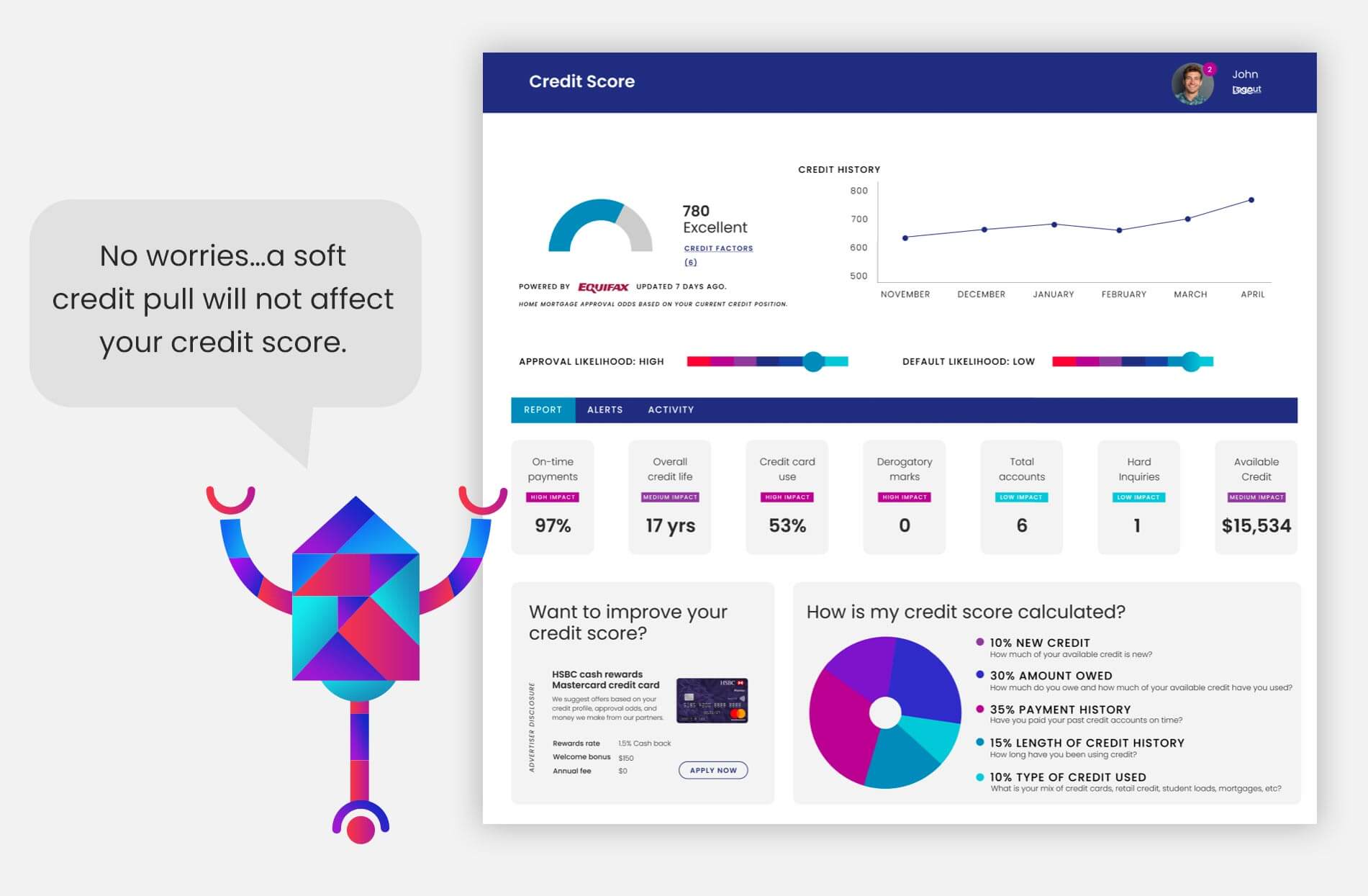 Example of a credit pull report generated by the Home Lending Pal
Source: homelendingpal.com
Need help with real estate automation?
As you can see, adoption of artificial intelligence in the real estate industry is not surprising. It helps companies around the world to make significant progress in data collection and analysis, as well as improve revenues.
However, to effectively implement AI there must first be a strong foundation. Before investing a mint of money in its adoption, make sure that your real estate business has robust workflow automation and a reliable toolset in place that will become a sound basis for implementing artificial intelligence technologies.
We at MindK help clients from the construction and real estate business to build custom professional web portals, SaaS applications, CRM, sales tools, and other solutions to create powerful tooling for further improvements. Check out our Real Estate Software Development Services.