The Applicant Tracking System (ATS) market is full of solutions (we even built some for our clients). But what if you can't easily find the one that satisfies your company's unique needs? Writing an RFP will allow you to formalize your requirements, learn about the capabilities of various vendors, and get a quote for the kind of system you need for your business.
So, here's everything you should know about creating your RFP:

Download an Applicant Tracking System RFP Template [Microsoft Word]
What is a Request for Proposal (RFP)?
RFP is a document that describes your requirements towards a piece of software you want to use in your company. It is especially useful if the product in question doesn't exist yet and you need to learn about the vendors' expertise as a software development company.
Writing an RFP is a great way to ensure a new ATS satisfies the needs of all teams across your company and will evolve together with your business.
The responses will give you all information you need to compare different options and build your budget. It will also give vendors an opportunity to bail out of the process if they don't possess the required capabilities.
How to write RFP for recruitment software: step-by-step instructions
There are many ATS templates you can use to create an RFP. Some of them are short and include just a few open-ended questions. Others are much more extensive with hundreds of binary questions.
Of course, there's no single correct approach to writing an RFP as long as the document covers your unique requirements.
That's why your first step is to…
#1 Uncover your needs
What are the reasons you want to adopt a new ATS? Is it because your recruiters fail to close vacancies as fast as your competitors? In such a case, look into recruiting automation.
Is it because your current solution makes it difficult to extract the insights you need to make data-driven decisions? Then, focus on advanced analytics and financial integrations.
Different people can have different problems and ATS selection criteria, so it's a great idea to get everyone on the same page.
Consult the people responsible for your recruitment strategy. What challenges do they face in reaching the company's goals? Think how technology can improve the situation. Consult the people who will use the new system on a daily basis. What metrics and criteria are important for them?
Talk to your HR leadership, HRIS/HRIT leads, hiring managers, and recruiters. When you combine different perspectives, you can better define the company-wide goals for a new solution.
Write down every goal you find along the way in a separate document.
Which ones are must-have and which are merely optional? You can rate each goal on a scale from 0 to 6 according to their importance.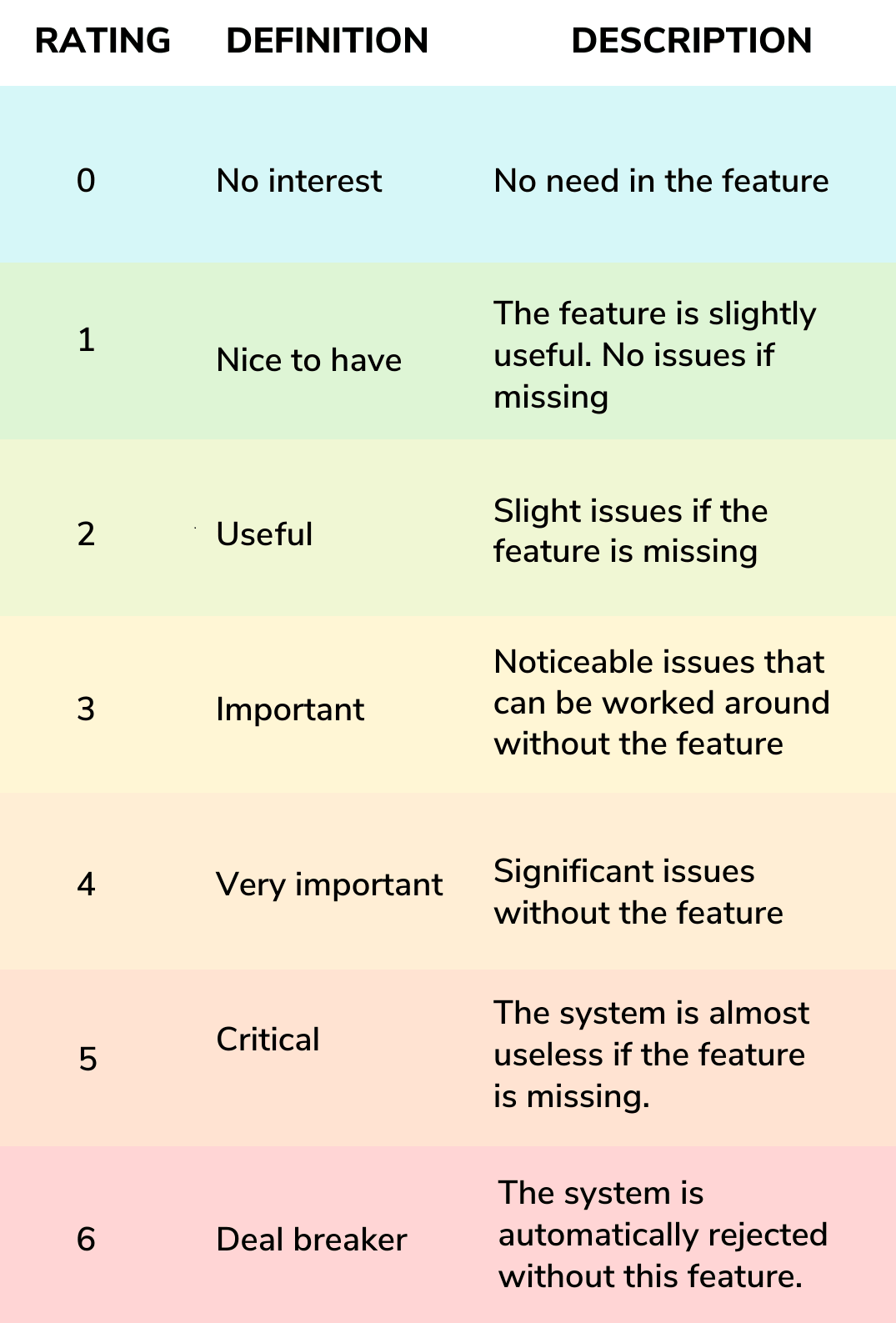 This excercise can save you a lot of time & money by prioritizing features for your Minimum Viable Product (MVP).
#2 Add your requirements to the document
To help you write the document, we've created a simple RFP template that covers the following sections:
General Information
Vendor Considerations
Candidate Management
Vacancy Management
Communication and Scheduling
Analytics & Reporting
Integrations
Non-functional Requirements
Communication & Deadlines
Download an IT outsourcing RFP template [Microsoft Word]
You can use the recruitment software rfp template as a basis for your document. It contains major pieces of functionality and requirements you can use as an inspiration to describe your company's unique needs. If you have trouble coming up with specific features, you can check our article on functional requirements of ATS systems.
Requisition management & vacancy dispatching. Requisition is a collaboration between recruiters, sales reps, and HR managers. So ensure the chosen ATS has customizable requisition workflows and templates. You can also inquire about the ability for sales managers to quickly create a pre-sales vacancy based on previous requisitions, add custom fields, and automatically dispatch the requisition to the best available recruiter.
Candidate sourcing. You can source both passive and active candidates, so your ATS should cover both categories. Posting a job ad on multiple job boards and social media sites right from the system is essential for active applicants. The system should also help you understand where each candidate is coming from to identify the most effective hiring channels.
A social sharing feature in one of ATS systems (to the right); source: selectsoftwarereviews.com
Recruitment advertising is essential for passive seekers. A great ATS can help you identify candidates who are open to new job opportunities and create targeted email campaigns to build up your brand image. You can also use programmatic advertising to place job ads in places that potential candidates are most likely to visit.
Candidate engagement. Timely communication is the No. 1 factor that influences the candidate experience. Having lots of built-in email templates for various scenarios is a good start. Next, you can have integrated messaging/SMS, IP telephony, or a video chat. And don't forget about notifications to remind recruiters about providing timely feedback.
Referrals. Employee referrals is one of the most valuable recruiting channels. According to LinkedIn, hiring a referred applicant can save you as much as $7,500 in productivity and sourcing expenses. A built-in referral program could allow employees to view open vacancies, calculate their referral bonuses, and submit a referral in a few clicks.
CV downloading. An ATS should allow you to easily download candidate resumes from a variety of job boards. You can also inquire about resume parsing. It can retrieve information from a variety of CV formats and instantly add it to a searchable database. And while at it, think about algorithms that can remove parsing errors to improve the search results.

CV parsing: how it works
Candidate management. Whenever a candidate applies for a job, your ATS should automatically add them to your internal database. You should be able to track each applicant by stage, source, and archive reason.
Shortlisting. In addition to having a large pool of candidates, you'll need a quick and flexible search function. So inquire about keyword & Boolean search, as well as various filters that can help you find candidates that fit the job requirements. You might also need advanced search-and-match algorithms, automated resume ranking and updating, vacancy dispatching, and predictive analytics to help you identify high-value candidates.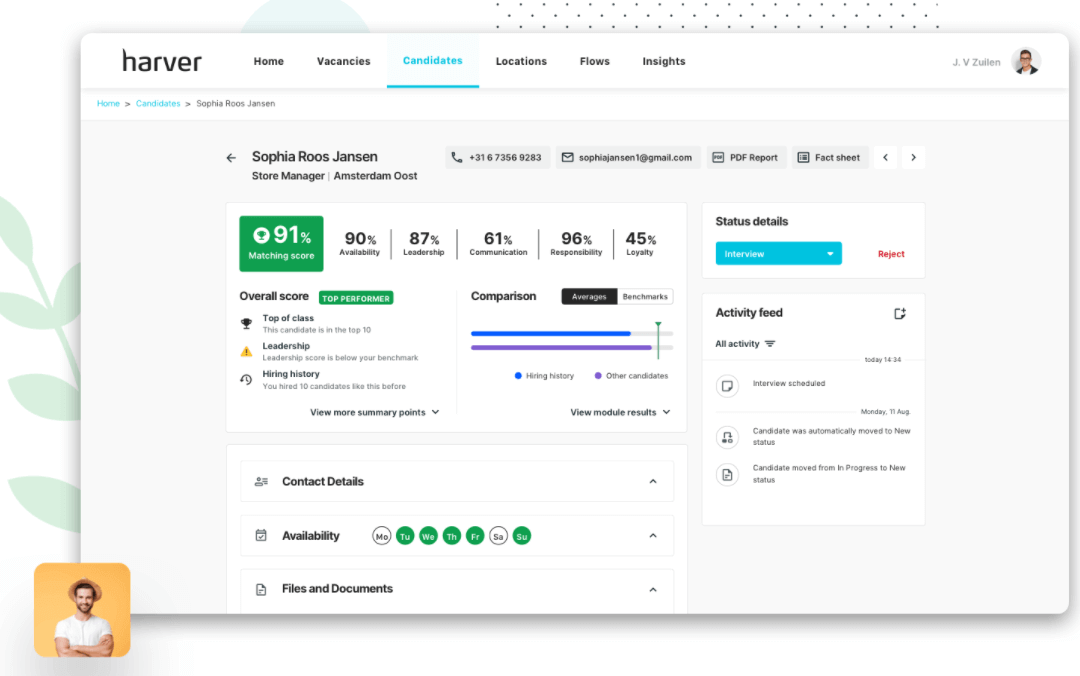 Predicting candidate success with Harver
Document management. A great ATS should allow you to attach all the relevant documents like cover letters, resumes, and recommendations to a requisition so that all information is available whenever you need it.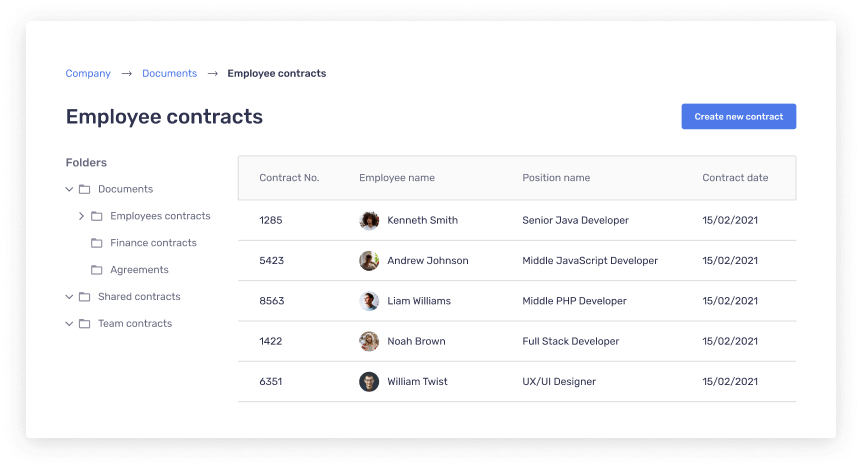 A document management feature in a custom recruitment solution we made for one of our clients. For more information, check the Bridge case study
Interview scheduling. An average recruiter can spend up to 2 hours daily arranging interviews with candidates, domain experts, and employer representatives. A good ATS should have a dedicated pipeline for managing different stages of the interview process. Google Calendar integration is a must-have. But having time zone synchronization, automated detection of free time slots, and self-scheduling can be just as important.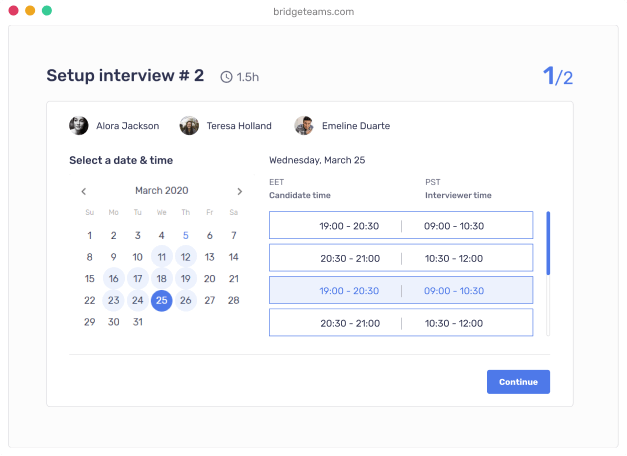 An interview scheduling tool we developed for a client from San Francisco
Onboarding and training. Automatically initiate an onboarding process from your ATS after the candidate is hired. This can come either as a built-in functionality or via integrations with third-party systems like Sapling or ClickBoarding. Learning Management Systems and HCM software provide another layer of functionality that can be useful in your ATS – job-specific training, custom webinars, automated skill assessment, aptitude testing, and much more
Payroll and benefits. 82 million Americans suffer from payroll issues. Your ATS could help you process payroll, manage salary details for your staff, calculate their bonuses, take care of time tracking, taxes, pension, and more. Recruitment companies especially will benefit from invoicing and integrations with accounting systems.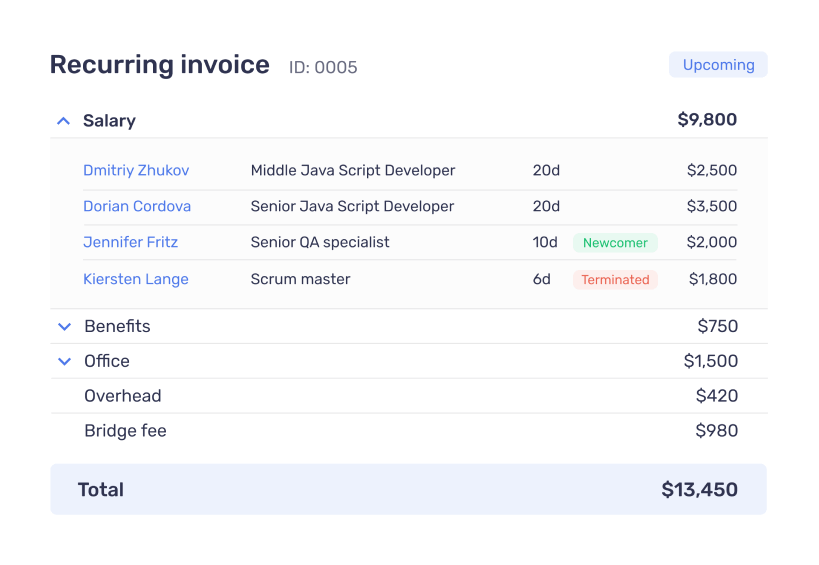 Invoicing module in a custom recruitment solution by MindK
Analytics. According to Gartner, just 21% of recruitment seniors believe their companies are using talent data effectively. Have immediate access to all KPIs to track recruiters performance, determine optimal hiring channels, and identify high-value candidates. Relevant features might include predictive analytics to help you start hiring ahead of competitors, attrition modelling to find employees at risk of quitting, predictive sourcing to identify qualified candidates, and integrations with business intelligence software like Tableau or Power BI.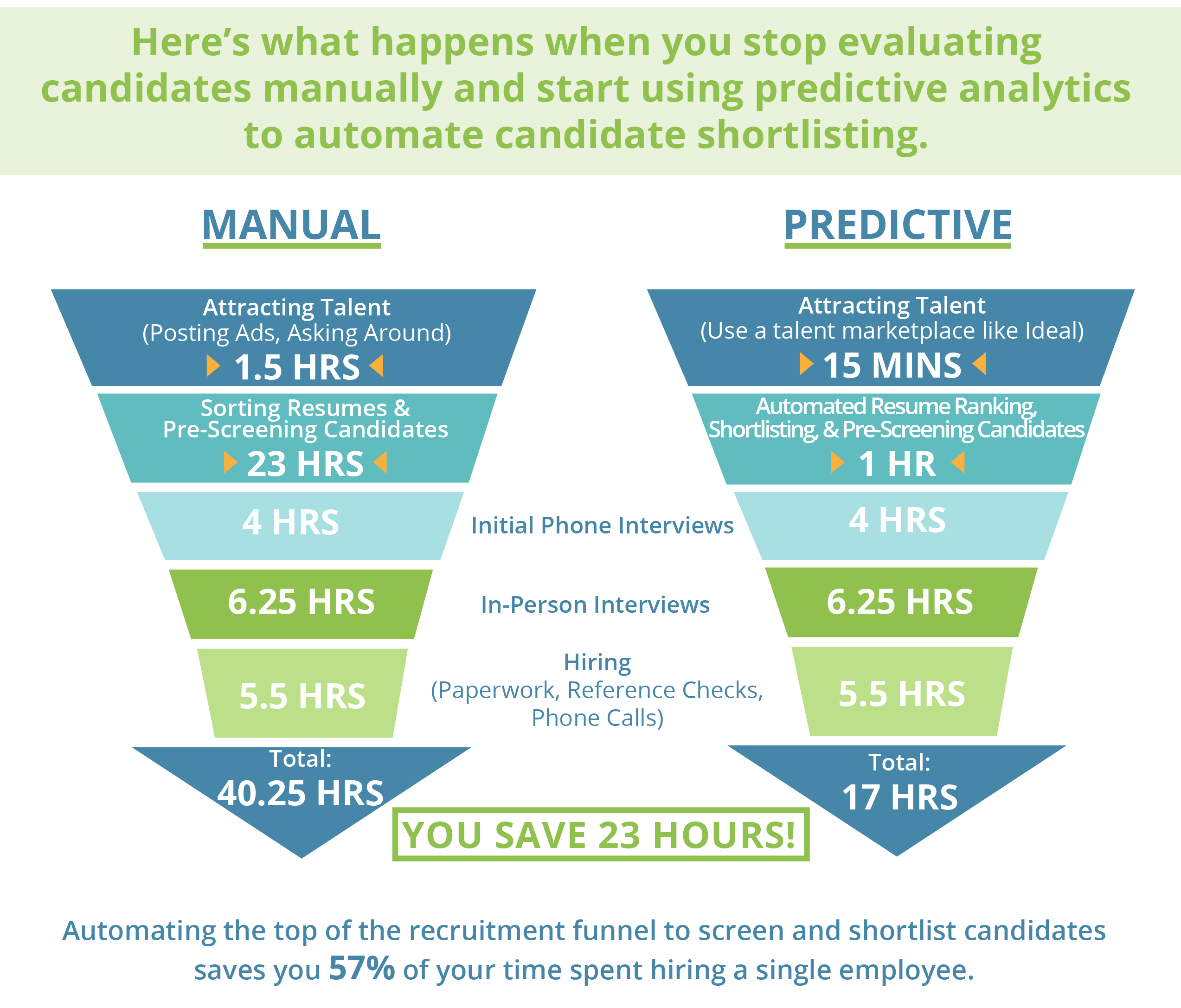 Source: ideal.com
Reporting. A good ATS should have interactive visualization and a variety of pre-built reports on most important KPIs. So think about the ability to easily customize reports, save, and export them in different formats.
User roles and access levels. Think about the roles you need in your system. Do you have any non-standard roles or processes? Ideally, your ATS should support flexible customization of user roles without developers' help.
Integrations. Your ATS should be integrated with all tools you use daily in your hiring processes – job boards and social media websites like LinkedIn; CRM, ERP, and other enterprise applications; accounting and background checking software; email delivery and HRIS systems.

Services & support. Your relationship with a software vendor should be that of a true partnership. So learn about their methodologies and engagement models. How will they handle data migration? Ask them about support and post-implementation maintenance. If you want to learn more about working with software development companies, I'd recommend checking an executive's guide to outsourcing.
Non-functional requirements:
Design and user experience – have you defined the visuals and the journey users will experience when navigating your app? Don't forget to include your requirements towards UI/UX. Enterprise software can be among the most unintuitive pieces of technology you'll ever touch. Ensure your ATS is easy to use and works well on different mobile devices.
Security – there's no need to say that leaking applicants data can lead to serious trouble in the age of GDPR. Make sure your ATS boasts top-notch security including https connection, role-based access control, single sign on, two-factor authentication, data encryption, and VPN tunneling.
Performance and availability – nobody likes slow and unresponsive apps, so make sure the system is fast and has excellent uptime.
Scalability – make sure your ATS will grow together with your business needs.
Compliance – take care of GDPR compliance, equal opportunity reporting, diversity surveys, and EEO/OFCCP compliance.
Costs – learn everything about the different factors that influence the software development costs.
Reliability and support – agree in advance on the type of support you'll get post-implementation. Take care of backups, sandbox environments for testing updates, and recovery plans.
Source code & IP rights – secure your intellectual property, talk through the way your source code will be stored and commented.
Learn how MindK can help you as a custom recruitment software development firm.
#3 Add a short introduction
Your document is almost ready. All you need is to add a few finishing touches:
Information about your company and a reason you're looking for a new solution (For example, "Awesome Inc. is a mid-size recruitment agency that needs a new ATS to speed up the hiring process and access analytical insights to stay competitive").
Submission deadlines.
A short summary of your requirements.
The software you're currently using (if any).
Instructions on how to fill the document.
Your evaluation criteria.
Contacts in your company ("If you have any questions regarding the document, feel free to contact [person] at [your email] or by calling [your number]").
Any other information relevant for the context (for example, you're doing through an acquisition or a massive reorganization of the recruitment department).
Download an Applicant Tracking System RFP Template [Microsoft Word]
Wrapping up
Now that you've finished the document, all that remains is to send your RFP to relevant vendors.
When the time is over and you receive proposals, it's time to share them with your selection committee. If possible, eliminate vendors that can't satisfy your requirements toward functionality, costs, or other factors.
If you want to learn more about working with a tech partner, I'd recommend checking out our guides on finding trusted developers and successfully completing your project.
And if you need word-class engineers to build your ATS, feel free to contact us. MindK is a custom development company that specializes in recruitment solutions. Just fill the form and we'll arrange a free consultation with our experts.