Could something similar be useful for your company?
As a software development firm, MindK has been advising clients from construction and proptech industries for 11+ years. Here are the top 10 ways you can use blockchain for real estate with examples of successful companies.
Table of contents: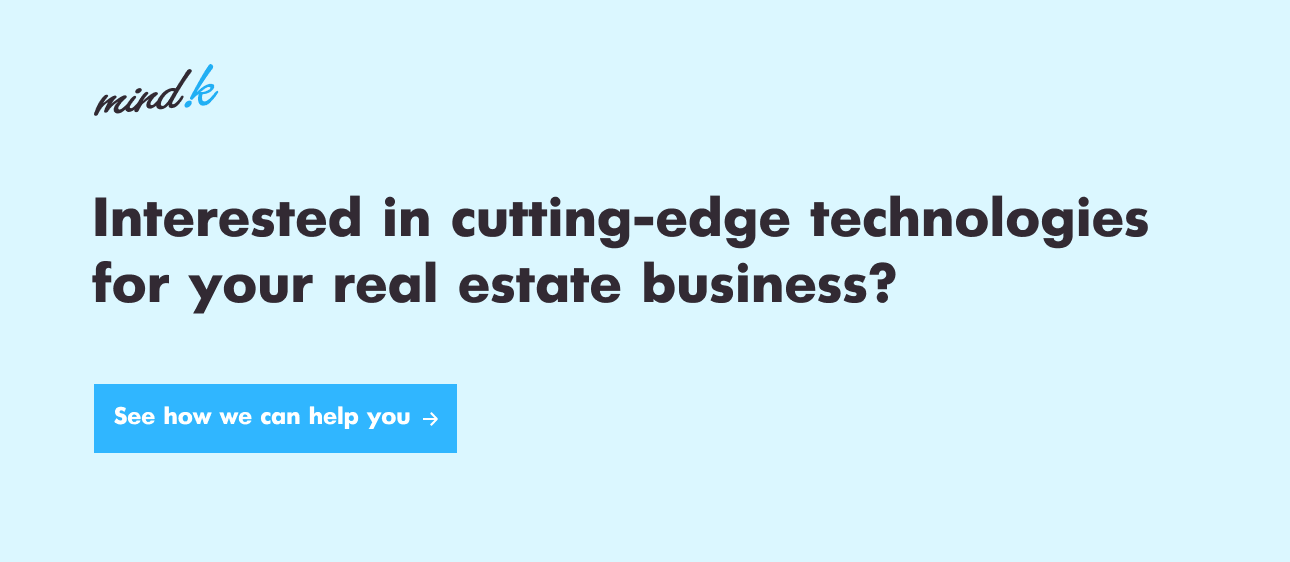 What is blockchain in real estate?
Here's the simplest explanation to help you understand the concept.
Blockchain is a technology for storing data. Imagine a piece of paper listing the sales history and ownership details of your current property.
Once you fill the paper, it is filed in a big journal you keep on your desk. This journal is the blockchain. The underlying technology makes it almost impossible to change or erase information stored in this journal (as each page that gets added contains a cryptographic reference called hash that leads to the previous block of data).
Now imagine that every desk in the US holds an exact copy of this same journal. When you need to verify a transaction, the information written in your journal is compared to its other copies. This way, you quickly discover any discrepancies between the records and identify fraudulent transactions.
There's no central authority that has the rights to modify the records. This makes blockchain much more secure and trustworthy than traditional databases.

Benefits of blockchain for real estate
It's almost impossible to forge or corrupt data stored on blockchain. As information is verified independently by all nodes in the network, buyers and sellers can have more confidence in a real estate deal.
Property deals have always involved lawyers, bankers, and a whole host of real estate brokers. According to Deloitte's Blockchain in Commercial Real Estate, the tech may render these intermediaries obsolete as new platforms can take care of payments, listings, and legal procedures.
In addition to taking care of intermediary fees, blockchain-powered platforms can reduce costs associated with property registration, inspections, loans, and taxes.
Renting a property involves a wide range of tasks and paper documents. Blockchain can help eliminate paperwork with the use of smart contracts (more on that later) making all information transparent and error-proof.
Real estate has been traditionally viewed as a low-liquidity asset. Blockchain allows us to turn property into digital tokens that are easy to buy and sell.
Lower barrier to real estate investment
Blockchain supports fractional ownership of real estate assets. In practice, this means you won't have to search for a single investor to build a $10 million office complex. Just create 10 million tokens, each worth one dollar and have people invest as low as $1 to finance your project.
Better renting experience
Blockchain makes the renter's life easier. From making property listings secure and transparent to organizing digital tours and signing smart contracts.
Top 8 blockchain use cases and examples
#1 Blockchain-based smart contracts
Smart contracts are digital, self-enforced contracts between a merchant and a customer. Examples include offer sheets, letters of intent, and listing agreements. Smart contracts can define the terms, store them across the blockchain network, and monitor their execution. If one party violates the terms, a smart contract may immediately annul itself.
Compared to the old way, smart contracts make transactions faster and remove the need to negotiate with lawyers, brokers, and bankers.
There are many use cases for real estate smart contracts. Take, for example, SMARTRealty – one of blockchain real estate startups that utilize smart contracts to automate purchase and lease agreements.
#2 Automated rent payments
Blockchain allows to sign and pay real estate lease agreements, no need to do manual reconciliations and pay rent/dividends. In theory, you could automatically calculate and charge rent based on data from Internet of Things (IoT) devices and utility bills. By automating different kinds of payments, real estate platforms can promote good behaviour from residents, service providers, and proprietors.
Liv.rent is a Canadian rental app that recently opened its platform to cryptocurrency transactions. The startup automates every step of the rental process, from looking for a suitable home to inking the deal. Renters can pay, for example, in bitcoin, while landlords will receive a payment in a fiat currency. With the new blockchain option, Liv.rent hopes to create a future of secure and affordable cross-border rent for those who are looking for a home in Canada.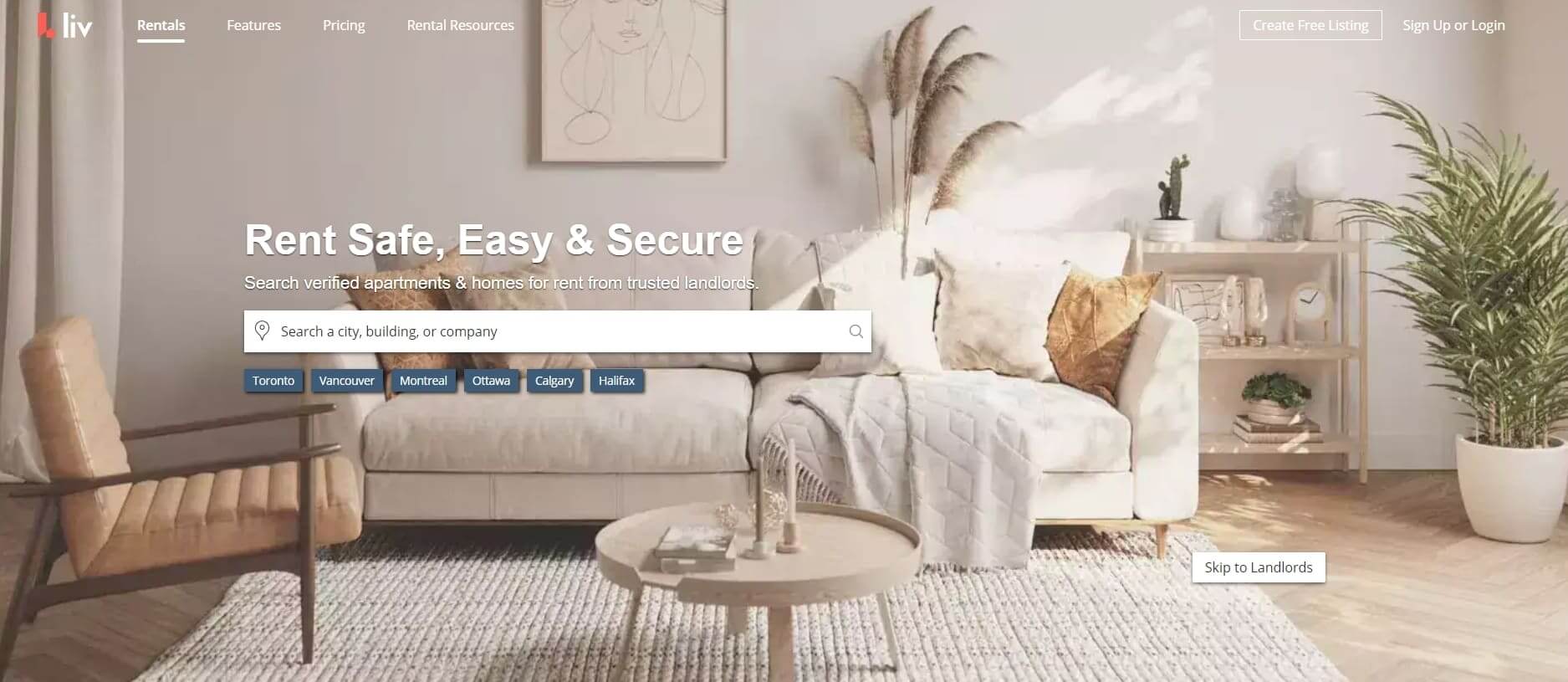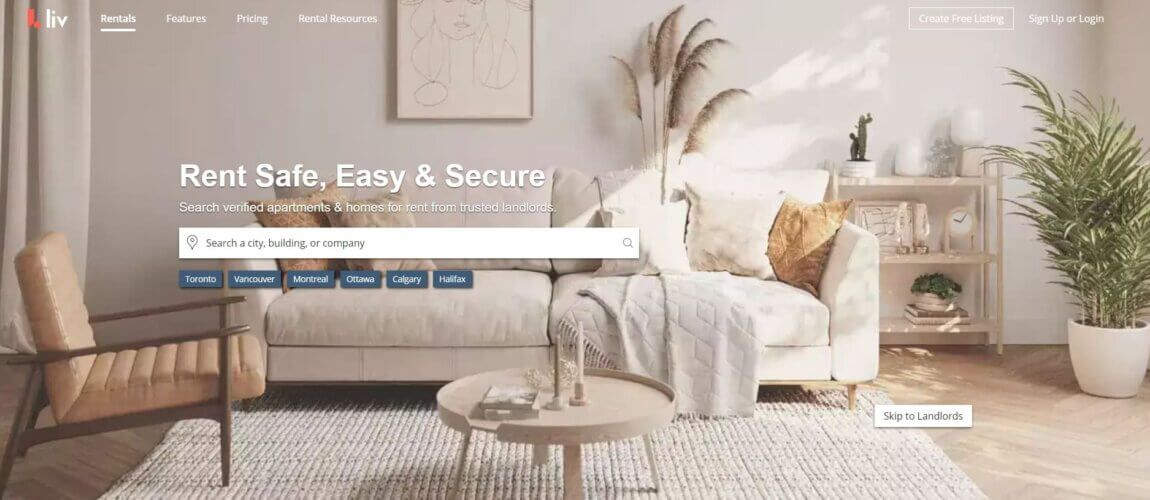 #3 Accessible blockchain real estate investment
Investing into real estate has always been attractive. Yet it was mostly unavailable to common people. Accreditation requirements, lengthy due diligence, and the sheer amount of money you need to invest – all this acted as a huge entry barrier.
Everything changed in 2012 when the US adopted the Jumpstart Our Business Startups (JOBS) Act. Since then, real estate crowdfunding has become a booming industry which attracts billions of funding. Such platforms allow regular people to invest as low as $500 in property.
Blockchain can make real estate crowdfunding even more accessible. A process known as tokenization can turn property into digital assets, each representing a share of ownership over a commercial or residential object. It allows multiple individuals to co-own a property, as well as buy or sell tokens without intermediaries.
The tokens are recorded, stored and verified with the help of blockchain. Having multiple individuals backing a real estate project, speeds up its funding and increases its efficiency. What's more, it allows property developers to involve investors outside of their immediate network and vet them without a heap of paperwork.
RealBlocks is one of real estate startups using blockchain to open up new investment opportunities. The distributed ledger helped the New York-based company to lower fees, increase liquidity, and accelerate transactions. As of 2021, RealBlocks raised over $10 million of investments over 5 rounds.

#4 Simpler construction and supply chain management
Large construction sites are extremely hard to manage with a wide network of subcontractors and untransparent supply chains.
Blockchain is a promising technology for contractor and supply management platforms. Take, for example, CINX – a cloud-based system for contractor and supply chain management we built for one of our clients. The platform features a catalog of over 25 million items used by construction companies, from plumbing supplies to electrical appliances.
Blockchain can help us understand where construction materials are coming from and what happened to them along the way. It can streamline procurement, automate payments and contractual agreements, help with managing subcontractor reputation, and encourage better performance.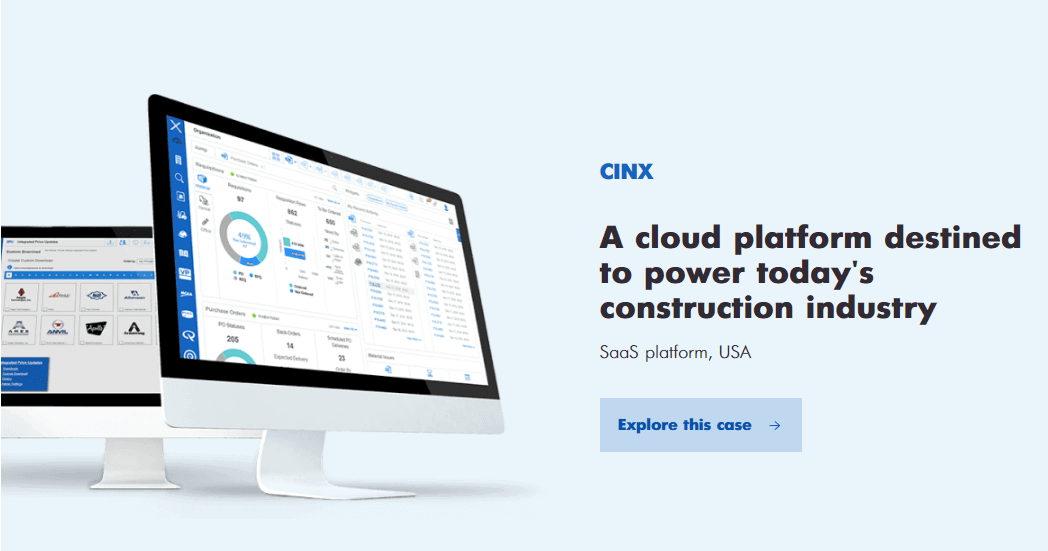 #5 Transparent and secure property listings
Multiple-listing services (MLS) go all the way back to the 19th century. Back then, real estate agents would gather to share information about the homes they wished to sell. Modern American MLS consist of 800+ local databases. A majority of them are only available to licensed brokers who have to pay a hefty fee to access each database.
Blockchain can, in theory, replace this outdated and cumbersome system with an accessible product that would crush all competitors. It's possible to move these listings to a single decentralized database available to all users. By lowering the fees, blockchain MLS can quickly conquer the market becoming the standard way to look for real estate across borders.
Imbrex is one of the first MLS to utilize blockchain. NY-based property listing eliminates intermediaries connecting property agents with listing agents. Instead of paying with money, Imbrex uses digital tokens to maintain transparency and streamline the buying/rent experience.
Learn how to build a real estate app with MindK.
#6 Streamlined mortgage management
Taking a mortgage is a lengthy process filled with a ton of paperwork. Traditionally, it consists of 5 stages:
Pre-qualification – background & credit history check.
Application for a mortgage.
Loan processing & information verification.
Underwriting – evaluation of risks.
Settlement – mortgage finalization.
These steps take on average 1-2 months. Blockchain can speed up this time considerably. As all parties involved in the transaction get access to the applicant's information, it can get verified almost instantly. Approving the mortgage and transferring the funds takes just a few days instead of a month in a best-case scenario.
Mortgage underwriting and settlement still lack common standards and require a ton of paperwork. What's more, the process involves lots of third parties who all get a cut of the mortgage (or get paid in other ways).
As blockchain removes intermediaries, it can lower the mortgage costs allowing you to undercut competitors.
It can also help you keep track of payments, verify ownership rights for refinancing, or easily sell the mortgage to another company.
Many fintech startups utilize blockchain for real estate transactions. Take, for example, Figure – a crypto-powered unicorn from Silicon Valley. Among a multitude of financial services, the company offers an attractive option to buy or refinance residential property. As of 2021, Figure raised 1,6+ billion USD over 10 funding rounds.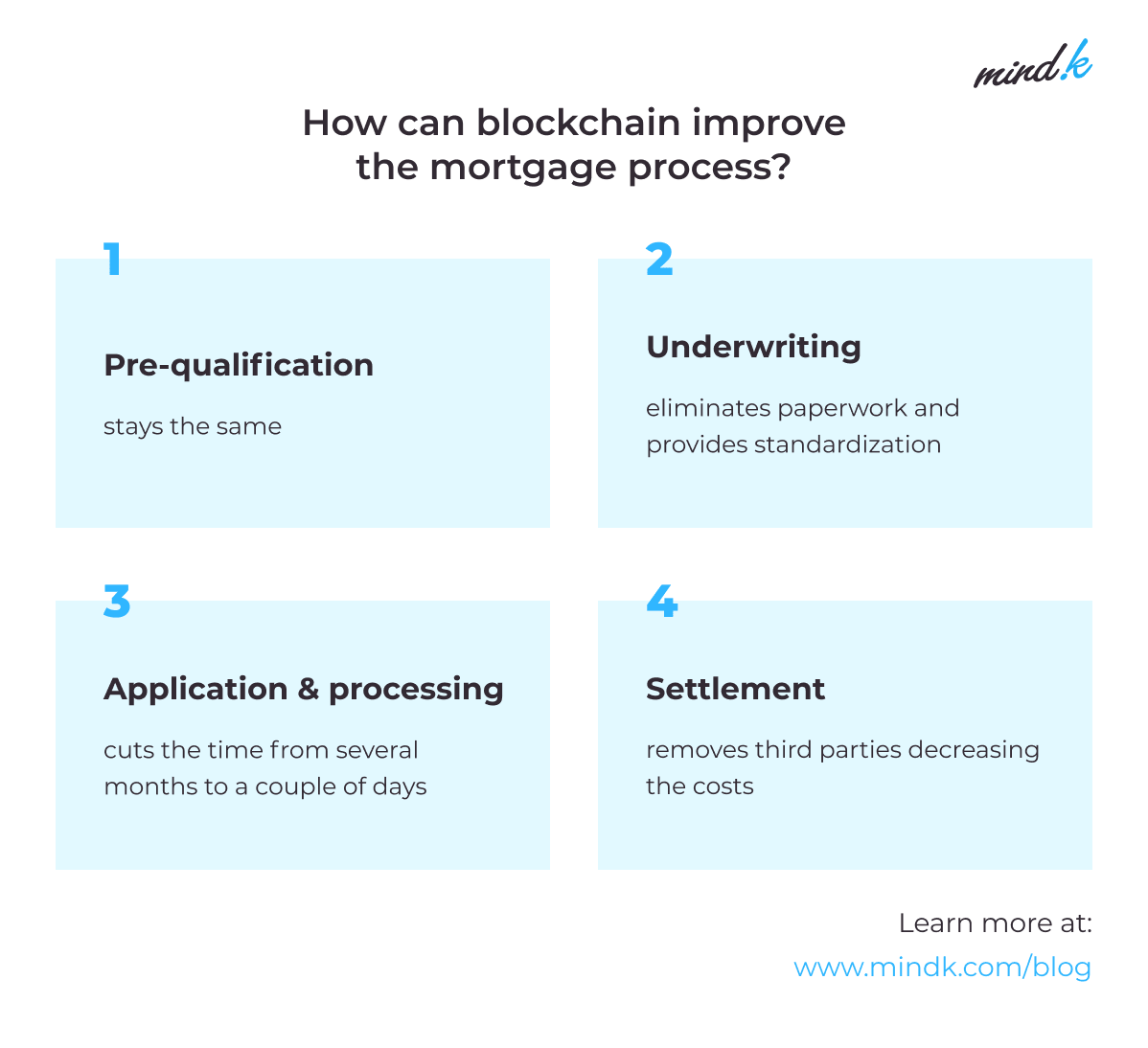 #7 Automated real estate accounting
Duplicate actions, excessive documentation, and periodical controls are all manual, labor-intensive tasks that are costing money to real estate companies.
With double-entry accounting, you still need to verify your books with the help of external auditors. Each audit is a lengthy and costly endeavor that takes away your accountants time.
Instead of maintaining separate records coming from transaction receipts, real estate firms could record the transactions directly on the blockchain. This creates an integrated system of persistent bookkeeping records.
Blockchain makes it impossible to destroy or tamper with your accounting records. The inherent trust behind the technology allows auditors to check huge amounts of data in a record time decreasing the audit costs.
In addition to reducing costs, blockchain can also automate many accounting jobs to eliminate human errors. This makes the tech incredibly attractive to startups like Auditchain that are using blockchain to enable real-time auditing and decentralized accounting.
#8 Digitalized property and land registries
Land registers have a huge problem. How do you prove that the piece of land that your family has owned for ages is in fact yours? These ownership rights are most likely recorded on a paper document which is incredibly easy to lose or forge. In fact, the value of such property that is not legally recognized can be as high as $20 trillion globally.
The Republic of Georgia became the first country to validate land ownership rights with the help of blockchain. All registrations are recorded on a private ledger and are later validated using the Bitcoin blockchain. This provides an immutable history of transactions that simplifies auditing, and provides great transparency.
What's more, the technology can cut down the time it takes to register a real estate deal from 3-6 months to just one hour.

Conclusion
Blockchain is a revolutionary technology that will have implications across dozens of industries. In real estate, it simplifies the relationships between property owners, tenants, and buyers, lowers the barrier to real estate investment, makes property listings and land registers much more secure and transparent, and streamlines accounting and construction management. The potential of blockchain for real estate is truly limitless.
If you're wondering how the new tech like blockchain or AI in real estate can help your business, you could always use a trusted consultant. As a software development firm, MindK has been working with real estate and construction companies for more than 10 years. In this time, we helped them automate business processes, streamline customer journeys, and make smarter decisions using cutting-edge technology.
Feel free to explore our services for real estate and construction companies.