As more and more businesses embrace lean practices, it becomes common to outsource parts of the same job to different companies.
One contractor might work on foundations while others will deal with concrete, structural steel-work, plumbing, heating, air conditioning and so on. They all come from different backgrounds, encountering varying levels of risk in their day-to-day activities.
Without proper induction to the on-site hazards, such workers can create potentially life-threatening situations.
Now add the lack of a clear management hierarchy, the need to control the procurement process, relationships with subcontractors, and you will get why many managers feel like they're losing control over the project.
Contractor management deals with hiring, supervising, and ensuring the safety of outsourced workers.
In the past, it involved lots of manual tasks like monitoring contractors' compliance, issuing work orders and writing invoices. It consumed a huge amount of time and distracted managers from more important tasks.
The SaaS revolution has changed everything.
Now you have access to a wide range of tools that can automate management of contractors.
The only downside is that many companies can't find all the features they need in one product. They either have to rely on dozens of different apps or supplement digital tools with paper documents.
As a company engaged in custom software development for the construction and real estate industries, we know that sometimes it's easier to build a new solution from the ground-up than trying to rework your business processes to fit a readymade tool.
But whether you use an out-of-the-box system or some custom solution, going digital can transform your experience at every stage of contractor management.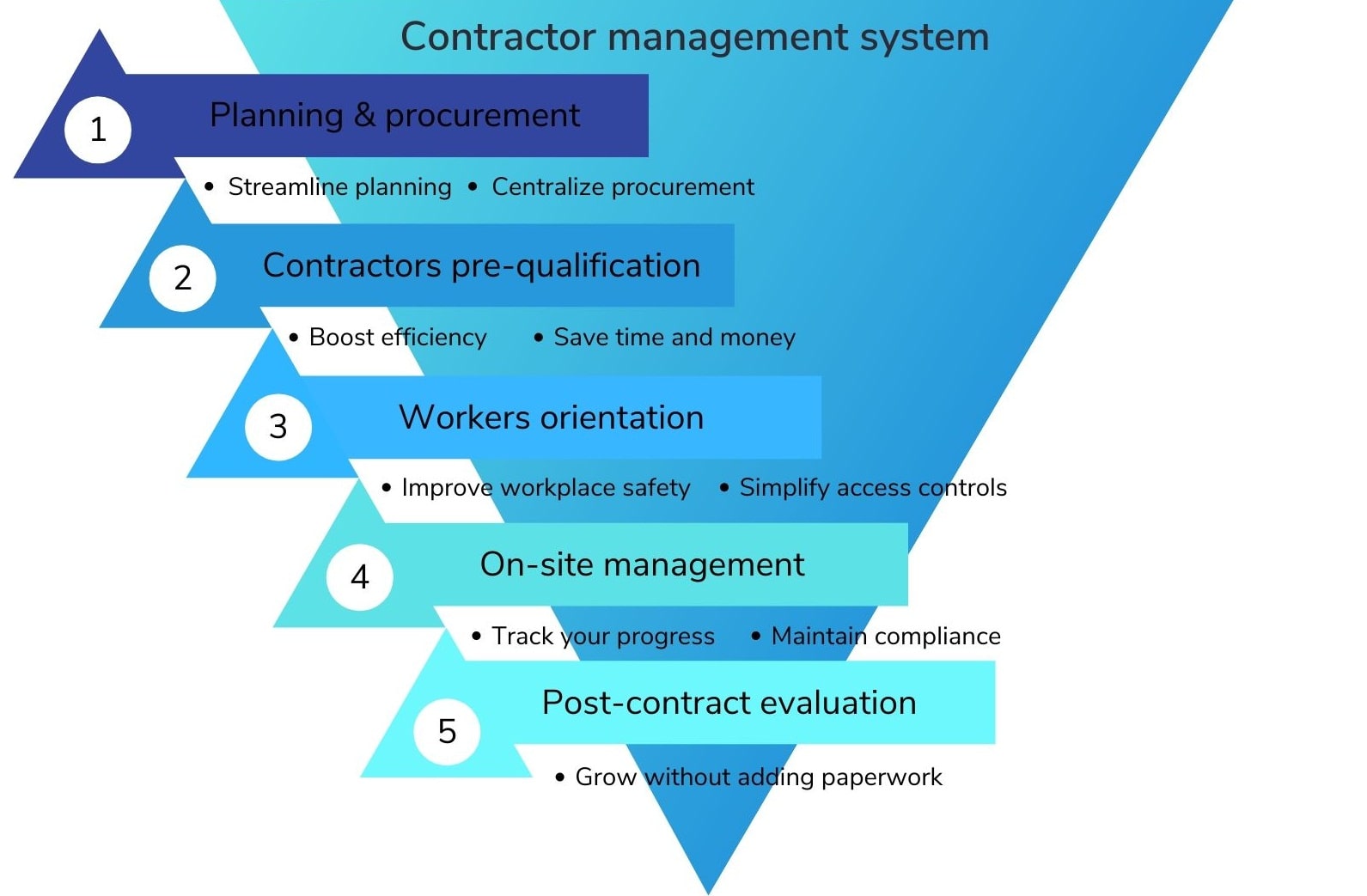 How contractor management systems can help you throughout the project lifecycle
Management of contractors is a complex multistage process.
After winning a bid, your typical construction firm will start selecting the most reliable contractors. They will have to induct them to on-site hazards, oversee the procuring process, issue work orders, monitor progress, and assess work quality.
But, first, they'll need to…
Plan the hiring process
A good building starts with a strong foundation, so the management process should begin with thorough planning.
First, it's necessary to establish requirements for contractors.
You can work backward from the project's goals and break down the work required to finish the building. Determine the necessary skills and the level of experience needed to safely perform each of the tasks. Identify the risks that can result in injuries, cost overruns, and project setbacks.
For each risk, determine its probability and the possible impact on the project.
Here's an example of a risk assessment matrix we use at MindK:
| | | | | | | | |
| --- | --- | --- | --- | --- | --- | --- | --- |
| Risk ID | Description | Probability | Impact | Mitigation | Trigger | Owner | Deadline |
| 1 |   | Rare | Minor |   |   |   |   |
| 2 |   | Unlikely | Serious |   |   |   |   |
| 3 |   | Possible | Major |   |   |   |   |
| 4 |   | Probable | Critical |   |   |   |   |
| 5 |   | Very likely |   |   |   |   |   |
Now, you'll have to prepare a mitigation plan to decrease risk probability or soften the impact.
You can store these documents in a contractor management system and access them from anywhere in the field making it easy to adjust your risk mitigation plan on the fly.
Pre-qualify contractors
Now it's time to assess contractors against your requirements.
While working with one of the largest recruiting agencies in Western Europe, MindK learned how hard it can be to find a qualified job candidate.
Our client relied on a 12-year old system with outdated UX and poor data structuring. HR managers had to manually search dozens of sites to find a suitable candidate. Because of this, the recruiting process took days of hard work.
The system we built allows HR managers to type a request into the search bar and automatically search all available platforms for candidates that match selected requirements like physical location, level of expertise, or desired salary.
By eliminating repetitive tasks, we allowed managers to focus up to 80% of their time on strategic efforts.
Now the company can find ideal candidates according to customer requirements within 48 hours.
A thorough pre-qualification phase is the first step towards establishing strong relationships with contractors and your first opportunity to lay down your standards, expectations, and guidelines for outsourced workers.
It typically starts with creating a pre-qualification form (PQF) with a list of questions and details that contractors will need to fill in order to qualify for the project:
Technical expertise;
Project history and ability to meet deadlines;
Financial stability;
Management capabilities;
Risk assessment practices;
Health & safety records;
Accident and legal history;
Insurance and compliance;
Reporting procedures for workplace incidents; and
Sustainability and social responsibility efforts, etc.
General contractor software typically includes drag-and-drop form constructors that allow you to craft PQFs and send them to contractors. Automatically collect all relevant information and rate contractors based on experience, quality, and safety records (e.g. incidents reported, number of injuries, defects, and feedback from previous employers).
Along with gathering information about contractors, you might request references from previous work. Conduct a background check to see if their projects were similar to yours in size or difficulty and ensure they had great relationships with the contractor.
If you're planning to hire contractors from previous projects, make sure to requalify them. Look for any changes in safety records or expired insurances.
Remember, pre-qualification isn't a one-time activity.
You'll need to monitor contractor performance and conduct safety audits (especially for high-risk activities like working with electricity or explosives).
Your contractors can use the same system to hire subcontractors ensuring that all workers have been thoroughly vetted to work on your site.
Conduct worker orientation
As workers in their first month on-site are 3 times more likely to be injured than experienced workers, it's crucial to introduce them to safety rules. Your contractors need to be aware of job requirements, work conditions, and on-site threats.
The orientation process will need to cover the following topics:
Safety procedures for workers;
The chain of responsibility;
On-site hazards and what you need to know about them;
Reporting procedures and emergency plans;
Site layout (e.g. access points, perimeters, restricted zones, materials storage areas, transportation routes, etc.).
Personal protective equipment;
Machinery and power tool safety;
Lock Out, Tag Out (LOTO);
High-rise works and confined space safety;
Working with dangerous chemicals, etc.
To streamline the orientation process, you can create a site-specific induction handbook with the help of online form constructors. Digital handbooks are especially effective as you can include video materials and track the progress workers make when studying the materials.
You can customize your orientation based on the contractor's risk level.
High-risk jobs might require a more in-depth orientation, higher insurance, and deeper compliance checklists.
At this stage, you should also take care of procurement.
For one of our clients, MindK created a custom SaaS platform that allows construction companies to order the necessary equipment and materials.
Construction managers can search an online catalog with more than 3 million items, read technical documentation, send requests for quotations, generate invoices, and track procurement status.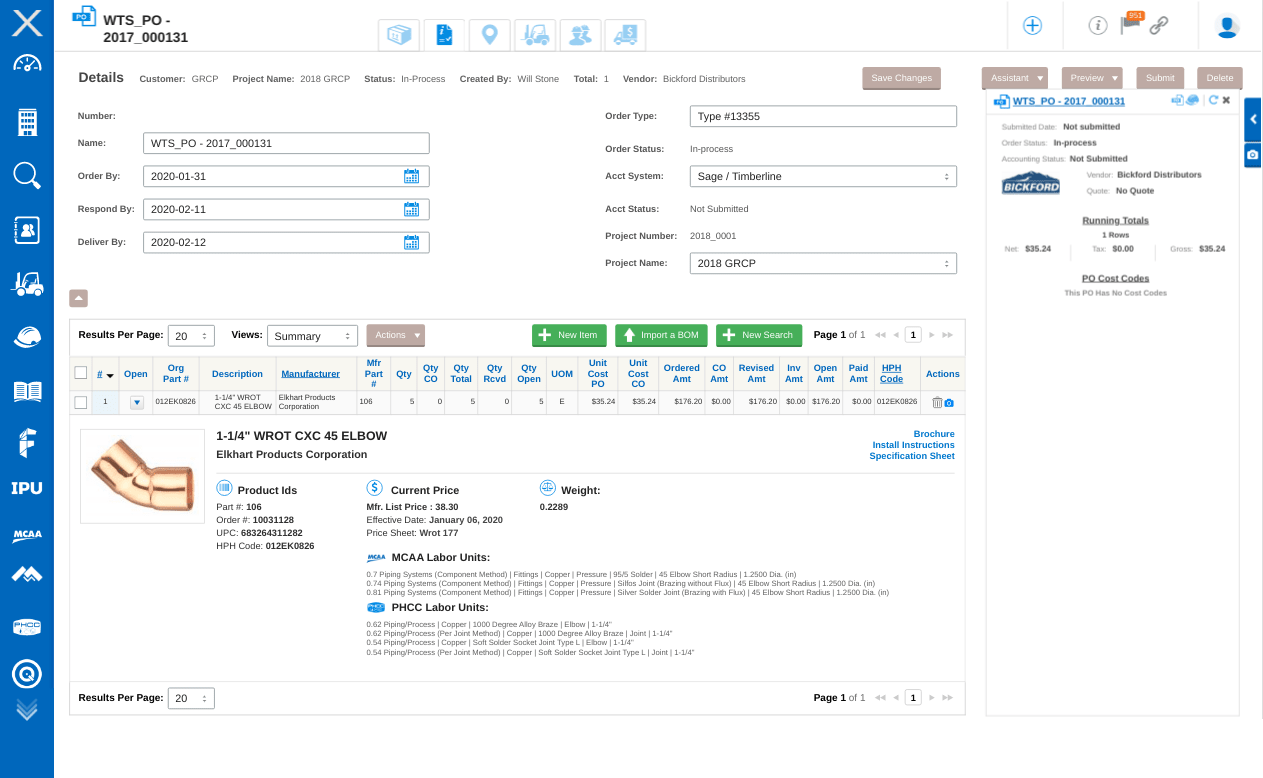 Procurement process in the CINX app
Integrations with invoicing and accounting systems allow us to keep all project-related information in one place. Construction companies can exchange data with their ERP systems or import 3D models of procured materials into CAD tools like Autodesk.
Create projects, add contractors and exchange important data with your partners. Ensure that no company can receive a work order unless it went through a comprehensive pre-qualification phase.
Supervise contractors on-site
Now the actual work starts on-site. From this point, the construction manager issues work orders, supervises workers, and ensures they fulfill contractual obligations.
But first, your workers will have to get to the construction site. Before the advent of contractor software, workers had to manually check-in when coming on-site.
Now you can set up a virtual GPS perimeter called geofence around the construction site and automatically check-in workers who enter your facilities. Verify their compliance on the spot and confirm they've been through the orientation process.
The same technology tracks contractors on-site and compares their invoices to GPS data.
Read more: how we created a GPS-based app for local communities.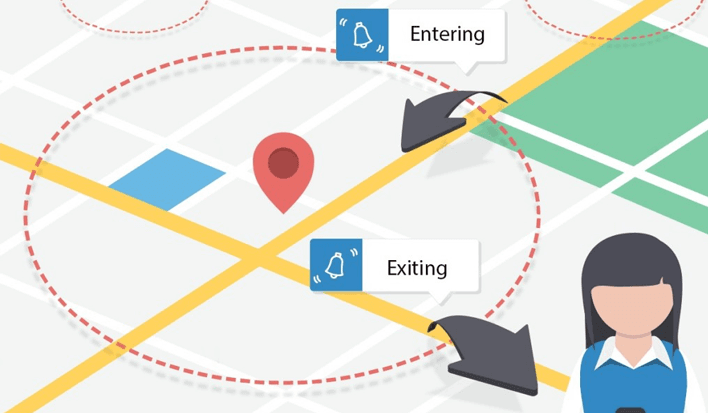 How geofence works; source: Medium.com
In many countries, workers need to have special cards that list their proficiencies and insurance to access the construction site. It is, however, very easy to lose or forget the card.
In one of our projects, we created a mobile app that allows contractors to carry all their certificates in smartphones. The system automatically notifies users when they need to prolong the insurance and allows them to pay via Stripe integration.
A contractor management system can identify potential compliance violations and make sure unauthorized contractors are not present on-site.
Any construction manager has experienced a situation when their perfectly planned schedule gets thrown out of the window as soon as the actual work begins on-site.
Delays happen at all stages and it's necessary to constantly tweak the schedule to fit the changing realities. With larger projects, it becomes extremely hard to maintain coherent timetables due to all the dependencies between tasks.
Using contractor software, you can create a project schedule with important milestones, deadlines, and deliverables to understand how everybody fits into the big picture.
Automatically calculate the time to complete a task, check the workers' timetable, and issue work orders to available contractors. Attach files, notes, and photos to give workers the necessary information to complete the works. Ensure that no contractor can receive a work order unless they have current insurances and went through an on-site orientation.
The system can automatically log their time and tag location to verify they were actually present on-site. Now add online invoicing and you will get an end-to-end contractor management system.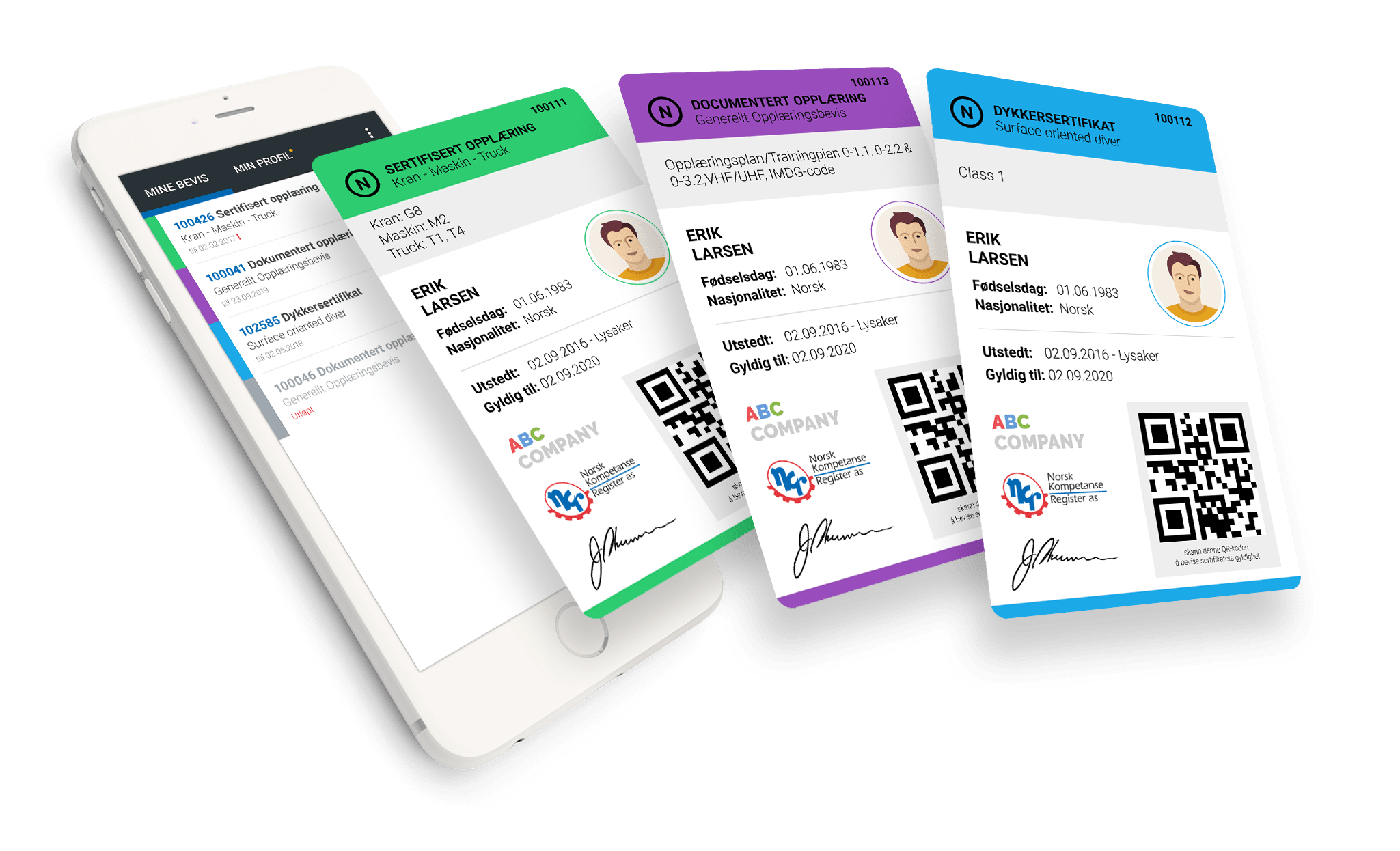 NKR app built by MindK that allows construction workers to carry competency cards in their smartphones
It's recommended to monitor workers' performance throughout the project. With the help of contractor software, you can rate their performance, quality of work, safety practices, compliance, and other metrics to determine whether they should remain involved in the project.
Based on these ratings, you can issue work orders to your most trusted contractors. An integration with procurement software will ensure that no company receives a work order unless they went through a comprehensive pre-qualification phase.
In addition to monitoring workers and holding regular safety inspections, it's necessary to build trusting relationships with contractors.
This way, they'll be more likely to report any accidents or issues that arise during the project.
By setting up a system for continuous feedback, you can quickly detect safety hazards and improve working practices.
Conduct a post-contract evaluation
Now, when the project is heading towards completion, it's time to evaluate the work done by contractors.
Does it match the expected results?
What is their safety record?
Would you consider hiring them for your next project?
Contractor management software can provide a complete overview of all safety incidents during the project and benchmark contractors' performance against industry peers.
By using weighted scores for things like quality of work, management capacity, safety records, and the ability to meet deadlines, you can ensure only the most reliable contractors will get to work on your next project.
Wrapping up
Companies that adopt a contractors management software can improve workplace safety, reduce paperwork, and save a ton of time by automating repetitive tasks.
Leaving behind the old methods can be scary. After all, it will take some time to move your data to a new system and learn to use it to its maximum efficiency.
But with a bit of planning, you can smooth the transition. So gather your team, discuss the necessary changes, and divide the transition process in smaller, more manageable fragments.
And if you need a team of experienced engineers to implement a custom contractor management system, you can always contact MindK.