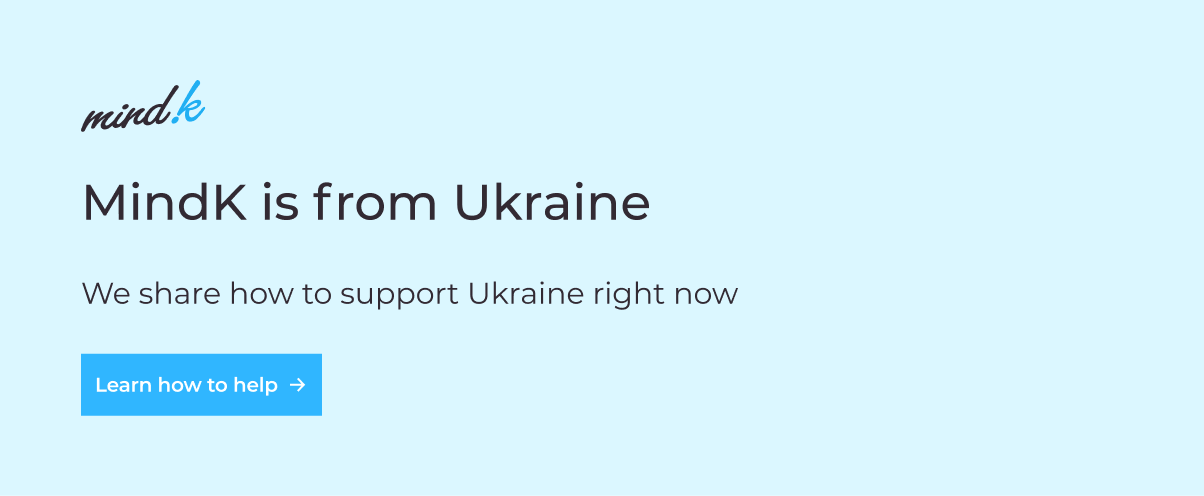 Enterprise application software (EAS) is aimed at solving the needs of big organizations, whether they're Fortune 500 companies or large charities. Besides the sheer scale (and often, outdated design), such tools have a number of defining characteristics that make them different from your typical B2C app:
High performance. An enterprise application should handle the stress of the entire organization using it every day.
Fully owned by the company, no need to share the app with thousands of other users, which helps with lightning-fast queries.
High customization – likely created specifically to match your business processes.
High scalability and extensibility. The system grows together with your business.
Large number of integrations – multiple systems working together to perform a variety of tasks.
Data Portability. You can extract the data stored in the system for other purposes.
High security and robustness. Enterprise software systems are typically equipped with several layers of security (e.g. two-factor authentication, multiple user roles, and encryption).
Now that you know what is enterprise software, let's look at our list of top 7 applications that can change your business.
1. Enterprise Resource Planning (ERP)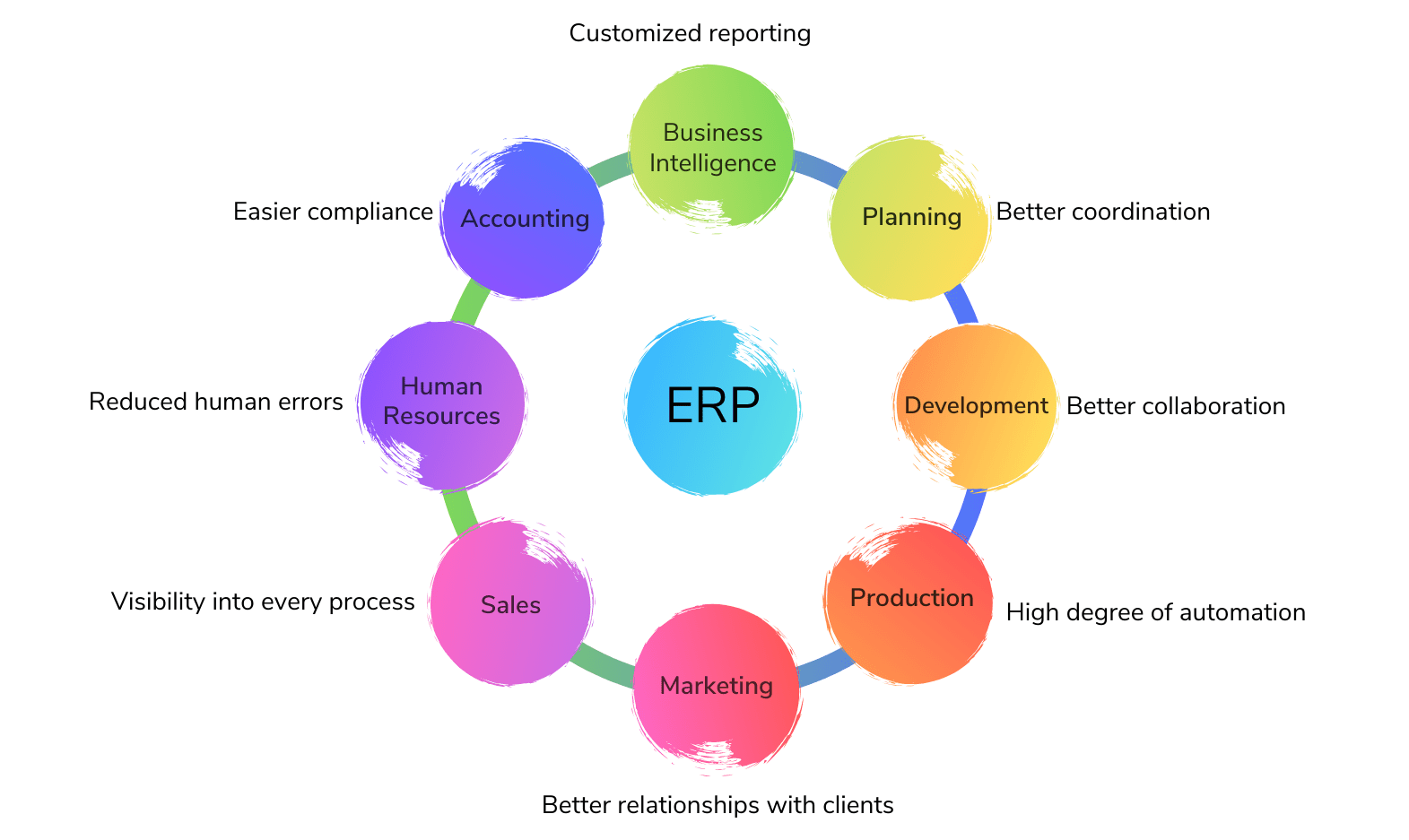 Top vendors: SAP, Oracle, NetSuite, Sage.
Most companies maintain a database of customers, manage their inventory, process orders, and keep the books using outdated tools like Excel or pen and paper. There is little to no data flowing between different systems.
Such an approach is very dependent on the human factor.
The data might come with delays, frequent errors lead to revisions and financial losses. You might have lots of waste, warehouse surplus, or failures to deliver on time.
As your business grows and its processes become more complex, it gets much harder to coordinate various systems used by different branches and manufacturing units.
Rapid exchange of data becomes crucial for agile decision making when you face changing markets and demanding customers.
ERP system is the heart and brain of a modern enterprise. It creates a unified database that lowers the number of errors. The data is entered once and can be used by all departments. The system typically consists of multiple modules, each responsible for digitalizing a different area of your business:
Accounting;
Inventory management;
Customer service;
Business process management;
Order management;
Human resources;
E-commerce;
Shipping, etc.
Together, they can streamline work across the whole organization, provide a 360° overview of your customers, automate business processes, and make them more transparent.
The system can be integrated with other enterprise software solutions including CRM, Business Intelligence, supply chain management, financial information, point of sale data, and so on. Most ERP features are available as standalone apps but the main advantage is having it all in one place.
2. Customer Relationships Management (CRM)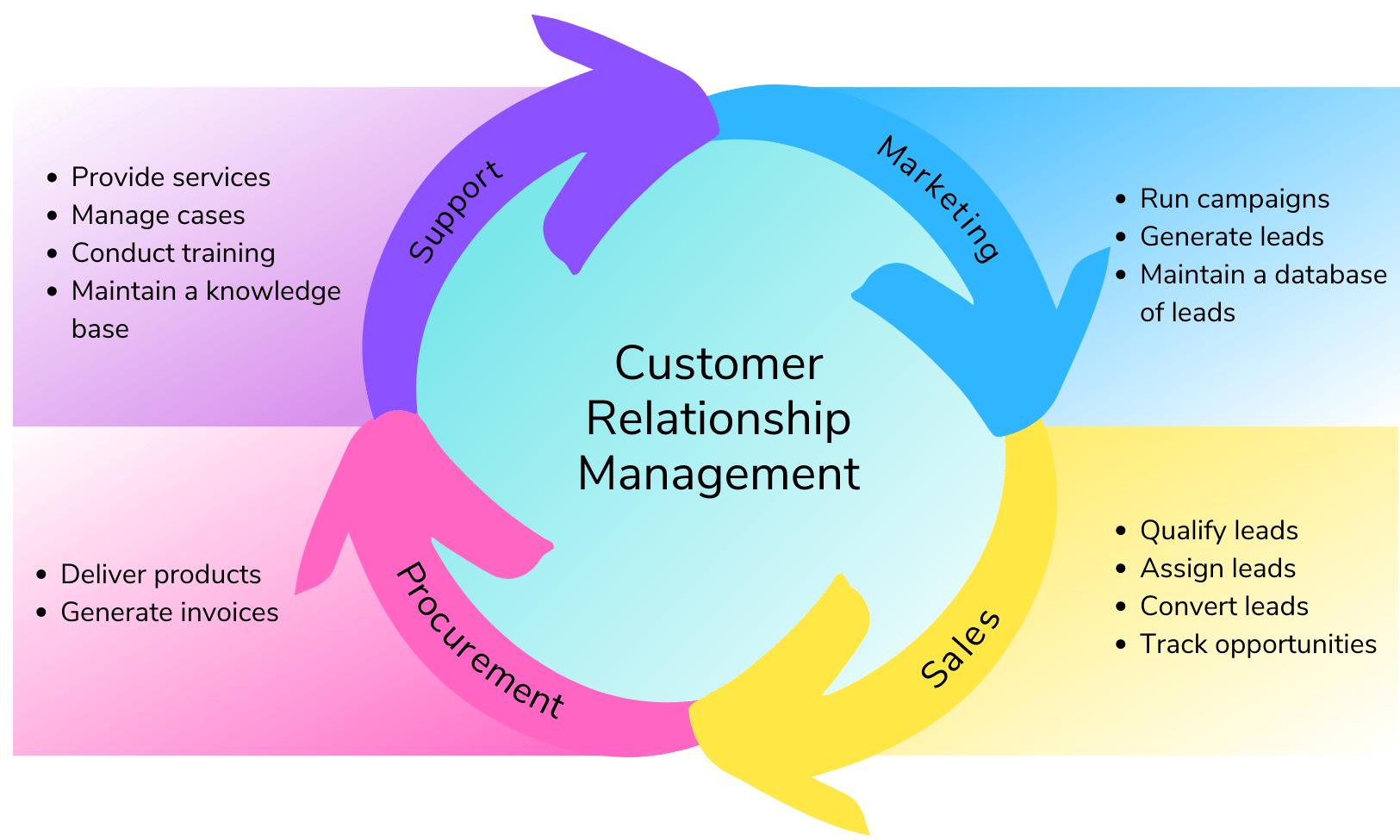 Top vendors: Salesforce, Oracle, Hubspot, Zoho
Sales and customer relationships are the lifeblood of any business. Unless your sales reps have supernatural attention spans, they will miss out on some opportunities to cross-sell, market new services to existing clients, or close the deals.
A CRM system ensures your team is aware of every client. It's a contacts list that provides a detailed overview of your relationships with each customer.
It allows you to track how and when you've interacted with a client (in person, via phone, email, social media, etc.) and ensures that not a single lead will disappear.
According to Nucleus Research, every dollar you invest in CRM software can return as much as $8.71 in increased sales.
Most CRM systems allow you to track leads, manage orders, communicate with your clients, track their statuses, plan advertising campaigns, and gauge their effectiveness.
One of our clients asked to develop a custom system for managing members of Norwegian associations. With hundreds of organizations across the country that have different needs and structures, it was impossible to unite them under one out-of-the box CRM.
Over time, the system we built evolved into a fully-blown CRM that manages a large number of members, companies, and departments.
Associations can now charge for subscriptions and sell tickets to various courses, meetups, and conferences using a single system. As each association has unique needs and workflows, we created a number of custom modules tailored to their requirements. Now each organization enjoys advanced automation and increased revenue.
Apart from basic CRM features like lead management, invoicing, and task management, the system now has:
BankID for secure login and single sign-on;
Custom modules that fulfill the needs of individual associations;
Population and business register integration that provides important data about association members;
Customizable reports to help admins manage their organizations;
Finance and accounting system integrations to support invoicing;
Facebook Messenger chatbot for easier onboarding; and
Email integration for in-app communication between admins and members.
Read more: top 7 business pain points solved by custom CRM.
3. Business Intelligence (BI)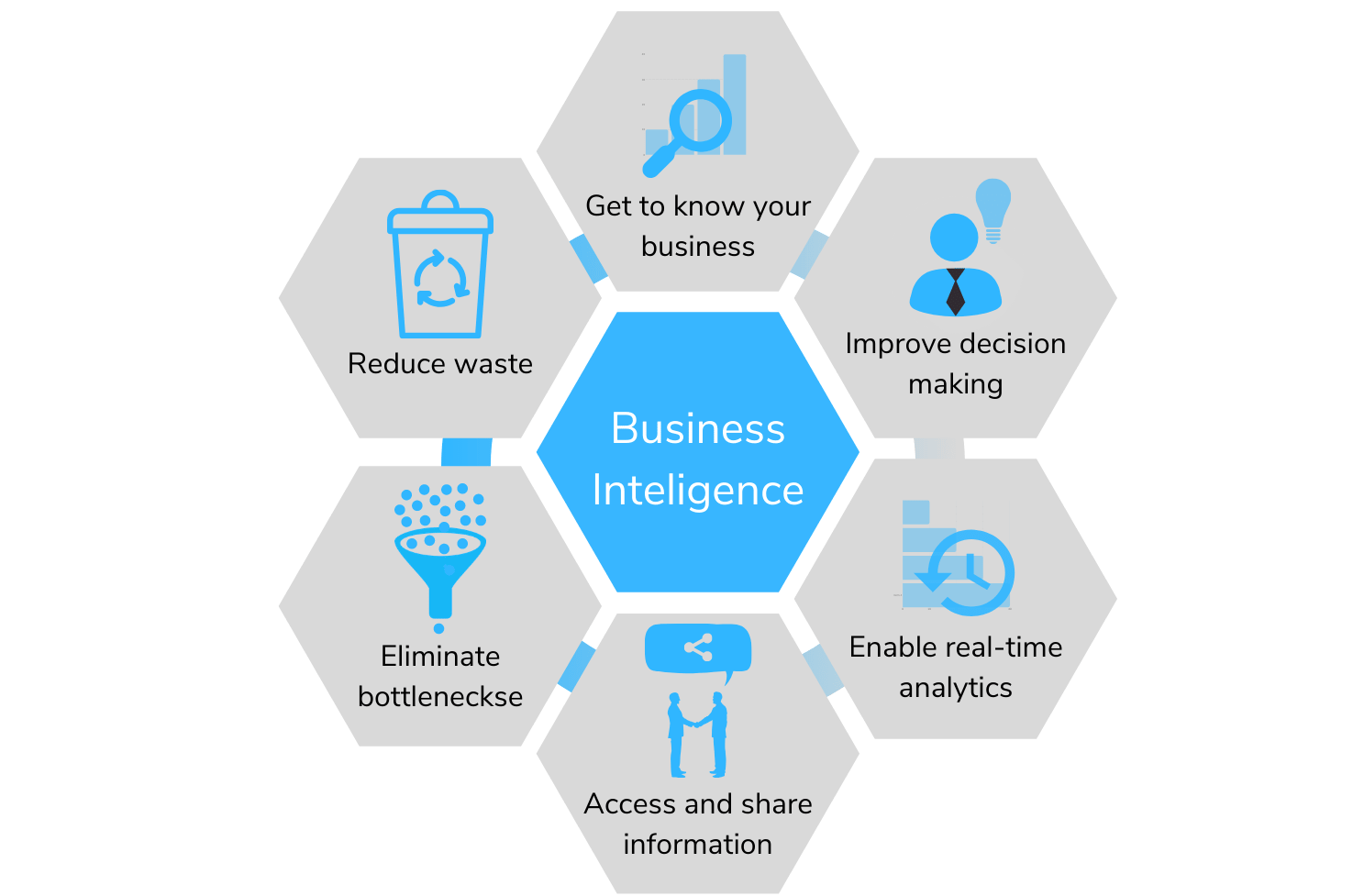 Top vendors: Microsoft, Tableau, Qlik, Salesforce.
BI software helps companies gain actionable insights based on data that comes from various sources: marketing, sales, manufacturing, HR, etc.
It uses data mining, benchmarking, and advanced statistical algorithms to reveal patterns and make accurate forecasts. To help managers detect trends and patterns in complex data, BI systems use various graphs, charts, and tables; everything you need to make better decisions without a background in statistics
In a highly dynamic market, the ability to access your current situation and forecast where you're heading can give you an advantage over competitors.
Many industries including construction, recruitment, healthcare, and IT have made Business Intelligence a standard part of their toolset.
One of our clients provides energy audit, management, and monitoring for more than 30 energy-saving projects. The system they used to track energy consumption was so outdated that generating a simple report would take several minutes.
Together, we've created a custom SaaS platform and an IoT solution that takes readings from utility meters across the country. Consumers can use these readings to assess the energy efficiency of their buildings. The system factors in air temperature (data pulled from weather stations), surface area, building materials, the year of commissioning, building designations and so on to visualize heat consumption and provide accurate forecasts.
As a result, consumers can reduce energy spending ($ 600,000 a year saved in the Dnipro region alone).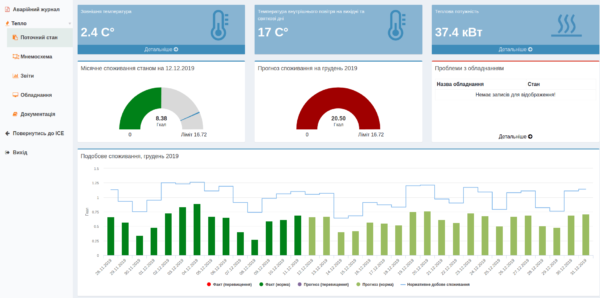 Heat energy consumption and forecast
4. Supply Chain Management (SCM)
Tops vendors: SAP, Oracle, Logility, E2open
Every company involved in manufacturing needs to manage procurement, storage, shipping, and distribution. Typically, these tasks are carried out by people in different departments.
Miscommunications in supply chains can result in financial losses and bad customer service.
For multi-location enterprises, managing dozens, if not hundreds of suppliers is almost impossible without specialized software.
Supply Chain Management (SCM) tools help to ensure a steady flow of supplies necessary for continuous production and delivery. They can help you gather, store, and manage information about sales & materials ordering, suppliers, procurement, manufacturing, order processing, warehousing, logistics, and distribution as well as facilitate cooperation between all links of the supply chain.
Imagine you're one of the leading corporate social responsibility companies in the Nordic region. For years you've helped the world's top enterprises to become more sustainable and environmentally friendly.
In the past, energy and carbon measurement services involved lots of pen-and-paper documents.
To make the process more efficient, we built a cloud-based Supply Chain Management platform tailored to the needs of sustainability.
The system helps companies monitor emission factors across the whole supply chain. A unique risk management module allows them to audit contractors with the help of a survey constructor. As a result, companies can identify social responsibility risks and increase sustainability indicators.
The module also analyzes media for all mentions of suppliers, parses content, and adjusts their risk score based on the articles' content.
An interactive dashboard allows companies to track suppliers' energy consumption. With a large selection of customizable graphics, user-friendly data entry, branded reports with possibility to export to Excel /PDF, enterprises can get a 360° overview of their environmental footprint.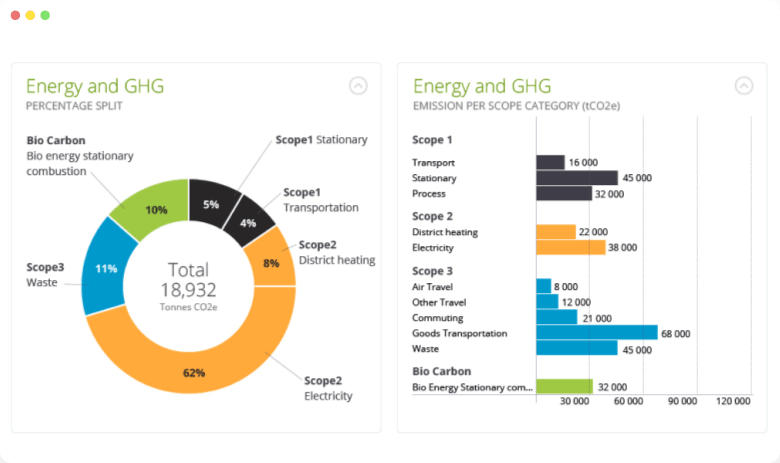 Track emission factors across the whole supply chain with a customizable dashboard
5. Human Resources Management (HRM)
Top vendors: Workday, Oracle, SAP, Ultimate Software.
The bigger the enterprise, the harder it is to search for good job candidates. There are dozens of routine tasks that can be automated with HRM software like hiring, payroll management, workforce planning, performance management, payroll, reporting, employee training and engagement.
That's why HR automation is one of the fastest-growing markets in the IT sector (expected to reach $30.01 billion by 2025).
One of the biggest recruiting companies in Western Europe, used a 12-year old HRM system built in-house. The system had an awful UX and lacked many crucial features. Recruiters had to manually search dozens of sites for job applicants and update their profiles. The IT staff was constantly arguing with HR managers about functionality they couldn't implement.
As none of the existing tools fit their business processes, they went for a custom system that would satisfy all their requirements:
Powerful semantic search and matching that allows HR managers to type a single request into a search bar and get matched with hundreds of relevant profiles. They can set up filters like job responsibilities, skills, desired salary, region, etc, and the system will search all available platforms for suitable candidates.
Recruitment workflow automation that eliminates repetitive tasks and allows the team to focus up to 80% of their time on strategic efforts. HR managers can message the applicant, send a CV to the client, get feedback, assign a job interview, do a follow-up call and more, all in one app.
Data management that makes it easy to add job applicants to the database. The system can parse CVs in any format and add relevant information to the applicant's profile. Instead of navigating dozens of folders with outdated files, the team can now have applicant profiles updated automatically.
Custom task manager. The HR agency was overwhelmed by a huge number of vacancies and applicants because they work with large companies. They often missed appointments and follow-up calls. Now the system automatically generates a daily to-do list for each HR manager. They can assign tasks, set reminders, delegate responsibilities, and get status updates whenever needed.
KPI dashboards with real-time performance data. A customizable dashboard displays all important metrics, visualizes data, and allows HR managers to generate customizable.
Now the whole recruitment agency is controlled from a single app, from staff workload and client request statuses to tracking essential KPIs.
6. Marketing Automation
Top vendors: HubSpot, Adobe Campaign, Act-On, Marketo.
When an enterprise reaches a certain size, it becomes impossible to conduct all the marketing activities manually. You can't personally talk to every lead, reply to every message, and post updates on Facebook, LinkedIn, or Twitter in real-time.
Marketing solutions can help you turn leads into delighted clients.
Segment your audiences, build highly personalized marketing campaigns, automate communications via social media, email, and Google ads; schedule your messages ahead of time, measure the effectiveness of marketing efforts, and free up your time for high-quality content and strategic activities.
Converze Media Group is one of the leading direct-response radio buying agencies in the US. For more than a century, the company was managing ad companies across American radio stations. They manually formed ad orders, sent them to the relevant stations and analyzed huge broadcast logs to provide their clients with the best possible ROI.
Each campaign took days of hard work.
To replace cumbersome manual processes and Excel sheets, the MindK team created a custom marketing platform that can handle thousands of campaigns. The system parses more than 300 radio broadcast logs a day to track the frequency and timing of ads.
The platform automatically calculates cost per ad response taking data from calls, SMS, and Google Analytics (website visits when the ad was aired).
With streamlined order placing, managers can re-use previous data and automatically send orders to chosen radio stations. They can create media plans inside the app and visualize them as media calendars.
An invoicing module allows them to create invoices and reports with a couple of clicks.
Now Converze can easily manage hundreds of ad campaigns and process large amounts of data without hiring more managers. By using the platform's analytical capabilities, they can optimize campaigns and provide their clients with the best ROI on the market.

7. Business Process Management & Automation
Top vendors: Nintex, Kissflow, Processmaker, Zoho Creator.
A business process is a series of steps performed by the employees to achieve company goals. They can be anything from selling a used car to hiring a new manager.
When businesses grow, their processes become increasingly complex. With the lack of communication between departments (especially in different areas), people will often lose sight of where things are and duplicate each other's work.
This makes the whole company less efficient.
Business process management (BPM) refers to a wide range of methods and tools used to document, analyze, and automate the company's workflows.

The market offers a large number of low-code BPM platforms that allow companies to create visual representations of their processes, remove bottlenecks, and simplify decision-making.
Yet, if you want extensive automation or have complex workflows with lots of dependencies, you might want something more specialized. Several of our clients tried out-of-the-box solutions only to find they didn't fit their business processes.
Business Perspectives owns an online publishing platform. Their revenue comes from the authors who wanted to publish scientific works and from the people who wanted to download their articles.
The more articles – the more revenue.
Yet, their publishing process was slow and inefficient.
Each manuscript went through a complex eight-step review process. After receiving a submission, the manager would send it to an editor for the initial review. The latter would choose peer-reviewers and collect their revisions. All of this required a ton of emails between authors, editors, and peer-reviewers. Mistakes were frequent and editors were too busy to take on more articles (and increase company revenue).
Our Business Analyst inspected the workflow and designed a solution to streamline the publishing process.
Now authors can submit their manuscripts via a convenient web portal. The system automatically selects an available editor and guides them through the review process. They can pass an article to the next stage of the review, decline it, or return for revisions with a single click.
All authors are automatically added to the pool of peer-reviewers where they can be selected by editors. The system anonymizes the articles and sends automatic reminders to reviewers and editors.
By cutting down the number of manual actions, the solution has freed up the editors' time to review more articles. Since the release contributors from 80 countries submitted more than 1,000 manuscripts increasing the company's bottom line.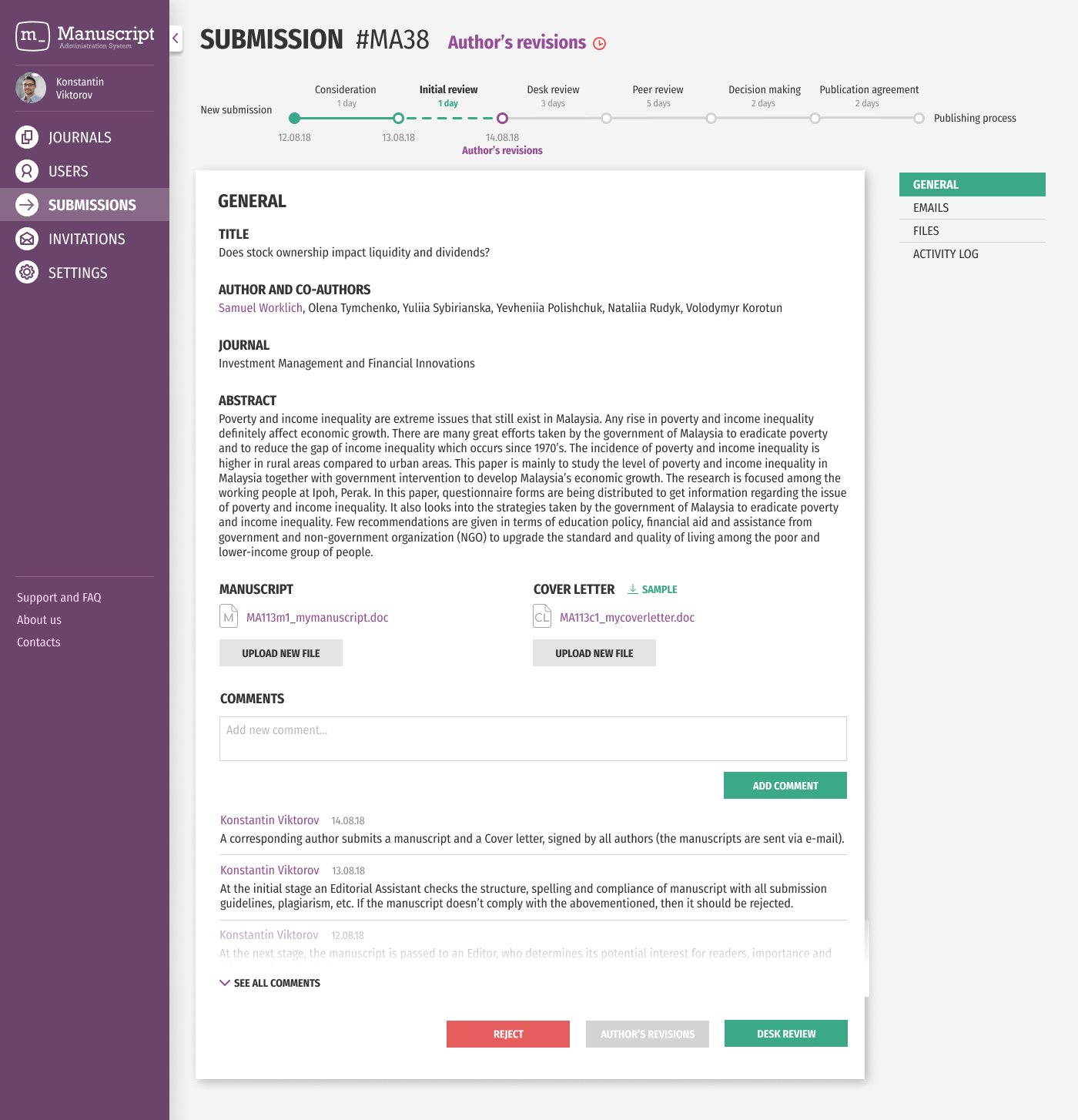 A submissions dashboard that helps editors track the article's current status and communicate with the authors.
Buy vs build: how to choose enterprise software
Enterprise applications can automate routine tasks, improve client relationships, and increase the company's bottom line via higher efficiency or direct revenue.
With a great variety of industries, it's hard to come by two identical enterprises. Each of them has its own unique processes that have been up and running for many years.
That's why enterprises often have difficulties keeping up with the times.
They face a tough choice: build a custom solution around existing processes or change the way their organization works in order to adopt a 3rd-party enterprise tool. Both choices have their advantages, so there is no one-fits-all approach.
Fortunately, there is a well-tested way to find whether existing solutions can satisfy your requirements.
If available solutions cover less than 60% of your needs, it's generally a better idea to go for a custom-built system.
1. Outline the goals you want to achieve with the new system.
2. Organize a brainstorming session and invite the people who will use the new tool. As people who buy enterprise-level software (e.g. senior management) won't necessarily use it every day, they'll have to be extra careful not to ignore the needs of real end-users
3. Together, complete a list of features you need from the enterprise system.
4. Assign each feature a rating on a scale from 0 to 6 depending on its importance to your organization.Send the list of features as a Request for Information to enterprise vendors.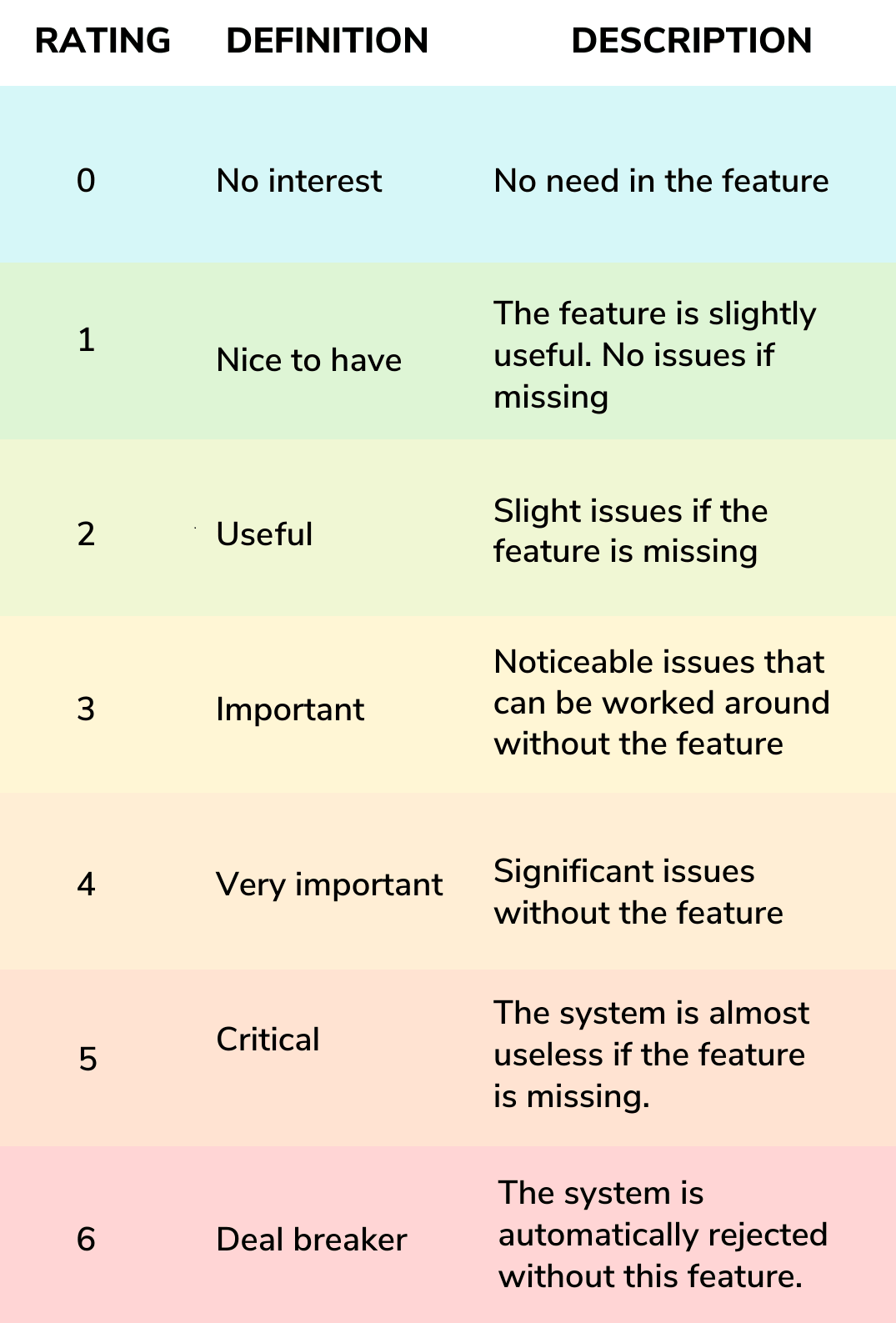 5. Send the list of features as a Request for Information to enterprise vendors. Based on their answers, rate each feature according to how fully it satisfies your requirements.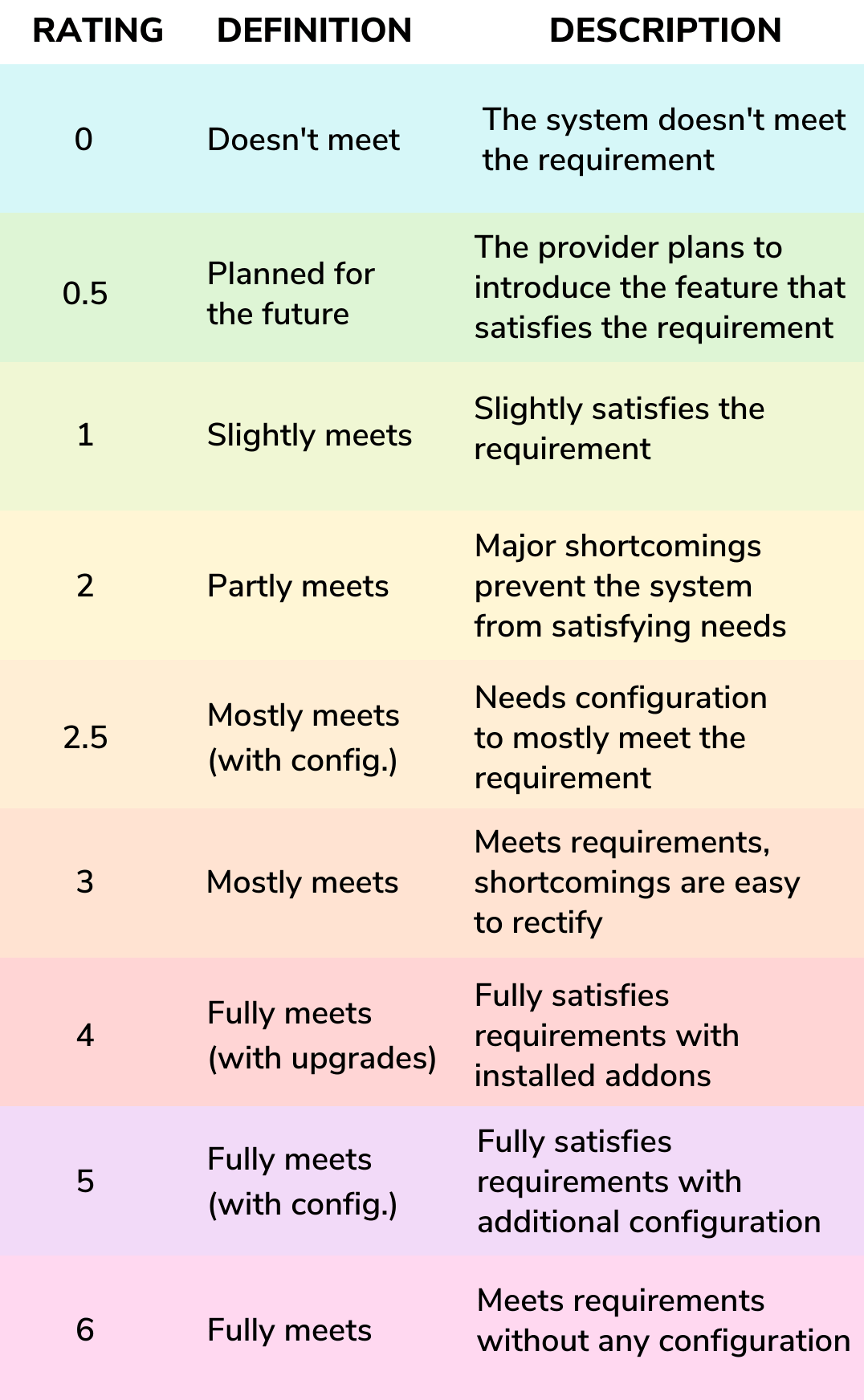 6. Multiply both scores. By adding the scores for all features, you can see whether a particular system can satisfy the needs of your enterprise.
If none of the tools on the market reach 60% of the max score, you might be better off with a custom solution.
Now all you have to do is to calculate your digitalization budget and write an action plan to justify the purchase.
And with custom software, your first step will be searching for trusted enterprise developers. So don't hesitate to contact MindK and ask about our experience.