However, digital transformation is not only about the adoption and modernization of technologies. It is a holistic and ongoing process of aligning people, processes, and technology to achieve business goals. Digital transformation doesn't have a final objective; it is a continuous practice that entails building new business models and reshaping existing business cultures.

What is a digital transformation consulting?
Digital transformation consulting companies help organizations adopt new technologies and use them to increase their business efficiency. By implementing innovative solutions to run businesses, companies speed up the delivery of products and services, and therefore, achieve better business outcomes and increase revenues.
Yet, digital transformation consulting doesn't only deal with technology implementation. It should be also considered as a solution to improve customer experience. Digital transformation can positively affect both the way employees work and the way customers get value from a company when buying their products and services.
Digital transformation consulting services we provide
MindK is a digital transformation consultants that explain how to approach digital transformation and help you implement an optimal transformation initiative for your business. Our digital strategy experts analyze your current situation and propose an action plan to deliver a better customer experience and business results. We can help you upgrade your existing IT infrastructure, automate business processes, or develop new products.
1. Application modernization
As a digital innovation consulting company, MindK provides digital transformation strategy consulting tied to your business outcomes. We can integrate digital technology, move your software to the cloud, break your system into microservices, and implement DevOps best practices to streamline your software development processes.
CINX case study: Building a cloud-based platform for construction supply chain management
MindK created a custom SaaS platform for a USA-based software developer. The company provides digital solutions for the construction industry. They wanted to digitize catalogs from manufacturers and synchronize construction project stakeholders.
MindK built a system that enables all project participants to access up-to-date project information and manage a catalog of products and materials. With this system, we automated order processing operations to reduce manual intervention. As a result, our client was able to achieve a material cost reduction of 3-5%.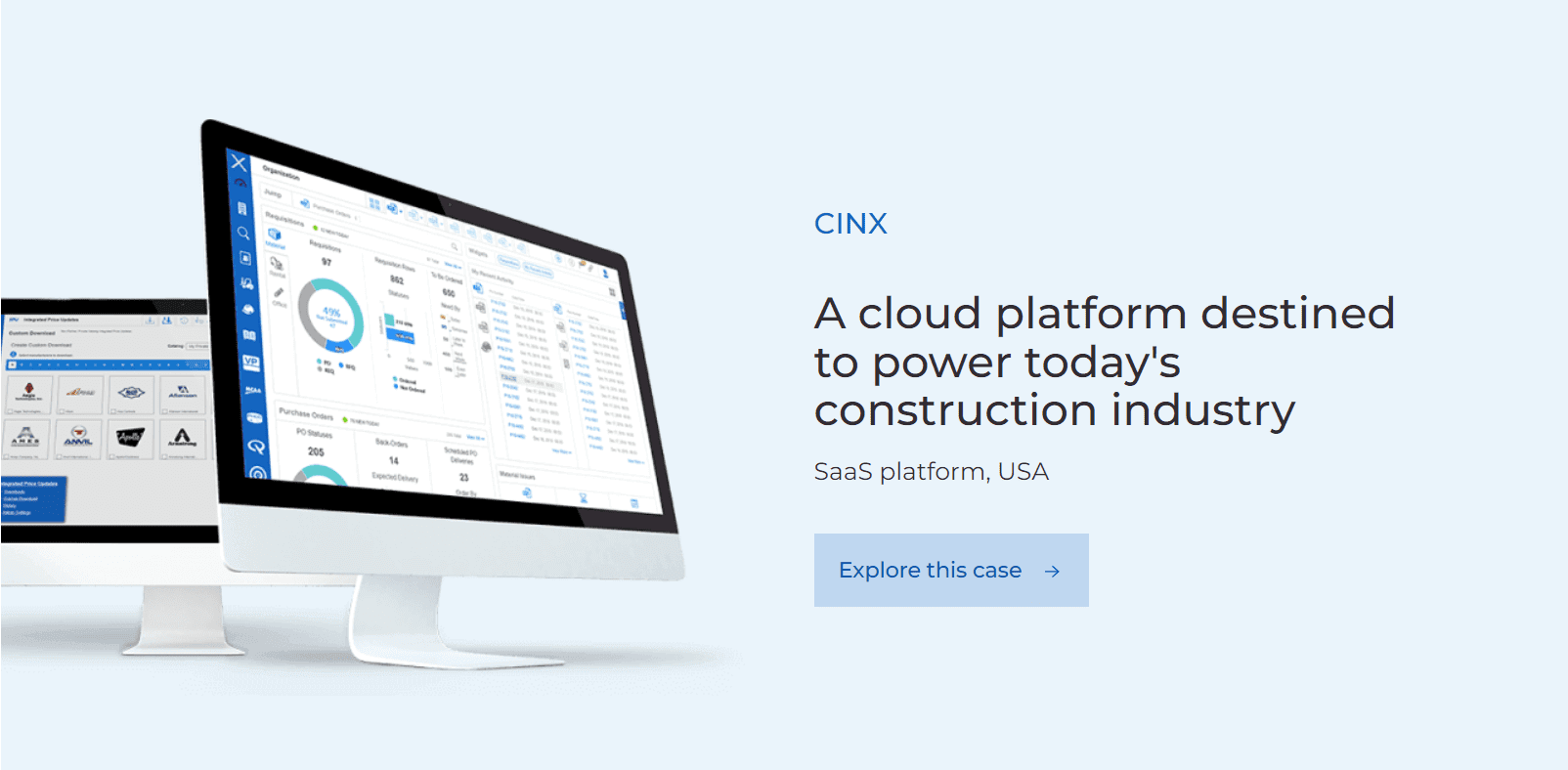 2. Business process automation
As your digital transformation consulting firm, we can help you automate repetitive processes to save time and streamline project progress. Using our expertise in business analysis, we will create business process mapping and thoroughly analyze your workflow to offer you possible solutions on how to automate your everyday operations. Be it via a ready-made platform or custom software, we can help you implement solutions that will improve your operations and power your business growth. Our activities include:
✔ Process discovery
✔ Process modeling and design
✔ Automation solution implementation
✔ Software development
AIM analytics case study: Creating an automation tool for an advertising agency
Our client, an American advertising agency, needed a custom web app to efficiently build, support, and analyze advertising campaigns. When Converze Media Group came to MindK, their business operations such as forming orders and analyzing broadcast logs were done manually and required much time. We built a system that automates workflow and enables the company to quickly process large amounts of data.
The solution we developed generates advertising data reports to make cost-effective decisions. Thanks to user-friendly graphs and charts displayed on a dashboard, users need less time to analyze advertising campaigns. We automated such processes as campaign set up, airing, billing, and analyzing the results of ads. The platform is integrated with third-party systems to get valuable data from external sources.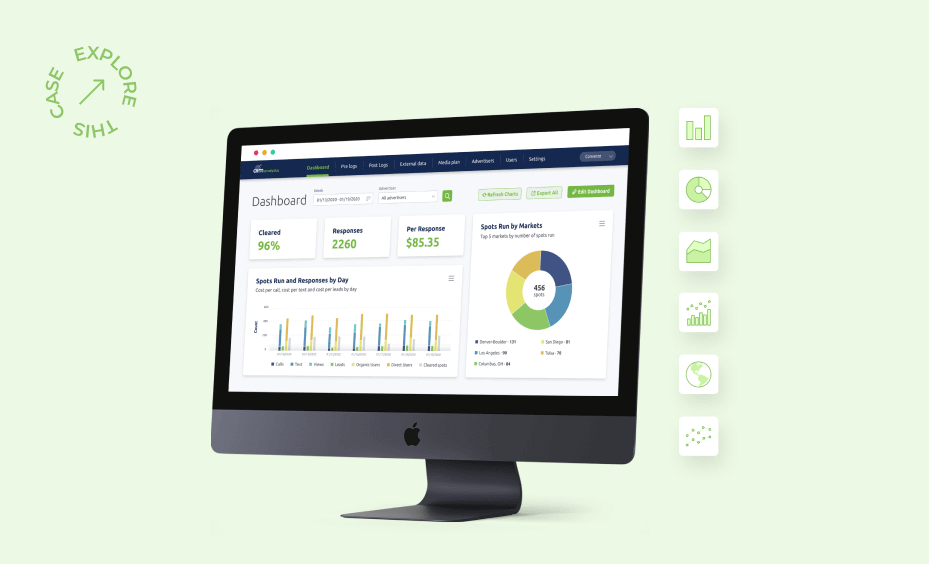 3. New product development
At MindK, we have the talent and expertise required to build a new product such as a SaaS startup. By following the Lean Startup methodology, we will help you deliver your product fast and cost-effectively. Our digital transformation team will run product discovery workshops to define a viable product concept and design a prototype to receive user feedback. We will build an MVP to help you secure investor buy-in and verify the market demand. To ensure the developed solution corresponds to the market needs, we will iterate to improve the solution with every new version. Our activities include:
✔ Product discovery
✔ Prototyping
✔ MVP development
✔ Application development
Innmeldt case study: Developing a SaaS solution for an insurance and pension consulting company
Our client, a consulting company based in Norway, advises businesses and employees on insurance and pensions. They wanted to have a software solution that would simplify the pension calculation process and improve their consulting operations.
MindK built a product that consists of two parts ‒ a customer-facing web portal that provides transparent data to employees, and a management system that enhances Innmeldt's consulting mechanisms. We also designed an intuitive interface to improve the overall user experience. The solution we built helped our client improve the quality of their services and scale their operations.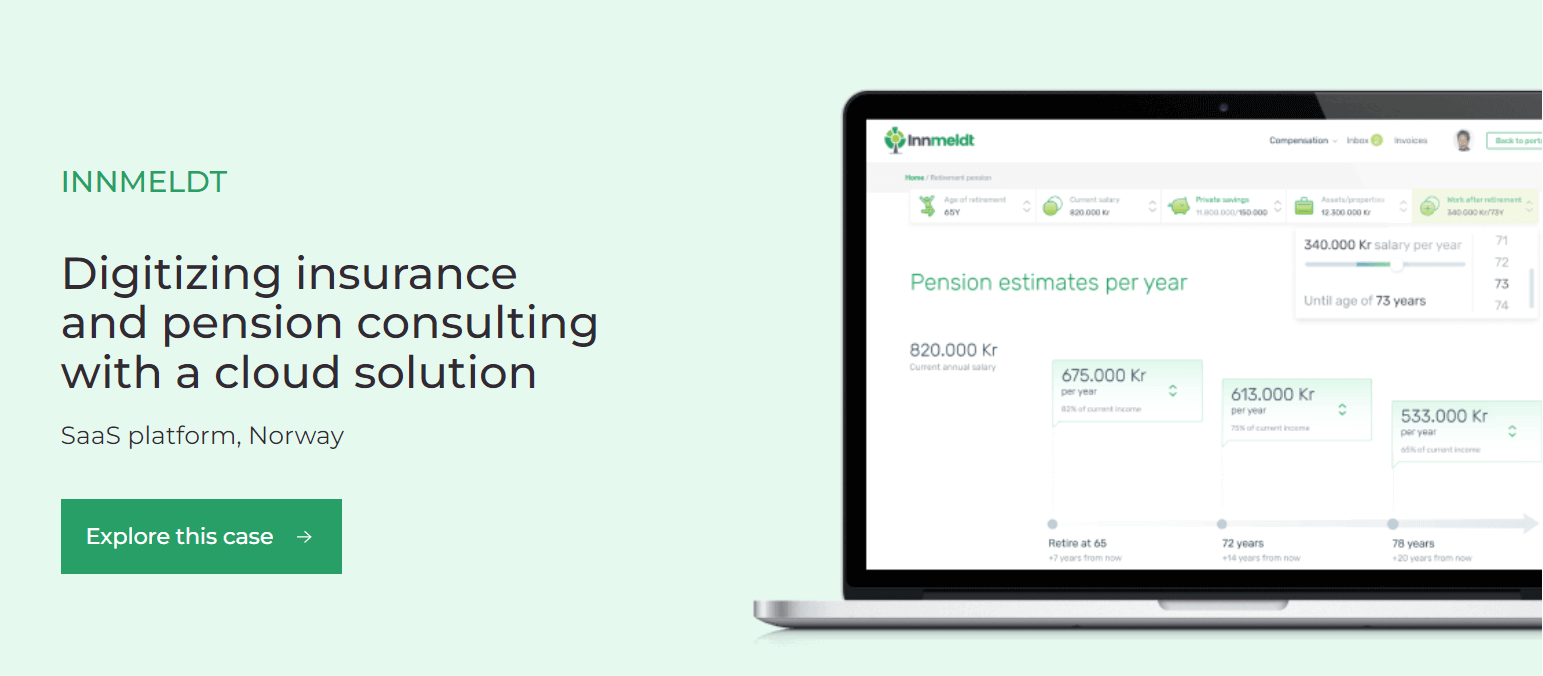 Our approach to digital transformation consulting
As a business transformation advisory, we will analyze your company, identify your strengths and weaknesses, and offer a suitable solution to help you embrace innovation, survive digital disruption, and improve customer experience.
By helping you implement your digital transformation strategy or switch to a digital-first business model, we will get your business on track toward your goals.
Here is how we do that:
Evaluate. Our experts assess your current state and identify your benefits and challenges.
Prioritize. We specify and prioritize projects that have the biggest impact on your primary business goal.
Strategize. MindK develops a business case and designs a clear roadmap to achieve your goal in a fast, flexible, and efficient way.
Get buy-in. We build a proof of concept to validate the business case and get buy-in from stakeholders.
Implement. Our specialists develop a minimum viable product, help you test it, and keep improving the MVP through Agile sprints.
Scale. You can grow with our cross-functional team that delivers ongoing maintenance and support of your software product.
Work with an experienced digital transformation advisor
If you are not sure your company is ready to handle digital disruption, IT transformation consulting is a crucial step to take. MindK is a professional digital transformation consulting company that can help your business grow and constantly adapt to changes. Team up with us to start your digital transformation journey.