The market for programmatic advertising keeps on growing in leaps and bounds by opening huge opportunities for marketers. In the USA, expenditure on programmatic advertising has grown up to $79 billion in 2021 and is expected to reach nearly $95 billion in 2022. This spending increase is quite straightforward. MindK develops custom solutions for marketing and advertising, so we can authoritatively state that this stable growth is caused by benefits businesses gain, which are automating advertising workflows, improving analytics, increasing ad campaign efficiency while reducing costs, and achieving a better return on ad spend (ROAS).
Our observations are further supported by a number of surveys like London Research, ALFI's global research on the state of programmatic advertising, and others.

Source: London Research on State of programmatic advertising
However, being a relatively young industry, programmatic advertising has a number of challenges that deserve your attention. Why is it important to know the challenges? First, because it's better to know beforehand what issues you might face when investing in programmatic Ad Tech. Second, and more importantly, understanding the challenges often holds new opportunities and helps to come up with innovative solutions to overcome challenges. So, without further interruption, let's talk about key programmatic advertising challenges and opportunities.
What challenges are affecting the current practice of advertising?
Challenge #1. Identity and privacy limitations
The role of identity in programmatic advertising is paramount. Identity means an ability to identify an individual user across a number of different channels like apps, websites, or devices. Thanks to the identity, the advertisers are able to improve their targeting and retargeting strategies, measure ad campaign metrics and attribution, prevent ad fraud, and much more.
Identity challenges are primarily fueled by changes in cookie policies and privacy changes. For reference, cookies are one of the most powerful online tracking tools in marketing that enables tracking the activity of users on the web. It's important to remember that there are two types of cookie files:
First-party cookies refer to the data stored and accessed exclusively by the domain (website) the person is visiting. This data collected enables publishers or website owners to improve a better user experience for visitors, however, now it is not widely used by advertisers.
Third-party cookies include the data stored under a different domain than the person is visiting. This type of cookie file is mostly used to track the activity of the user between websites to display more relevant ads. Up to 50% of traffic on the Internet is now tracked through third-party cookies and such analytical tools like Google Analytics are all based on 3rd party cookie files.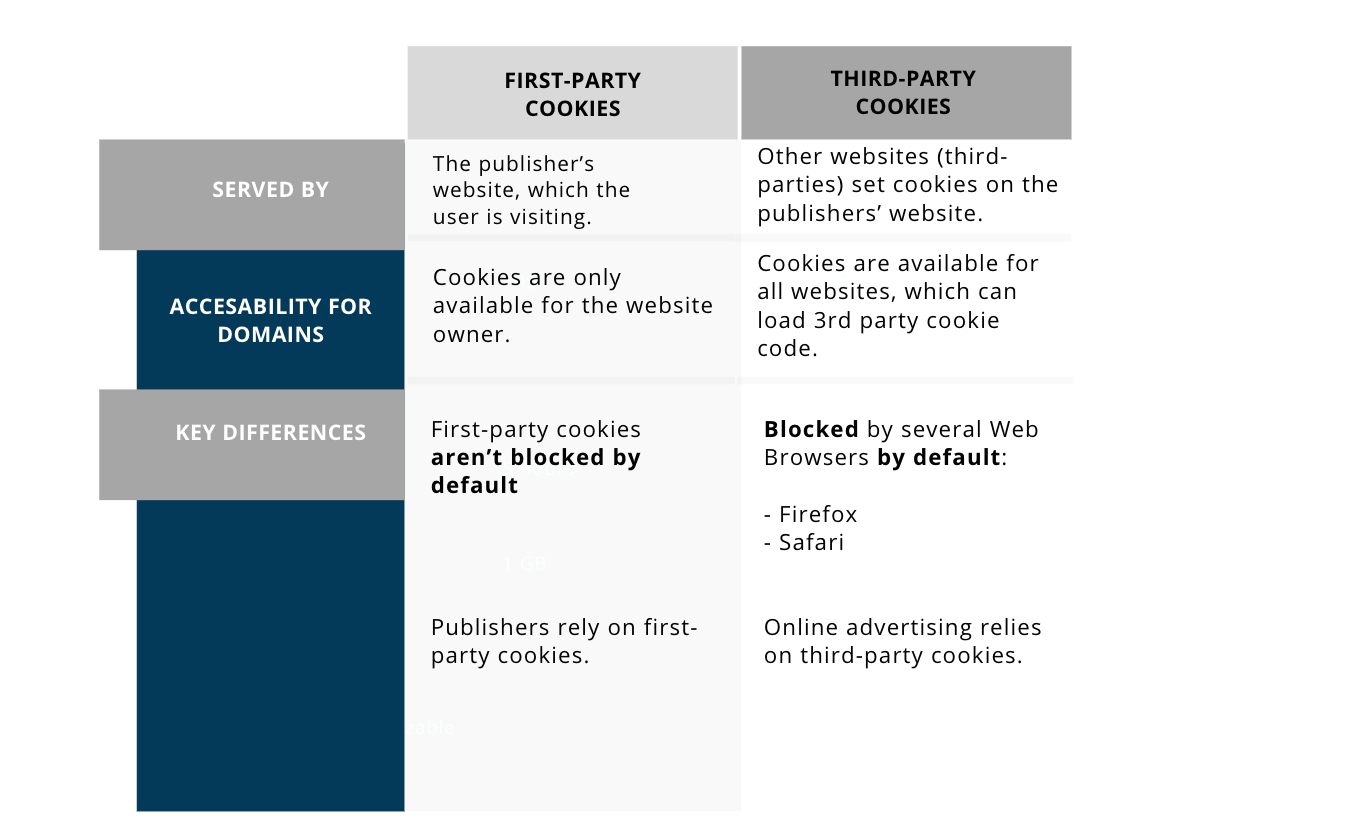 Source: setupad.com
You may wonder "What happened to second-party cookies? Do they exist?". Second-party cookies are a questionable topic. In general, they can be determined as first-party cookies transferred to some other company in terms of partnership.
The changes in cookie policies that cause challenges for advertisers refer exclusively to third-party cookies. Browsers like Safari and Firefox have already blocked third-party cookies by default to prevent tracking. Google Chrome plans to stop supporting third-party cookies in 2023 and promises to publish a more accurate plan for changes on the Privacy Sandbox website. Chrome is the most popular browser with a market share of 65% and these changes will have great impact on programmatic advertising and the whole Ad Tech industry.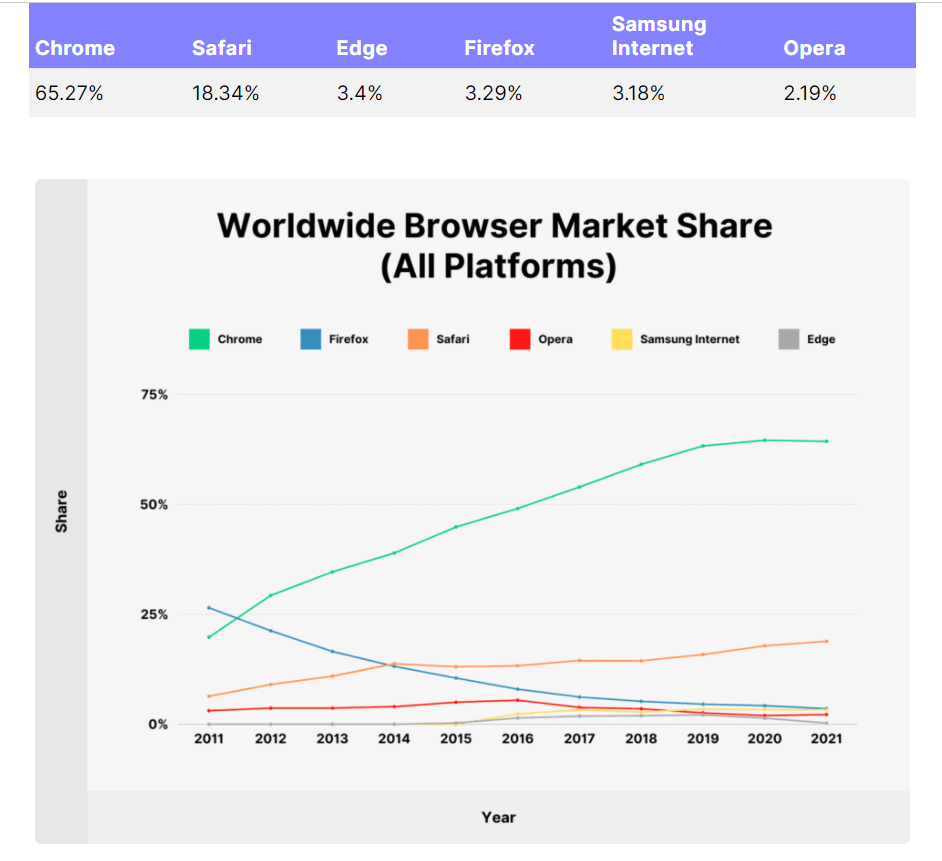 Source: backlinko.com
In addition to blocking third-party cookies, there are also additional factors that affect the advertising industry. For example, iOS 14 is already asking for direct user consent to use the unique Identifier for Advertisers (IDFA) of their device for tracking and sharing this data with other companies to improve advertising. In iOS 15 Apple plans to keep on improving the privacy features.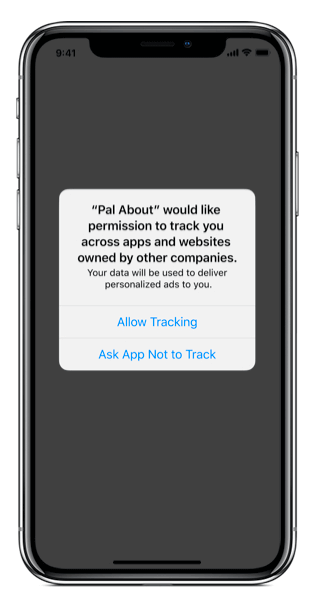 iOS 14 asks for direct user consent to track the activity
Android, in turn, plans to blank the advertising ID of the device (Android Advertising ID or AAID) and apply a new safety section for all apps on Google Play. Connected TV (CTV) and over-the-top (OTT) programmatic advertising also have challenges with identity due to the fact that the OTT and CTV environment is highly fragmented. We've already explained this challenge when talking about CTV and OTT advertising.
All the above-mentioned privacy changes flavored with governmental laws and regulations like the General Data Protection Regulation (GDPR) in Europe, ePrivacy Regulation in Germany, Consumer Privacy Act (CCPA) in California, and other regulations that influence using data for advertising business, means that programmatic advertising is now facing a more challenging future. However, is everything so hopeless? Definitely not.
Solution
The blocking of third-party cookies and privacy changes doesn't mean death for the advertising business. The most important thing to clarify is that Ad Tech is not entering an era without cookies. Yes, advertisers will have to rely less on third-party cookies and focus more on first-party cookies for data and alternatives to third-party cookie files, but this is exactly what possesses a great opportunity for Ad Tech companies.
Among alternatives to third party cookies that programmatic Ad tech companies should consider are:
Universal IDs: a number of tech companies like LiveRamp, The Trade Desk, Lotame, Merkle, and others are working on developing universal IDs based on first-party cookie data from ad exchanges and publishing partners to create profiles of consumers.
Using alternative IDs has already yielded good results. For example, shoe brand Dr. Martens in its recent ad campaign based on the publisher's first-party cookies and Lotame's Panorama ID. As a result, the ad campaign received 107% more viewable impressions, a 9.43X lift in click-through rate, and a lower cost per click compared to cookie environments.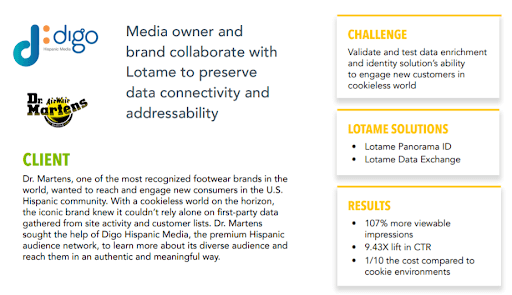 Source: lotame.com
Data pools or data clean rooms: are independent data storage where both brand and publishers can upload their first-party data. The key benefit of this option is that it does not require other alternatives to third-party cookies, is secure and complies with the current privacy regulations. However, data pools should be supported by an unbiased intermediary.
User identity graphs: this is a system that combines various identifiers both personally identifiable information (or PII) including phone numbers, emails, physical addresses, and non-PII including 1st-party cookies. User identity graphs allow multi-device and multi-channel reach for advertisers, but require a trusted provider with the necessary technical infrastructure.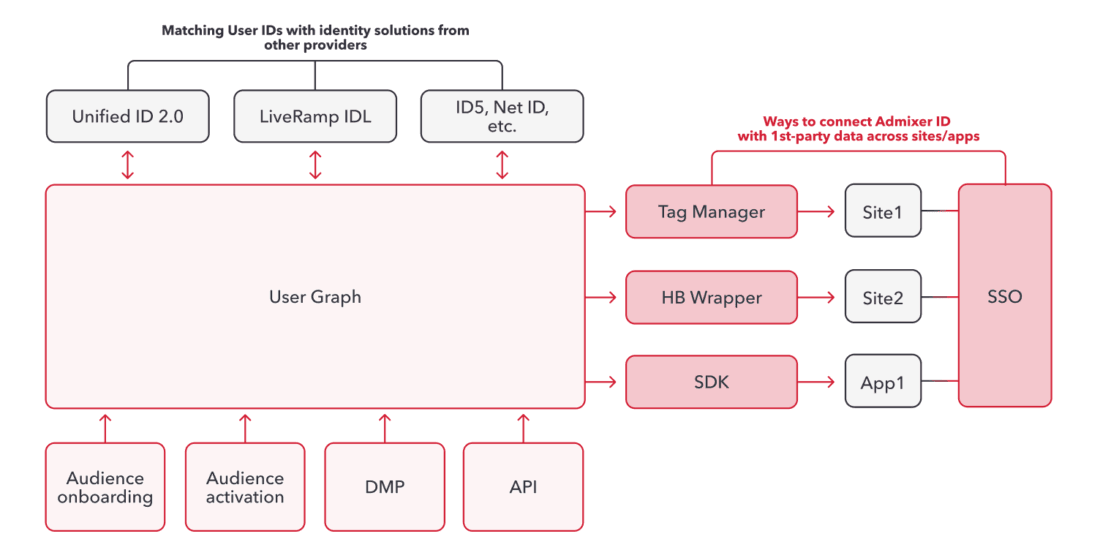 Example of User Identity Graph from Admixer
Source: admixer.com
Contextual targeting: enables display ads only on relevant web pages based on content and keywords. Although this approach is not new, it celebrates its second birth in terms of cookie-less environments. With current technologies including artificial intelligence and natural language processing, contextual targeting can provide a more effective approach to targeting.
To sum up, the privacy and identity challenges can now be solved with innovative solutions designed to solve a specific problem for advertisers.
Challenge #2. Imminent risk of ad fraud
Aside from identity and privacy challenges, the programmatic advertising industry also struggles with ad fraud. Ad fraud is focused on faking the advertising metrics like clicks, impressions, and conversions for the sake of revenue.
This challenge doesn't come cheap for advertisers, so it is mentioned as the second challenge in our list. For reference, the ad tech industry has lost more than $35 billion last year because of ad fraud. It represents 10% of the global digital ad market size and makes ad fraud one of the most expensive problems for advertising.
The most common ad fraud schemes involve:
Domain spoofing is when fraudsters try to pretend to represent premium publishers.
Bots or non-human traffic when computer programs mimic human behavior like impressions, clicks, views, and so on.
Ad injections meaning that fraudsters add ads on the publisher's website without their permission.
Ad stacking is when advertising is stacked on top of each other yet in spite of this, gains impressions.
Cookie stuffing that is considered substitution of cookies and forced redirection of the user via another link.
Forbes has listed a number of catchy ad fraud schemes that took place in 2020. Among them is 404bot false scheme that falsified bid requests, Monarch CTV fraud that involved spoofing or misrepresentation of inventory, MultiTerra by spoofing ad inventory that has been stealing roughly $1 million per month from publishers, and others.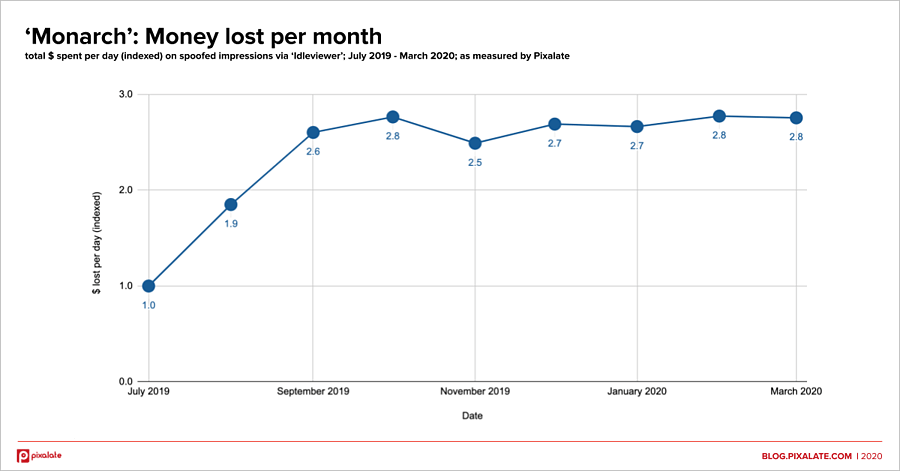 Money losses caused by the Monarch fraud scheme
To fight this challenge, all the parties involved in the programmatic advertising process are forced to apply different ad fraud detection and prevention techniques or work with trusted technology providers able to reveal invalid traffic and other types of ad fraud.
Solution
There are several key steps companies can take to protect both ad spends and reputation:
Apply powerful tools and solutions able to reveal and prevent ad fraud attacks that blow ad budgets.
Find the balance between the quality of the ads and reach, because fraudsters keep on continuing to turn the advertisers' obsession with reach to their advantage.
Take care of privacy policy to be compliant and protect the company's reputation on the ad market.
Indeed, with such a great demand for innovative anti-fraud systems, there is a growing number of Ad Tech companies focused on developing solutions to help advertisers deal with ad fraudsters. Taking into account that ad fraud techniques and methods are continuously evolving, fighting ad fraud by means of technologies and solutions is a "continuous arms race".
Сurrently, there are a number of anti-fraud and ad fraud detection tools that apply different types of fraud prevention methods together with modern technologies like artificial intelligence and machine learning. Sometimes these tools are standalone and independent anti-fraud solutions or are part of other marketing solutions as ad anti-fraud functionality.
Take, for example, Adjust, attribution and analytics software for marketers. It has a powerful fraud detection functionality for mobile that promises to fight the key types of ad fraud like click spamming, click injection, device farms, and SDK spoofing (a type of mobile ad fraud that is using real device data creates legitimate-looking installs).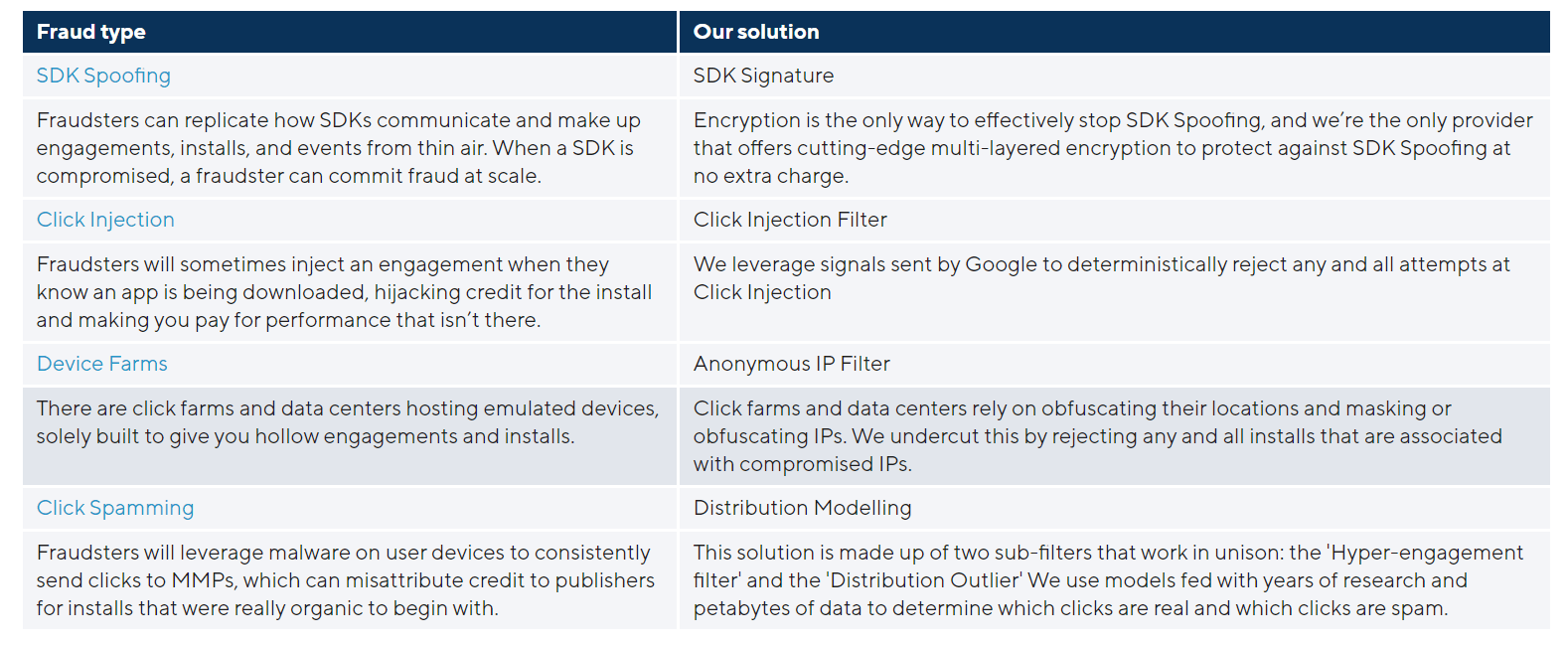 How Adjust fights the key types of ad fraud
Source: adjust.com
Another example is FraudScore, an independent anti-fraud solution that prevents and detects ad fraud on all the stages of ad funnel – from prebid to conversions. It is also widely recognized as an effective tool against bots, click spamming, click injection, malware and adware, bot farms and others.
A detailed fraud detection analytics in FraudScore that helps advertisers see what going on with their ad campaigns
Source: fraudscore.ai
The market of ad fraud detection solutions is not yet overcrowded, so it is the right time to invest in the innovative ad fraud detection system. Recently, for example, a startup Clean.io that is focused on protecting digital publishers from malicious ads has raised $5 million.
However, it is important to understand that besides using innovative anti-fraud solutions, all ad tech players should take care of their privacy policy. According to Pixalate around 22% of apps on the App Store and 9% on Google Play that serve programmatic advertisements didn't have a privacy policy as of May 2021. There are cases when consumer data was misused in terms of different ad fraud schemes.
Challenge #3. Measuring ROAS
Measuring Return on ad spend (ROAS) is also among the key challenges of programmatic advertising. As we've already mentioned in our article about Big Data in advertising, advertisers are no longer able to justify their ad budgets without providing measurable ROAS.
Around 84% of marketers are currently under growing pressure to prove the effectiveness of their campaigns. It becomes very important to understand exactly how much revenue marketing and advertising campaigns generate.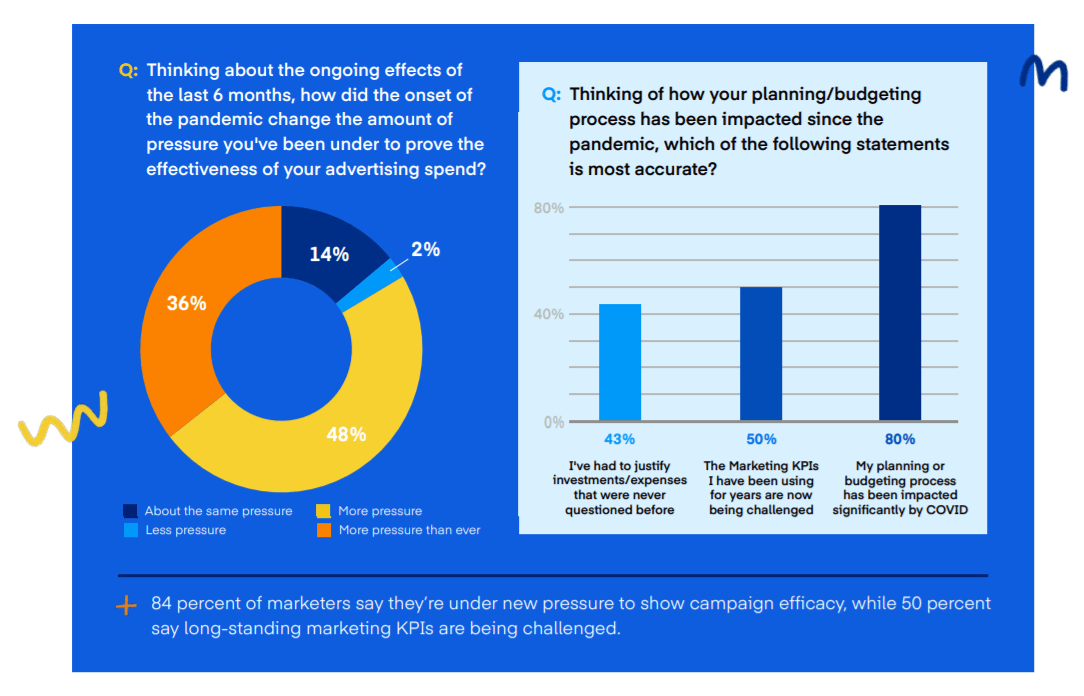 Source: Measuring Success in Digital Advertising: 2020 Report
In most cases when we deal with the B2B market, measuring ROAS is quite a challenging task, especially when running cross-channel ad campaigns. It is also quite challenging to measure the return on ad spend where advertising may result from both online conversions and offline sales. Simply put, measuring ROAS is a complicated task that requires technical solutions.
Solution
The main solutions for measuring ROAS are analytical and attribution systems designed for advertising needs. To have a possibility to correctly measure return on the ad spends, the company has to:
collect data from various systems like CRM, website, call tracking system and similar;
bring all the data from these sources together in one single place; and
create dashboards and complex reports to visualize and monitor the main KPIs.
This is exactly what Ad Tech analytical and attribution systems do. Thus, more and more advertisers are putting priority on ad measurement and attribution. Although the market of ad attribution tools involves dozens of solutions right now, the opportunities for tech companies are still very promising because the majority of systems on the market have drawbacks and cannot fully satisfy the needs of advertisers forcing them to use other additional tools.
Moreover, the programmatic advertising industry is huge: each niche whether it is CTV, OTT, traditional TV or digital advertising, fights specific challenges that require timely digital solutions. We've already discussed the challenges of advanced TV in our article about CTV and OTT advertising, so check it out to know more about it.
Let's take some examples to see how attribution systems that measure ROAS may appear. Singular is a marketing intelligence platform that collects all marketing campaign data in one single place to provide ROI for every campaign, advertising, or creative unit.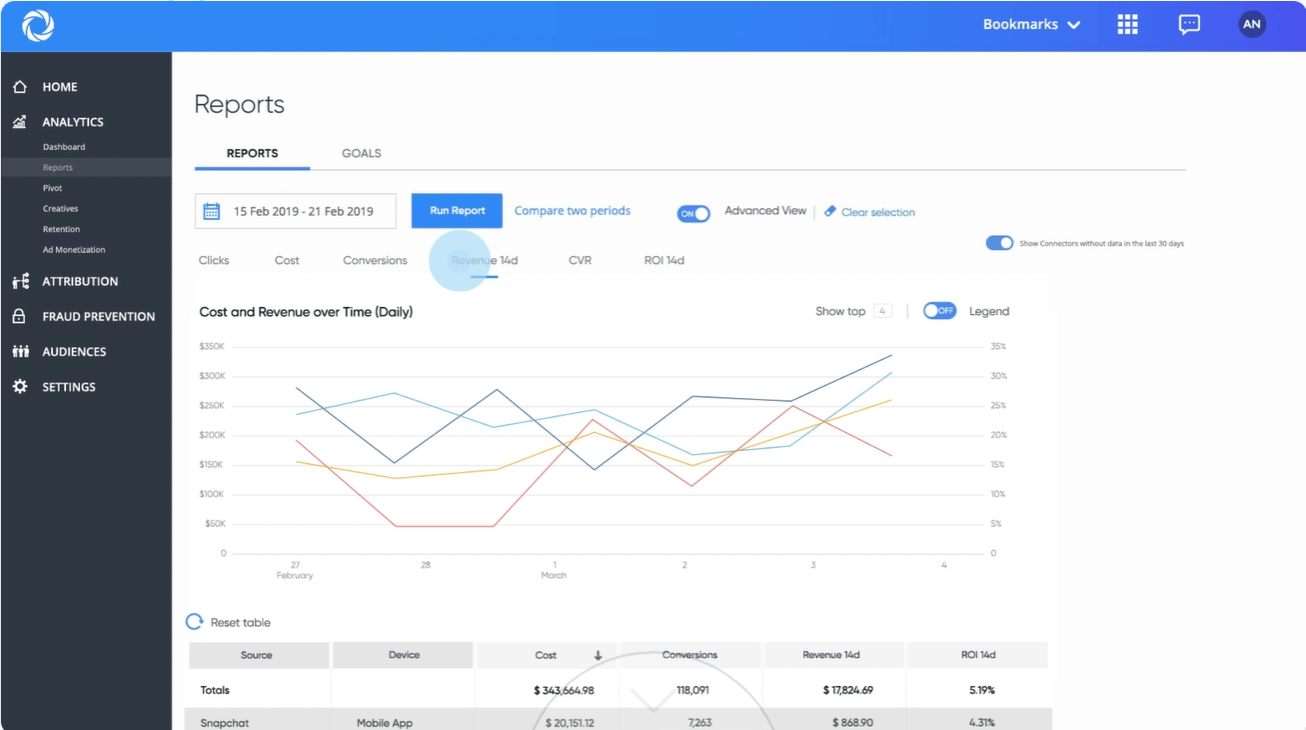 Example of attribution system that helps to measure revenue from marketing campaigns
Source: singular.net
Another example is an intelligent marketing attribution solution AIM Analytics developed by our team. This tool is designed to automate the whole process of managing radio and TV advertising campaigns and improve the ROAS. It tracks ad campaigns across different channels and provides accurate, up-to-date reports, with traffic numbers, cost per action, buying data, and much more.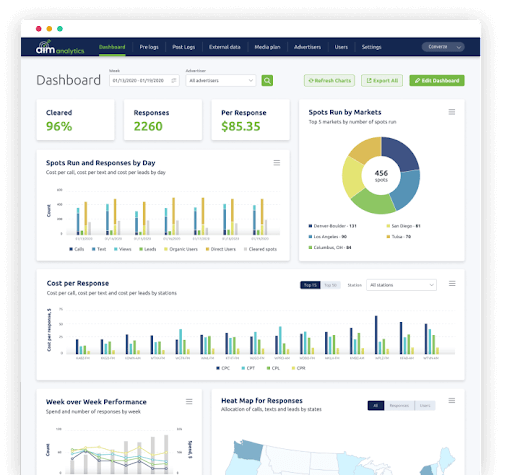 Aim Analytics, an intelligent marketing attribution solution built by MindK
Challenge #4. Lack of ad viewability
Lack of ad viewability or so-called ad "blindness" is another pain point of programmatic advertising as we've already mentioned in our overview of the Ad Tech industry. There we've concluded that ad blindness is directly connected with using ad-blocking tools and a low clickthrough rate (or CTR).
The latest statistics show that more than 42% of all Internet users use different ad-blocking tools at least once a month. Users claim they are forced to use ad blockers because there are too many ads and most of them are either irrelevant or annoying.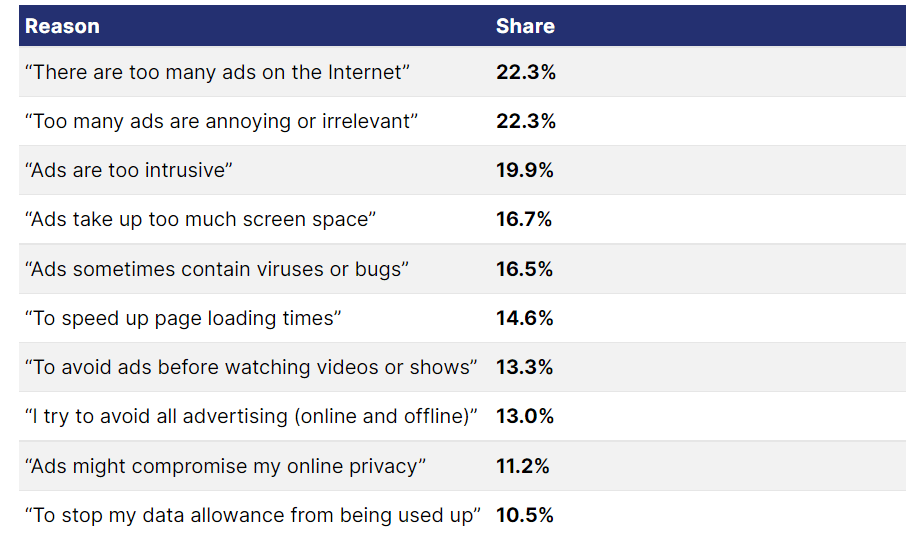 Reasons for using ad blockers
Source: backlinko.com
Another reason that makes advertisers raise a red flag about ad viewability is low CTR. Indeed, Google Search together with Facebook, Twitter, Instagram, and LinkedIn start suffering from a significant drop in CTA in 2020.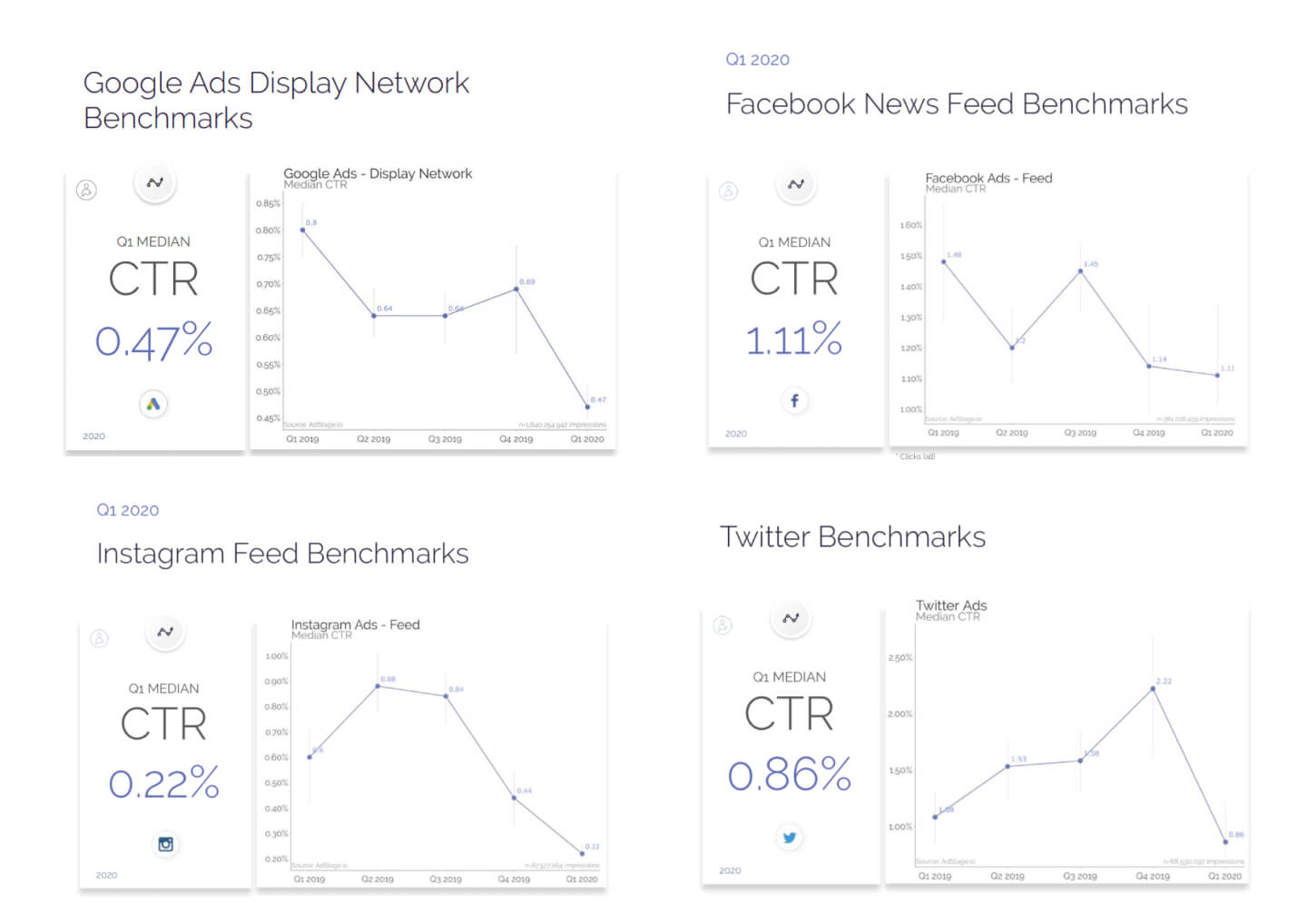 Source: smartinsights.com
You may ask: "Is there really a solution to improve the ad visibility under such circumstances?". There is always a solution.
Solution
The first thing to improve the viewability of your ads is to follow acceptable ads criteria. For example, Adblock Plus does not block all ads by default. They have a certain list of criteria and if the ad follows these criteria, it is shown to the user. The Adblock acceptable criteria relate to page placements, distinction, size, content, and volume.
Another solution may be native advertising. What is native advertising and why does it possess opportunities for programmatic Ad Tech companies? Native advertising is an ad that matches the format of the platform it is displayed. It means that the design, size, and content of the advertising should coincide with non-advertising content to look like a single entity.
Native advertising is believed to be more engaging, convert better, and increase trust for publishers. Native ads get 20-60% higher engagement rates and CTR compared to display banner ads. Moreover, targeted native programmatic ads allow companies to optimize their ROI and reach for native campaigns.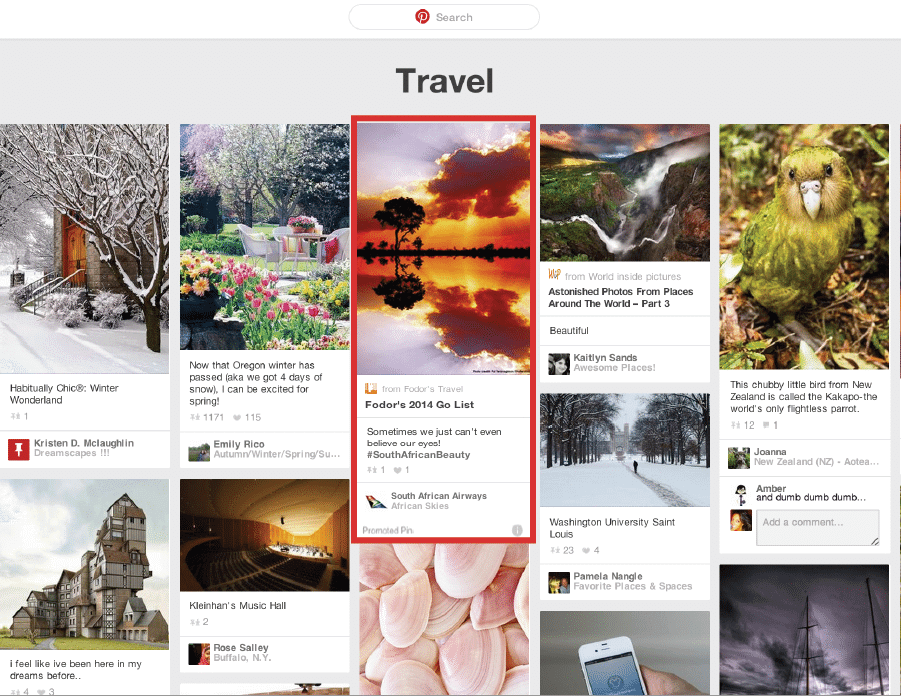 Example of the native ad by South African Airways that look and feels like part of the web content
Source: publift.com
This is why native advertising solutions (sometimes called networks) to run ad campaigns are now growing in popularity. Native advertising tools are so-called intermediaries that help advertisers and publishers reach their advertising objectives by synchronizing ads with the content.
Among the most popular native advertising solutions is Outbrain. It is used by top publishers like The Guardian, the Washington Post, CNN and others. Outbrain provides access to top Demand Side Platforms (DSPs) through programmatic native ad demand and supports in-feed, in-article native advertising for both display and video ads.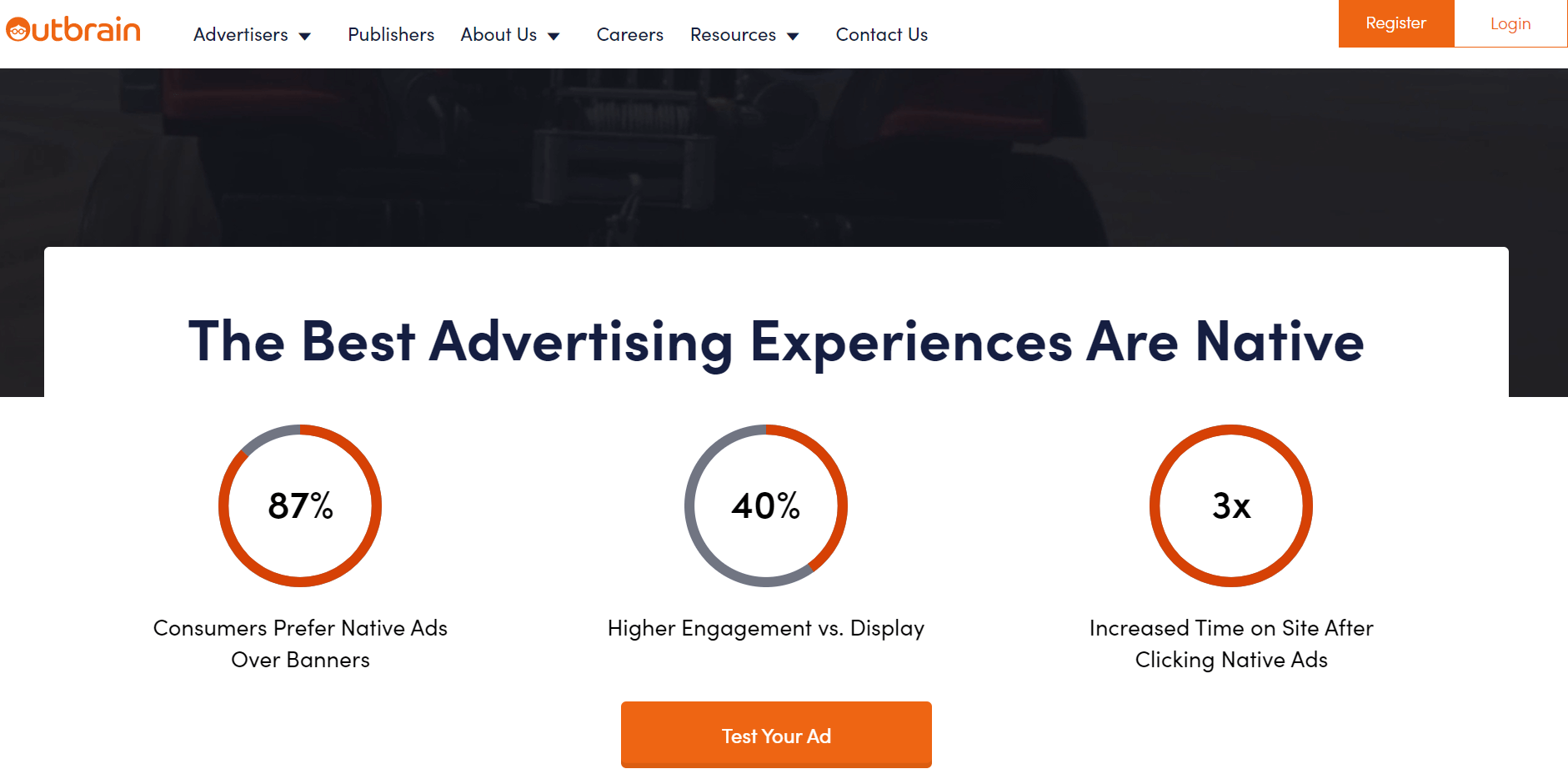 Source: outbrain.com
Last year, Tinuiti, a large independent performance marketing company, partnered with Outbrain and Taboola (one more native ad platform) to promote Ancestry's DNA kits during the holidays when people spend time in the family circle. The ad campaign resulted in high engagement rates, a 20% increase in conversions, a 16% decrease in cost per kit, and a 5% decrease in cost per sign-up.
Challenge #5. Ad creativity
Against the background of such challenges like using first and third-party data, measuring ROAS, and improving ad viewability, the challenge with ad creatives is taking a back seat. Unfortunately.
Still, creating an emotional bond with consumers by means of ad creatives is equally important. Even if the advertiser is armed with the best of tools in targeting and measuring results, irrelevant and ugly advertisements are unlikely to convert. Around 70% of ad campaign performance is centered around the quality of ad creative.
So, when the advertiser needs to run ads across different segments and communicational challenges, it becomes more than challenging to create specific assets and messages for dozens of digital touchpoints.
Solution
Creative advertising technology along with ad programmatic tools is able to fight this challenge by shifting the advertising mindsets away from a one-too-many approach to a more deep personalization. Today, creative-centric programmatic technology companies can be counted on the fingers of one hand, which means there is a lot of room for innovation.
Take, for example, dynamic creative advertising. Simply put, dynamic creative advertising means a possibility to display different ads to certain groups or even individuals based on parameters like location, sex, profession, device, language, and much more.
To run effective dynamic creatives advertisers can use solutions like Creative Management Platform (CMP) or/and Dynamic creative optimization (DCO). Both of them refer to the class of programmatic creative technologies.
Creative Management Platform is a solution that helps to design and manage design versions of the ads needed for a DCO campaign. Dynamic creative optimization, in turn, is the real-time technological process that manages hyper-personalized advertising. In other words, CMP is responsible for the right dynamic design, while DCO – for delivering dynamic content to the end-user.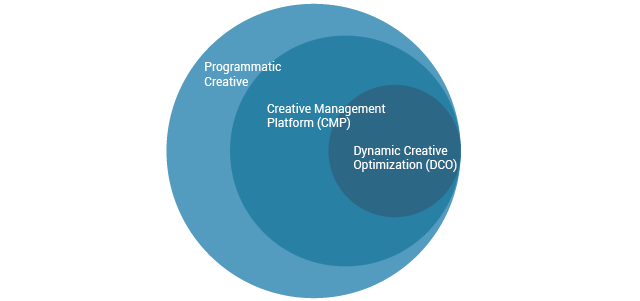 Source: makethunder.com
By means of dynamic creative technologies advertisers can:
hyper-personalize the ads with various creatives;
experiment and find the best combinations for ad campaign that drive performance; and
improve ROAS by targeting those potential audiences that are likely to convert.
There are a number of companies already providing ad creative tech services and solutions. For example, Bannerflow, creative software for marketing teams allows not only to create different ad variations but also supports real-time optimization of live dynamic creatives.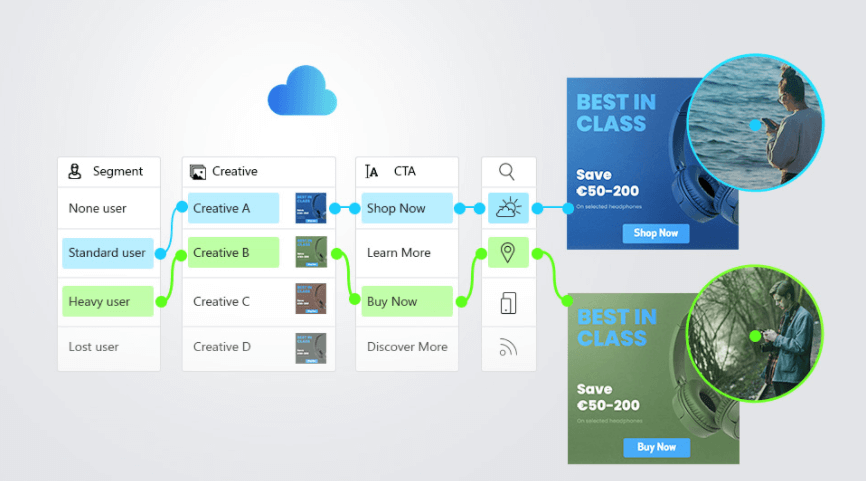 Bannerflow provides real-time dynamic creative optimization
Source: bannerflow.com
One more example is Hutch, automated creative production and media buying platform, that is focused on building amazing customer journeys on Facebook and Instagram with dynamic ads. Last year, another personalized digital marketing technology leader Jivox announced the industry's first personalized dynamic creative optimization (DCO) solution for connected TV.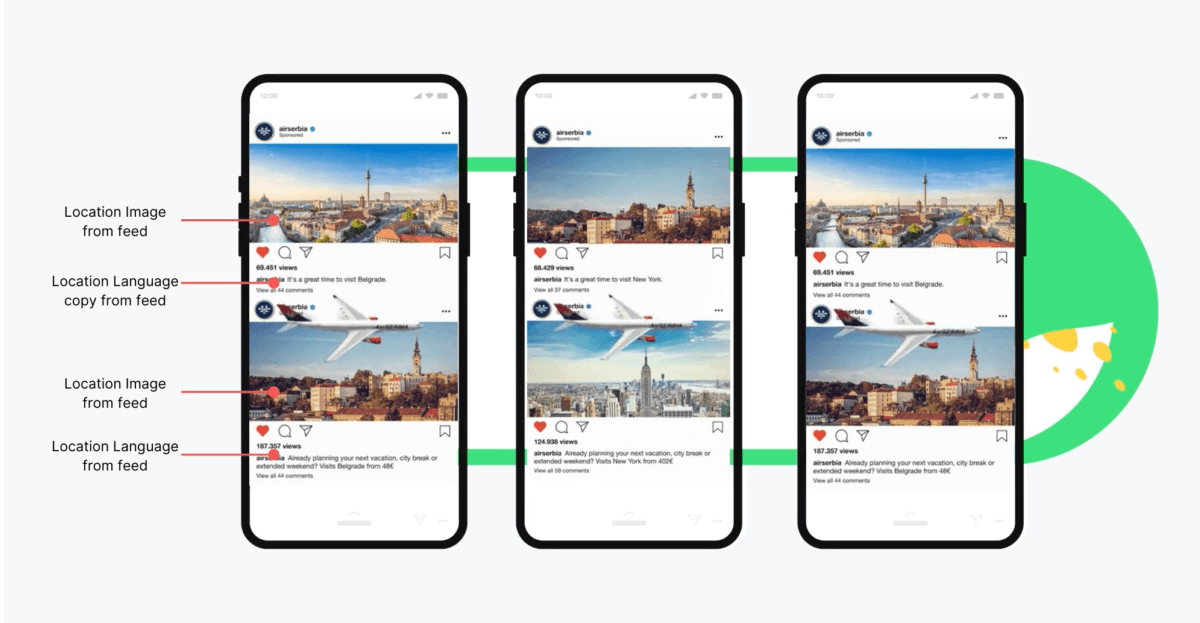 Dynamic advertising for Air Serbia by Hutch
Source: hunchads.com
In spite of the fact that the ad creative tech market already has early leaders and service providers, it is hard to call it overcrowded. In fact, it's quite the opposite. The future of programmatic advertising in terms of dynamic creatives looks promising. It is a great opportunity for those companies looking for a high-potential niche to enter the Ad Tech market.
Develop an innovative programmatic advertising solution with MindK
To see success with programmatic advertising, you have to be ready to address the challenges of the industry. MindK team has already developed the solutions that helped publishers and advertisers overcome different challenges like automating ad delivery processes, measuring ROAS and so on.
If you are looking for a reliable tech partner with industry-specific knowledge to develop a powerful Ad tech solution, we can help you with this. Check our Advertising and Marketing software development services to see what we can offer.