MindK as a company that provides development services knows the talent sourcing issues you may face. When hiring a developer for our team, we look for the best of the best, just like you do. Thus, we pay considerable attention to the developer's skills, knowledge, and experience.
With the Covid-19 pandemic that forced almost all businesses to go and operate online, the talent shortage is felt like never before. While large companies with big budgets are driving up wages and engaging top talents in the development sector, finding a good WordPress developer for medium and small businesses becomes harder than ever.
That is exactly why we prepared a step-by-step guide on how to hire a WordPress expert and not to regret it later.
How to find a WordPress developer for your business needs
Step #1. Clear up the goals you need to reach
First of all, you need to define your project objectives. Some of our clients come to us with the words "I want a website on WordPress". During the conversation, we always end up discussing business goals and objectives. Therefore, most likely you don't need a WordPress website, you need a solution to help your business.
The more structured goal may sound like:
I want a WordPress site that will increase my traffic in the long term.
I want a new website that converts visitors into customers.
I need a WordPress site that automates my user management process and collects information about our subscribers.
I want to create a professional online brand that better describes our business.
I need a website that promotes my services to a broad audience.
I need to make adjustments to my WordPress website to drive sales.
Every business has its own goals that motivate them to hire a professional WordPress Developer. So, try to state them as clearly as possible.
Here is an example from our practice. Peco InspX is one of the leading US providers of inspection systems for the food, beverage, and pharmaceutical industries. It faced the problem of communicating the value, variety, and cost of industrial equipment they were selling.
In this particular case, the goal for website development was – a promotional website that shows how the equipment works, explains the benefits of products and serves as the entry point to a more personalized selling funnel. So, we developed a website that effectively communicates the value proposition of the client to a wide audience. As a result, the website boosted the company's marketing efforts and shortened the way from a lead to a prospect.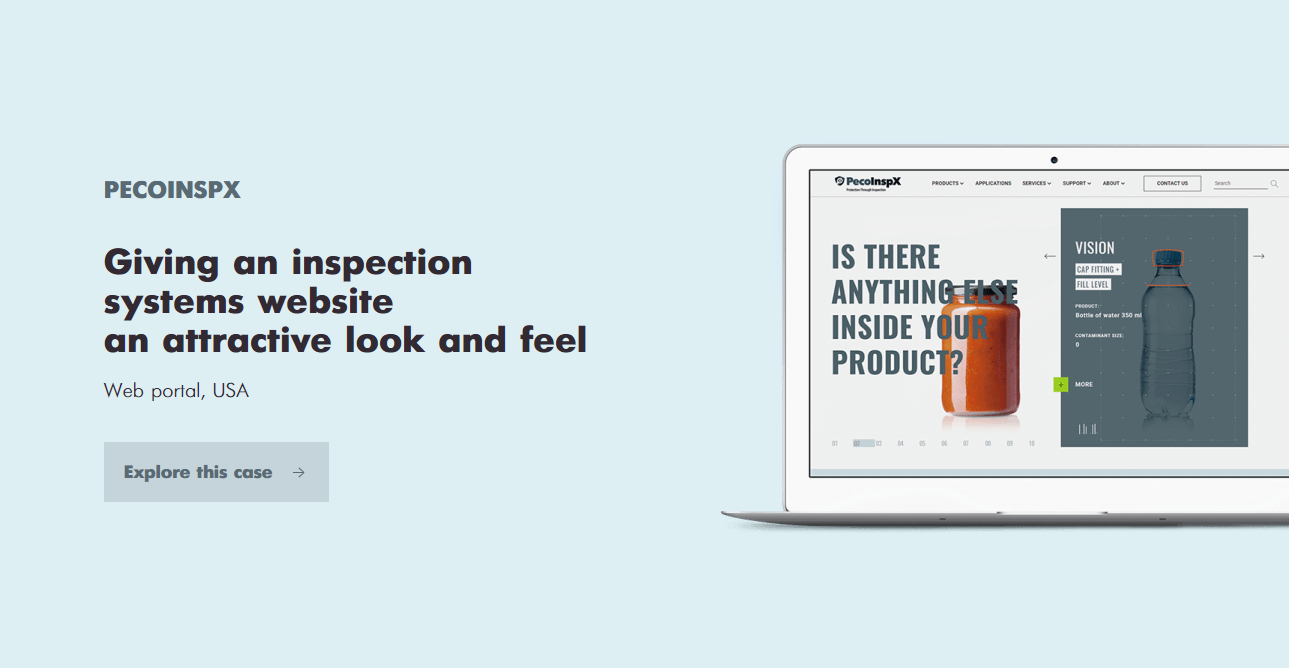 Step #2. Define the ideal candidate profile of the WordPress developer
When you start searching for a developer you'll find dozens of candidates and web development companies to choose from. This may lead to confusion – how to identify the best WordPress developer for my project?
To prevent such confusion, do your homework. Try to build a solid list of requirements for a WordPress specialist. This background will help keep your wits and focus only on those candidates that fit your needs. Here are three key factors worth considering during your search:
Technical and coding skills
WordPress development can involve a large number of services, from building a new website from scratch to custom plugin development or improving website security. That's why the list of WordPress developer requirements will directly depend on your project requirements.
Thus, analyze what exactly you need the WordPress consultant to do on the project and decide whether your project requires a developer with certain technical skills. Here are some specific tasks that may require more niche expertise:
integrations with third-party systems (like CRM) or plug-ins;
multimedia support;
non-standard eCommerce or WooCommerce features;
development of WordPress template from scratch;
following tailor-made UX/UX design; and much more.
Sure, it is not the complete list of possible functionality, but you get the idea. The above mentioned features will often require specialized knowledge about plugin development, working with RESTful APIs, in-depth experience with PHP, CSS, HTML, Javascript, background in managing and troubleshooting databases, and similar.
Soft skills
One of the main mistakes businesses make when hiring a developer is focusing only on technical skills. Yet, soft skills are equally important. There are hundreds of stories where people hire developers who technically do the job perfectly, but the main idea turns out to be completely different. It is an illustrative example of miscommunication and lack of responsibility from the developer's side.
To prevent it, try to draw attention to those WordPress developers who are comfortable to work with, can lead productive discussions, and dig deeper into business requirements to deliver the expected result. So, give special consideration to:
effective сommunication skills so you can communicate effectively with the developer;
attention to detail that allows to catch all mistakes that you may miss or clear up all the questions of doubt; and
ability to meet deadlines and setting the right expectations.
Portfolio or/and references
It's clear – trust, but verify. Ask for a portfolio or website examples that the developers worked on in the past. It will not only assure you that the developer has experience in WordPress development, but also help you see whether the website examples possess the similar functionality you are looking for. As for the references, it is always valuable to have an opportunity to connect with other people who worked with the developer.
Step #3. Set up an approximate budget
Different developers apply different strategies to put a price tag on their work. Costs can vary, however, an approximate(!) budget range may be very helpful in determining the right strategy.
As you can't just spin the budget out of thin air, it's crucial to understand all the factors that influence the final cost of your project. There are three main factors you should consider:
Scope of the project. Think about how big your project is, how many pages do you need, how many features would you like to implement, and so on. Quite often the WordPress developers charge based on their hourly rate, which means the bigger your website – the higher the total cost.
Complexity of requirements. Custom-built functionally or implementation of technically complex features increases the costs of WordPress development.
Choice of developer. The choice of the WordPress development company or a developer is one of the most important variables that influence the costs of development. That's why it deserves more particular attention.
As of September 2021, the average hourly rate for a WordPress Developer in the United States is $31. However, you'll find a range of developers who charge anywhere from $10 to $250 per hour. It's because not all developers are equal. There are Junior, Middle and Senior WordPress developers. The level of seniority reflects years of experience and the ability to take on more complex projects.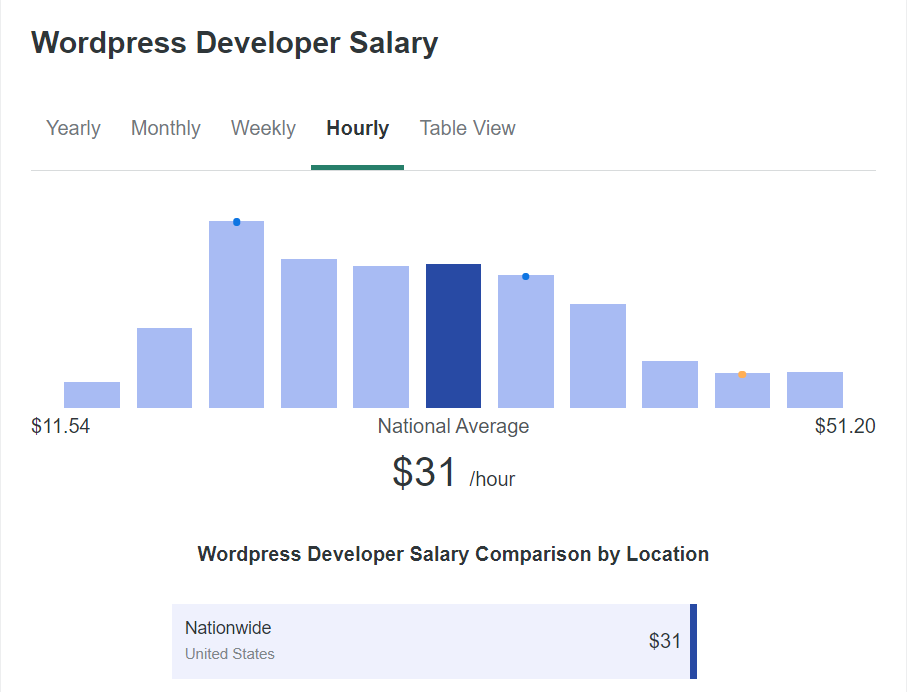 Source: ziprecruiter.com
Experience and quality of services play a huge role in setting prices, even more than the location of the developer. If previously outsourcing development to Eastern Europe, Middle East, or South America was connected with lower costs, today it's not always the case.
The Covid-19 pandemic has shifted the focus to remote work, thus, blurring the boundaries of rates in the IT world. The high demand for developing services has also put some skin in the game. That's why don't prioritize the lower cost above all when it comes to WordPress development services.
Pay closer attention to the level of WordPress experience and quality of services developers are providing. An inexperienced WordPress developer might do more harm than good and cost you more in the long run.
Therefore, we came smoothly to the next essential factor – hire a freelance WordPress developer or development company? There is no clear-cut answer, however, there are cases when opting for a WordPress development company may be a more suitable decision.
As a rule, a WordPress freelancer may charge less, but every time you hire a freelance worker you should remember the risks involved, like:
unclear timeline or missed deadlines;
low-quality output;
possibility of security breaches;
issues with scalability;
and much more.
WordPress development companies as a rule are able to provide more secure services. They also very likely possess a broader talent pool in view of the size of their teams and time in the market. Here are the most common cases when hiring a WordPress development company or agency is the better choice:
your business (leads, sales, members, revenue, and similar) directly depends on the website;
you need to do several things at once including website design, digital strategy, custom programming, security setup, and much more;
you require high accountability both for the end result and for the whole development process; and
you have business ideas, but need a tech-savvy partner with experience in WordPress development to guide you to the best possible solution for your business goals.
Now when you have project requirements, an ideal candidate profile, and a clear understanding of what may influence the final cost, it's time to start the search.
Step #4. Start searching for a WordPress development partner
Searching for developers when you have clear-cut requirements is much easier. As for where you can find the potential WordPress developer, there are several options:
Referrals: The fact that we live in the 21st century doesn't cancel the power of word of mouth. If you know somebody from the web development sphere, then asking for a referral is a brilliant option to find a WordPress expert. Referrals set the reputation of the person on stakes and raise your chances to find someone both competent and trustworthy.
Most web development companies place a high value on their reputation and good relationships with clients. For example, 96% of our clients at MindK are ready to recommend us to their network, based on a recent survey. Their endorsements are the best form of appreciation we can hope for. You can check out what our clients are saying about our work.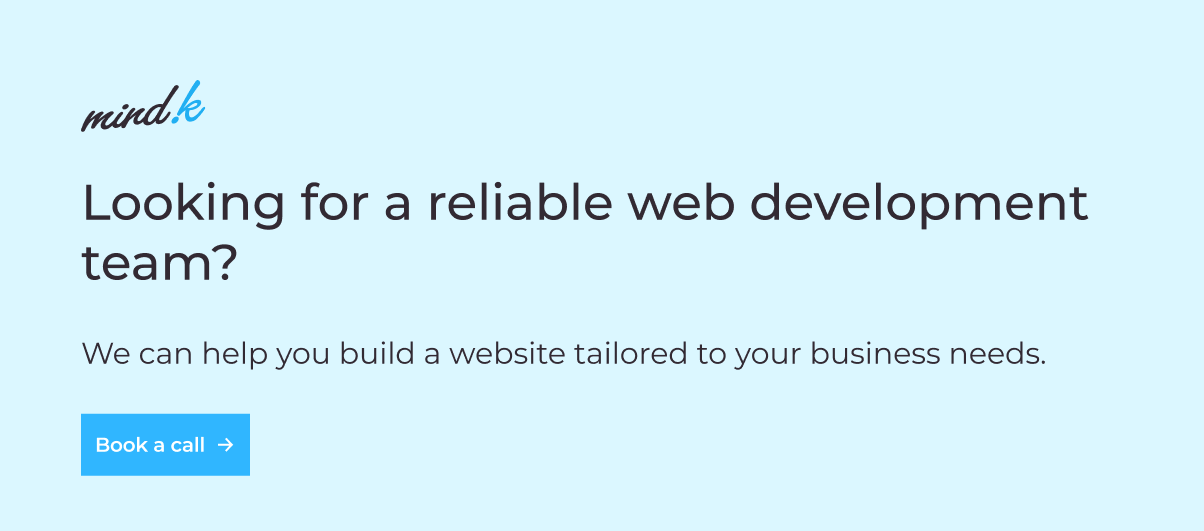 WordPress company directories: Such platforms are great places to receive an enormous list of companies you can potentially work with. The best thing is that these directories are unbiased and almost all of them provide a possibility for clients to leave a review. It allows you to access a large pool of WordPress development companies and find out what others are saying about their work in one single place. Among the top platforms are Clutch, GoodFirms, DesignRush, Itfirms, Manifest.
For example, here are the reviews about the MindK team on Clutch:
Freelance directories: Similar to company directories, there are platforms for freelancers. So if you decide to look for a freelance WordPress developer, the most popular directories include Upwork, Freelancer, Guru, Codeable, WPHired and similar.
Step #5. Establish project and contract guidelines
Once you find a WordPress developer or a development company that meets your requirements, put your commitments on paper. It will guarantee that both you and the development partner know what is expected of each party.
There are several things you should consider including in your project guidelines and agreement:
total project cost and payment schedule (prepayment /postpayment/ payment stages);
in-depth description of all the requirements for the end-product;
ownership of the website created;
security and confidentiality of the data;
methods and frequency of communication (email/phone/video calls);
estimated project deadlines;
warranties after the project ends; and
process of handling changes.
There may also be additional terms and conditions specific to your project that you should add to your agreement.
Ready to start WordPress development right now?
Finding and working with a good Worpress development partner doesn't have to be challenging. There are hundreds of reliable companies and developers who are a pleasure to do business with.
Here at MindK we have long-term experience in web development and always pay great attention to the business needs of our clients when providing WordPress development services. If you have a project in mind, just drop us a line and we'll get back to you to discuss your requirements and expectations.