As a custom real estate and fintech development company, MindK deals with many early-stage startups. This article features some of the best insights gained while working with clients from the real estate and proptech industries.
Table of contents:

#1 Understand what real estate crowdfunding is
Crowdfunding is a great way to raise money and invest in real estate projects. Unlike traditional investment, it involves lots of small contributions from a large pool of investors. Real estate crowdfunding (REC) platforms act as online marketplaces that unite property owners and potential investors.
Equity-based platforms allow investors to get an equity stake when they contribute towards a real estate project. In return, they get a share of the rental revenue generated by the project or its capital profits.
Lending-based platforms allow users to invest in mortgage loans. These loans will get repaid on a monthly/quarterly basis with a small % going towards the investor.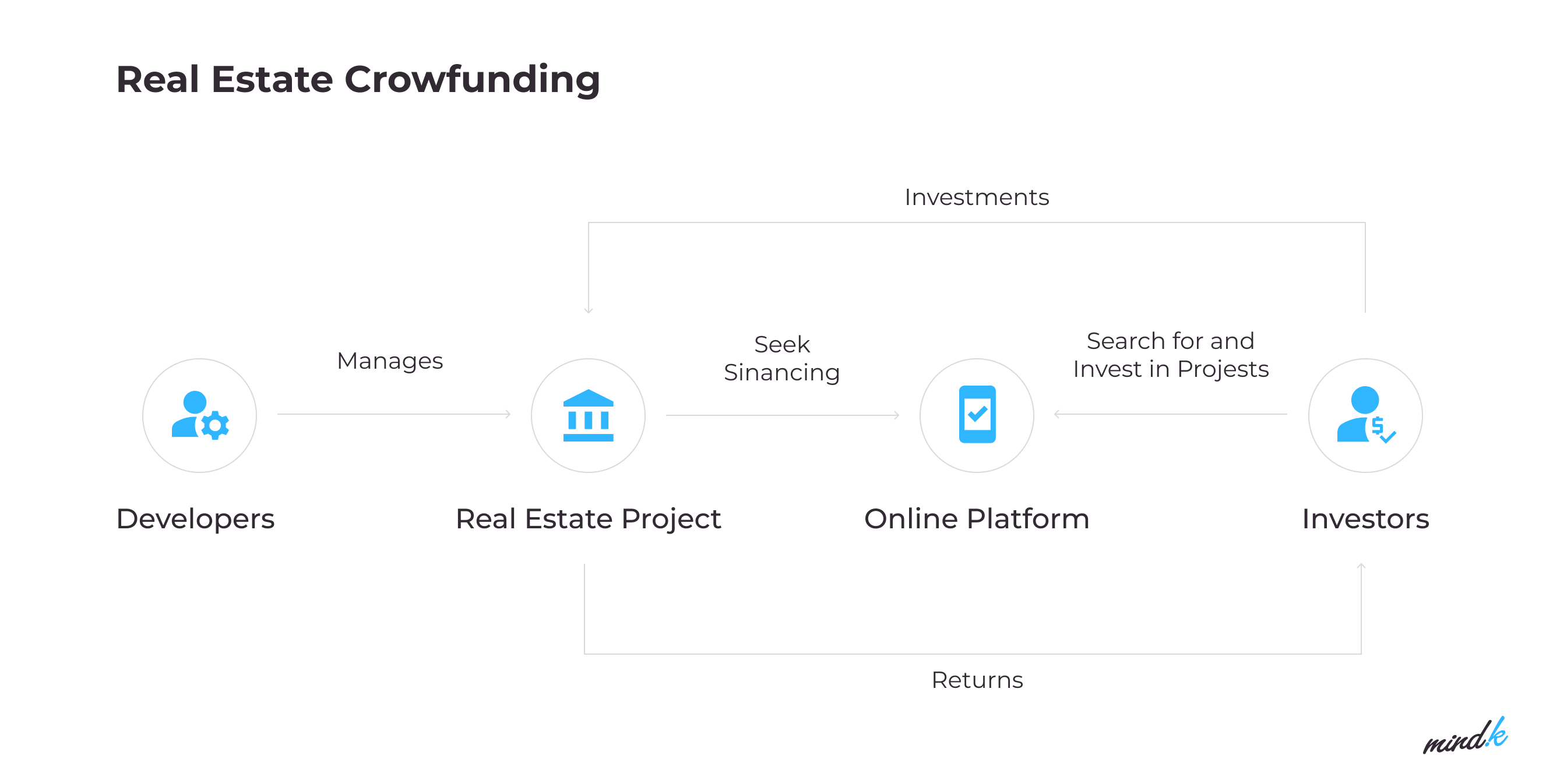 How does crowdfunding work in real estate?
#2 Analyze the real estate crowdfunding market
According to Google Trends, the public interest in passive income has grown 4x times over the past five years.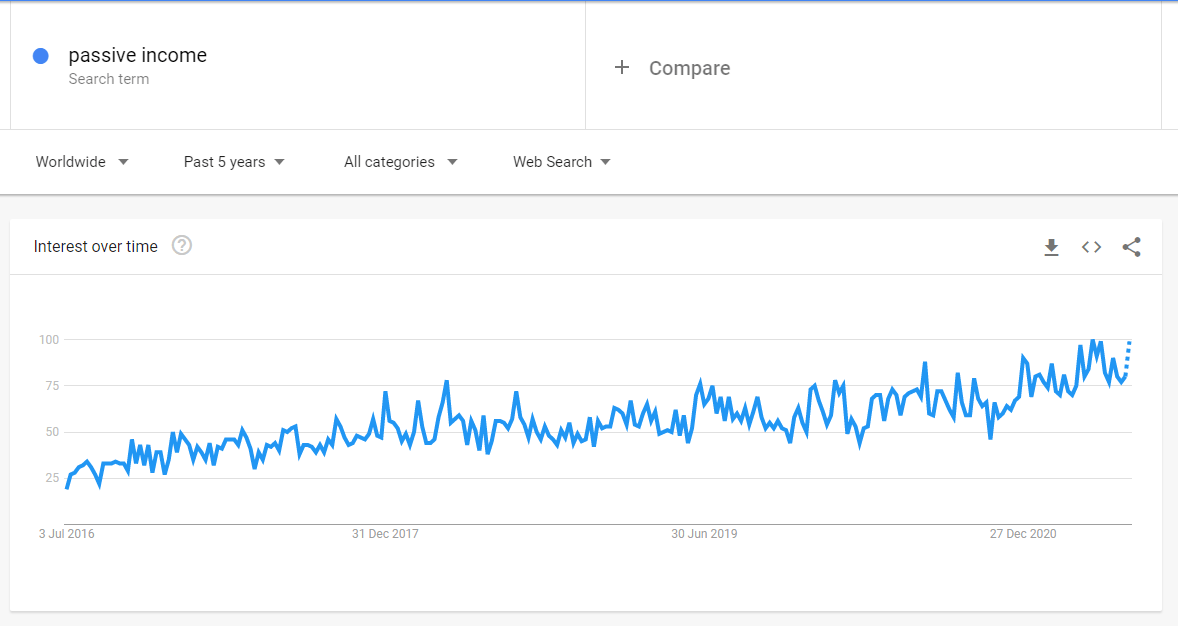 Historically, real estate outperforms pretty much any other kind of passive income. Now, there are almost 5,000 organizations in the real estate investment business. Among them, REC platforms are by far the most affordable way to invest in real estate for regular people.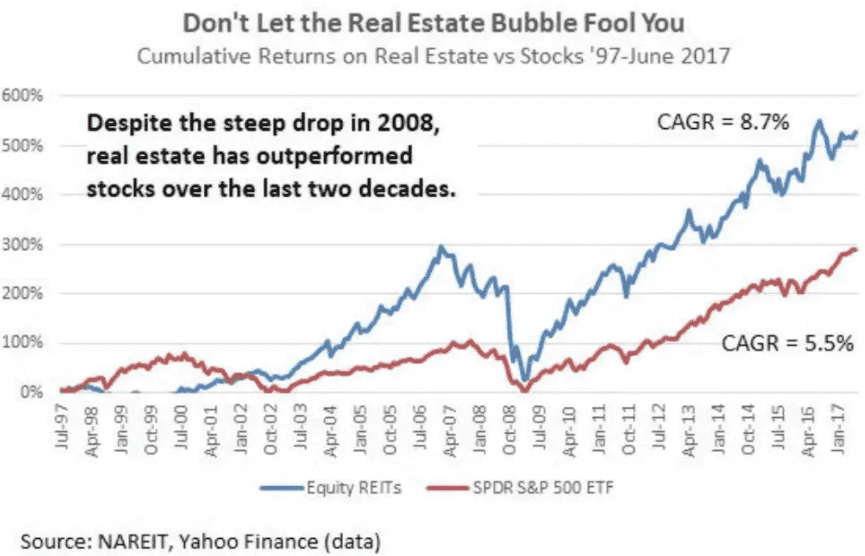 The US remains the world's leader in the number of real estate crowdfunding sites. Recent changes to European legislation are also contributing to a decade-long expansion of the crowdfunding market, the UK leading the way with 37 REC platforms, followed by France (19) apps, and Spain (13).
The pandemic had a profound effect on the real estate market, although the trajectory is opposite of what is expected from a recession. The recovering economy and high demand from Millenials is fueling a housing boom in the US with more properties sold than any year since 2006.
#3 Study the top players
Over the past 40 years, real estate yielded on average 9.72% ROI vs 5.43% for stocks. Yet, the market boasted a very high barrier of entry – you needed to be an accredited investor with a ton of money.
Everything changed in 2012 when the US adopted the Jumpstart Our Business Startups (JOBS) Act.
By removing the accreditation requirements, it allowed regular people to invest as low as $500 into property. Real estate developers could now advertise their projects to the public and raise funds from a large pool of investors. Investors flock to crowdfunding platforms as the underlying tech gives them 3 key benefits:
Lower fees.
Higher diversification.
Better risk-adjusted returns.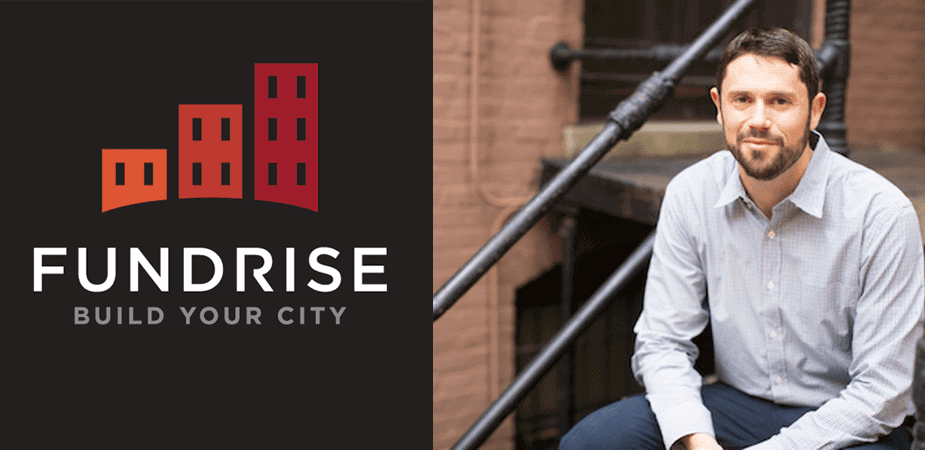 Image source: thegaribaldigroup.com
Fundrise was the first platform to benefit from the new act. Founded by Dan and Ben Millers, the app was first intended as a way to raise investments for the properties they were building in Washington DC. Soon, other real estate companies started contacting the founders to fund their projects.
In just two years, the company helped raise $15 million from over a thousand contributors. The founders have also secured the biggest ever series A round for a crowdfunding platform at $38 million.
According to Forbes, the company is now worth $800 million and manages assets from over 140, 000 investors. Before the project is approved for fundraising, the platform runs a thorough due diligence process with almost 99% of projects being rejected. It also prefunds every project using the company's money.
Monetization strategy: charge a 0.15% advisory fee + 0.85% annual management fee + a one-time origination fee of 1% – 2% + $5,000 due diligence/closing fee.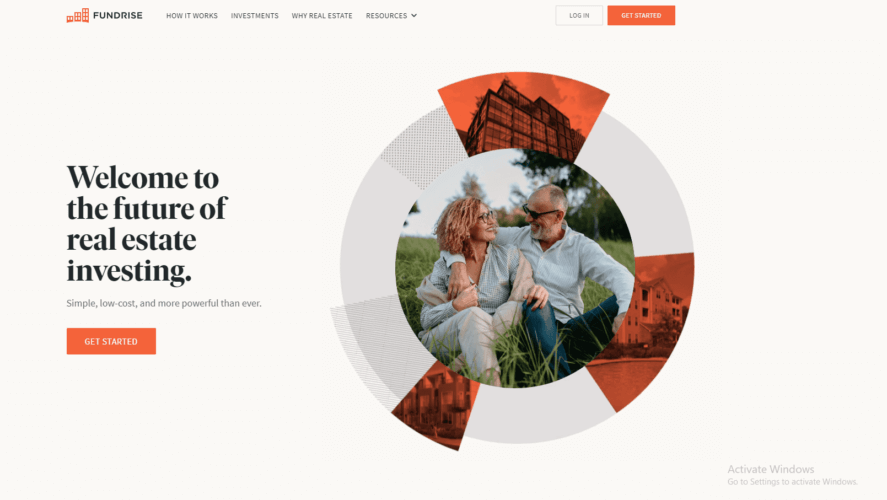 RealtyMogul is another American ROC platform founded by Jilliene Helman. When working in wealth management, she noticed that her richest clients were all earning passive income from real estate. As the US passed the JOBS act in 2012, she left her cushy job to found a startup that would make real estate investing affordable for regular Americans.
As of 2015, RealtyMogul was valued at $150 million and had more than 200 thousand registered members.
Monetization strategy: charge a 1%-1,25% management fee + 0.5% – 0.6% REIT fees + one-time legal fees for some properties + fees for lenders and real estate developers.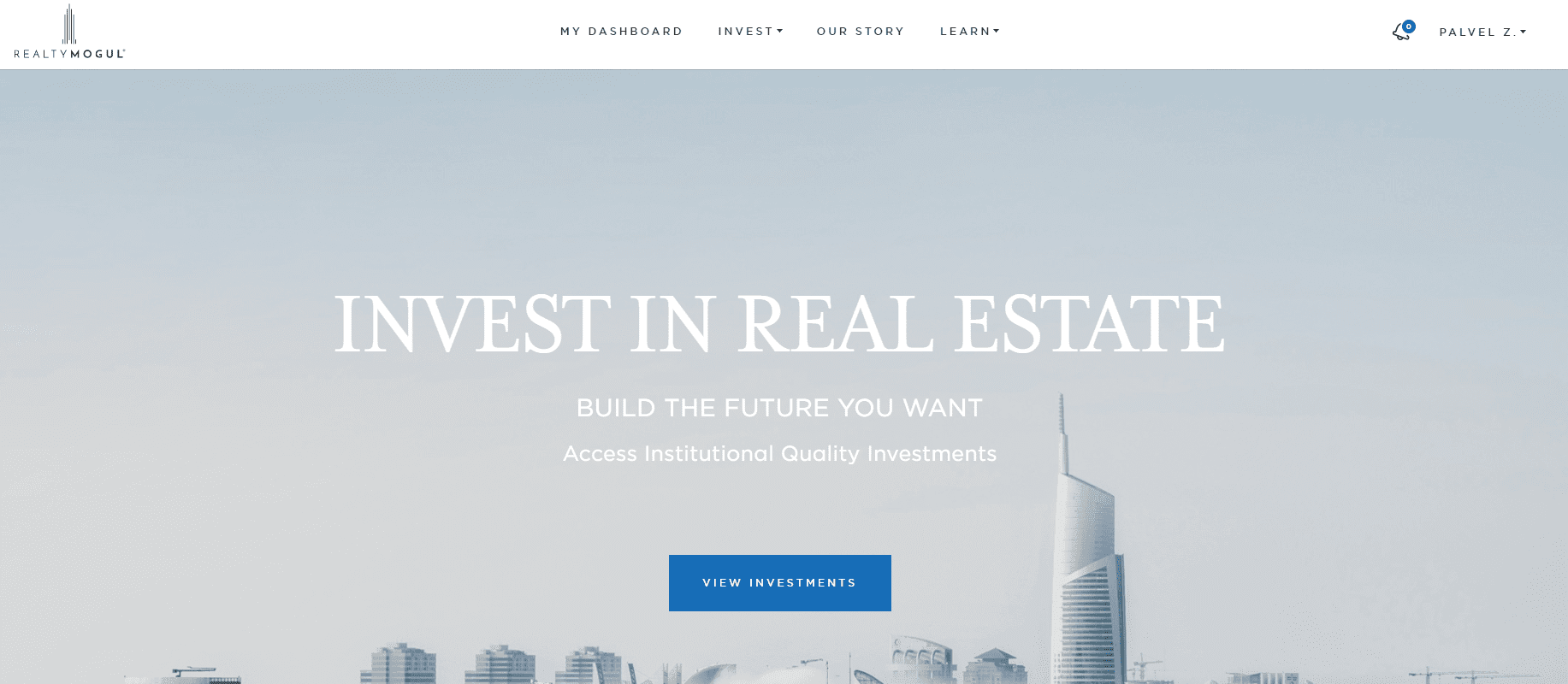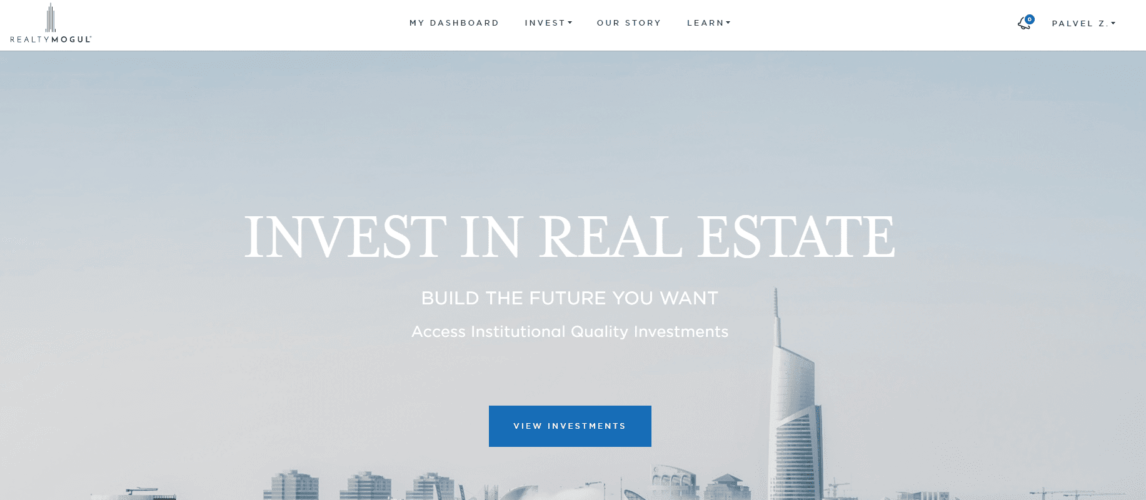 The real estate crowdfunding market is also flourishing over the Atlantic. EstateGuru is one of the first European REC platforms founded in 2013 with a headquarters in Tallinn, Estonia. The website now has over 86 thousand members who collectively funded more than 2,400 loans.
Monetization strategy: charge a 0.5-1% administration fee + 2.5-4% success fees calculated from the funded volume + 2% secondary market fee.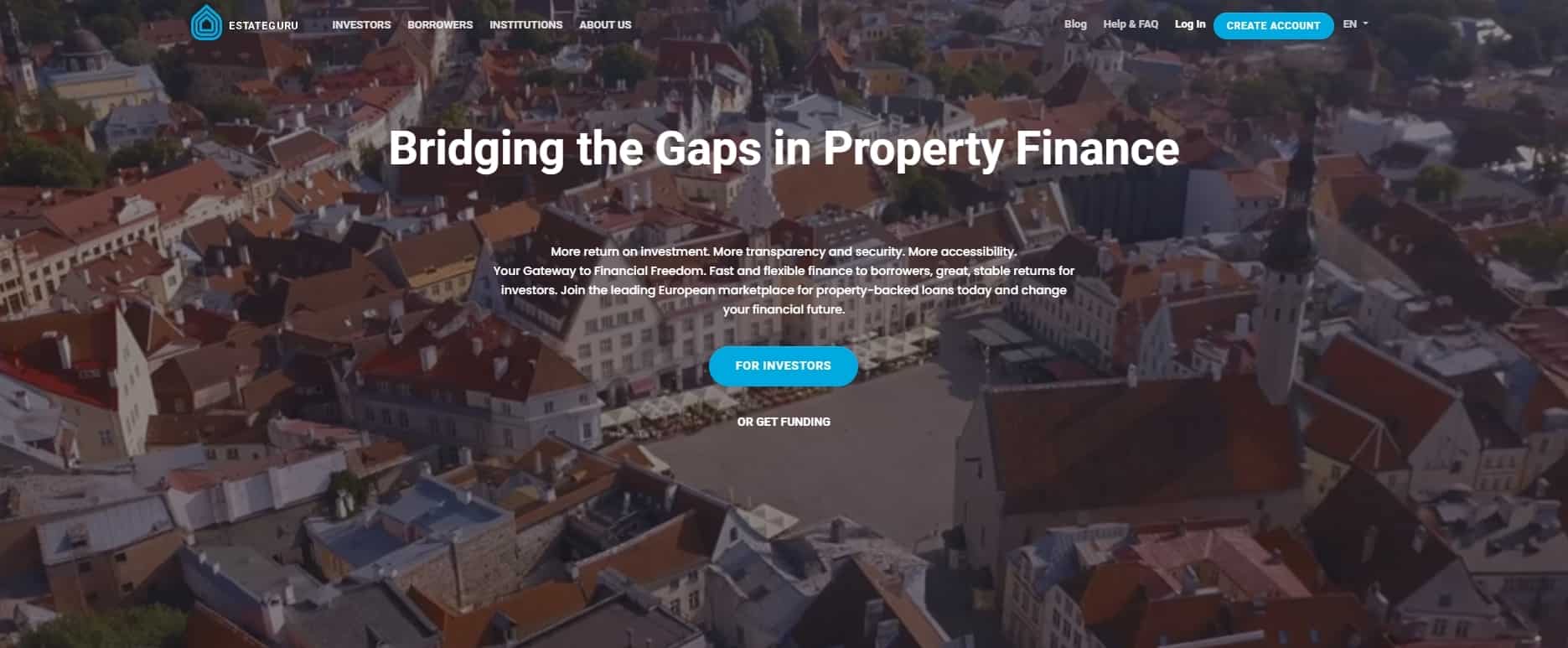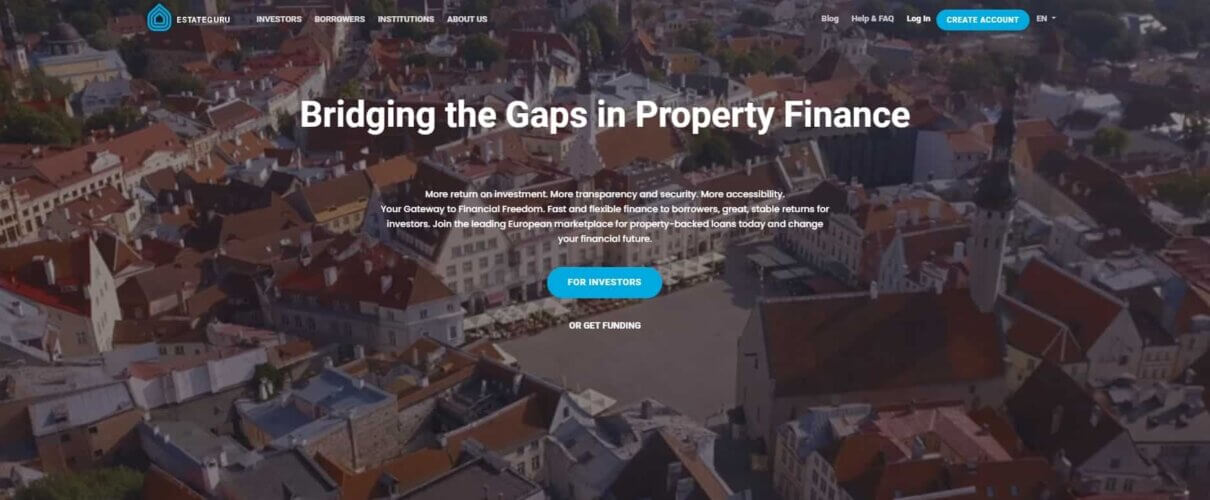 #4 Understand the crowdfunding regulations
Global crowdfunding is still an emerging field without a common legislative framework. It's crucial to research regulations and limitations that exist in your target market.
The US, for example, has clear definitions regarding the rights and the status of unaccredited investors. According to the SEC, this encompasses persons with an annual income of fewer than 200,000 USD and a net worth of less than 1 million USD (excluding the main residence).
The regulator allows investors with an annual income of less than 100 thousand USD to contribute 2 thousand USD – 5% of annual income/net worth. Otherwise, investors can contribute to 10% of net worth/yearly income.
In the UK, the FCA crowdfunding regulator defines unaccredited backers (or restricted investors) as those whose investment portfolios fall short of 10% of their assets.
Crowdfunding investors can generally make deals that amount up to 10% of earlier invested funds. This averages to £5 thousand per investor.
In Australia, all backers must go through a registration process and own $2,5 million worth of assets.
In Canada, unaccredited investors must own less than 1 million USD of financial assets or have a net worth of under 5 million USD.
Many countries across Europe have now also introduced laws that protect crowdsourcing investors. In October 2020, the EU Parliament ratified the final edition of Regulation on European Crowdfunding Service Providers for Business. Among other things, it highlights:
Any crowdfunding business founder can request a license from the "European Enterprise Crowdfunding Service Provider" (ECSP)
Max amount for a crowdfunding deal is limited to €5 million over 12 months
A platform founder will have to apply for authorization to a national competent authority in a country of registration.
Each crowdsourcing offer now has to include a 'knowledge test' for 'non-sophisticated investors' and a sheet that lists the essential investment information.
Real estate analysts expect the legislation to simplify international crowdfunding and fuel the growth of the REC industry. If you want to learn more about crowdfunding legislation, you can check this guide to REC regulations.
#5 Define your niche
The next thing you should do as a real estate startup founder is to narrow down your target market. Here are a few steps you can take to stand out among competitors:
Define your target audience. What is their geographic location, age, median income, and other demographic data?
Check your competitors. What is their target market? What features do they offer? Think as an investor – what is lacking from their current offerings?
Consider which features could help you win over the potential investors. What can you offer that your competitors can't?
Robust technology is a good start, especially in comparatively young markets like real estate crowdfunding. A simple and intuitive UX, high speed and cutting-edge stuff like AI-based risk assessment can all help you stand out from the crowd.
Your platform should also feature low fees, high annual returns, diverse offers portfolio, and tax opportunities.
Now that you've defined your competitive advantages, there are several types of real estate investment platforms you can choose to build:
Private, non-traded REITs (Regulation A+)
Equity investments
Loan securities & peer-to-peer lending
Early on, it's a good idea to focus on one type of offering as equity and debt platforms require different workflows. Building all features upfront and paying for the appropriate licenses can be too costly for an early-stage startup. To stand out among your competitors, you'll need to decide what type of properties to offer on your platform:
Commercial real estate (offices, hotels & hospitality, hospitals & medical buildings, multi-family commercial buildings, shopping malls, etc.)
Residential property (flats, luxury homes, condominiums, terraced houses, and so on).
Fix and Flip (renovating a property and selling for a profit).
Land, and so on.
To narrow down your niche even further, you can focus on specific industries like education (school buildings), industrial buildings (warehouses, equipment, building units), agriculture (farms and farming land), or traveling (hospitality, cabins, vacation homes).
Mindk has, for example, developed an online system for buying vacation homes in Norway. Due to local regulations, cabins can only be bought via a paid queue. The system allows Norwegian citizens to register for the queue, make payments via Stripe, and see their place in the queue (determined by complex rules like numbers of children in a family).

Norwegian system for buying vacation cabins, developed by MindK
#6 Find the right team to build your platform
Getting your technology up and running should be your next priority. Your options here range from hiring developers in-house to outsourcing your project to freelancers or partnering with a full-cycle software development studio. The latter will typically have all the resources you need to design, develop, and launch your platform.
When looking for a suitable developer, always check their experience, domain expertise, and client references. You can start your search with independent review aggregators like Clutch, Goodfirms, and DesignRush.
Finding a reliable tech partner can be an art in of itself. So check our article on how to hire a team of all-star web and mobile developers.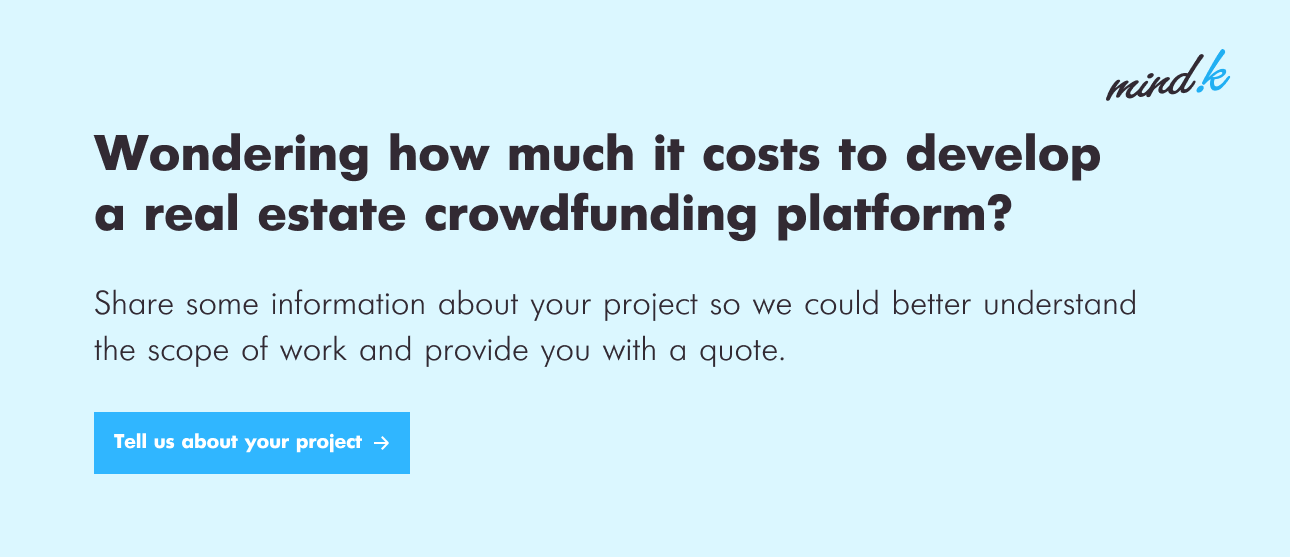 #7 Choose features for your Minimum Viable Product (MVP)
Big dreams are risky. One of the best ways to lower risks and uncertainties in software development is to select just a handful of key features for the first version of your product. This allows you to test all your assumptions about technology, market, and your target audience.
This approach is called a Minimum Viable Product and we recommend it to most of our clients. It is one of the best ways to launch your product, especially if you enter a highly dynamic market with incomplete requirements.
To help you choose the essential features for your MVP, we've analyzed dozens of real estate crowdfunding websites. Here's what they have in common.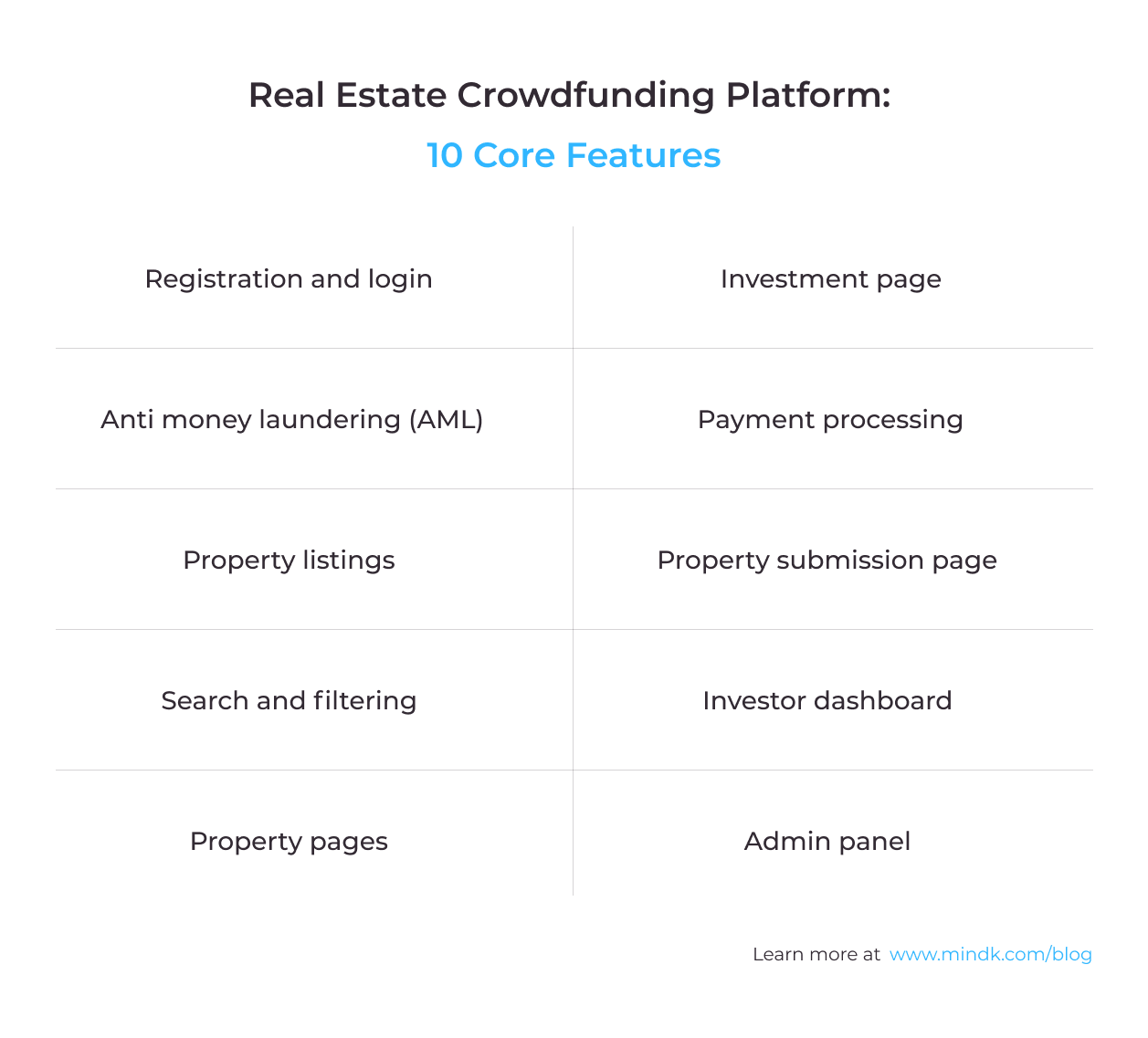 Registration and login
Most investment platforms allow registration for both investors and property owners. You can have detailed registration like in Fundrise + an easy investment process. Or you can have a fast registration like CrowdStreet + a very detailed investment form.

Quick account creation in CrowdStreet
You can also allow users to log in to your platform via Google/Facebook and make the process much more secure with a two-factor authentication (for example, a secure password + a code sent via an SMS). Some platforms like Fundrise also notify users if they detect a log in from a new device for additional security.
Anti money laundering (AML)
Due diligence is essential in crowdfunding. Most platforms like RealtyMogul pay lots of attention to the backer's identity and their sources of income. They typically request personal information like social security numbers, bank account details, net worth, yearly income, its sources, and so on.
As know-your-customer checks can discourage users from registering, it's essential to explain why you need all of this information. Another variant is to allow a quick registration and run thorough AML checks when making a pledge.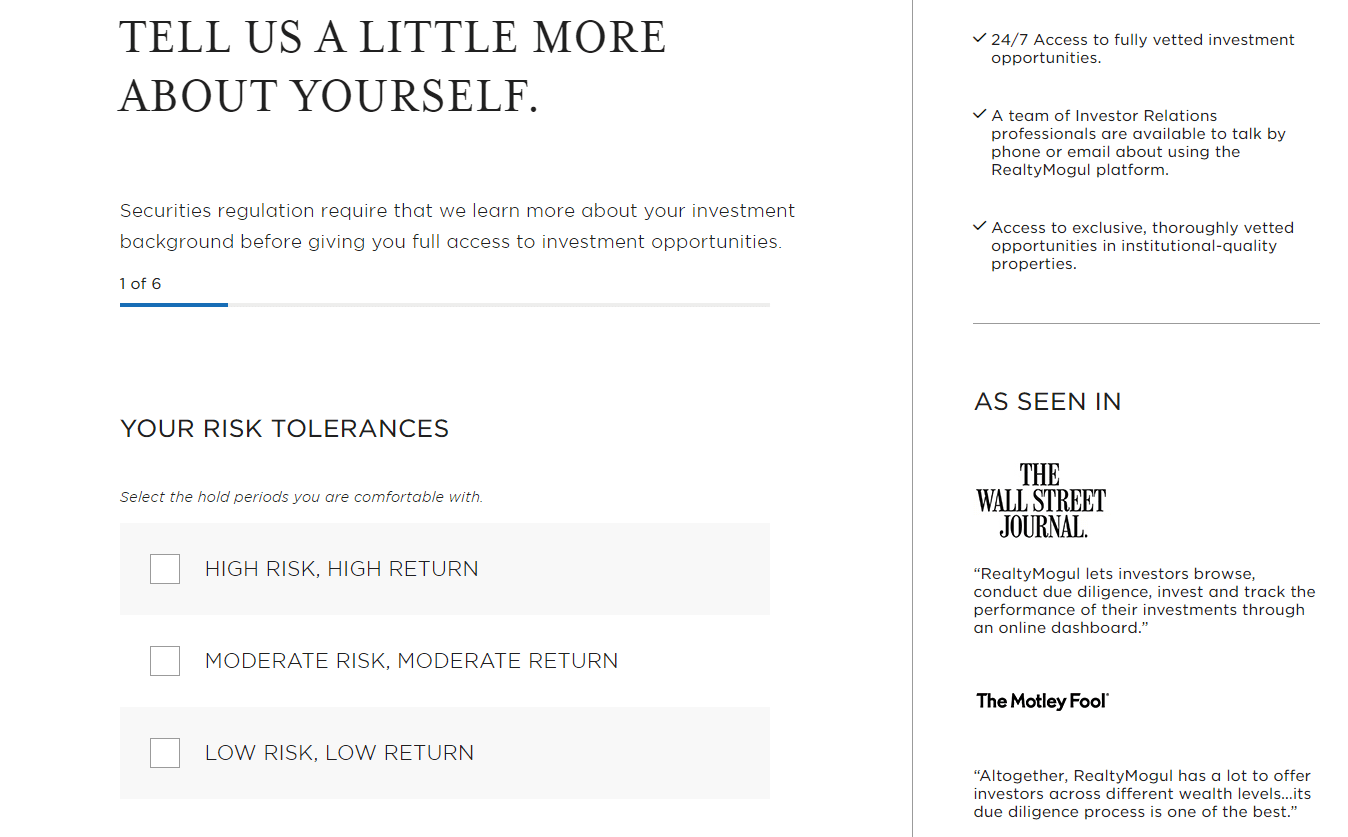 Property listings
Once a user registers on your platform, they need to see the list of all available properties.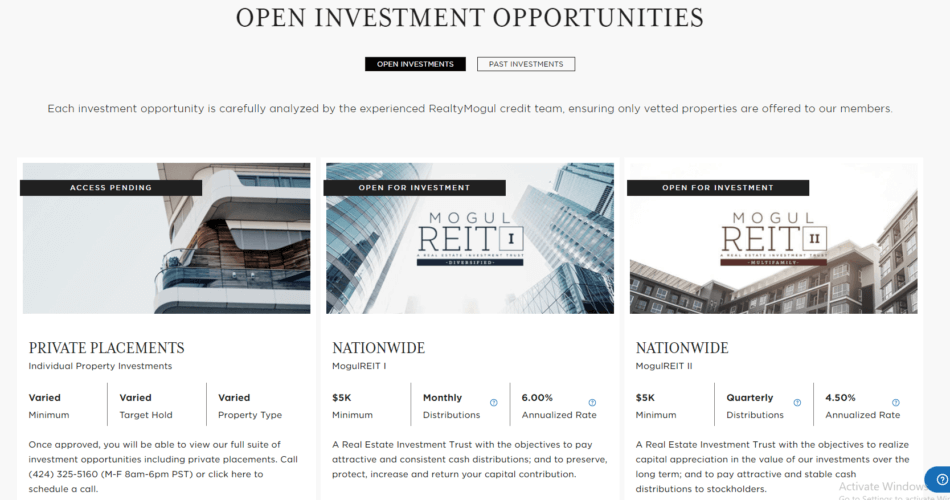 This listing should include property photos and all the necessary information for a real estate investor:
Name of the real estate developer.
Investment type (equity, debdt).
Property location and description (keep it short and add lots of pictures).
Minimum investment & anticipated returns.
Distribution frequency & hold period.
Search and filtering
Real estate listings need to be searchable by name, location, and real estate developer. Different filtering options can help investors find exactly what they need among thousands of offerings:
Location (state, city, ZIP number).
Risk rating.
Date of posting.
Minimum investment amount.
Expected returns, and so on.
Property pages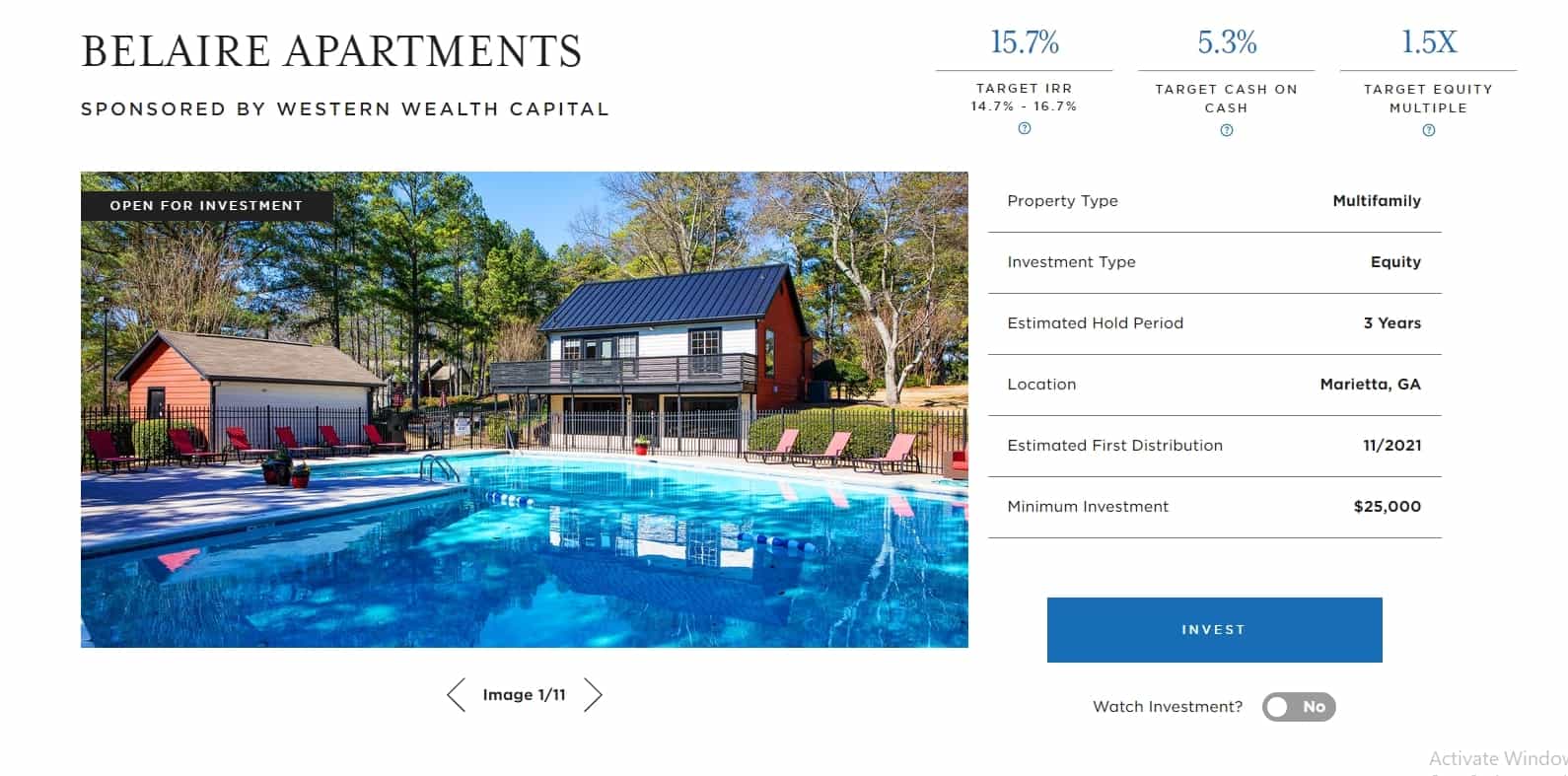 Give investors enough information to make the key decision on your platform:
Property photo
Project chronology
Developer company
House plan
Expected returns, adjusted by risk
Property rating
Financials
Offering documentation
Frequently asked questions
Location on a map.
Investment page
If you don't have a detailed due diligence process during registration, you'll need to make a detailed, multi-stage crowdfunding real estate investment process. On RealtyMogul, it starts with filling in personal information – name, phone, country of residence, address, ZIP code and so on.
The next step is to set the type of investment account – individual, joint, and such. After that, you can choose the amount to invest and proceed to the payment options.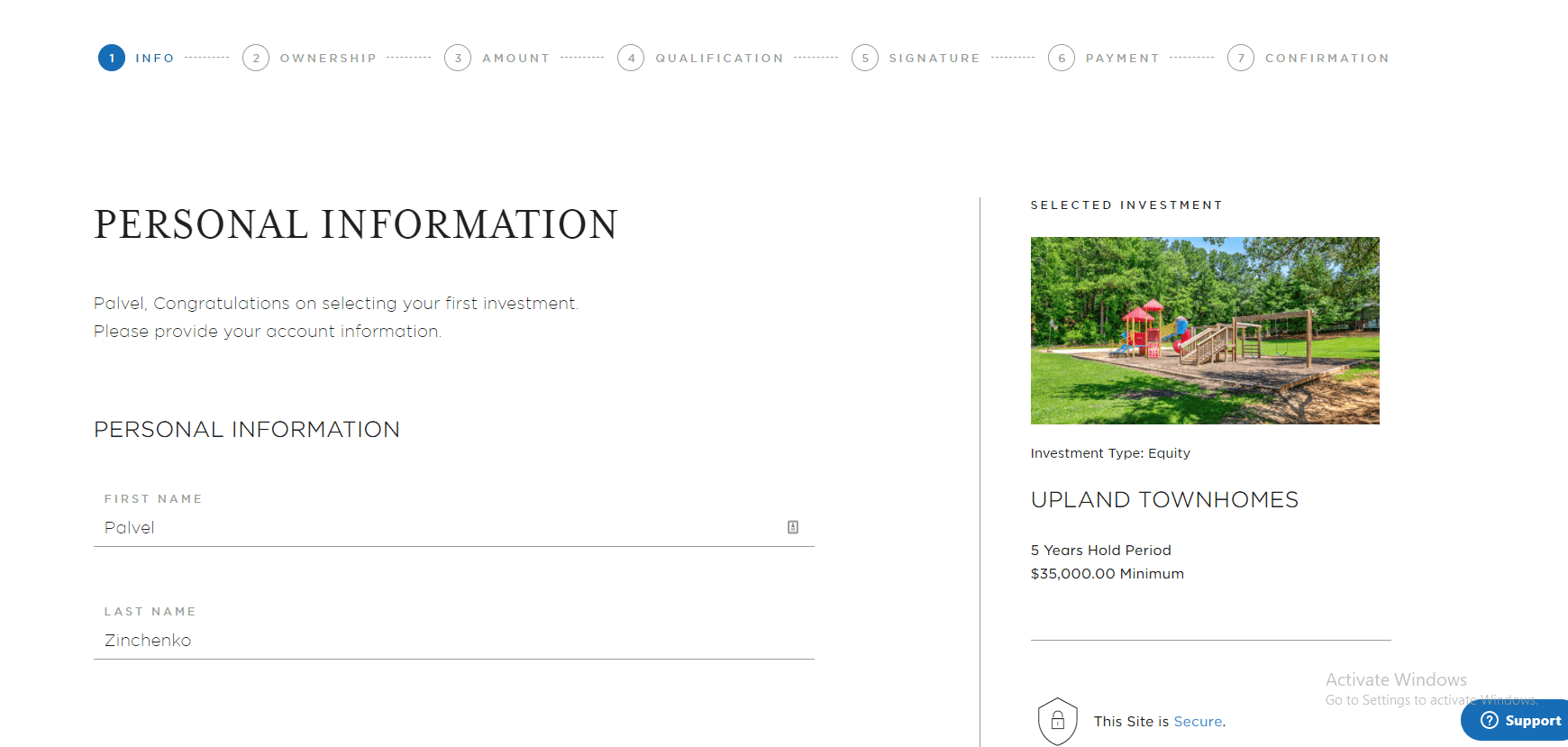 Payment processing
To support financial transactions, you'll need to integrate your platform with a banking system or a payment gateway. The latter act as a secure intermediary between the investor's credit card and your bank account.
They verify the client's details, check if there's enough money to make the transaction, and transfer sensitive information in a secure way.
As a real estate development company, MindK worked both with global gateways like PayPal/Stripe and local payment processors like Norwegian Vipps. So if you have trouble choosing a payment gateway for your crowdfunding app, you can check our detailed comparison between the world's most popular payment systems. 

Source: formstack.com
Property submission page
A crowdfunding website is a two-way street between investors and property owners. Some simpler platforms limit submissions to phone calls. RealityModul, however, has a submission page for property owners. Such a page should include the following information:
1. Company profile – total property value, regions covered, type of equity required.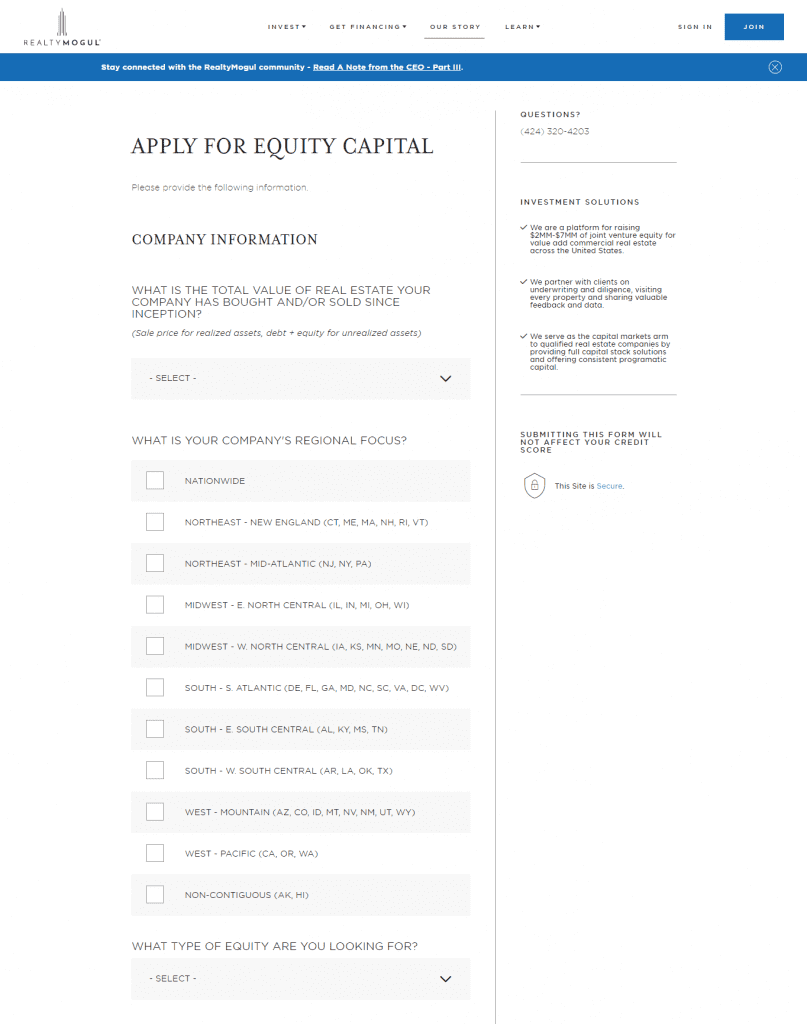 2. Transaction data – business plan of your equity financing request, amount of equity to collect, asset type for the transaction, anticipated returns, anticipated investor level IRR of the project, physical address of the real estate.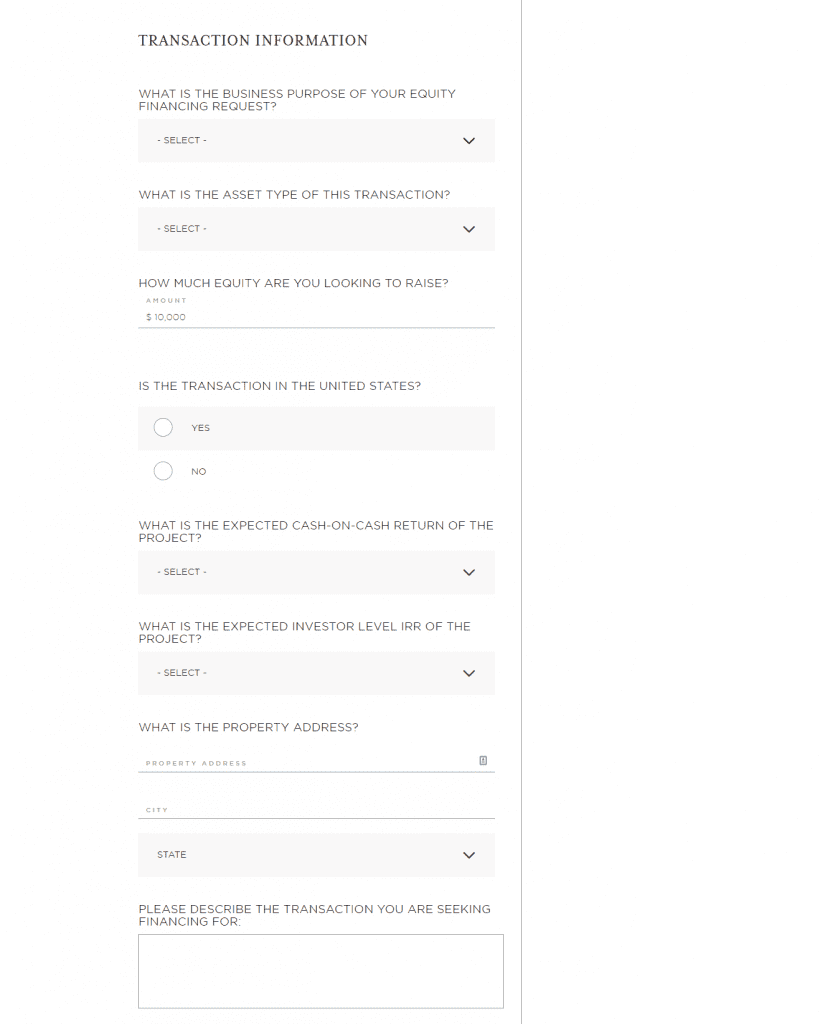 3. Contact info – developer's first and second names, company name, work email, and phone.
A fundraiser's dashboard should provide all the important information for property owners. It should display the total funds raised as well as min/max/average investment sums. The property owners should be able to schedule repayments for the backers, export the history of transactions, as well as manage offerings.
Investor dashboard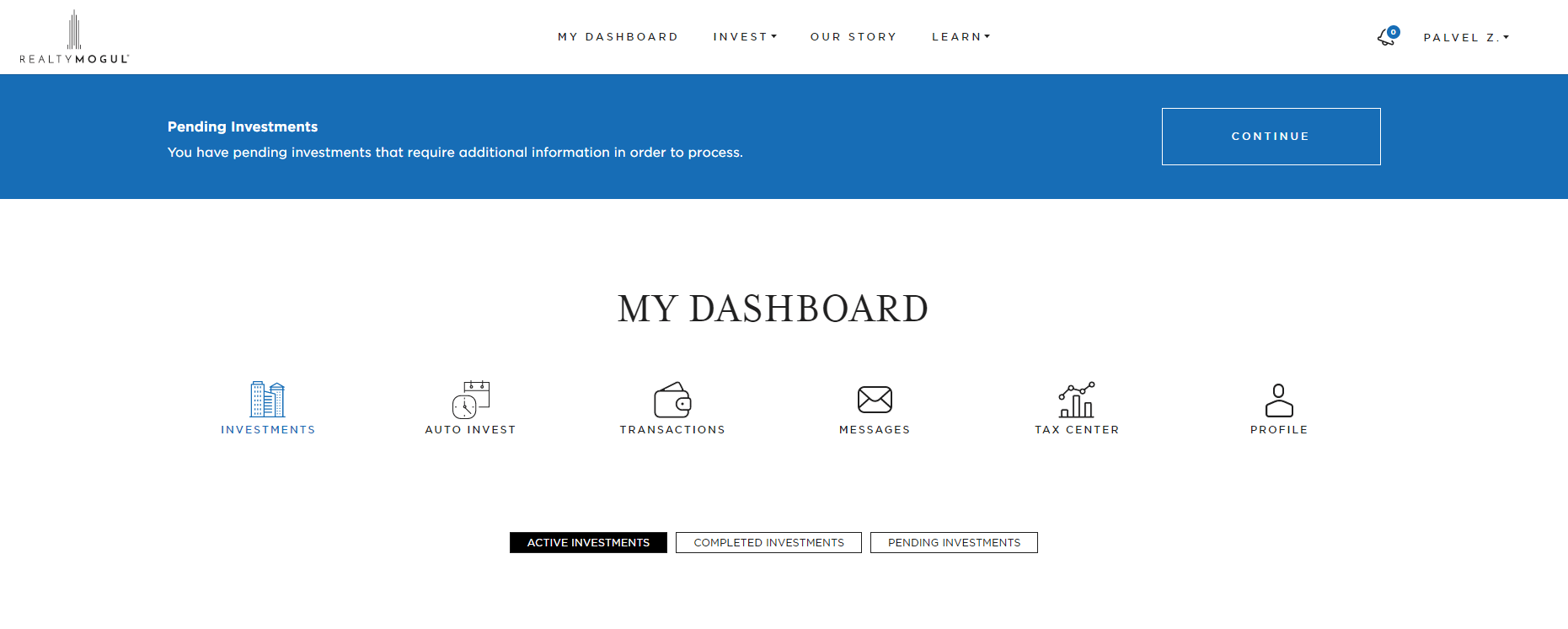 A dashboard provides a bird's eye view of your investment activities and returns. Typically, it will include:
Active, completed, and pending investments.
Cash invested.
Returns earned.
Option to reinvest distributions.
Ability to create a wallet and connect it to an account to make transactions.
Admin panel
In addition to the user-focused features, a backoffice of some kind is essential for managing your real estate platform. In its simplest form, the admin panel should allow you to view all the available real estate offerings with the funding histories, backers information, payouts, and so on.
For simpler management, you could also organize your properties into different categories, add custom tags, and examine the history of all actions performed with the offering.
Accounting and financial reporting is another essential component of real estate business automation. A transaction management panel can help you view the transaction data, including the value, source, type, and destination of each transaction. Wallet management is essential for managing investor payouts. It can help you access transaction history and statuses, view investor contacts, export the data, or create new transactions.
Learn how to build a real estate app with MindK.
Conclusion
Real estate crowdfunding has come a long way since Miller brothers founded Fundrise in 2012. Although there are hundreds of successful platforms, crowdfunding remains one of the fastest growing proptech markets.
Now that you know how to start a real estate crowdfunding platform, it's time to seize the opportunity. Research your market, understand your customers, and learn about regulations.
Although now is the best time to start a crowdfunding business, your success will require both defining your advantages and developing a robust technology.
MindK has been helping real estate startups for over 10 years. In this time, we delivered more than 170 custom software projects. So if you've got any questions about crowdfunding or need an experienced team to develop your platform, you can always rely on MindK. Just fill the contact form and we'll organize a meeting with real estate development experts.