As a software development company, MindK is always looking for new technologies to give our clients a competitive edge. After analyzing the e-commerce market, we discovered 6 massive, new opportunities for online retailers. So, here's how to create a shopping app by leveraging these promising trends.
Table of contents: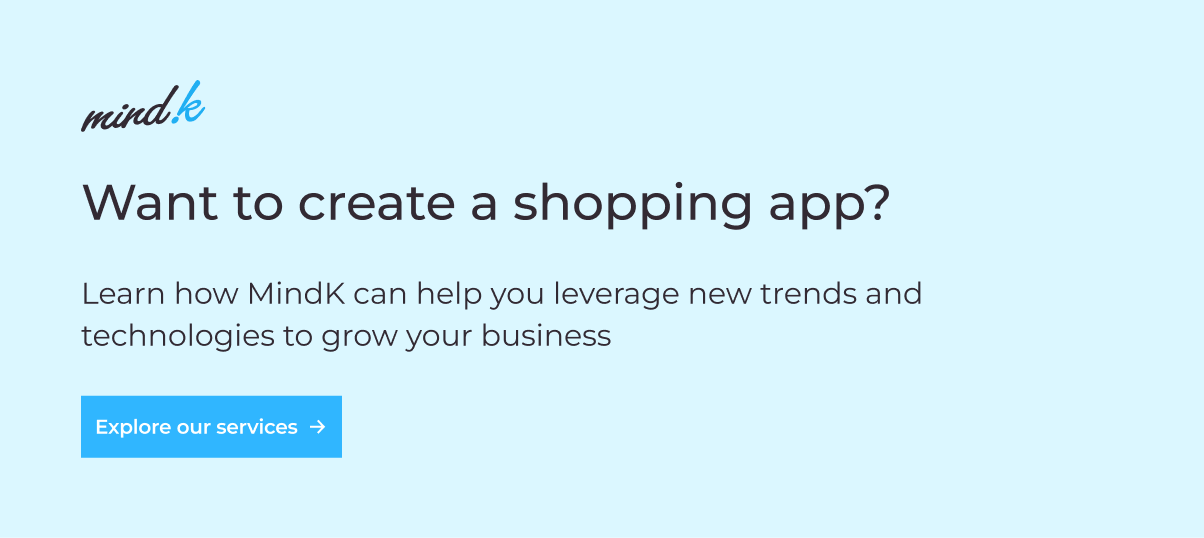 Key trends to follow in mobile shopping app development
Here are the most promising ideas that may help if you're wondering how to make online store app that will succeed in competitive markets. 
Zero-party data
Have you ever checked out a pair of pink crocs on Amazon (I'm not judging) only to see the very same shoes recommended to you on every site you visit for the next twelve years? Feel free to thank third-party cookies and other tracking technologies for making this possible. 
Big Tech is slowly starting to listen to privacy-conscious users. The first sign of this potentially massive change came on April 26, 2021. The iOS 14.5 update allowed users to disable any kind of tracking technology for any app on their phones. This is huge, as 55% of Americans use iOS devices. And if you think that is bad, wait until you hear about Google ditching the support of third-party cookies in Chrome by the end of 2023! 
For many retailers, Facebook ads remain their main customer acquisition channel. Without targeting data, they must show ads to a much wider audience. As a result, conversion rates drop like a lead balloon. Many brands are now cutting their ad spending with customer acquisition costs rising by as much as 50% for some companies.
What's more, users still demand an increasingly personalized experience. This is pretty difficult without tracking technologies. So e-commerce companies have to find another way to satisfy customer expectations. 
And this way is called zero-party data. This is the information users share with you voluntarily. No need for cookies and third-party trackers. There are several ways to collect this data:
Recommendation quizzes
Imagine you've decided to buy a bicycle for a loved one. You know that a good bike should have two large wheels, a comfortable seat, and a steering thingy that looks like a large stick. After all, it's been 20 years since you've used one. 
But do you need a mountain bike or a Fatbike? 29″ wheels or 27.5″? Carbon or aluminum? Mechanical brakes or hydraulics? Shimano or SRAM? Deore or XTR? 
As your palms start to sweat, a friendly shop assistant comes  your way asking: "How may I help you?" She then asks a few easy questions to learn more about your needs and preferences. In the end, she offers you a couple of bikes that will be a perfect fit for your spouse. You get a present and the store, a satisfied customer. 
Recommendation quizzes are similar to this experience. 

Ask users a couple of questions during the onboarding process to learn more about their preferences. 

Then, use this information to give them shopping recommendations. 
Such quizzes have much higher conversion rates than traditional pages (30% vs just 2-4%). Receive even higher results by using pictures, gifs, and other visual elements in your quizzes.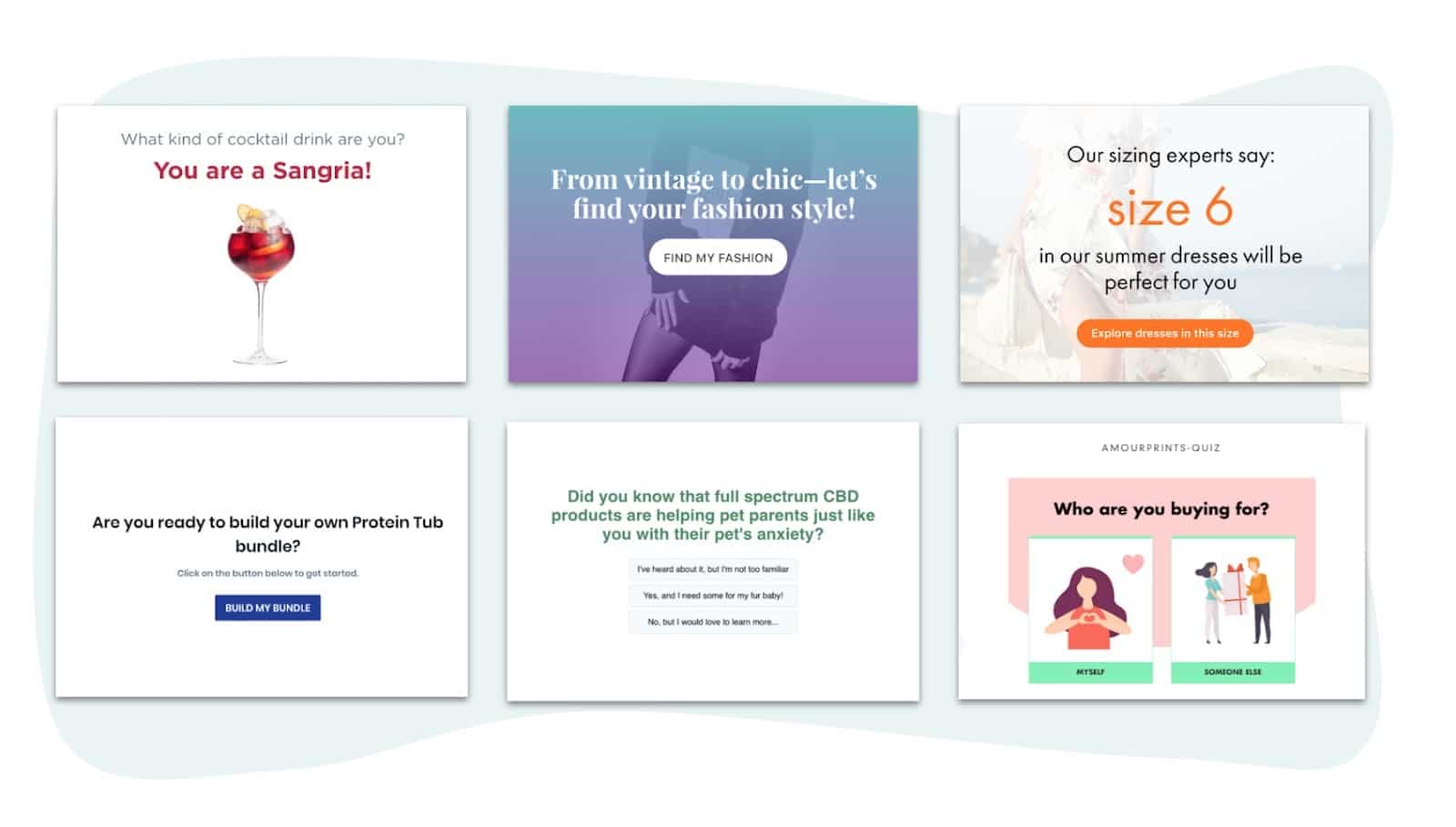 Examples of visually appealing recommendation quizzes. Source: Octane AI
Conversational pop-ups 
Let's get back to the bike shop. Only imagine that this time the shop assistant asks for your phone number as you enter the store in exchange for a 5% discount. Sounds awkward, right?
This is how popups look to most e-commerce users. They're intrusive, annoying, and suck at conversions. 
Now, it's better to use a popup as another opportunity to learn more about your customers. 
Simply ask a helpful question like, "

What are you looking for?

";

Offer a nice discount to leave an email or a phone number; and

Show product recommendations right in the popup window! 
Experience shows that many more people will leave their contacts after they've answered the initial question (just ask any door-to-door salesman who let you hold a product during their pitch). 
Conversational chatbots are another alternative to interactive pop-ups you can use to collect first-party data.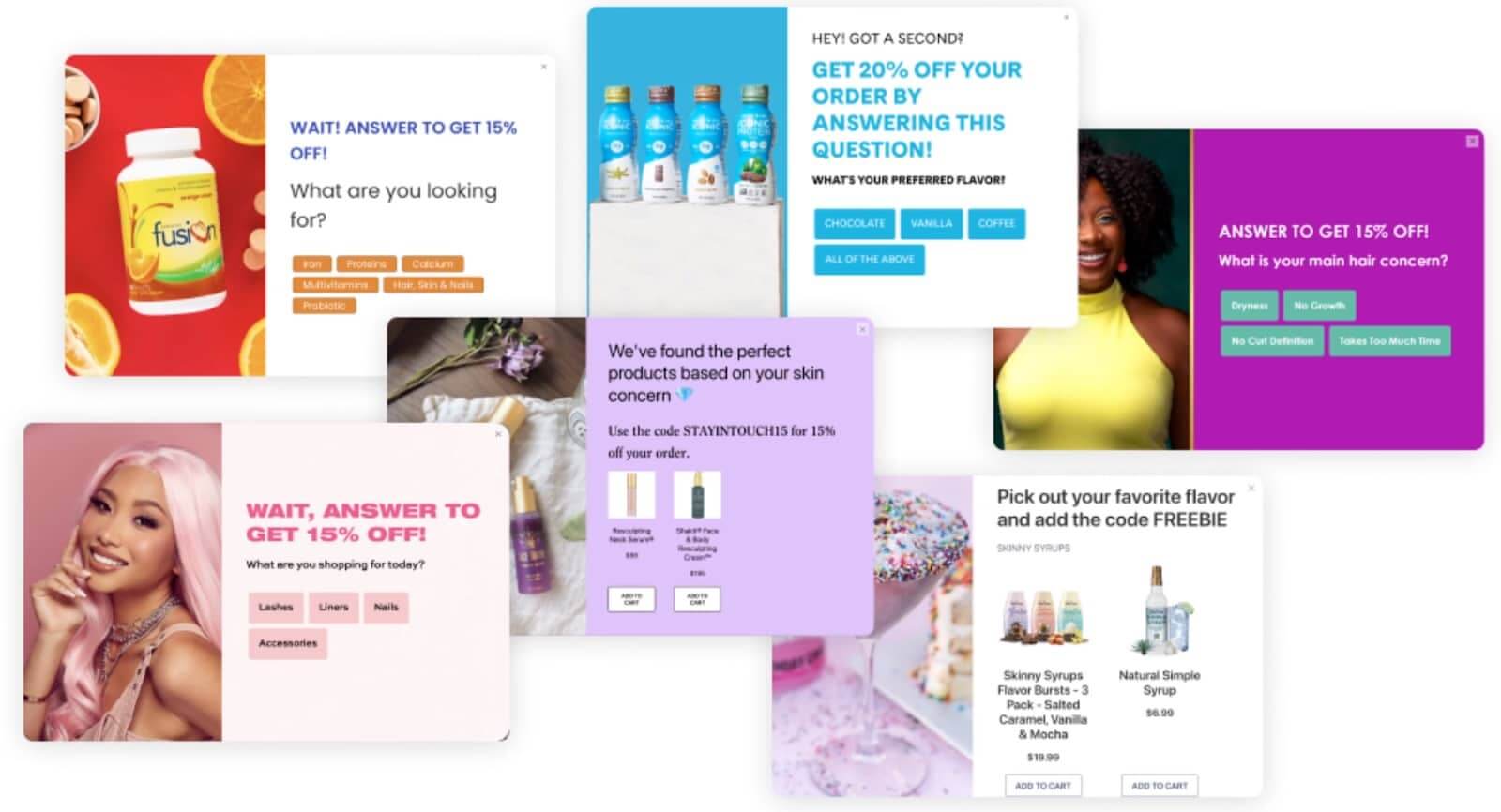 Examples of great conversation popups from different online shopping apps. Source: Octane AI
Post-purchase quizzes
This is another opportunity to learn more about your customers. You can ask them questions like: "Where have you learned about our app/brand?" "What did you like about the experience?" "How can we improve our services?"
Analyzing first-party data isn't just about providing personalized services or targeted ads. It  becomes a source of valuable insights – hidden pain points, unusual solutions, and new business opportunities. Your customer support team should add any information they learn to the company's CRM and use it during later interactions with customers.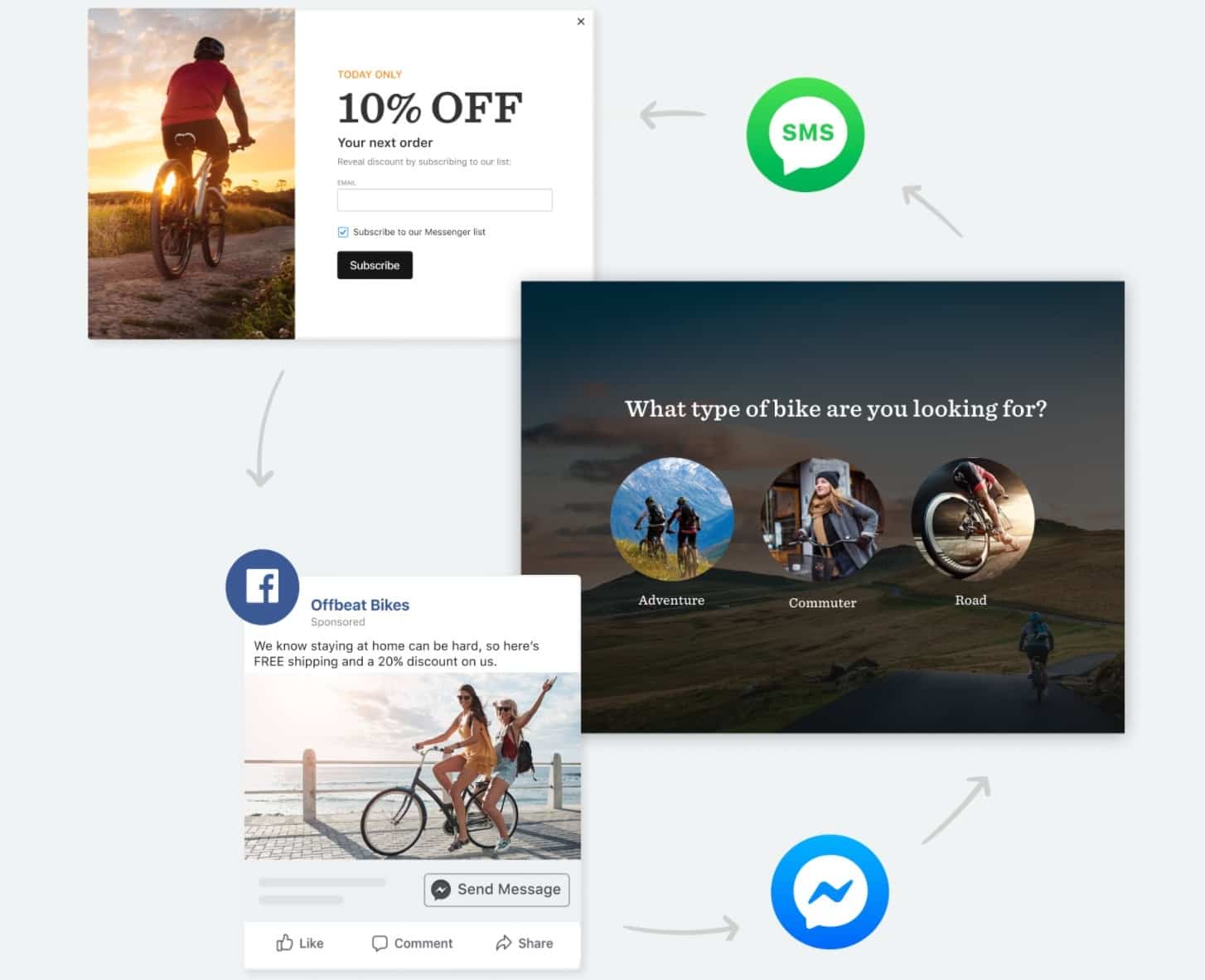 How to create an online store that uses first-party data. Source: Octane AI
Live stream shopping 
Remember your mum buying a pair of yellow Shamwow towels after watching an infomercial on TV? Me neither. 
Yet, this type of shopping is making a huge comeback. The pandemic has seen a tremendous rise in social media usage. Influencers now partner with businesses to sell products during live streams on YouTube, Instagram, TikTok, and specialized platforms.
According to Astound Commerce, live stream selling has grown by 76% in less than a year. By 2026, it will account for about 20% of all e-commerce sales in the USA. And no surprise there as live selling has up to 10x higher conversion rates than traditional e-commerce. This makes it essential for any retailer to explore live selling opportunities. 
Yet, an even bigger opportunity might involve building your own live-selling marketplace. 
Whatnot is a great case to mention here. It started as a more traditional retailer that sold Funko Pop figurines online. The company soon pivoted towards the live selling model, reaching an incredible valuation of $3.7B. 
The app now acts as a marketplace for selling all sorts of collectibles, like rare Pokemon cards. Users can make bids during live auctions or ahead of time, as well as buy a rare deck of mystery cards and watch the unpacking in real-time. 
Whatnot is now exploring opportunities for expansion into other niches like NFTs (which I will describe later in the article). As for the profits, the company takes an 8% cut on each auction. In just half a year, the total value of items sold on the marketplace grew 30x times and there are no signs of it stopping.
Source: AppStore
PopShop Live is a live shopping startup that uses a slightly different strategy. It has reached an impressive valuation of $100M+ by targeting Gen Z hipsters. Customers enjoy buying products from individual sellers and lesser-known brands. The number of PopShop users has grown by 500% in just three months, showing great potential for the model. Some of the merchants are now selling over $500K worth of goods on the platform.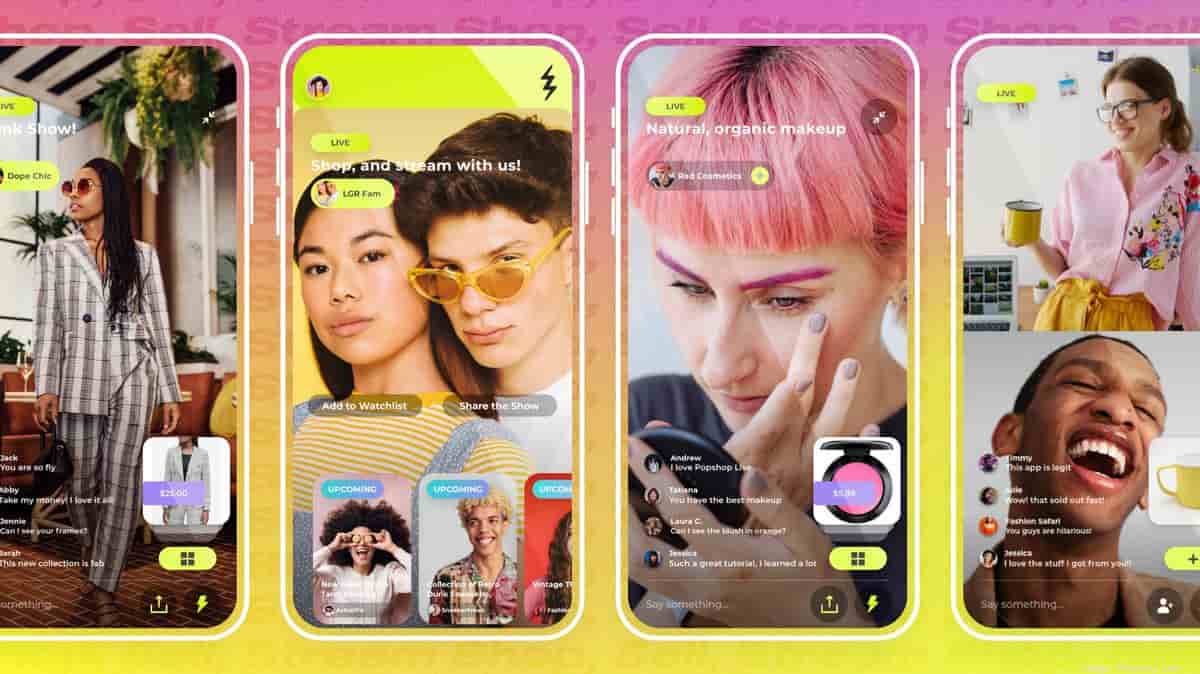 Source: AppStore
Live selling isn't just for hipsters and dirt-poor Millennials like me. ShopThing is a Canadian app that sells luxury goods with the help of personal shoppers. You can watch your favorite influencer walk into a jewelry store, select a pair of gold earrings that fit you, and buy them on your behalf. ShopThing takes care of checkout and shipping for a 20% fee. As of March 2022, the app features over 100 personal shoppers in North America with plans for a global expansion.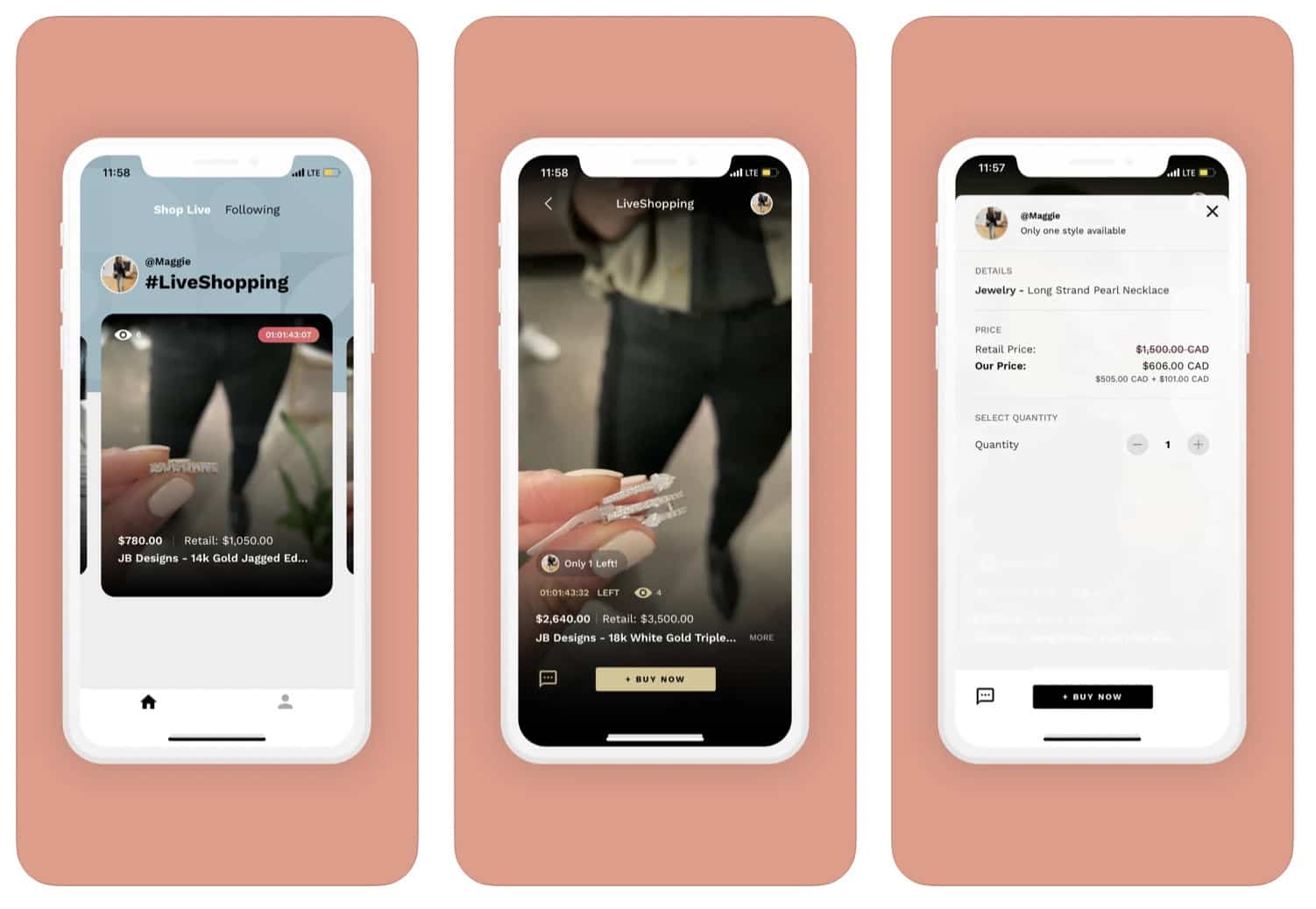 Source: AppStore
To make your own live shopping app, you'll need to combine a well-tested marketplace model with technologies for real-time video streaming, like WebRTC. You can learn more about this amazing tech by reading an in-depth article about our WebRTC project. 
Supply chain optimization
Most people choose Amazon because of its one-day free shipping. In fact, 73.6% of users consider great delivery essential for customer experience.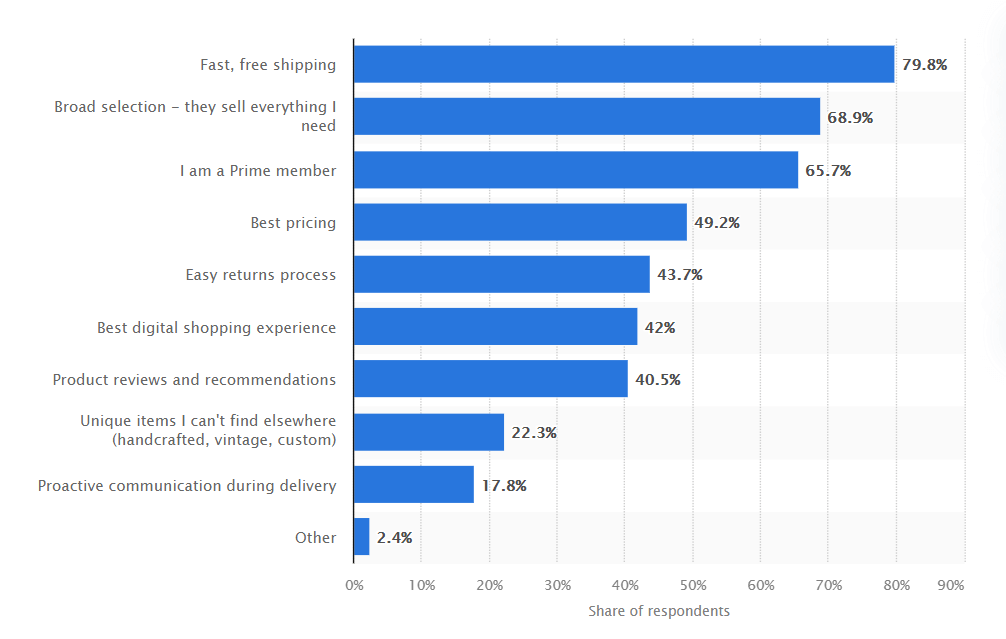 Reasons for US consumers to shop on Amazon. Source: statista.com
Yet, the more people shop online, the harder it gets to deliver things in time. Behind every storefront, there's a miles-long supply chain –  warehouses, shipping companies, and thousands of factories creating millions of components. 
In 2021, we saw this system fail in real-time. Government restrictions, wild swings in demand, jammed ports. E-commerce companies saw their shipments delayed by weeks and months. A shortage of computer chips and other components increased the price of all sorts of goods. 
Although the situation is slowly getting better, supply chains will continue to be the Achilles heel of e-commerce. Order processing, shipping, warehousing, logistics, and inventory tracking – all require human actions. Fortunately, there are many ways e-commerce companies can improve supply chains with technology:
Make your logistics visible with inventory management software (IMS)
You can't improve something you don't measure. Using an IMS allows you to track inventory in real-time. From the moment you source the goods to the moment you put them on a shelf in a storehouse, pack them together, and ship them to happy customers. 
Integrate warehouse management software (WMS)
WMS is essential for companies that own warehouses or need to manage inventory across dozens of locations. It helps monitor daily storage operations, order processing and fulfillment, percentage of orders delivered on time, the number of errors, orders delivered without claims, and so on.
Build a returns management system
Returning damaged goods and components can take away a ton of time from e-commerce companies. Use digital tools to track damaged goods, ensuring you make returns on time  with minimal expense. 
Implement supply chain automation
Automating tedious and time-consuming tasks is a great way to reduce costs, eliminate human error, and improve your services. There are plenty of opportunities for improvement in the processing of orders, storage, inventory tracking, and shipping. 
One of our clients managed hundreds of catalogs from suppliers of 25M+ plumbing and mechanical items. The company changed several development partners trying to build a supply chain solution for the US construction industry. MindK helped them create the CINX solution to digitize these catalogs. It automates order processing and data management. The system features more than 20 integrations and an Application Programming Interface (API) that allows you to connect the CINX app with other solutions.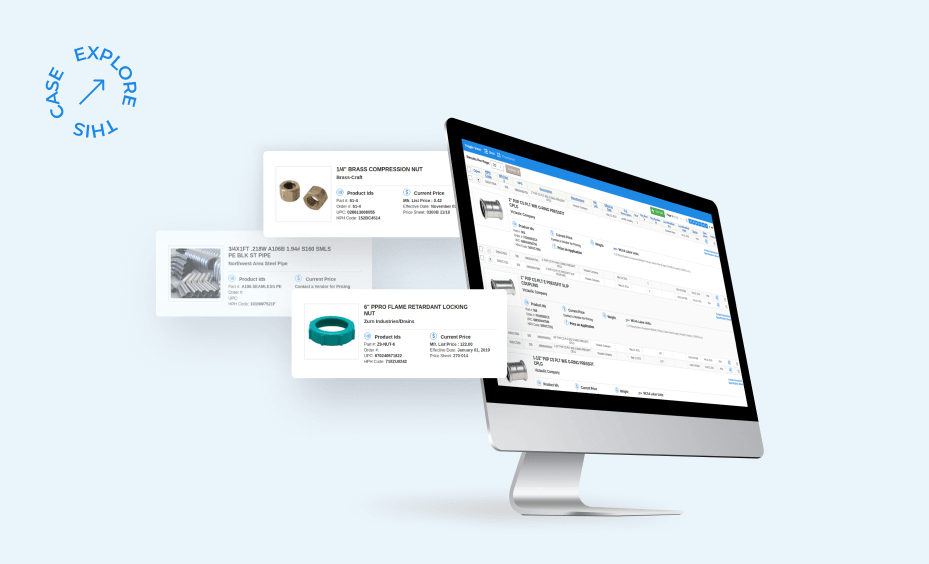 CINX, a SaaS supply chain management solution for the US construction companies [explore the case study]
Improve continuously with data analytics
Collecting real-time data allows you to:
Make accurate inventory predictions to reduce carrying costs and ensure your goods are always in stock.

Measure inventory turnover, storehouse capacity, average storage cost per item, delivery time, order fulfillment, and other KPIs. 

Find supply chain sectors needing attention. 
While companies like Amazon use custom supply chain management solutions, not everyone has similar resources. For this reason, we often recommend our clients Mailchimp Open Commerce (formerly, Reaction Commerce). 
This is an open-source platform for building e-commerce websites and progressive web apps. It allows you to create a fully custom front-end while using readymade plugins for things like inventory, orders, carts, payment, and shipping. You can easily modify anything about your UI or business logic. All the components communicate with the help of Application Programming Interfaces (APIs). 
Some companies use so many different systems with different technologies and data formats that make communicating with each other via APIs inefficient. This situation happened to one of our clients. A leading construction company from the Nordics region had a massive IT infrastructure with dozens of customer-facing and enterprise apps. To connect these tools, MindK developed a data warehousing solution using our data engineering services. It allowed these apps to quickly exchange data and made it 10 times easier to integrate any future components. 
Location Intelligence (LI)
Location Intelligence refers to the use of map and location data to improve your services. In 2021 Boston Consulting Group surveyed over 500 executives from industries like logistics, retail, and real estate. Turns out, leaders in LI enjoy 2x more customer satisfaction and sales volume than rivals. 91% of those surveyed also believe Location Intelligence will become critical to reaching business goals in the next 3-5 years. 
Retailers can use location-based marketing to send highly targeted offers to users passing by physical shops. Yet, there's an even higher potential for e-commerce companies – to adjust prices according to differences in local price elasticity of demand. For one American takeout food delivery app, such a feature is already responsible for a quarter of the company's revenue.
E-commerce apps can also use Location Intelligence to:
Plan delivery routes. 

Optimize storage, employee scheduling, and inventory management;

Find the best locations for warehouses and more. 
According to the BCG survey I've cited above, Location Intelligence can increase the size of an e-commerce cart by up to 15% and cut the cost of last-mile delivery by up to 4%. 
You can learn how to integrate this technology into your online store app by reading our detailed article on Location Intelligence.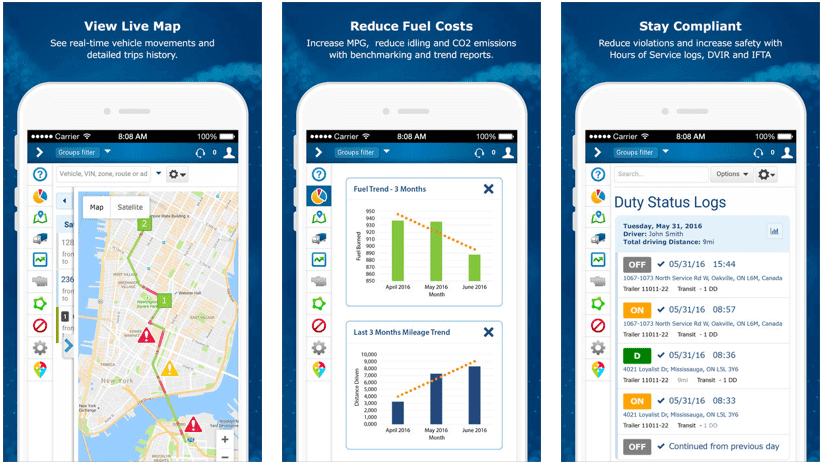 An example of Location Intelligence improving supply chains. Source: Geotab
Web 3.0 and NFT integration
Whether you're a Blockchain enthusiast or a great NFT skeptic, it's worth keeping an eye on the development of Web 3.0 technologies. 
The mid-2000s brought us a Web 2.0 revolution. It changed the Internet from a collection of mostly static pages to a whole universe of interactive websites, such as YouTube and Facebook. Yet, this new era of opportunity has quickly become a Big Tech monopoly.
For many years, crypto enthusiasts have been predicting the rise of a fully decentralized Internet. Despite these promises, few e-commerce companies are utilizing Web 3.0. Here are a few opportunities to consider when thinking about creating an online shopping app:
NFT-based loyalty programs
Shopify recently introduced the concept of token-gated commerce. A store can now restrict access to some of its products, services, or promotion to people who own a certain NFT. Shopify customers can open their crypto wallets, pass the validation process and enjoy exclusive discounts, live events, pre-orders, limited goods, community channels, and other benefits.
NFT trading 
According to Markets and Markets, the NFT trading market will reach $13.6B by 2027 with a 35% yearly growth rate. 
Shopify is one of the major e-commerce players that decided to capitalize on this trend. It  launched a beta initiative that will make it easier for Shopify Plus stores to sell NFTs. A user can add a digital image to a cart, pay with cryptocurrency or a credit card, and get a link to an NFT claim page. 
Metaverse opportunities
At the end of 2021 Nike acquired a blockchain startup RTFKT. The sportswear brand hopes to blur the boundaries between physical goods, NFTs, blockchain, and gaming. 
It had already created a custom metaverse called Nikeland using the Roblox platform, a virtual meeting place for sports fans and sneakerheads that features various promotional events. You can buy merchandise from famous athletes and wear them in other Roblox games. About 7M users visited Nike's meta store in its first five months. 
You might remain skeptical, but Web 3.0 has some untapped potential for e-commerce apps. So watch closely as the technology matures. And if you're already on the blockchain hype train, check out platforms like GigLabs that allow you to integrate NFTs into e-commerce apps.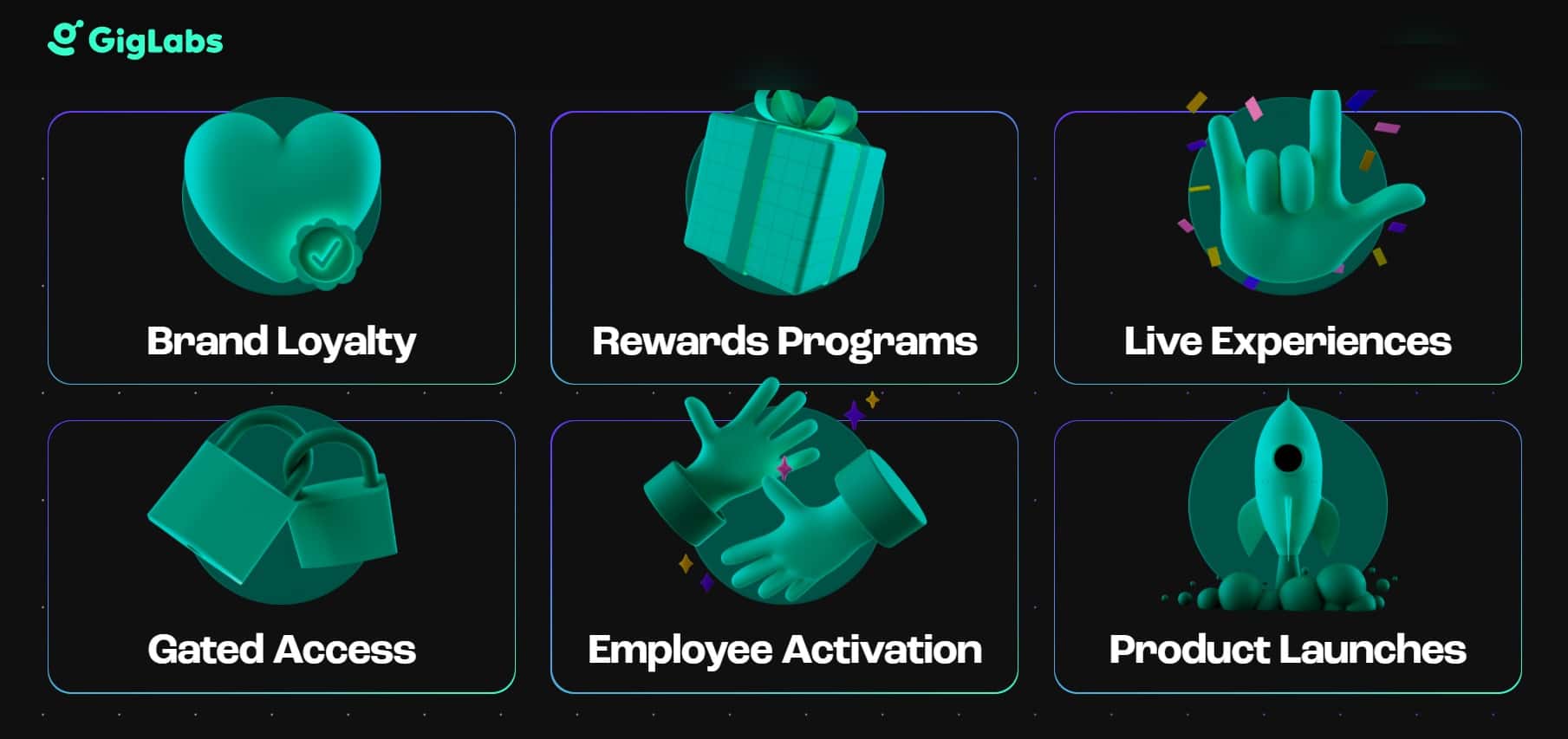 Source: GigaLabs
Specialized shops
We all like Amazon. But trying to make an online shopping app like Amazon means diving into a market that's red from the blood shed by all the competitor sharks in the water. A Blue Ocean strategy, on the other hand, searches for less crowded markets. 
Let's have a small thought experiment. Will you buy an expensive Pokemon card on a huge marketplace that sells all sorts of trash or choose an app that focuses specifically on rare Pokemon cards? Not only does niche expertise allow you to avoid competition, it also helps  win customer trust. 
Just ask Whatnot with its $3.7B valuation. Or as marketing guru Neil Patel  put it: "When you attempt to be known for everything, you don't become known for anything."
So do some market research before opening the store. Define your Unique Value Proposition (UVP): 
Who are your target customers? 

What kind of goods do you want to sell? 

What makes you different from competitors?
One of our clients is a company that procures individually tailored wedding dresses from European designers. They used shopping app development services from MindK to make these products available to high-income brides from all over the world. 
Another client of ours turned scientific publishing into a profitable e-commerce business. So don't be afraid to search for opportunities outside the paved road.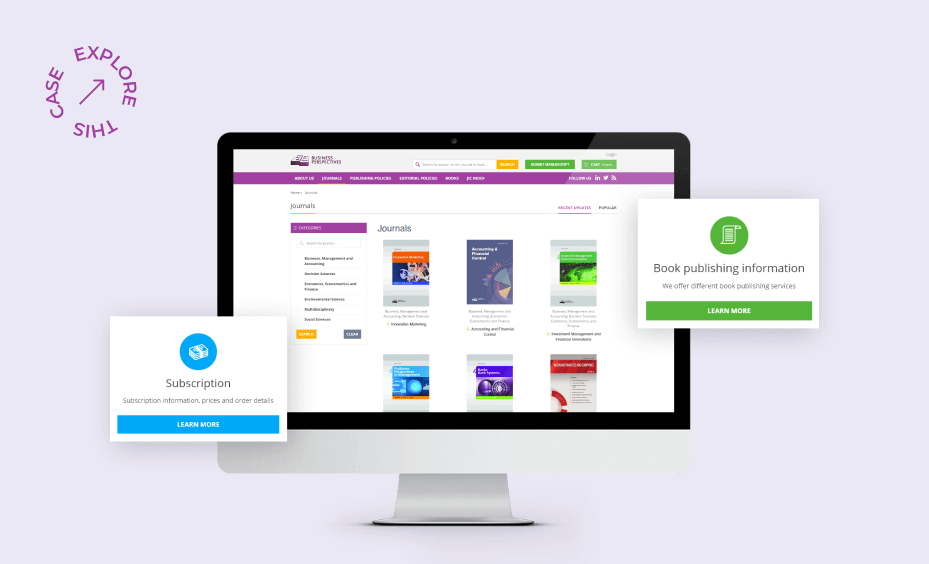 Business Perspectives, an e-commerce platform for a scientific publishing house [read the case study]
Conclusion
E-commerce is a booming industry, expected to reach over $27 trillion by 2027. Yet, the competition is also on the rise. So it makes sense to keep in mind the new trends that can give you an advantage over your rivals. 
Now that you know how to create a shopping app for markets like the US or Europe, you might be wondering: "What is the next step?"
MindK has been developing custom software for the past 13 years. Our experts can help you select the right mix of ready-made components and custom features to create an online store app that fits your unique requirements. Just drop us a line and we'll arrange a free consultation with our e-commerce developers.