The benefits of CRM in business are evident. It saves time and headaches, helps in managing a client base, and keeps up with the anticipations of today's homebuyers and sellers. Agile CRM has gathered amazing statistics supporting these values. Applying CRM for real estate helps to:
increase sales by 29%, sales productivity — by 34% and sales accuracy — by 42%;
grow conversion by up to 300%; and
shorten sales cycles by 8 to 14%.
But the real story is very often not so picture-perfect. In practice, around 30% of real estate companies have not applied this tool to their businesses and those who did experienced certain challenges. The interesting fact is that some reasons for CRM nonuse and challenges people facing are quite similar.
Analyzing the real estate CRM challenges
The number one reason why real estate companies don't use CRM is uncertainty about which solution to choose. The research specifies more reasons such as a poor awareness of where to start, the inability of most solutions to integrate with existing systems, and the absence of features needed.
Yep, the CRM software market is filled with out-of-the-box solutions and it is easy to get lost in offers.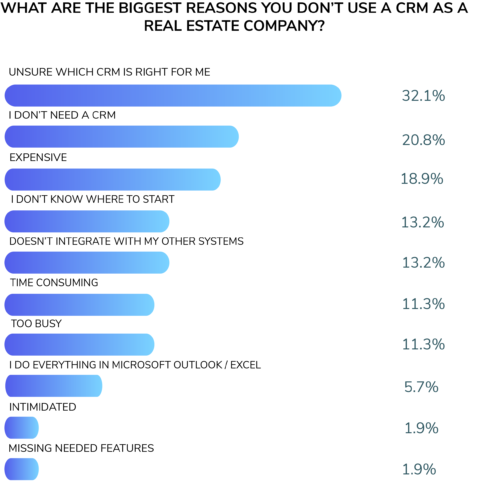 Those who use the customer relationship system for business purposes admitted that they face challenges with customization of their CRM system (56%), deficient functionality (42%), as well as integration with other key technologies (49%).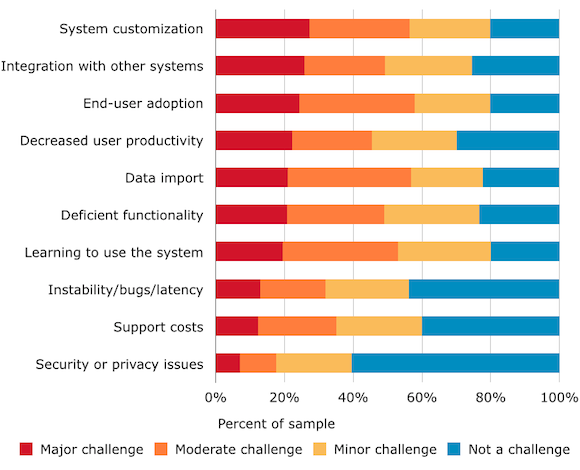 Source: softwareadvice.com
This is not surprising, because when the business grows it usually finds out that in-built functionality is not enough to satisfy their needs or specific workflows. Until recently it was believed that a real estate CRM works best for only large companies. But it has changed. Today, smaller real estate firms are also interested in adopting out-of-the-box CRM systems.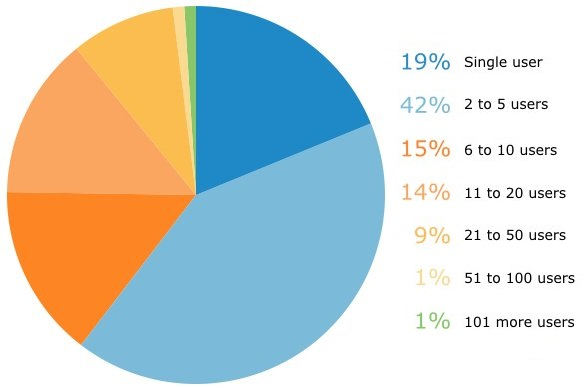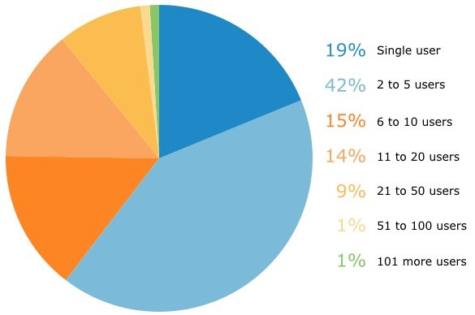 Source: agentdrive.com
Sure, most of the ready-made systems have customization options. But the required changes may turn out much more costly and time consuming compared to building a CRM system from scratch. A lot of features available in such systems are added thanks to plugins, meaning you have to hire specialists to change these plugins, which may be a challenging task.
Based on this survey, and our own experience, we have fleshed out the top six cases when a "canned" solution is not the best option and you should think about building custom real estate crm software. Naturally, each of the cases is not an absolute verdict and they may resonate with each other. You need to make a 360-degree evaluation of your business and analyze each of them.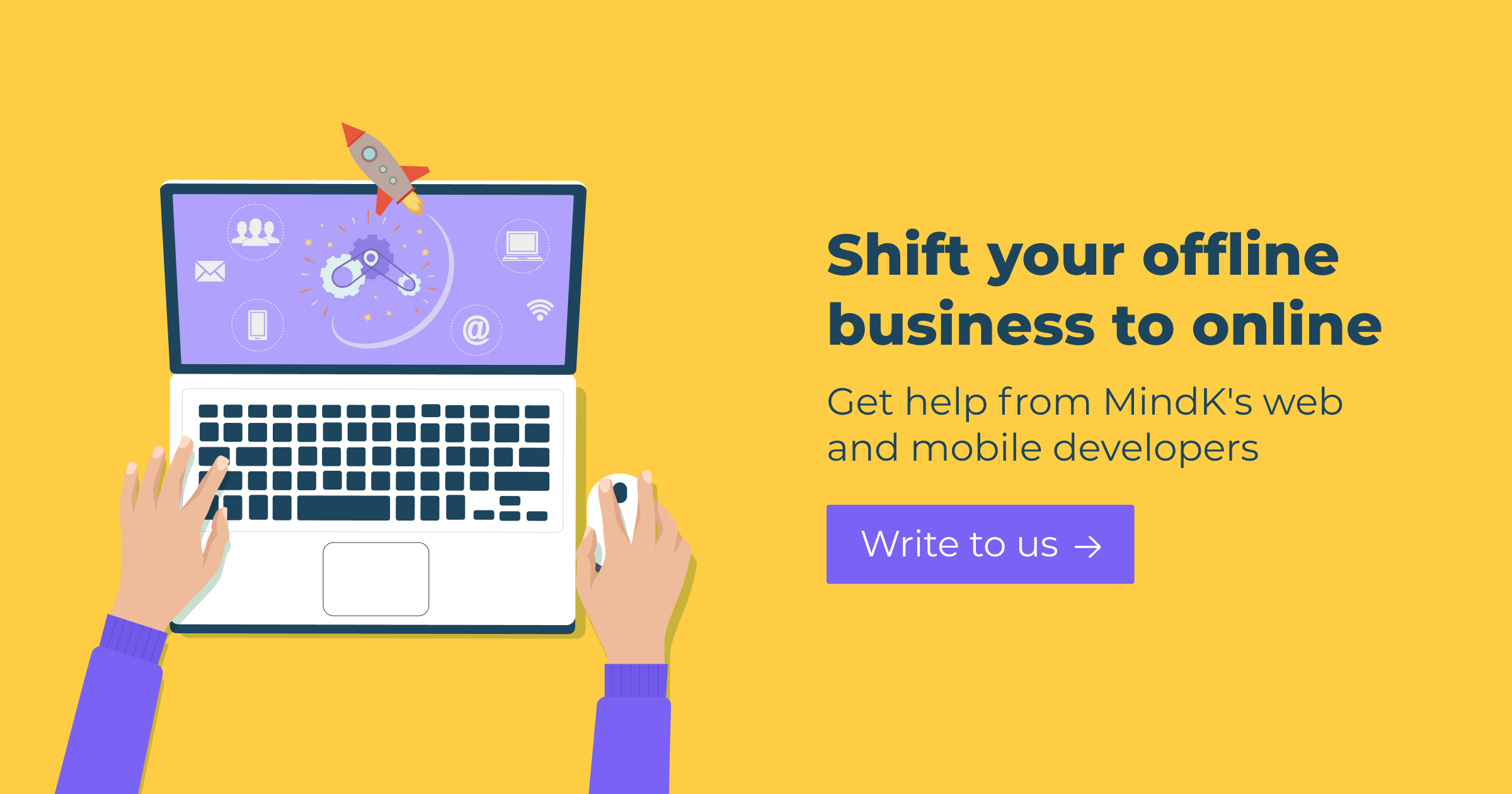 Top 6 cases to think about custom solution for your real estate firm
Case 1: You need unique functionality due to specific needs or workflows
The uniqueness of functionality is nearly the major cause why people choose custom development. Most pre-built CRM solutions offer a generic tool for real estate, as they appeal to a great deal of companies in the industry.
They are packed with features that may not suit your needs. The custom approach enables you to get exactly as many features as you need. On top of that, it offers a possibility to expand functionality easily as required .
For example, one of the factors Apple products are so popular are the clarity and simplicity of their functionality leading to comfort of use. Development of custom real estate CRM can ensure you have the same comfort while covering your exclusive workflows.
Our client, a European-based association of real property appraisers, needed to automate the process of orders management and distribution, invoicing and reporting. They have specific processes working with independently employed value consultants, thus a custom built solution with unique functionality was their top choice.
The system allows distribution of client orders among the proper appraisers taking into account their workload, deadlines and qualification. Previously, this took a great deal of time. The automation of these processes boosted productivity as the information became well-structured, data was not lost and all orders became easily-managed. Customized notifications remind consultants about events thus minimizing the risk of overlooking an appointment, as occurred during manual processes. And the ability to send invoices straight from the system made the invoicing process easy for both consultants and clients.
Case 2: You have mid-sized or large real estate company looking for system flexibility
The size of the company correlates with CRM functionality. It is more rational for smaller companies to select a ready-made app that will satisfy the maximum of their needs. When the company grows and the processes get complicated you need more flexibility of the system.
If a company has more than 50 employees, the challenges become more tangible and most commonly, the company turns attention to big enterprise CRM solutions. But here there are problems, too.
Firstly, they can cost you an arm and a leg. Most of them are SaaS products charged on a subscription basis. The cost is based on the number of users and available features. It means that any growth in your company will cause a corresponding increase in CRM costs. We have already tried to calculate the difference between subscriptions costs and building custom CRM in our previous article. For example, the cost of subscriptions for 30 employees over 3 years may cost you around $162,000.
Read next – Top 7 business pain points solved by custom CRM
Besides, your company does not likely need the whole set of functionality provided, most of it will not suit your current processes. Therefore, you will pay for a bunch of unnecessary features that don't sound too inspiring. Building a custom CRM solution isn't exactly cheap, however, you are paying for the functionality important to your particular company. As a bonus, employees will master the system much faster as it is created under company-specific workflows.
Additionally, when trying to make changes to an existing CRM solution, you may face certain difficulties in reaching out to the provider to ask for improvements. It happens because the majority of out-of-box CRM systems are more product-oriented than customer-oriented. Most providers are interested in satisfying the needs of key enterprise clients rather than businesses bringing less profit.

Case 3: You want to make the most of integrations
The integration of CRM means your system can be connected to either your web application or third party service to exchange data. It is able to increase productivity in all departments of your real estate company. Among the most requested services to integrate with a CRM are Google apps, different accounting apps, time tracking services, project management apps, and email services.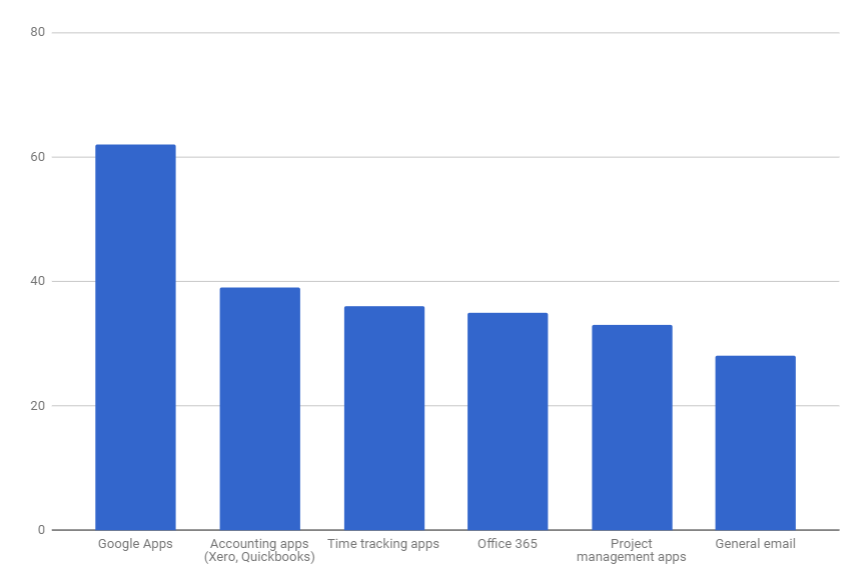 Source: greenice.net
In order to integrate your CRM system with similar solutions you will require the services of a well-experienced developer with an in-depth knowledge of integrations. This is, however, complicated by the fact that not all "canned" solutions provide free API integrations. As a rule, they are available in more expensive packages. Thus, Salesforce itself provides this feature in no less than the Enterprise package that costs $150 per month per employee.
Custom build CRM solution makes integration easier and less expensive by using an API-first approach. Thanks to custom integrations, your CRM system may become a magic wand for all departments.
Case 4: You need to have one single CRM solution and not to switch between several tools
There are a great deal of different tools in the market, both real industry-specific and those for general use, that are needed to run a real estate company. For example, G Suite to track leads, events, and interactions with customers, DocuSign to exchange and sign documents, Animoto for creating videos of properties, Zillow as a real estate marketplace and database. More, consider cutting-edge innovation, like VR/AR tours, as well as whatever may appear this year or next.
With the growth of your business, the different tools your company uses gets bigger. Spending time on switching between different solutions and managing data in various tools, may harm your business productivity and company image. Instead, while your competitors will wait for the team of off-the-shelf CRM to connect new tools, your dedicated development company can do that for your custom CRM upon request.
Case 5: You need to take advantage of an in-depth analytics
In spite of the fact that analytics is the key selling point for real estate software, ready-made solutions provide a generic approach to it that is not always a best guide. By comparison, with personalized tools, analytics are created based on your specific priorities.
Customized CRM analytics enables you to make informed decisions regarding marketing strategy and sales.
For instance, by means of custom analytical algorithms you will be able to determine the real value of a property based on the data about its condition and surroundings and foresee the time period the property will likely spend on the market. Or, for example, your real estate agents could distinguish potential buyers with the help of predictive client analytics based on the results of the statistics you have collected in the system.
Basically, the possibilities are huge. A custom real estate CRM is able to present you with relevant insights, dashboard configured to meet your requirements. Large and easy-to-analyze reports based on nontraditional metrics, for instance, the number and rating of cafes within walking distance of the property, will give you an advantage in everyday decision-making.
Case 6: You want to sleep soundly at night because data is secure
Most ready-made CRM solutions are cloud-based. It is a great advantage for business as it may be accessed anytime from anywhere, but you need to remember that saving sensitive client and company data in such tools may cause a security failure.
Sure, you may say that prebuilt CRM solutions have their own data security measures but not all of them are rock-solid. Even one of the best real estate CRM, Salesforce, has recently suffered a number of data breaches. No measure is too preventative when we talk about money processed during real estate deals. One bit of client data stolen from the databases may damage your reputation.
From this perspective, custom CRM development provides better security. It is more difficult to hack into a custom solution than a ready-made one, because the data can be accessed only by you and your development partner. Even if net runners hack the database, they will hardly extract confidential data as most developers of custom CRM solutions use encryption and tokenization of sensitive data and other reliable methods.
Key takeaways
I hope this article was worthwhile both for those who are struggling with a CRM and those who are only planning to build a CRM app for your real estate business. If you are new to the CRM concept, start with considering the bottlenecks of your workflows and create the scope of tasks that you want automated. You can even try a free CRM trial, which can help you form and understand the features you need to include in a customized CRM tool that will be 100% business-oriented, easily-integrated with other services, flexible and secure.
MindK can help you both with business analysis for your project and building a company-specific tool that will match your needs. If you need more examples we have already completed for our clients from the real estate industry, just drop us a line!