However, we at MindK found a number of questions and concerns that may restrain business leaders from adopting real estate technology. Among them are whether it is the right time to invest in a real estate solution, what solution to develop, what trends to consider, how to outcompete and so on.
When building custom software products at MindK, we always put great emphasis on innovations to help our clients stay competitive. We can say for sure that the sooner the company puzzles out the opportunities for innovations of real estate tech and includes it into their business strategy, the better chance it has to succeed in the long-run.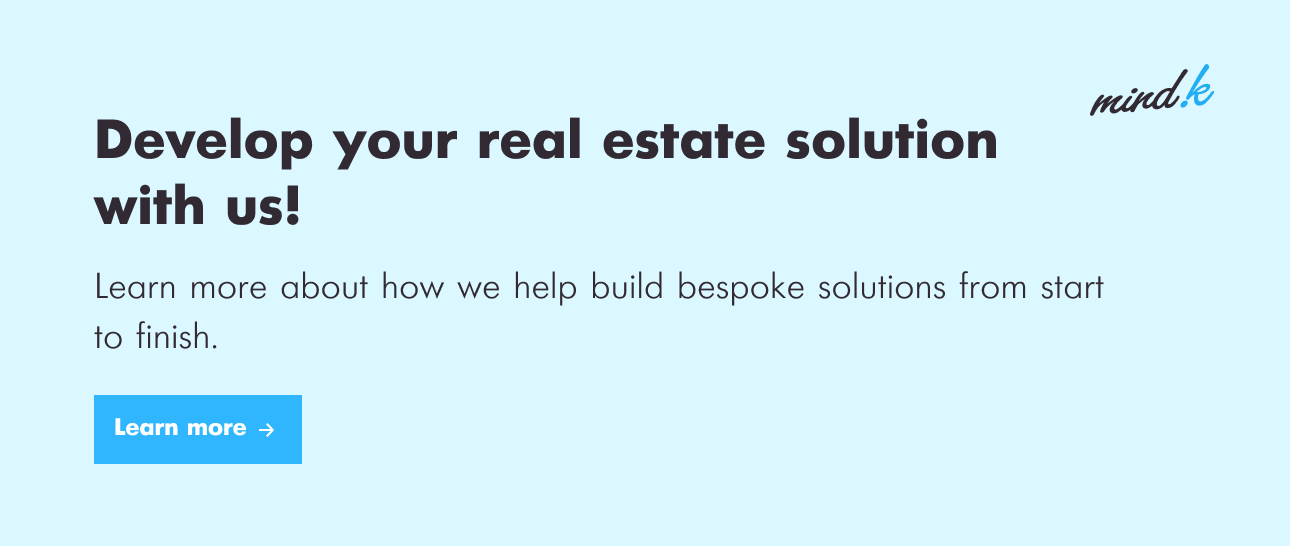 Let's see what's behind the scenes of the real estate software industry you definitely need to take into account when improving your business strategy.
5 facts about real estate software market worth considering
#1. The future of the global real estate software market looks optimistic
In spite of the fact that 2020 was a difficult year for most industries, the real estate software market shows real promise. The global real estate market size is expected to see an increase in compound annual growth rate (GAGR) of around 9% until 2024.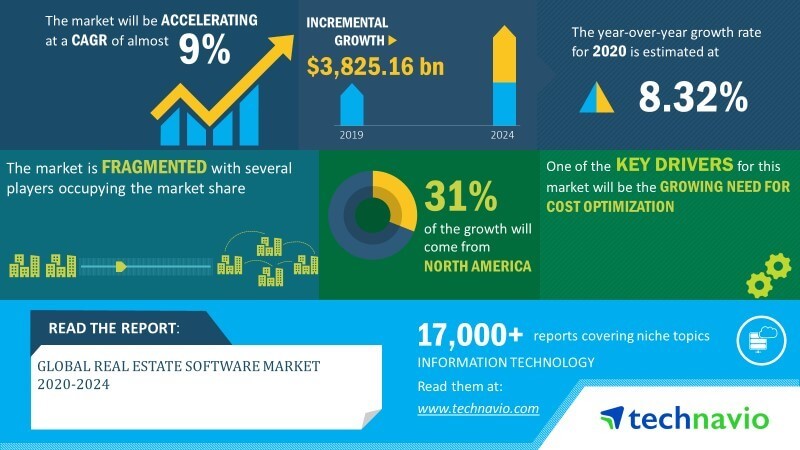 Source: businesswire.com
Another report states that the global real estate technology industry will reach $13.46 billion by 2026 with a CAGR of 12.2% from 2021 till 2026. Indeed, one of the most traditional industries, real estate, is changing before our eyes.
However, market predictions on PropTech market size are not the only indicator of the growing trend. A more illustrative marker is capital inflow. This capital increase serves a strong signal that the real estate software industry is preparing to go through complex digital changes.
You might say that last year was tough in terms of investments. It's true. While the real estate tech industry continued its growth in the first quarter of 2020, investments significantly dropped.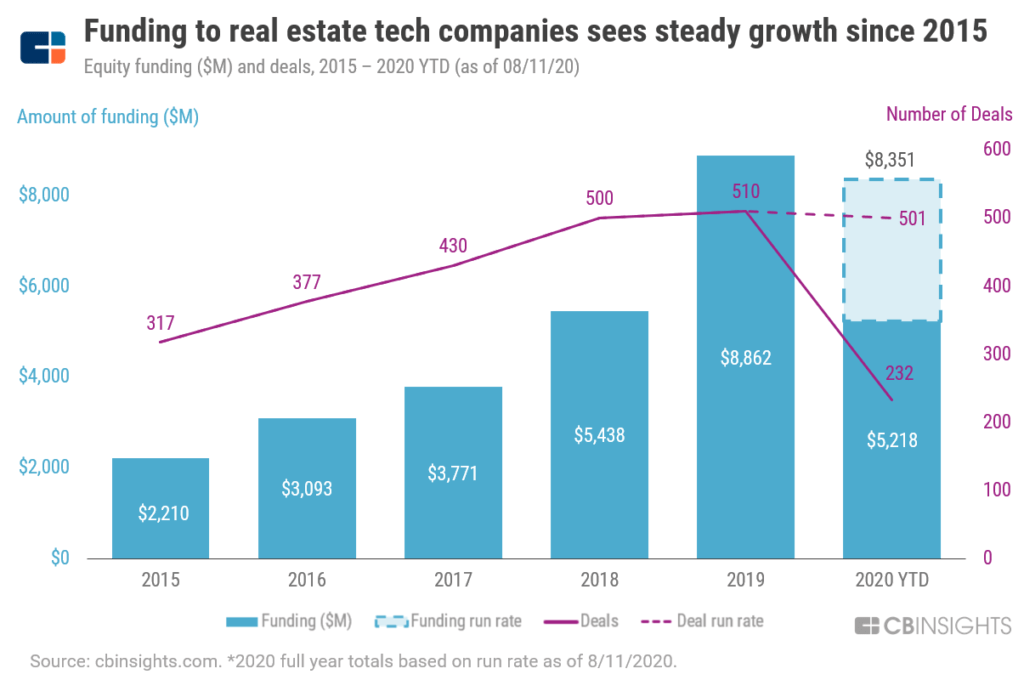 At the same time, every cloud has a silver lining. Apart from the negative effect of COVID-19 on the global business environment, it also accelerated rapid changes and adoption of new technologies.
Most of the venture capital investors (VCs) agree the pandemic played a crucial role in boosting the growth of real estate and technology. They also believe that the investments into real estate software solutions will witness an increase in 2021 and beyond.
This statement also turned up as evidence in the Year-End 2020 Global PropTech Confidence Index report. It demonstrated that 94% of investors felt assured that the pandemic has accelerated adoption of property technology in the real estate industry, up 5% from mid-year 2020.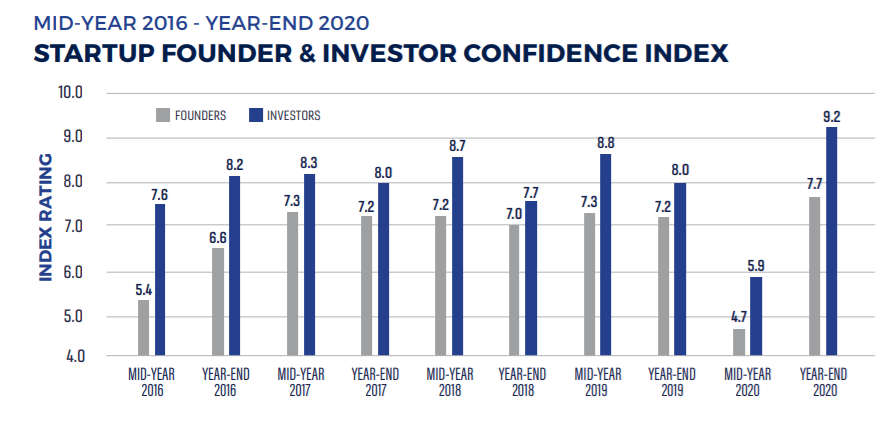 It is clear now that we are entering a new phase of PropTech business growth and maturity.
#2. Among the key drivers of market growth is a rush towards cost optimization and data-driven decisions
Social distancing, lockdown and businesses shifting to online are definitely driving the adoption of technologies in the real estate industry. However, there are other driving factors you should consider. Among them is a growing need for real estate companies to:
optimize costs and performance;
make better data-driven decisions; and
satisfy current client needs.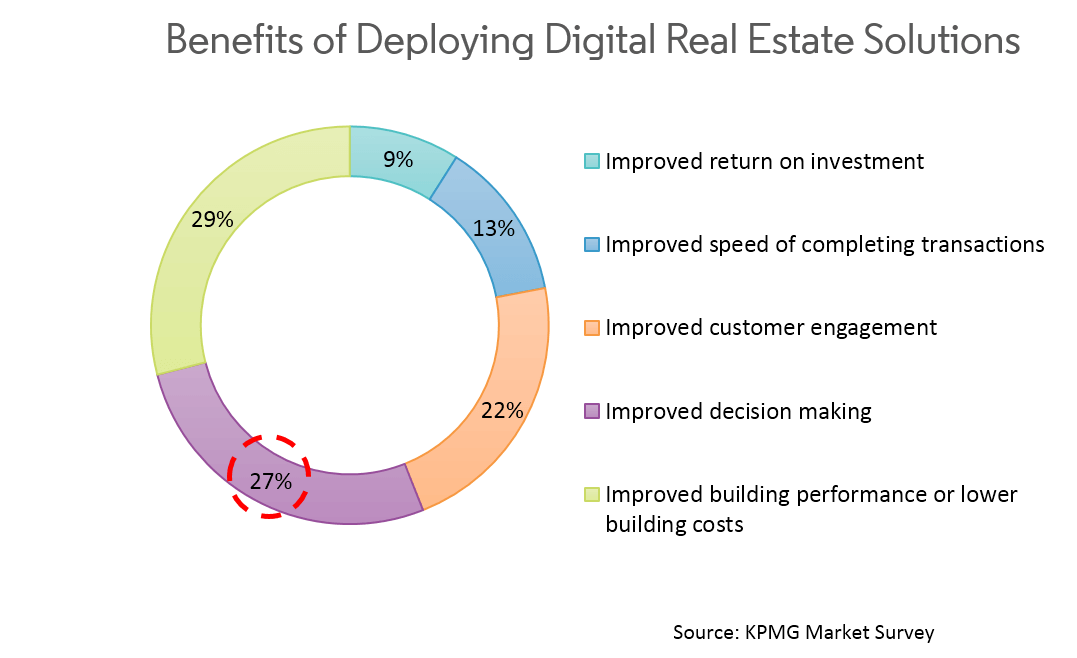 Companies operating in the real estate sector suffer from increased running costs. There are a number of reasons for this, including growing competition, increasing prices of construction materials, rising prices of land and much more. All this reduces profit margins and forces real estate companies to shift their focus on optimizing operational costs.
Implementing real estate software solutions enables companies to track the budget and resources involved in real estate and construction projects, eliminates a need to hire employees for certain tasks and streamlines the entire real estate process.
More careful up-to-date approaches to data structuring also benefits cost optimization. Data is a critical component that drives business decisions. The real estate business stands on large data flows – all internal and external real estate processes generate piles of data. An inability to structure this data leads to inefficiencies, slow internal processes, low accuracy and misunderstandings by the business leaders using it.
For example, it is reported that almost half of commercial real estate teams spend 15% and more of their time managing and organising data. This means that most of them spend 2-3 months of their annual workload on searching, validating and distributing data.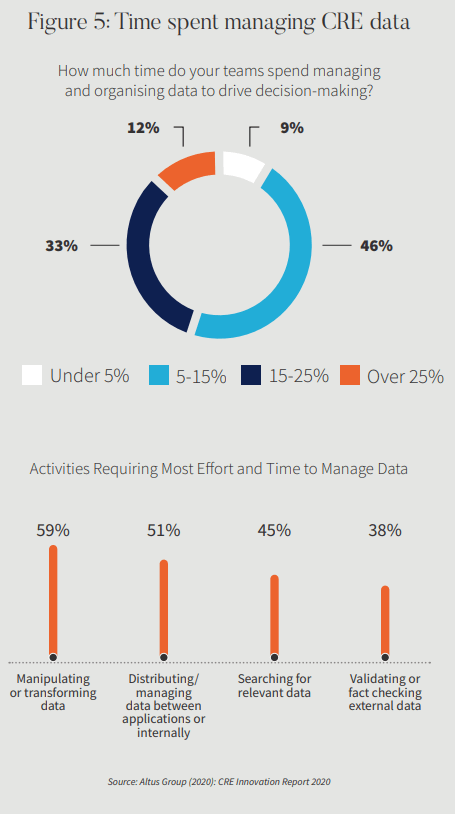 That is why more and more businesses invest in disruptive real estate technology that can turn data into state-of-the-art business intelligence, thus streamlining the processes and optimizing costs.
Last, but not the least factor that forces businesses to proactively embrace property tech, is the customers. Clients today are used to high-technology services. Online shopping, online education, online telemedicine and much more convince people that they can do almost everything online.
Customers are looking to design and manage home services, renovations, as well as property rental and purchases entirely online. High technology industries have already set the bar high, so the PropTech real estate sector should catch up with the rest as fast as possible.
#3. Cloud type of deployment takes the lead
The market share of cloud deployed real estate industry software is expected to grow up to 8.7% in the five upcoming years. More and more companies opt for cloud because it provides faster data access and improved productivity.
Besides, cloud computing for real estate is also cost efficient. Cloud solutions have no need for additional hardware if compared to on premise one. The lower installation costs make them available for all company sizes.
Furthermore, cloud solutions are more scalable that allows the company to upgrade or downsize the storage capacity as required. Saving data in the cloud also helps manage the massive amounts of data more efficiently, providing higher security standards.
It happens that the concept cloud is confused with SaaS. If you don't have a clear answer on the questions on how Cloud differs from SaaS then we highly recommend you to check our article on SaaS vs Cloud services, where we compared and explained the difference thoroughly.
#4. Real estate software market grows globally but differently depending on the region
Speaking geographically, the real estate tech (ReTech) market in the United States has the lion's share (a number of tech real estate companies exceeded two thousand and is still increasing).
The most developed real estate tech region is North America. Presence of giants like Microsoft, Oracle and RealPage drive the growth of the PropTech sector in this region. Moreover, high investments in research and development activities, as well as growing adoption of real estate property software also caused a positive impact on the market.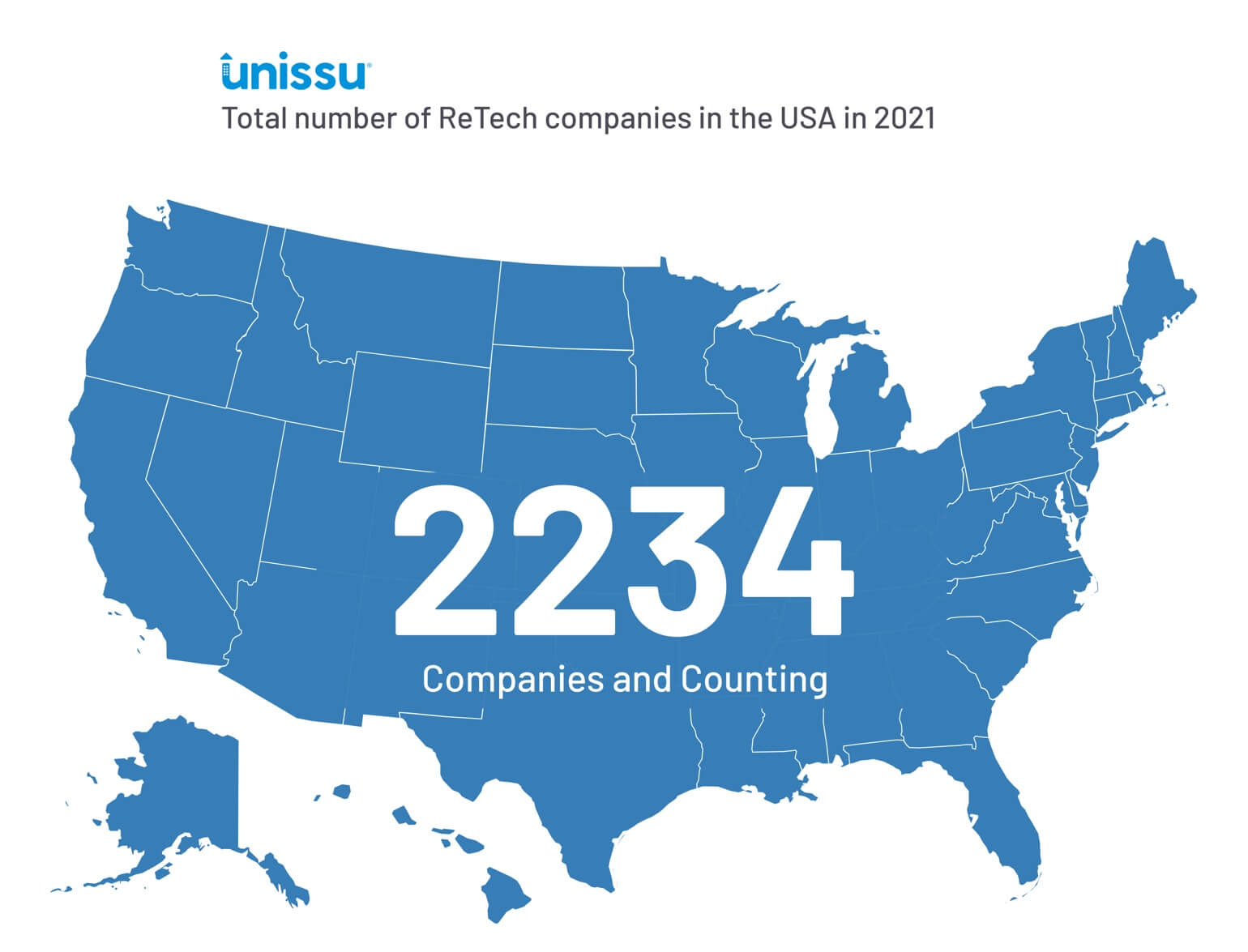 In spite of the long-term dominance of North America on the global real estate market, the year 2020 forced other adjustments.
In 2020, the Asia Pacific, including China, Japan, India, South Korea, Australia and the Rest of APAC, was the largest region, accounting for 40% of the market. Among the key drivers of the market in this region are the increasing interest in real estate solutions, technological advancements and new product launches in rapidly emerging countries like Japan, China, and India.
However, it is estimated that North America is going to retake its market supremacy in the nearest future.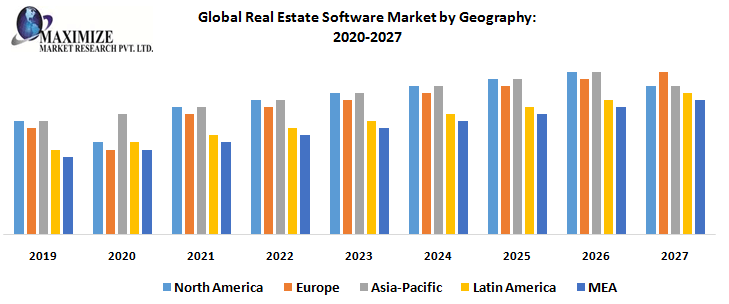 #5. Real estate is a highly competitive market
Yes, the competition in the real estate software market is high. However, predicted market growth and capital inflow give us reason to believe that the ReTech market will become even more competitive in the near future.
Some of the biggest real estate tech companies include IBM, SAP SE, Oracle, Yardi Systems Inc, and others. These corporations have deep expertise in the market, enhanced by their extensive geographical reach. Almost all of them offer innovative real estate management solutions.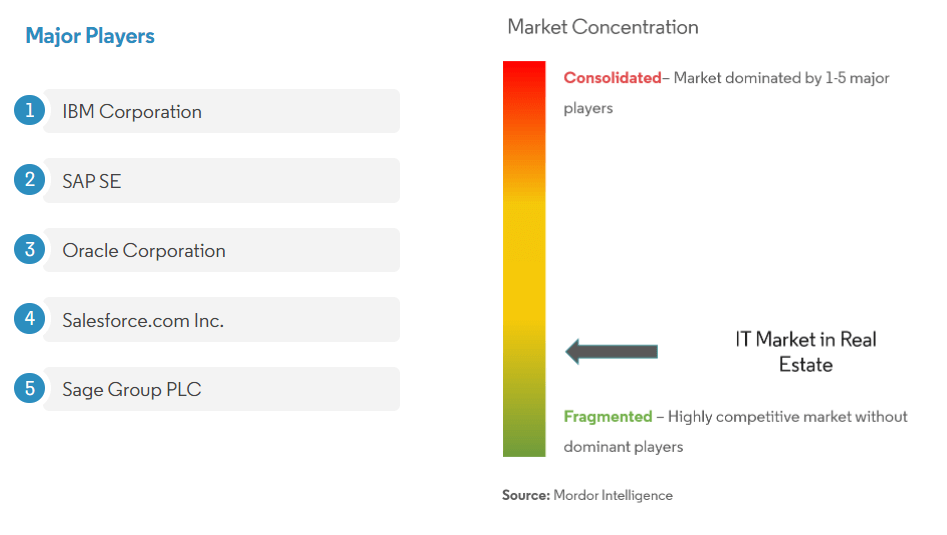 Now we'll gradually approach to the question of what digital solutions are shaping the real estate IT market.
Enormous opportunities of real estate software market landscape
We've already mentioned that the real estate software market is large. However, not all people really understand its size and business opportunities. ReTech market is not only home-search portals or property management platforms.
To see the big picture, we'll make a short overview of various types of digital products on the US market.
First, the whole variety of solutions fall into residential, commercial and retail real estate products. Residential solutions refer to around 60.04% of all products on the market.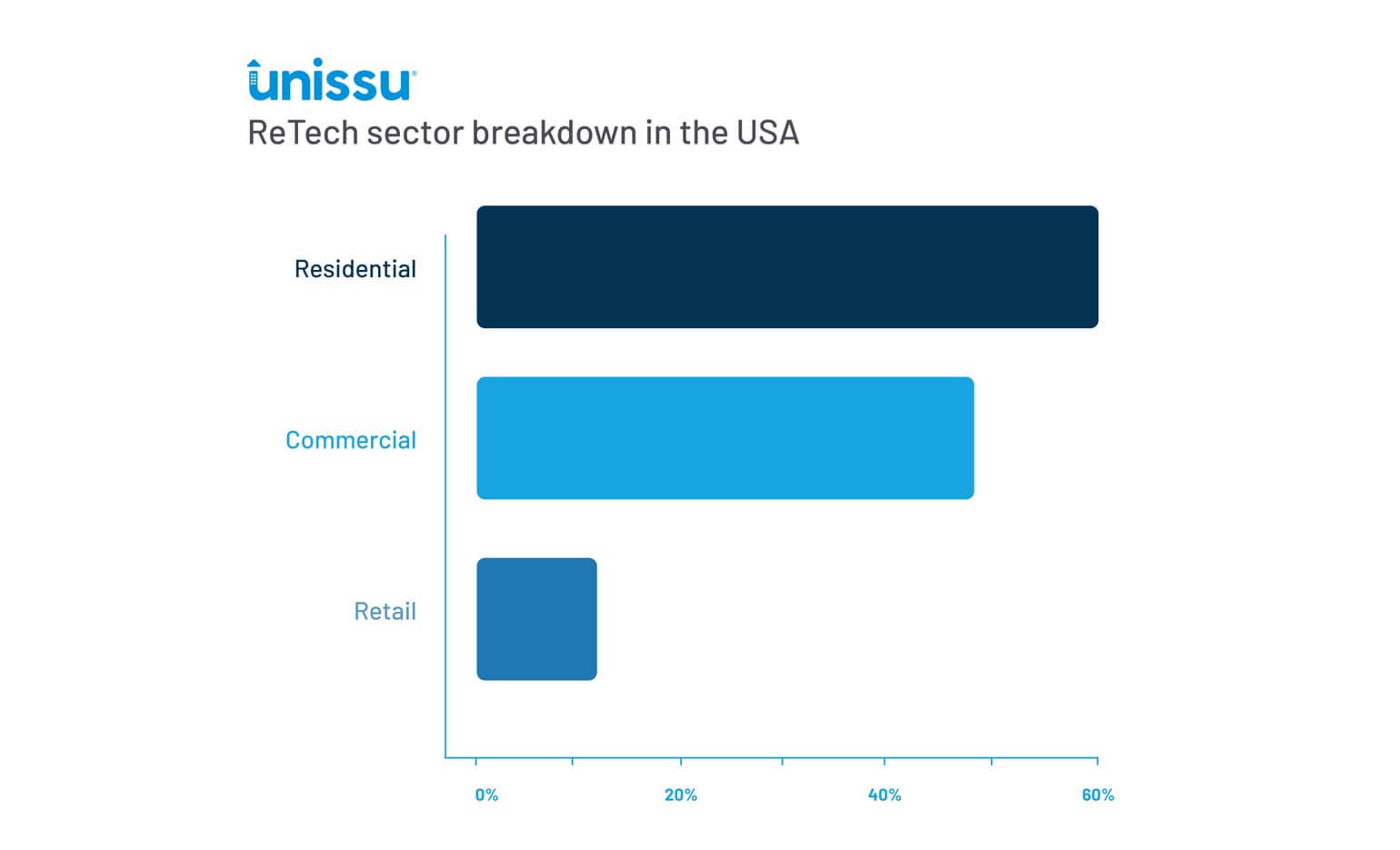 The first category of real estate tech startups that focused on real estate primarily targets the residential market. Such companies as Zillow, Realtor.com, Trulia, RedFin and others, operate mostly as residential listing services that turned out to be much in-demand.
Thanks to the Real Estate Tech Landscape Map created by Thomas Ventures, we can see the whole picture of solutions that shape the residential real estate market.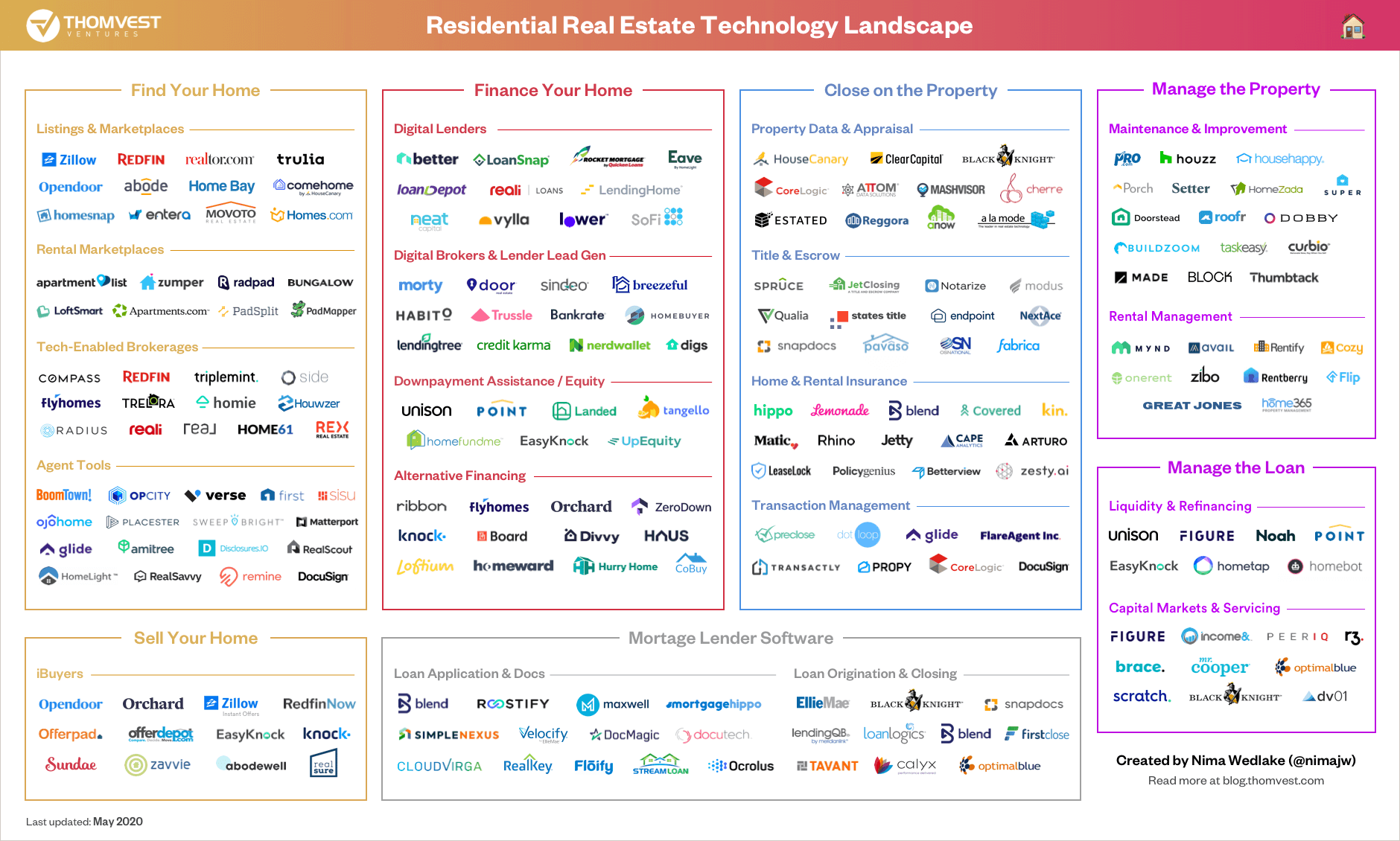 The map divides all the residential real estate software into:
Solutions to find and sell a home include listings & marketplaces (like Zillow or Opendoor), rental marketplaces, tech-enabled brokers (like Compass) and so called agent tools. Agent tools help agents to automate and run the real estate process more effectively.
Solutions to finance a home include digital lenders, digital brokers that help a client to find a suitable mortgage by connecting him with different lending institutions, alternative financing, and popular down payment assistance products which assist people to find grants or low-interest loans to reduce the down payment.
Mortgage lender software that helps to apply for and close loans in a much more convenient way. Some solutions (like Blend or Roostify) automate collecting qualifying documents needed for a loan application, while others cover end-to-end loan origination processes.
Solutions to close the property are focused on digitalizing the processes of property valuation and appraisal, property title, escrow, insurance processes, as well as transaction management.
Solutions to manage property, namely, streamline home improvement and rental management processes including application, screening, rent collection, maintenance requests and much more.
Solutions to manage loans cover liquidity, refinancing, capital market and servicing.
Commercial real estate (CRE) involves any property owned producing revenue.
The commercial real estate software market map provided by Thomas Ventures shows that there are dozens of property technology companies focused on digitizing almost all aspects of the commercial real estate lifecycle and improving workflows of real estate professionals.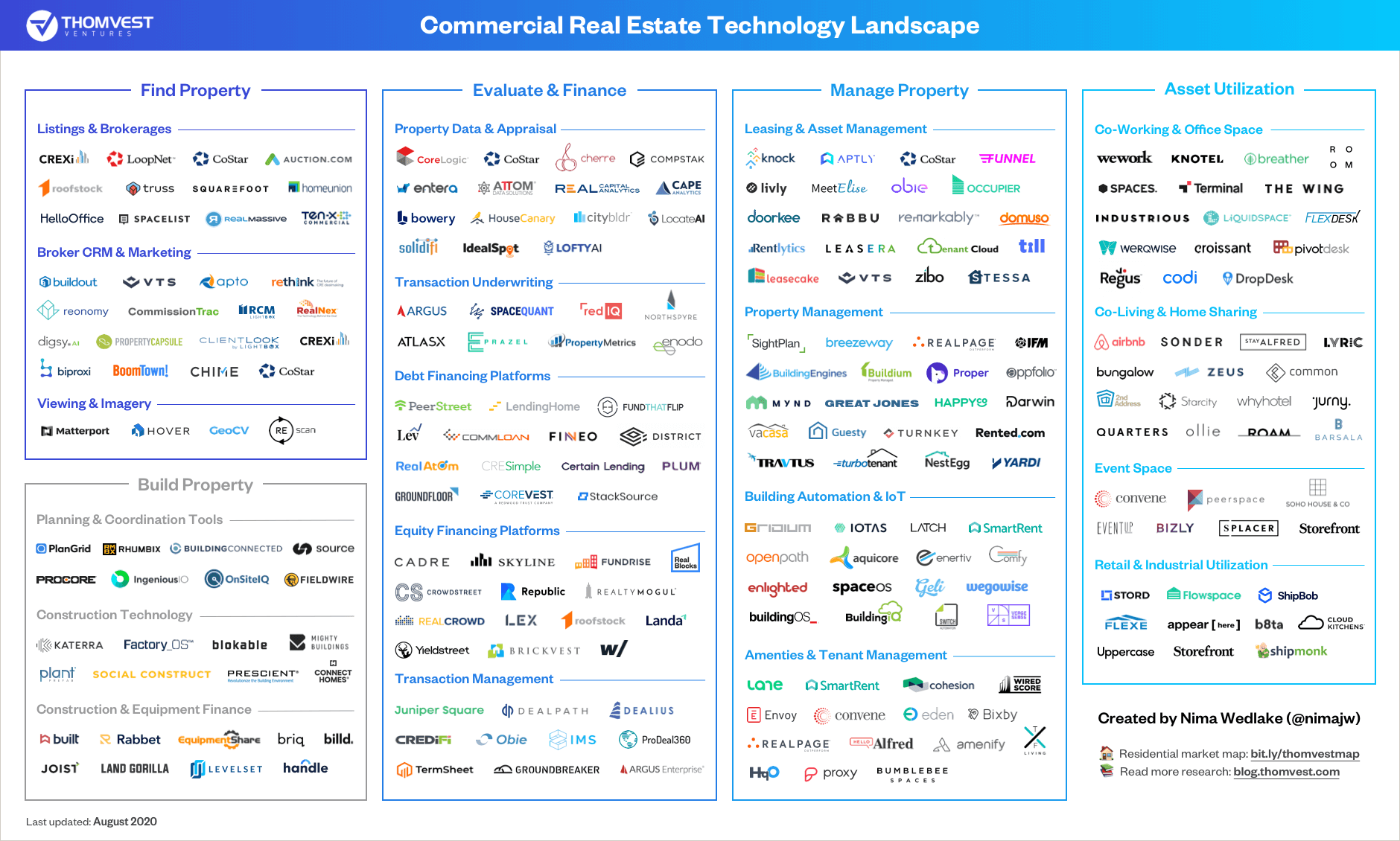 The variety of products on commercial PropTech sector can be divided into five large groups, namely:
Solutions to find property include listings and brokerage, broker CRM and marketing, as well as products to improve property viewing like Hover that transforms the photos of any home into a fully measured 3D model.
Solutions to build property embrace the products that help streamline construction processes. They include planning and coordination tools, construction technology, as well as construction financing.
Solutions to evaluate and finance the property, namely property data and appraisal products, transaction underwriting tech that helps to evaluate the potential of investments, debt and equity financing platforms, also known as real estate crowdfunding platforms, and transaction management solutions.
Solutions to manage property improve leasing and property management, as well as amenities and tenant management.
Solutions for asset utilizations that help manage coworking, office, home sharing, events, retail, industrial and other spaces.
Commercial real estate software market is less developed, so it represents greater opportunities compared to residential. However, that's not the only reason. The commercial branch has high-potential because:
It possesses a great amount of relevant commercial data available that can be a great opportunity for tech entrepreneurs and startups.
Companies are more eager to pay for a tech-based competitive advantage because commercial real estate involves higher transaction values.
One transaction usually involves a number of members like property brokers, mortgage brokers, appraisers, builders and others who have their own needs and processes to be automated.
It is characterized by a wider range of funding sources that creates newfound opportunities for product development and optimization.
Because the real estate tech industry is at its height, business opportunities are wide-reaching. Regardless of the sector you choose, residential or commercial, to become successful your solution should follow three major rules:
– cover the critical needs of your target audience in the most convenient way;
– validate your idea on the market by means of a Minimum Viable Product; and
– embrace current trends to beat the competitors.

Actionable real estate technology trends that will help you stand out
#1. Virtualization
One of the biggest real estate trends in the near future is virtual reality (VR). A virtual tour is a digital twin of a physical location that can be easily viewed on almost any computer or mobile device.
COVID-19 has shown the great value of virtual tours, both for buyers and sellers. By including virtual reality feature in the product, real estate agents can:
save time and resources as virtual tours provide clients with a clear 3D view of each room. It is estimated that virtual tours can reduce both agent and client time by about 40%.
increase user engagement because VR holds the attention of people for a longer time than a plain description or images. According to statistics by Realtor.com, listings with virtual tours receive 87% more views.
expand the reach as virtual tours enable agents to demonstrate properties to long-distance buyers.
push up sales because virtual tours make real estate agents appear more professional (according to a recent study by the University of Iowa).
According to Matterport, a leading 3D data platform that creates unique virtual tours, properties with 3D tours sell up to 31% faster and at a higher price.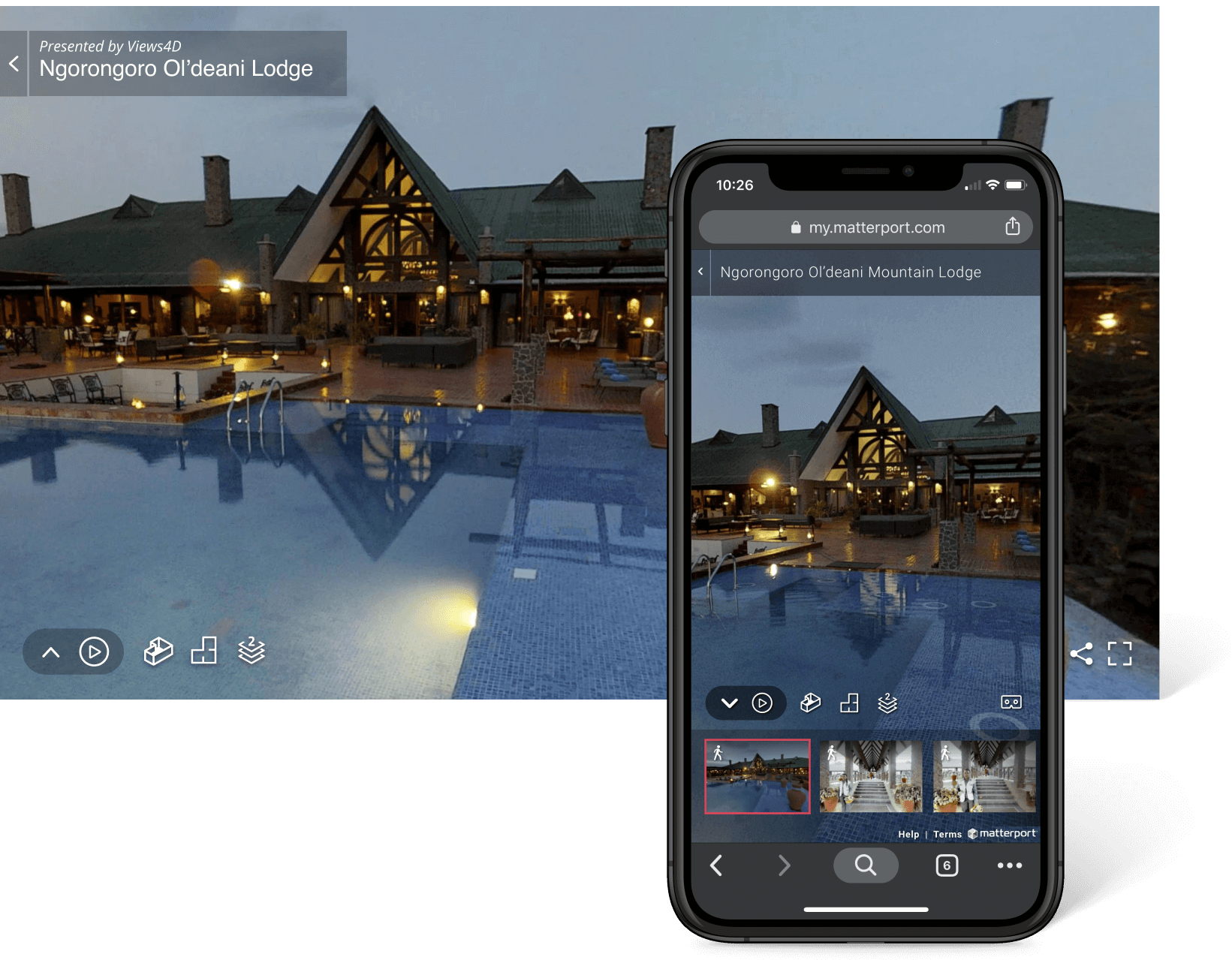 Source: matterport.com
#2. Artificial Intelligence and Machine Learning
Artificial intelligence (AI) and machine learning (ML) move the data collected into action. Companies all over the world adopt this powerful combination of technologies because it automates time-consuming tasks and improves the ROI. Around 63% of businesses report revenue increases after AI adoption.
The use of artificial intelligence is so extensive and promising that we've already dedicated a separate article to application of AI in real estate, where we discuss which processes can benefit from applying artificial intelligence to your real estate app.
In short, some of the biggest benefits of artificial intelligence include:
simplifying property management tasks and streamlining data management;
recognising customer preferences to make relevant suggestions;
fine-tuning advertising of property listings;
generating actionable insights, identifying patterns;
providing around the clock customer service thanks to chatbots and virtual assistants.
A separate benefit of AI in real estate is predictive analytics. Based on analyzing different accumulated data, predictive analytics enables the generation of future insights with a high degree of accuracy.
The possibilities of AI and predictive analytics are huge, from predicting potential buyers (like SetSchedule) to identifying condition factors (like smoke or water damage) that can affect property price (like HouseCanary).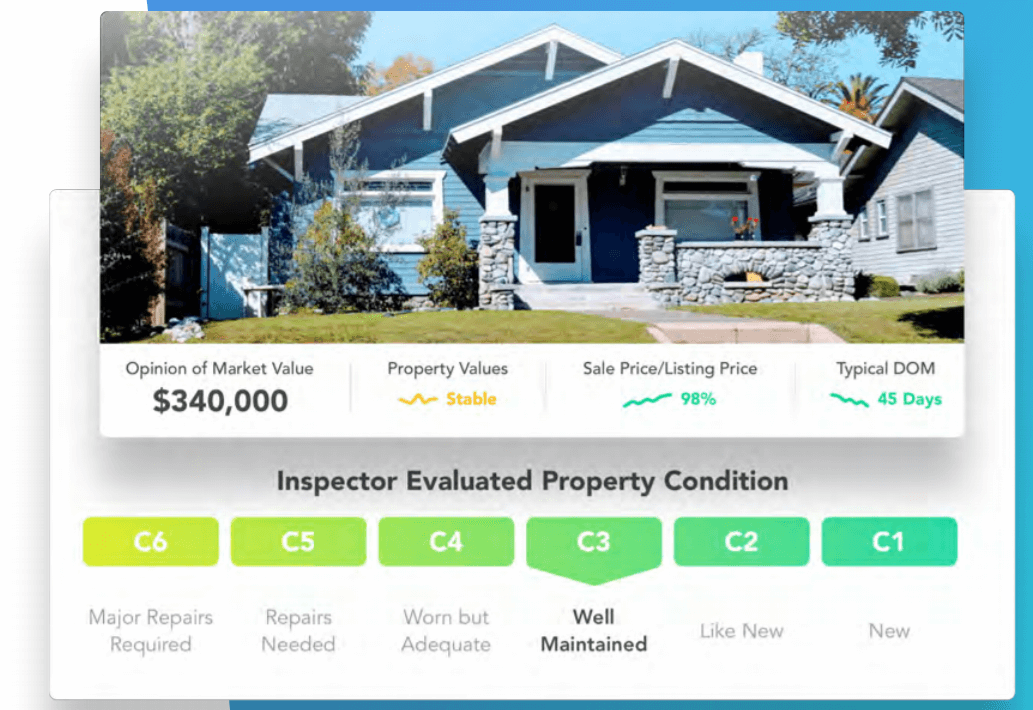 Property Condition Classification by HouseCanary
#3. Blockchain and smart contracts
Blockchain technology is now revolutionizing a number of industries including real estate. The growing popularity of Blockchain in real estate comes from the fact that it:
simplifies the transactions by removing the need for several third parties;
increases transparency, and
eliminates paperwork.
Blockchain creates a powerful foundation for the coalition of RetEch and FinTech. One of the hot-button questions here is the possibility of using smart contracts for purchasing, and selling properties.
Smart contracts reduce the number of stakeholders in the process. Instead, with smart contracts people receive a neutral central coordinator and a system that cannot be manipulated. Smart contracts ensure that all interactions and conditions are shared transparently.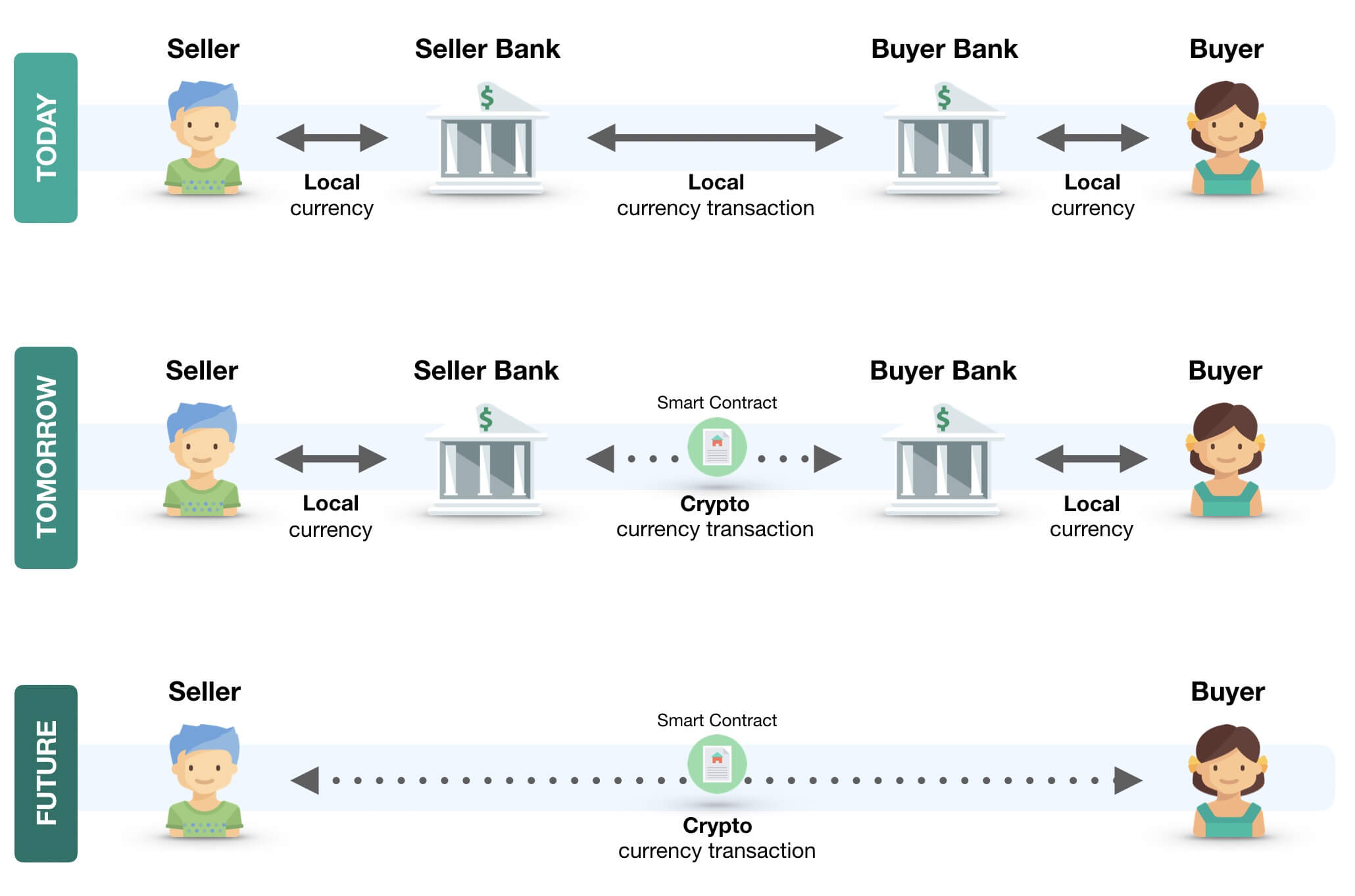 Source: hackernoon.com
For example, a New-York based company PropertyClub uses blockchain to help people market, search, sell and invest in properties. The company also uses smart contracts by means of cryptocurrencies like Bitcoin or its own PropertyClub Coin. Another example is Propy, a real estate marketplace which makes use of smart contracts to enact international property transactions.
#4. Total automation
Today's business environment forces companies to automate real estate tasks or processes to speed up workflows and keep up-to-date. We've singled out the major processes that possess wide opportunities for startups and current real estate businesses: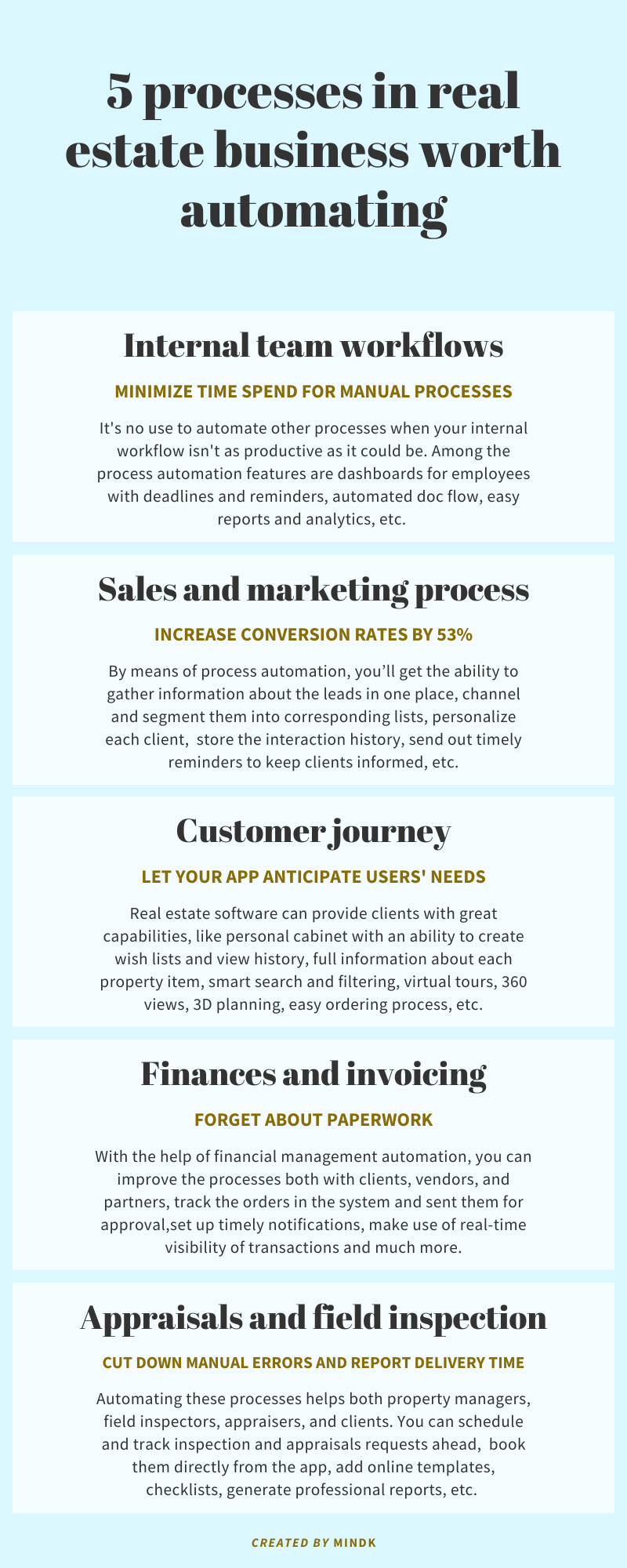 Check out how to unlock the value of automation for your real estate business
Ready to rock the market with a custom real estate solution?
What can real estate businesses and proptech startups conclude from the current state of the real estate industry and its trends? Let's sum everything up:
It's a high time to enter the real estate market with a cloud based solution.
It is important to tailor your real estate product to the customer's urgent needs.
It is better to develop your solution gradually step-by-step until you are sure what your customers really need.
Being flexible and adopting technologies will allow you to stay competitive in times of crisis.
If you are ready to start the development of your own real estate solution or need to automate the company's workflows, the MindK team has expertise to make it happen. Check out our step-by-step guide on how to build a real estate app from scratch.