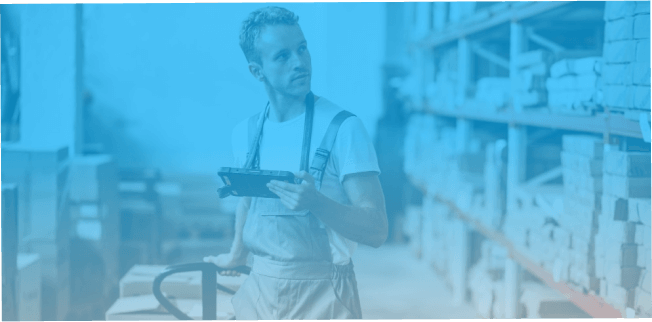 Custom Logistics Software Development to Optimize the Supply Chain
Develop logistics software that helps manufacturers, carriers, and other parties within the supply chain share data across the logistics network. Get an integrated software system that ensures real-time visibility into the freight movement and automates logistics processes
Build custom logistics software
Create a connected logistics platform to manage forward and reverse logistics operations, including orders, inventory, warehouses, and transportation.
Order management
Develop a single digital platform to control the order lifecycle and track order operations: receiving, tracking, and fulfilling customer orders.
Inventory management
Build software to synchronize receiving and storing inventory across several systems to be aware of the accurate number of products for sale.
Warehouse management
Get a centralized system to control and automate warehouse operations, such as receiving and moving items, or tracking staff productivity.
Transport planning
Create logistics software to plan the movement of products, choose shipping methods, optimize truck loading, and pick optimal routes and vehicles.
Transportation management
Develop a logistics system that helps manufacturers, distributors and 3PLs efficiently move goods and get full visibility of shipment operations.
Reverse logistics
Build a return management platform that automates reverse logistics operations and allows both sellers and customers to manage and track returns.
Develop integrated software to improve logistics operations
As a logistics software development company, MindK can build a digital solution that connects multiple systems into a single network, ensuring 100% visibility for all stakeholders in supply chains.
Supply chain optimization
End-to-end transparency
Seamless data exchange
Automated workflow capabilities
Cloud flexibility and scalability
Real-time freight data and analysis
Logistic software development services we provide
MindK offers logistic software development services to create a cloud-native solution from scratch or modernize your existing software.
Custom app development
Ideation, prototyping, MVP development, testing, and maintenance ‒ our team covers all stages of product development to build a great solution for logistics.
API and integrations
We develop custom APIs and integrate your enterprise systems with third-party software from carriers, warehouses, 3PLs, and other transportation companies.
Cloud-native development
We build scalable logistics platforms using a cloud-native approach with its microservice-based architectures, rapid release cycles, DevOps, and automation in the cloud.
Test automation and DevOps
Our DevOps engineers automate CI/CD processes and streamline delivery. We also provide test automation services to reduce test cycle time and testing costs.
Location-based services
Location-enabled mapping, tracking, and navigation – we have expertise in building applications for the most common use cases in transportation and logistics.
App modernization
We analyze your existing software to define its bottlenecks and inefficiencies. Based on the findings, we modernize your system so it can meet your business goals.
Why MindK
Experienced software developers
01
Deep understanding of logistics operations flow
02
Expertise in API development and integration
03
Cloud-native approach and DevOps practices
04
Develop your software with MindK
Let us know about your challenges and we'll
help you resolve them.