But even at the center of business uncertainty, a number of companies managed to survive and keep on growing. How? They transformed their business process and adopted new technology trends in time.
That is called digital transformation and what we at MindK help clients to implement. We provide custom software development to solve challenges, automate business processes, help with moving to the cloud, modernize existing solutions, and so on.
In a previous article, we already clarified the digital transformation definition and benefits of digital transformation, as these questions remain confusing for most of the business world. In short, digital transformation presupposes integrating digital technologies into all elements of business to improve the way it operates. For more details, we recommend that you check our article about what is digital transformation and why it matters.
The statistics show that spending on digital and technology increased during the pandemic despite belt-tightening everywhere else. In light of increased funding for digital and technology transformation, it's very important to understand which trends are worth your investment.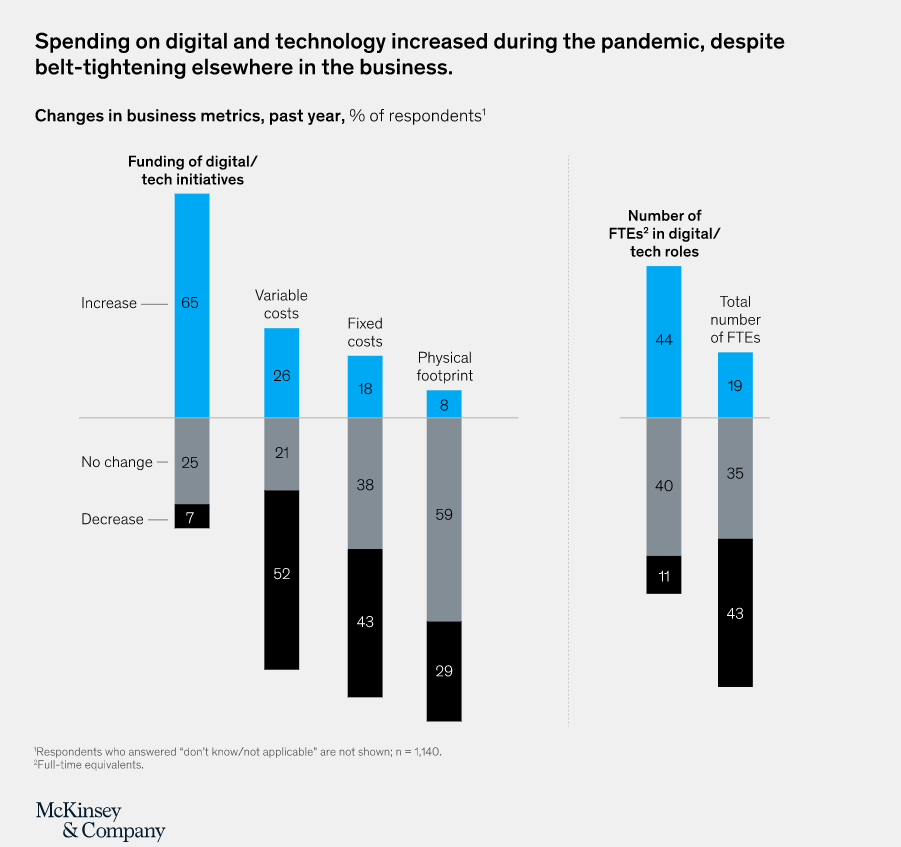 So, today we will focus on the key trends likely to shape the future of digital transformation of business processes.
Latest digital transformation trends to consider when building an innovation strategy for your company
Trend #1. Move to distributed ecosystems (hybrid cloud, multi‑cloud)
Using cloud environments for secure data management, development, and deployment of business-specific applications is no longer the latest thing. However, the coronavirus pandemic has accelerated the adoption of cloud technologies, which is a growing tendency for the near future.
More than 76% of respondents said that they increase spending on private and public cloud infrastructure services. Therewith, more and more companies are giving preference to hybrid cloud and multi-cloud set-ups. Hybrid cloud infrastructure was popular before the COVID-19, but the pandemic has increased the demand for hybrid distributed ecosystems. But what do all these terms mean and why do they propose a better approach for businesses?
Although the terms above may sound like synonyms, there are certain differences you should consider. Hybrid cloud is a mix of public cloud computing with either private cloud or on-premise infrastructure (it may be an internal data center or any other IT infrastructure that runs within a corporate network).
Multi-cloud, in turn, combines more than one cloud computing service from any number of various cloud vendors. A multi-cloud environment could be all-private, all-public or a combination of both.

Different types of multi-cloud setups
Source: medium.com
According to the HashiCorp State of Cloud Strategy Survey, around 76% of respondents admit that they employ a multi-cloud architecture, and in two years this number will reach 86%.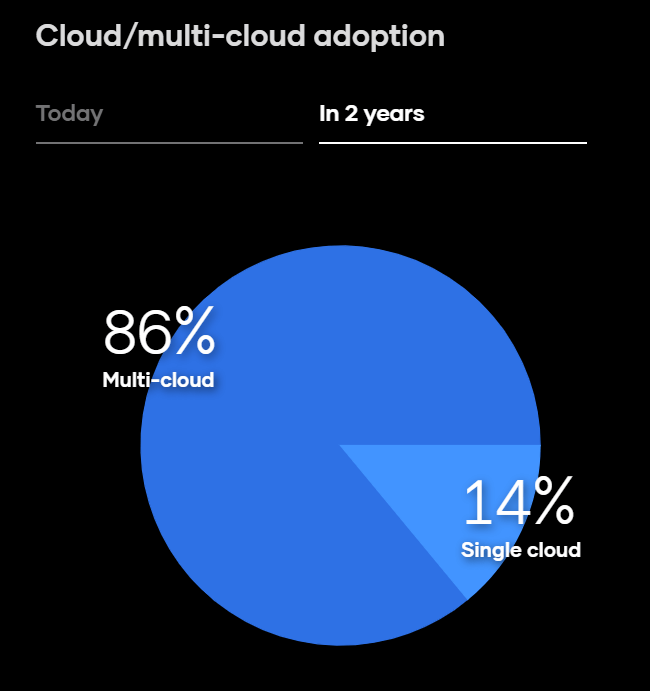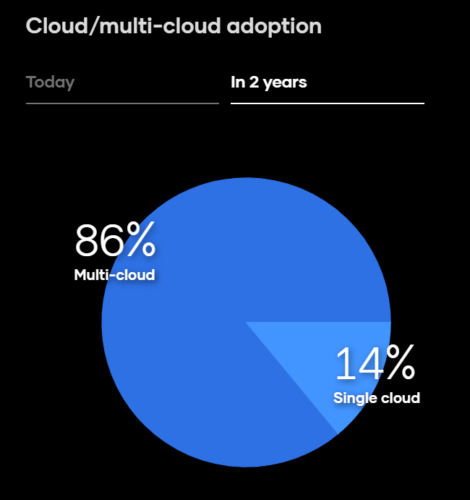 HashiCorp State of Cloud Strategy Survey
Source: hashicorp.com
According to Statista, last year around 90% of respondents from large enterprises say they have already adopted multi-cloud while smaller and midsize businesses are lagging behind. However, it is expected that by 2023 their multi-cloud adoption will also increase significantly.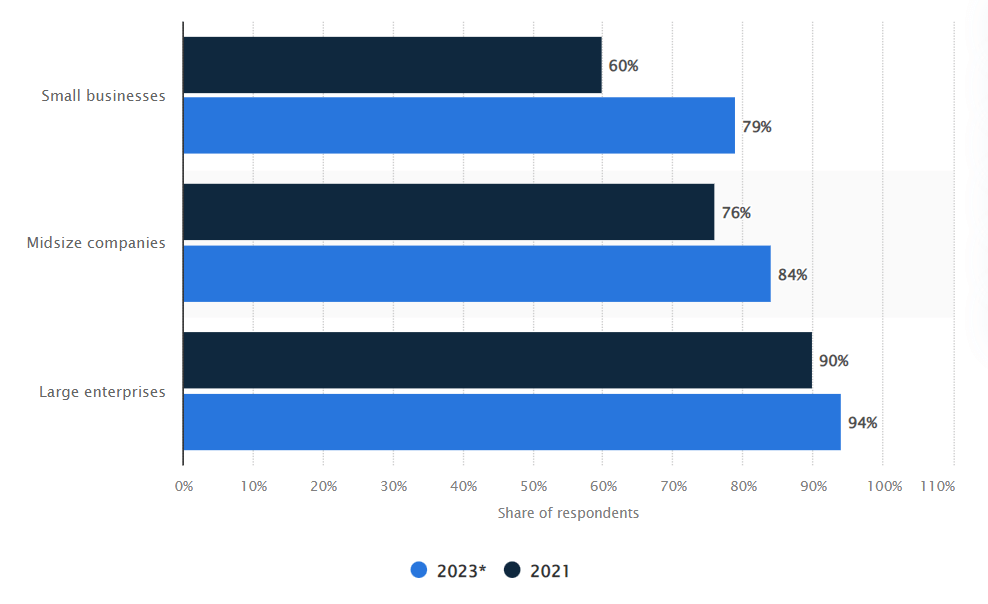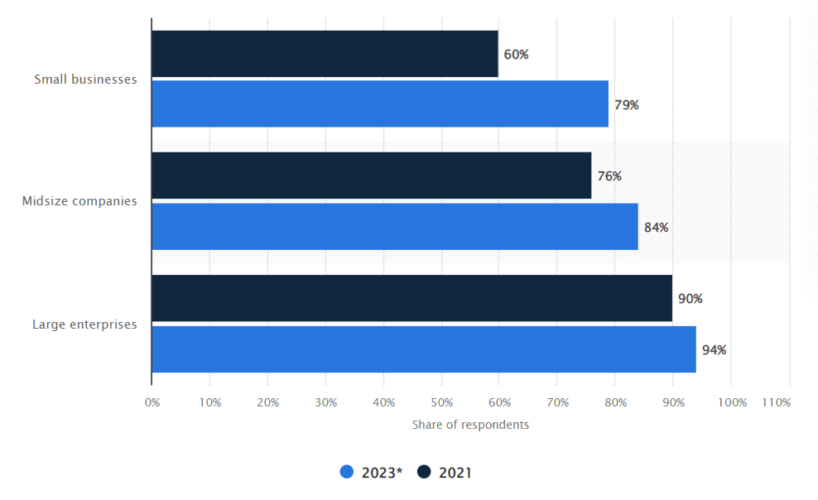 So why should hybrid multi-cloud approaches become a must for digital transformation strategy? Here are some of the benefits it ensures:
Freedom and flexibility to avoid vendor lock-in: in a world full of constant changes in competition, regulations, geopolitics and customer demand, companies need to be free and flexible enough to securely deploy, run and manage their data and solutions on the cloud they choose without the risk of being locked in.
Best-of-breed functionality: using multi-cloud architecture allows to mix and match best cloud offerings to suit the needs of solution, workloads, and business. For example, Amazon Web Services (AWS) has more than 200 cloud services, but it is indeed necessary to meet all the computing business requirements.
Balance costs and performance: cloud cost, performance and service level commitments might vary substantially. Using a combination of cloud providers allows to maximize application performance and save operating costs.
Improved security and risk management: hybrid cloud computing provides businesses with critical control over their data as well as increased security by decreasing data exposure. Companies can choose where to store their data based on compliance, policy, or security concerns. Hybrid architecture also enables the standardization of redundant cloud storage, which is critical for disaster recovery and data insurance.
Most clients of MindK are thinking about including a hybrid multi-cloud approach in their digital transformation strategies for the near future due to the benefits it can provide. For some of our clients, we've already implemented a hybrid cloud approach to ensure disaster recovery. If their dedicated hosting provider is down, they can get up and running quickly from the cloud.
Speaking about the hybrid cloud we cannot move on without talking about a relatively new concept of cloud computing – distributed cloud. It involves multiple clouds as a singular system both to connect and process data at various locations that are centrally managed by the public cloud provider. The core of the distributed cloud comes from the public cloud, hybrid cloud, and edge computing.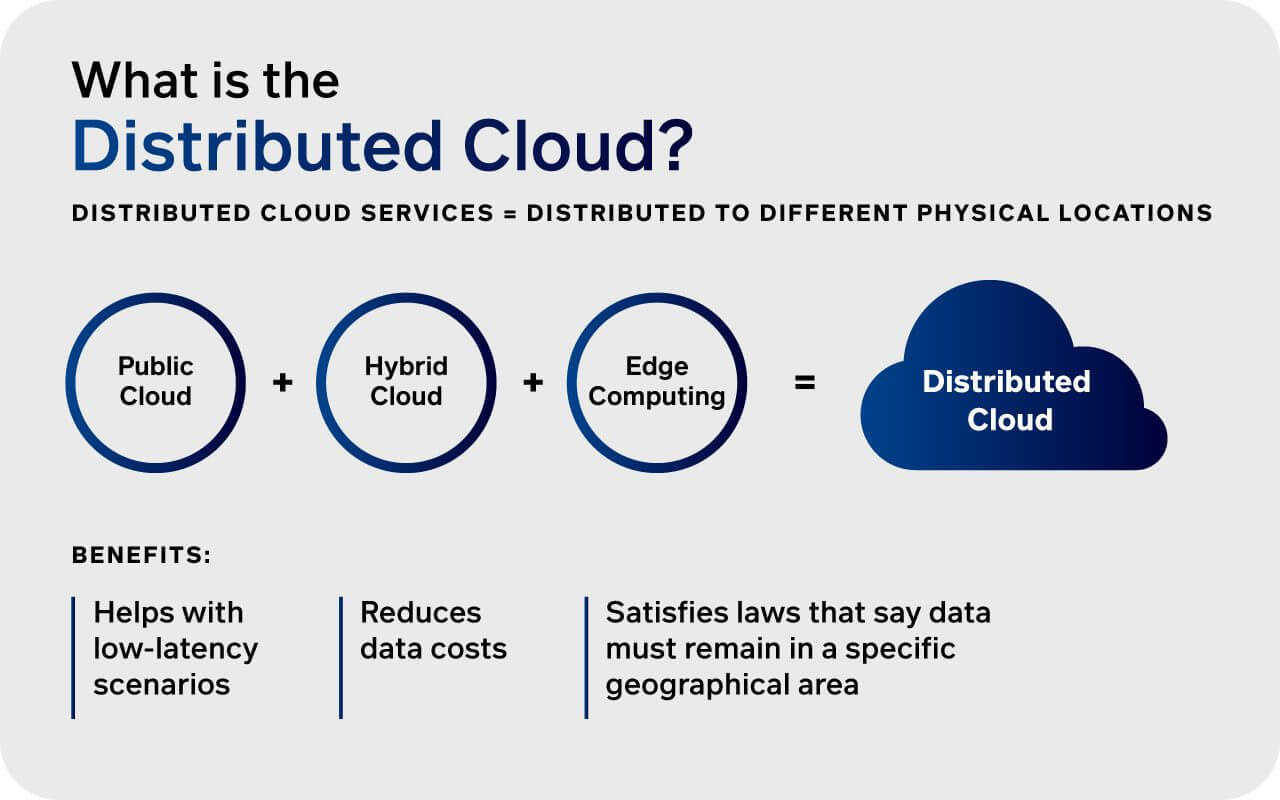 Source: stefanini.com
Gartner predicts that by 2024, most cloud service platforms will provide at least some distributed cloud services that execute at the point of need.
Trend #2. Scaling automation across the enterprise
Automation and digital transformation go hand in hand. Companies will keep on automating as many of their processes as possible. A World Economic Forum release says that around 80% of CEOs are accelerating the efforts to automate work processes and adopt new technologies.
Here at MindK, we also see this tendency in industries we work with most frequently, like finance, HR and recruitment, education, real estate and construction, media, advertising etc., but we also expect hyper focus on automation in other industries. Whatever industry you work in, there are definitely processes that require automation.
The HR industry, for example, talent identification and acquisition, HR analytics and metrics, payroll services, as well as time and attendance, requires greater attention in terms of automation. For real estate and construction, there are internal team workflows, sales, and marketing processes, customer journeys, finances, and invoicing. We've already covered these topics in more detail when talking about automation in HR and recruiting, as well as real estate business.
With scaling automation across the enterprise, the business has all chances to receive:
Acceleration of work at all levels: automation and digitalization of business processes significantly reduce the time required to perform similar repetitive tasks.
For example, one of our clients was focused on accelerating work at all levels and make managing construction projects easier We developed CINX, a cloud-based feature-rich platform for managing the supply chain for contractors, manufacturers, and distributors. What normally would have taken hours of manual research, copying and pasting between multiple formats and programs, is now managed within minutes.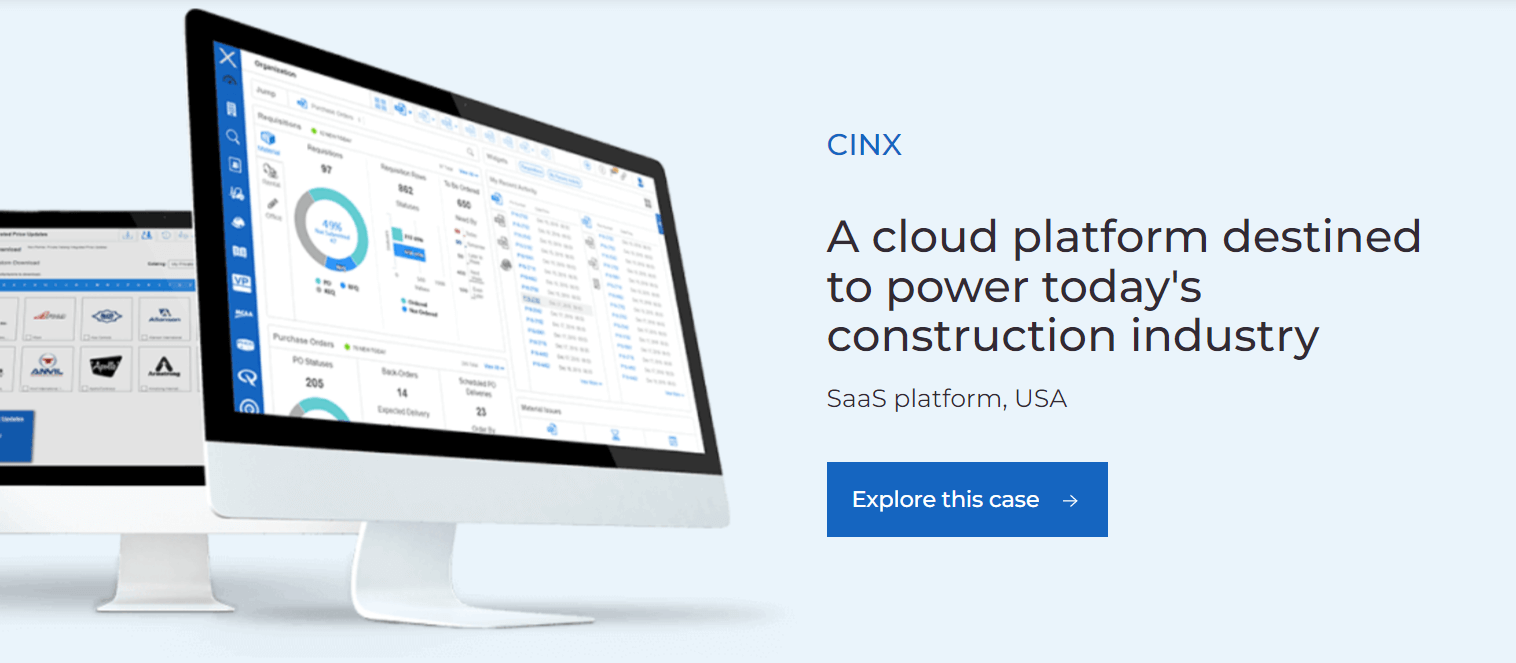 Minimized human errors: no matter how efficient your staff is, it's almost impossible to avoid human errors. Automation of business processes limits this possibility. When your business is based on processes that have a high risk of human error or involve complex calculations, it's definitely worth thinking about automation.
Systematization and transparency: automating workflows in the company can give a bird's-eye view of the entire chain of the business process. Business owners and management will be able to study detailed statistics, track KPIs, understand their weak and strong points, and so on. This leads to better business decisions and increased revenue.
For example, our client Innmeldt is a consulting agency for pension and insurance in Norway. Norway has one of the most complicated multi-level pension systems, and to understand pension payments, people had to register in several systems and make calculations based on an advanced formula, confusing for most citizens. In order to make the consulting process effective, reduce human errors, and make the calculation process transparent, we automated the workflow by developing a custom solution that allows making these calculations in a second and displaying them in the manner everyone understands.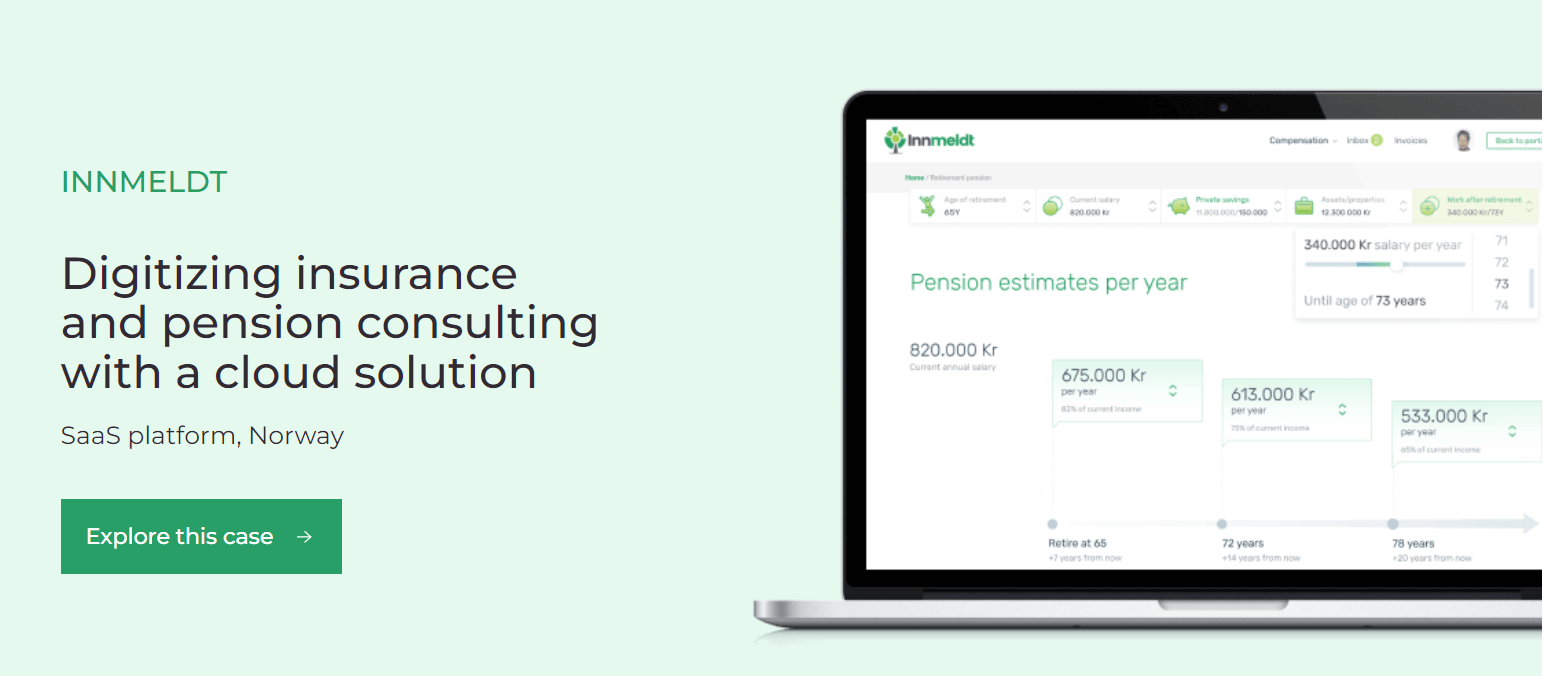 All these possibilities lead to budget savings, effective allocation of resources, and better organizational visibility. According to Deloitte the adopters of process automation have already observed increased efficiency together with lower labor costs. 74% of respondents admit that automation helped their team perform more efficiently, while 55% of teams managed to save up to 30% of costs.
The important trend that fuels business process automation now is hyperautomation, which is considered one of the major tech trends in 2022. According to the opinion of Fabrizio Biscotti, a research vice president at Gartner, hyperautomation has shifted from an option to a condition of survival. So what exactly is hyperautomation?
Hyperautomation gives an opportunity to rapidly identify, vet and automate as many processes as possible by means of deploying various, integrated technologies like robotic process automation (RPA), low-code application platforms (LCAP), artificial intelligence (AI), virtual assistants, and such.
These tools are considered process-agnostic solutions, which means that they can be used in any company across a number of different business use cases. A process-agnostic software in particular is considered to be in demand as a key enabler of the hyperautomation trend.
Gartner copmany also predicts that by 2024 companies will adopt at least three process-agnostic types of software. As a result, the adoption of hyperautomation together with redesigned operational processes will lower operational costs by 30%.
Trend #3. Greater focus on data analytics and decision intelligence
In today's business environment, a company's decision-making competency is becoming a significant competitive advantage. However, due to the complexity of internationally connected businesses and digital disruption across industries, it's becoming far more complex to make forward-thinking business decisions.
Gartner found that around 65% of respondents admit that most of the decisions they made are more complex than they were two years ago. At the same time, 53% recognized there was more pressure to justify or explain their decisions.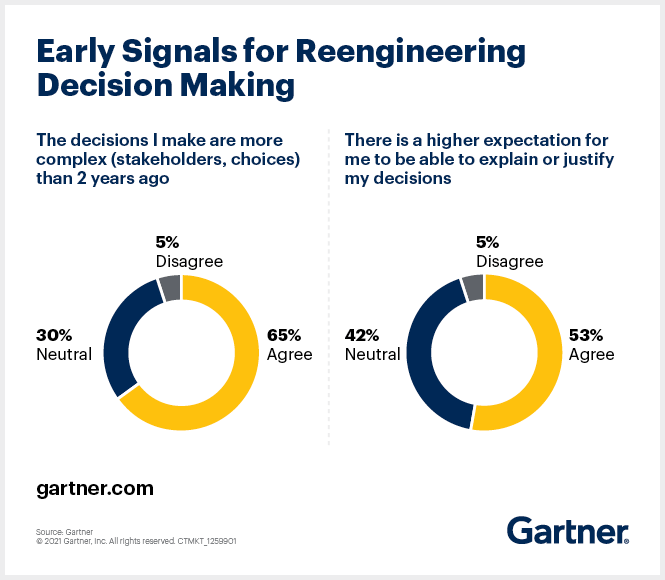 Data analytics and decision intelligence could offer a solution. On most of the project we deliver at MindK, one of the top objectives is enabling intelligent data analytics by means of technologies. As the first step on the way to intelligent data analytics, our clients ask for data visualization, as data visualization helps explain complicated details. Such a visualization involves bars, histograms, tables, pie charts, heat maps, and such.
Take, for example, Converze Media Group, our client who required digitalization of all their advertising management workflows. Among the core goals was enabling a clear view of KPIs and analytics of ad campaigns. With a great focus on data analytics, we developed an intelligent marketing attribution platform, called AIM Analytics. The system collects, manages and visualizes data by means of reports, graphs, charts, and heat maps that allow our client to track both pains and gains of ad campaigns, and come up with improved media plans and an increasing return on investment (ROI) for their customers.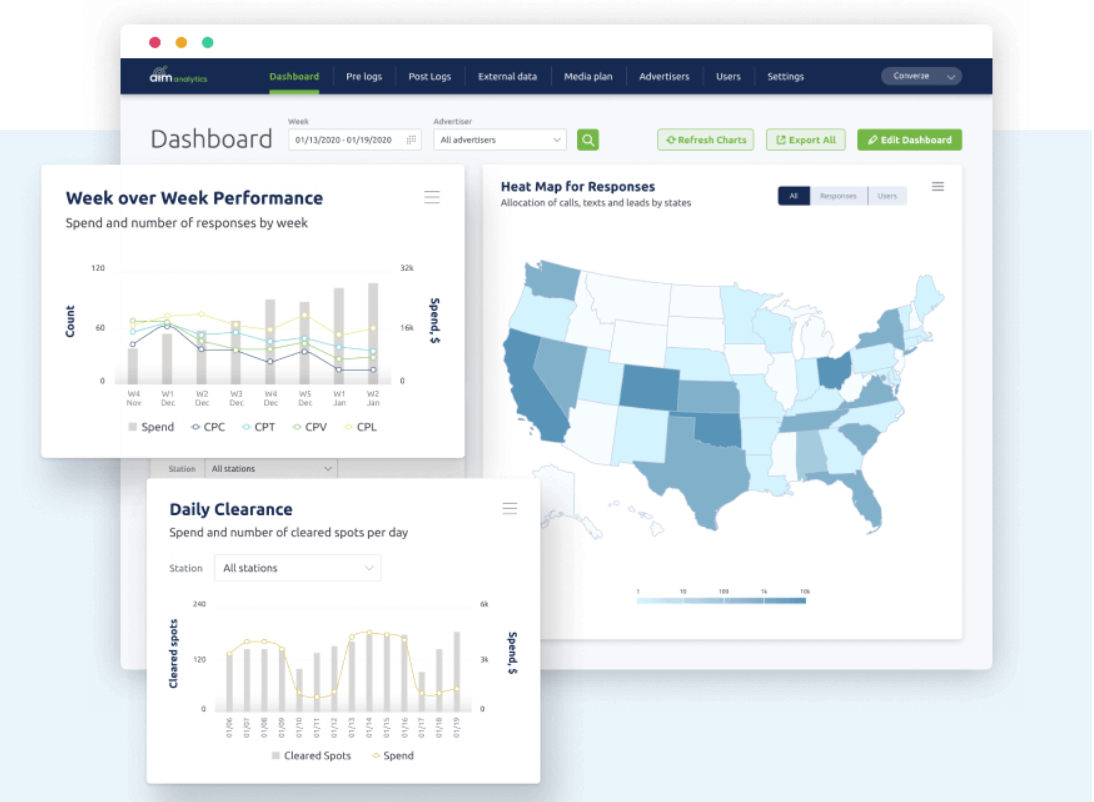 Explore a detailed case study →
Traditional data analytics relies more on static data, which means that the company is looking in the rear-view mirror. For sure, it gives a wealth of information that can be used as the basis for better decisions. Decision intelligence is a much more powerful approach that answers deeper questions, offering insights on the "why" and not just the "what".
According to Gartner, one-third of major firms will use decision intelligence for structured decision-making in the next two years to gain a competitive advantage.
In short, decision intelligence applies data science within the frame of business problems, works with large data sets, creating forecasts based on their analysis. Thus, various business tasks can be solved much more efficiently. At the same time, such decisions are formed at a pace that exceeds human capabilities.
Companies are realizing the benefits of using AI in terms of decision intelligence in business processes. However, after years of work, all data may be in a total mess, since various systems were used to process and store this data.
Many consider it a problem, as it takes a long time to understand and organize the data before implementing such a solution. However, this is not always correct. AI technology can work with data from different places, bringing them together. Thus, it allows making predictions regarding product demand, customer activity, supply chain performance, and other processes crucial for company success.
Decision Intelligence integrates with other systems and thereby transforms the decision-making process at all levels of the company. With the help of this technology, it's possible to develop a centralized system able to solve many problems and simplify business processes.
Sometimes, companies hesitate to use decision intelligence because they see it as a very complex and inexplicit technology. Yes, it may require some time to implement it. However, it is not necessary to understand its processes to the smallest detail. More importantly, it is the result that it provides, namely helping the company to develop, improve efficiency and grow revenue. Decision intelligence is not just data analysis, but also recommendations for further actions and improvements.
Trend #4. Connected work becomes a new normal
No part of our lives has changed faster in the last year than the way we work. The Pandemic has reshaped the concept of the "workplace". Before COVID‑19, working from home (WFH) wasn't very popular (sometimes even impossible) in the majority of industries. Today, many companies are adopting the hybrid work models for the long run.
Up to 70% of companies last year said they were planning to adopt the hybrid model. According to Microsoft's Work Trend Index (published in March 2021), 66% of employers around the world are redesigning their workplaces to accommodate hybrid work arrangements.
Source: microsoft.com
All this means one very important thing for companies in terms of digital business transformation – they need to adopt automation initiatives to create better-connected employee experiences. It is what people call a digital workplace, intelligent workplace, or similar.
Accenture, for example, has called it Elastic Digital Workplace. It is a highly extendable workplace environment that allows businesses to quickly scale and adapt to changing business requirements. In their opinion, the Elastic Digital Workplace implementation plan consists of six key dimensions:
Culture and adoption that involves technology and environment optimizations that will enable effective remote working and communications, where the key aspect in terms of technology is adopting cloud-based applications and storage able to support everything from document creation and app development, to task management processes and more.
Elastic collaboration means rapid adoption or expansion of collaboration and communication capabilities to bridge employees and customers, including enabling SaaS-based solutions like Microsoft Office 365, Google Workspace, and similar.
Virtual work environment which provides employees with key resources needed to be effective like seamless access to applications and data. This involves implementing virtual desktop solutions such as Microsoft, Citrix, VMware or Amazon which offer virtualized workspaces and enable interactive broadcast and web conference platforms.
Seamless networking that requires secure, and reliable network connectivity to corporate networks and cloud assets. A great focus here is on improving the Virtual Private Network (VPN) capacity that should be complemented with new cloud remote access solutions.
Distributed continuity that involves monitoring and assessing a quickly evolving environment, making quick business decisions, and communicating clearly with the workforce on how to navigate the situation.
Adaptive security implies addressing your security protocols and solutions as soon as possible in order to facilitate the spread of remote connectivity, including Zero-Trust network access, endpoint-managed protection, detection, and response.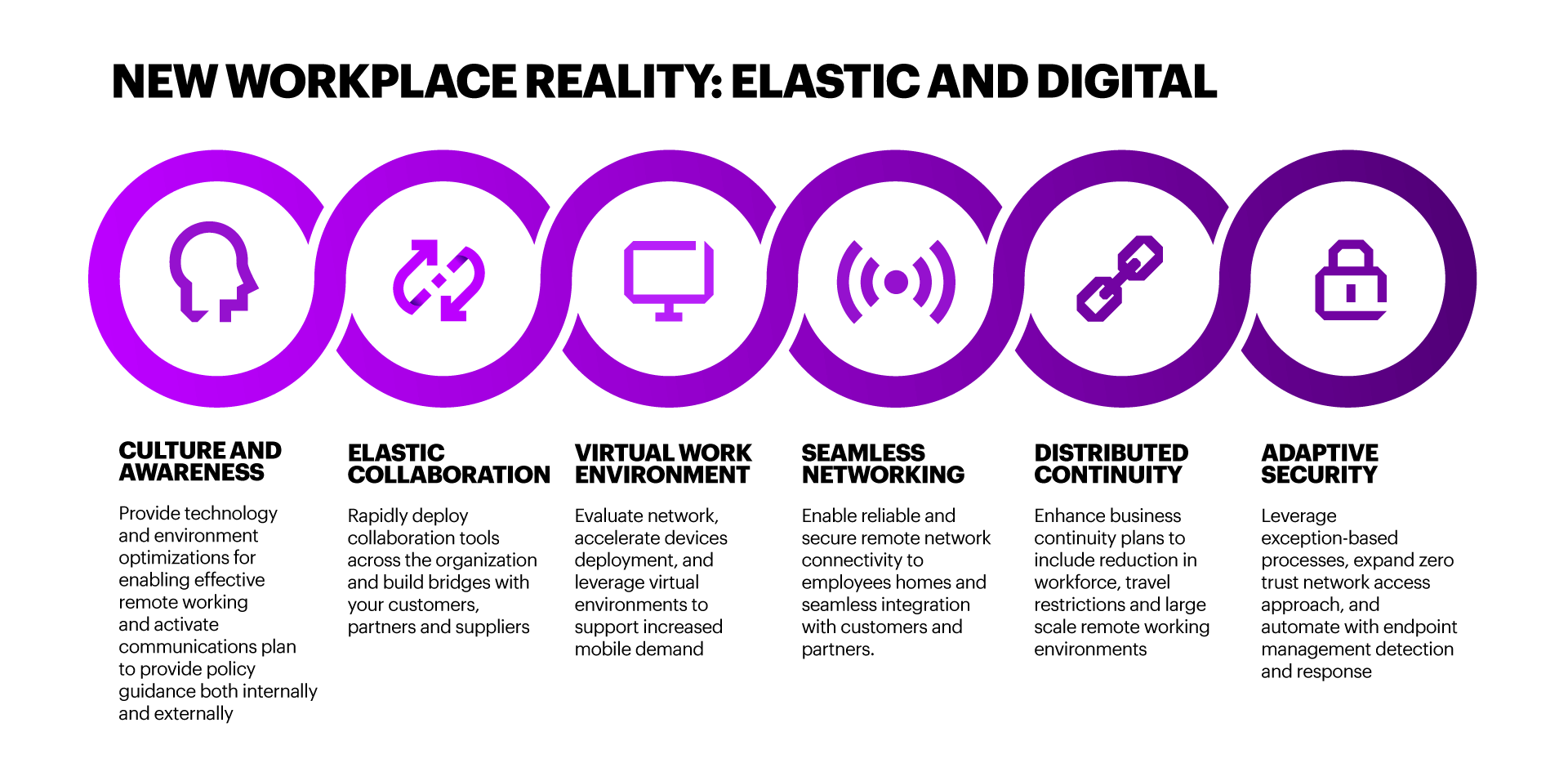 Source: accenture.com
Clearly, creating a digital workplace involves both technology and process changes. According to the Salesforce report, top digital transformation investment priorities to ensure teams can collaborate effectively are process changes (66%) and technology (56%).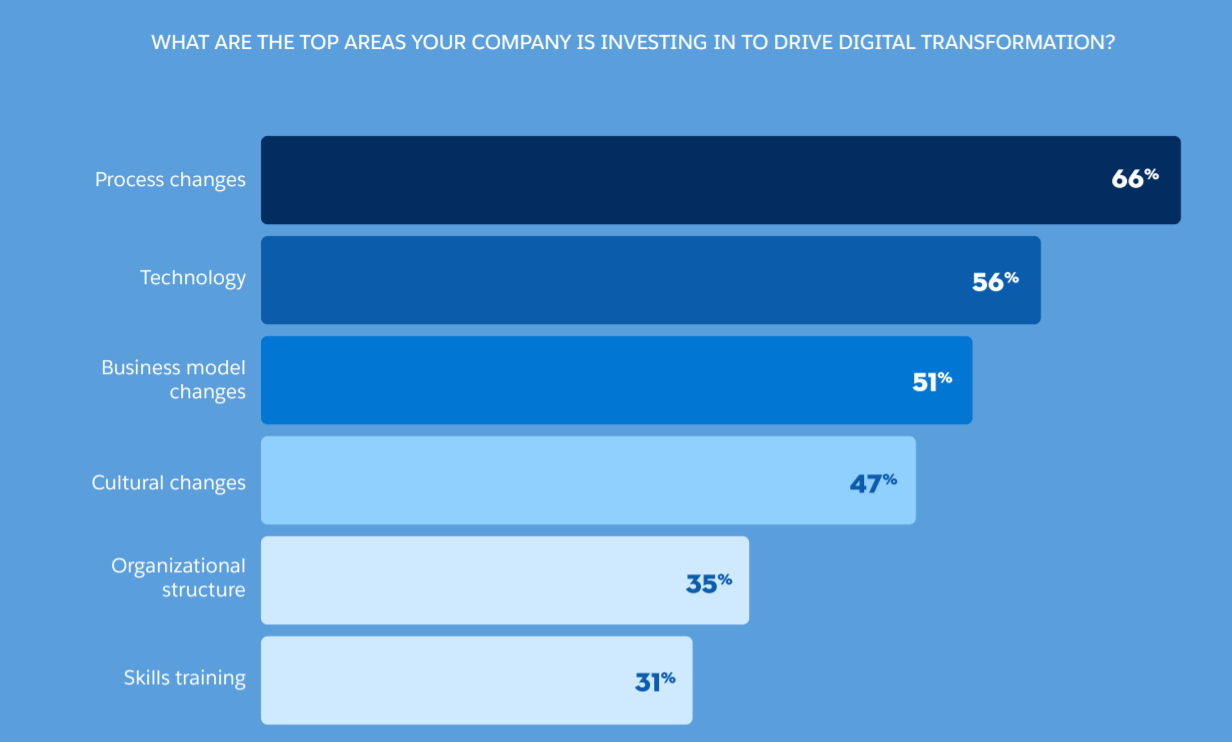 Source: salesforce.com
In this light, analyze the state of digital workplaces in your company and try to fill in the gaps in the shortest time possible. For example, because of the pandemic, one of our clients, Already On, required enabling their customers to hold online educational workshops and conferences which were previously offline. To make it happen, we improved the existing member management system Choo (that Already On provides as a SaaS solution) with a powerful event module. Now the solution simplifies the work of arranging courses, conferences, meetings, and activities for organization owners in an online mode.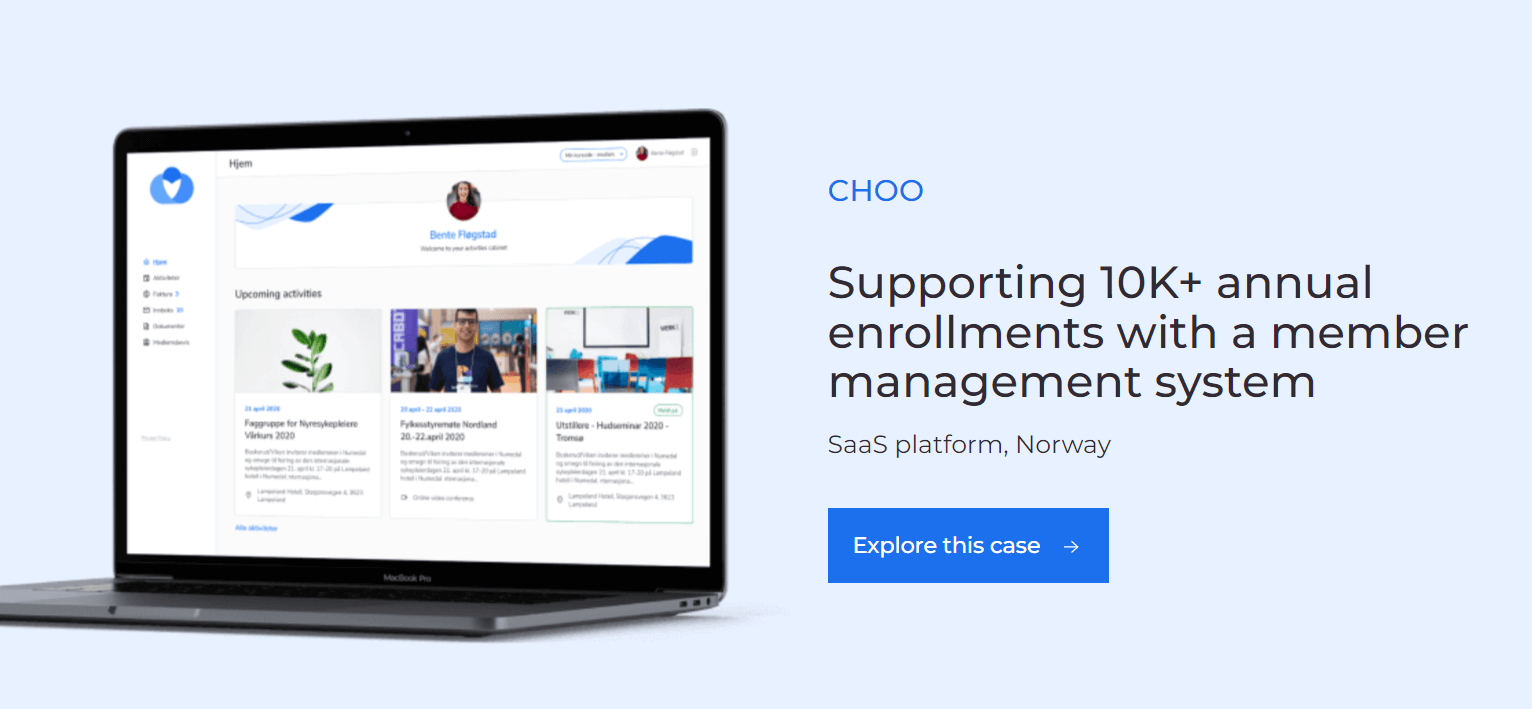 Trend #5. Strive for composability in business and applications
Due to business turbulence, companies are striving to deliver innovation quickly and adapt their business processes and software dynamically. For these reasons, most organizations are embracing a trend of composability. What is it and why does it matter?
According to Gartner, a composable enterprise is an enterprise that delivers business outcomes and adapts to the pace of business change. To do this, the business should be made from interchangeable building blocks. The same refers to applications. Composable applications should also be built on interchangeable building blocks.
But what are these building blocks the composite business involves exactly? The three building blocks of composable business are:
Composable thinking involves design guidelines that influence an organization's approach to deciding what to create and when to do it. This block keeps the company from losing its creativity.
Composable business architecture refers to dynamic structural capabilities that assist the company in being more adaptable and robust.
Composable technologies involve all the tools used, as well as what connects them together.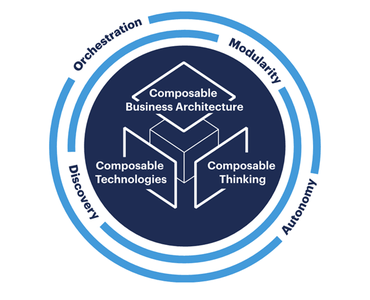 The three building blocks of composable business: business architecture, thinking and technologies.
Source: gartner.com
If we look at the composable enterprises from a technical point of view, we'll see that most of the success of composable enterprises is based on composable architecture.
Composable architecture is the process of growing storage, networks, databases, and compute functionality. Application Programming Interfaces (APIs) are used in composable architecture to provide flexibility and ecosystem management. The composable architecture mode treats each part of the IT infrastructure as a separate application. Each app represents a building block and therefore can be managed as code via APIs. More and more organizations are shifting their focus on integration and API strategies.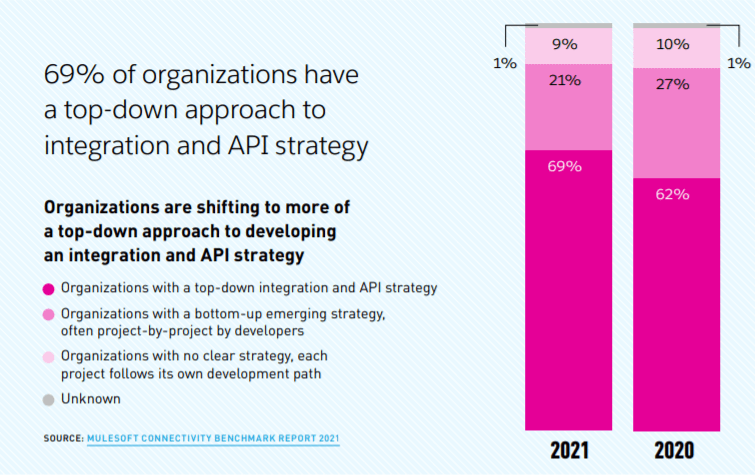 Both composable applications and composable networks were included in the Gartner Hype Cycle for Emerging Technologies press release last year.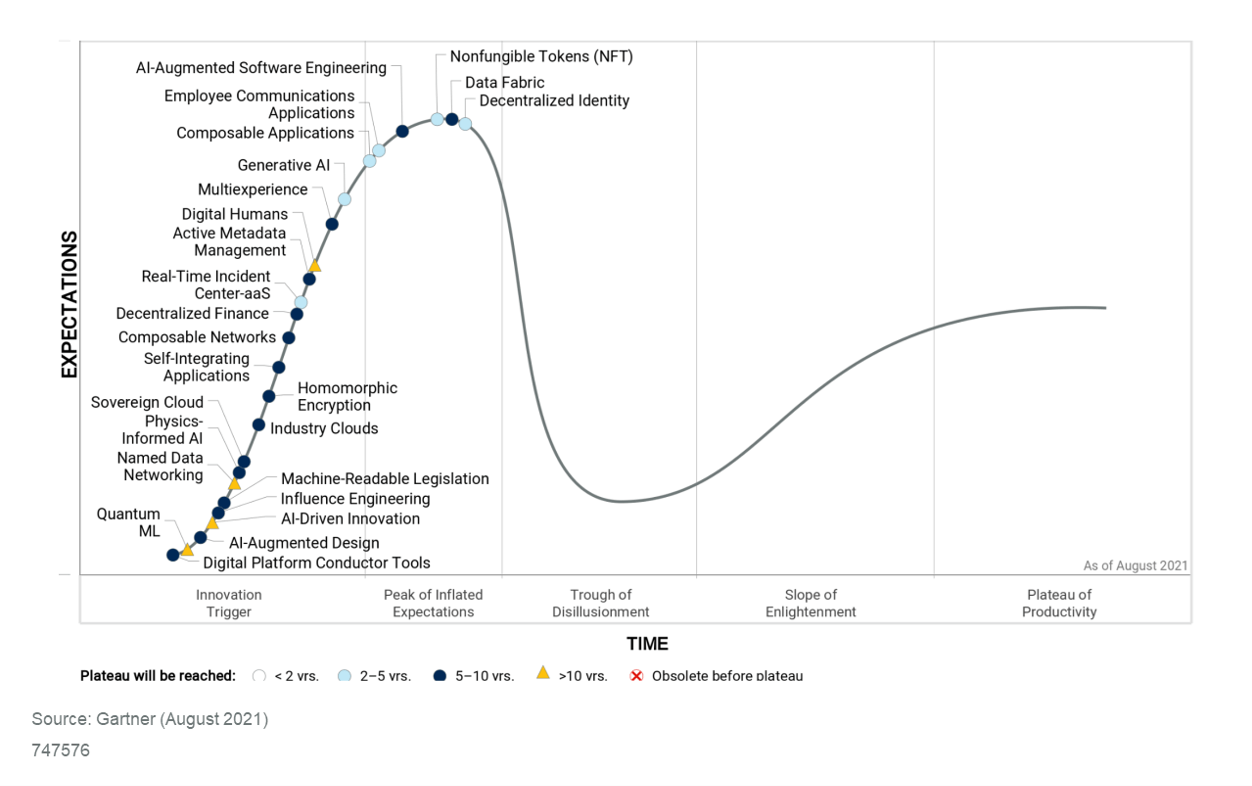 Hype Cycle for Emerging Technologies, 2021
Source: gartner.com
This press release also mentions that composable business applications allow a better match of application experiences to changing business situations. In this way composable business, based on composable application technology and with composable thinking, enables the detection and utilization of business opportunities, respond to unexpected challenges, and meet changing customer expectations quickly while retaining their loyalty. So, keep this trend in mind when building a digital transformation strategy for your business.
Ready to start digital transformation?
Digital transformation is a gradual process that involves not only implementation of the latest technology trends but also business processes and company mindset. The latest Digital Transformation & Cloud Survey shows that digital transformation involves three main stages: defining value, launch and acceleration, and scaling up.
No matter which of these stages you are now at, you are moving in the right direction. Here at MindK we helped companies with digitalizing their workflows by developing custom solutions, improving existing infrastructure, or products. Some digital transformation examples can be found on our case studies page.
If you are looking for an experienced technology partner to support your digital transformation process, MindK is here to help. Just share your challenges and we'll get back to you to discuss how we can help.