There could be no better time for starting an e-learning business or implementing e-learning for your organization.
In this article, we will review the true state of the online education market and find out what is necessary to consider before starting the development of the e-learning app.
The potential of e-learning market
The education industry is going through an online boom. Due to the Coronavirus pandemic, 91,3% of students across the globe are forced to study from home.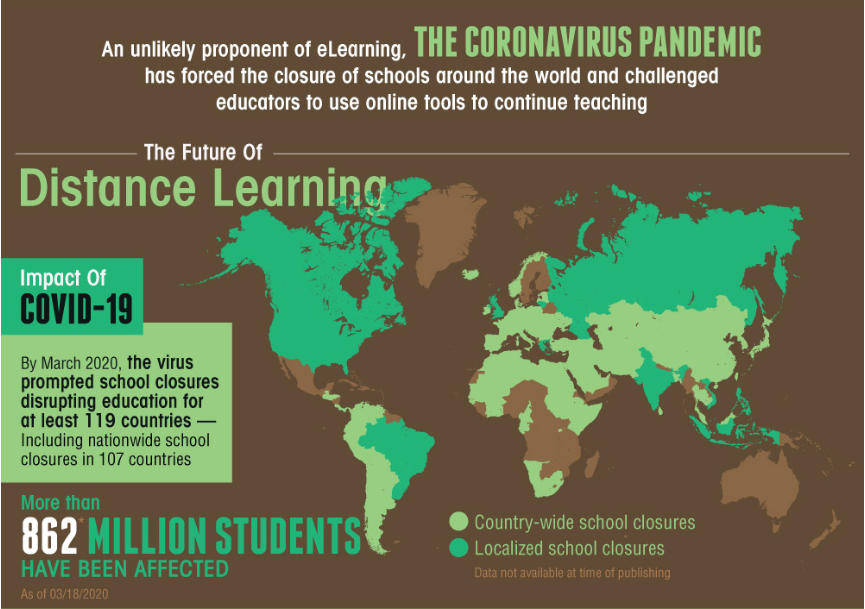 Source: hackernoon.com
As a result, most educational institutions are forced to turn to the distance education approach.
It is a great opportunity for students and teachers to explore the benefits of a completely new way of studying and a good chance for businesses to offer solutions able to cover education needs.
In these latter days, the online language learning application Duolingo has already seen a 100% active users increase in China, while Zoom, a video conferencing company, experienced a 224% increase in connections.
Such a shift in society is likely to stay with us even after "things go back to normal".
For example, during the Second World War when the majority of men were called to arms, women had to do the "men's" work and they did it well. Since then women never stepped back. It may happen with students too after unlocking the capabilities of virtual education.
Furthermore, educational institutions are not the only consumers of e-learning systems. More and more corporations become users of online education models.
Employees of 77% companies in the United States have joined the training camps created by Udemy and Coursera.
IBM saved around 200 million dollars after switching to e-learning.
And apart from students and corporations, there are still millions of people with a hunger for knowledge, new skills, and self-development.
So, when entering the training ebusiness, try to stay focused on:
offering a full-scale learning experience for your target audience;
helping educators deliver valuable information;
drawing people together and assisting them in creating an online learning community;
deepening the confidence of students in the field they need to get training.
With this goals in mind, let's talk about what to consider before the development process. 
Tips and tricks on how to create an app for distance education
Tip 1: Decide what type of system you want to build
Start with an understanding of what your system should be — the education industry has many types of e learning systems.
You might want to create a learning destination site. Such websites propose courses from various providers. The principle is similar to a virtual storefront, just like Amazon offers a number of goods from many retailers. You can either submit your course as an author or register as a user to have access to courses available. The most famous are Udemy, Coursera, edX, Udacity, etc.
However, a lot of industries also have their own niche sites, meaning it is possible to make a highly specialized learning destination site relevant to your business niche.
Or you may focus on building an eminent Learning Management System (LMS) that provides an ability for users to develop and host online courses. It not only delivers training programs, but helps you organize them — create, change, assign students, grade them, and so on.
Typically, this group is divided into traditional (or commercial) and open-source systems.
Today there are around 700 LMS providers. Most of them aim at corporate "learning and development", so their systems are suited for internal training. However, some of them also have extended features useful for external audiences. Open source platforms, on the contrary, are usually free of charge and can be customized. Сommunities can set up, host, and customize open-source learning management systems for a certain fee. Examples of such systems are Moodle, Open edX, Sakai.
With web conferencing software you can enable online meetings, conferencing and training particularly on TCP/IP connections. It is a great solution for one to one tutoring or online lectures.
The most interesting option is the custom-built learning platform. In this case, you build a system from scratch meeting the requirements of business, learner, or pedagogy and get exactly what you need. Moreover, you have full control over the system and its customization.
A great example here is HBX, a custom system built for Harvard Business School focused on delivering high-end business certificate courses.
The opportunities are unlimited and each of them can be helpful for certain groups of people.
Tip 2: Define the audience you are targeting
Before moving along you need to analyze your target audience, as it is the key to all your further steps to the final product.
Ask yourself what is the average age of your target, what are their interests or how they spend their free time, what problems do they have and how can your system solve them.
This research is paramount as you need to pin down as much information about potential users as you can. Analyzing similar platforms may help you with this. Study the systems that are the most popular among e-learners and what kind of content they offer and how.
It will help you reveal competitors' strengths and weak points and understand what users do not receive from existing platforms.
Tip 3: Think about ways to offer valuable content
In the education industry, content is a king. Great design and high-class app performance may be of no avail without great content. Users opt for systems that provide value for them.
There are several ways to create content for your e-learning app — either use third-party content or generate it in-house.
For example, over 73% of Learning Management System providers admit they use both.
Creating in-house content provides you with more creative control and your contributors with an ability to bring in company branding and goals into educational materials. That is why you should think about the contributors. They can be either educational establishments or simply skilled tutors.
Just look at MasterClass — an e-learning platform that proposed cooperation to famous people like Gordon Ramsay, Steve Martin, Chris Hadfield, Annie Leibovitz and others, then turned it into their major asset.
But, while in-house content requires both time and resources, you can get third-party content at a small price (or even for free). Each of the options has its strengths and weaknesses: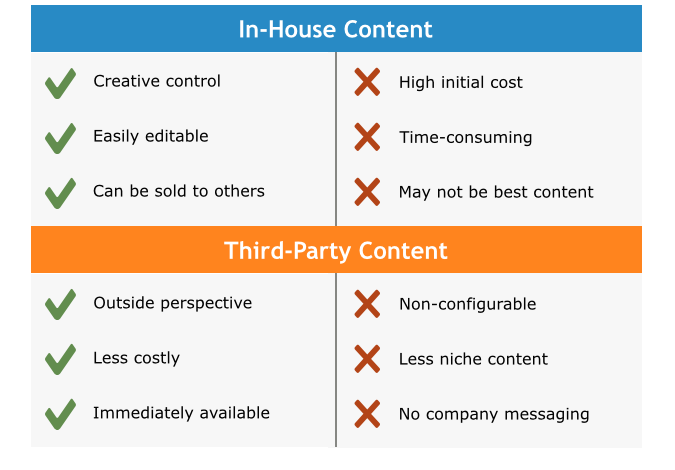 Source: softwareadvice.com
If creating totally custom content is not what you plan or can do right now, try to use the mixture of both — internally created and pre-made content, as most LMS providers do.
Tip 4: Pay attention to UI/UX
User interface is the landmark of your product, as it is the first thing users come across. Both user interface (UI) and user experience (UX) are responsible for how users perceive the platform.
A poor UI may lead to low engagement and motivation to use the system, while bad UX with too many clicks and tricky navigation can make the product too complicated. When the system is difficult to use, it causes mistakes, or even frustration because of the inability to accomplish the set goals.
Thus, simple and interactive UI/UX is mission-critical if you want to engage and retain users.
There are three golden rules of good design. They say that you need to place the user in control, decrease the user's memory load and make the interface and user journey consistent. In other words, the design of the e-learning platform should be:
Easy to use, as it makes the user move through the system straightforwardly and keeps him interested and engaged. Thus, for example, good navigation may be defined as the least number of clicks required to complete an action.
Uncluttered because too many features often act like distractions and barriers for the user and need time to understand them. This is not what your learning system should focus on. Your goal is to provide the learner with an ability to start and complete training activities with ease. It can be done with an efficient use of space and simple layouts. You can even opt for minimalist design in order to help users focus on content and learning.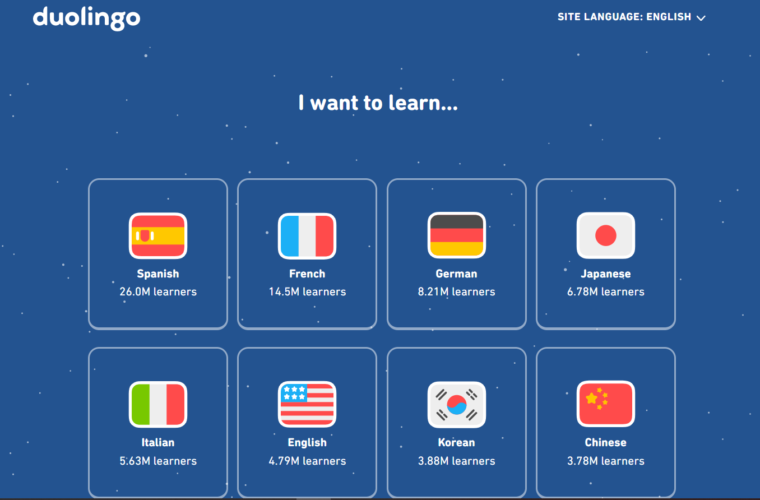 Source: Duolingo
Intuitive – use a well-known and straight-forward menu structure and other elements of user journey that are consistent throughout the entire system.
Additionally, design should apply colors that inspire students to study, stay focused and motivated.
Tip 5: Make sure you are ready to provide enough engagement
Educational training may be either the WOW moment of your day, or a prison of electronic worksheet and assignments. Noone is able to stay interested for long if the e-learning platform offers no engagement or interactivity. Sooner or later, students will quit.
Thus, engaging remains a challenge that requires a closer look. According to the survey held by LearnUpon company, around 71% of respondents found engagement the most challenging part during the online learning process.
The most challenging part of online learning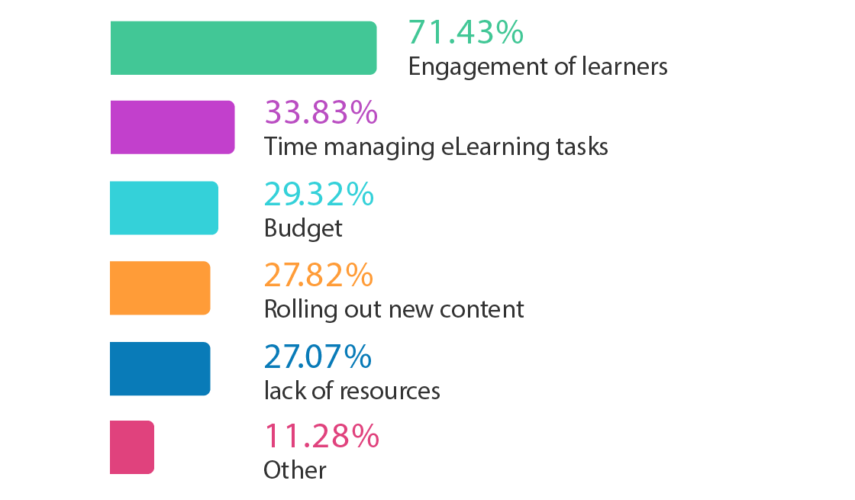 Source: learnupon.com
The best way to fight the challenge is consider an engagement strategy beforehand. Among the factors that can help you keep your users awake and interested are:
motivation;
gamification; and
community interactions.
As for motivation, there are intrinsic and extrinsic motivation. The first one is focused on personal desire to get something at the end of training, while extrinsic aims at some external reward or recognition after completing the task. This is where your system comes into play. You can offer certificates and honors people can share in social networks or use gamification approaches.
Gamification is a huge trend in online education as it really works. It incorporates game mechanics during the learning process aimed to improve the user's experience and motivate them to keep on studying.
There is a correlation between gamification in education and user engagement. Adding gamified elements to training can make 83% of users feel motivated.
Among the most used gamification elements are educational games, rewards, badges, points, leaderboards, scoring, AR and VR simulators, timers, signposts and hints, progress bars, story plots, secret boxes or other surprising elements.
Let's take the same old Duolingvo, an online learning platform used by 70 million users all over the world. Among the gamification features are:
voting for the best translations made by other users.
internal currency called "lingot" users can earn completing a number of activities.
leaderboards and systems of points.
sound of fanfare after each completed round that gives a sense of fulfilled duty.
ability to invite friends and compete with them.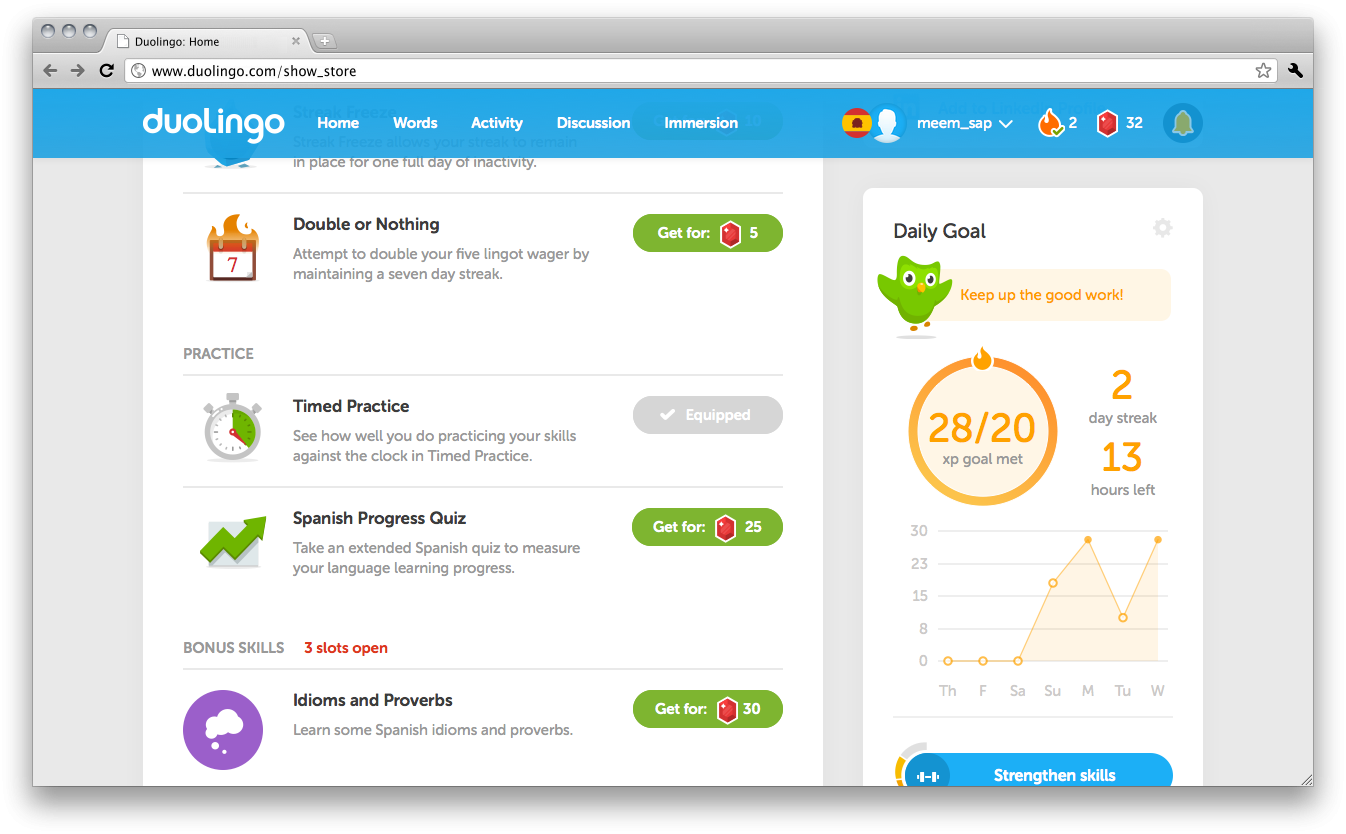 Source: duolingo.com
And the last but not the least is socializing within your solution. Give people an opportunity to communicate and help each other. Consider including forums, mentorships, material sharing, chat rooms, etc. It will help to decrease the learner's isolation, a feeling of loneliness or distance the user may experience during online training.
Applying different engagement models can help you improve knowledge-retention, increase users satisfaction, boost productivity and engage more users, meaning an increase in revenues.
Tip 6: Do not underestimate personalization
The personalization of e-learning is customization in order to meet the certain needs of users.
It has a great power. Ask ten people to order a pizza and you will find out how unique and individual we are — one will order thin with mozzarella, another with anchovies and tomatoes and so on.
Personalization in online education is essential as people learn and perceive information differently: some can understand a large amount of data quickly, others learn by small portions and need more time, some users "absorb" audio materials better, while others — video or text, some may study using their laptops and others prefer mobile devices on their way to work.
Take a look at account settings on Coursera.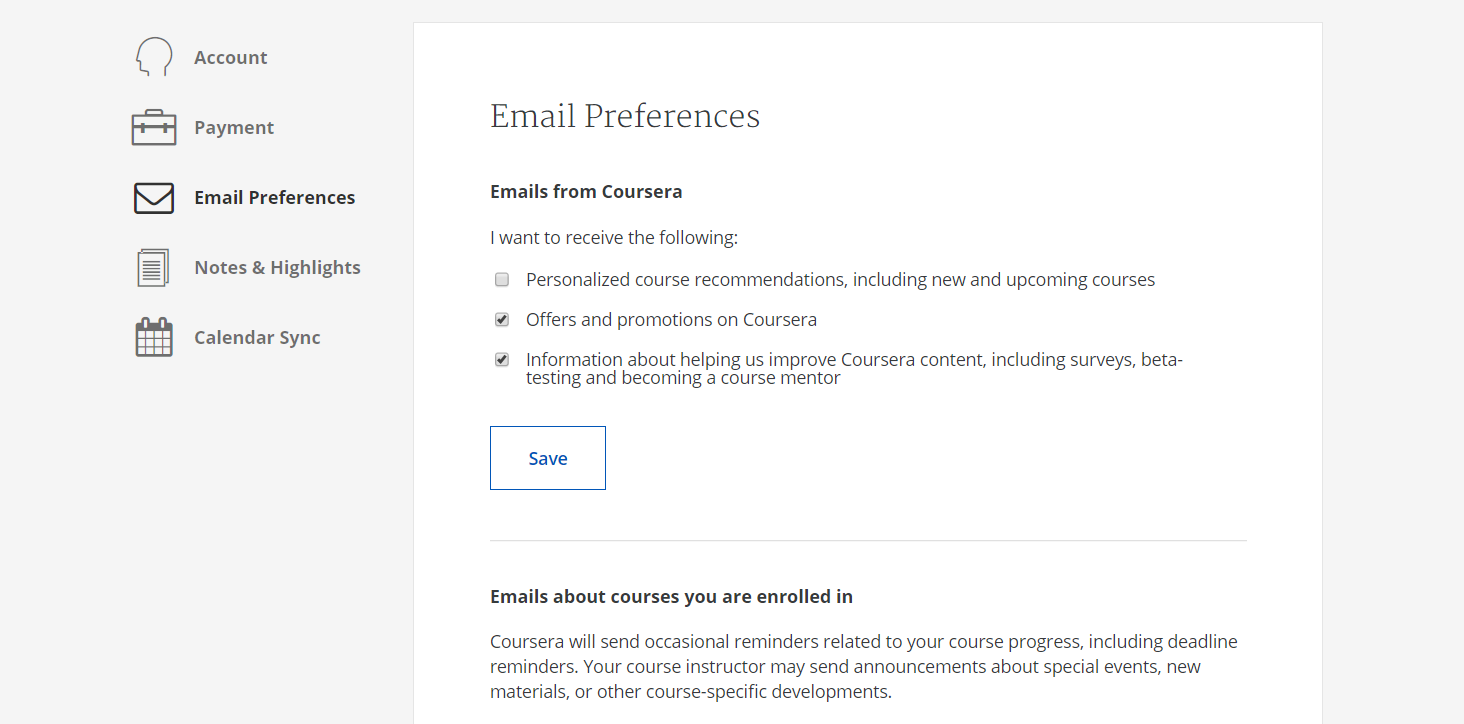 Account settings on Coursera
They offer a number of personal settings such as setting the time zones and language, connecting LinkedIn or Apple accounts, ability to sync all the deadlines and other related items from all active courses to the user's calendar, making email preferences and turning on tracking notes and highlighting activities.
Here are a few more examples of personalization you can you for your future system:
Use personal content customization. For example, your platform can provide multi-language courses. Most of the well-known systems provide the same course in various languages.
Capture the student's name. Each of us likes to feel important and be addressed personally. Your system can memorize the user's name during the registration process and then use it in a welcome message or throughout the course.
Give a choice of devices. We all are creatures of habits and are used to studying using a desktop computer, tablets, or smartphones.
Provide different types of content. Read, watch, or listen? Various options help you embrace a wide range of learning styles and improve accessibility along the way.
Add analytics to the user's dashboard. Using statistics and analytics, students can track their progress and get updates during the course.
Personalization can improve an online learning process to a great extent, decrease the time required for studying, boost revenue, and much more.
To wrap up
Online education market has already been on the rise, but Coronavirus proves that we are dependent on e-learning platforms nowadays. If you want to create our own e-learning system and stand out on the market, you have to invest time, money, and effort. With the right planning and above mentioned tips in mind you are guarded against unexpected problems that may occur during the development process.
If you need help with building an app, we are here to help. MindK has already developed projects focused on distance learning with features like video streaming, assigning to online conferences and online conferencing itself.
So, just drop us a line and stay safe!