In our big overview of the Ad Tech industry, we talked about ad tech definition, the effect of technology on advertising, and the challenges the Ad Tech industry faces based on our experience in product development. We've concluded that total spendings on digital advertising grew up to 12% in 2020, which is huge, taking into account the pandemic.
The number of digital advertising agencies is also increasing every year – there are more than 5,000 digital agencies for 2021 in the USA only, which is a 13.7% increase compared to 2020.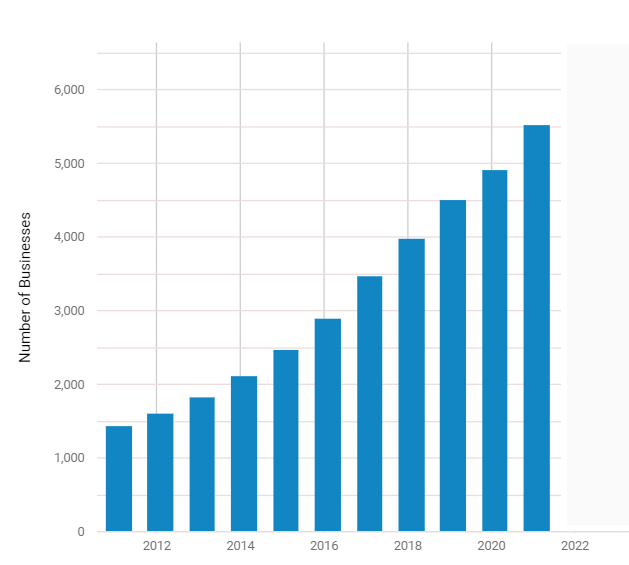 Digital Advertising Agencies in the US – Number of Businesses 2005–2027
Source: ibisworld.com
Such investment growth is fueled by innovative technologies and solutions that provide tremendous opportunities for advertising. At the same time, everyone who dives deeper into the advertising industry sooner or later faces a choice between implementing existing out-of-the-box solutions or developing a custom one.
People still ask "Why do agencies keep on investing in ad tech solution development while the ad tech market has so much to offer?". If you also are at a crossroads, let's review why a lot of companies refuse ready-made ad tech platforms in favor of product development.
Top reasons explained: why agencies opt for developing custom ad tech solutions
Here at MindK, we have a team responsible for product development in advertising and marketing that includes product and project managers, backend and frontend developers, business analysts, quality assurance, and DevOps engineers. They work on custom products aimed to increase the return on advertising investments (ROAS) of our clients and, based on their experience, claim that some of the four main reasons our clients decided to build tailor-made, in-house tools from scratch are:
lack of transparency in out-of-the-box solutions;
limited customization options;
necessity for competitive advantage; and
need in data ownership.

Let's discuss each of the reasons in more detail.
Lack of transparency
If you look at the number of solutions available in the digital advertising technology sector (we've discussed this topic more in our article on the state of ad tech), you'll see that all of them fall into two big groups:
inventory and everything required for advertising delivery (like Demand-side platforms or DSP, ad exchanges, and similar); and
value-adding technologies and solutions focused on targeting, personalization, ad campaign optimization, planning, reporting, and so on.
In most cases, the ready-made inventory does not provide the necessary flexibility for optimization, while both inventory and value-added tools don't always give enough transparency. After analyzing solutions available on the market, we may conclude that ready-made solutions in many cases lack transparency and don't allow third-party control and audit of processes.
Indeed, lack of transparency in the world of advertising is a hot topic that will be unlikely to quieten down in the near future. It's not always clear how this or that tool works under the hood, how it tracks the conversions, how it charges fees, and so forth. Simply put, there are always questions to clarify. As a result, the whole programmatic chain isn't as straightforward as one would like.
These observations are proved by reports and studies. For example, last year the ISBA's Programmatic Supply Chain Transparency Study rocked the advertising market. It found that around half of the advertiser spend never reaches publishers. The reason is a quite complex and fragmented programmatic ecosystem with a number of solutions and fees. Additionally, the study highlights that 15% of advertiser spend is the unknown delta.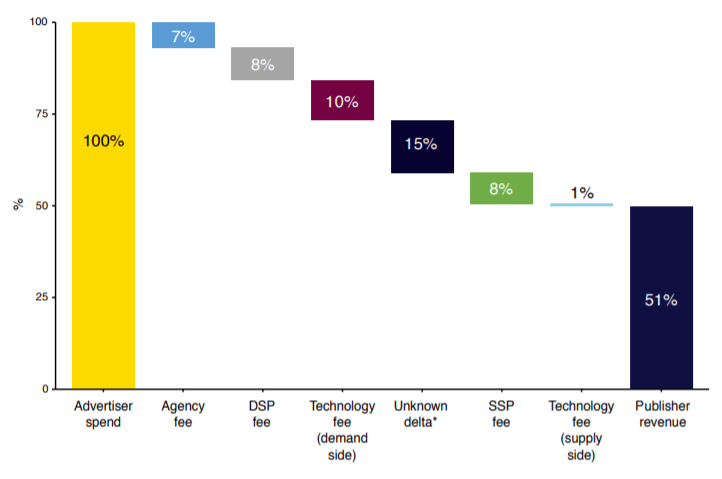 Analyzing advertiser spend
Programmatic Supply Chain Transparency Study
Source: isba.org.uk
There is no ability to say now what exactly is unknown delta, it may possibly involve limitations in data sets that require occasional estimations, DSP or SSP fees that aren't visible, foreign exchange, inventory reselling between tech vendors, or some other unknown factors.
The study also highlights that reporting on programmatic campaigns by agencies and monitoring practices by advertisers is inconsistent. It may cause trouble in analyzing campaign delivery and performance. On top of that, some of the publisher and SSP contracts use undefined, unclear, or inconsistent terms (for example, gross and net revenues), or are not fully understood by the publisher team.
Thus, the main quest for transparency now on the Ad Tech market, according to the report, is integrated, independent and interconnected solutions that would combine multiple elements and thus provide full visibility about the entire value chain of the ad spend.
Limited customization
One more reason that may turn the scales in favor of custom product development is poor customization options. Major players are largely closed from external interactions and provide common or limited opportunities for working with advertising campaigns.
Even though out-of-the-box solutions are focused on a wide audience, they are designed for specific tasks. Such tools often look like a complex technological object that can be configured and launched, but customization and improvement may result in unpredictable results or complete system failure.
It is especially challenging for those companies that have some specific workflows and try to adapt the tool to fit these processes. It's true that more and more solutions in ad tech provide wider options in integrations, personal settings, or customization. However, if you take some leading ad tech solutions and read the reviews on platforms like G2, Gartner, or similar, you'll identify a number of features, integrations, and options current users lack.
For example, Mediaocean, a great platform for omnichannel advertising, according to customer's reviews, has some issues with scaling for large campaigns (while many features work fine for smaller campaigns), user interface is desired to be more clear as important everyday features are buried deep in menus, some application programming interfaces (APIs) do not work correctly that requires additional actions in third-party solutions and so on. Mediaocean is just one example, however, this is a common situation for similar solutions.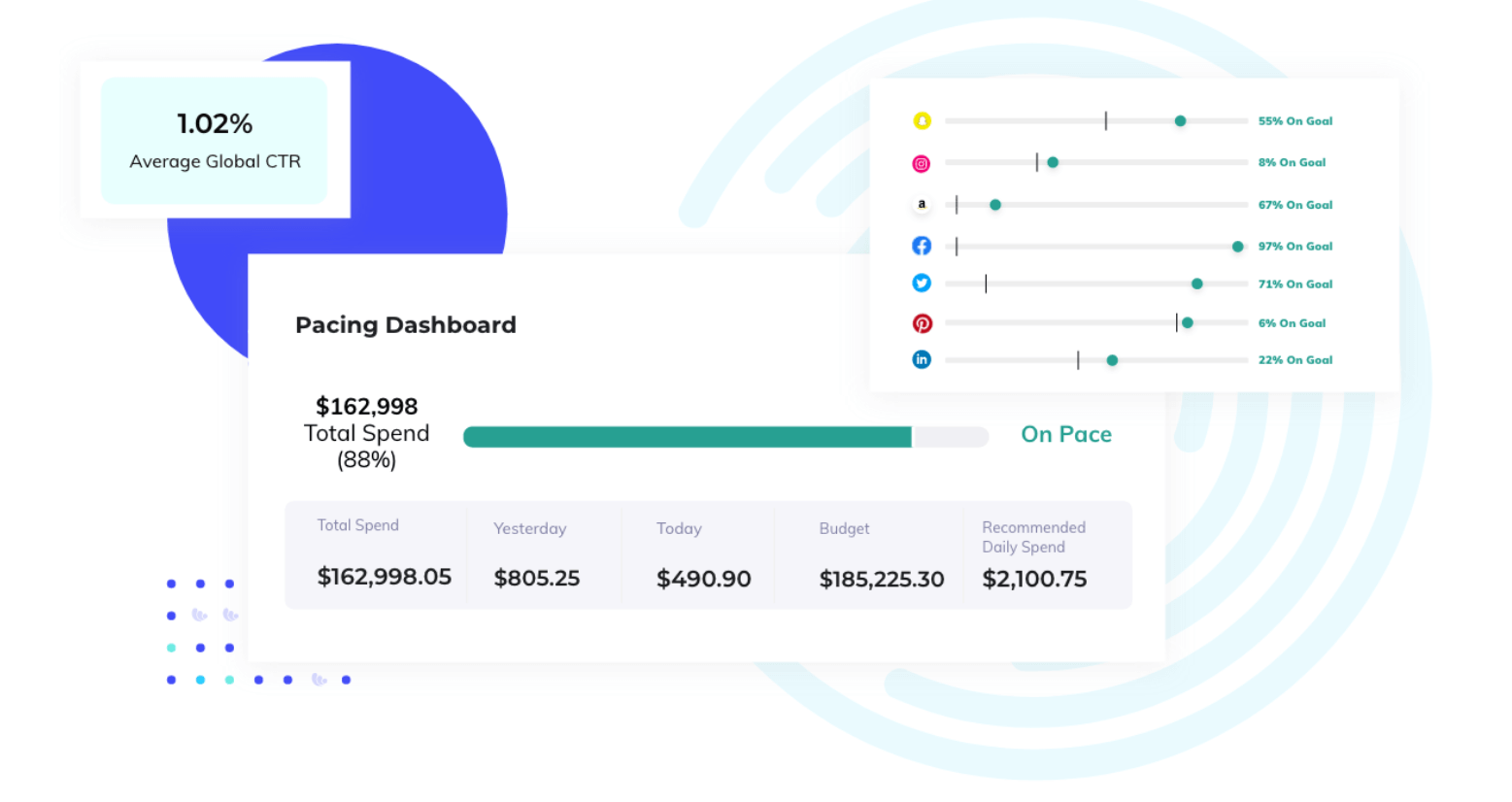 Social ads management by Mediaocean
Source: mediaocean.com
That's exactly how different nuances about the features set and customization options can turn the process of choosing a ready-made platform for a digital media agency into a living nightmare. The result is agencies that fail to find a suitable solution to cover their specific requirements.
Furthermore, most solutions are focused on a wide audience, thus rarely give clients the ability to toss away the features they don't really need. It generates unnecessary costs, so companies have to pay for certain functionality they don't use.
The top reason why our client Converze Media Group, one of the leading direct-response advertising agencies in the US, came to us was a great need for a system that will cover their specific workflows in ad campaigns management. They required a strong automation tool able to help them build, support and analyze radio and TV advertising campaigns in no time.
Based on their requirements, we developed an intelligent marketing attribution platform, called AIM Analytics. The system covers and automates end-to-end advertising workflow, allowing the client to manage thousands of different TV and radio campaigns and process large amounts of data without increasing staff, thus saving thousands of dollars annually.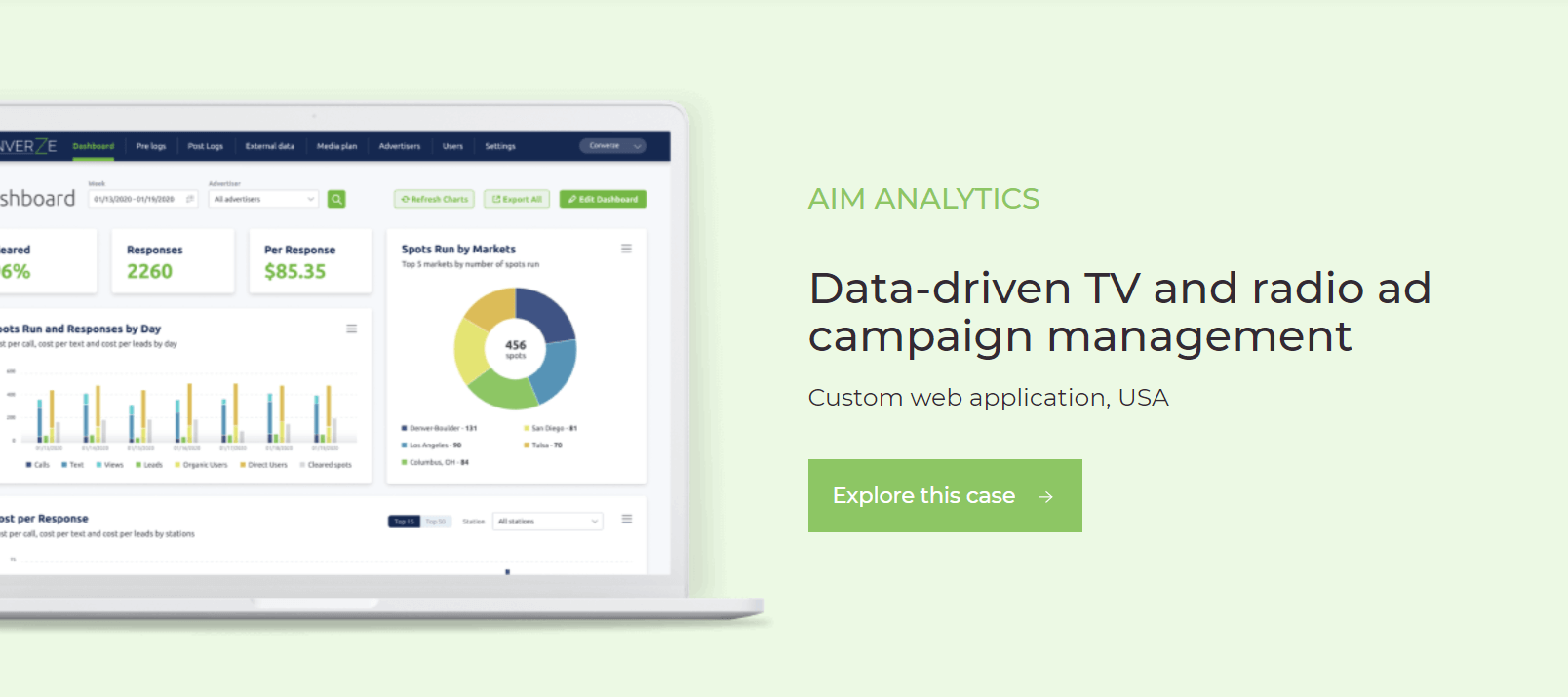 In addition to the fact that the platform fits the individual workflows of the client 100%, it turned out that there are no systems like AIM analytics on the market. Being a huge competitive advantage, the platform empowered our client to dramatically expand its clients base.
That being said, we move along to the next reason why companies opt for custom development – it is a competitive advantage.
Necessity for competitive advantage
As already mentioned, almost every company has unique business challenges. In the case of out-of-the-box tools, similar solutions are used to fight the challenge against competitors. Thus, the differentiator today is the way companies apply the technology around specific business use cases.
However, there are certain issues with competition in the high-level competition of the Ad Tech market. The Australian Competition and Consumer Commission (ACCC) recently released a report which states that the dominance in the ad tech supply chain of the major players like Google and Facebook harms businesses and consumers. The report says that around 90% of ad impressions traded via the ad tech supply chain passed through at least one Google service in 2020.
In spite of this, the opportunities for custom value-added solutions are huge. To stand out from the crowd, companies can identify common challenges of the programmatic advertising, emerging channels like advertising on CTV and OTT platforms, as well as advertising technology trends like Big Data.
This can help develop an advertising technology platform that solves current problems and offers something different from what 99% of companies are offering today. Custom ad tech software development sure may require twice the effort and time, but it quickly pays off.
Need in data ownership
In spite of the fact that most out-of-the-box ad tech solutions provide their customers with a great user interface and undertake infrastructure maintenance, there is one factor that becomes a deal-breaker for some digital agencies – data ownership.
First of all, owning technology and data provides better adaptability and compliance with privacy regulations if compared with third-party tools. With recent regulatory and privacy laws such as the California Consumer Privacy Act (CCPA), General Data Protection Regulation (GDPR), and similar, as well as an increased threat of ad fraud, owning data is a big advantage for businesses.
We've already explained which ad fraud schemes may pose a risk to your ad campaigns and how to protect your business from invalid traffic and data leaks, so check our article dedicated to ad fraud detection.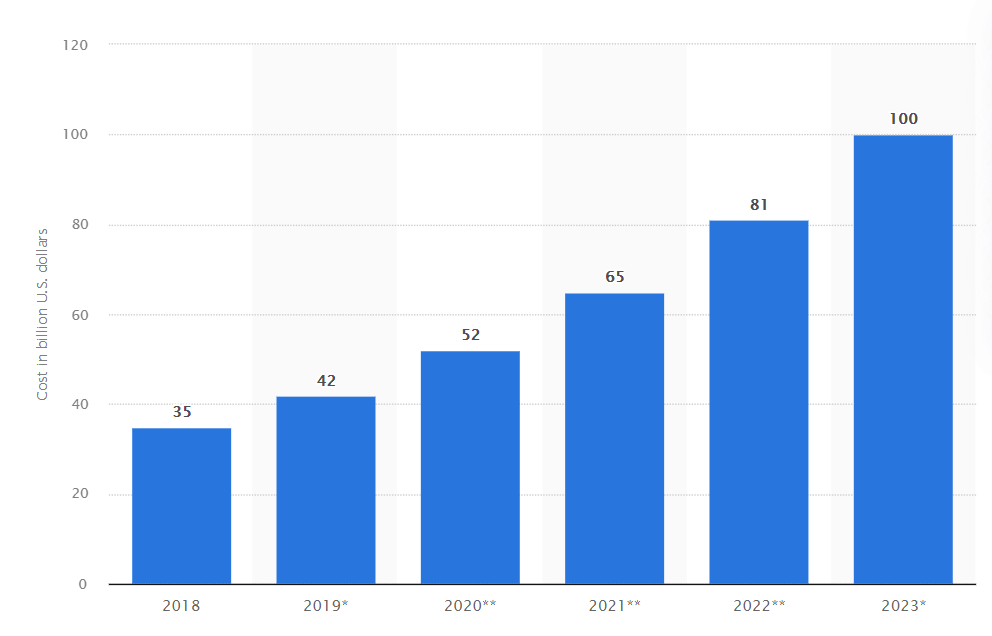 The estimated cost of digital ad fraud worldwide from 2018 to 2023
Source: statista.com
Second, data ownership helps ad tech companies to reach centralized data. Ad tech companies that work with third-party ready-made systems are in most cases forced to work with several tools to cover all their needs. This results in data stored across a number of different ad tech and marketing platforms. Consequently, it becomes too difficult to manage all the different data streams in play. It may result in blind spots and the inability to identify inconsistencies or errors.
With data ownership, a company has a great ability to organize data in one single place and make it work for the sake of its business. Centralized data, in turn, is a good foundation for data integrity necessary for data analytics, as well as developing advertising strategies and making data-driven decisions. This all leads to companies applying effective modern techniques of working with Big Data for advertising purposes.
In general, you can think of Big Data as the ability to effectively use the information obtained in a convenient and visual form for solving applied problems and decision-making. The impact of Big Data on the digital advertising industry is huge – it allows ad tech to accurately find target audiences, predict user behavior, choose the right form and content of advertising, and much more.
Here at MindK, we help our clients deal with data in every project we take (and this is not only relevant for the advertising industry). For example, one of our clients faced the challenge to analyze the results (log data) of the ads that are running on hundreds of radio stations and channels. These stations send the log data in different formats, which makes the information very hard to analyze and impossible to learn from. We build a system that transforms this unstructured raw log-level data into clear and transparent information to better understand ad performance and make better business decisions.
Ready to build a custom ad tech solution with MindK?
When choosing between out-of-the-box system and custom product development, you need to analyze the list of features your business requires. If your ad tech company needs software with complex logic and high customization options or a solution to gain a competitive edge on the market, developing a tailor-made solution is likely a better choice.
At MindK we help companies develop AdTech systems from scratch and can help you create a unique advertising solution based on your specific requirements. We understand the mechanisms of the ad industry to help you become the most efficient player in your space. Check out our Ad Software Development Services.