As an edtech development company, MindK works with many startups that face similar challenges. Some, like Tyoch Learning, lacked the funds to build a rather ambitious system. Others, like Already On, needed to adopt a new business model. Based on their experience, we've created a list of top 9 edtech challenges and opportunities you can leverage to build a successful business in education.

Challenge: disconnect between educators and business owners
Business owners and teachers have different mindsets.
Most founders are working hard to get their products to market. They want to quickly test their assumptions, get feedback, and pivot if necessary. For them, success is measured in business growth and sales targets.
Teachers, on the other hand, like to take things slowly. They are wary of the impact your product will have on students and the extra work needed to implement it.
While business people are talking numbers, teachers are talking student performance. This disconnect makes it hard to sell your product and conceals real business opportunities.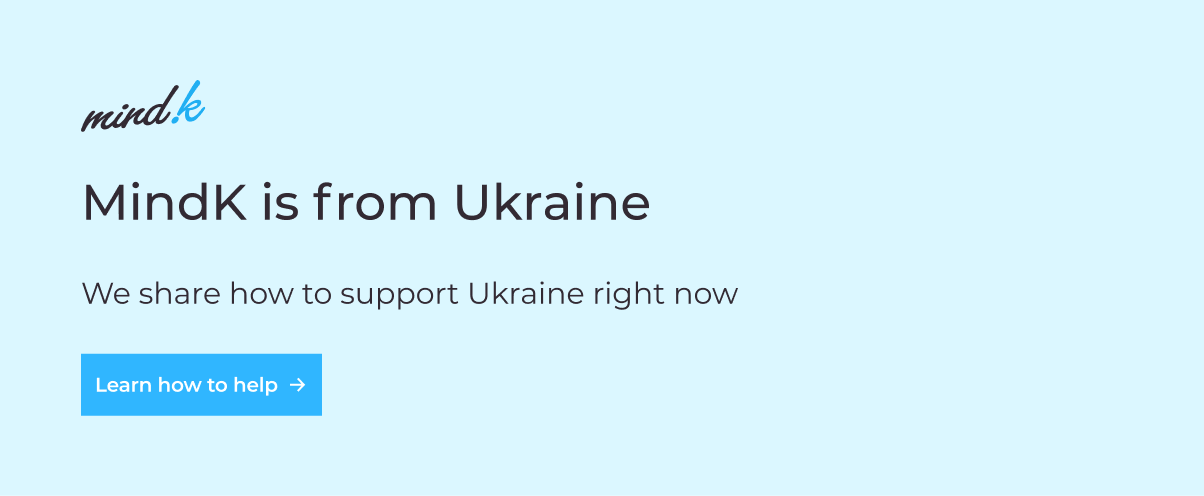 Opportunity: bridge the gap by listening to teachers
Now, we've all been in a classroom. We all think we know the edtech problems with the current system.
Yet, one of the first things you learn growing up in a teacher's family is that people actually get their work. They don't see all the planning and extra work that goes into the process because teachers made it seem effortless.
Instead of trying to understand genuine needs of teachers and students, founders rush to build products based on assumptions. Such products often fail because they require a change in behavior or extra effort from teachers.
Your biggest opportunity lies in understanding the limitations of the current system so that you can design a product to become an organic part of classrooms across the country. One of the best ways to learn about those limitations is by talking to teachers, observing their work,
and asking lots of questions.
Even if you don't have a teacher on your team, you can network with education professionals. This will provide a ton of edtech opportunities to learn their pains, bounce off your ideas, and get valuable feedback.
Challenge: low usage and retention
If your business relies on recurring revenue, customer churn is a huge threat.
According to Profitwell, improving acquisition by 1% can boost your revenue by ~3%. At the same time, a 1% increase in retention will improve your bottom line by almost 7%.
Traditional business models still need follow-up deals and upsales. The lack of usage undermines trust towards edtech products and presents a challenge you must overcome to build a sustainable business.

Source: Sharp Scholar blog
Opportunity: improve user engagement
Casey Winters, ex-growth lead at Pinterest, once said that any feature that doesn't improve your retention, engagement, and/or monetization is cannibalizing other parts of your product.
So what can you do to boost these metrics?
#1 Improve user experience
Make sure your solution is simple, intuitive, and easy to use.
#2 Personalize education
Learning styles vary greatly from person to person. Some people are visual learners, others absorb information by listening. Some prefer bite-sized learning, while others like to hit the books for hours at a time.
It's not surprising that personalization emerges as one of the biggest edtech trends.
The potential for AI, in particular, is enormous. Machine Learning can help you analyze user behavior, interests, and personality; identify areas of growth, and offer tailored lessons at the pace that suits the individual student.
#3 Gamify your app
Adding competitive or game-like elements can have a huge impact on retention.
A 2019 survey revealed that gamification makes 83% of students feel motivated (vs 63% who are bored by regular lessons).
Duolingo, for example, uses the following features to boost engagement:
Experience points (XP) as a completion award.
Local and global leaderboards.
Different leagues based on the XP earned.
Streaks and randomized challenges for extra XP.
Crowns awarded after mastering a level.
Hearts that work like extra lives in a video game.
Internal currency you can spend on various items in the in-app shop.
As a result, the company generated around $180 million in bookings in 2020.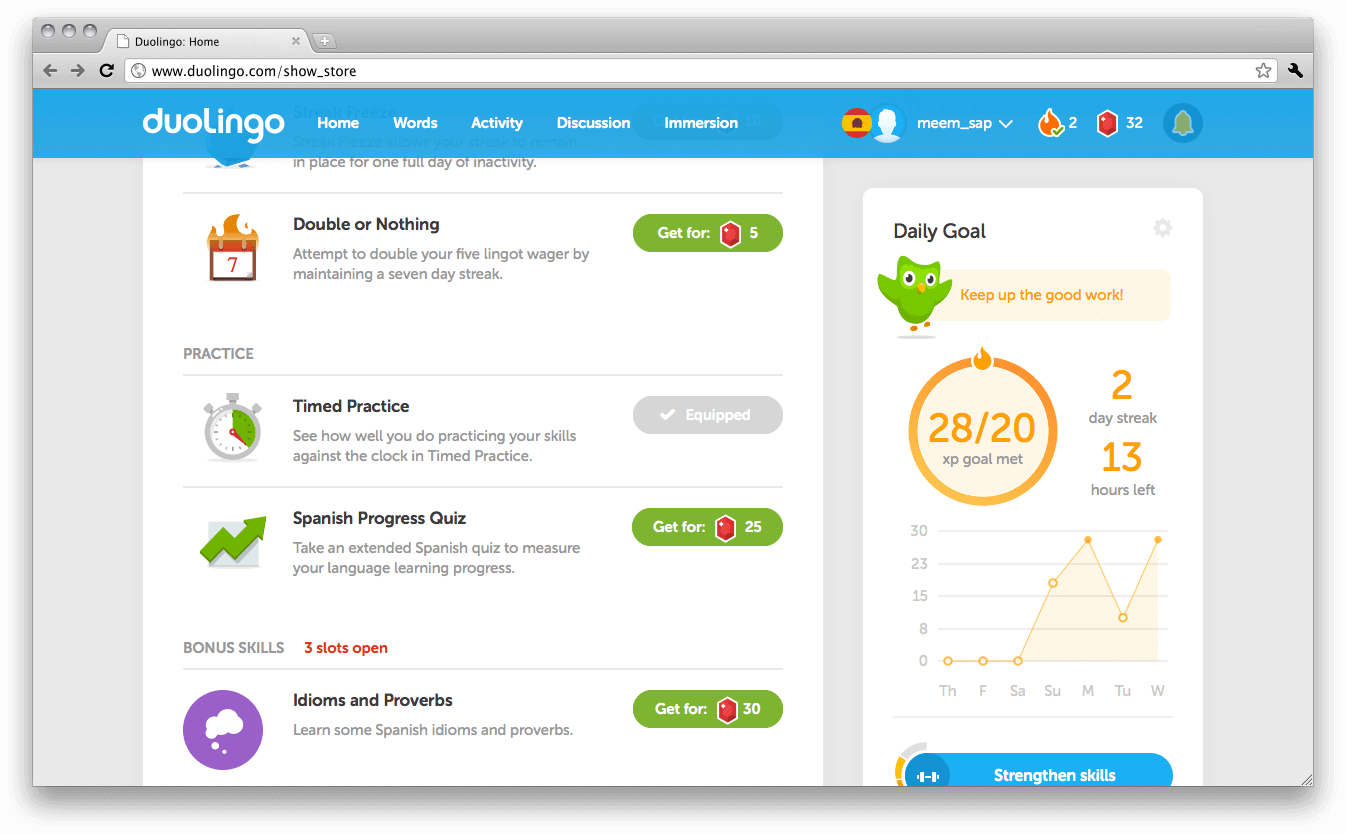 Source: duolingo.com
#4 Leverage social learning
You might've noticed how some of the most successful gamification tactics leverage our competitive and social nature.
But could a similar approach work in a more formal environment?
LinkedIn Learning report shows that people who use social features like blended online learning, course recommendations from colleagues, group chats, Q&A sessions, and online groups spend 30x more time watching educational videos.
Social learning, gamification, and personalization are one of the most powerful ways to boost engagement in your edtech product. If you're targeting a mobile market, you can also check our article on how to improve app engagement.

Challenge: confusion between users, customers, and decision-makers
In most industries, the consumers of your product are the ones who pay for it. The same isn't necessarily true for edtech.
Take, for example, a math learning app for kids. Although your product is aimed at children, it's the parents who make the decision to buy it. And unlike candy makers, you can't just market your product to kids hoping they will beg parents to pay for a math app.
As you can see, it's often difficult to define whether you should satisfy users (students), customers (their parents), or the decision-makers (education boards and administration).
So, here's what we advise.
Opportunity: have a direct relationship with your customers
A rule of thumb might be to follow the money. Who is going to pay for your product? Are they the same people who will make the buying decision?
The more stakeholders you involve, the harder it becomes to navigate through the sales process. Your positioning becomes murky and you get a product that tries to satisfy everybody but delights no one.
Often, the key to success is knowing your customer and having as few intermediaries as possible. Some startups like Mystery Science and LearnZillion target teachers with a free product. When the adoption becomes wide enough, they charge administrations or offer paid customization at a district/school level.
Others will sell their product at the district level or target students.
Whatever your strategy is, focus on finding 10 or 100 users who'd really love your app. This is how you know you've got a product-market. And once you have it, you can be confident that you'll have great retention and growth later on.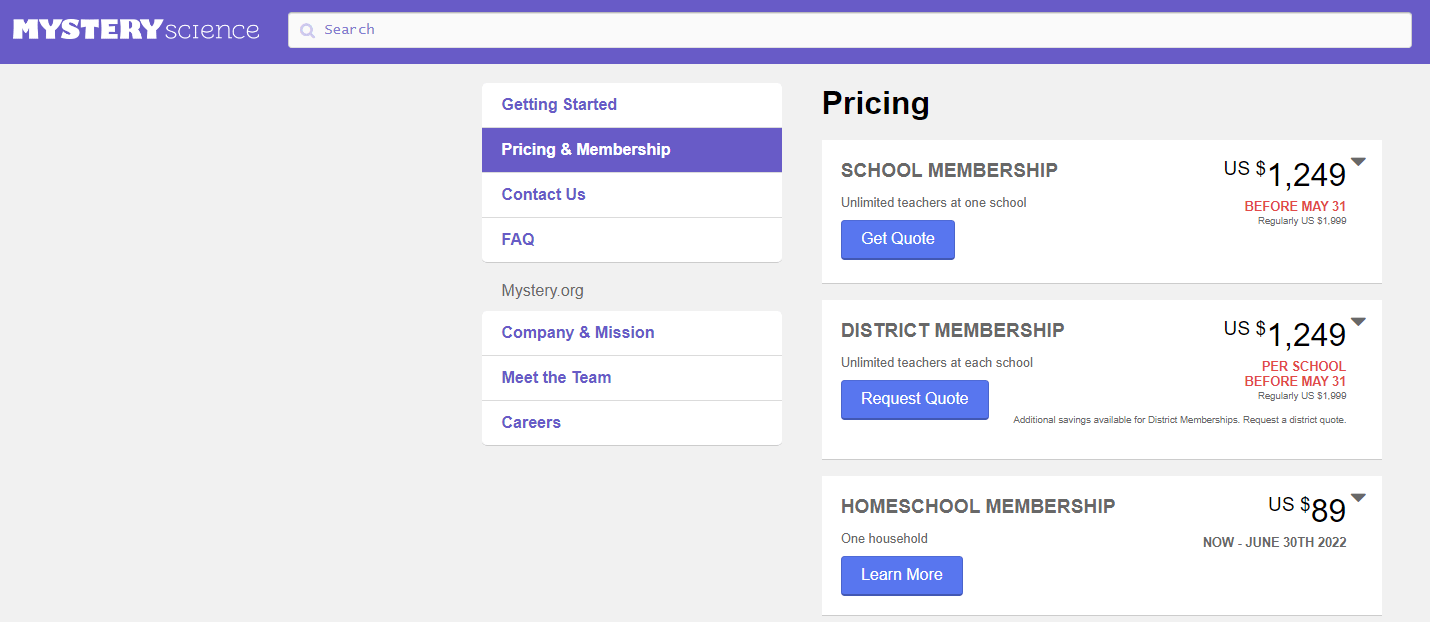 Mystery Science pricing page
Challenge: slow monetization
Growth can be easy for edtech startups. Just offer a freebie and watch the user count shoot through the roof. But monetizing these users can be a challenge, even for edtech giants like Coursera.
Truth is, we're all influenced to be free users.
Teachers disliked paying for classroom materials even before companies began targeting them with free products. Many parents view education as a cost problem. And students enjoy free products from the likes of Google, Microsoft, and Zoom.
Even investors often have unrealistic expectations towards edtech products and can get frustrated with slow ROI.
Opportunity: build a sustainable business model
Education institutions always had limited finances. If your product doesn't have a line item budget your biggest opportunity is to innovate with your business model.
You can, for example, make your app free to schools and charge parents for extra materials. Or you can sell your product directly to those who have the money and motivation to study – professionals in need of upskilling.
You can learn more on how to become profitable as an edtech startup in our recent article about top 7 edtech business models.
Whatever business model you choose, remember that the key to success is addressing a real and acute need that exists on the education market.
Challenge: high competition
The number of edtech startups has skyrocketed over the past couple of years. Crunchbase now shows over 8 thousand edtech companies, a third of them based in the US.
The increased competition for funding pushes startups to cut development costs, come up with innovative acquisition strategies, or compromise on margins with competitors.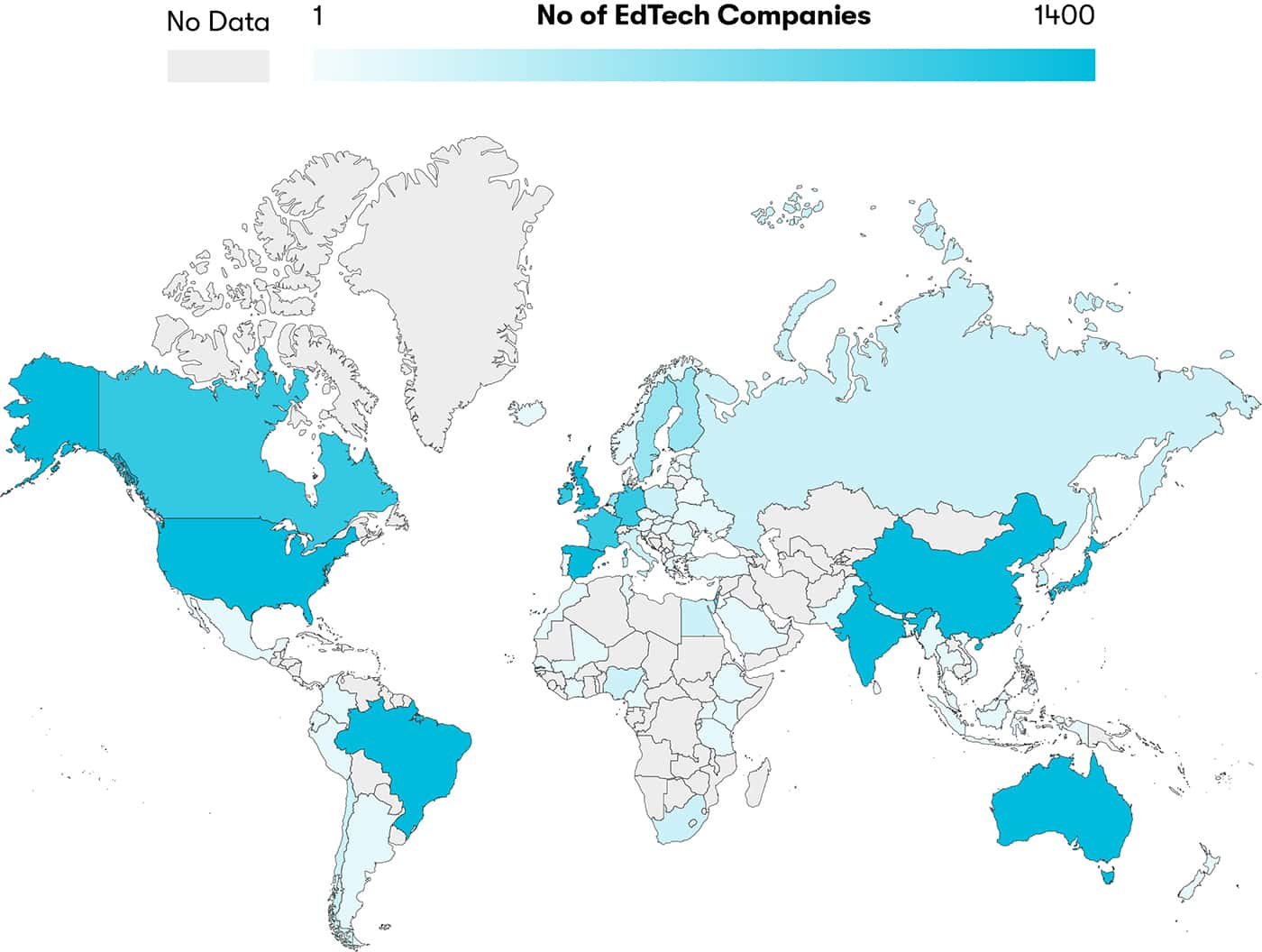 Source: RS Components report
Opportunity: come up with a unique value proposition
Learning about your competition is one of the first points we detail in our guide on starting your own edtech company. 
You can use sites like G2 Crowd, Crunchbase, and LinkedIn or buy market research from agencies like Forrester, Nielsen, Gartner, or Pew.
Now, think about what makes you different. Why should people buy from you and not from them – what is your unique value proposition (UVP)?
"For ______ (target consumer) who _______ (need or opportunity) our ______ (product) that ______ (primary benefit)."
A good UVP focuses on what's important to your customers – reductions in cost, unique features backed by proprietary tech, post-sales support and so on.
W. Chan Kim and Renée Mauborgne's bestseller Blue Ocean Strategy explains that companies focusing on competition tend to develop generic solutions instead of innovating and exploiting opportunities in new markets.
But what if you can't create an entirely new market space?
Focus on edtech opportunities that exist in the niches most vulnerable to disruption. For example, college textbooks in the US cost as much as $1200 per year. Finding a way to serve this market in a cost-effective way could land you up to 20 million paying customers.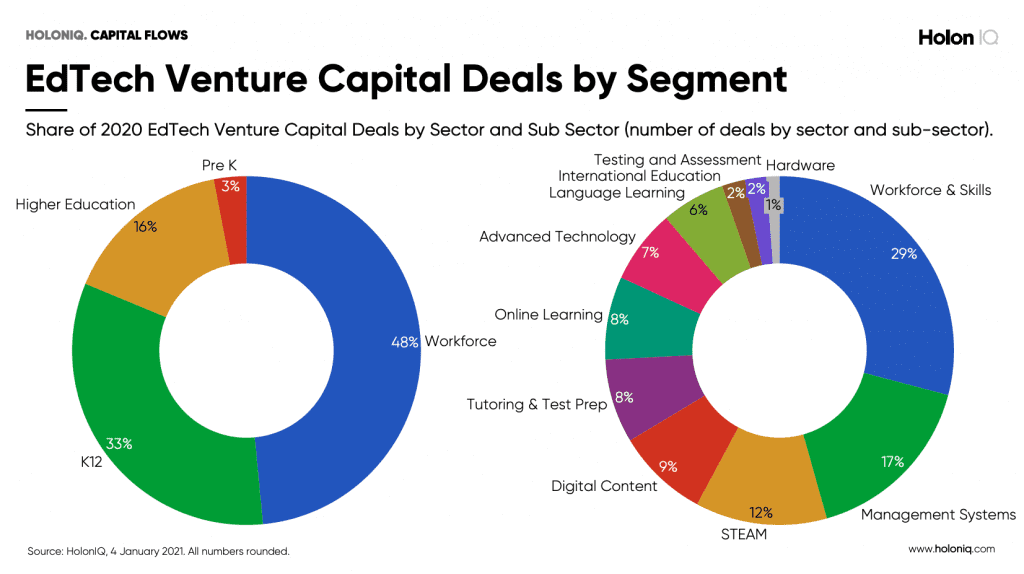 2020 edtech investments by sector; source: holoniq.com
Challenge: resistance to change
Some teachers have traditionally seen laptops and smartphones as a distraction to be removed from the classroom instead of a huge opportunity. Even those who embrace technology often find it difficult to convince parents to buy edtech products.
Hesitation from institutions and business is understandable. They desire sufficient data as proof that your solution can improve learning, productivity, or reduces the costs.
Opportunity: demonstrate measurable results
Even before the pandemic, World Economic Forum anticipated that by 2022 over a half of professionals will need upskilling or reskilling to carry out their work.
Some of the world's most valued enterprises recognize this need. Amazon has spent more than $700 million on employee education. JPMorgan Chase increased its education budget to $600M. And PwC set out to spend $3 billion on upskilling over the next 3-4 years.
Building a corporate Learning Management System (LMS) is a huge opportunity in a market projected to grow 4x times over the next six years.
The current pandemic was a game changer to the education market. Even the most resistant teachers had to concede when students were forced to study from home.
Still, universities and schools are skeptical of startups because of their for-profit nature. One of the best ways to overcome this resistance is to back your claims with empirical data. Prove your solution boosts the metrics most important to your customers, whether they are teachers, students, or institutions.
Challenge: global expansion costs
A recent survey indicates that global expansion is one of the biggest challenges in the edtech industry and among fast-growing edtech startups.
Over 90% of respondents name foreign regulations a major barrier to expansion, while others are puzzled by the complexities of local markets and the difficulties of localizing educational content.
Data protection, currency stability, and risky partnerships are other hurdles for edtech globalization.
Opportunity: utilize cost-reducing partnerships
Many edtech companies are growing so fast domestically, they find it hard to justify diverting resources to global expansion. Yet, they are likely using pre-COVID estimations for the markets they can capture abroad and underestimate their ability to penetrate these niches.
This hesitation opens up a huge opportunity for those willing to enter uncontested markets.
A great way to capitalize on the edtech boom in places like Latin America or East Asia is to partner with local education institutions, content creators, accelerators, and other companies to reduce the acquisition costs.
So, if you want to know how to build trustworthy and transparent relationships with your international partners, we recommend checking our outsourcing guide.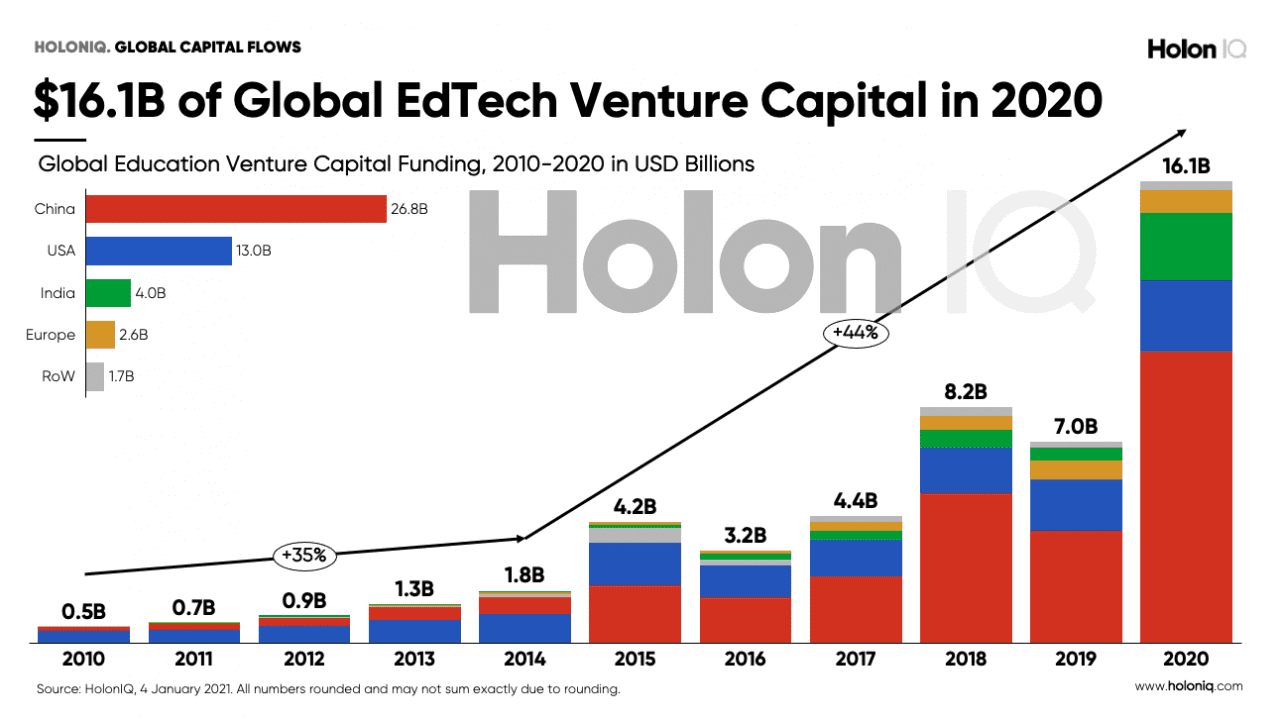 Learn how MindK can help you overcome the biggest edtech challenges as a custom software development firm.
Challenge: long sales cycles
Founders that sell products to schools and districts know firsthand that the buying process can be pretty long and mired in red tape.
There are over 16,000 districts in the US alone. Each has its own peculiarities when it comes to the buying process. Figuring out the differences and networking with decision-makers takes time which is often in short supply for startup founder.
Opportunity: reduce the layers of approval
If you target the K12 sector, you should come prepared for sales cycles that last between 6 and 18 months.
Some companies like Transeo try to engage districts as early as possible to give all parties enough time to get familiar with the product.
Other startups move away from the complex approval process and adopt tactics that work on the consumer market like freemium and ad-based revenue. TopHat, for example, offers a SaaS product that's marketed towards teachers who then invite students as paying customers.
The strategy seems to work as the company acquired over 2.7 million users who bring $61.8M in annual revenue.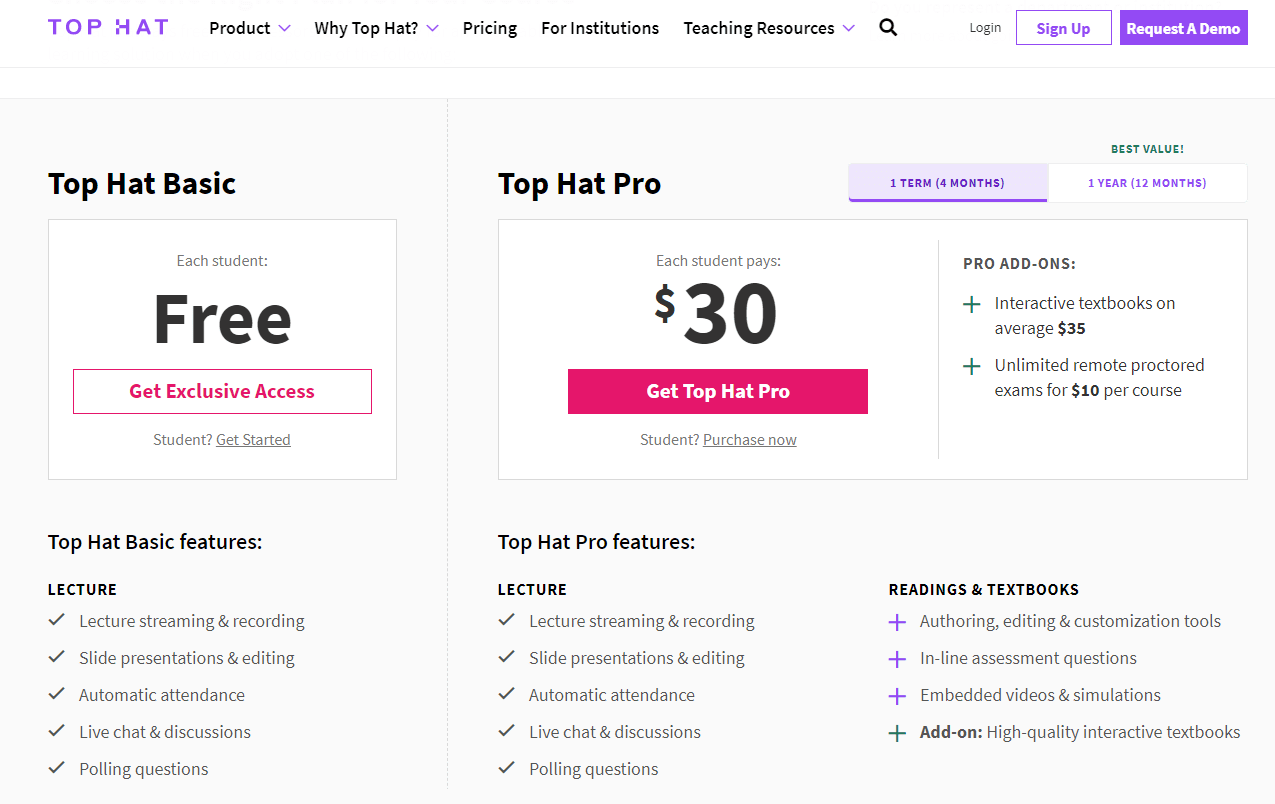 Challenge: privacy and data protection concerns
Introducing many connected devices with poorly protected apps into classrooms carries the same threats that exist on the consumer market.
2019 State of Edtech Privacy Report reveals a significant lack of transparency and privacy protection among edtech products.
Although results are improving, concerns remain that student data might be sold to third parties or used to track them across the Internet.
These concerns can slow adoption as 80% of products on the market fail to explain their safeguards.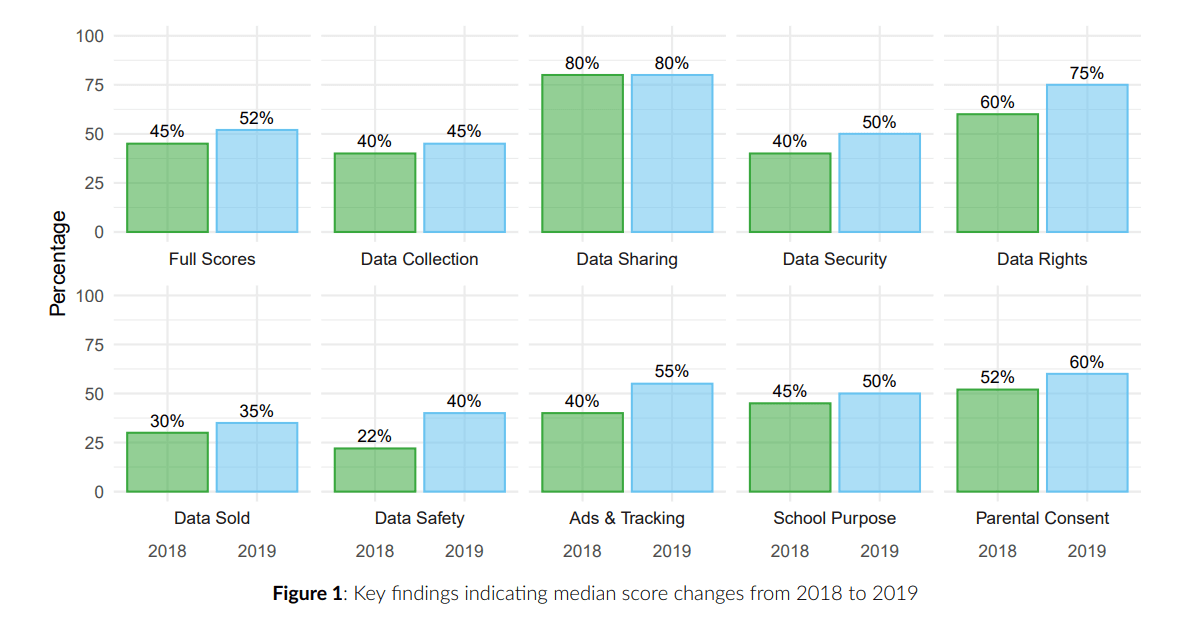 Source: Common Sense 2019 State of Edtech Privacy Report
Opportunity: build a reputation of security
Since governments started implementing data protection legislations like GDPR and California's CCPA, edtech companies can face large fines for violating privacy. The loss of reputation can be even deadlier if you store personal information of minors.
Investing in security can be a burden. Yet, it's also a huge opportunity to stand out in a market crowded with poorly protected software.
The Edtech Privacy Report shows a clear link between transparency and quality of edtech products. It also outlines a number of best practices you can use to build a reputation of trust and security. Here are some of the security measures we take while building software for the eductation industry:
Create a privacy policy that is specific to your app
Limit personal data collection to what's necessary to provide your service.
Use HTTPS for all pages in your product.
Don't sell personal data to 3rd parties. Prevent them from using personal data to create user profiles for data enhancement, targeting, tracking, and social ads.
Clearly state whether children are intended to use your app; obtain parental consent if the user is under 13 years old.
Prevent children from making their personal data publicly available.
Limit social interactions to trusted users like classmates, friends, or teachers.
Notify users of any data breach.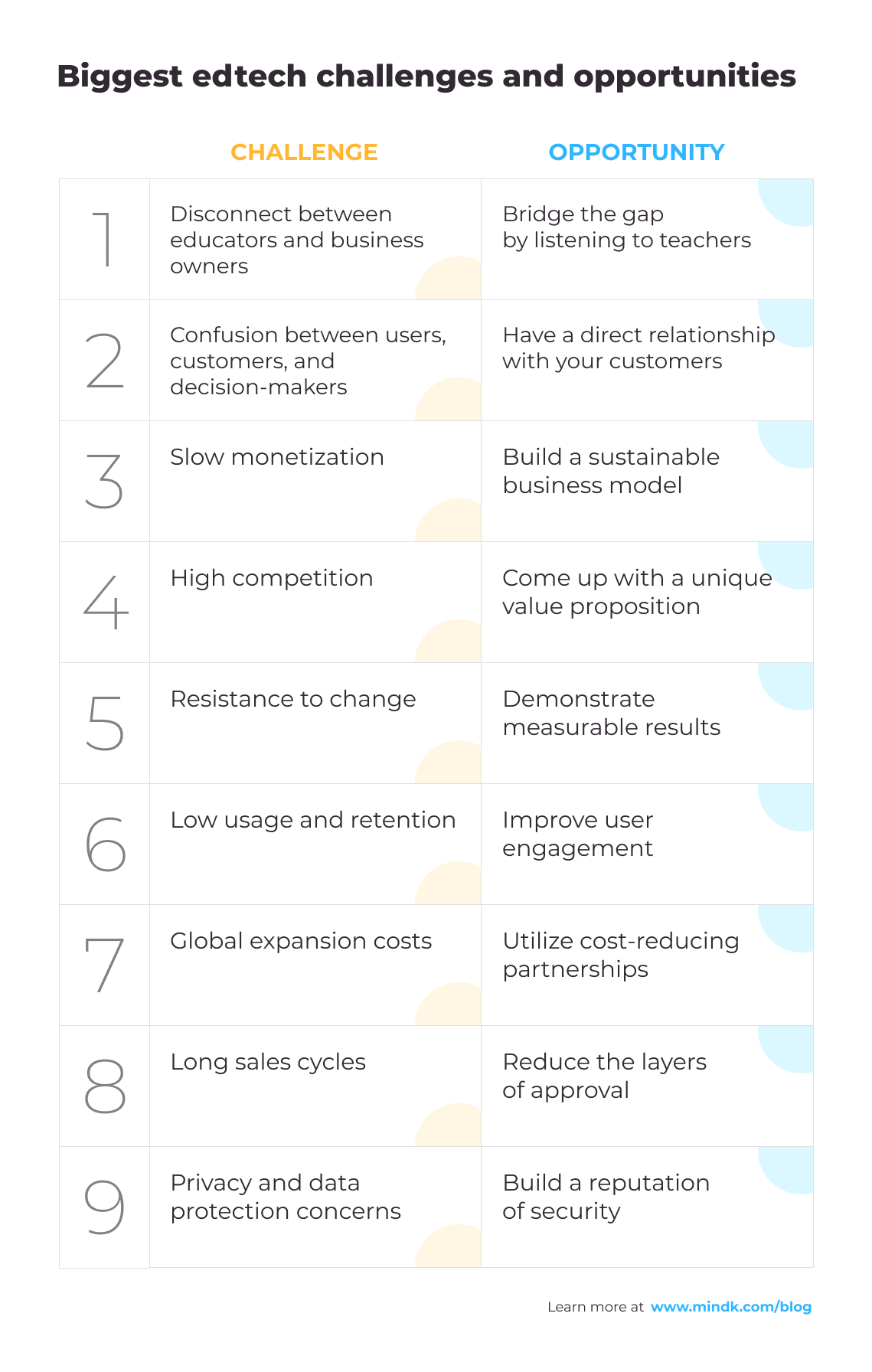 Wrapping up
Now that you know about the top 9 challenges faced by edtech companies, it's time to take action.
Whatever niche you aim for, it's important to remember that edtech is just a means to an end. What people really need are improved learning, new skills, and better job opportunities.
So, if you want to provide professional certification, upskilling/reskilling, or corporate training, we recommend checking our guide on building a Learning Management System.
And if you encounter any challenges on your way to building an edtech business, you can always book a free consultation with our edtech development team. Just drop us a line.