The energy sector is the key to mitigating the worst effects of climate change, as it accounts for roughly three-quarters of greenhouse gas (GHG) emissions.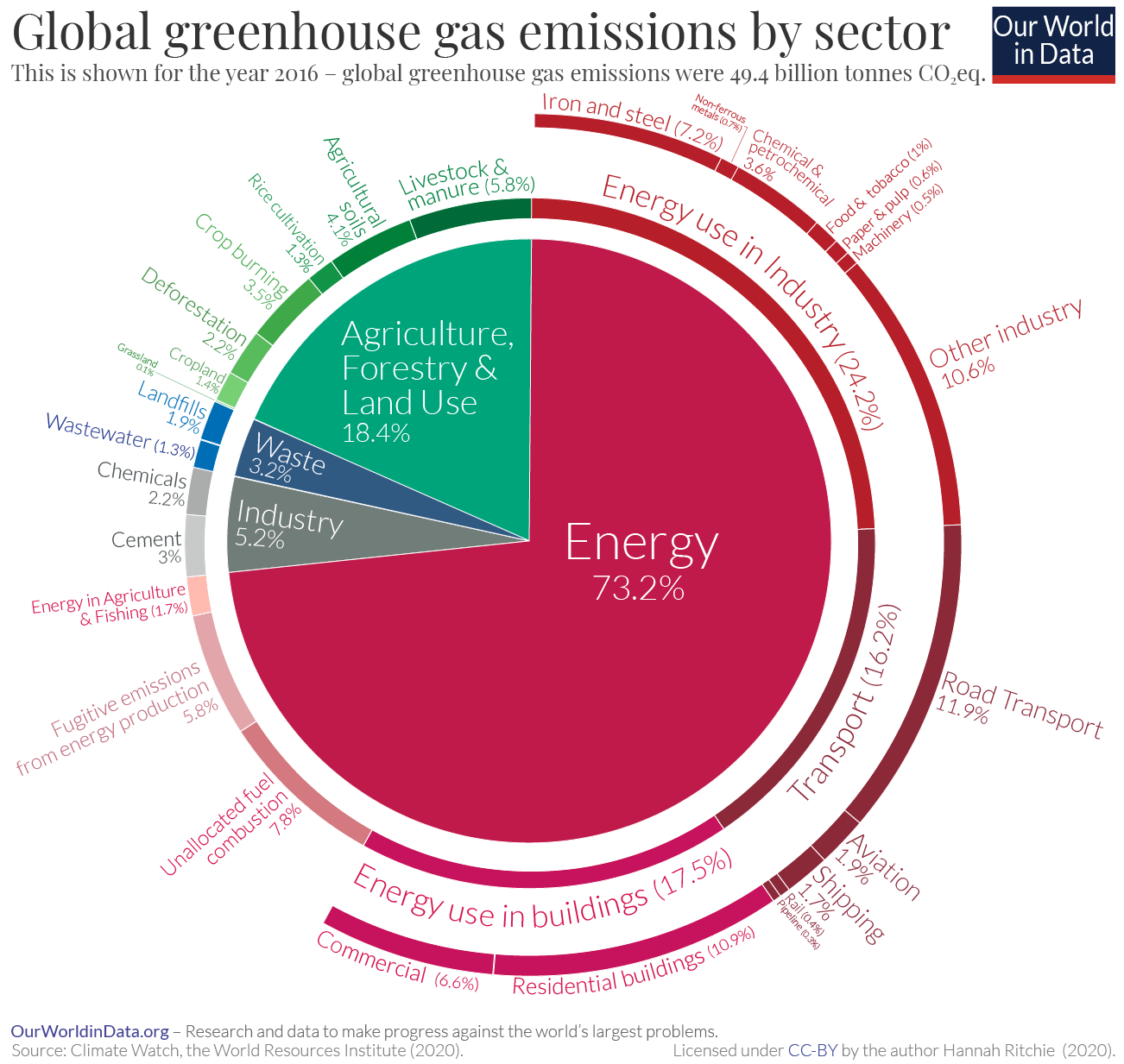 From a scientific perspective, everything is obvious: in order to minimize damage, we need not only to reduce the zero-carbon footprint but to achieve net-zero greenhouse gas emissions.
Net-zero GHG emission means reducing greenhouse gas emissions to as close to zero as possible, with any remaining emissions reabsorbed from the atmosphere, for example, by oceans and forests.
The process has already started – the United Nations announced that the entire global economy must reduce global greenhouse gas emissions by half by 2030 and achieve a carbon-free footprint by 2050.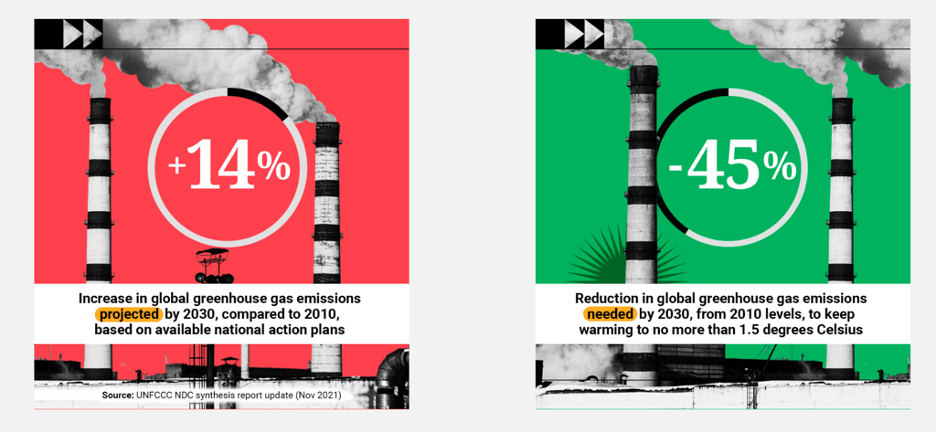 It is clear that to resolve the climate crisis, the world requires early transformations based on technological innovations across industries. MindK as a company that develops innovative solutions for the energy industry, decided to help those companies looking for opportunities to reach net-zero emissions and list solutions and developments in the energy sector that enable such a shift.
Key pillars of the zero-carbon footprint and how technology can help
Taking into account that the GHG emissions should be reduced by almost 50% in just eight years, there's not much time left. In order to move to a zero-carbon planet, companies, startups, and others must look at more innovative ways to speed up the decarbonization process.  For sure, it's impossible without corresponding support from governments, massive investments in early-stage innovation and deploying current existing technologies.
In view of this, and the main idea that the latest report by IEA "Net Zero by 2050 A Roadmap for the Global Energy Sector" brings, there are two crucial factors on the way to zero-carbon footprint:
speedy reduction of carbon emissions;
investing in clean energy and renewables.
Each of these factors is largely dependent on technological innovations and digital solutions, so let's review some of those.
Technologies focused on reducing carbon emissions
Sustainability and emissions management tools
An ability to determine CO2 emissions helps to detect excessive energy consumption or other inefficiencies. Lowering emissions usually helps, in turn, to increase efficiency and cost-effectiveness in a company's processes.
By means of GHG emissions tracking, Walmart, for instance, found out that they spend a lot of energy on heating and cooling their buildings. After installing approximately 10,000 high-efficiency rooftop heating and cooling units, they managed to save 614 000 tons of CO2 and saved millions.
Beyond internal cost reductions, companies are being forced to pay a fee, a carbon tax, for each ton of CO2 emitted. It represents a so-called carbon emission trading system. Last year, the value of traded global markets for carbon dioxide (CO2) permits increased by 164% to a record $851 billion. All this is possible thanks to various carbon monitoring and sustainability software.
For example, Envizi, an emission management software, allows companies to calculate, track carbon emissions, set decarbonization goals, and track progress towards emissions reduction goals. The tool also provides GHG reporting that ensures that the organization's carbon data is finance-grade and auditable in a single platform.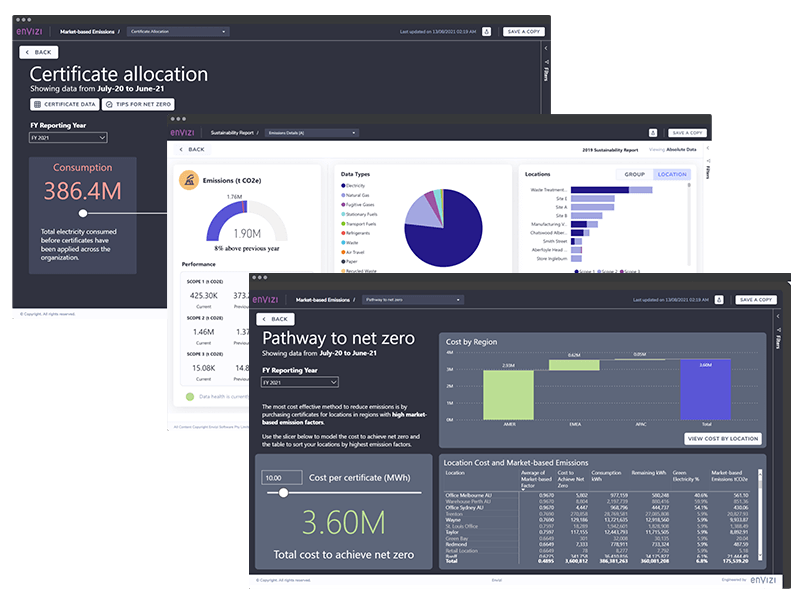 Source: envizi.com
Here at MindK, we developed a similar sustainability solution for our client  – CEMAsys.com AS, a leading CSR (corporate social responsibility) consulting company in Norway. We built a platform that helps companies manage and report all the sustainability and environmental information in one place. Today, 250+ midsize and large companies like H&M, Orkla, Konika Minolta and DNB have chosen CEMAsys as their sustainability management tool.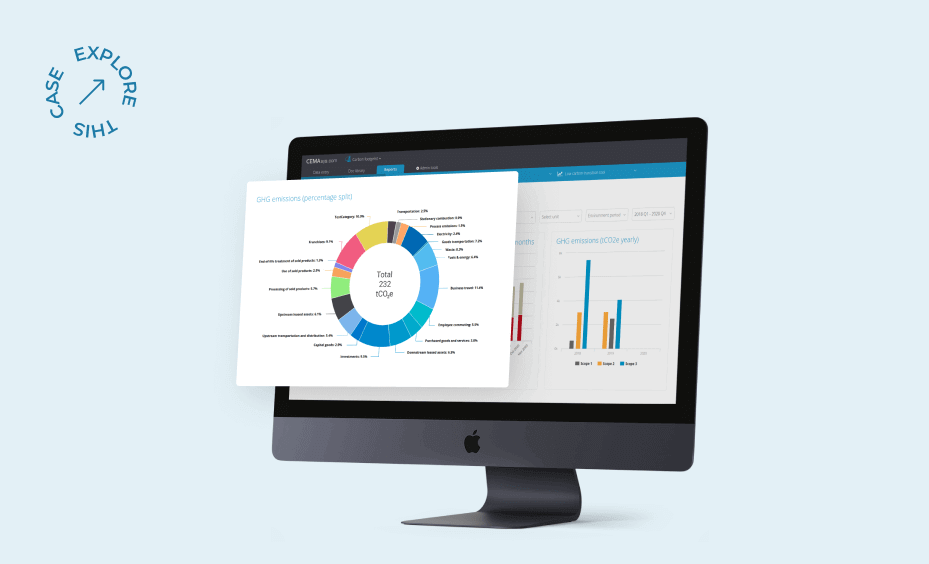 CemaSys, a cloud-based ESG reporting software by MindK [explore case study]
Apart from solutions designed specifically for the needs of organizations, there are a number of startups that promote the idea of sustainability for individuals. Take for example a Germany-based startup Plan3t. The Plan3t app monitors users' annual carbon dioxide (CO2) emissions, suggests personalized lifestyle changes to reduce carbon footprint based on user responses to a questionnaire, and provides rewards called "Planet Coins" for each climate-positive action.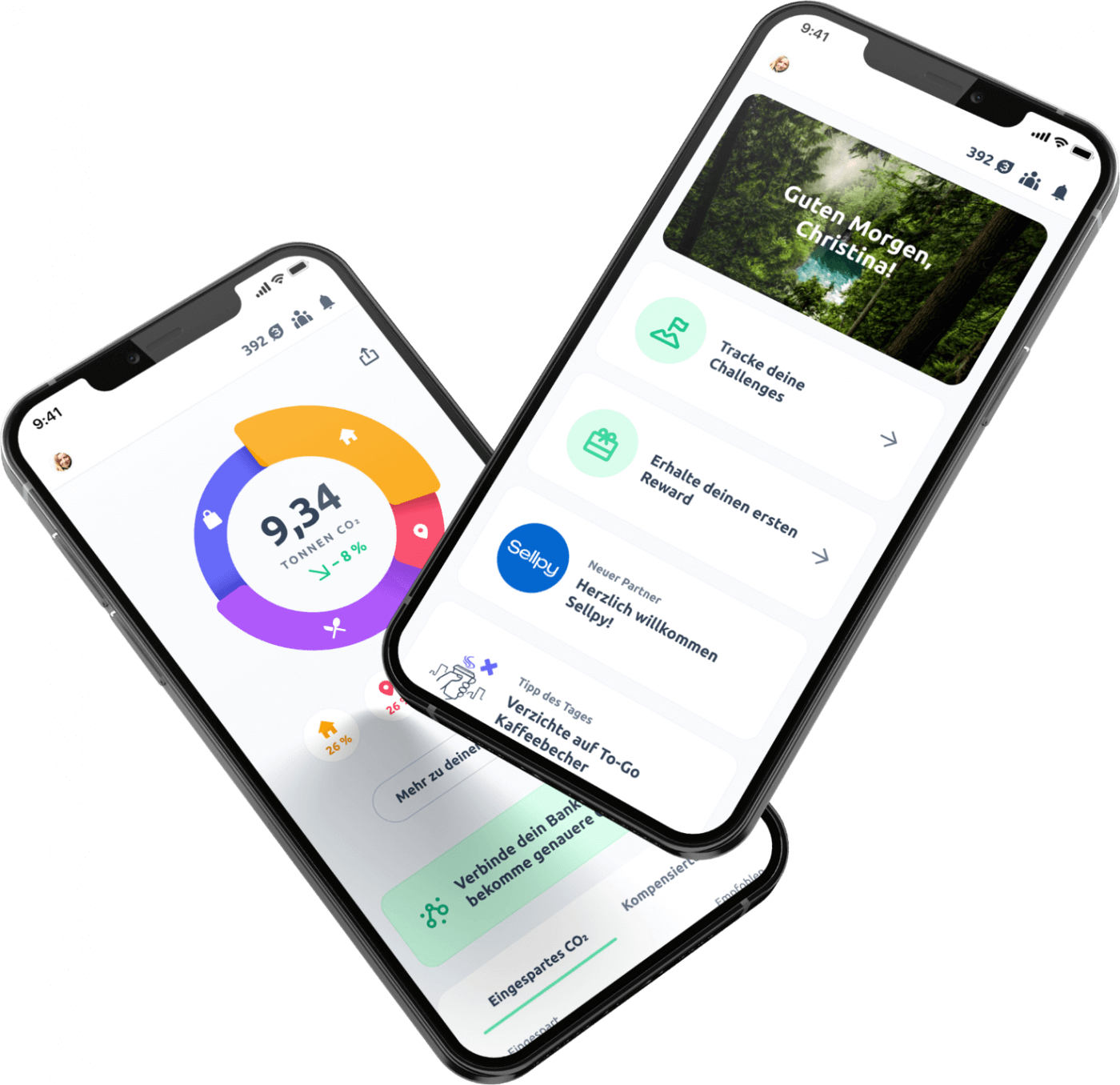 Source: hamburg-news.hamburg
Сarbon capture, storage, and utilization 
Carbon capture and storage (CCS) is the process of capturing and storing carbon dioxide (CO2) before it enters the atmosphere. It allows capturing as much as 90% of carbon emissions as a result of using fossil fuels for generating electricity, as well as industrial processes like steel or cement production.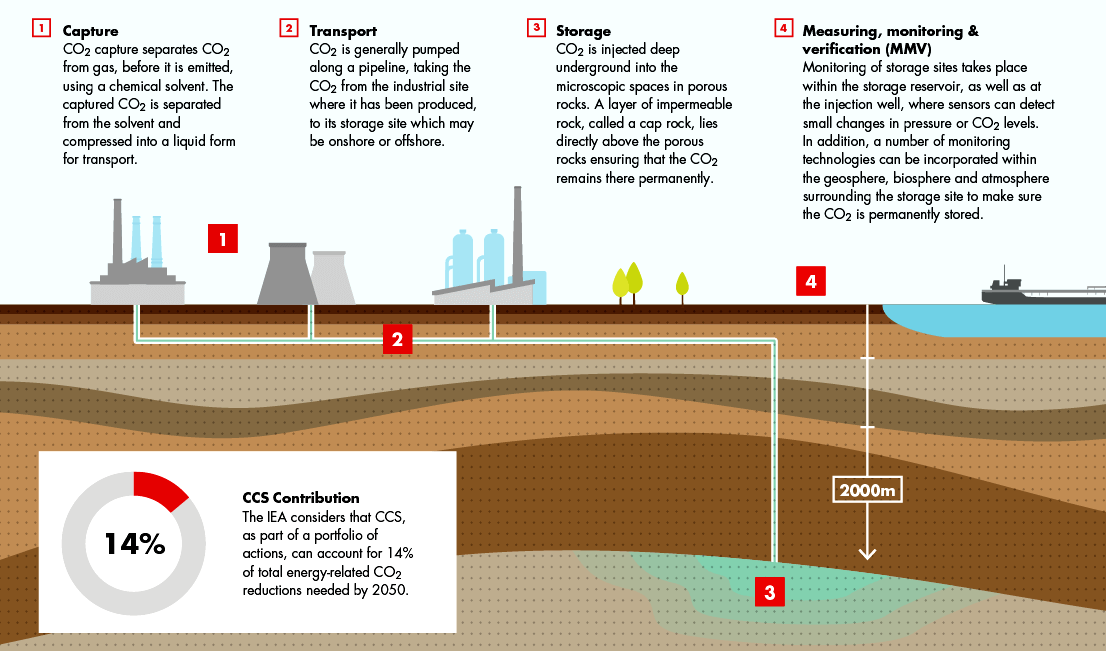 Apart from just capturing and storing CO2, the captured carbon can be used as a raw material for new products. This technology is called Carbon capture, utilization, and storage (CCUS or simply CCU).
In spite of the fact that the CSS and CCU technologies face some skepticism because of the large investments they require, they managed to earn prominent fans. A growing number of businesses, including startups, are attempting to convert carbon dioxide emissions into hard cash. 
Elon Musk donated around $100 million in an XPrize competition devoted to carbon capture startups. Bill Gates also put money into startups like Carbon Engineering or Verdox, which are working on scrubbing carbon directly from the atmosphere. At the same time, British Petroleum, Shell, and the Norwegian government have all launched significant projects to catch and bury carbon. 
Apart from those, there are a great number of startups with innovative CCS and CCU technologies. For example, Climateworks  works on cyclic adsorption and desorption process on a new filter material, known as a "sorbent.". Carbonfree Chemicals suggests technology to turn carbon emissions into minerals, and Deep Branch Biotech startup developed a carbon recycling technology to generate clean, nutritious, and sustainable single-cell protein directly from carbon dioxide.
"What about digital technologies in CSS, are they able to help?" – you may ask. Sure. Application of control processes automation, as well as improved data collection and analytics, are likely to reduce the overall costs of the technology. 
Digitalization can help, for instance, to fight the "big data" challenges CCS is facing with structured and unstructured data for assets spread across large geographic areas. Or it can estimate carbon storage capacity volume using sparse 2D/3D seismic data by means of Artificial Intelligence (AI). Or it can assist in making real-time leak detection and CO2 monitoring to estimate how much CO2 is stored, and minimize leakage risks.
For example, Emerson E&P software is designed to ensure the success of carbon storage projects throughout their lifetime. SimCCS software is a tool for optimizing CO2 capture, transport, and storage infrastructure. It helps to determine where and how much CO2 to capture and store, where to build and connect pipelines of various sizes, to minimize the total costs of sequestering carbon.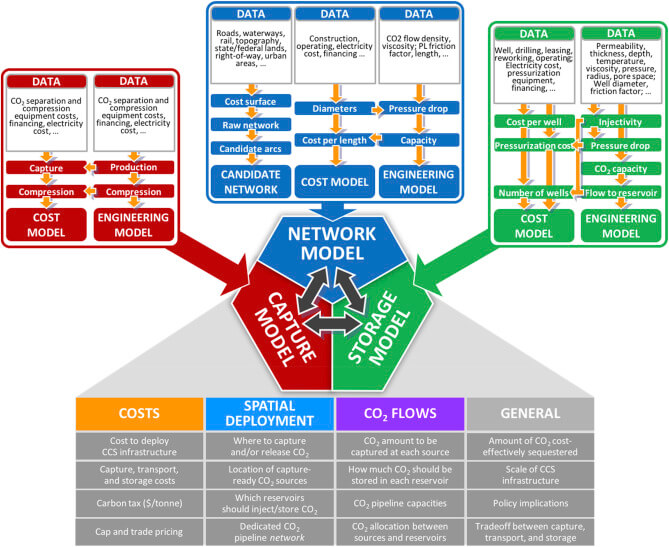 SimCCS software allows to determine carbon capture and storage cost, as well as spatial deployment and CO2 flows
Source: sciencedirect.com
Battery technology
Battery technology offers another option to reduce carbon dioxide emissions. It is the fastest developing storage technology in both the automobile and energy industries and will undoubtedly play a critical part in meeting the EU objective of reducing greenhouse gas emissions by 2030. 
Batteries power electric cars, which are expected to be the only form of personal vehicle sold in most countries within a decade. In that transportation accounts for 16% of carbon emissions in the world, switching to an electric car engine is a vital component of any emissions reduction approach. In terms of energy storage, batteries enable people to access clean energy when the sun isn't shining or the wind isn't blowing. 
Altogether –  the 100% eclectic transportation sector and more resilient grid fully powered by renewable energy – enable humanity to address a greater part of the carbon footprint. In this light, batteries minimize the carbon impact by:
storing renewable energies to reduce the burden on existing electricity systems;
utilizing extremely little energy during production; and 

surviving longer, and saving money on energy expenses related to replacement.
Sure, such a "gold mine" couldn't have gone unnoticed by investors. Based on the analysis by PitchBook and TechCrunch, venture capitalists and growth equity funds have invested roughly $42 billion in nearly 1,700 battery technology startups (75% of the investments in the last two years).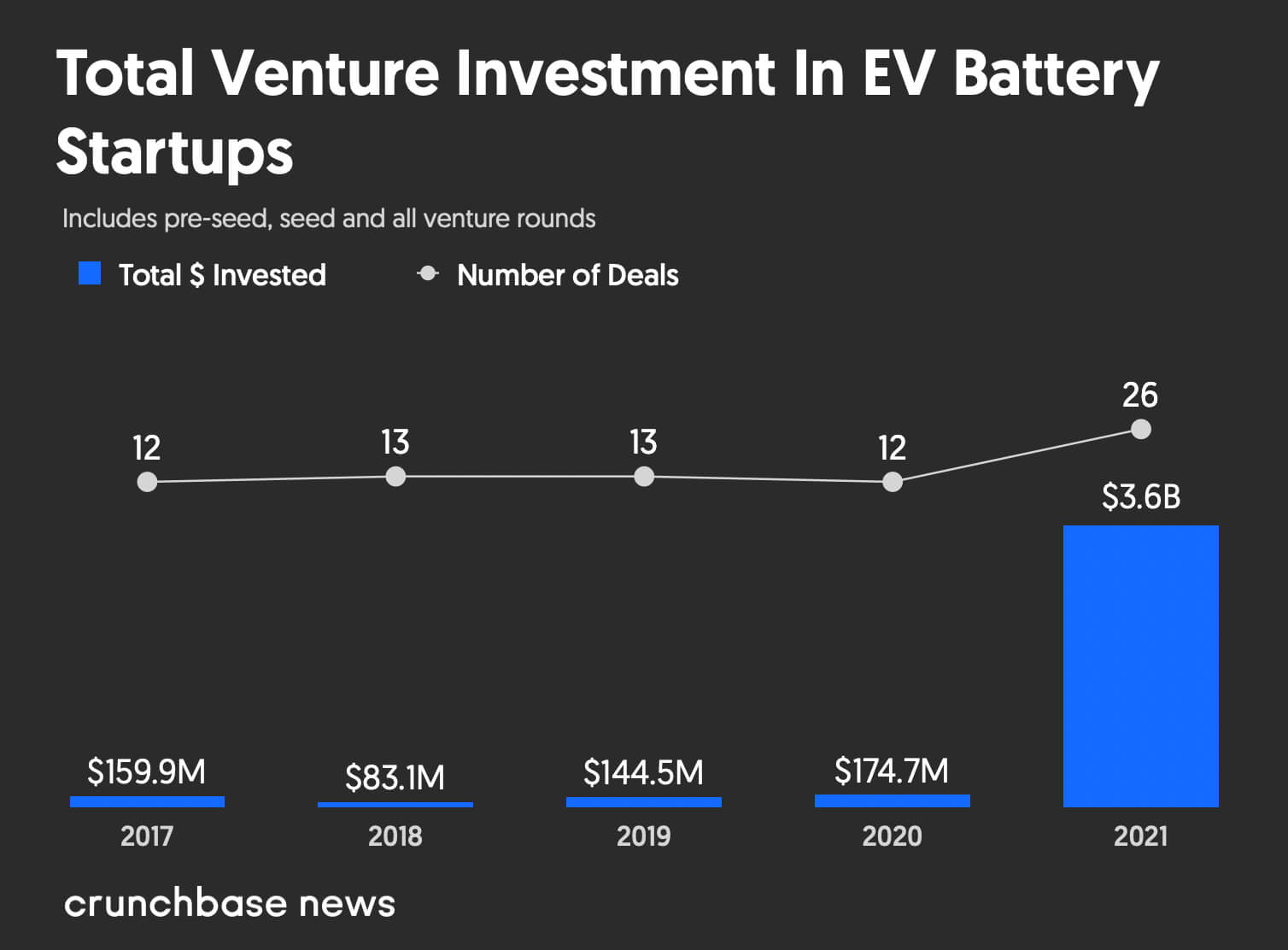 Illustration of the growth of the investment in electric vehicle batteries in 2021
Among the startups in battery technology are companies focused on battery manufacturing (including companies that work with innovative raw materials and cell components) and recycling, as well as those that provide digital solutions for battery management.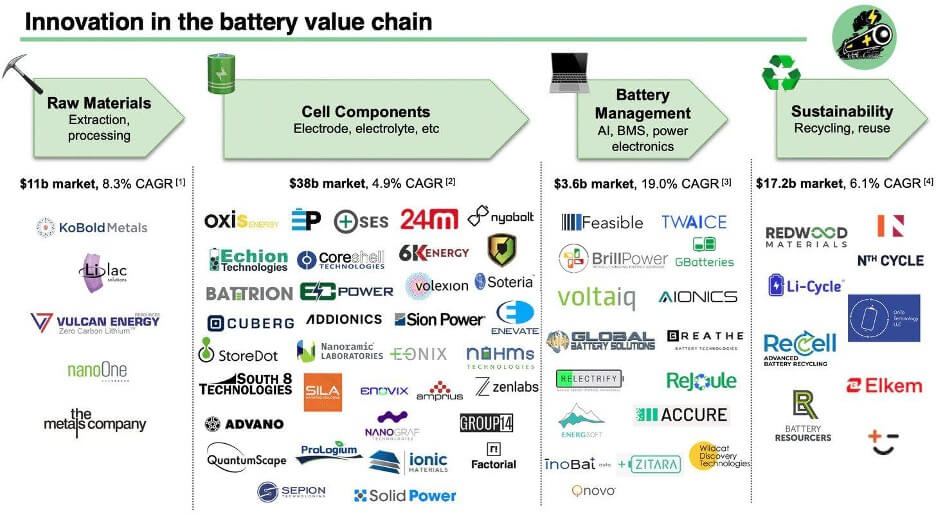 Source: climatetechvc.substack.com
For example, Northvolt is a Sweden startup that is focused on manufacturing environmentally-friendly batteries. In July 2020 the European Investment Bank (EIB) loaned the company $350 million to construct Europe's first home-grown gigafactory for lithium-ion battery cells.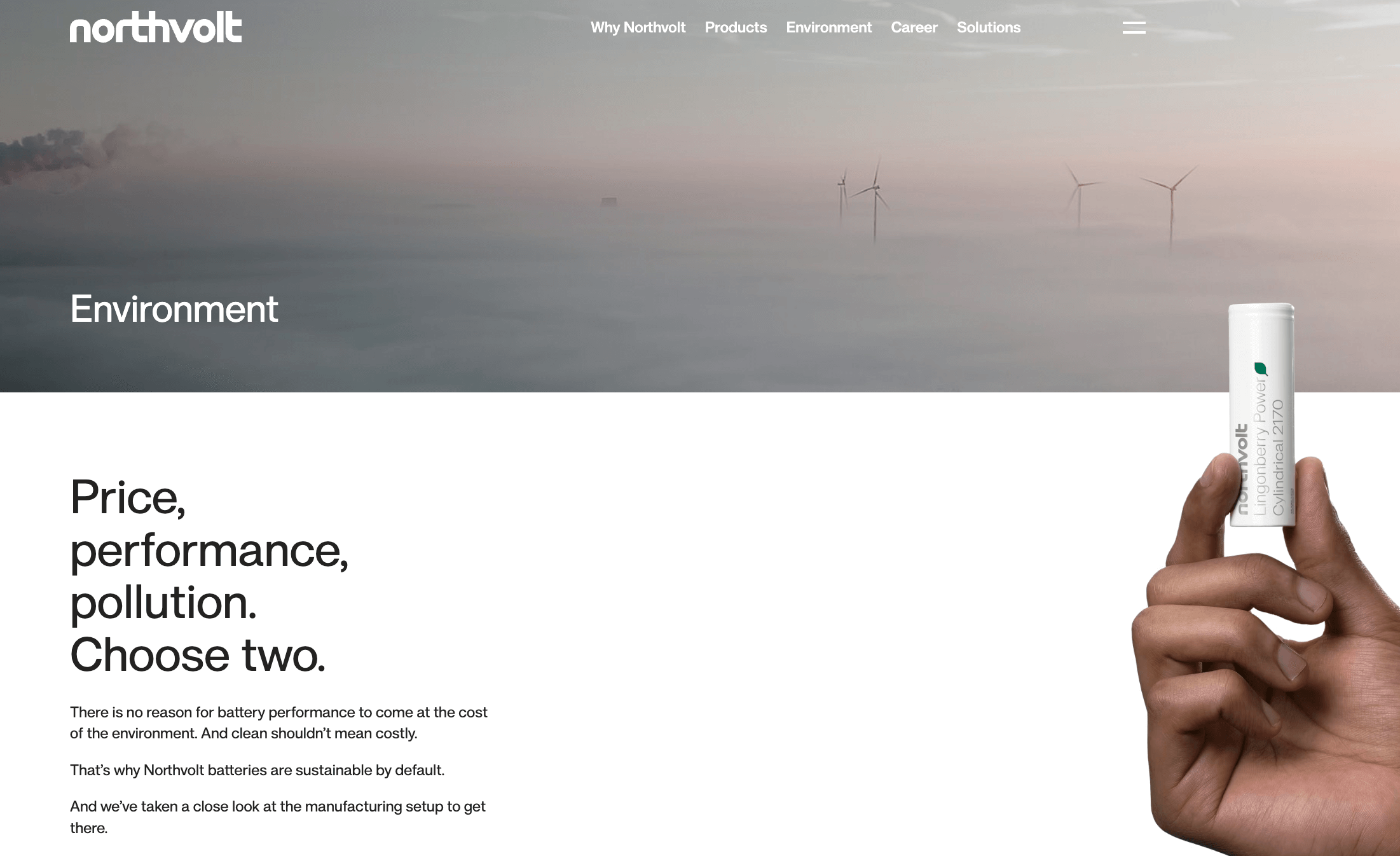 Source: northvolt.com
Another startup, Addionics, raised $27 million for smart 3D battery tech focused on rethinking battery architecture to improve battery performance, capacity, charging time, and lifetime. 
For battery technology software, there are also a number of startups worth mentioning. A German startup TWAICE provides a cutting-edge battery analytics solution to monitor, analyze, and optimize batteries. The software leverages machine learning (ML) methods and battery domain-specific algorithms for data processing and reliable insights.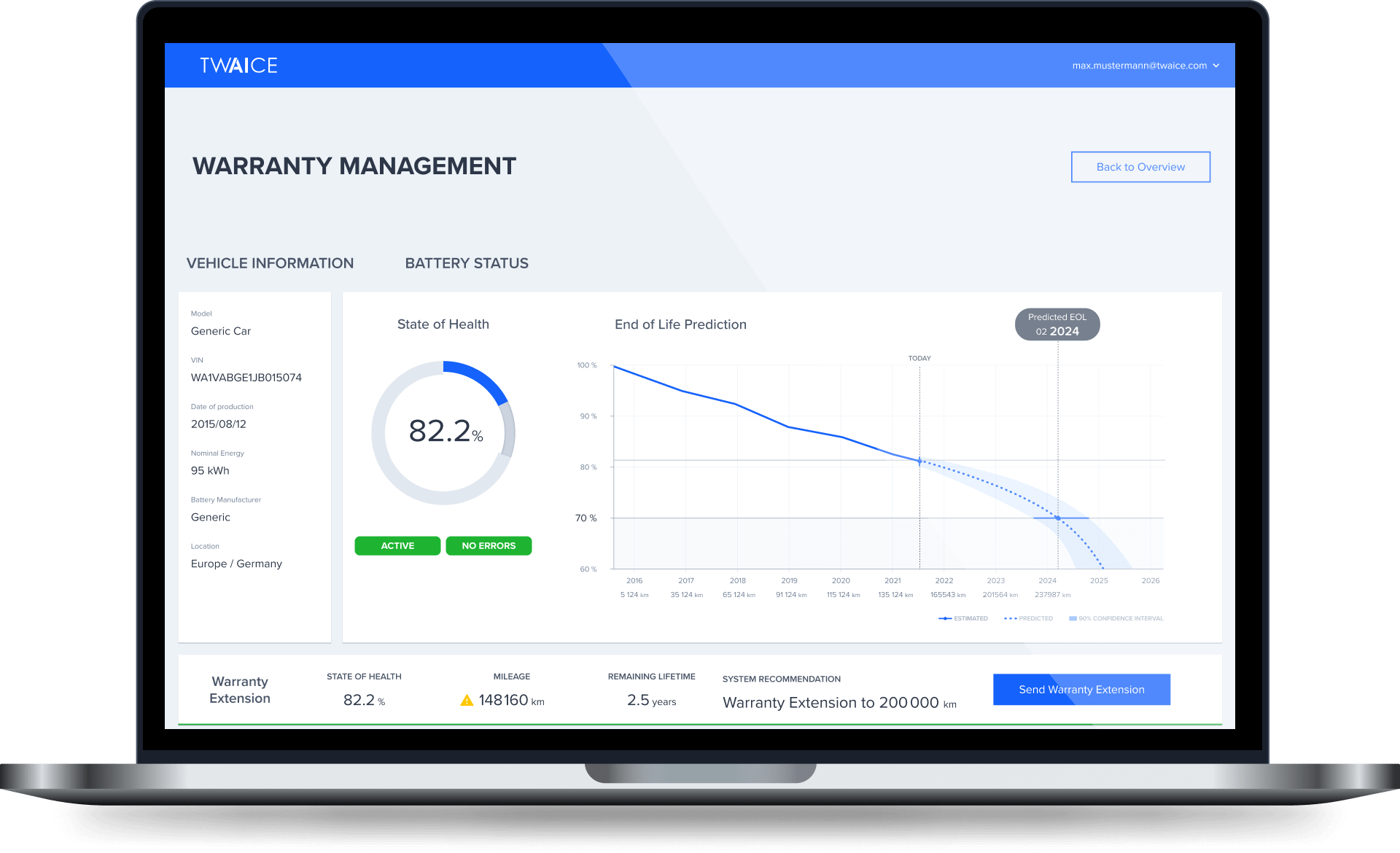 Source: twaice.com
Breathe Battery Technologies from London creates electric car battery charging control software for automakers. In 2021 the company has raised $2 million to scale up and accelerate the deployment of its intelligent battery management algorithms.
Hydrogen
Hydrogen is considered to be paramount in the realization of the global decarbonization goals. Being a contrast to fossil fuels that contribute significantly to today's greenhouse gas emissions, hydrogen can create, store, move, and utilize energy in a variety of ways. This allows it to decarbonize a variety of industries, especially transportation and industrial sectors.
Hydrogen has about three times the energy density of gasoline, but only produces pure water as a byproduct when burned and is a carbon-free energy carrier. A report by the German Economic Institute estimated that Green hydrogen technology has the potential to cut emissions from industry, transportation, and heating in the German Ruhr area by up to 72% by 2050.
Today over 30 countries have hydrogen roadmaps in place. In addition, around 228 large-scale hydrogen projects have been launched across the value chain, 85% of them situated in Europe, Asia, and Australia. 
If all projects are completed, the overall investments will exceed $300 billion in spending by 2030. Most of the projects are focused on large-scale industrial usage, transportation, and integrated usage of hydrogen across industries.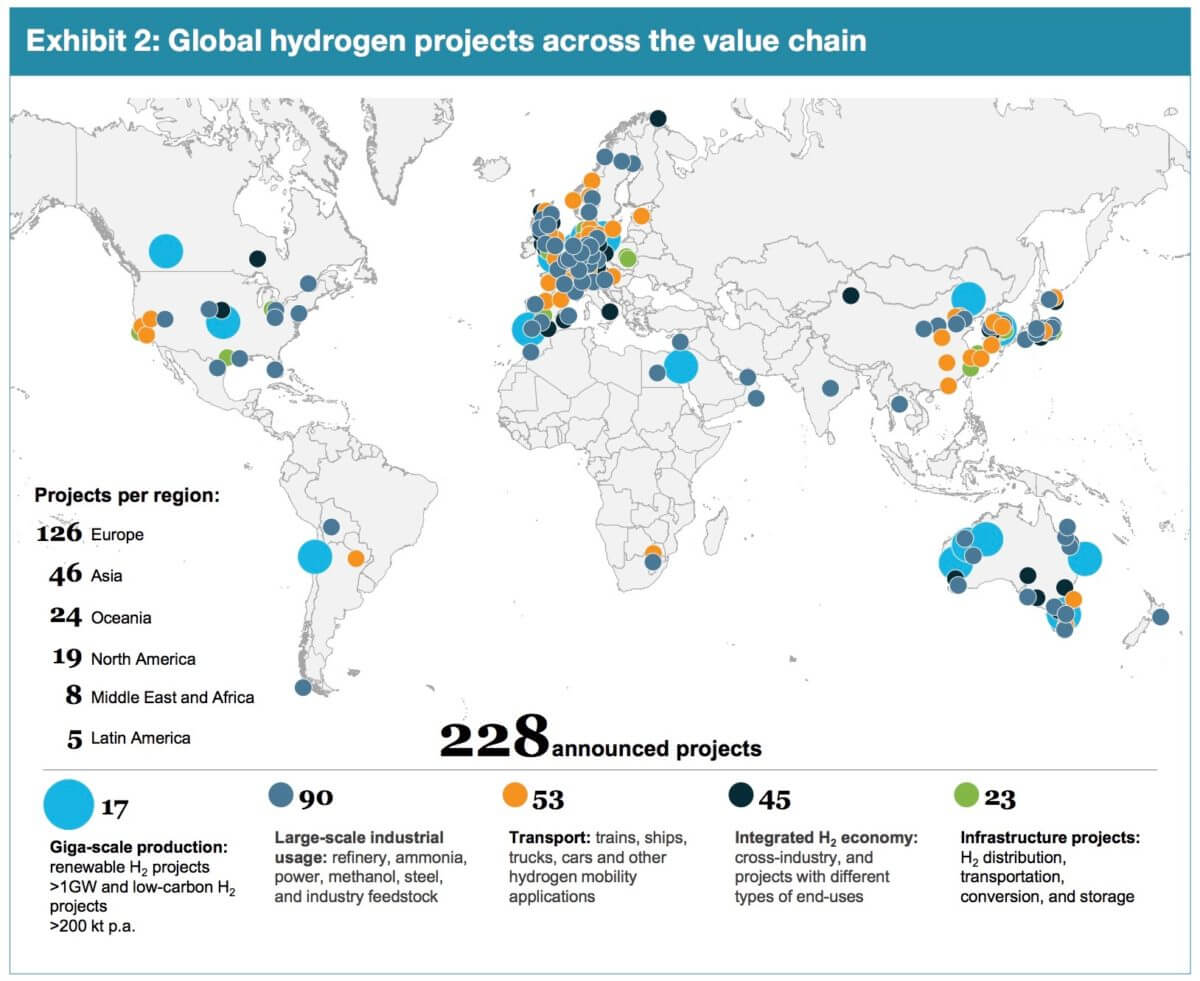 Source: pv-magazine.com
With such popularity and investments across the hydrogen industry, it's hard to enumerate all the innovative startups in the field. However, there are some that are worth considering. 
For example, a London-based startup Green Hydrogen Solutions is working on AI technologies to allow broad adoption of green hydrogen.  The main idea of the company is to provide transparency in the energy supply chain by connecting energy providers, equipment makers, and grid operators. To properly control and monitor the price of green hydrogen, the hydrogen neural network employs blockchain-based contracts and connects markets from production to consumption.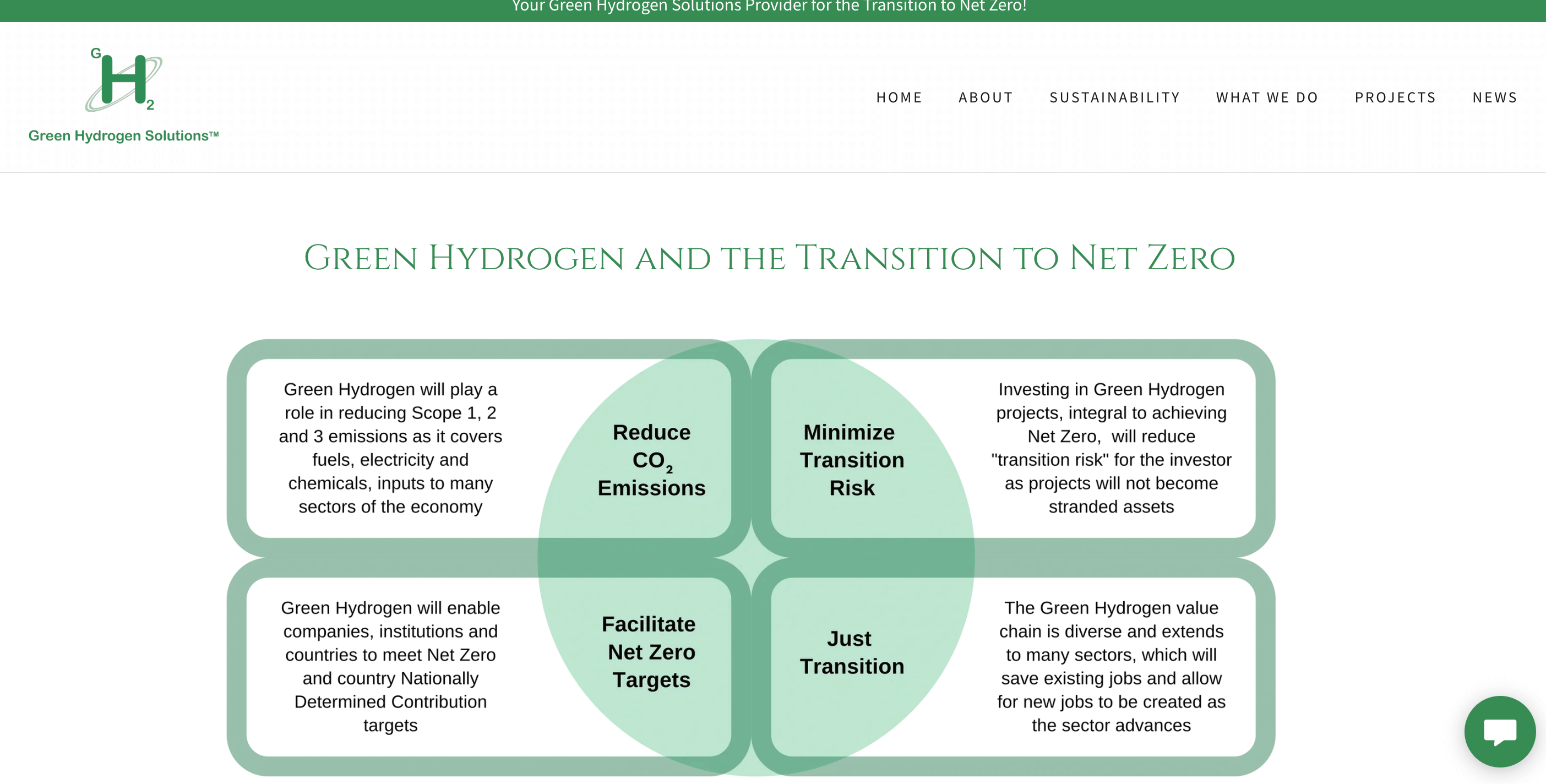 Source: greenh2s.com
HyJack Hydrogen Tech Online, a young French startup, developed an online platform to design hydrogen projects. The tool automates typical calculations for hydrogen equipment such as electrolyzers, fuel cells, compressors, storage, methanation, and others. In spite of the fact that the company appeared only in 2021, their tool is currently in use throughout the world and plans to include more of the new calculators anticipated by the green hydrogen community.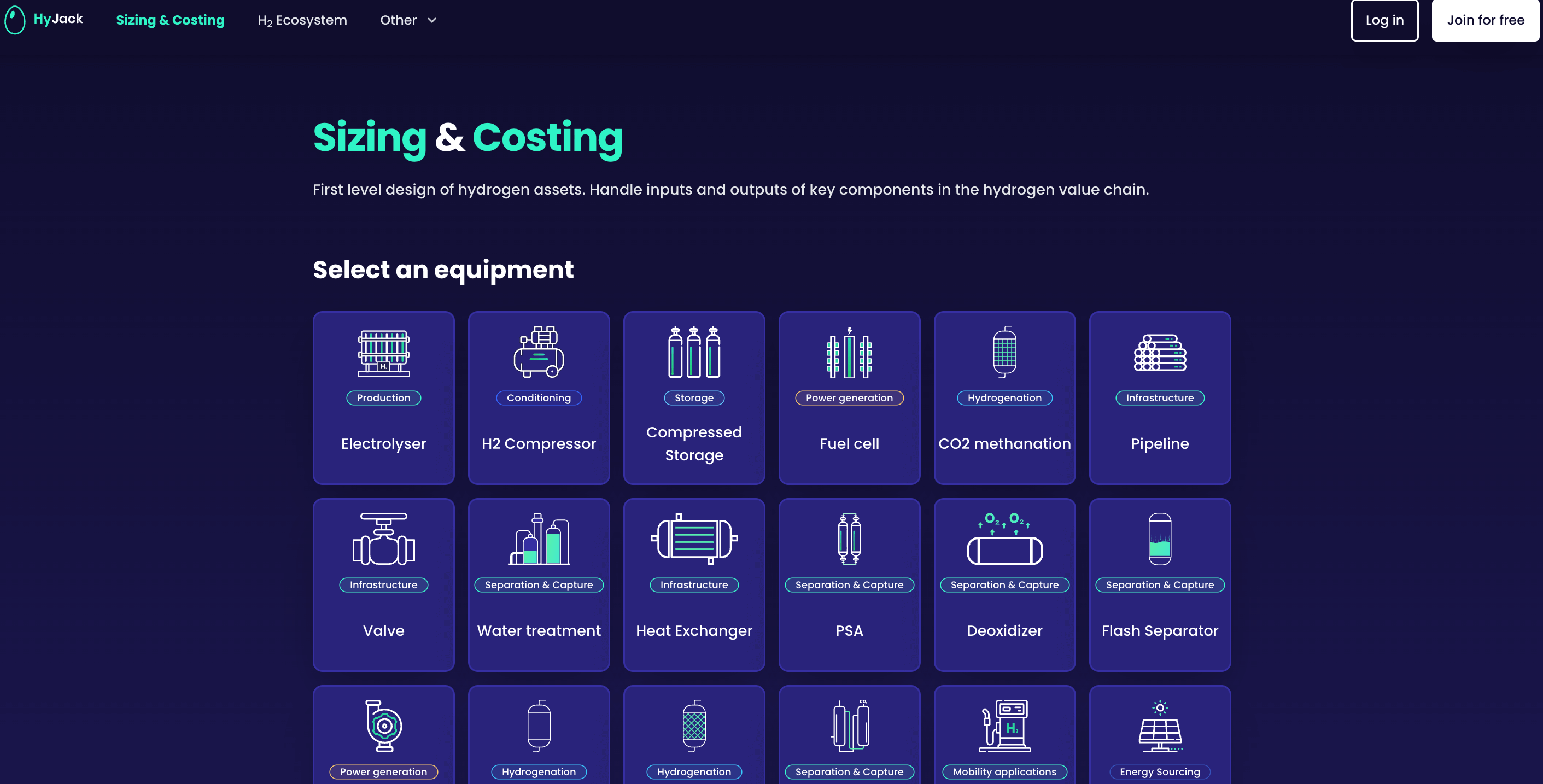 Source: hyjack.tech
Technologies focused on renewables and clean energy
Clean energy technologies are renewable and less harmful to the environment means of powering the global society. Among the most popular examples of clean energy sources are solar, wind, water, geothermal, bioenergy, nuclear energy and others.
Apart from just enhancing our quality of life by decreasing air and water pollution as well as GHG emissions, clean energy technologies also reduce the reliance of people on fossil fuels. It became especially meaningful amid the energy crisis in Europe, which we discussed in our previous article. 
The investments in clean energy continue to grow. To be more specific, the green energy investment hits record $755 billion in 2021. It is a 27% jump from the previous year. At the same time, the renewable energy projects that acquired the biggest share of spending in 2021 were solar parks and wind farms.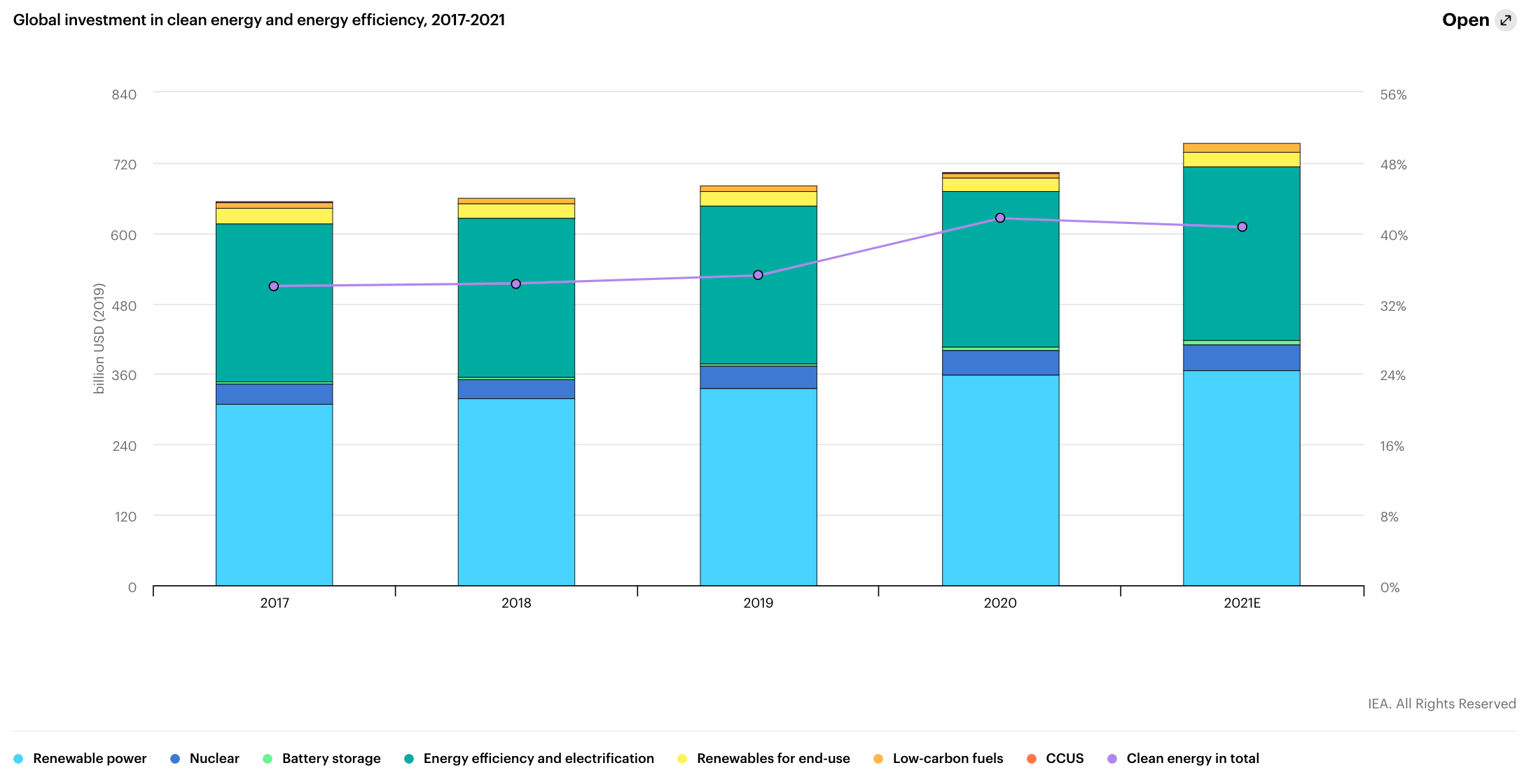 Source: World Energy Investment 2021
The number of startups in renewable energy sources is really huge. A Global Startup Activity Analysis found out nearly 3.445 startups and emerging companies that develop solutions in this field. Among the countries that account for 61% of activity in this field are the US, the UK, India, Canada, and France.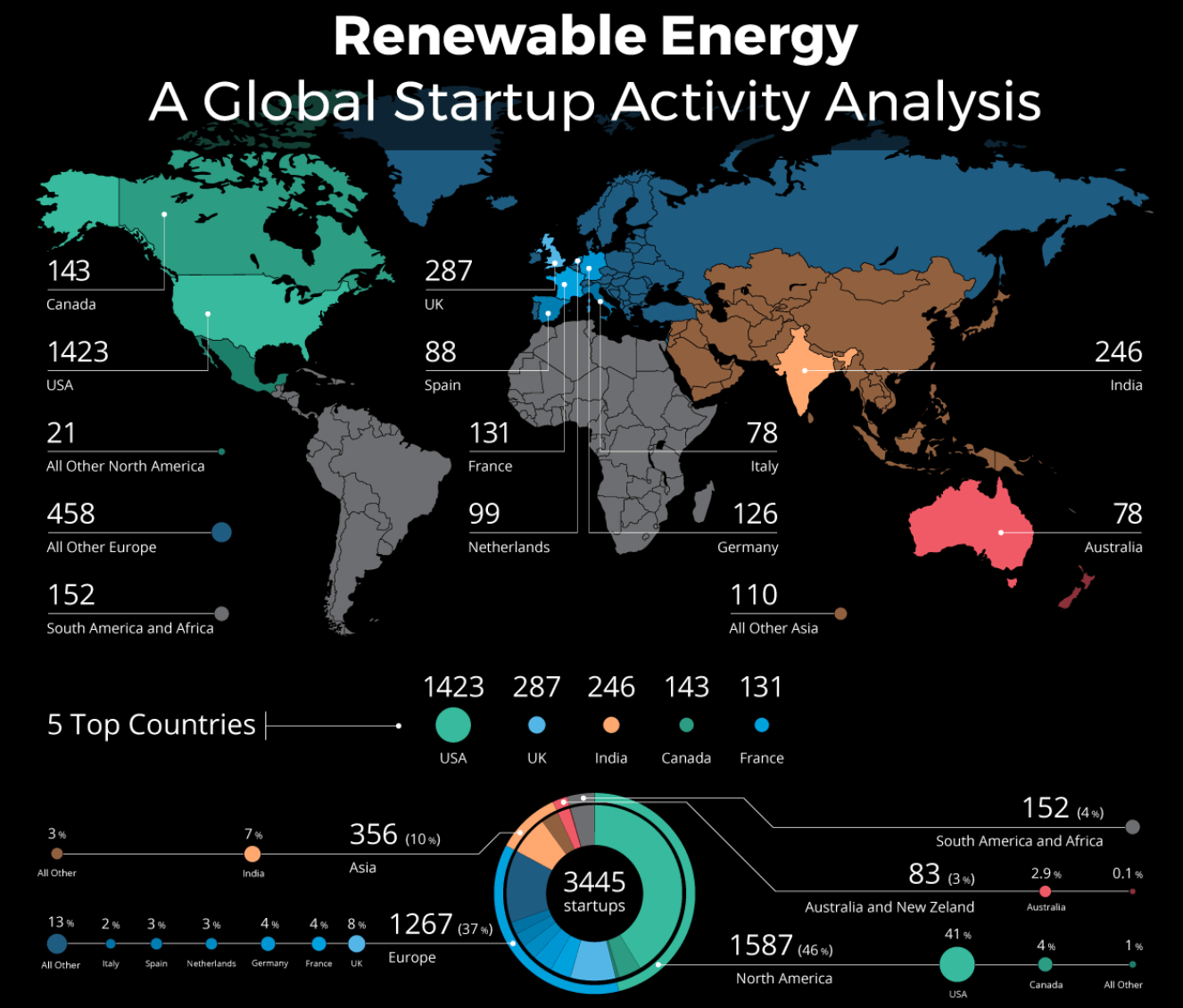 Source: startus-insights.com
All the startups, similar to previously mentioned technologies like batteries and hydrogen, fall into two big groups. The first one works on technological innovations in renewable energy sources, while the second is more focused on digitalizing these innovations – developing digital tools that enable the clean energy transition. That's exactly what IT companies like MindK do. 
In general, among the key digital technologies popular in the renewable energy sector are:
Cloud computing

is the foundation of every digitalization initiative as it enables effective connectivity and data exchanges.

Industrial IoT solutions

help plant operators to collect and transmit data on equipment performance (ranging from temperature to sound and vibration levels, among other things) for further analysis.

Digital twinning

enables the

creation of virtual copies of physical systems, assets, and processes.

Big data and predictive analytics

help to process data collected from many sources like internal systems, IoT devices, external partners, and similar and generate actionable insights in real-time. Such tools, in particular, can prevent downtimes, predict failures of failure, and enhance the value of energy output.
To see a more detailed picture of digital solutions, let's review some popular renewable energy sectors like wind and solar and innovative startups. 
Digitalization of the wind energy sector
There are five key technology categories that are used to digitalize the wind sector today:
Real-time analysis

which presupposes collecting and analyzing real-time data series of wind, rotational speed, temperature, pressure, and various other parameters to enhance the control of the wind farm. 

Internet of Things (IoT) gateways

provide a solid link between diverse systems and vital communication solutions by means of a 5G network that in turn unlocks the full potential of digital wind applications.

Descriptive and diagnostic analytics

based on well-structured databases and historical operational data enables companies to track system failures (involves root cause analysis, condition monitoring, and much more).

Prescriptive analytics

uses machine learning and artificial intelligence algorithms to predict wind turbine outcomes and performance based on historical data.

Automation involves robotic process automation, 3D printing,  digital twins,

and other technologies to increase production effectiveness, decrease human error, and speed up repetitive industrial procedures.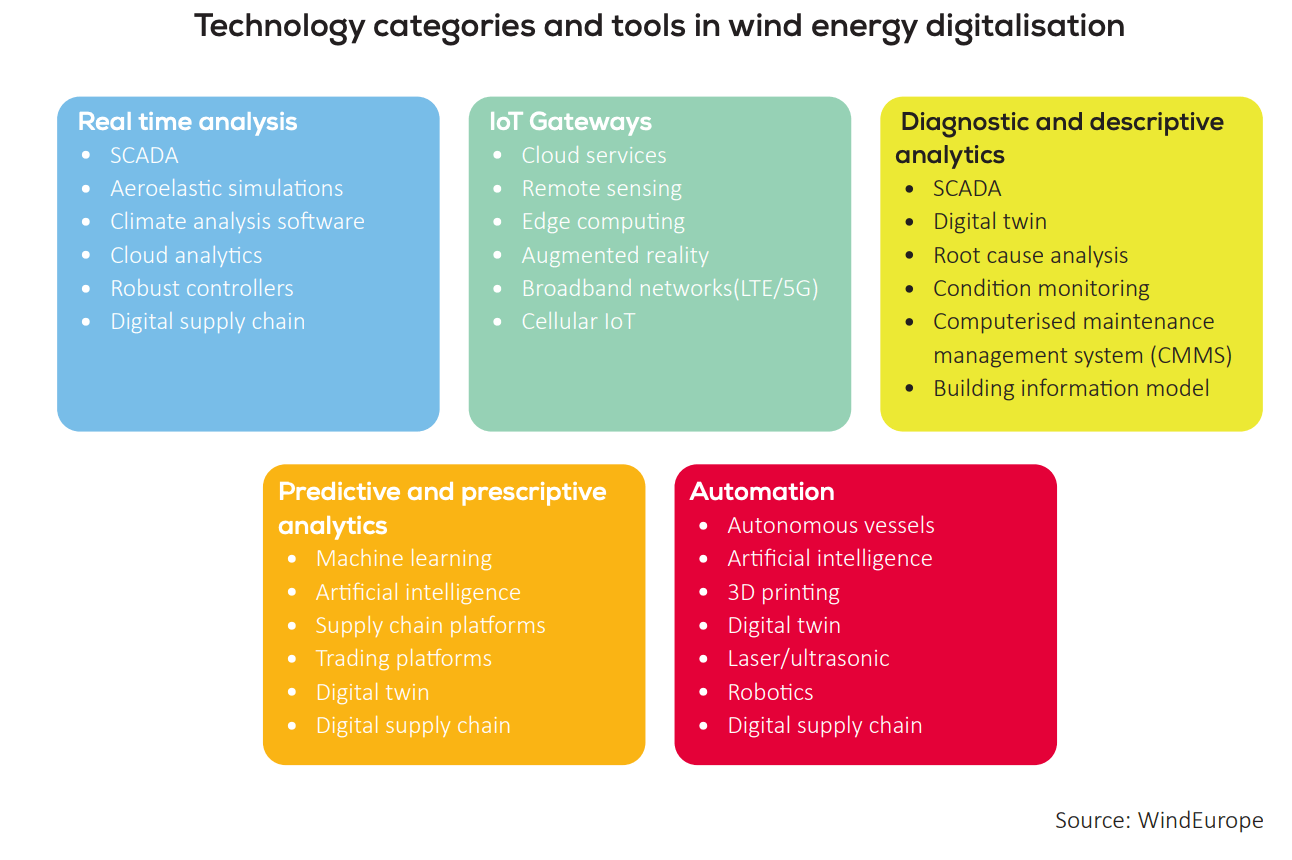 Source: Wind energy digitalisation towards 2030
First Airborne,
an Israel-based startup that works on creating a drone-based wind turbine servicing platform for wind energy companies is a good example to mention here. The platform works in tandem with Windborne, a wind measuring sensor put to a drone. Windborne collects data and uses it to deliver performance insights on power curves, blade pitch, nacelle misalignments, and similar. Users can also schedule inspections on their own time.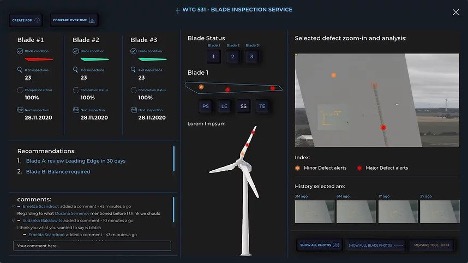 Blade inspection service by First Airborne
Digitalization of the solar energy sector
Similar to the wind sector, the solar energy field is also benefiting from digital solutions. Almost all the digital solutions enumerated for wind energy can be easily used for the solar sector. At the same time, advanced analytics play a larger role for solar field digitalization. 
Advanced analytics powered by AI and ML is able to reduce construction, development, and asset deployment costs, particularly for systems such as solar modules, trackers, and inverters. 
On the operational front, digital technologies help to streamline and continually improve how electricity is generated and distributed. 
Automated inspection, vegetation management, and thermal image processing feed predictive maintenance programs, and optimize and cut operational and maintenance costs. We can't not mention the blockchain technology which is particularly important in the solar sector since it helps to improve existing business models and make them more cost-effective.
Last year the solar analytics startup Prescinto raised $3.5 million in a seed round. The company works on an AI-powered platform that collects data of the solar power plant, applies data science models, and detects causes of underperformance. Moreover, the system suggests ways the plant can improve its productivity. The company ensures that the platform is able to reduce costs and increase generation by up to 7%.
Source: prescinto.ai
A startup WePower developed a solar energy marketplace, which allows renewable energy prosumers to trade power with one another without the need of a third party. Through digitally-enabled PPAs (power purchase agreements), the platform links clients directly with green energy suppliers, allowing them to contract solar electricity at competitive rates with complete transparency.
Source: wepower.com
Sure, there are a number of other interesting startups – that's why we dedicated a separate article to this topic. We reviewed more than twenty innovative and fast-growing green energy startups that can definitely give you inspiration for energy sector business ideas. 
Final words
Initially the global goal to achieve net-zero emissions until 2050 might sound questionable. With more and more attention to CO2 reduction technologies and investments in clean energy infrastructure it seems more real than several years ago. However, for today, the efforts made are not enough. That's why the more innovations in the energy sector we will see, the closer humanity will get to a carbon-free footprint. 
If you have any ideas about software to help people fight climate change, there is no better time to bring it to life than now.  MindK has been working in the sustainability sector for more than 10 years. During this time, we've developed energy management systems, sustainability solutions with IoT technology, working with the EU Taxonomy, and much more. 
So if you need a development team to build an innovative solution in the energy sector, we are able to help. Just share your idea and we'll get back to you to discuss details and provide an estimate.