However, digital transformation is not only about saving time for HR leaders. It is about changing everything, starting from core processes like recruiting and leadership, to developing talents, measuring performance, and even building a new company culture. McKinsey recently reported that HR has the power to help build the organization of the future.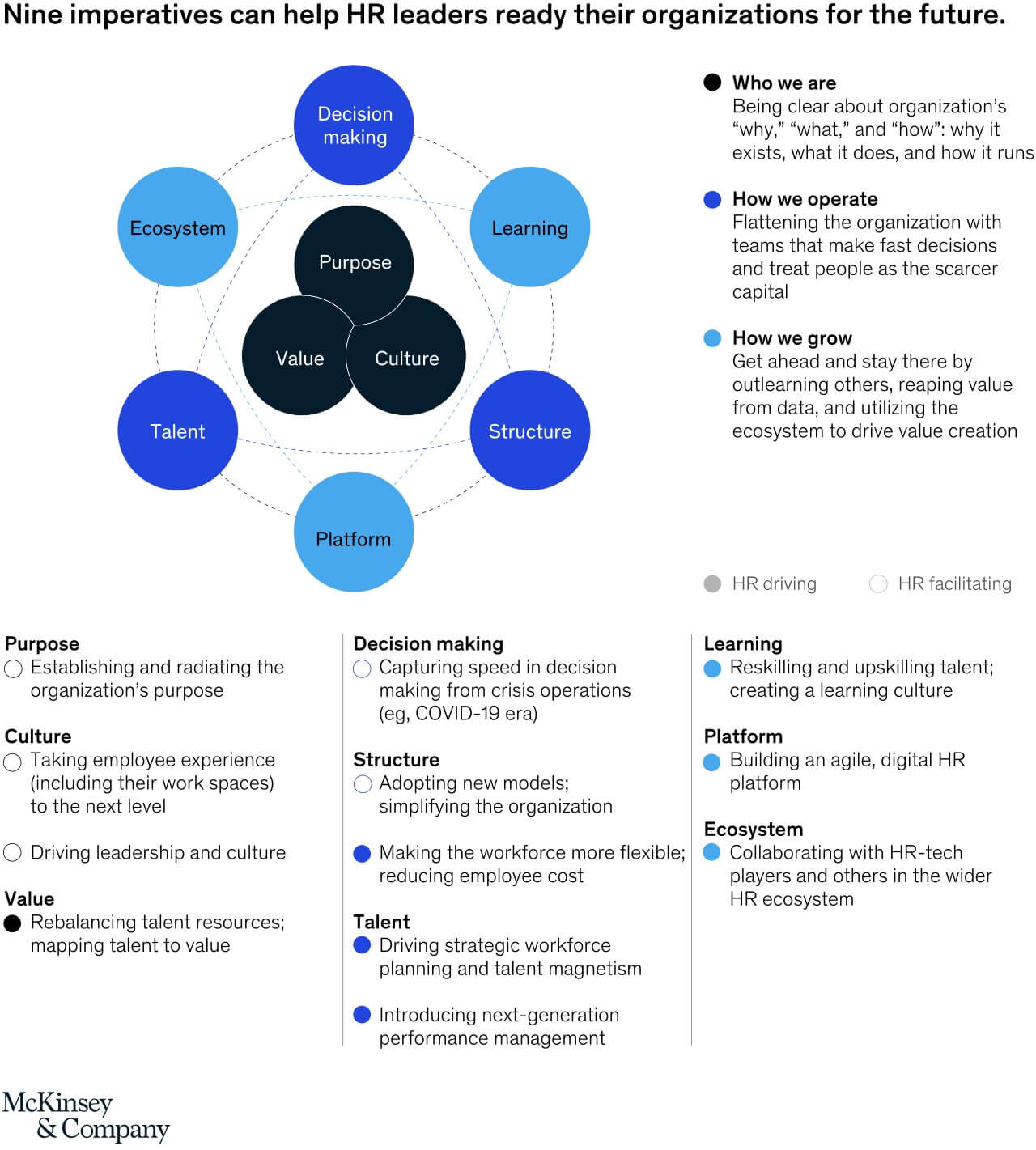 At MindK we help HR companies with digitalizing their workflows, and based on our experience we singled out several tips for those thinking about digitalizing HR:
Analyze the trends. Modern business tendencies for globalization, mobility, high competition, and high velocity require adopting modern trends. So before starting any transformation it's paramount to understand what trends are shaping HR now. Yet, here is a fine point – never blindly follow the latest trends – analyze what this or that innovation will give you in the first place, decide whether it is a reasonable investment.
Choose a complex approach. Don't focus on just one process – take a wider perspective. It is important to assess how digitalizing the HR processes will affect the work of the company as a whole. For example, speeding up one process can slow down all others. So, it's better to make up HR digital transformation strategy that is based on a deep analysis of workflows.
Find a balance between economic benefits and employee comfort. For example, if you develop an inconvenient solution or a platform, employees will be challenged to use it. As long as people have a direct impact on key business indicators and provide an opportunity for revenue growth, it's important to respect their interests.

With that in mind, let's take a closer look at the current trends disrupting the human resources digital transformation that offer really great potential for businesses.
5 trends for digitization of HR processes that have the potential
#1. Automation at the heart of digitalization
Scaling automation across the enterprise is one of the top digital transformation trends for 2022 regardless of the industry. HR and recruiting sectors are not exceptions. Automation of the HR workflows presupposes using technology and software products to replace manual work. This gives a number of advantages in return, like:
improving the quality of HR processes;
minimizing human errors;
enhancing the quality of hire;
ensuring transparency;
streamlining the onboarding process;
freeing up employee time;
optimizing data integrity;
unveiling analytics and metrics;
сreating positive employee experiences;
and much more.
Quite a lot of benefits, right? However, in fact, all of them are focused on two fundamental things: a bigger focus on people than on paperwork and improved visibility and control.
Not long ago a KPMG report revealed that a major portion of HR functions can be either fully or partially automated. However, five out of 21 responsibilities in human resources are less accessible to automation. Among them are people performance whole system architecture (building a high-performance work system), HR and business strategy, organizational effectiveness, change management, and employee relations.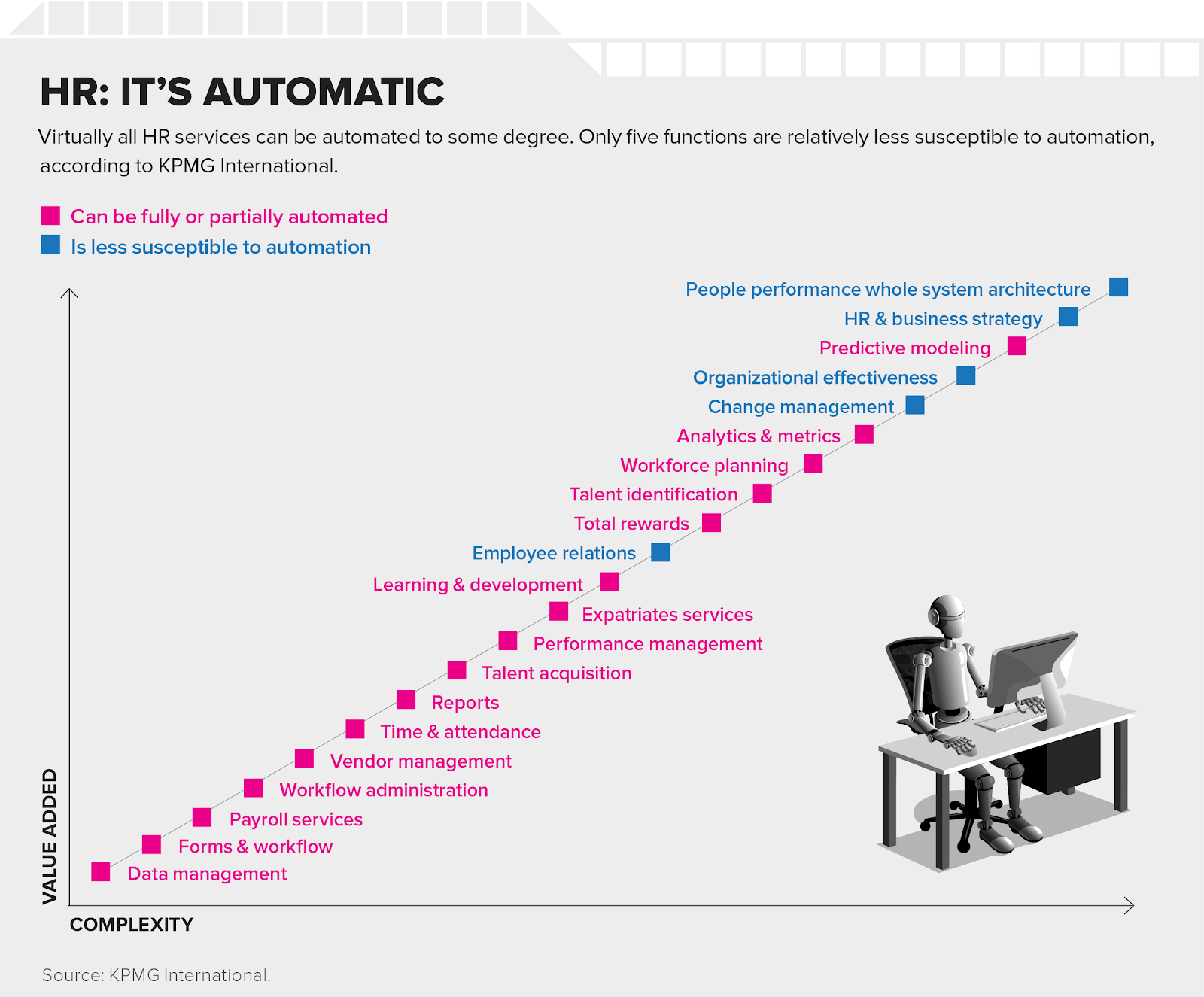 These HR activities can be divided into three large groups – recruitment, employee management, internal workforce learning, and development. To support these activities throughout the whole HR life cycle there are a number of specialized solutions.
Recruitment: To automate recruitment workflows are solutions like programmatic job advertising software, recruitment marketing solution, CV screening and parsing software, Applicant Tracking Systems (ATS), candidate relationship management solutions, skill and behavioral assessment tools, and much more. We've reviewed them already when talking about types of recruiting software for each stage of the hiring process.
For one of our clients, we even developed a custom operating system for global hiring called Bridge. It provides a full cycle of services needed to recruit the right talents and open the office fully remote.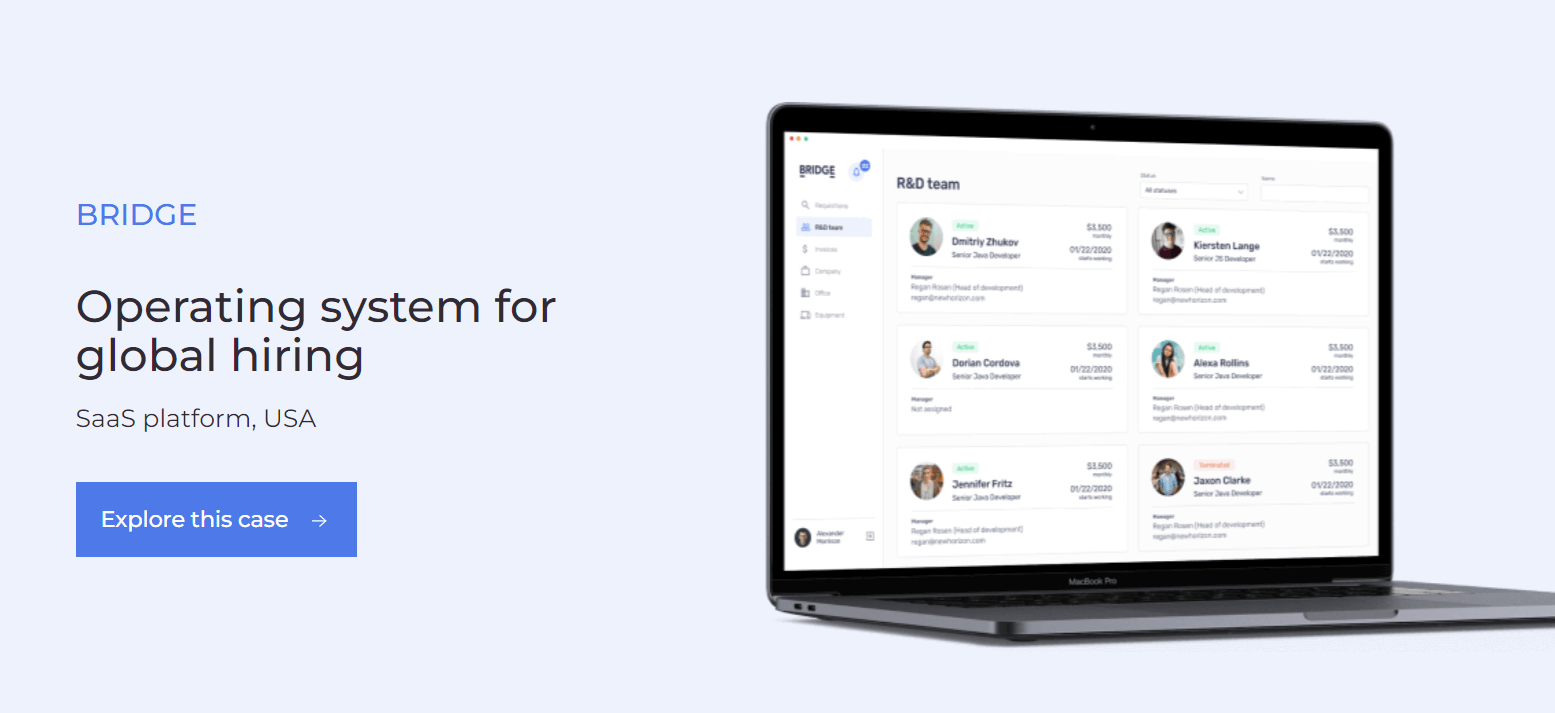 Employee management is almost the largest part of HR activities. Among the popular tools used for this purpose are the Human Capital Management system (HCM), Human Resource Information System (HRIS), and Human Resource Management System (HRMS). All of them are related terms. HRMS and HCM are used to describe a more advanced version of an HRIS.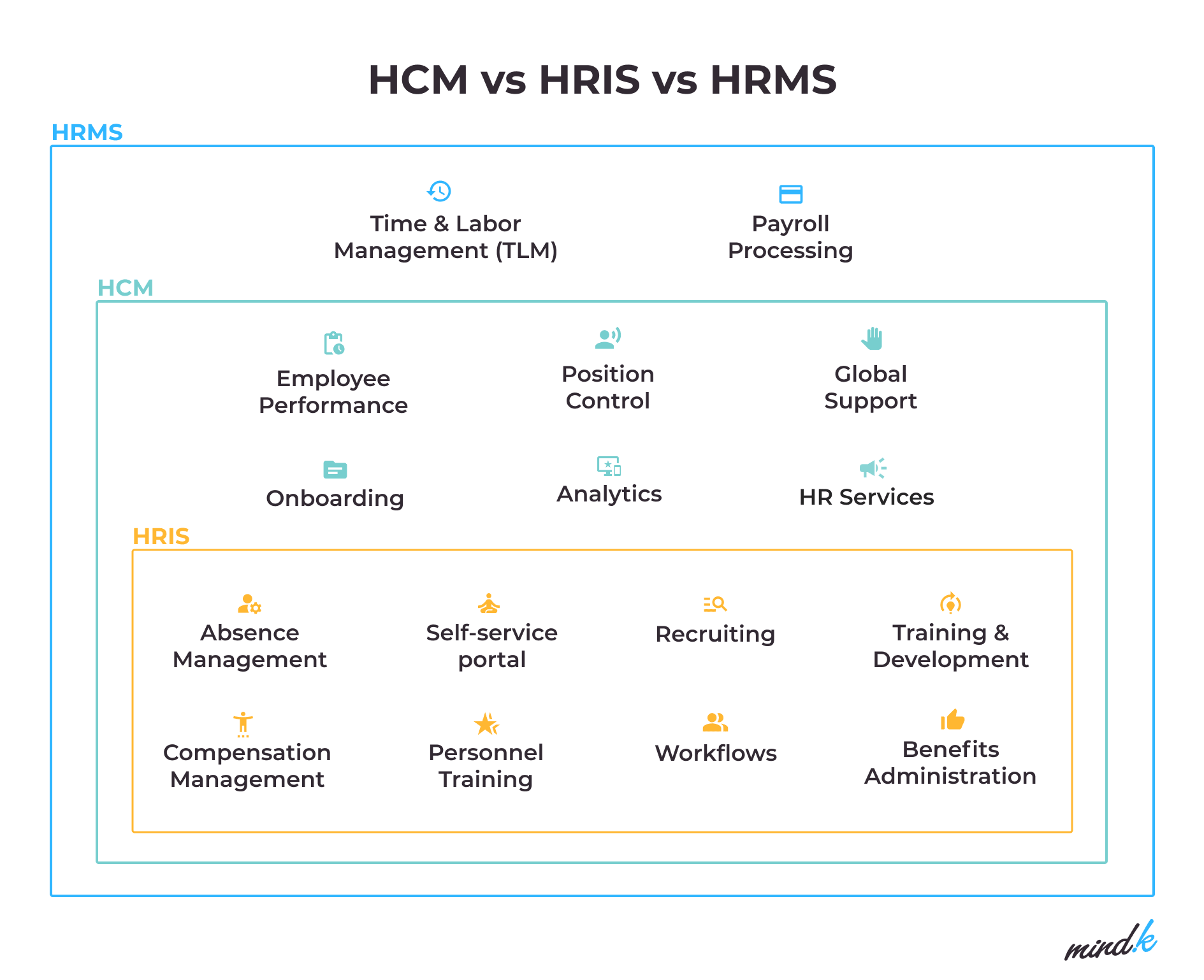 A great thing about HRIS is that integrations incorporate the possibility to connect a variety of HR apps allowing them to exchange information. It is done by means of Application Programming Interfaces (API). You can, for example, scrape a candidate's information using your ATS, automatically move it to your internal HR tool post-hire, transfer the employee's data to a payroll management module, and notify the badging office to issue a card for clocking in. We highly recommend you checkout our post about HRIS integration to discover more possibilities.
Internal workforce learning and development are taking the stage in 2022 because of the greater focus on continuous learning and reskilling as a result of the pandemic. Gartner reports that building critical skills and competencies is among the top priorities for HR departments now.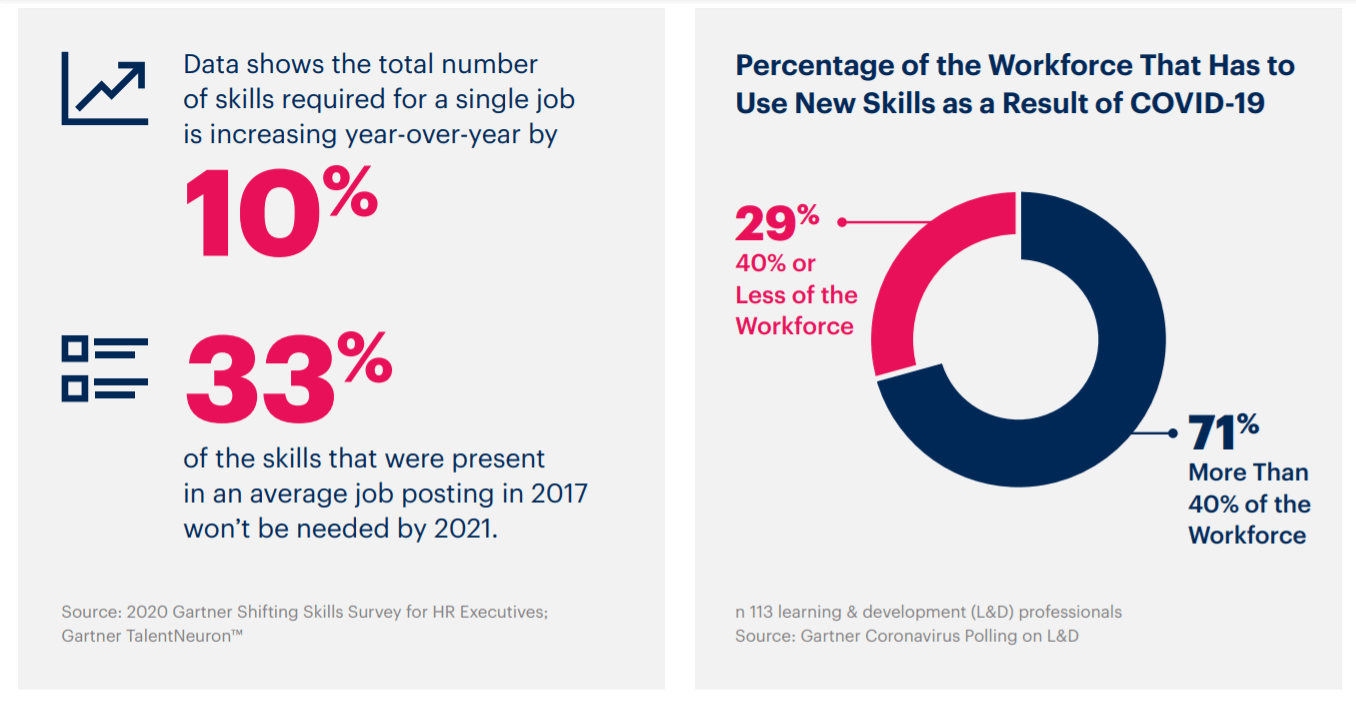 To sum up, don't attempt to automate 100% of HR activities as there is always some offline part that remains. Therefore, the first task is to analyze the state of your HR and identify which processes should be transferred to the system. Simply put, you can choose any solution or technology for automation that makes the life of your employees easier or more valuable.
A simple example – for one of our clients, Innmeldt, we developed a system that helps Norwegian companies keep their employees up-to-date about pension and insurance calculations. Norway has a complicated pension system, so to calculate pension payments, HR managers had to register in several systems and use advanced, confusing formulas. In short, the process wasn't transparent. The system we built automates all the pension calculation processes and allows HR specialists to get pension calculations within a couple of clicks in the form of easy-to-understand tables and graphs. It provides an additional level of transparency between the company and employees while significantly reducing the efforts of HR departments.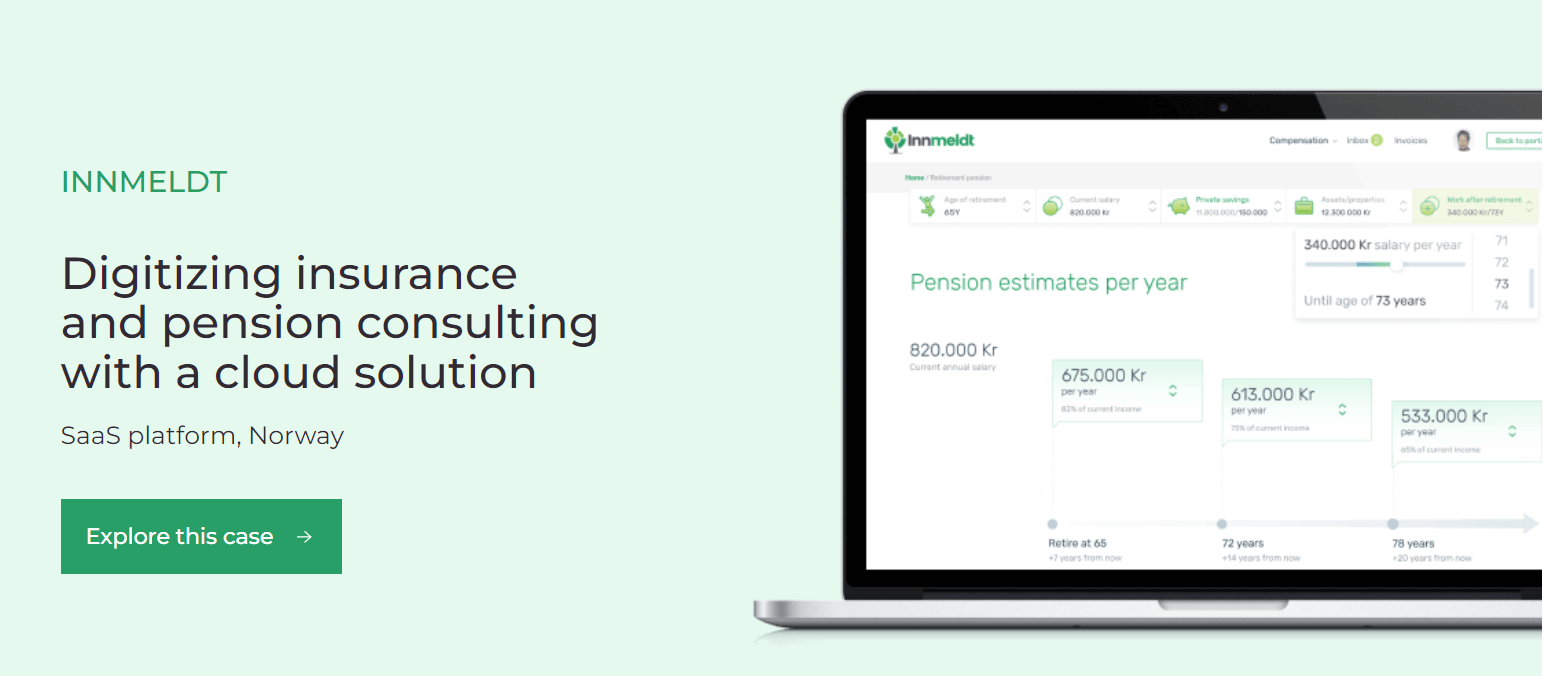 When thinking about automating any processes, don't forget about adopting the cloud. It seems like we talk about the role of the cloud in each of our articles, but HR cloud provides a number of benefits, including better HR control, improved productivity, increased employee engagement, saved money, and much more.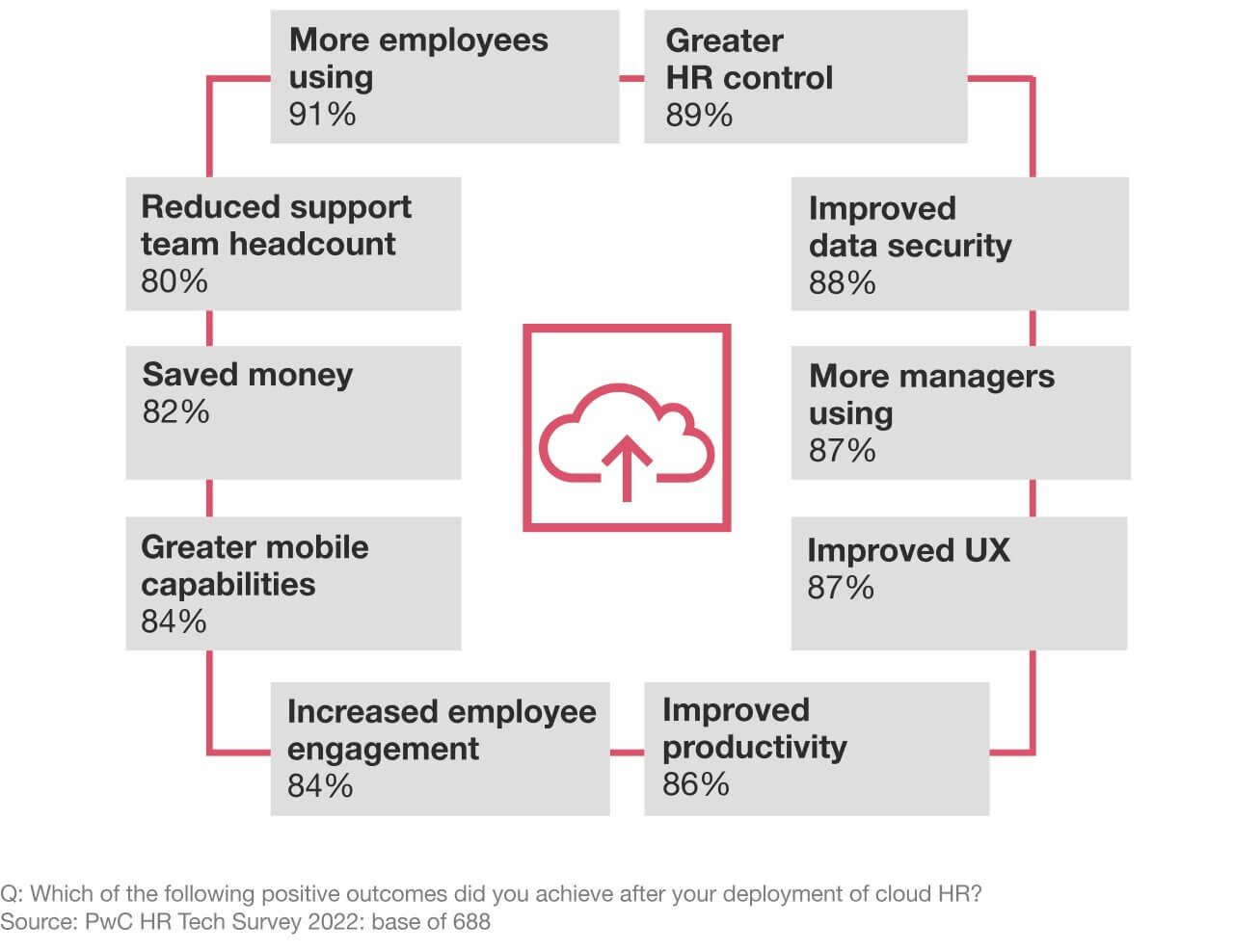 #2. Continuous performance management proposes a better solution
Did you know that a few years ago only 2% of organizations felt that their approach to employee performance management was delivering exceptional value?
Indeed, performance management has a number of pain points and we've reviewed them when talking about the challenges of the performance management process. Among them is lack of transparency between employees and management, ineffective routine, low workforce productivity and motivation, high employee turnover, and so on.
Continuous performance management (CPM) is an Agile approach to managing performance management designed to overcome these challenges. It entails moving away from static annual reviews to three main stages: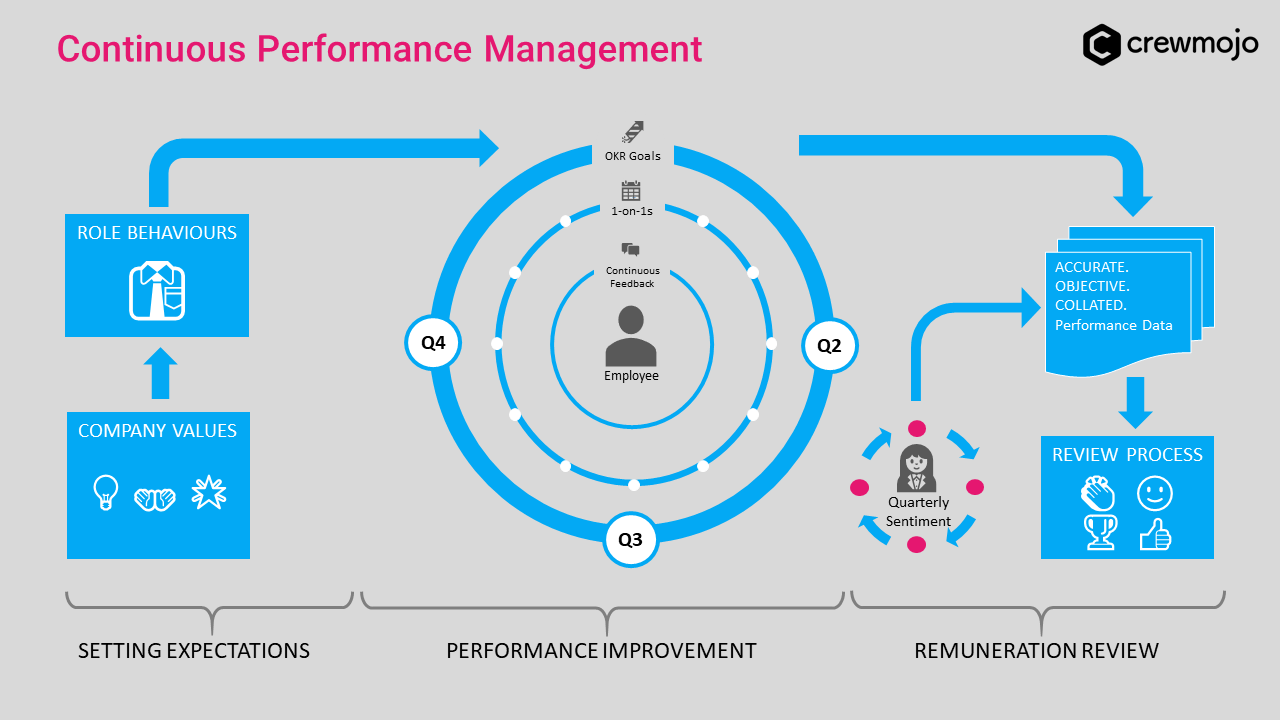 Source: linkedin.com
Thanks to applying performance management strategies, companies including Google, Apple, and Netflix report to be 40% more productive than the average company. CPM has been helping companies like Adobe, IBM, and GE for more than a decade to reduce turnover, save employees valuable time and increase employee engagement.
Succeeding with continuous performance management required aligning people processes and technology together. However, you first need to embrace dynamic goal settings, invest in manager training, adopt measures, and analyze and optimize the approach. With that in mind, choosing or developing appropriate performance management and OKR solutions is the final step in your digital transformation journey.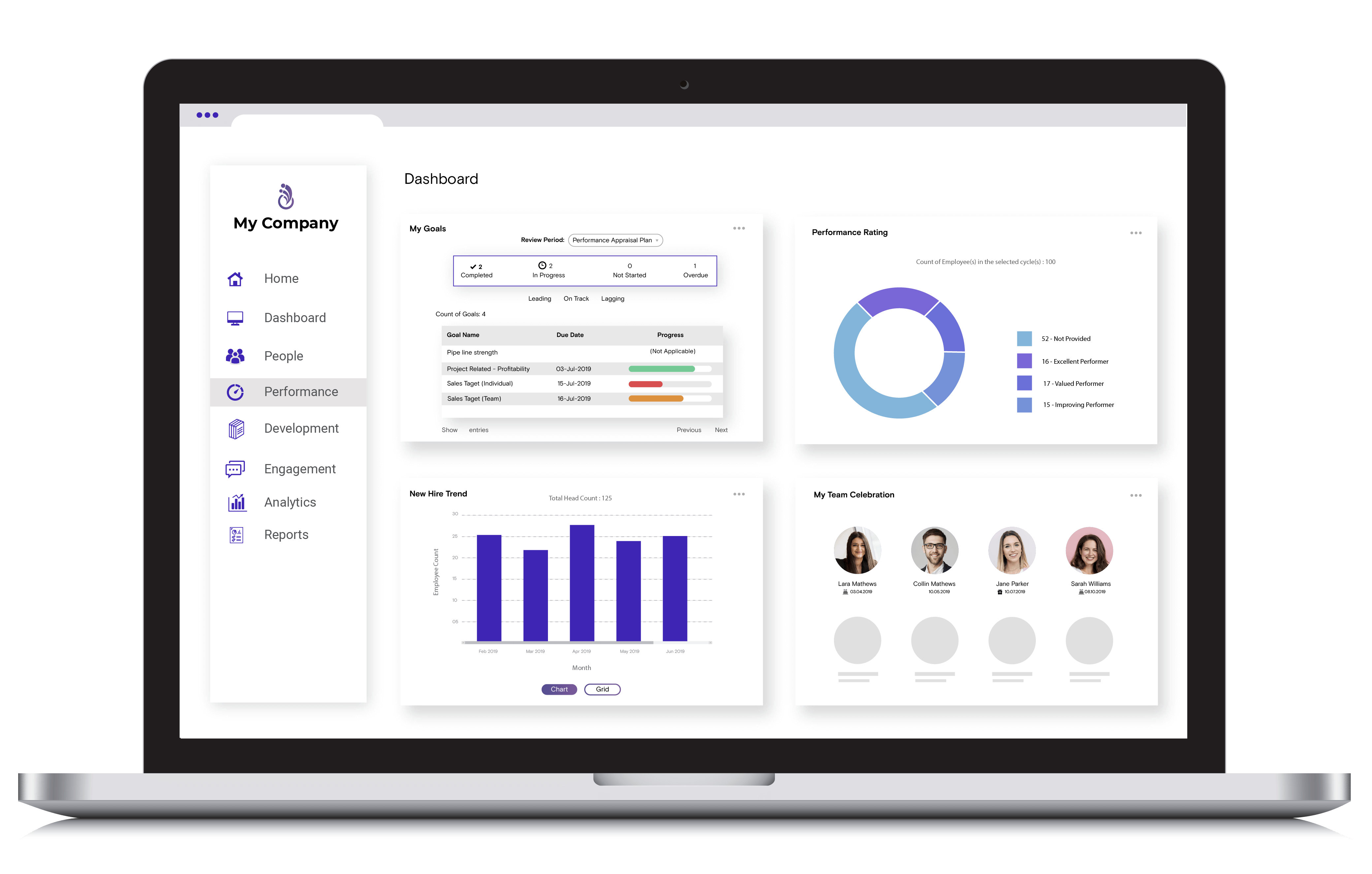 Synergita is an example of continuous performance management, employee engagement and OKR solution
synergita.com
#3. Emphasis on social talent acquisition
Social recruiting is the process of hiring candidates by means of social media platforms, like LinkedIn, Facebook, and Twitter, and other websites like forums, job boards, and blogs. It's possible to identify two main directions here:
searching for potential candidates in social networks;
using social media as a platform to spread the word about open positions.
The 2021 Future of Recruiting Study states that last year, social recruiting software was the number one technology investment for employers. It also revealed that around 92% of employers use social and professional networks to find candidates. At the same time 86% of job seekers go to social media to look for relevant opportunities, apply for jobs directly from social media platforms, get in touch with job-related content, and much more. Looks like a perfect match, right?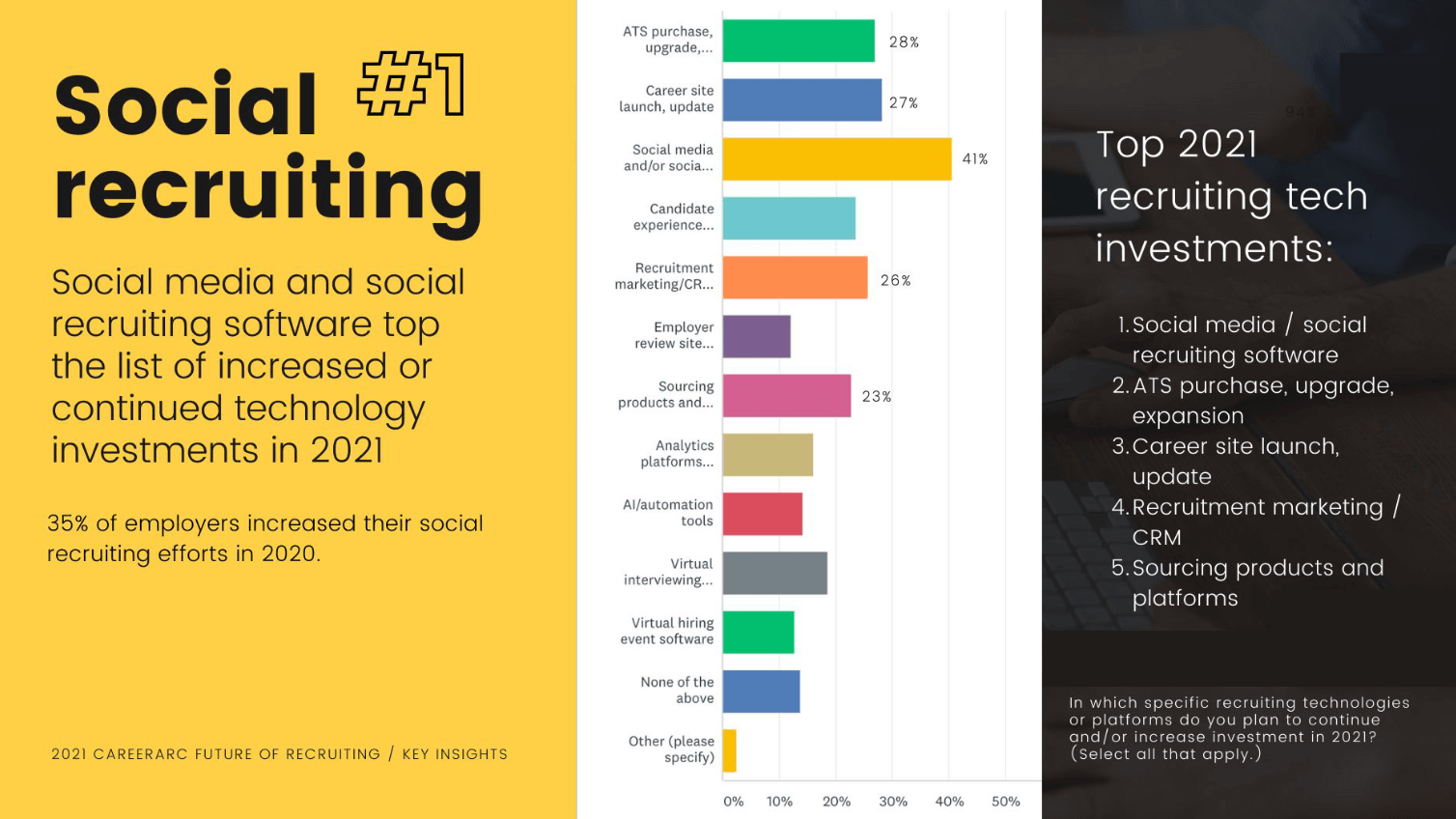 Social media recruitment differs from other types of recruitment (such as online recruitment, direct recruitment, internal recruiting, external recruiting, global recruiting, referrals, and so on) as it allows the recruiter to contact both active and passive candidates. It attracts talent by shared interests, promoting certain ideals that you can't do with other recruiting methods.
This raises a logical question "If everyone is using social recruiting right now, how to beat the competition?". Embrace technology for digital transformation strategy. Current technologies like Artificial Intelligent (AI), machine learning, and others provide huge opportunities in terms of social recruiting.
Take, for example, AI social media screening. The AI social media screening and monitoring tools are searching for certain keywords or phrases that may interest the recruiter. This significantly reduces the efforts of HR specialists – previously, recruiters scoured every potential page. Now they only need to check the highlighted posts. Above that, the AI can continuously scan the profiles of current employees and notify HRs if there is any questionable post that may denote issues.
For example, Ferretly, a smart social media screening tool, uses machine learning algorithms to analyze posts and images and identify risks across 14 different categories including racy/explicit, violent, drug, and alcohol-related issues. It also allows you to specify custom keywords and the tool will flag the post or image containing related content.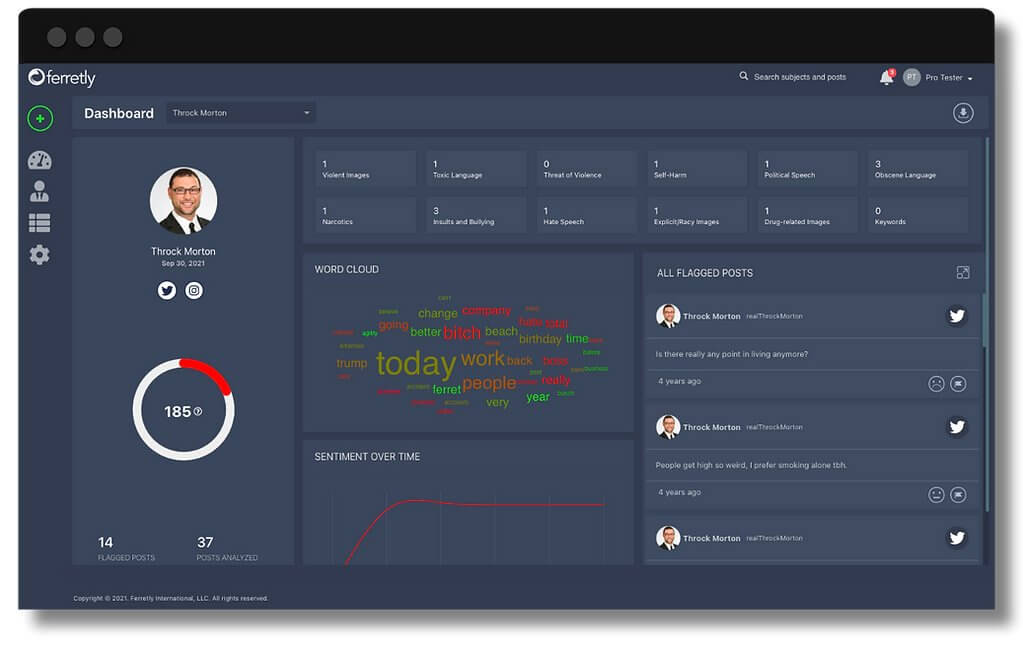 Ferretly, a smart social media screening tool
Source: ferretly.com
Sure, social media screening is not the only example of using the newest technologies for HR purposes. There are also recruitment AI bots reading social media posts to create a personality profile, smart technologies to post on social media, and so on.
For instance, CareerArc, a social recruiting platform, recently released an intelligent publishing technology that automatically mixes and matches jobs with text, hashtags, and images to provide a constant stream of posts on social media.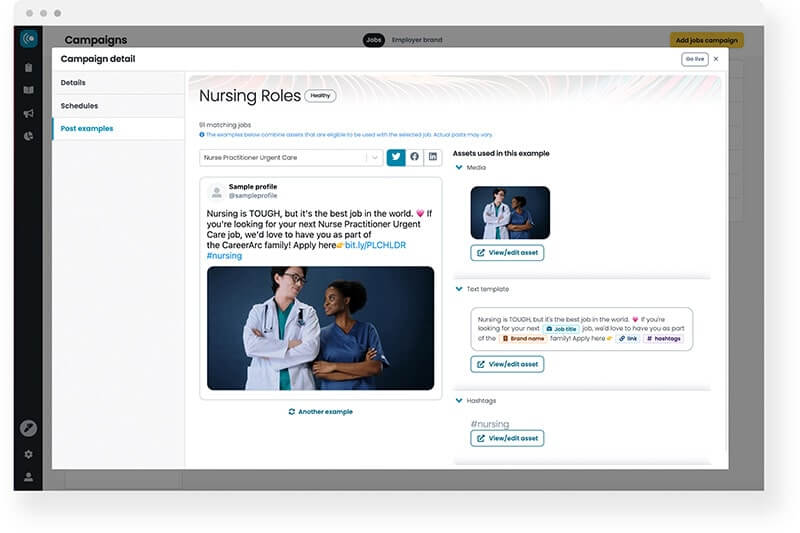 Intelligent publishing automation on social media by CareerArc
Source: careerarc.com
#4. People analytics is no longer a want, it is a must
Think of people analytics (PA) as comprehensive use of different data and metrics to make better decisions that affect people at work. It presupposes using data to analyze every part of how people impact business operations.
Today, the HR industry is facing a number of challenges, among which are measuring retention rates, skills gaps, and others. To solve these challenges more and more, business leaders are appealing to people analytics as an integral part of running a highly efficient organization. Around 70% of business leaders prioritize people analytics in the near future.
So, what should be done to integrate PA into your HR transformation strategy? First of all, have patience and don't run before you can walk. The majority of businesses are just starting to automate human resource workflows and develop people analytics capabilities. Many of them agree that there is still work to be done.
Aside from time and effort, integrating people analytics also implies a solid digital strategy for HR operations and a powerful digital solution in order to make this "analytics machine" operate for the benefit of the company.
For example, McKinsey&Company considers that the path to effective people analytics consists of five consistent steps:
Poor data.
Good data.
Strong data.
Advanced analytics.
Reliable predictions.
To move from the basic or initial step characterized by poor data and absence of people analytics to the second one presupposing good data management, the organization needs to focus on building a strong foundation of high-quality data. This usually involves basic rules for data collection to support consistent and structured data.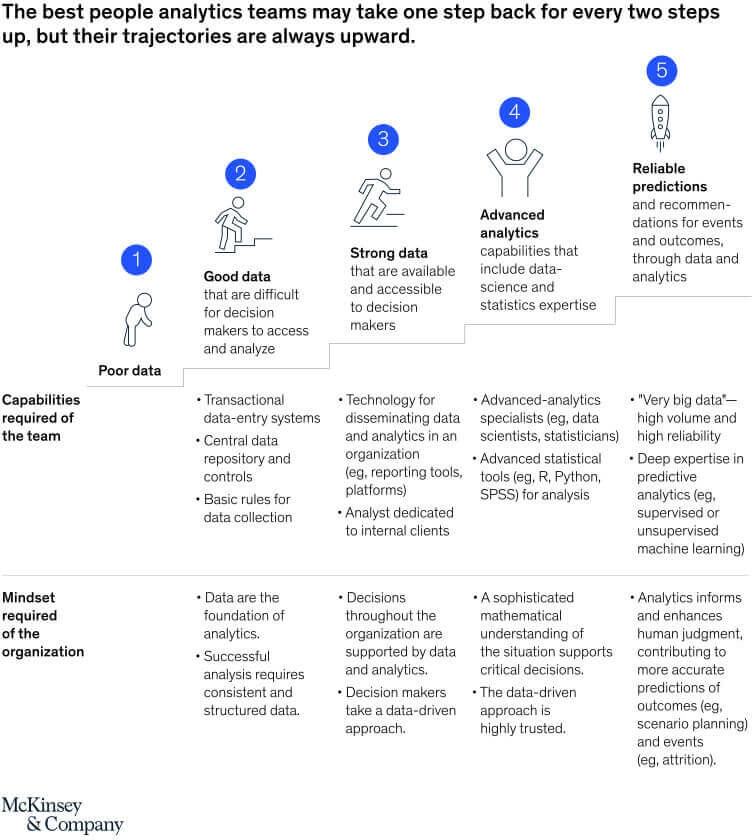 You can then move on to make this data accessible, then evaluate it using new technologies once it's completed. It might be anything, from automating and visualizing HR dashboards to reporting. This can be accomplished via off-the-shelf HR systems or by designing a custom solution developed according to the company's requirements.
There's a big difference between general analytics software and PA software. Analytics solutions can be applied to any functional area. Although the majority of people analytics teams rely on generic solutions, PA solutions are designed to assist companies to understand and optimize the people side of the organization. Such platforms focus on acquiring, evaluating, and obtaining value from people's data in addition to providing functional support.
According to Deloitte, there are three categories of PA solutions available on the market:
pure-play people analytics solutions that are designed specifically for people analytics;
HR technology with embedded analytics; and
network analytics solutions, also called organizational network analytics (ONA) or social network analytics (SNA), which examine the relationship between the people in the organization and the social environment they work in.
A great example of a pure-play people analytics solution is One Model. Apart from a great number of people analytical functionality, it empowers executives, people leaders, and HR business partners to make data-informed decisions. Another example is Workday, a human capital management software with a strong embedded people analytics module.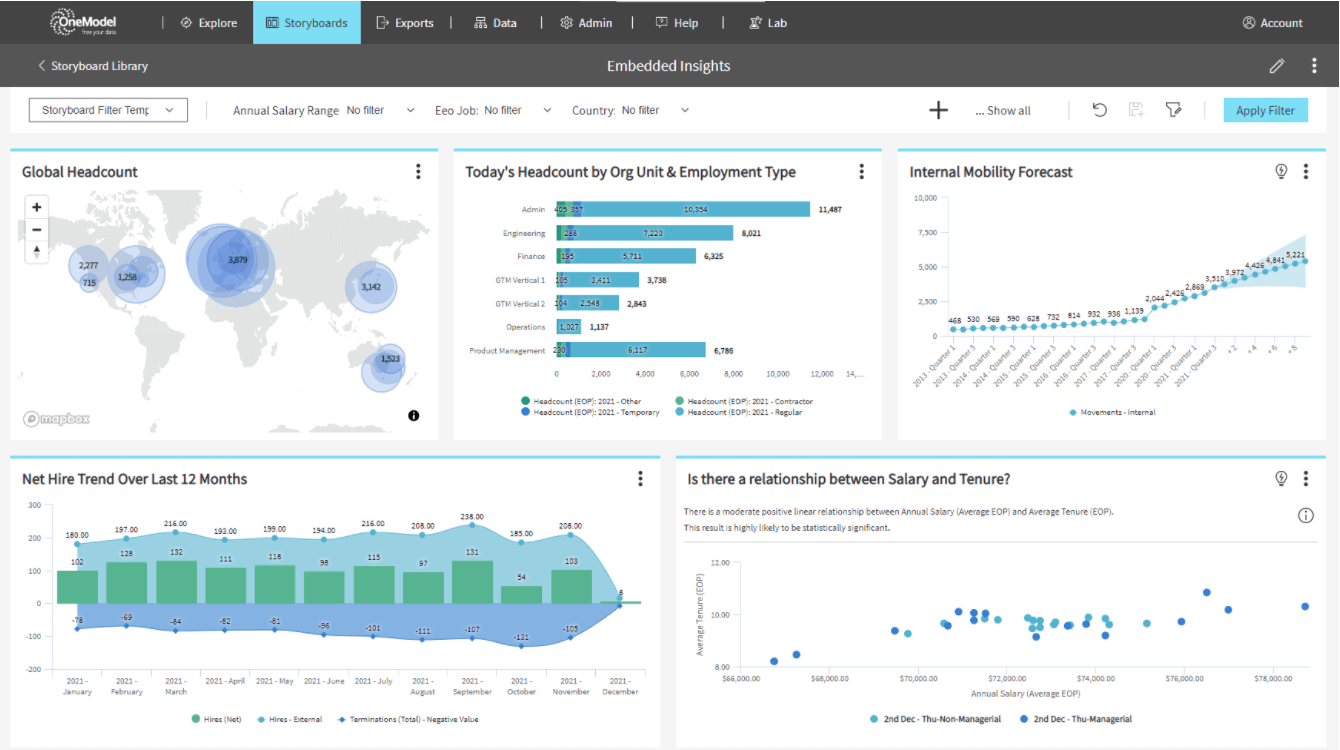 Data-Informed Decisions for Better People Outcomes with One Model
Source: onemodel.co
#5. On-demand training
Several years ago Amazon announced that they invested $700,000 in "upskilling" training programs for its employees. AT&T put up around $1 billion in retraining nearly half its workforce after studies revealed that just half of AT&T's employees have the skills required to stay competitive in the future.
Not all companies stressed support to upskilling initiatives years ago, but things changed. Today, continuous training of the workforce is one of the most important HR trends and practices in terms of digitalization in human resource management in the near future. Gartner reports that 59% of HR leaders admit that building critical skills and competencies is among their top priorities in 2022.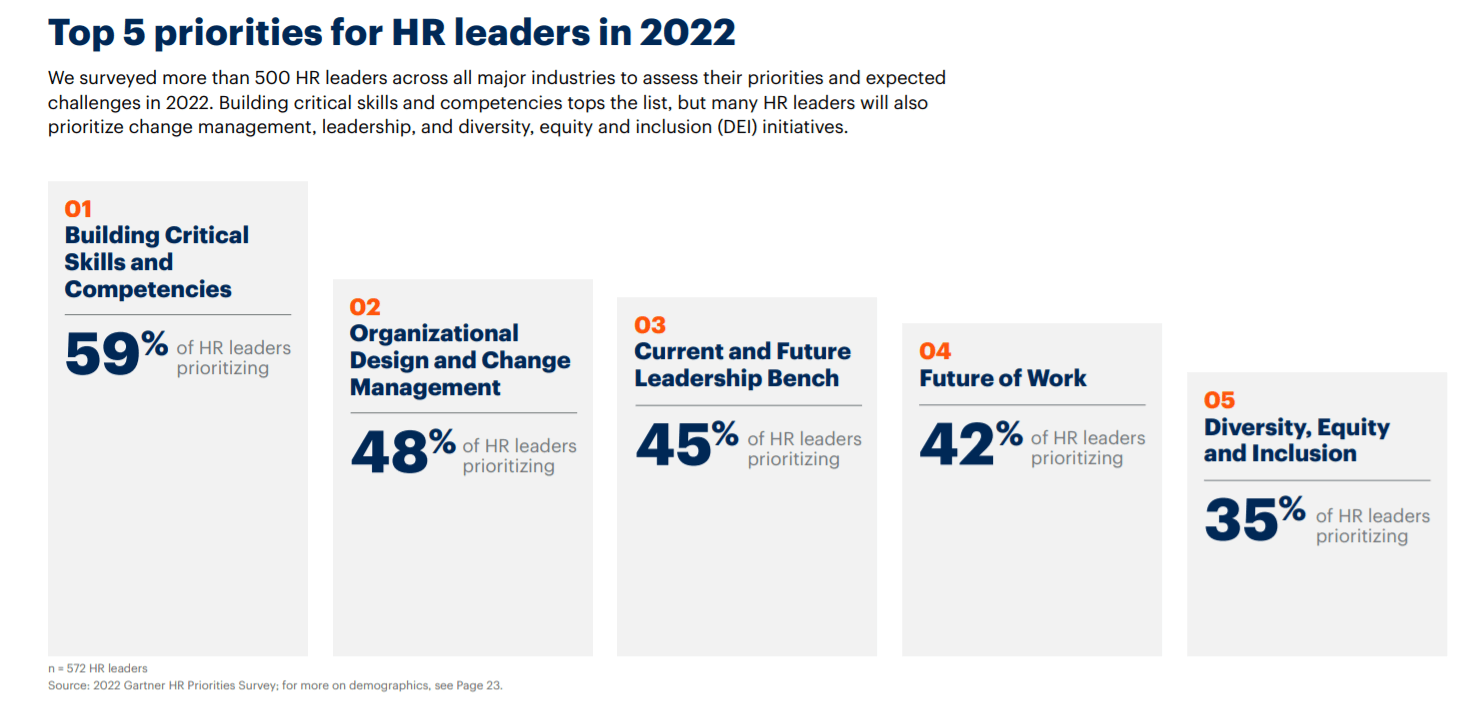 The same report states that the overall number of competencies necessary for a single job is growing at a rate of 6.3% per year, and old skills are being replaced by new ones. By 2022, 29% of the abilities that were featured in the average job ad in 2018 will be obsolete. That is why including continuous learning of employees in the HR digitalization strategy is worth special attention.
What's needed is a dynamic approach to reskilling and on-demand training of employees. An internal training program must be tailored to the needs of both the organization and the individual employees in order to bring actual value.
The strategy should also consider the technology infrastructure that can provide essential skills and knowledge to the workforce. Corporate skill development solutions or Learning Management Systems (LMS) are an excellent choice for this. The company can either use an off-the-shelf system or create a tailor-made corporate learning management system. We've already covered how to develop LMS from both a commercial and technological standpoint when you're interested in creating a unique solution.
Start HR transformation process with MindK
As you can see, digital transformation is becoming an urgent requirement for businesses that want to remain competitive in the market and attractive to candidates in 2022. At the same time, it's important to understand that miracles do not happen – any digitalization involves a lot of complex work at the design stage, and even more during its implementation. Quite often it presupposes adapting to changing business environments on the go.
That's why each company that plans to go for it should carefully identify an experienced technology partner able to support digitalization in HR. MindK has years of experience in providing HR software development services. We've built different types of digital HR software, so we can help you build an on-demand product that addresses the biggest pain points in your human resource management process.
Fill in the form and specify at what stage of the digital transformation journey is your company and what you plan to do, and our manager gets back to you shortly to discuss details.