The Internet of Things (IoT) can be applied in the energy sector both for energy supply, transmission, distribution, and demand. Based on the experience we gained from developing digital solutions for our clients in the energy sector, we can confidently say that among the main benefits the energy sector can gain from IoT are better energy efficiency, reduction of the environmental effect of energy usage, higher percentage of renewable energy, and much more.

In view of these benefits, there is strong interest from investors in IoT and Artificial Intelligence (AI). The global value of the IoT energy market is predicted to reach $35.2 billion by 2025 compared to $20.2 billion in 2020.
In short, the perspective of IoT application for energy is really promising. To see the big picture of this perspective, let's review:
Back to basics: what exactly is IoT and how does it work?
The Internet of Things is a new technology that uses the Internet to link physical devices. Therefore,  consider IoT as a collective network of linked devices and the technology that enables communication both between devices and the cloud, and between devices themselves.
This technology is used to create IoT systems and solutions. A typical IoT system operates by collecting and exchanging data in real-time. To make it possible, the IoT system should include:
hardware like sensors, actuators, or other smart devices that are responsible for collecting data or controlling a particular mechanism;
connectivity enabled by communication protocols or gateways that transmit all that data to the cloud or receive commands (Wi-Fi, Bluetooth, cellular technology such as LTE-4G and 5G networks);
IoT cloud itself for data storage;
data analytics software to analyze the data collected from the sensors and make decisions.
IoT application to allow the end-user control the whole system, set preferences, add and set up devices, and so on.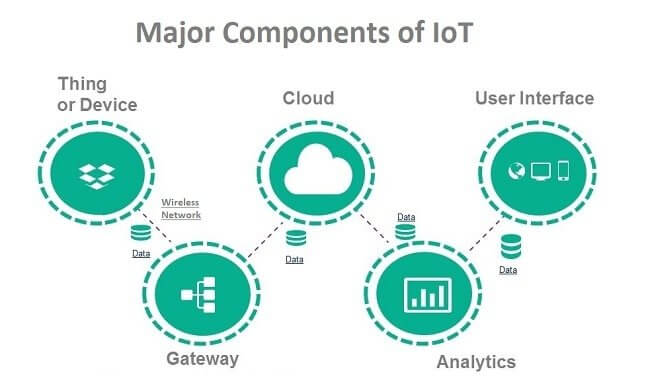 Source: rfpage.com
 The IoT system works properly when it has all the mentioned components in place. In general, by applying IoT systems the energy businesses may achieve:
Complete energy tracking and monitoring: as IoT sensors and devices gather data continually, interpret it, and deliver appropriate information based on the device, it allows organizations to identify and solve certain challenges and problems.
Overall process automation: smart devices automate a lot of manual operations like collecting and analyzing data, thus allowing people to concentrate more on operations that occur after the processed data from IoT devices is received and analyzed.

Proactive maintenance: one of the biggest concerns of companies, maintenance involves sufficient cost spending that can be reduced by means of IoT – for example, IoT devices can analyze previous data to identify patterns and forecast potential problems or disasters with equipment.

Centralization of systems: IoT may offer centralized control and management of all corporate processes, including monitoring and tracking data, as well as delivering actionable measures whenever and wherever needed.

Enhanced efficiency: all the IoT possibilities from energy tracking to state-of-the-art analytics and maintenance improvements contribute greatly to improved energy efficiency.
For example, we developed an Information Energy Monitoring System for one of our clients, a web-based platform powered by IoT that helps local governments track energy consumption, improve energy efficiency and optimize spending.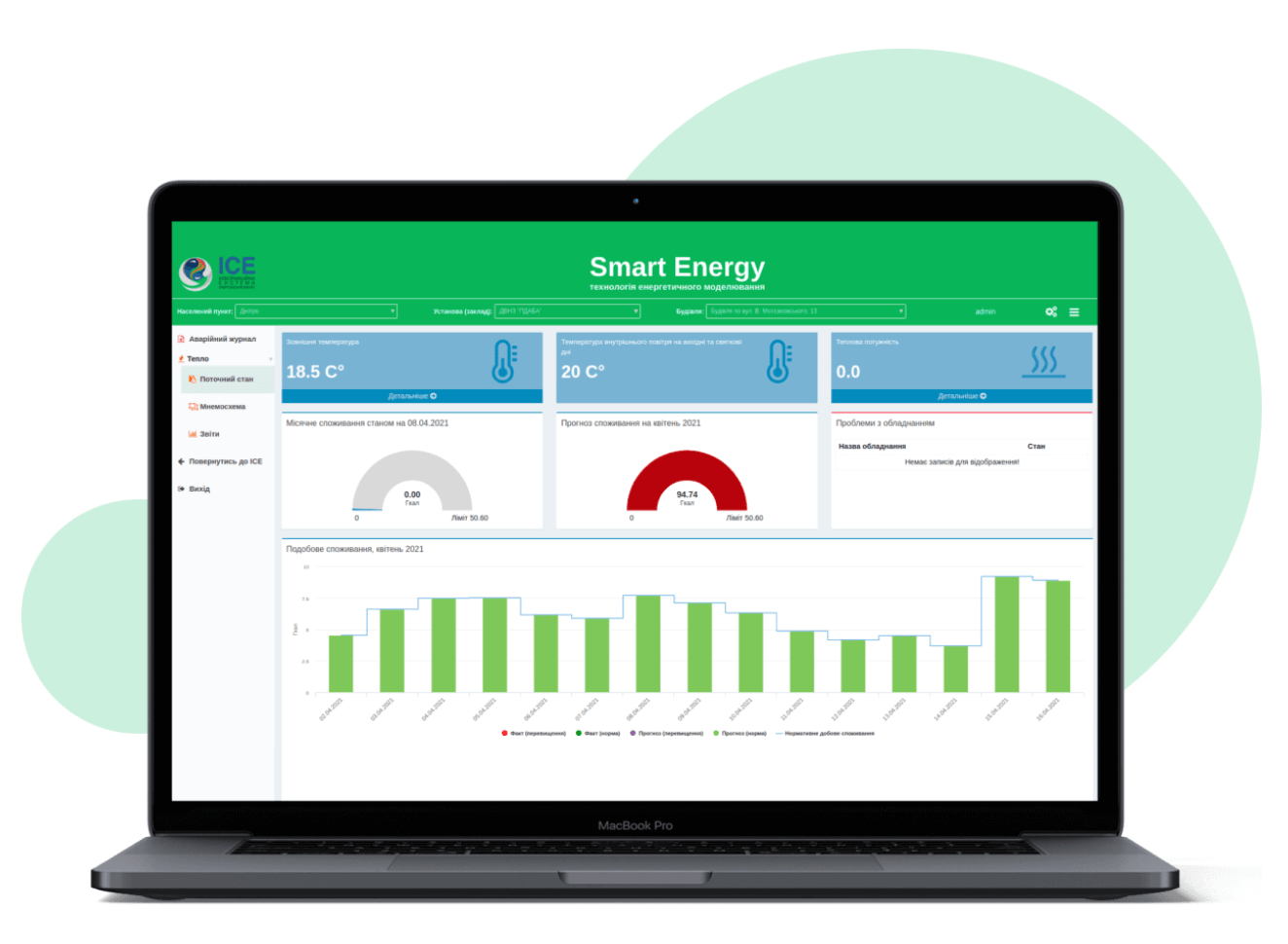 Apart from an IoT module that allows managers to remotely track heat consumption and take readings from utility meters, the platform also assesses energy and water consumption efficiency and provides smart analytics. With this solution developed by our team, one region alone saves over $600,000 a year.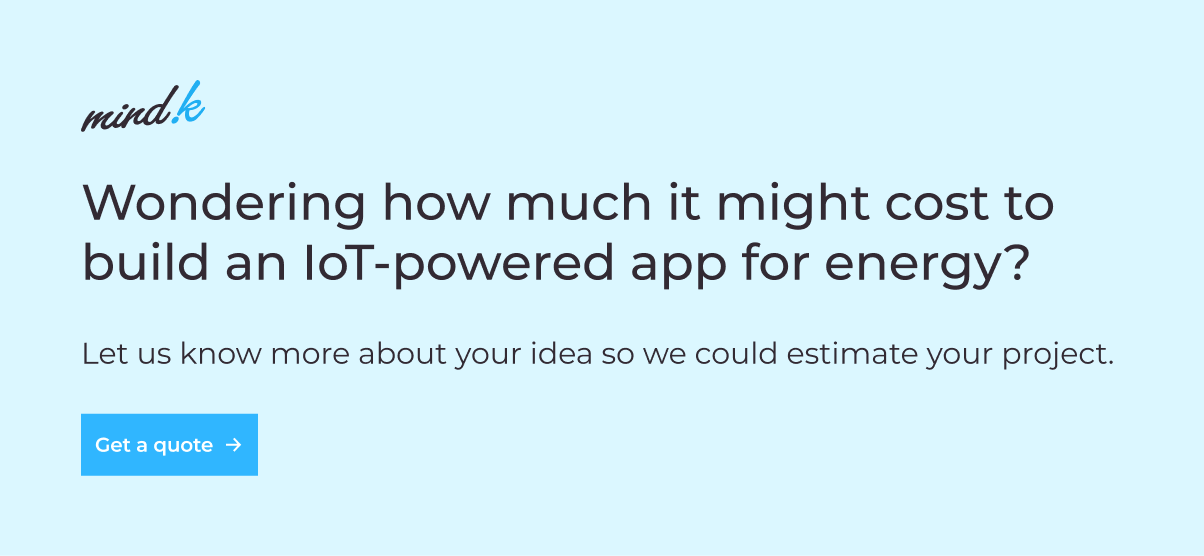 Now that we are on the same page about what IoT is and how it can improve the energy industry, let's go into more details and talk about use cases of the Internet of Things in the energy sector.
Use cases of IoT applications in the energy sector
#1: IoT application for the energy market and regulations
Energy democratization
Democratization of energy means providing the end-users access to electricity as well as the freedom to pick the source of power to the supplier. In this way, individuals directly participate in the energy network and can control their energy consumption. With greater focus on renewable energy sources like wind or solar, Europe energy crisis, and digital disruption of the whole energy sector we addressed in our previous articles, the concept of energy democracy is more real than ever before.
Among solutions that contributed greatly to energy democratization is Peer-to-Peer (P2P) energy trading . P2P energy trading systems enable energy sharing and trading within a community without the need for the conventional major utilities to act as a binding mediator. Users are not just consumers, but also "prosumers," who generate their own energy from sources, like, for instance, rooftop solar panels and electric cars.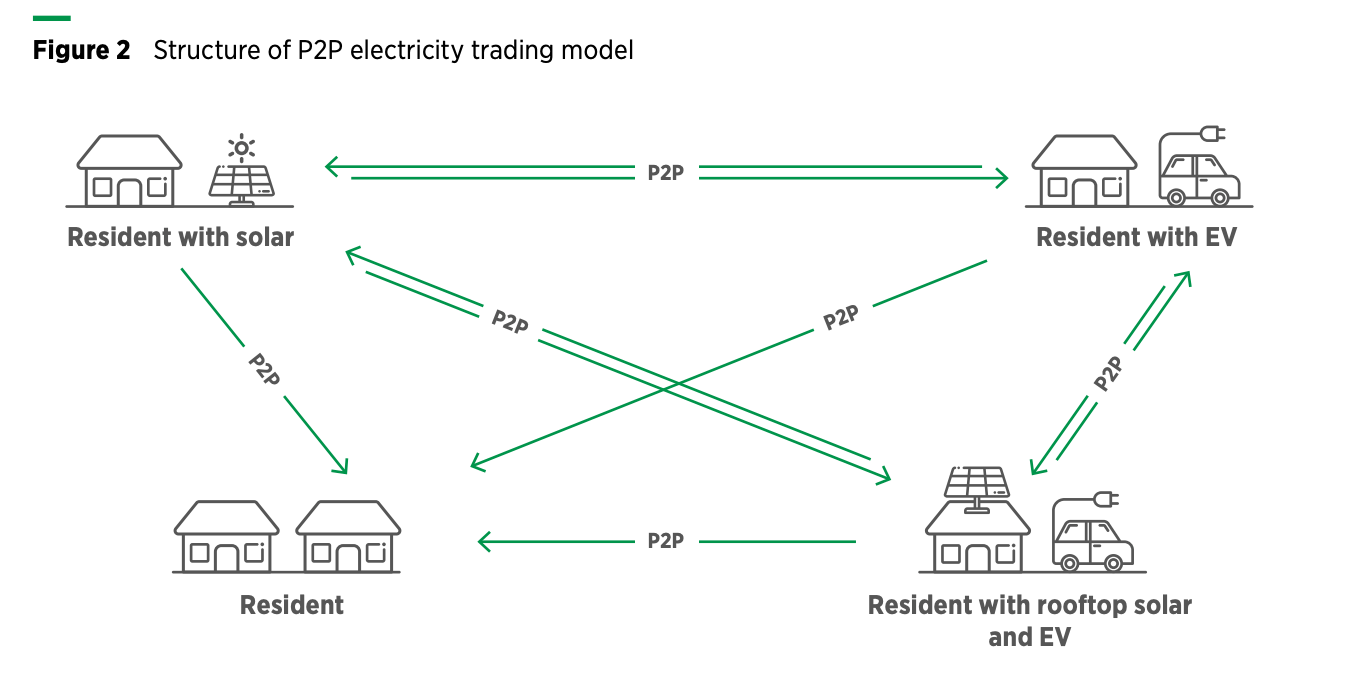 Source: irena.org
Among the technological enablers of P2P energy trading platforms are usually the Internet of Things and blockchain technologies. The Internet of Things is used to monitor and regulate energy export and consumption, as well as account power flows. Blockchain is applied to ensure safe and transparent transactions, and eliminate the need for a central authority. As a result, energy democratization can bring  benefits such as:
eliminating the energy supply chain hierarchy, market power, and centralized supply;
decentralization of the energy market, lower prices for energy consumers; and
the creation of consumer awareness toward energy use and efficiency.
Virtual power plants
Virtual power plants (or simply VPP) are cloud-based systems, which integrate various energy resources in one place and run them on the energy market as a unified and flexible resource, or sell their power as a system reserve.
The ecosystem of the VPP may consist of solar plants, battery storage systems, wind turbines, electric vehicle charging stations, demand and response management centers, and smart meters. The fundamental hardware components of a VPP is the Internet of Things including smart meters, smart thermostats, and sophisticated management software.
Among the key participants involved are power utilities, renewable energy operators, energy producers and retailers, VPP operators, and building managers. The VPP's participants connect to the VPP's central control system by means of a remote control unit. The central control system effectively monitors, coordinates, and controls all assets.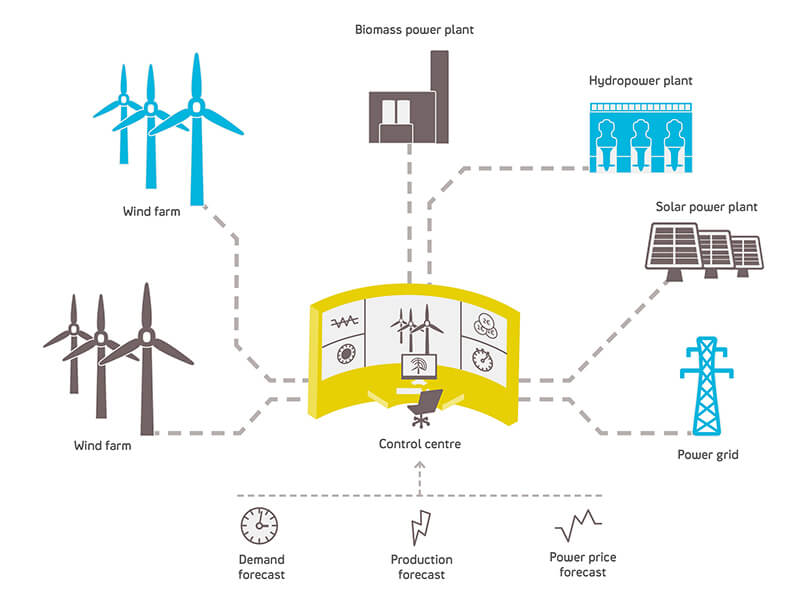 Virtual Power Plants utilizing IoT
energycentral.com
Virtual Power Plants have the ability to optimize the profitability of asset owners while also balancing the grid. By means of demand and production forecasting, advanced metering, and computerized control, the plants can match load fluctuations, as well as optimize energy resources in real-time. As a result,  the benefits VPP can bring to the table include:
ability of the small loads of supply to participate in competitive energy markets;
assisting the system by decreasing load during peak hours;
lowering the risk of high peak-hour power bills;
improving the grid flexibility and minimizing the need for balancing assets; and
providing profit to customers.
A number of world-known companies such as ABB, Siemens, General Electric, Cisco Systems, Bosch, Mitsubishi, and others are rigorously progressing in this industry. For example, in August 2020, the ABB company assisted Jibei Electric Power Co. Ltd., a Chinese utility state grid, in the construction of a VPP with smart distribution, coordination, and metering control modification.
#2: IoT application for the energy supply
Preventive and fault maintenance
Perhaps the greatest potential of IoT in preventative and fault maintenance comes in monitoring remote energy assets. By analyzing big data collected through static and mobile sensors or cameras, IoT technology can provide fault, leakage, and fatigue monitoring. In addition, the IoT allows identifying failures and problems in energy networks and possibly fixing them virtually.
This helps not only to lower the risk of failure, production loss, and maintenance downtime but also reduces the cost of operation, prevents accidents, boosts safety and improves the reliability of service.
For example, Telcomsel IoT Envision is an end-to-end, IoT-based energy monitoring solution that provides real-time monitoring and failure mitigation to optimize energy consumption and reduce maintenance costs.
Energy storage and analytics
The growing emphasis on energy conservation is driving the worldwide intelligent energy storage systems market. The Internet of Things acts as the central nervous system for intelligent energy storage systems (ESS).
Let's take, for example, the most sophisticated battery storage systems that employ lithium-based batteries. If the temperature of these batteries rises to a certain level, they can break or even catch fire. ESS fires, in particular, are a serious safety concern.
By connecting the ESS to the cloud by means of IoT technology, the equipment manufacturers or ESS operators can remotely monitor, manage, troubleshoot, and improve the operation and performance of these systems. For instance, IoT applications can enable them to remotely analyze the temperature and humidity of their ESSs. They may also gather data on how their ESS's batteries charge and discharge. It guarantees that no battery cells are overcharged or over-discharged which boosts the performance of ESS  and ensures an optimal strategy for storage assets.
Digitalized power generation
While generating energy, energy producers today have to consider factors such as global warming and decreasing fuel stocks. In this light, applying IoT in energy generation, especially renewable fuel generation, may help significantly.
For example, sensors enable IoT devices to record and communicate data during the various stages of solar energy generation. In power plants, IoT-powered actuators turn energy into motion. To increase the energy generation, power plant hardware systems by means of IoT might be directed to align sunlight-harnessing solar panels optimally.
In general, IoT serves as a digital glue that holds the many operations and systems in a solar power generating plant together. Furthermore, it may be used for data analytics and accurate forecasting during energy generation.
#3: IoT application for energy grids
Smart grids
As the old grid infrastructure ages and struggles to keep up with rising power consumption, governments around the world are focusing on implementing and integrating smart grid technologies. The International Energy Agency (IEA) believes that the IoT smart energy grid is crucial to achieving a safe, sustainable future.
The Internet of Things plays a critical role when talking about smart grids. As far as the technological and infrastructural components of the smart grid are mostly IoT-based, the Internet of Things is considered a major facilitator of the smart grids. So, what exactly is a smart grid?
A smart grid is an electricity network that consists of infrastructure, hardware, and software solutions. Unlike a typical grid with one-way communication, a smart grid involves many two-way interactions between all the elements and system participants. This results in an approach that enables a variety of scenarios for how generated energy can be moved and controlled.
A smart grid is frequently described as a self-sufficient distributed system able to generate energy from a variety of sources, including renewables and storage.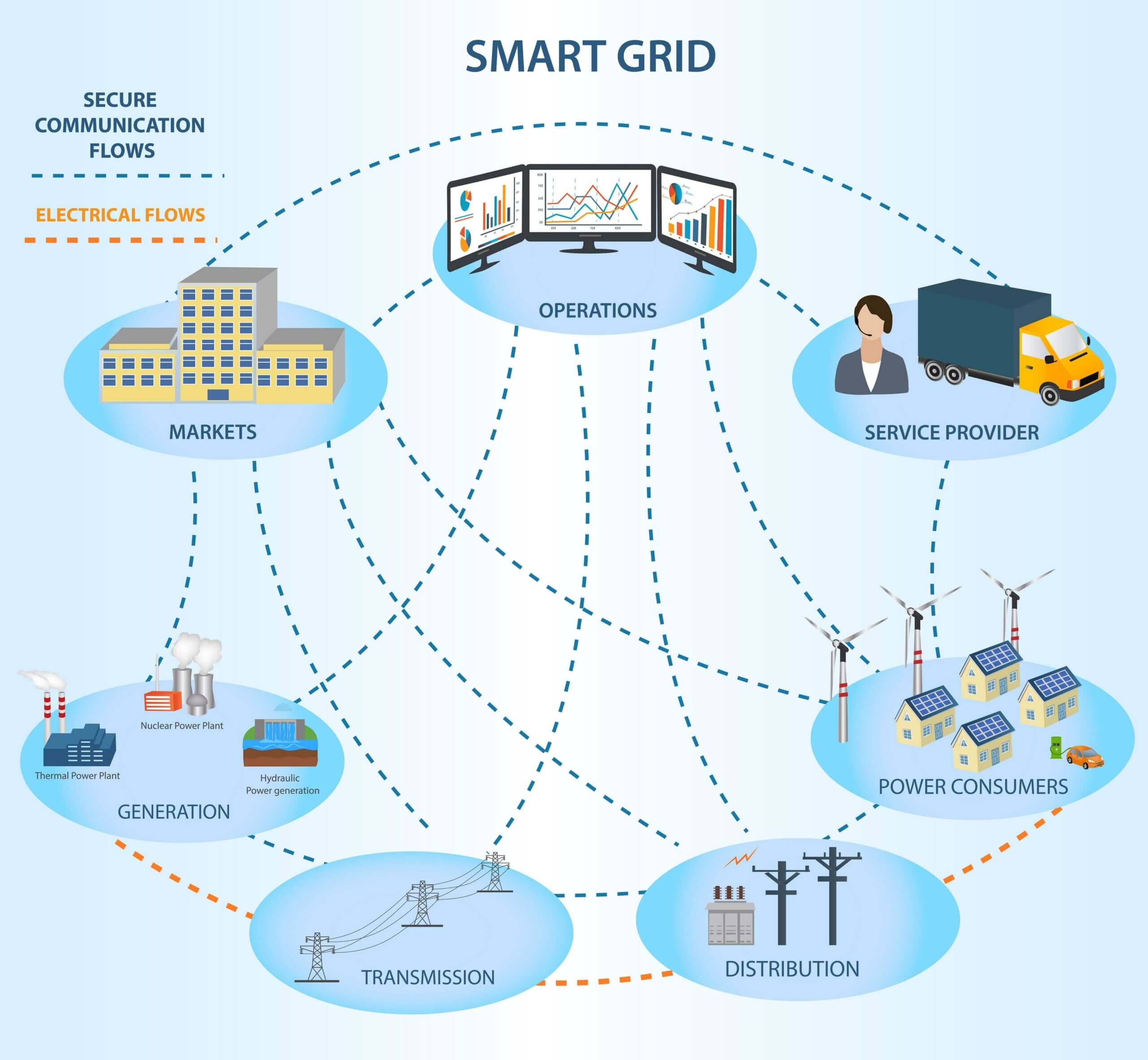 Source: digiteum.com
Integrated control of electric vehicle (EV) fleet
Electric vehicle (EV) fleet adoption has increased as the world strives to minimize carbon emissions and lower expenses. In addition to the typical fleet measures such as utilization, IoT suggests a completely new set of metrics for electric fleet systems such as charge status, charging session information, charge/discharge cycles, and much more.
An illustrative example of the benefits IoT can provide for EV vehicles is an IoT technology solution for electric vehicle monitoring developed by CONTUS. The solution provides battery usage data, charging reports, nearby charging stations alerts, route tracking, vehicle performance data, driver behavior data, and much more.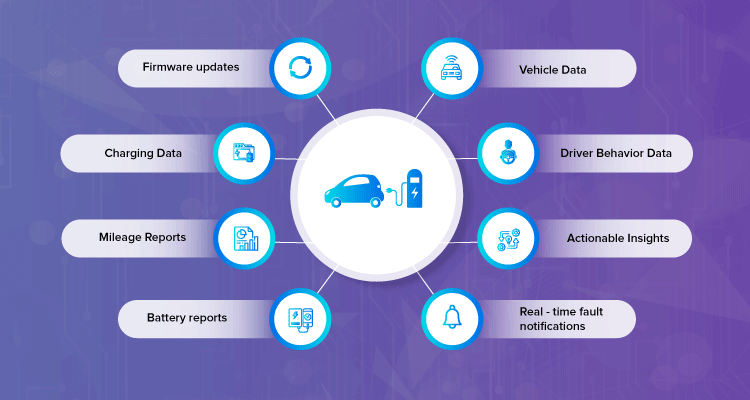 Electric Vehicle's Dashboard Using CONTUS' Monitoring Solution
Source: contus.com
Vehicle to grid (V2G) management
Vehicle-to-grid is smart charging technology that allows electric car batteries to return electricity to the grid. V2G contributes to climate change mitigation by enabling the energy system to produce more and more renewable energy.
Although the basic notion of V2G charging is quite straightforward, its implementation needs to use a sophisticated suite of smart technologies. To analyze total system demand, the charging stations must be equipped with software that connects with the central grid. Here is where the Internet of Things can be helpful. IoT technology supports Vehicle-to-grid management by enabling the collecting, tracking, and analysis of various data to offer optimal interaction between the grid and electric vehicles.
The City of Nottingham, for example, decided to apply an IoT solution OpenRemote for V2G, battery storage and solar power management. The main goal is to empower the city's energy management to optimize the usage of locally produced renewable energy while reducing carbon emissions and expenses related to EV charging.  As a result, the IoT solution applied provides the energy managers with complete analytics about the performance of solar power generation, the condition of electric fleet chargers, the charge state of vehicle batteries, and the financial and carbon savings achieved by implementing an optimization plan.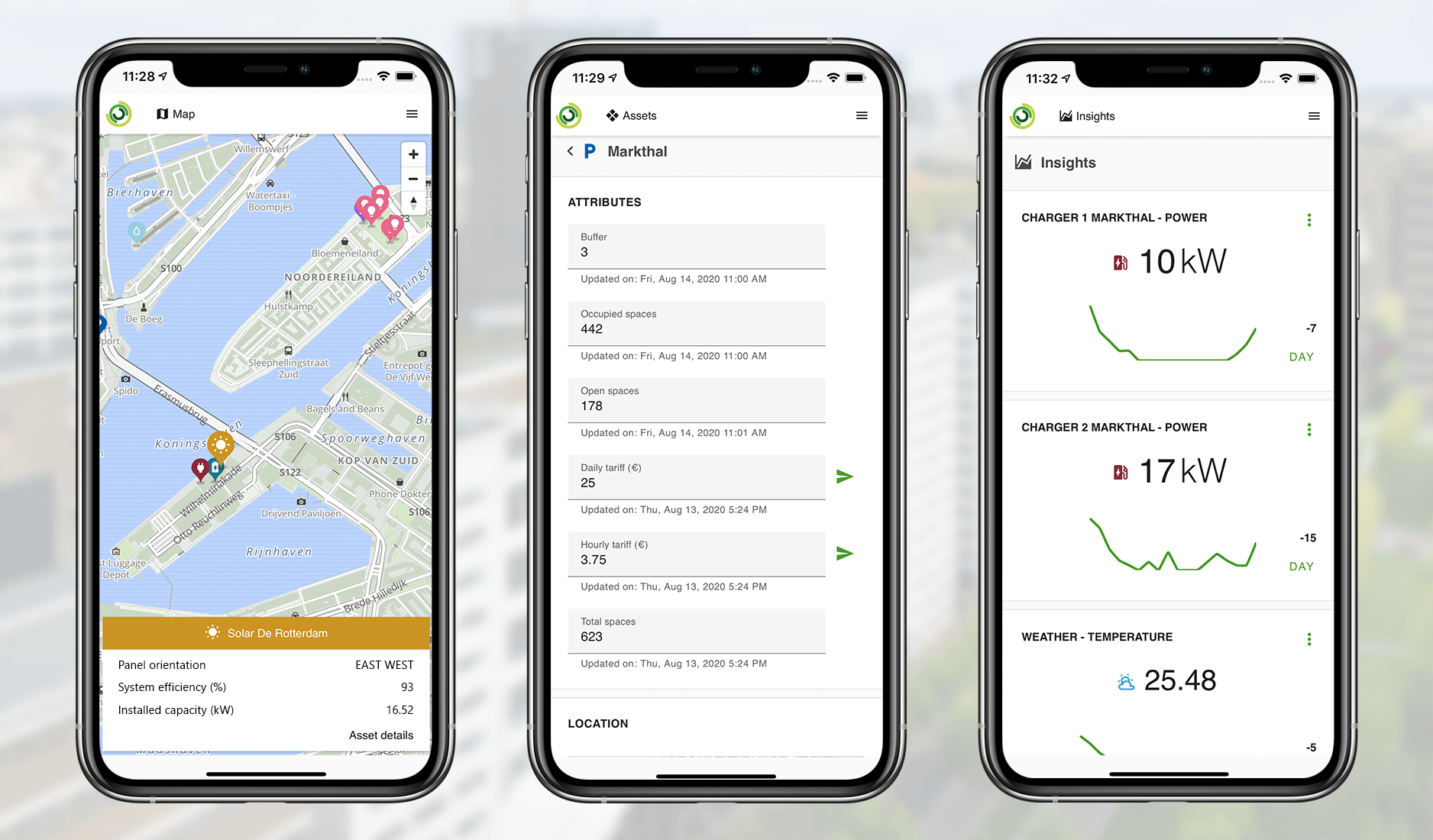 Source: openremote.io
#4: IoT application for demand-side energy consumption management
Smart metering systems
Commercial buildings in the United States consume 18% of all energy and contribute to 20% of greenhouse gas emissions. In this light, remodeling energy consumption and sustainability of the buildings is critical to reaching  global climate goals. IoT-powered metering systems can help to make energy consumption more efficient.
Smart metering systems are the substitute for traditional solutions for tracking electricity. This IoT system tracks energy consumption and provides a customer with information to reveal usage trends and peak times, as well as allowing the forecast demand for electricity and optimizing of energy distribution and pricing.
An example, Sense, is a smart home energy monitoring app that tracks household power use in real-time. It can determine how much energy each in-home gadget consumes, from bathroom lights to the water heater or garage door, and determine the expense. The application even delivers real-time carbon intensity statistics to assist users in reducing their carbon footprints.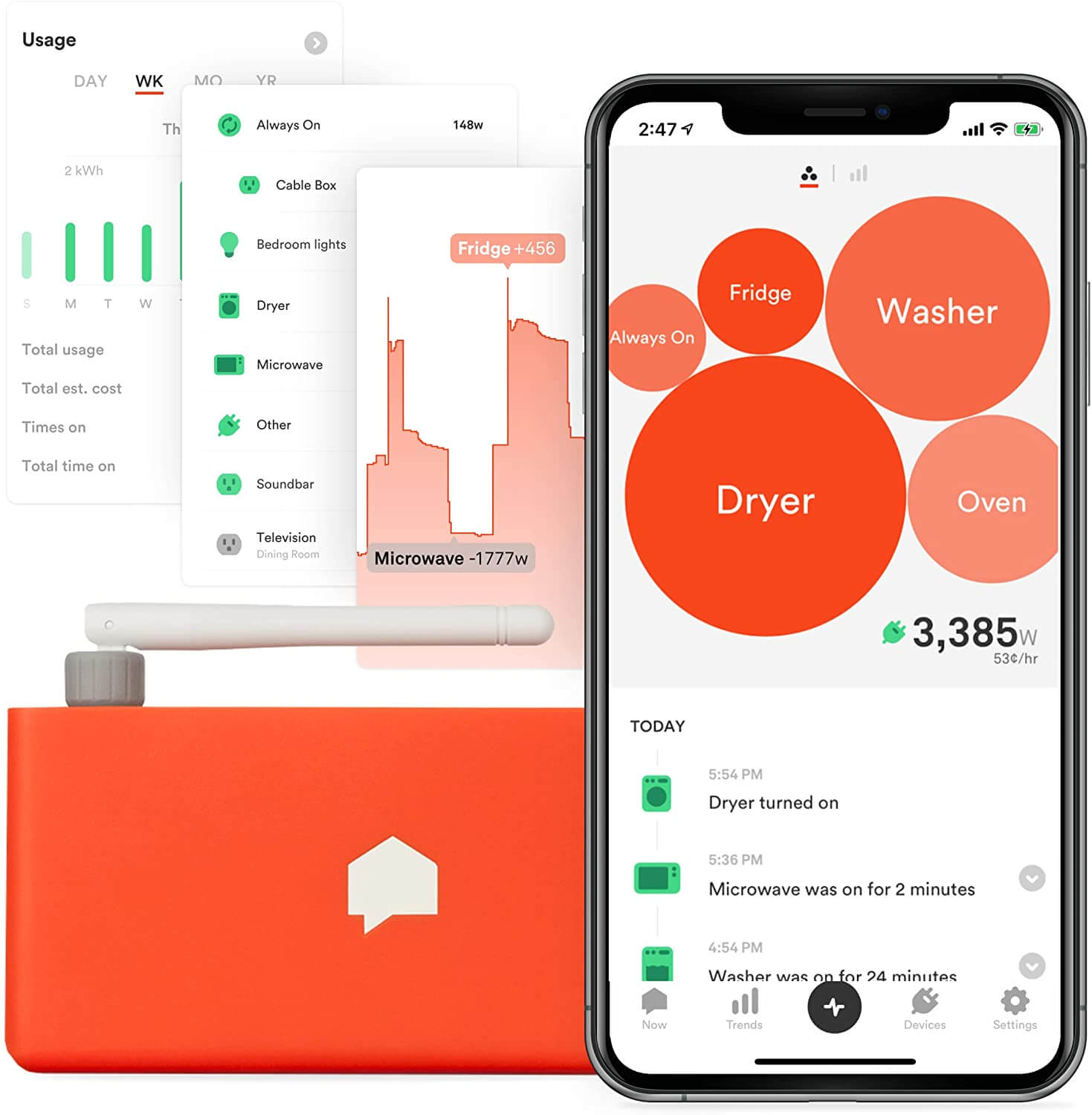 Source: sense.com
Intelligent HVAC solutions
Heating, ventilation, and air conditioning (HVAC) consume a significant amount of energy in both residential and commercial buildings. They are responsible for up to 60% of overall power use.
HVAC solutions based on IoT technology enable end-users to track and manage temperature, light, humidity, or, separately, the air-conditioning area. Above that, such systems usually detect issues and find their root causes. As a result, smart HVAC solutions help:
reduce electricity bills significantly;
keep equipment highly functional;
handle performance concerns, avoid equipment downtime; and
assist governments in lowering carbon emissions.
Cielo Home, an IoT-powered air conditioning (AC) app, is designed to control any form of mini split, portable air conditioner, or window air conditioner by means of smart AC controllers. The app keeps users informed of AC consumption trends and assists in meeting savings objectives.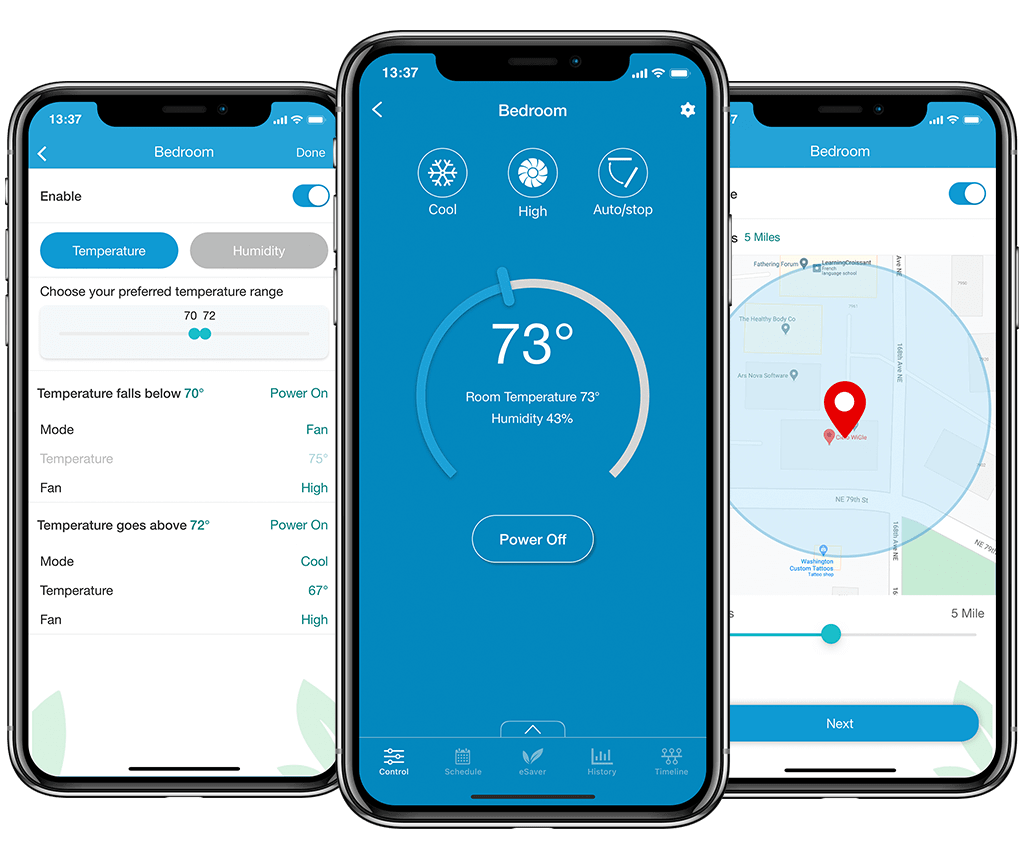 Source: cielowigle.com
Sure, we've listed only a part of use cases where the Internet of Things can be applied in the energy sector. With  growing interest in decarbonization, the number of IoT use cases in the industry will continue to increase.
However, when thinking about applying IoT to the energy sector you should also keep in mind the challenges you may face.
Possible challenges when applying IoT in energy sector and how to solve them 
Challenge #1: Integrations
Integrating IoT technology on any existing platform may be a significant issue for any company. The situation is made even more challenging in the energy industry, especially when integrating IoT in the subsystems of the energy solution.
Among the reasons are the high complexity of such systems and the uniqueness of the energy sector's subsystems applying a variety of sensors and data communication technologies. Therefore, special attention should be paid to managing the data exchange between the solutions.
In these situations, development of co-simulation models for energy systems in order to integrate the system and reduce synchronization delay error between subsystems may become helpful. Co-simulation is the process of combining several stand-alone simulation technologies to replicate a whole system in a consistent manner. Another option is modeling an integrated framework for energy systems that take into account the IoT requirements of a system or subsystem you need to integrate with.
Challenge #2: Data security
Another challenge that companies face when applying IoT technology is data security. The technology presupposes a lot of critical customer data involved, so cyber-attacks and data leaks may damage company's reputation.
This is a primary reason why companies need to pay great attention to their data security policies and invest in effective encryption techniques to protect energy information. Furthermore, to lower the danger of cyberattacks and increase system security companies invest in distributed control systems that enable control at different levels of the IoT system.
Challenge #3: IoT standardization
IoT makes use of various standards to ensure connectability to a large number of different devices. Inconsistency amongst IoT devices that use multiple standards creates a new problem. Among the standards used in the IoT-enabled systems are network protocols, communication protocols, data-aggregation standards, and regulatory standards that refer to data security and privacy.
In order to achieve consistency among various IoT devices and cover various technologies, one can define one system with a common sense of understanding so that all the participants can
equally access and use it. Another option is to develop open information models and protocols of the standards by all the parties involved. As a result, standards will be freely and publicly available.
Challenge #4: High energy consumption
One of the key goals of applying energy IoT platforms is energy saving. However, the IoT systems themselves consume energy. The IoT devices transmit a lot of data and require communication between different devices. That's why a significant quantity of energy is required to run the IoT system and transport the massive amount of data generated by IoT devices. This sets another challenge for businesses.
To save energy, the company should investigate measures aimed at minimizing the power consumption of IoT systems. It could be using the sleep mode for sensors, designing efficient communication protocols, using radio optimization techniques like modulation optimization and cooperative communication, using energy-efficient routing techniques like cluster architectures, and implementing multi-path routing techniques.
Challenge #5: Architecture design
As we've already mentioned, the IoT-powered systems are made up of many technologies and an increasing number of smart networked devices and sensors. The main goal of the IoT is to enable smooth communications between the parties at any time and from any location.
IoT systems therefore, require a complex architecture design. It may happen that a one-size-fits-all architecture design will not fit the distinct characteristics and requirements of IoT systems. That is why the custom architecture design that fits the standards required for IoT systems, using heterogeneous reference architectures, as well as applying open standards may be a solution.
Transform your energy solution with IoT technology
To sum the whole thing up, IoT represents a new reality, encompassing the energy industry with real-time applications and cutting-edge technology. It derives actionable information from sensor devices and gateway connections, which it then uses to offer new and advanced services for better productivity and energy efficiency.
However, applying IoT is a complex task that requires well-considered working architecture design, high security and smooth integration. MindK team has hands-on experience with the technologies used to build energy-efficient solutions. We have expertise in developing software for energy monitoring and management, data analytics and visualization, sophisticated algorithms for device identification, and much more. So, if you require a highly experienced technical team to help, then fill in the contact form and we'll get back to you to discuss the details.