This is hardly the first energy shift that oil and gas companies have encountered, but this one is unlike any other. In the past, each energy transition resulted in a more efficient and marketable kind of energy. Today's energy transition is different as it is driven not only by factors of energy efficiency.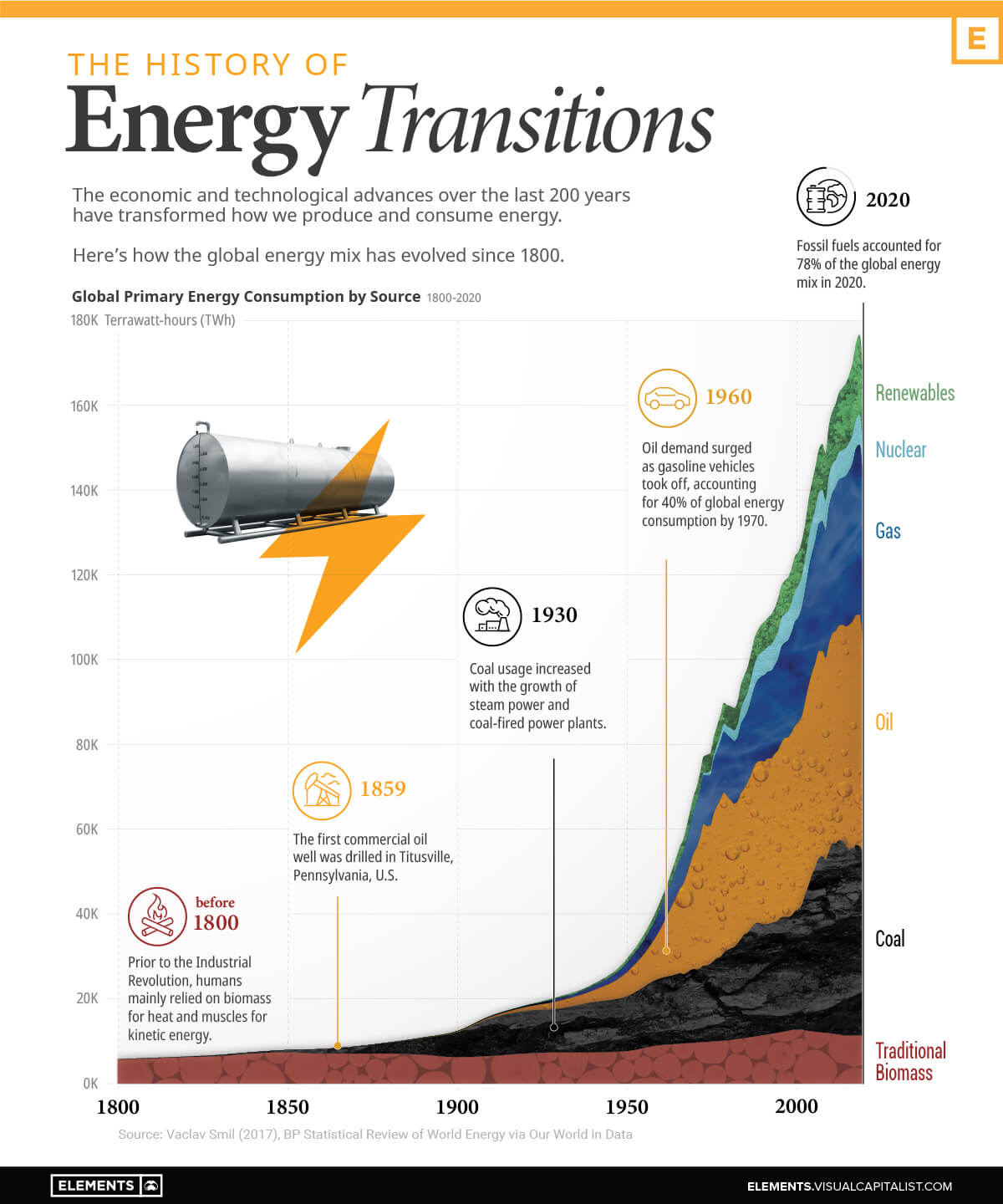 Why this energy transition is special: key drivers of the energy shift
The first important driver of the present energy shift is global climate change. Today's energy transition is seen as a way to stop or at least minimize greenhouse gas (GHG) emissions. As we've already mentioned when talking about the future of energy industry, the United Nations set a goal – the global economy must cut GHG emissions in half by 2030 and reach carbon neutrality by 2050.
This decarbonization trend puts the majority of energy companies at crossroads. Still, it's clear that the world cannot completely refuse fossil fuels. Accenture predicts that fossil fuels will still provide around 50% of the energy mix in 2050. The main objective of this energy transition is to create an energy system that is decarbonized.
The second driver is the declining cost of solar, wind, and other renewable sources of energy. Renewable energy prices have dropped dramatically over the last decade. For example, the cost of power generated by utility-scale solar photovoltaics (PV) was reduced by 85%, while the price for onshore wind dropped almost by 40% since 2010.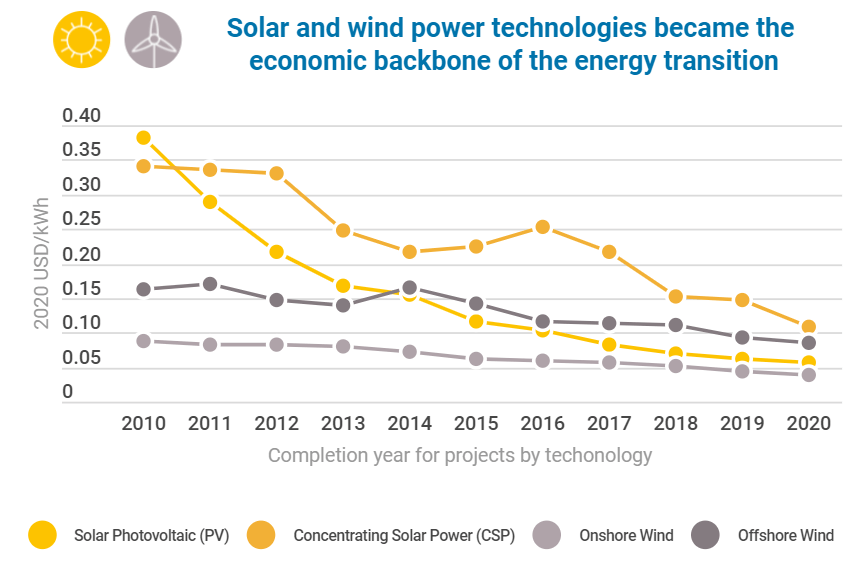 Source: renewablemarketwatch.com
Here at MindK, we've been developing digital solutions for the energy sector for years, and we can clearly see how companies become more and more attentive to the decarbonization trend. For example, a SaaS web platform we built for our client, a corporate social responsibility consulting company CEMAsys.com AS, currently experiences a great increase in popularity. The system we developed helps companies manage and report all the sustainability and environmental information in one place and has already attracted companies such as H&M, Eneco, Orcla, Telia, DNB, and others that take production sustainability seriously.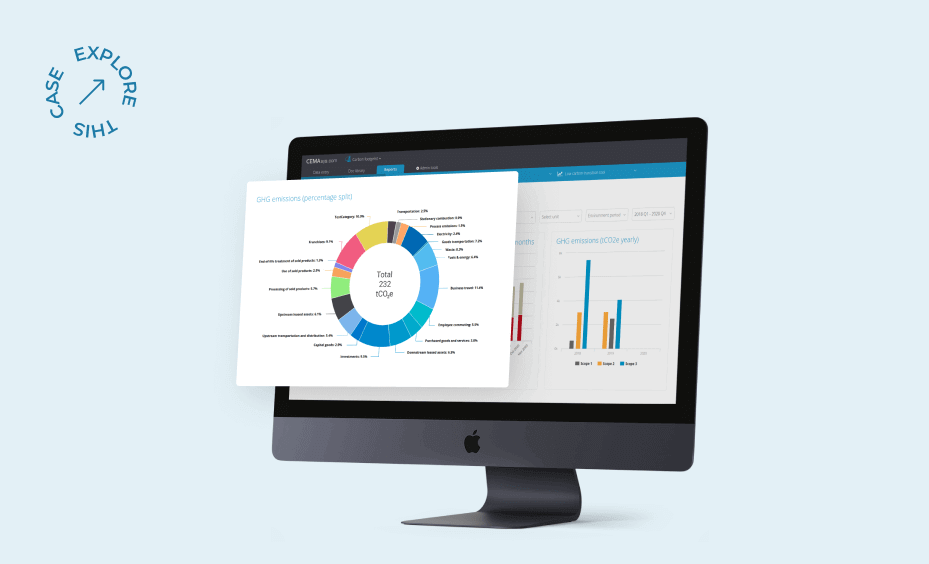 In view of the decarbonization future, the outcome is pretty simple – those oils and gas companies that want to survive must go through a number of transformations. Some of these transformations will involve changes in the business models, others are connected with the digital shift.
So, what does the energy transition look like for oil and gas companies?
The transition requires oil and gas companies to rethink what they do, how they do it, how they distinguish themselves from others, and how they assess and provide value to clients and investors. Accenture believes that the key to success is balancing sustainability with equity and fundability.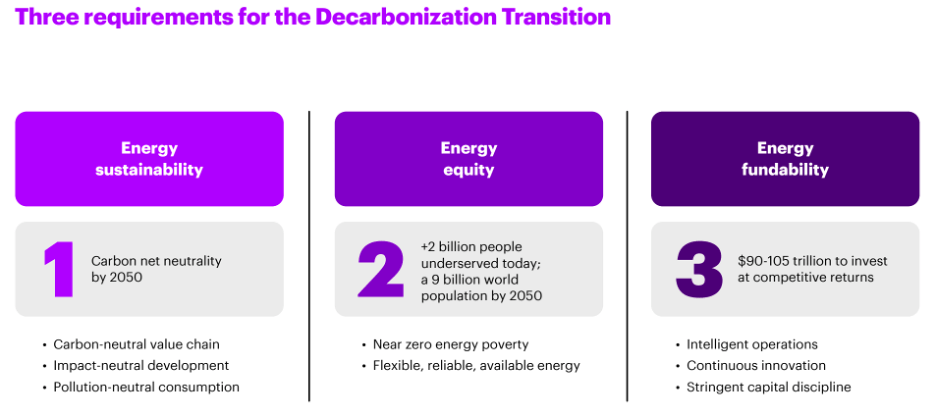 Source: accenture.com
The company states that these three components are the north star for innovation. Whatever reinvention path the energy company chooses, it should provide reliable energy for everybody, achieve the necessary carbon footprint by 2050, and ensure competitive returns to investors.
There are various ways to achieve these results. So, to define how to reach the goals mentioned, companies, first of all, should define the reinvention strategy. For example, Accenture calls this reinvention strategy an archetype, which could be Decarbonization Specialist, Energy Major, and LowCarbon Solutions Leader. Each of these archetypes will play a crucial to the global energy future, and may involve different paths to reinvention:
Decarbonization Specialists may work for oil and gas companies that are currently successful in their traditional operations and plan to stay successful. The main idea here is to build the most efficient production and emissions control capabilities. In addition, they will take special attention to creating a failover, high-performing core with the lowest emissions and best value generation. In the long run companies with such a path will become masters of circularity with high expertise in the reduction, reuse, and recycling of equipment and waste.
Energy Major

archetype may suit those businesses that want to either build or add clean energy opportunities to their existing oil and gas assets. This may involve increasing investments in low-carbon technologies, alternative sources of energy like biofuels and hydrogen, electricity business or electric vehicle charging networks.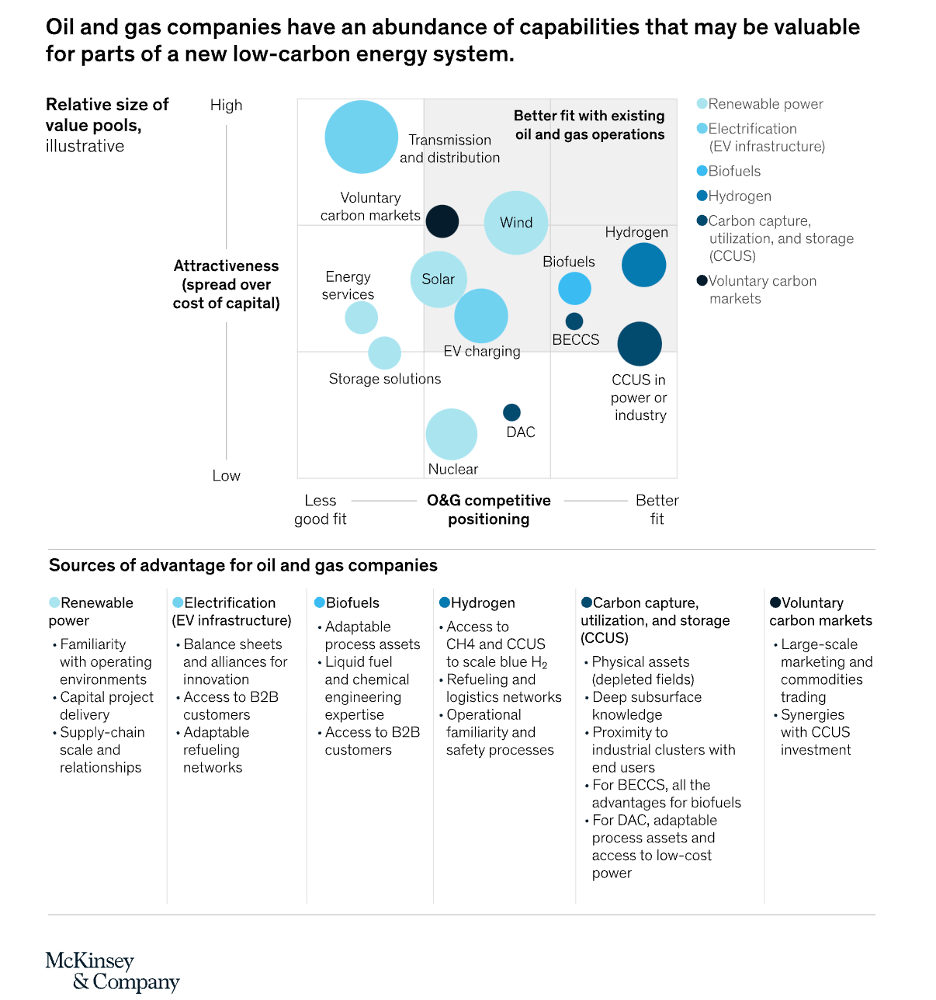 LowCarbon Solutions Leader defines companies that decide to make a significant strategic shift away from its existing business strategy. Companies with such a path will exit current core operations, monetize core assets, and then reinvest and leverage their knowledge to succeed in new areas of growing clean energy industries like solar, offshore wind, biofuels, hydrogen, or decarbonized fuels. In short, this strategy indicates a more bold, all-encompassing transformation to a clean-energy-only portfolio.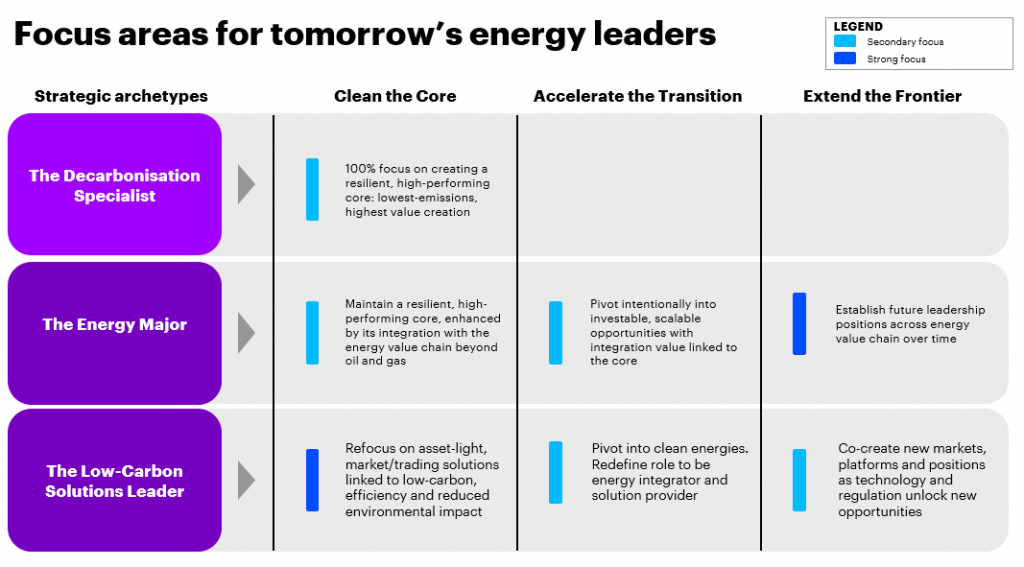 Apart from the transformation in business strategies, transition requirements expect investment in intelligent operations and continuous innovations. In other words, digitalization is one more instrument to balance sustainability with equity and fundability.
For example, digitalizing the elements of the upstream sector like exploration and production that involve discovering potential sites, conducting geological surveys, onshore and offshore drilling and similar may result in up to 20% savings. Additionally, digitalization may save up to $73 billion for Europe's upstream oil and gas companies every year.
The cost saving is only a part of the big picture. Digitalization required in terms of the energy transition has a lot more to offer including higher productivity, better efficiency and security, in-depth analytics for improved decision-making, and a great competitive advantage. This is why oil and gas companies are planning to increase digital transformation spending up to 7.5% by 2025.
Energy disruption: 5 things oil and gas companies can implement to become more efficient
Migration to the cloud to enable the intelligent enterprise
Most oil and gas companies do not have a comprehensive cloud strategy in place that outlines a consistent approach to cloud adoption. However, it's one of the first steps worth considering in terms of energy digital transformation. The main reason for this is that cloud computing is the foundation for further digital changes that will ensure the building of an intelligent enterprise infrastructure.
For example, cloud computing, according to GlobalData's latest thematic research, 'Cloud Computing in Oil & Gas,' facilitates the adoption of other key time, money, and energy-saving technologies like advanced analytics, data management, artificial intelligence (AI), machine learning (ML) and so on.
Cloud computing services include software as a service (SaaS), platform as a service (PaaS), and infrastructure as a service (IaaS). The difference between these services we've already revealed when we talked about SaaS vs Cloud Services, so check it out to connect the dots. For the record, by 2024, the SaaS offering is estimated to account for more than half of worldwide cloud services revenue in the energy industry. So, software as a service model is worth special consideration.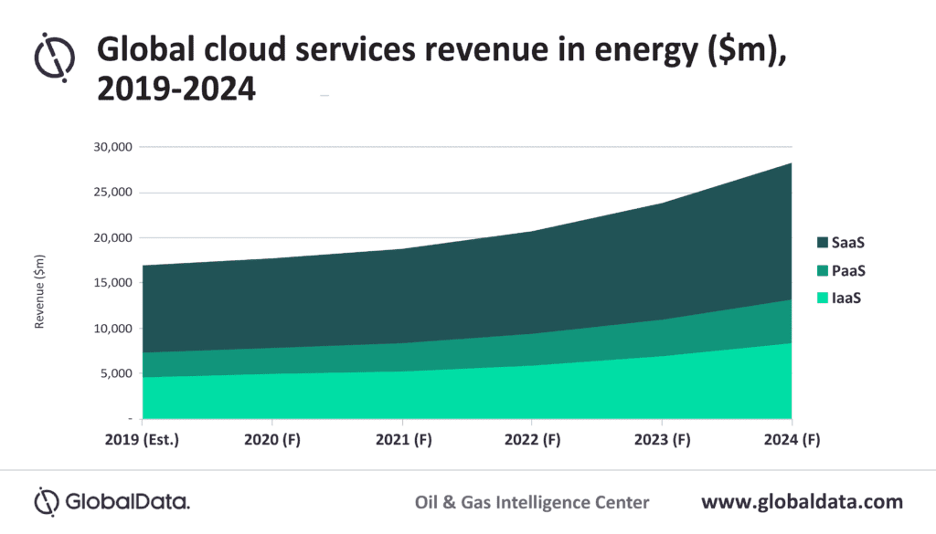 Among the major benefits of cloud adoption are:
Improved flexibility and scalability: cloud computing improves a company's agility as it enables faster decisions and scale on demand. For example, thanks to effective data consumption, new models may be introduced in a relatively short time frame.
Cost savings: Using the cloud prevents businesses from large one-time spending to purchase massive servers and coping with space restrictions. Data centers provide all the expertise needed to keep distant servers up and running with less possibility of a power outage and cost mitigation in the contract if servers fail, which dramatically enhances productivity.
For example, British oil and gas company BP has seen over $50,000 savings in hardware costs by running their ECC system on AWS Cloud and now will progress the whole SAP landscape to the cloud in the next 18 months.
Enhanced security and compliance: unlike the early days of cloud computing when data security was a major worry, data centers have now heavily invested in their security services by successfully deploying cutting-edge protection against physical and online threats.
Reduced environmental impact: oil and gas corporations have long been blamed for polluting the environment. They now require alternatives to lessen their environmental effect. This is where cloud computing shines. Data centers prioritize energy efficiency and green technology initiatives to achieve this goal.
These are only some of the benefits gained from the adoption of cloud technologies. In view of this, cloud spending in the energy industry is expected to rise by 4-5 times over the next 5 years.
Implement data management capabilities to optimize decision-making
When it comes to data, oil and gas industries confront a number of issues. Among them are, a disorganized data environment, low quality, dependency on third parties, and a lack of data governance. In this context, excellent data management is crucial because it provides a single source of truth and serves as the foundation for all operations and critical decisions.
For example, by means of the Information Energy Monitoring System (ICE) we built for our client, FIATU, the local government was able to make serious decisions on improving energy efficiency and optimizing spending. The system involved automatic collection of data from electric and utility meters, and collection of energy, heat, and water consumption data. All the data collected together allow system users to analyze the energy consumption and take measures. For example, by means of the solution, one region alone saves over $600,000 a year.
It's important that a strong data management system is built around data management policies and a data management model. The first of these establishes the ground principles for data management. The second monitors data, data quality, and data links. In the end, a digital data management platform is the architecture that brings different types of data (for instance, field and office data) together and makes them accessible in a safe environment.
The demand for data management in the energy industry will grow significantly. For instance, in 2020 the oil and gas data management market was worth $15.80 billion. By 2030 it's expected to reach $92.36 billion.
Among the key drivers of the market are increased operational efficiency and performance, increased adoption of real-time analysis and predictive analytics solutions, as well as higher end-user awareness.
There are companies that believe they must first improve their data before considering larger adjustments. In our opinion, infrastructure development should be driven gradually. This allows delivering infrastructure construction and value from the start.
Invest in energy management software to lower carbon footprint and reach ESG targets
Today, oil and gas firms are under growing pressure to address GHG emissions. To lower their carbon footprint companies set Environmental, Social, and Governance (ESG) targets. The statistics show that around 96% of the industry leaders have set ambitious ESG goals.
To be able to set, track, analyze and report on the emission-reduction progress and complete ESG targets, most companies are largely investing in sustainability and energy management solutions. These systems are focused on considerable process savings, and adopting improved carbon-detection and management technology. They digitize carbon emission performance tracking and reporting while also driving value creation by integrating business analytics to enable emissions reduction potential, business transformation, and risk management.
An on-point example here is Envirisoft, a trusted solution for oil and gas emissions management and ESG reporting. Having access to all of your emissions data in one location allows oil and gas companies to make data-driven decisions that help them meet compliance and corporate emission reduction targets.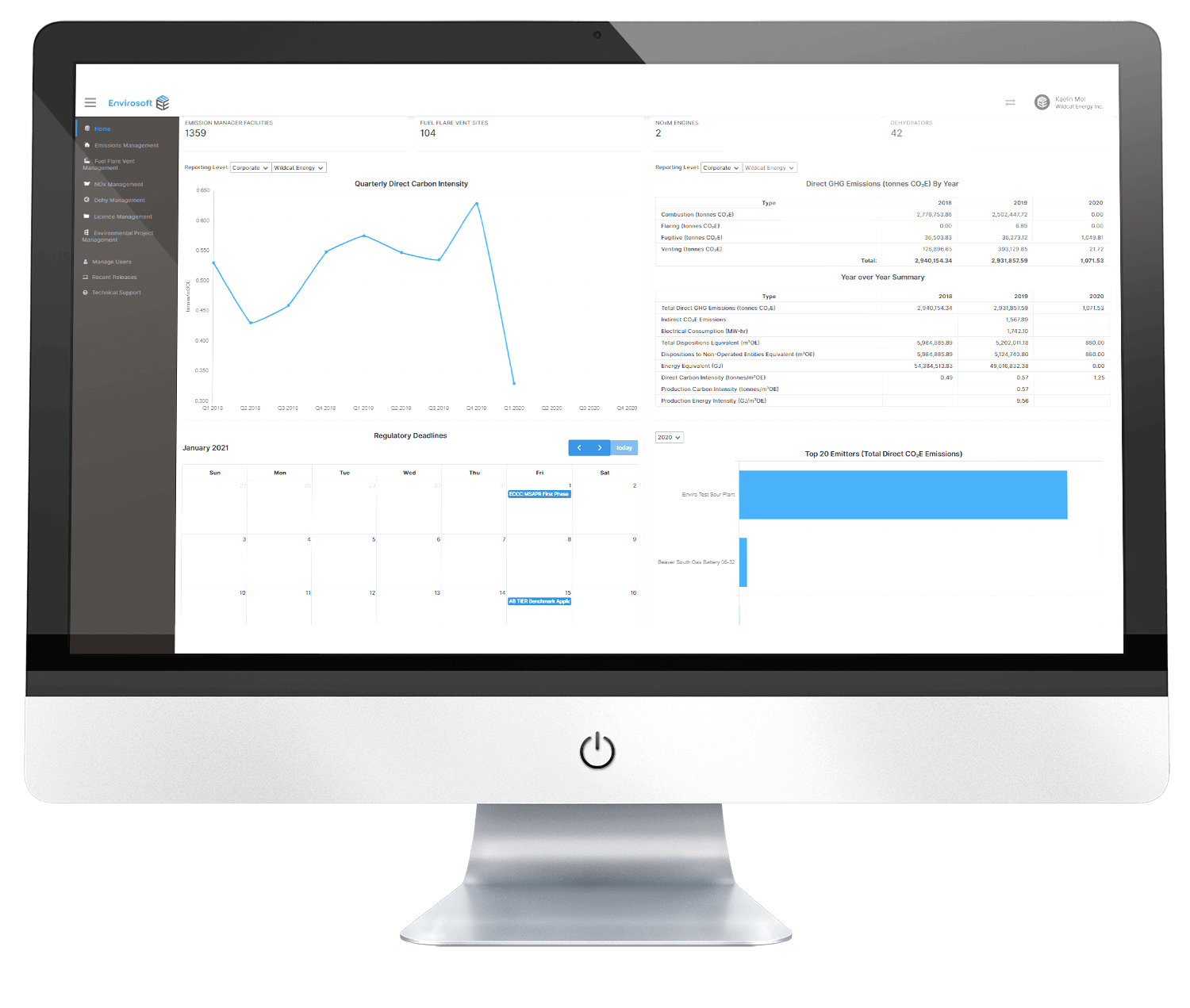 Emission Manager in the Envirosoft
Source: envirosoft.com
It should be noted that sustainability is a concern of not only oil and gas companies. The sustainability trend has involved a number of companies across the industries. In the tech sector, for example, in 2020 Apple pledged to achieve carbon neutrality in its supply chains and products, Google claims it will operate on carbon-free energy by 2030 and Microsoft promises it will remove from the environment all of the carbon released, either directly or indirectly, since 1975!
Build stronger experiences across the customer lifecycle
In this new era in which we live, oil and gas companies must shift from commodity to customer-centric organizations. They need to turn from supply businesses into those that solve customer problems. In this light, an ability to serve end-users by solving their pain points becomes mission-critical.
The leaders in the oil and gas industry have already created better experiences throughout the customer lifecycle, from finding new consumers to making it simple for customers to log in, purchase, and pay for things, and will keep on investing in this. The remaining companies should move in this direction.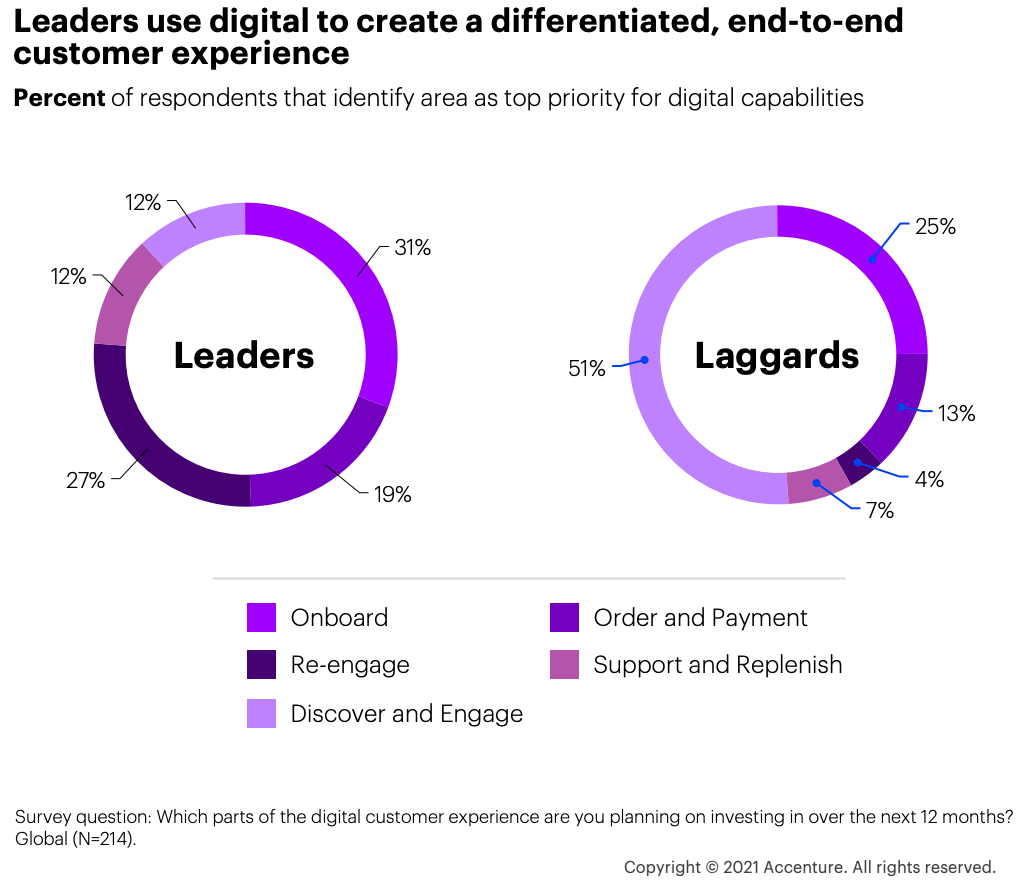 There are a number of tools and solutions today able to put the digital experience of the client to a new level – from chatbots and customer portals to electronic billing to ensure a seamless payment process plus customer complaint management systems.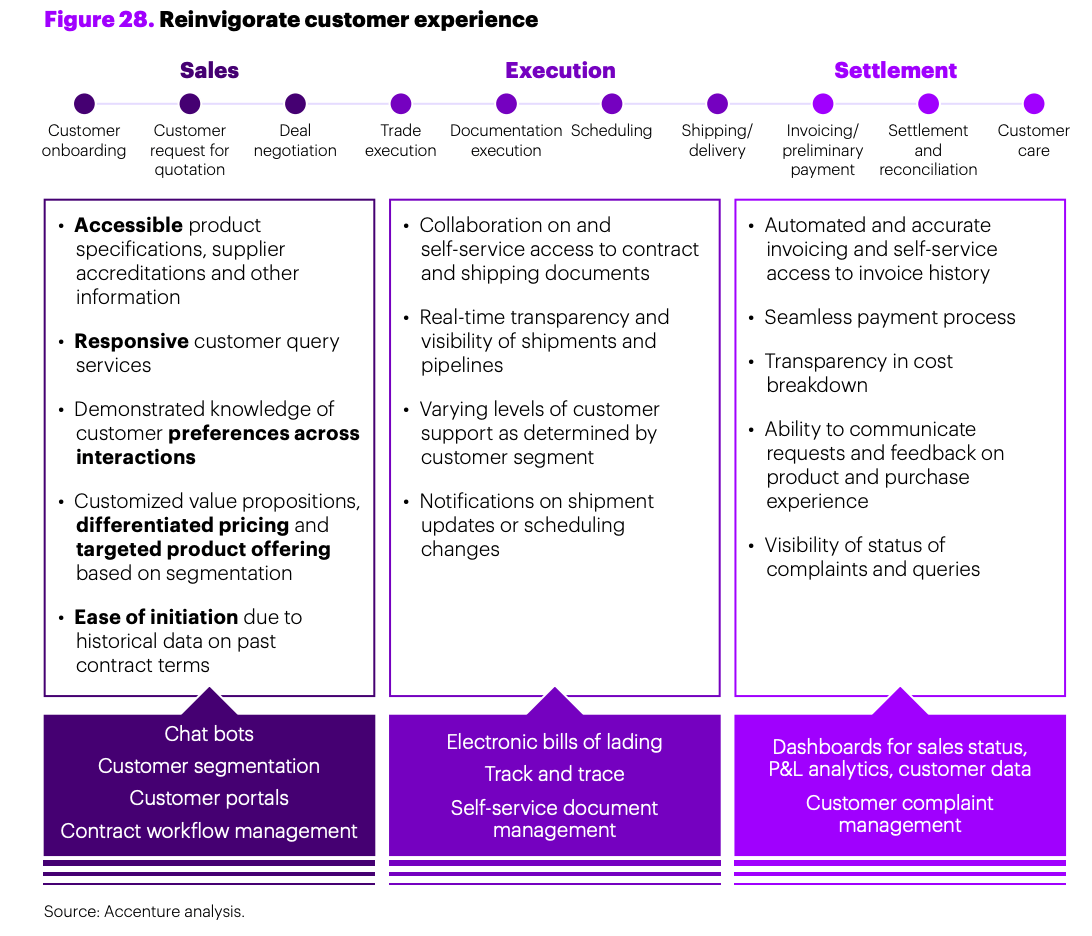 Create a digitally connected supply network
Setting up a new business or a new line of products and services may call for a totally new supply network. This is especially relevant for those companies that start providing services outside the company's traditional commodities business.
What does a connected supply network actually mean? It's a means to link everyone in the supply chain by bringing diverse systems and partner networks together to guarantee that information can flow end-to-end across the supply chain. A good supply chain network strives for 100% visibility in the real-time, resulting in an integrated picture throughout the company.
It is critical to understand that a connected supply chain is about a single defined system. All of the components of this system communicate with one another, exchanging data and insights and giving commercial benefits to all parties involved.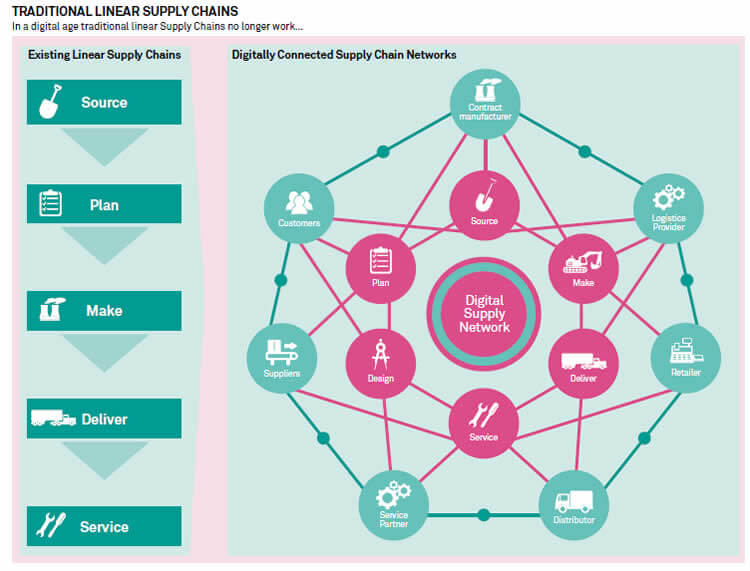 Digitally connected supply chain networks vs traditional supply chains
Source: i-scoop.eu
"What does all this have to do with a reinvention of oil and gas companies?" – you may ask. The thing is that partnerships, alliances, and joint ventures may be the best way for some oil and gas corporations to join an unknown section of the energy business.
In this regard, the connected supply network transforms into a powerful ecosystem that enables business partners, suppliers, and even customers to collaborate in real-time, exchanging operational and experience data, information, and insight.
Diversification, whether it involves a carbon-reduction component or not, was often considered a simple distraction for oil and gas companies, but now it is increasingly becoming a strategic essential, if not a matter of survival.
For example, by means of the cloud solution, AVEVA British Petroleum managed to simplify and standardize downstream supply chain management, allowing the company to swiftly adjust to market changes and capitalize on economic possibilities.
Keep up with digital transformation in energy industry
As we can see, the energy transition requires transformation steps from the oil and gas companies. If it's not very clear what fossil fuel companies can do to survive, careful consideration shows that there are a number of measures oil and gas companies can take to survive. Digital transformation and the adoption of digital energy technologies are one of these measures.
At MindK we've developed digital solutions and provided digital transformation consulting for companies in the energy industry for years. We have experience building smart systems that help business leaders drive the sustainability agenda, get better control over their energy network, predict energy expenses over time, and achieve a more resilient power supply.
If you have a similar endeavor or other challenges in digitalizing your energy business, just fill out the contact form, and we will get back to you to discuss details.