Recently, MindK has developed a custom ATS for Bridge for one of our clients. Like many companies, Bridge realized at some point that the old way to do recruiting just wasn't working any more. They've done extensive market research and came to a conclusion that none of the existing solutions fit their unique business requirements.
Their story can shed light on the decision-making process and reveal some valuable insights related to creating an ATS. So, make yourself a cup of coffee, get comfortable, and let's start our story!
Table of contents:

What is an Applicant Tracking System?
It all begins with a realization that manual recruiting is slowing your business. An ATS is, therefore, a piece of software that automates all kinds of hiring processes. It can help you post vacancies on dozens of job boards, collect hundreds of resumes with a single click, schedule job interviews, and much more.
According to the Kelly OCG survey, 66% of enterprises and 35% of SMEs like Bridge rely on ATS to manage their talent pipelines. Among the main benefits are:
Decreased time spent on repetitive and administrative work.
Faster candidate shortlisting and better quality of hires.
Integration of recruitment, HR, and accounting.
Better applicant experience.
Improved cost per hire.
Better decision-making and so on.
Applicant Tracking Software market in 2021
After you realize that you need an ATS, it's logical to do some market research. According to AppsRunTheWorld, the market for recruitment software is currently dominated by 18 companies. Comparing them can be challenging, but we can single out 3 main types of recruitment software:
Enterprise solutions are aimed at organizations with 500+ employees. They focus on collaboration across departments and geographies, as well as integrations with internal systems. They are somewhat notorious for having terrible UI, although this trend is slowly changing.
Applicant Tracking Systems for recruiting agencies are similar to enterprise software. They aim to improve productivity by helping recruiters close as many vacancies as possible.
Talent management software for SMEs is a mostly untapped market as up to 65% of small businesses rely on manual hiring. Most solutions in this category are SaaS products with tiered subscription plans.
Although most SMEs look for the best price, they should also consider scalability. Vendors like to restrict the number of users, CV storage size, limit vacancies or certain features. So, make sure additional tiers cover your growing needs without becoming a burden on the budget.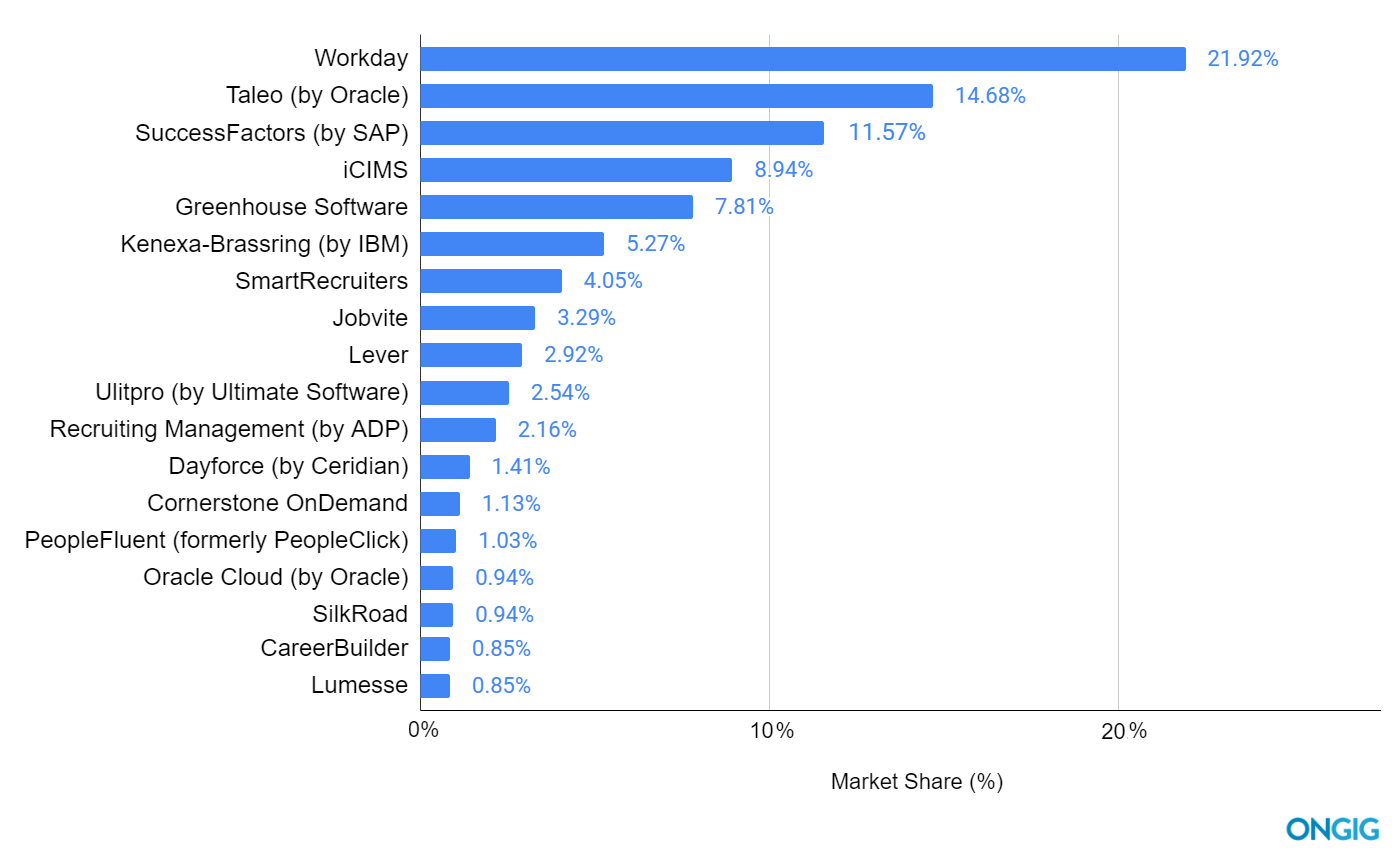 Top ATS providers by Ongig. For more information, check our ATS market analysis.
ATS: build vs buy decision
Now that you've done basic research, it's time to choose the best ATS. Yet, there's one red flag. According to a 2020 ATS buyer's guide, nearly 1/2 of companies are dissatisfied with their current ATS. This highlights the importance of doing your homework before you commit to a particular solution.
So take a step back and answer 3 simple questions:
What issues are you trying to solve with a new recruiting tool?
What are the bottlenecks you'd like to remove?
What features do you lack in your current solutions?
Once Bridge assessed their internal needs, it was time to look at the available options. You can choose either a ready-made ATS or build a custom system tailored to your needs and processes. Both approaches have their pros and cons.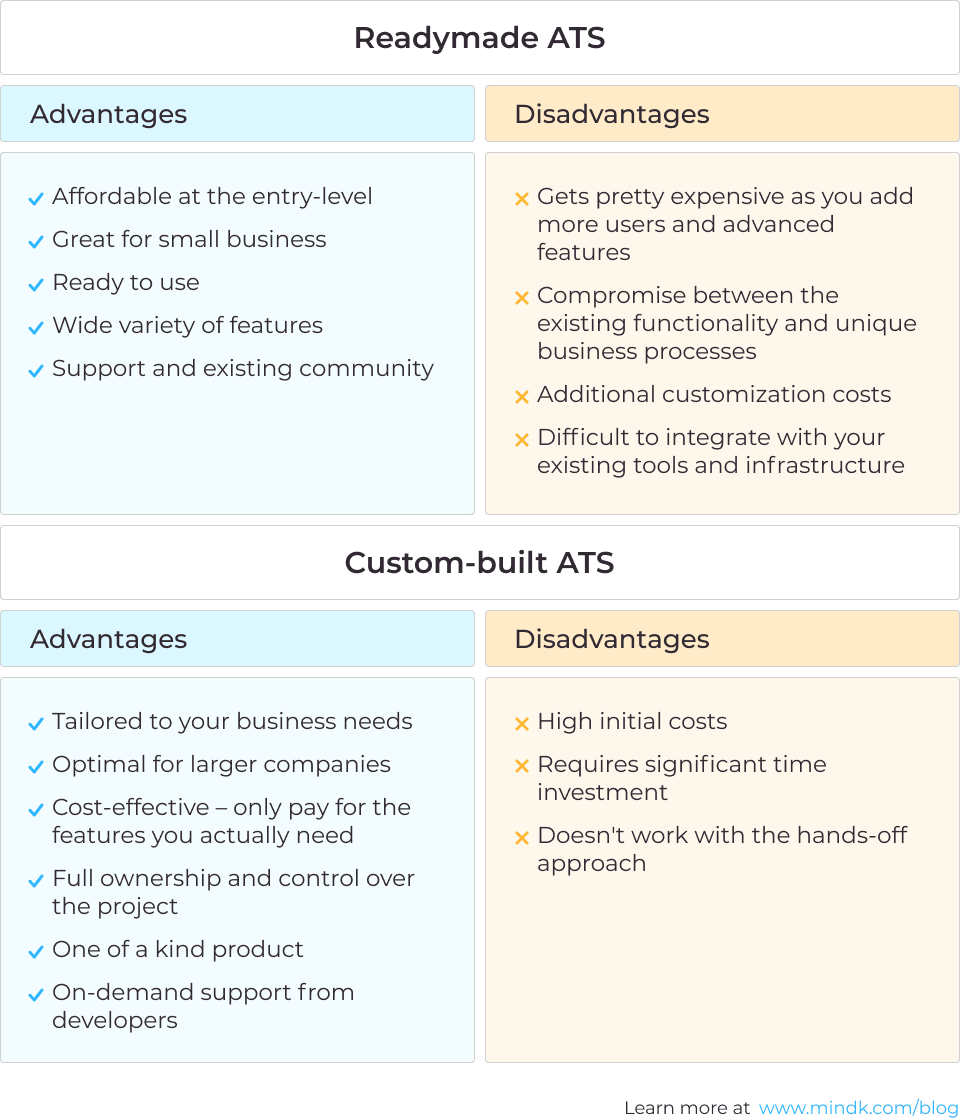 Still unsure which approach is better for your company? Here's a quick way our partners at Bridge used to understand whether existing solutions could satisfy their requirements.
#1. Write down the goals you want to reach with your new ATS.
#2. Arrange a meeting with recruiters and people who will use the new solution. It's important to consider their needs to provide good user experience.
#3. Together, compile a list of must-have features. We'll outline some of the most essential ATS features later in the article.
#4. Rate each feature on a 0–6 scale based on its importance.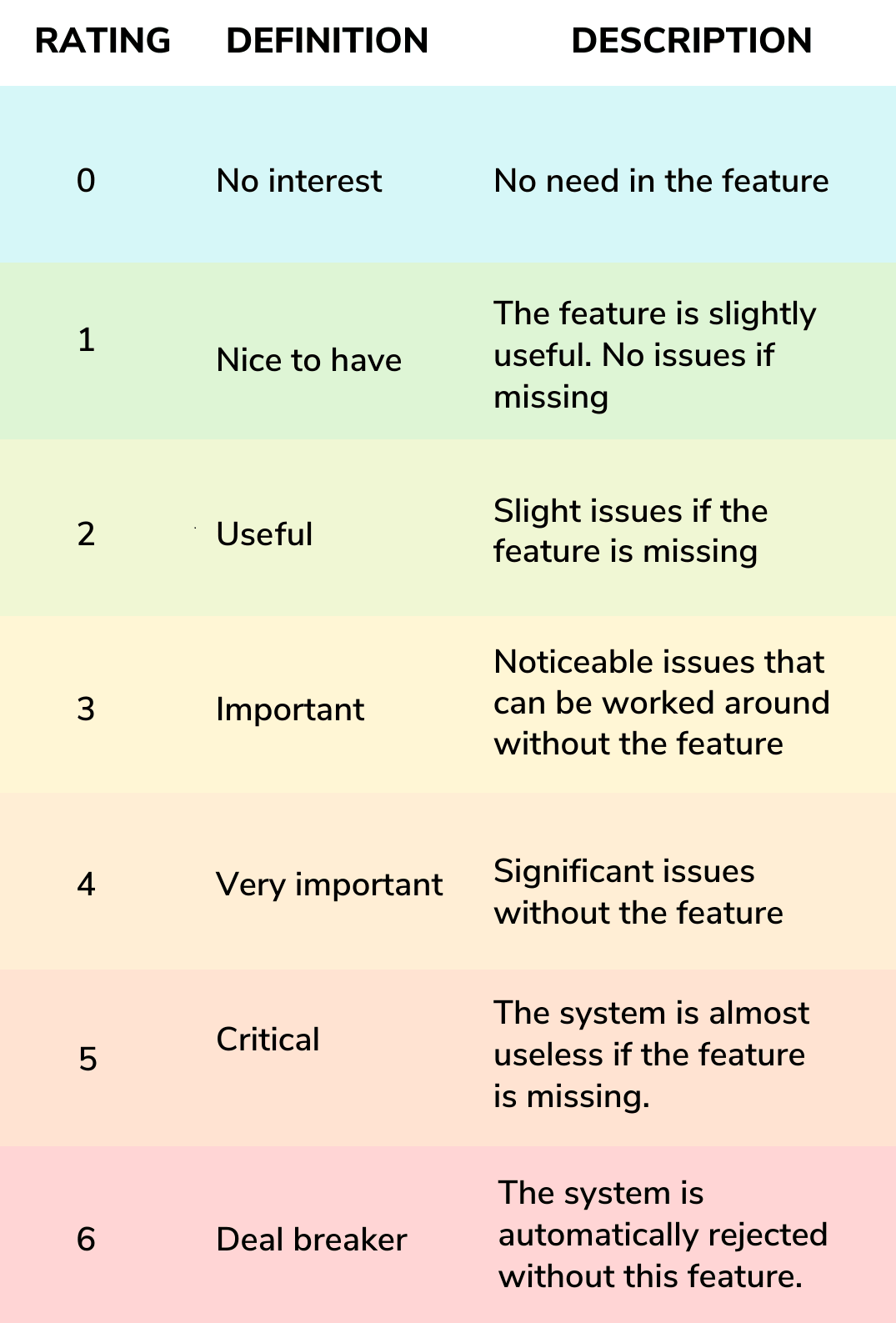 #5. Check whether existing solutions have the required features. If you can't find this information on the Internet, you can always send your list of features as a Request for Information to ATS vendors.
#6. Based on the answers you get from vendors, rate each feature according to how fully it covers your needs.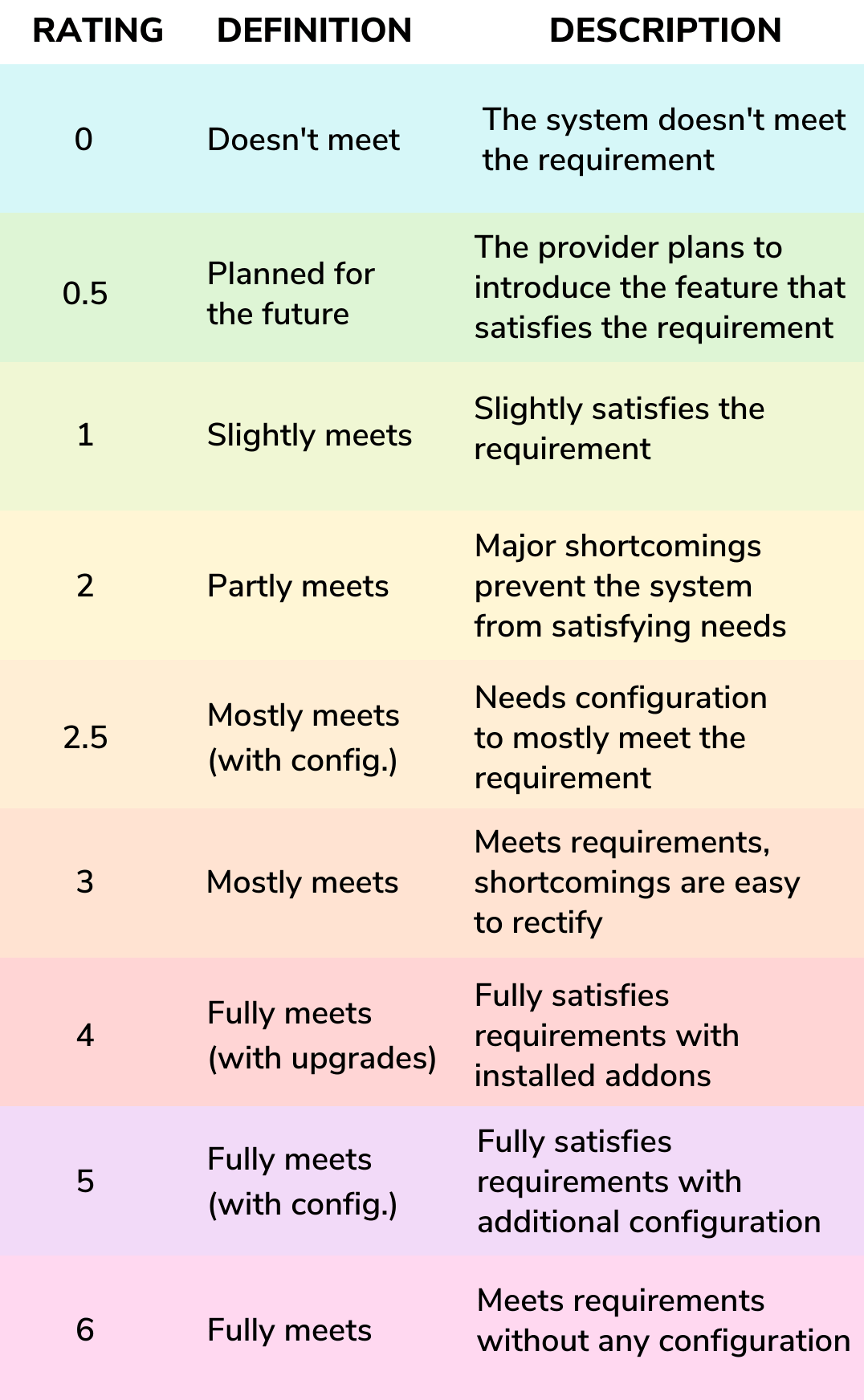 #7. Multiply the two scores. Adding the results for all features allows you to understand how well a particular ATS can cover your needs.
If all solutions on the market fall short of 60% of the max score, it may be a better idea to develop a custom ATS.
How much does an applicant tracking system cost?
Most ATS on the market have a subscription-based pricing that depends on the number of users and chosen functionality. Taleo Recruiting from Oracle, for example, starts at $99/user/month. So, if your company has two hundred recruiters, the system will cost at least $237,400 per year.
Now, vendors often have additional fees for integration, and customization. So the final bill could be larger. According to the 2020 SaaS Trends report, a recruitment company with 200-1000 employees uses on average 185 SaaS apps that can cost as much as $2,450,000 per year. Up to a third of them can be duplicate subscriptions, share functionality, or have features you never use.
With custom development you only pay for what you actually need. The cost mainly depends on your functional ATS requirements, engineering complexity, and the developer's hourly rates. If you want to learn more about this topic, I'd recommend reading our guide to determining the cost of your app.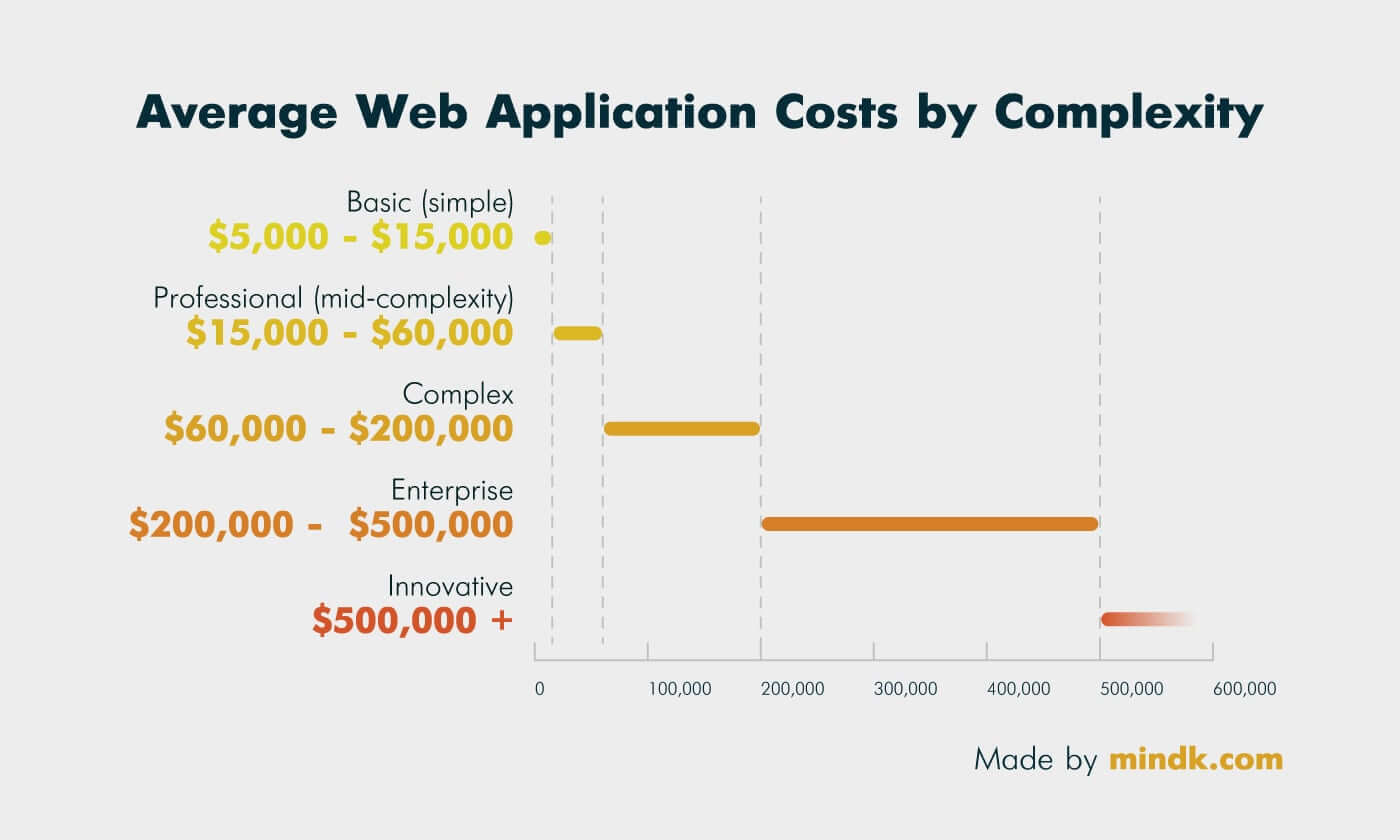 How to create an Applicant Tracking System
When building recruitment software, it makes sense to start small. That's why Bridge selected only a few essential features for the first version of their product. So here's a short list of applicant tracking system features you can use to build your Minimum Viable Product (MVP).

Vacancy dispatching
Once a sales manager gathers a client's requirements, it's time to search for your ideal candidate. But first, you need to find a recruiter who's got the right skills to close a vacancy.
Your ATS should keep track of each position closed by a recruiter. It could then use this information to automatically select the best available headhunter. This can save you time on vacancy dispatching and provide better candidates for your clients.
Quick job creation and social sharing
Once a recruiter has an ideal candidate profile, you can write a job description and quickly post it on a variety of job boards and social media sites. All of this should be done with just a few clicks right inside of your ATS.
LinkedIn integration is another must-have as it allows recruiters to buy and post job ads as well as view LinkedIn profiles from your system.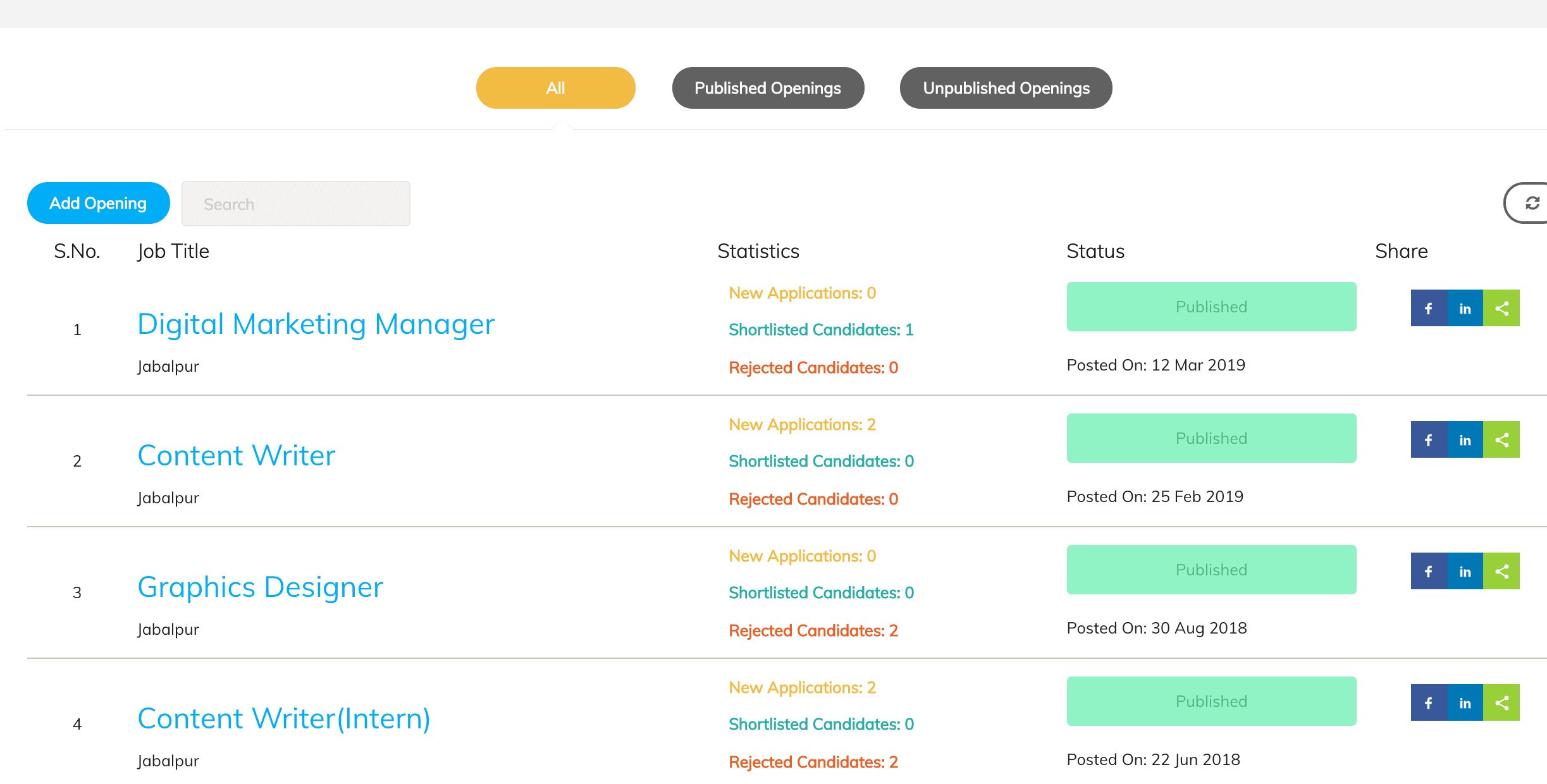 A social sharing function in a web based ATS system
Employee referrals
Candidates that come via referrals are 4x more likely to be hired and can save you $7,500 in productivity and sourcing costs. But why do so many businesses have trouble attracting talent with their referral programs?
The key reason is the lack of communication and a convoluted referral process.
Having a referral feature in your ATS can turn your employees into your most effective hiring channel. Notify your staff of open positions via email/SMS; clearly communicate referral bonuses, and give them an option to complete the whole process in just a couple of clicks.
One-click CV download
In the past, recruiters had to comb through dozens of resumes and manually add candidate skills to the database. Now, you can simply click a download button on a job portal and the ATS automatically adds the applicant to your database. All you need is an Application Programming Interface (API) to integrate your ATS with popular job portals and social media sites.
Easy document management
An online Applicant Tracking System should remove the need to navigate between folders with outdated files. Have candidate profiles updated automatically with all the related notes, comments, and attached documents so that everyone gets the content they need the moment they need it.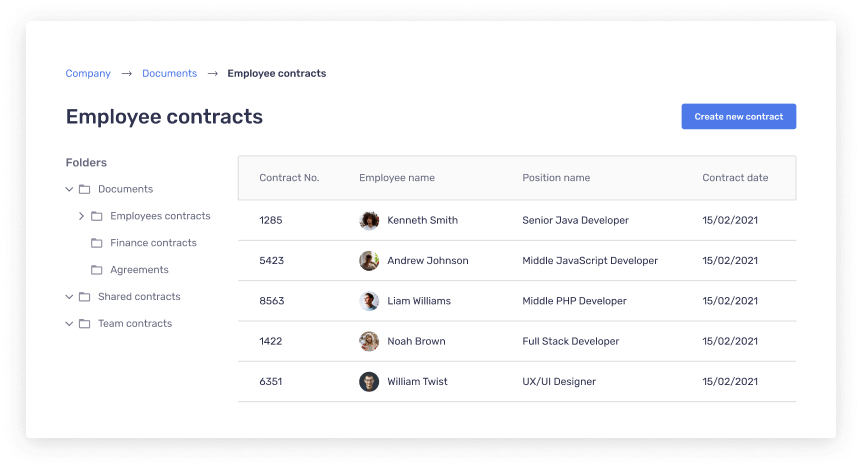 A document management feature in Bridge, a custom recruitment system we built for our clients. Check the case study for more details.
Searchable applicant database
As any recruiter would tell you, a large database of job seekers is one of your best assets. With a custom ATS, you can have both an internal archive of candidates and integrations with 3rd-party resume databases.
A keyword search can help you find a candidate that fits specific requirements like skills, experience, or desired salary. Boolean search is another useful feature that allows you to combine several search parameters (JavaScript AND/OR/NOT San Francisco).
As a result, you spend less time on shortlisting the candidates.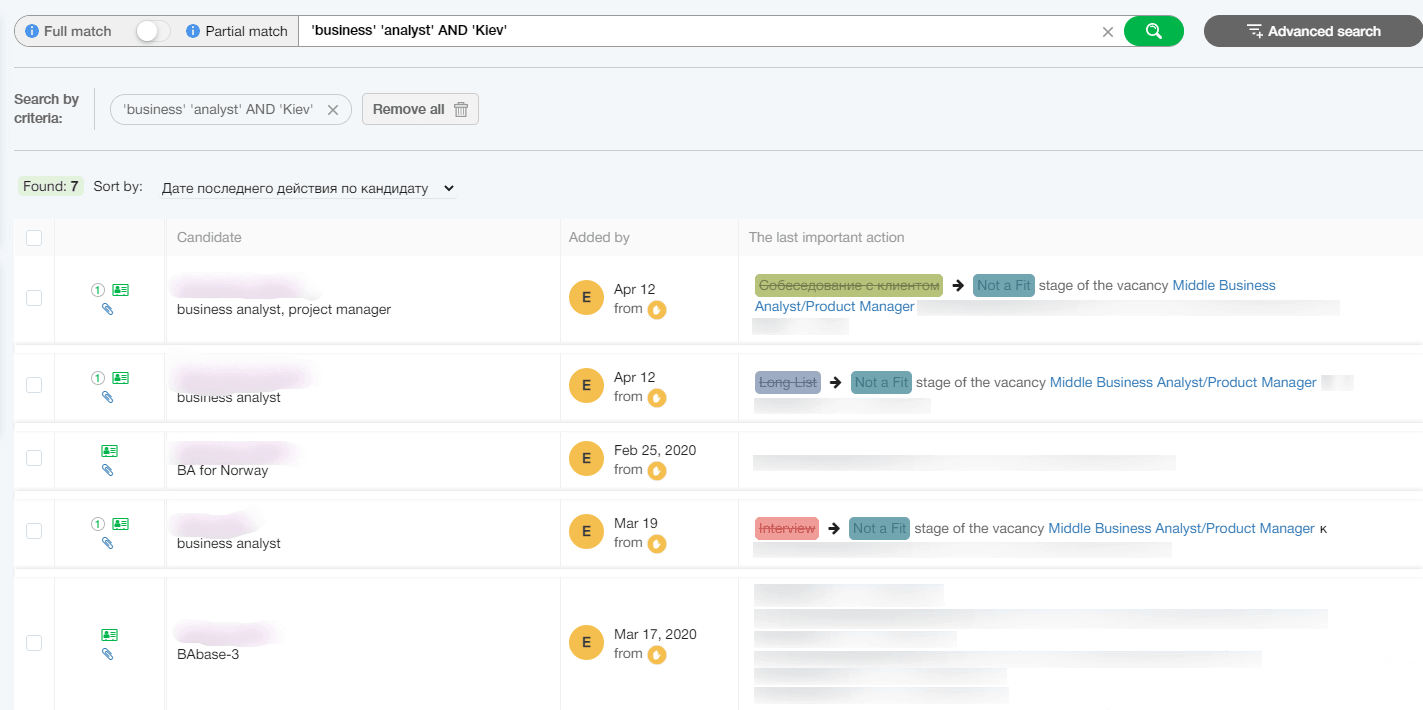 A Boolean search feature in a readymade ATS
Interview scheduling
Now that you've shortlisted relevant candidates, it's time to arrange the job interviews. A Google Calendar integration is a good start as it allows you to see all your appointments in one place. Yet, most solutions on the market won't show you available slots in other people's schedules.
An average headhunter can spend as much as 2 hours per day writing dozens of emails to candidates, clients, and domain experts to arrange interviews.
A smart scheduling tool we made for one of our clients allows recruiters to set up an interview in just a few clicks. The system pulls data from the participant's calendars, adjusts for time zone differences, and suggests free slots for an interview.
Just press a single button and the tool will add a meeting to everyone's calendars.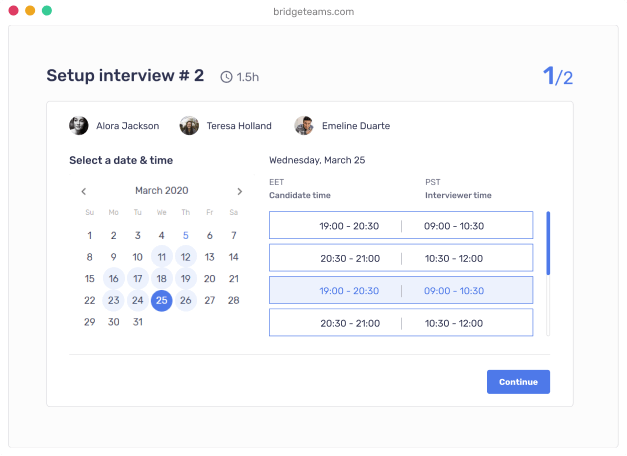 Integrated email communication
Once the interview is over, it's time to provide feedback. Email is, perhaps, the main tool for recruiters to keep candidates in the loop. A modern ATS should offer you a great variety of templates that can help you quickly compose a mail for different occasions.
Analytics and reporting
A modern ATS should have all the information you need in one system, on one page. Choose the data that matters most, drag relevant widgets to your dashboard, and track the metrics that matter the most to your team:
Time to hire/fill.
Revenue per deal.
Cost per hire.
Quality of hire
Interviews to offer.
interview per hire.
Qualified applicants per hire, etc.
You should be able to easily visualize the insights on a recruiting dashboard and export them in a variety of formats like CSV or PDF.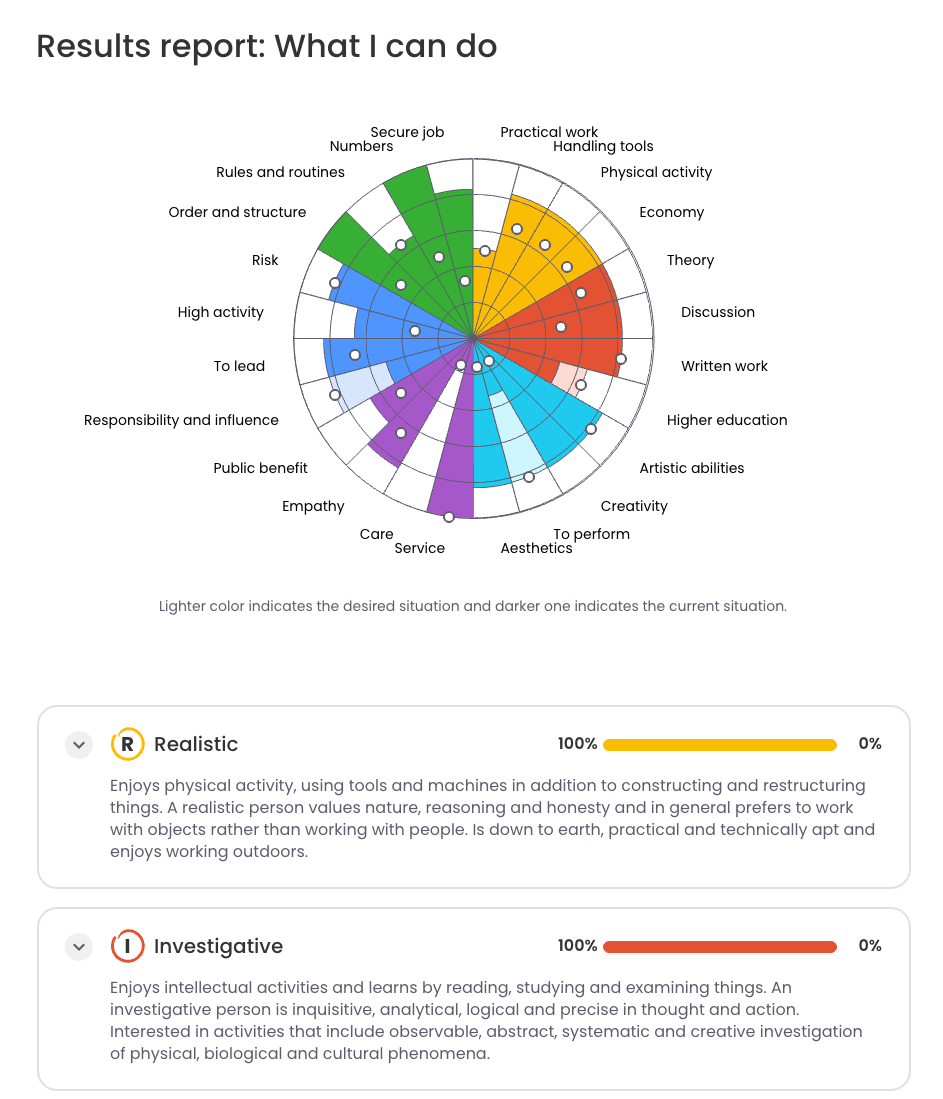 Part of a psych assessment report in a custom recruitment solution by MindK
Mobile-first hiring
This might be obvious but over 70% of applicants are now choosing smartphones as their entry point to a job search. With many recruiters just as inclined to work on the move, it's not a surprise that mobile hiring is one of the biggest trends in human resource management.
Your ATS should work correctly on screens of any size. Recruiters should be able to easily shortlist applicants, appoint interviews, provide feedback, and review KPIs with their iOS and Android devices. If you want to learn how to find reputable mobile developers, check our guide on hiring mobile engineers.
Compliance
Your ATS should comply with major data protection regulations like GDPR and California's CCPA. Compliance features can include automated tasks and emails to obtain user consent, a complete deletion of candidate data from your database and backups, and a follow-up email notification.
Fair hiring regulations like OFCCP present another hurdle. To free you from tedious compliance, a recruiting system should also feature automated equal opportunity reporting.
Security
It goes without saying that recruitment systems store a ton of sensitive information. In the age of GDPR, suffering a data breach can have heavy consequences and is generally terrible for your reputation.
So make security among your top priorities when building your ATS:
Implement proper user access level control.
Make sure there are no security holes in the libraries and frameworks used on your project.
Add a two-factor authentication (a secure password + SMS code, etc).
Store data in a secure datacenter or cloud hosting.
Protect your traffic with SSL/TLS encryption.
Secure the data storage with strong algorithms like AES-256 or RSA.
Take care of integrations, they can be a major source of vulnerabilities.
Organize independent penetration testing.
If necessary, use VPN tunnels to ensure nobody can use your ATS outside of your office.
These features can become a solid basis for your MVP. Working in short iterations, you can add new functionality and immediately release it to stakeholders or the general public. The aim is to gather feedback and find an optimal path to develop your product.
Here are some of the more advanced features and integrations we've built for our clients. You can add them to your ATS to get an edge over competitors:
Automated resume ranking for matching the vacancy with most relevant candidates based on 40+ custom parameters.
Integrations with HRM systems for quick onboarding, training, payroll, retention, etc.
Advanced predictive modelling for anticipating regional fluctuations in demand for specific skills; identifying high-potential applicants; predicting turnover and much more.
Built-in task management and delegation for easier collaboration.
AI-based CV parsing for recognizing dozens of resume formats and instantly adding information to your database.
Integrations with ERP and other enterprise systems for smooth coordination between departments.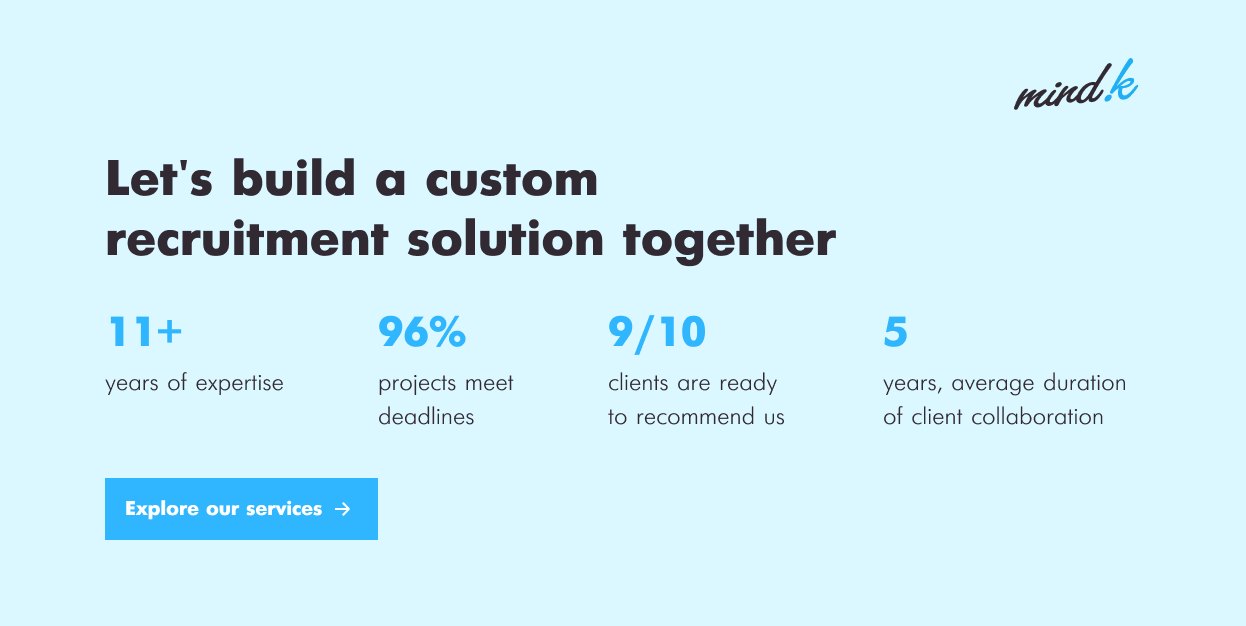 Conclusion
Creating an Applicant Tracking System allowed our client to close deals with up to 5x less efforts and cut in half the time from requisition to deal. Now the ball is in your court.
Take time to assess your current needs, explore solutions that exist on the market, and send Requests for Proposals to select vendors. Make an informed decision: pay for an out-of-the-box solution or build your own ATS tailored to your company's needs and processes.
MindK has a proven track record with over 25% of engineers working currently on recruiting solutions. So if you need any help or a team of experts to realize your vision, just fill a contact us form. We'll get back to you to arrange a free consultation.