Unfortunately, quite often people misunderstand these terms, which may cause serious confusion when it comes to advertising.
Here at MindK, we work with clients from the advertising industry helping them develop AdTech software, and can clearly see the growing interest in the potential of OTT CTV advertising. Indeed, as already mentioned when talking about Ad Tech challenges and opportunities, CTV and OTT platforms represent a tasty piece of pie for advertisers.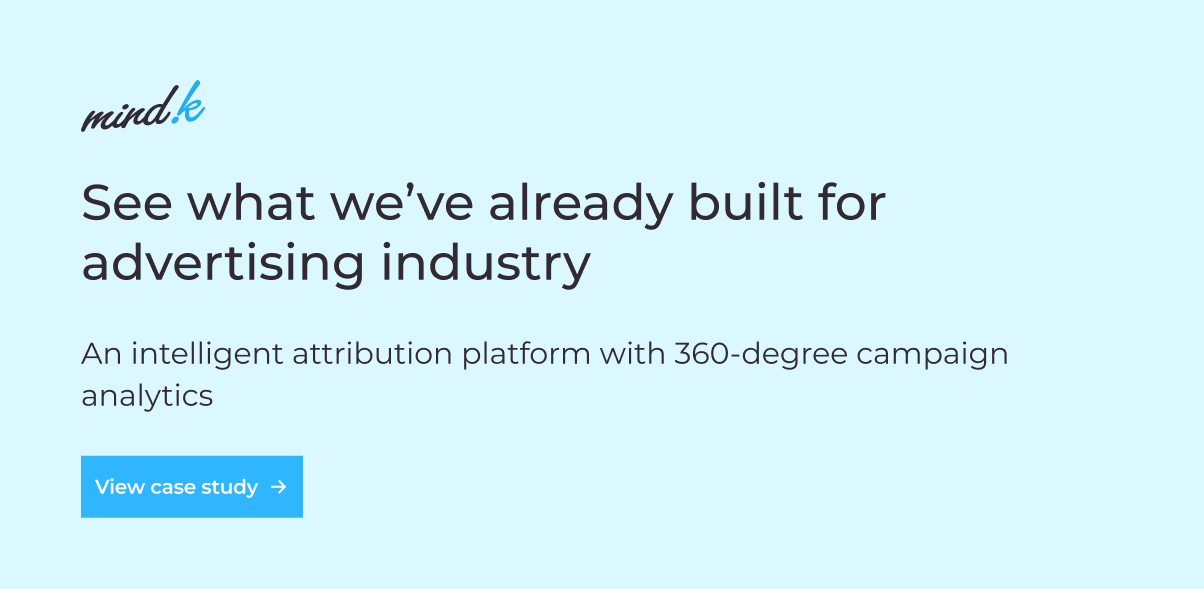 And numbers prove that: in the USA only the number of CTV users reached 203 million in 2020 and is predicted that around 60.1% of people will be CTV users by 2022. For OTT streaming to TVs, the user base increased up to 115% between 2020 and 2021.
So, if you plan to invest in CTV and OTT advertising, it's very important to clearly understand the difference between these terms, how video ads are run and what challenges are on the market right now. We've prepared a complete guide to help you connect the dots.
OTT vs CTV advertising: what is the major difference?
CTV and OTT platforms are often considered synonymous, but they are not. What is the difference between CTV and OTT? Let's analyze each concept separately.
Connected TV refers to an ecosystem of devices connected to the internet and allowing people to watch video content. These devices include:
Smart TVs receiving video content from the Internet.
Streaming devices that transmit a signal directly to a TV (Chromecast, Roku, Firestick, Apple TV, and others).
Game consoles (Playstation, Xbox, Nintendo, and others).
The concept of connected TV is broader than just smart television, involving access to video content using a large screen.
As for Over-the-top, it means providing media services like film content and television via the Internet. Unlike CTV, which allows users to watch video only via the large screen, OTT providers enable consumers to access content on various devices, including laptops, smartphones, tablets, television, and so on.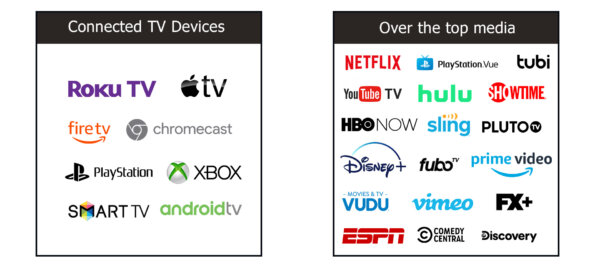 Source: demandlocal.com
Among the most popular OTT service providers are Netflix, Amazon Prime, Disney+, Hulu, HBO Max, and so forth. However, there are some differences in OTT service providers you should be aware of. OTT providers fall into:
Subscription video on demand (SVOD), which refers to streaming services that require subscription (Netflix, Disney+, AppleTV+, and similar). Typically, they do not run ads or run them on an unpaid subscription model.
Advertising-based video on demand (AVOD) streaming services are free to consumers, but generate revenue through ads (like Crackle, Tubi, Vudu). Some AVOD may involve low-price packages of some popular streaming services. For example, a $5.99 version of Hulu that supports advertising.
Multichannel video programming distributors (virtual MVPDs) appeared a few years ago as a response to the cord-cutting movement. vMVPDs provide multiple television channels. They include AT&T Now, Sling, YouTube TV, and others. For instance, YouTube TV states that they provide content from more than 85 TV channels, including ABC, CBS, Fox, NBC, FoxNews, MSNBC, CNN, and others.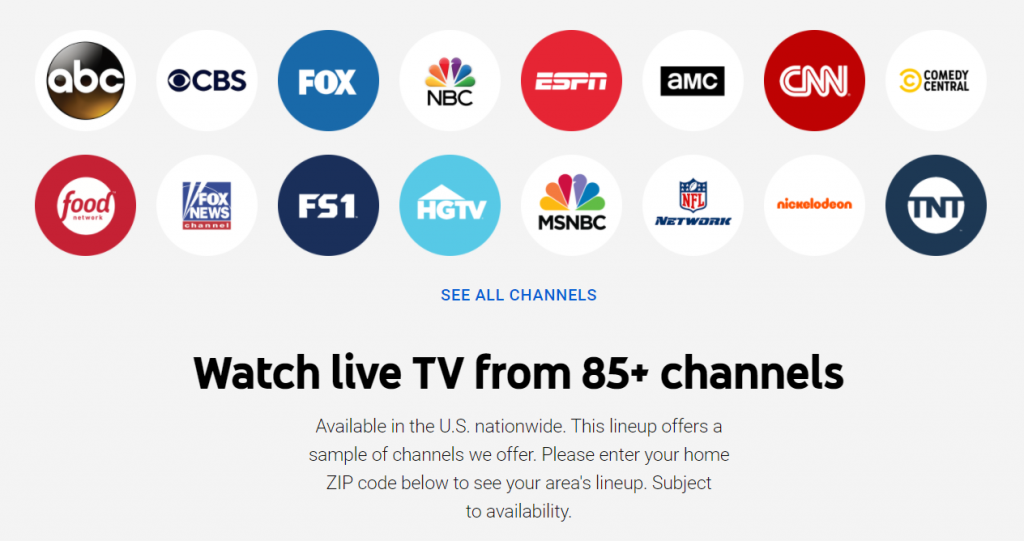 YouTube TV's offering
To sum up, most OTT content (around 75%) is now accessed through CTV. That's why, generally, you can think of OTT as the method of delivering video content and CTV as a device on which you watch the content:
Use CTV when you talk about smart television and streaming devices that connect to your TV set. Remember that smartphones and computers are not part of the CTV concept.
Use OTT when it doesn't matter what devices you're talking about. For example, if you are discussing advertising on a streaming platform, for example, Hulu, and it does not matter from which device, be it a laptop or tablet, the video content is watched.
Why does CTV/OTT advertising keep on growing?
Now that you know the differences in terms, you're probably wondering "Why exactly should I opt for CTV and OTT advertising instead of, for example, traditional TV?".
TV has been the best way to reach mass audiences for years. It still is the top medium around the globe. However, traditional TV advertising focused on all segments of the potential audience is not as effective as desired for advertising purposes.
60% of marketers in the USA with digital video in their media budgets admitted they plan to shift ad spendings from linear TV to CTV and OTT this year. Here are some reasons why advertises opt for CTV and OTT advertising:
Increasing number of viewers
More and more people are cutting the cable TV cord. Even before the pandemic around 60% of Americans canceled their cable TV packages in favor of streaming services, while 29% admitted that they plan to do it soon.
All this obviously influences the reach levels. Traditional TV reach levels decrease between 2% and 3% each year, however, there was a sharp drop in 2020. The experts predict that traditional TV won't fully recover from its 12.5% drop last year, and will never reach pre-pandemic levels again. People are spending more and more time watching videos on digital video devices, not on TV.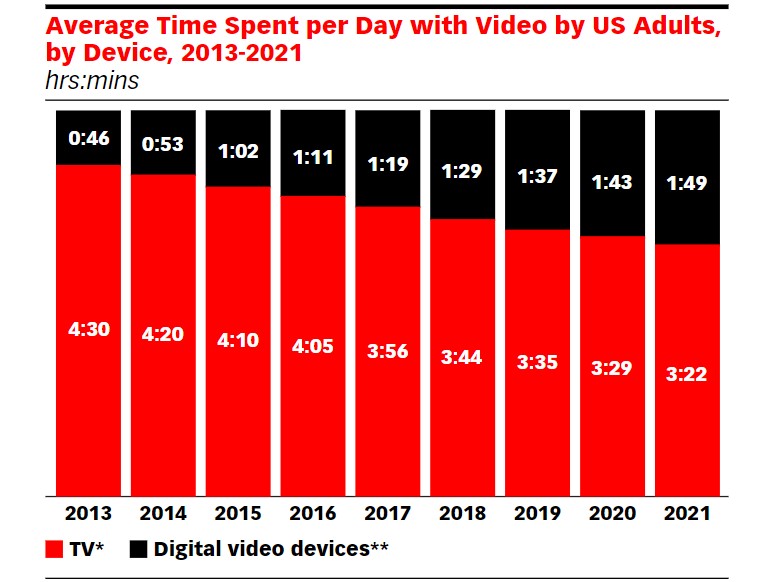 Source: emarketer.com
According to the AdSupply Trends Report by Pixalate, in the third quarter of 2020 around 72% of US households became reachable by programmatic OTT/CTV compared to 50% in 2019.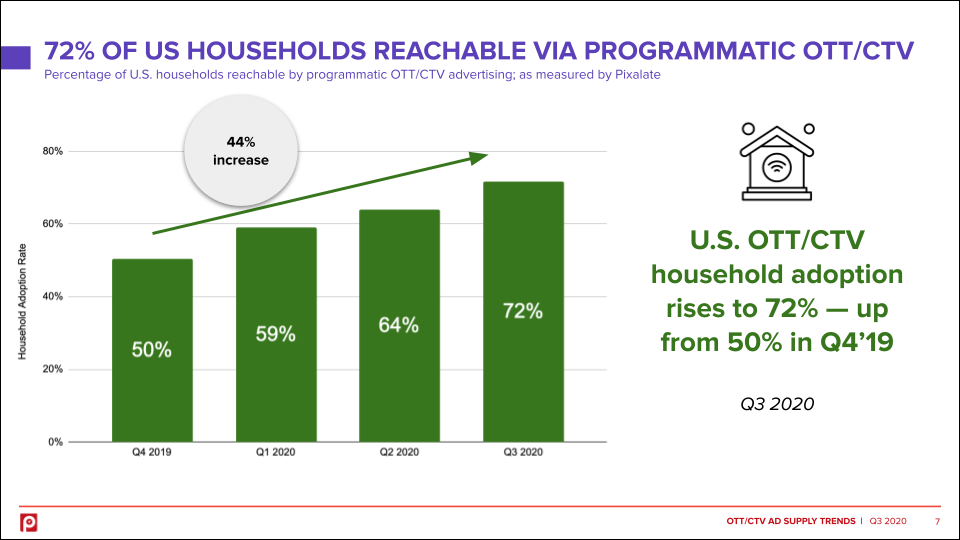 Q3 2020 State of Connected TV/OTT: Ad Supply Trends Report
Source: pixalate.com
Better targeting
Thanks to Big Data in advertising, marketers can successfully segment the target audience to improve ad performance. Connected TV and OTT allow different targeting options based on geolocation, search history, movies watched, games installed, and so on.
According to the platform and approach to buying OTT ads, advertisers are able to optimize their targeting by using the provider's audience data enriched with their customer data.

Source: tinuiti.com
What makes OTT targeting even more interesting is its cross-channel approach. It enables advertisers to target and retarget the same audience across different screens and channels. For instance, it is possible to reach an audience on TV screens then retargeted across OTT.
More precise targeting allows displaying ads to only those users who are potentially interested in the ad and achieve a higher ROI.
More interactive approach to ad formats
Connected TV and OTT advertising enables marketers to experiment with a number of ad formats. If cable TV advertising works with videos only, connected TV allows using video, banners, interactives, animated and static ad types, and much more.
Among the most popular types of ads used are:
in-stream video ads, which mostly refer to short (15- to 30-second long) unskippable ads displayed before, during, or after the main content;
interactive pre-roll ads that are very similar to in-stream video ads but have a clickable button to the landing page to buy goods or services; and
home screen placement ads, which are usually static images, animated images, or short videos with call to action buttons displayed on the home screen.
Thanks to the variety of ad formats advertisers can do split tests to find out which formats and call-to-actions are more effective in terms of engagement and performance.
For example, two years ago Cadillac started a CTV ad campaign to promote the Cadillac Escalade and spark interest to book a test drive. For this, the company selected different types of video formats with rich images of the homepage, interior, and exterior of the car. They used pre-roll video, a carousel that showcased multiple images, and a TV-to-mobile format that allowed receiving a trackable URL with more information via SMS.
The balance of visuals ensured a maximum user engagement and showed that the ad formats with the homepage were better performing than the ones with car exterior and interior.
Source: The State of Connected TV Report 2020
Better ad viewability
Viewability is a measurement of whether an ad had the chance to be seen by a user. Most OTT and CTV ads are run full screen, which means people definitely see the ads. In addition to this, CTV ads are non-skippable, which increases the view rates of ad campaigns.
Indeed, CTV ads are considered at the top of the digital food chain. Media Quality Report by Integral Ad Science's (IAS) analyzed CTV ad impressions and compared them with other types of digital video ads. As a result, they found out that CTV ads have 93.3% viewability on average.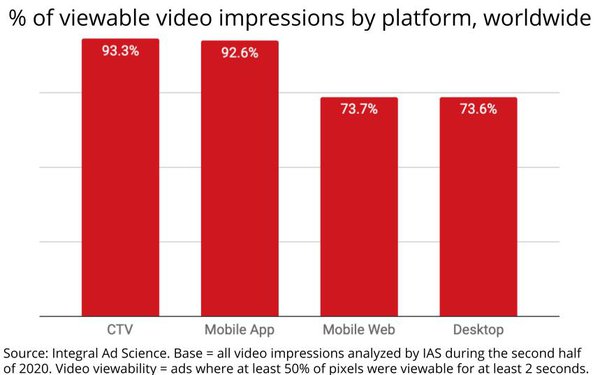 The cherry on top – according to a statement from CTV Media, the average completion rate of watching an ad to the end is around 98%.
So, how do CTV and OTT advertising work behind the scenes?
How are the ads inserted in the video content in CTV and OTT environments? Technically there are two methods to serve the ad: client-side ad insertion (CSAI) and server-side ad insertion (SSAI).
Client-side ad insertion is the traditional way of ad insertion and involves either preloading the ad into the video player of the end user's device, or sending out an ad request to a third-party ad server from the video player.
From a delivery point of view, the ad and content are separated and displayed independently. When the player decides it's time to roll an ad, it pauses the video content, sends a request to the server (where the ad is stored), or preloads it right in the player, then receives the ad and displays it.
This method has certain advantages, like a well-tried and reliable approach, many interactivity options, and an ability to receive ad metrics directly from client applications, yet a number of serious challenges remain.
As far as the ad and the content run independently, it leads to some interruptions between them resulting in poor user experience. Moreover, the CSAI is not very secure from ad blockers that may decrease ad viewability, and is highly dependent on the capabilities of the end user's device.
For all those challenges client-side ad insertion is considered to be outdated and is gradually being driven out by server-side ad insertion.
In contrast, the server-side ad-insertion method allows displaying advertising without any interruptions since the ad is directly "stitched" to video content.
For delivery, the SSAI requires an intermediate server that retrieves the advertising from the ad server and inserts it in the main video. In such a scenario, ad positions should be defined in advance because the server will insert them in the video before the content is delivered to the end-user.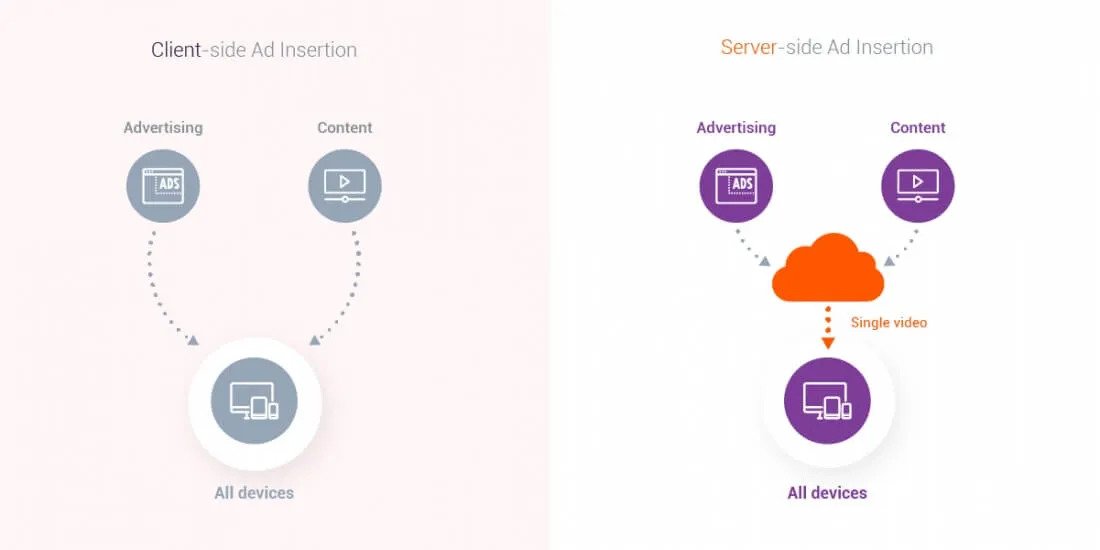 Difference between client-side ad insertion (CSAI) and server-side ad insertion (SSAI)
Source: gcorelabs.com
Even though the SSAI method is in many ways superior for user experience because it causes no interruptions, uses the adaptive bitrate streaming technique resulting in very little buffering and support of live streaming, the technology requires a high-capacity server and usually has a high price tag.
In addition, it has rather limited measurements of ad results, namely, viewer-tracking and interactivity measurement compared to the client-side insertion. The server is not always able to correctly recognize the receiving and corresponding data points, which makes ad measurement more complicated.
Both CSAI and SSAI are excellent advertisement delivery methods for CTV, OTT, and other video streaming services, so there is no winner.
Based on the technologies' strong and weak points, each advertiser can choose one method which will best suit their advertising goals, or consider deploying them in a combination. Using a combination of these two ad insertion methods increases the chance that consumers receive the best possible experience and advertisers receive better ROI.
Forearmed with all the background information about advertising on CTV and OTT, it is important also to be forewarned of all the challenges advertisers are facing right now. A little spoiler: some of these challenges can even be turned into opportunities.
Top 4 challenges of CTV and OTT advertising worth considering
#1: Total environment fragmentation
The great number of apps, OTT service providers, and CTV devices is confusing not only for the viewers, but also advertisers struggling to find the best way to both reach and measure their audiences. This challenge can be considered a root cause of all the following challenges we'll list below.
The main problem is that it is very difficult to define users across different CTV devices. The reason for that is that all CTV devices have their own hardware and software, meaning that all of them have their personal ID (or even several IDs). Considering that most people use different devices to watch videos from various OTT service providers turns up the heat.
However, with each challenge comes an opportunity. Fragmentation makes advertisers search for innovative advertising methods and technologies to help them overcome this challenge.
#2: Identification uncertainty
High fragmentation, similar to chained response, results in one more serious challenge for advertisers – identifying audiences across a variety of CTV devices and OTT apps.
Interactive Advertising Bureau (or IAB) Tech Lab released an OTT/CTV Store Assigned App Identification Guidelines, in order to help advertisers overcome this challenge.
The latest news from Google only adds fuel to the flames. Chrome recently published a new proposal, Gnatcatcher, which proposes to mask the IP addresses of users to protect a person's identity. Although this proposal will continue to be refined on the basis of feedback from the community, the Ad Tech industry is discussing the elimination of IP address as the most common identifier for CTV advertising.
Anyway, there are alternatives to the IP address, which are primarily the advertising-specific IDs provided by CTV and smart TV platforms, first-party data like emails most streaming providers collect from registered users, and much more. Actually, the CTV and OTT advertising industry has to move to some type of unified ID, but that does not exist today.
#3: Ad campaign measurement
Measuring attribution of the ad campaigns is another pain point of the CTV advertising industry. For example, 39% of marketers who shifted ad budgets to CTV advertising report an increase in Return on Ad Spend (ROAS), while 32% cannot measure the change.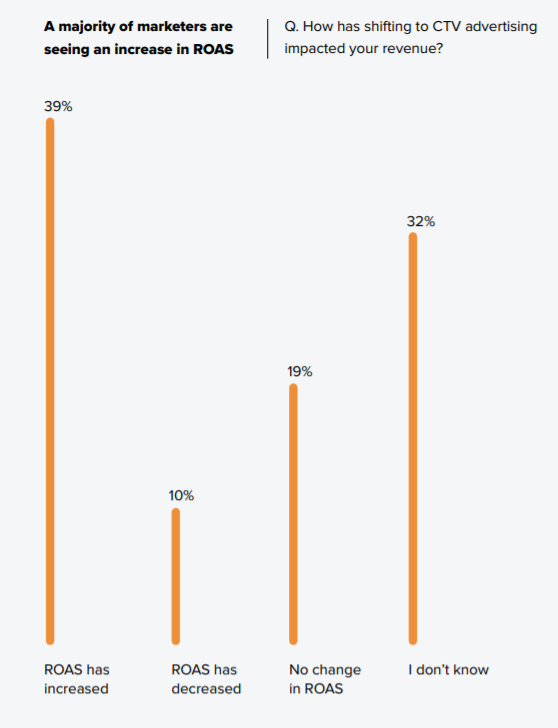 Source: The State of CTV Advertising
The key problem here is that ad measurement is highly dependent on identifiers, limited or closed access to CTV devices and a popular method of server-side ad insertion with its ineffective video ad-serving standards and high risk of ad fraud.
Currently, IAB is working on improving some of its existing standards, including Video Ad Serving Templates (VAST) and Open Measurement (OM), where VAST is responsible for video ad serving and OM is focused on measuring video advertising in web, mobile, CTV and OTT environments.
To improve performance measuring, 68% of advertisers state that they partner with Ad Tech companies offering Demand-side platforms (DSP), Supply-side platforms (SSP), and ad servers. We've discussed these ad tech platforms more precisely in our article about the Ad Tech landscape. PwC company, for instance, suggests providers use advanced algorithms to provide better targeting and improve measuring viewer engagement.
#4: Ad fraud
Ad fraud is a common challenge across the whole advertising industry, and CTV and OTT advertising is not an exception. The recent Ad Supply Trends Report by Pixalate revealed that around 20% of programmatic OTT/CTV advertising is invalid, which is too big to be overlooked.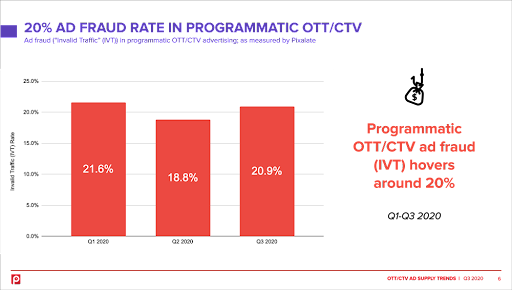 CTV and OTT fraud happens when advertisers are paying for ads that do not reach the actual consumers. Without proper protection, it is quite challenging for advertisers to single out real versus invalid traffic.
DoubleVerify, a major software platform for digital media measurement, data, and analytics, singles out three main types of fraud in CTV:
server farms or simply bot traffic;
fraudulent apps; and
spoofing or substitution of inventory, for example, non-CTV inventory misrepresented as CTV).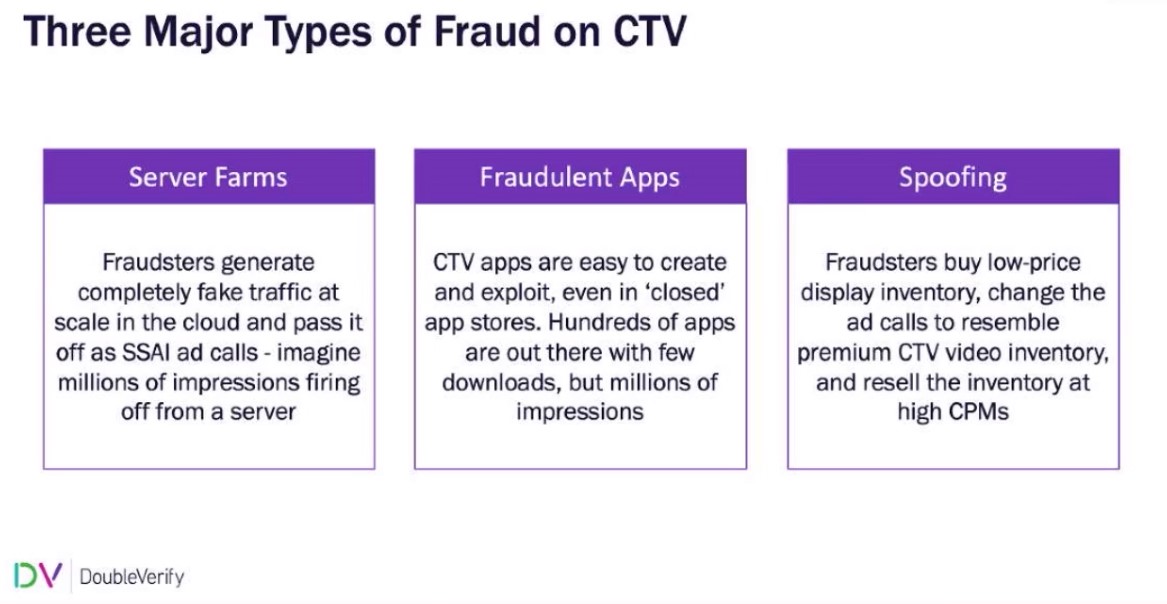 In recent years, many companies like Oracle MOAT, Human, and DoubleVerify revealed different CTV spoofing schemes. Take, for example, ParrotTerra, a service-side ad insertion scheme, which, by means of generating fake CTV that will never reach real consumers, faked 3.7 million devices per day, and planned to steal from $30 to $50 million in ad spendings.

Typical SSAI fraud scheme
Source: campaignasia.com
According to DoubleVerify's data, the CTV fraud impressions have seen a 220% increase in 2020 compared to 2019. Moreover, DoubleVerify claims they currently detect more than 500,000 fraudulent CTV devices a day.
While the CTV and OTT advertising industry keeps on growing, there is a high probability that the ad fraud schemes will mature. In such a light, developing ad fraud protection solutions is a huge business opportunity for the growing Ad Tech industry.
Build an innovative advertising solution with MindK
As you can see from the data provided in the article, CTV and OTT are powerful and high-potential spaces for advertising with huge opportunities for Ad Tech companies and business owners. They brought together the best of the two successful advertising ecosystems: TV and digital.
If you are looking for a reliable software development partner to develop a solution for advertising and marketing, the MindK team possess the knowledge and experience to make it happen. We understand the mechanisms of the ad industry and can develop software to help you become the most efficient player in your space. Check our services and examples of solutions we've developed for our clients.