Most traditional banks and other financial institutions can't keep pace with changes in technology and customer needs. It drives an increased need for new financial solutions and, as a result, a growing number of FinTech startups. Here at MindK we've also seen this increase in need, as the number of requests received for custom development of financial products is also growing.
According to Statista, the number of FinTech startups registered has doubled during the last two years – almost 21,000 startups in 2021 compared to 12,211 in 2019. Sure enough, such growth is supported by large capital investments in the FinTech industry. The first quarter of 2021 turned out to be the largest FinTech funding quarter ever with $22.8 billion raised by FinTech companies all over the world.
This all means that there won't be a better time getting into the FinTech race. In theory, it may seem that all you need to open a FinTech startup is an innovative idea, a well-seasoned developer, and generous investors. Our practice shows there are also other important elements of the equation. We will discuss them all in this article.
7 pillars that ensure the success of FinTech startups
Pillar #1. A sustainable idea that solves a problem
Launching a startup in a crisis is no small task. It is especially difficult to do it if the market is overcrowded. As you can see, the number of young FinTech companies has doubled in recent years and they need to compete not only with others but also with large corporations. Under these circumstances, a winning solution is to launch a niche FinTech app aimed to solve a specific problem.
If you don't have an idea yet, then ask yourself two main questions: what pain points are people facing right now, and, how can I solve them? Your product idea may not seem revolutionary or impress the average consumer, but if the service can add value for people, this is already a sign of a potentially successful business.
For instance, one of the products we developed for the Norwegian market is dedicated to pension and insurance calculations. The idea is not revolutionary, however, it is based on a real issue for the majority of people in Norway, as their pension system is rather complicated. To understand pension payments, people should register in several systems and make calculations based on an advanced formula. With our help, the system now allows complex calculations in a few clicks.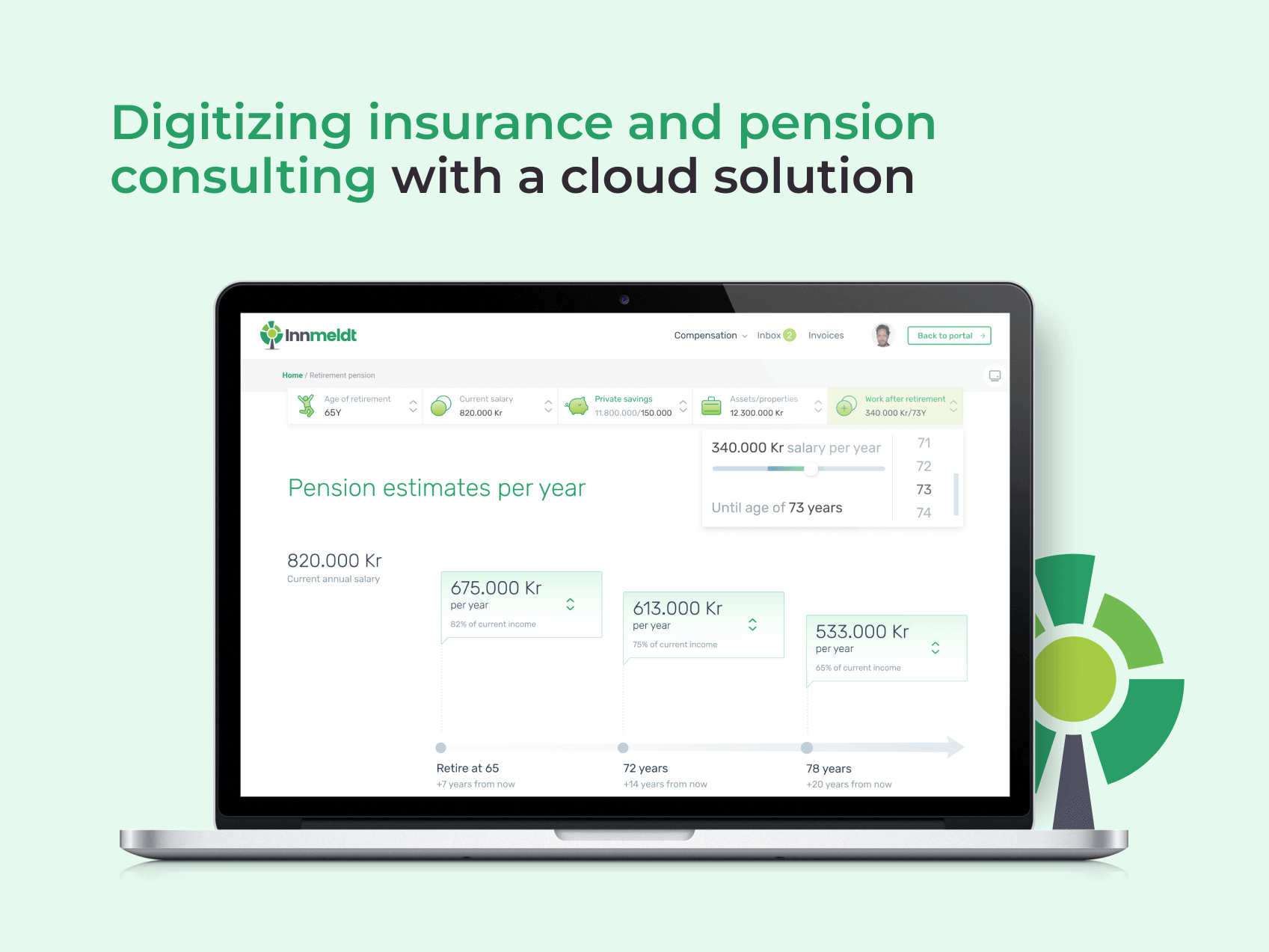 If you study the Top 250 Fintech companies by CB insights, it becomes obvious that companies in the FinTech market have long gone beyond payment services only. Most startups on the list offer niche products that help meet a critical need of both customers and businesses.
Only 12%, namely 31 out of 250 companies, specialize exclusively in payment processing and networks. The rest offer services in capital markets, investing, lending, insurance, financial management, or combine several areas of focus.
For example, such promising fintech startups as BlueVine provides flexible working capital to small and medium-sized companies; Coinbase is a bitcoin wallet and platform enabling transactions of digital currencies; Robinhood offers commission-free investing on stocks, funds, and cryptocurrencies.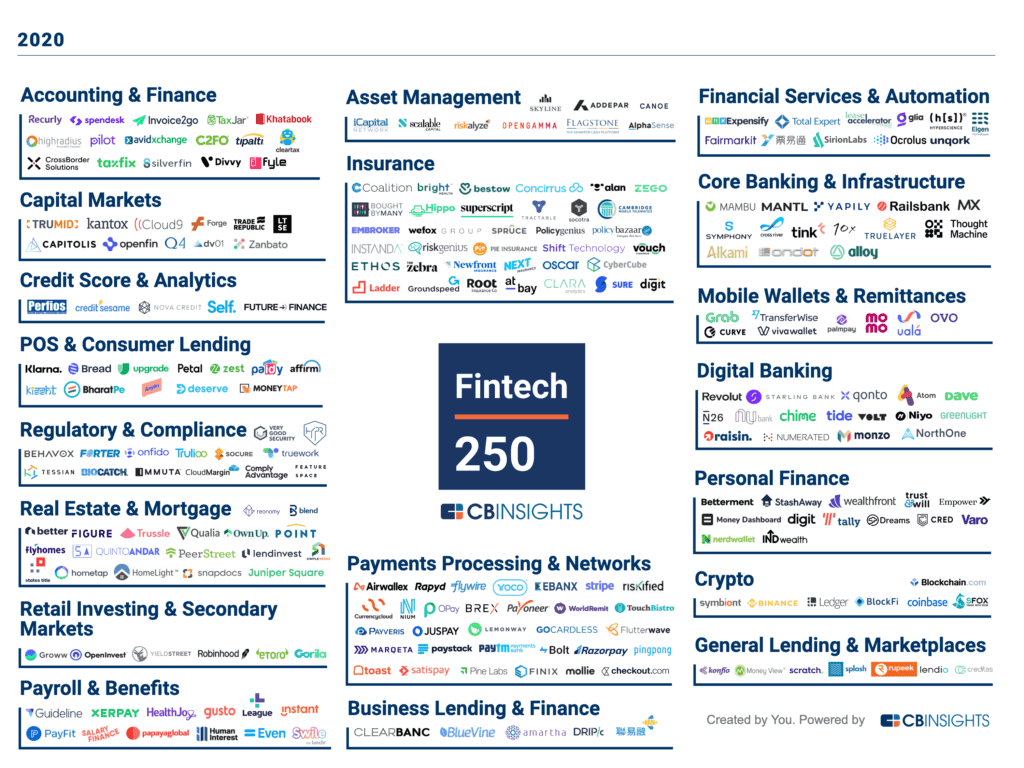 Top 250 Fintech Companies Of 2020
Source: www.cbinsights.com
The conclusion is that the most important thing on the market today is a product or service able to solve a specific problem. So, the main task of any startup is to define this problem.
One of the tendencies in the FinTech market, according to KPMG analysts, is blurring the boundaries between market segments. Today, a company unrelated to the financial industry can launch successful FinTech services. And the financial platform, in turn, can combine a set of different services – from taxi aggregators to ticketing services.
So, try to find your target segment through the problems you want to solve for your clients, using your hypotheses and financial technologies. After choosing a niche, decide the target audience – whether it's people from a specific country, city, or a specific age group, nationality, income, or profession.
Pillar #2. Compliance with laws and regulations
While studying the opportunities of the FinTech market, it is easy to forget about the tons of government and other regulations your product or service should follow.
The financial sector is highly regulated, however, it shouldn't scare you, as regulations are also applicable for other industries. For example, healthcare products in the USA should comply with the Health Insurance Portability and Accountability Act (HIPAA) that protects patient health information.
First of all, you need to decide which countries or regions you plan to promote your product in because laws and regulations differ depending on the country. For example, your product should follow the General Data Protection Regulation (or GDPR) if you work with EU residents. In our previous article, we discussed the steps needed to make your software GDPR compliant.
If you plan to work in the USA, Canada, or any other country, keep in mind that all of them have different regulatory laws to consider (in the US, fintech organizations should comply with both federal and state laws).
In light of this, before starting FinTech product development:
make an in-depth study of laws and regulations in the country where you plan to start a business;
reach out or investigate organizations in the same niche to learn more from them;
use RegTech software like Alyne or Ascent RegTech to check and track the regulations compliance;
hire a lawyer who excels in security laws and can analyze the legal environment for your FinTech product.
Some countries like the UK, Denmark, Singapore, Australia, and others have "Regulatory Sandboxes" that allow testing innovative financial services in a controlled environment under the supervision of regulators. It is stated that the probability of raising capital for companies that enter the sandbox increases by 50%.
In the USA this trend is also developing – Florida, Nevada, West Virginia, Arizona, Utah, and Wyoming have recently passed legislation to offer fintech sandboxes.
The overhead of complying with regulations is a separate object of expenditure, but without it, you risk losing much more than you save.
Pillar # 3. The X-factor of your product
What are the individual benefits your FinTech app suggests? Do you have an X-factor that helps you stand out in the crowd? There is nothing worse for a new startup than to duplicate an existing business that provides the same product.
So, the best way to gain an edge is to do your 'homework', namely, research and reveal the weaknesses and bottlenecks of your competitors. Then analyze those factors and provide a better solution in your niche.
Fintech startups can solve the same problems as traditional banks do, but in a different, cheaper, and more convenient way. This innovative approach can become your hallmark.
That's exactly what most digital-only banks do. Take, for example, Starling bank, a mobile-only challenger bank from the UK that transforms the way people manage their money and serve customers in a different way to traditional banks. The feature-rich mobile app allows users to manage their finances, control cards, and get personal spending analytics on the go. Starling bank offers personal, business, joint, teen, euro, and dollar accounts together with a range of lending products.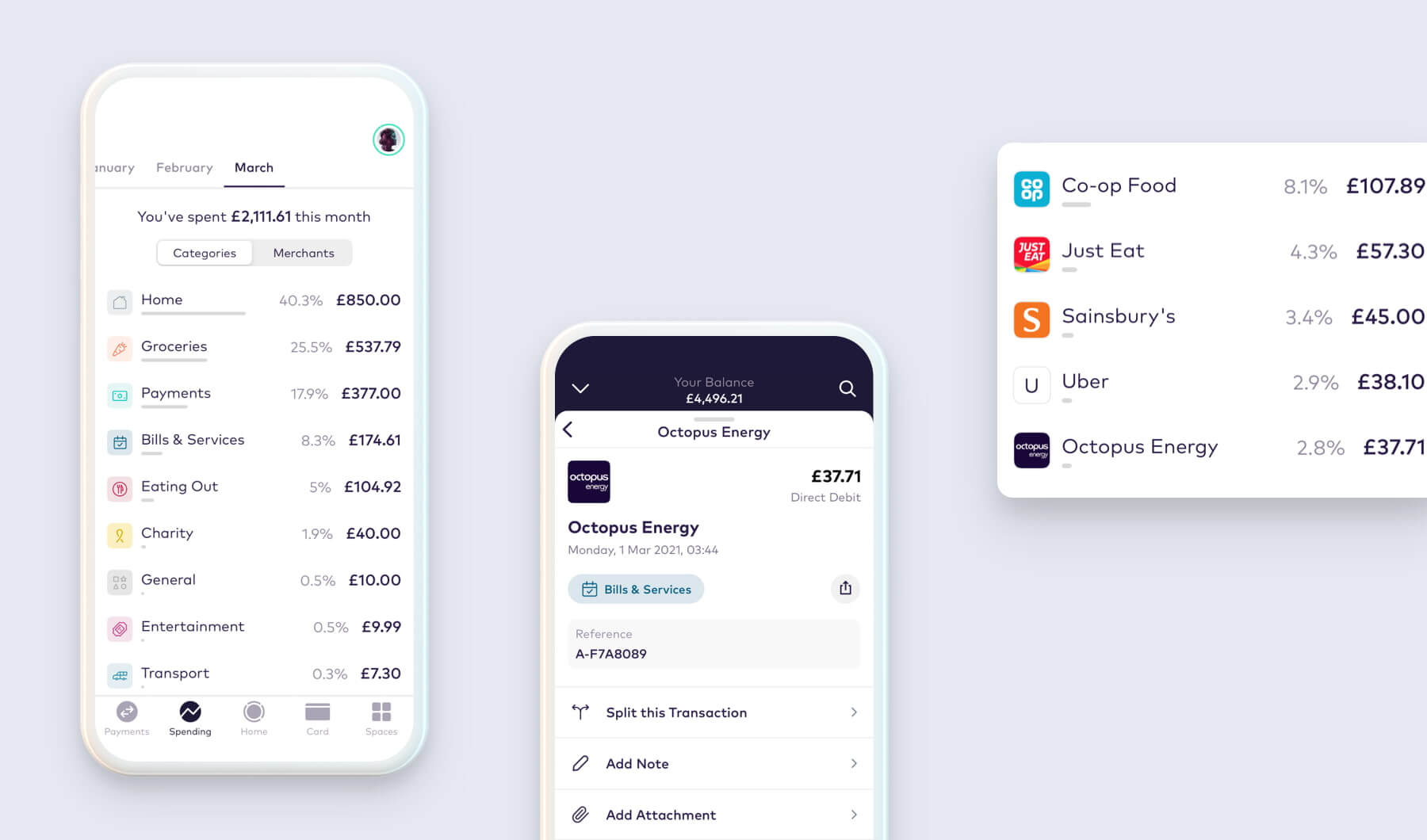 Personal spending insights in Starling Bank mobile app
Source: starlingbank.com
Another great example when speaking about setting you apart from others is Robinhood, an online trading app that provides people with the ability to buy and sell financial assets including cryptocurrencies.
One of the biggest X-factors of this FinTech company is its focus on millennials. It is known as one of the best apps for introducing people to the concept of investing. It has a low barrier to entry and a simple, intuitive user experience designed to attract young people. Moreover, unlike other platforms, it allows investing in the most expensive stocks without much capital and doesn't set minimums for investing in cryptocurrency, unlike other platforms. Robinhood also allows commission-free trading and gives free stock when referring new members.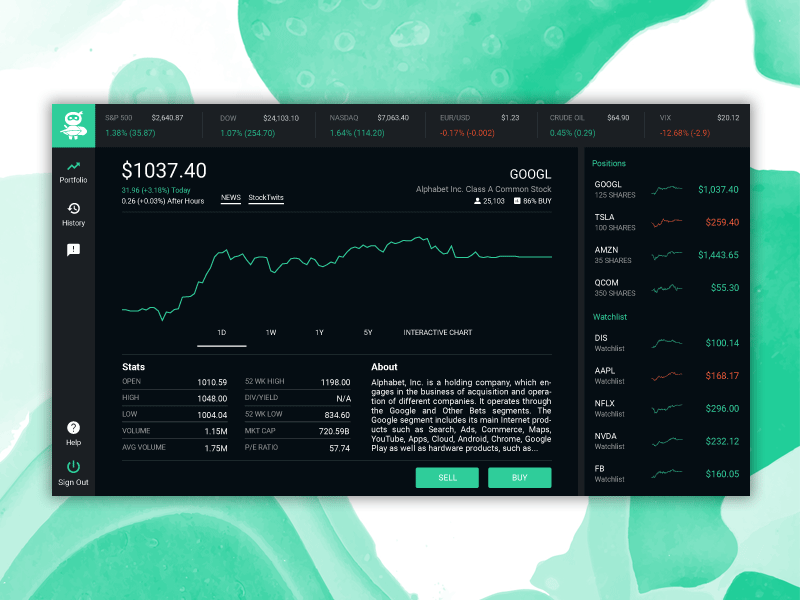 Robinhood's user interface
Source: hackernoon.com
One more option to get a competitive advantage is to follow the latest FinTech trends. As we've already discussed in our article about the FinTech trends, open banking and Application Programming Interfaces (API) banking are gaining traction all over the world as they give more opportunities for launching new FinTech products. For instance, Starling Bank enriched its offering and, apart from digital banking features, now offers Banking-as-a-Platform APIs, while the young BaaS startup Unit, which recently raised $51 million, promises that its product will allow companies to create live bank accounts and issue physical and virtual cards in minutes.
To sum up, your X-factor can be anything that sets you apart – from the business model to technologies you use.
Pillar #4. A reliable software development partner
Every successful product including FinTech is made by human beings. That's why the success of your business directly depends on the people who work on its implementation. In this light, you need to give special attention to choosing the right talent able to bring your FinTech idea to life.
You can either hire your own in-house team of developers or find a reliable tech partner to outsource the development process. While hiring an in-house team has its own advantages, it is rather expensive in terms of time and money. As a rule, the recruiting process is long, additional hiring expenses are high, and the cost of local specialists is usually higher than offshore ones.
In search of higher Fintech expertise and lower costs, most FinTech startups end up outsourcing development to remote software development companies. Among the benefits of outsourcing for FinTech startups are:
access to top talents in the financial industry around the globe;
cost savings as you don't need to pay for recruiting, employee benefits, office space, hardware/software, and so on;
ability to scale delivery teams up or down depending on the goals.
But how to find the company and what to consider when choosing among several candidates? We've already answered these questions in our previous article about outsourcing web development projects. In short, you need to:
conduct deep research of the market;
discover the set of services the company can provide (full-stack companies usually cover business analysis, design, development, quality assurance, and project management);
explore the portfolio and recommendations;
analyze the rough estimates of your project from different companies (here is an example of the rough estimate we at MindK provide for our clients) and try to find a balance of the price and expertise (selecting the initial lower price may, as a result, lead to a higher final price, poor quality, less expertise, and unsupportive communication).
On a final note, try to choose a partner for the long-term, and don't neglect the importance of personal relationships. Good relationships quite often do far more for development projects than the most detailed written contract.
Here at MindK, we value long-term partnerships. The average relationship with a client in MindK is around five years. Our client's testimonials prove that such partnerships are beneficial for both parties and make the cooperation smooth and effective.
Pillar #5. A Minimum Viable Product (MVP)
There is a strong possibility that you won't have enough funds from the start to create a feature-rich FinTech product. Moreover, you actually don't have to do this. The best way to start any development project is to create a Minimum Viable Product (or MVP).
Minimum Viable Product is a basic version of your software product that provides value to the customers. Simply put, the concept of Minimal Viable Product aims to ensure that the strongest app features respond to your customer needs while saving you time and money.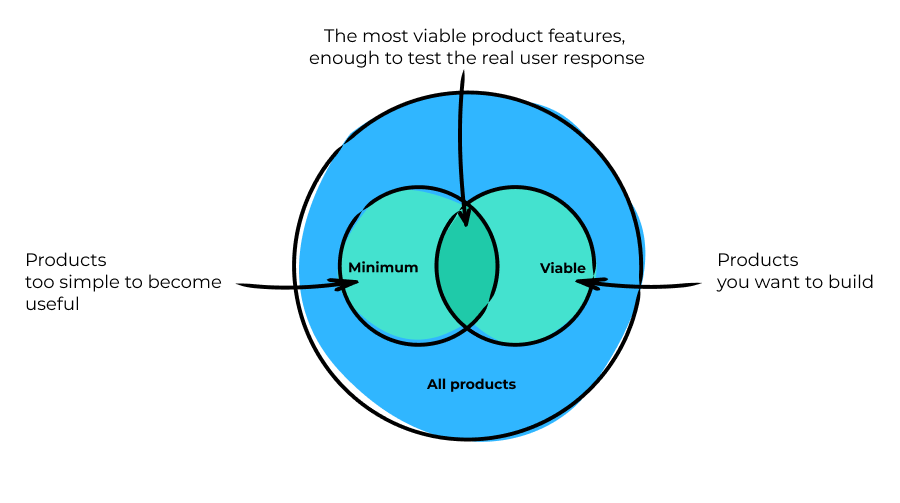 The advantages of an MVP are that it is cheaper, but effective enough for its purposes, the development process is very fast, and is the perfect proof of concept that investors would like to see from you. An MVP enables you to confirm your ideas or change the development focus based on market feedback and raise investments to finish a full-featured product that can scale.
If you need a step-by-step guide on how to build a Minimum Viable Product to test the market then check out our article about the right way to create MVP from the ground up.
Pillar #6. Adequate funding
When all the background work is done and you have a great business idea, a talented team, it's time to find investors interested in putting up the money for your venture. In most cases it is easier to raise funds when you have a robust MVP at your disposal; however, there's also a possibility to attract funding for MVP development.
There are a number of ways to get money for your FinTech startup that include crowdsourcing, venture capital (VC), angel investments, FinTech incubators, and accelerators.
For example, the VC funding process includes the following rounds:
pre-seed is focused on building MVP and prototypes of the product;
series A aimed at exploring new business channels and refining the product;
series B is all about scaling growth and market expansion;
series C refers to expanding to international markets.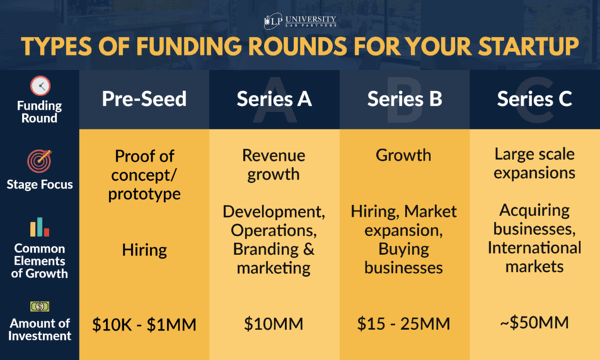 Stages of startup funding.
Source: University Lab Partners
Keep in mind that today, venture capitalists are becoming more selective in their investments. Competition for funding increases dramatically. Therefore, only those FinTech companies that are considered game-changers in their niche have more chances to raise funds. Thus, it is absolutely imperative to make your value proposition as attractive as possible, but at the same time without misleading investors.
Pillar #7. Security
Last but not least, the factor that ensures your FinTech success is security. Yes, security is important in all industries, but it is more than important when you deal with financial technologies.
One of the reasons FinTech startups are rather hard to launch is the fact that many people have an extremely high bar when it comes to trusting personal information regarding their finances. A FinTech startup may have a wonderful idea, however, if its product doesn't have credibility in terms of security, then no one will use it.
The number of data breaches has increased in recent years. According to the FBI's 2020 Internet Crime Report, there were around 791,790 cybercrime complaints in 2020 that led to US$4.1 billion in losses.
In this light, try to pay closer attention to compliance with security protocols, powerful encryption algorithms, and even partnerships with trusted finance companies usually assist you to gain the trust of potential clients.
Ready to get started with FinTech product development?
Now that you know how to get into FinTech, don't wait for perfect conditions and get the ball rolling. Keep in mind that a crisis is the best time to start new projects, so take advantage of what the current situation has given you.
If you are ready to start the FinTech development process and achieve results faster than competitors, contact the experts with real experience in developing FinTech solutions.
We at MindK help companies from the financial industry at all stages of product development from the discovery phase and MVP development to quality assurance and further maintenance. Explore our Fintech Software Development Services to know more about how we can help you reach your goals.