The top apps demonstrate up to 3 times higher customer engagement. Clearly, there's some secret way to win the users' hearts.
Let's reveal it!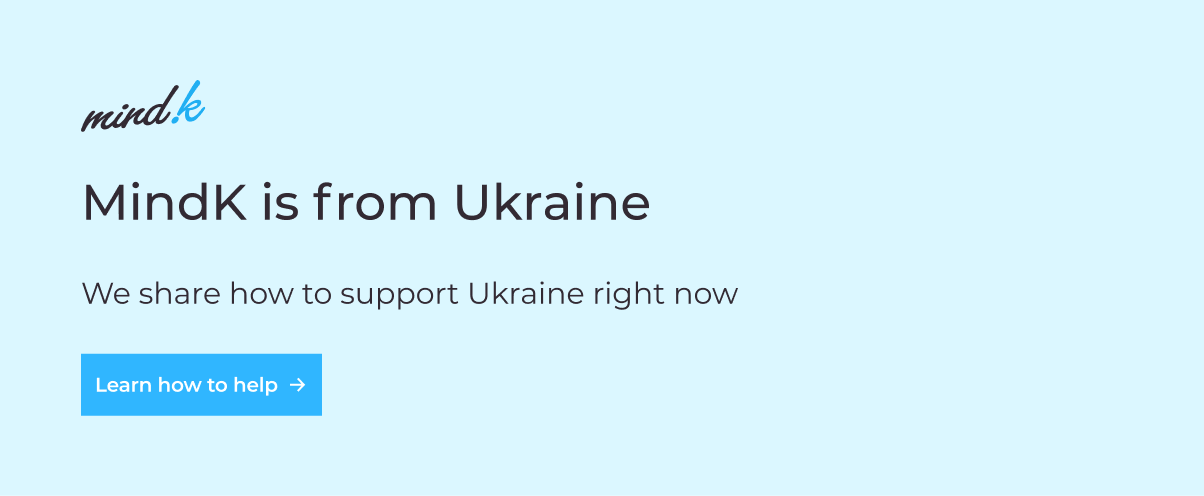 1. Make the most out of app onboarding
"Users try out a lot of apps but decide which ones they want to 'stop using' within the first three-to-seven days. For 'decent' apps, the majority of users retained for seven days stick around much longer. The key to success is to get the users hooked during that critical first three-to-seven day period." – Ankit Jain, Head of Search and Discovery, Google Play.
So, first of all, you need to make your app accessible and easy to use. According to Localytics, an efficient onboarding can boost the app engagement by 50%.
But how can you make the most out of your onboarding?
Highlight the value of your app. Don't shove all your features down the users' throats. Instead, focus on their benefits. Start with the key feature (or a couple) and leave less important ones for subsequent launches.
Value the users' time. Don't make them swipe through a zillion text-heavy screens before they can try the app features by themselves.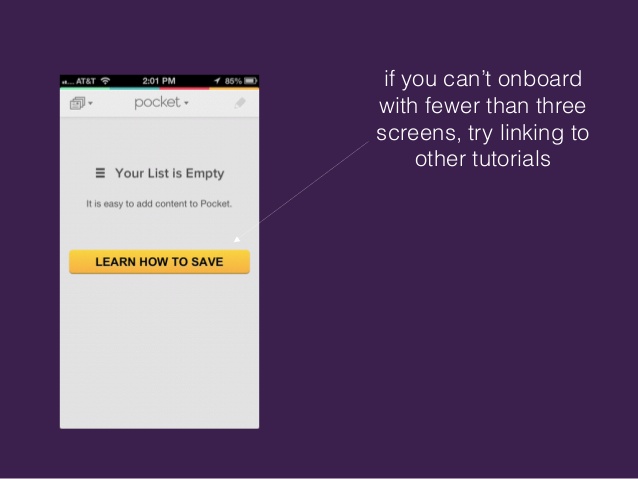 Include screenshots or drawings to better illustrate your points. Don't state the obvious (do your users really need to know that the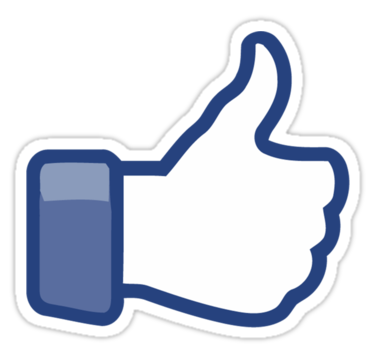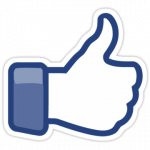 button allows them to like something?). And don't forget to include the progress indicators.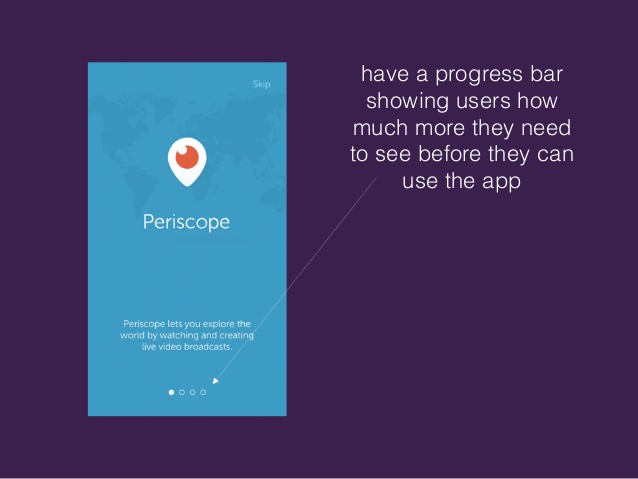 Teach by doing. Walk the users through the main actions they can take inside of your app and let them see the results for themselves. Don't present all your features upfront if your app is fairly complex.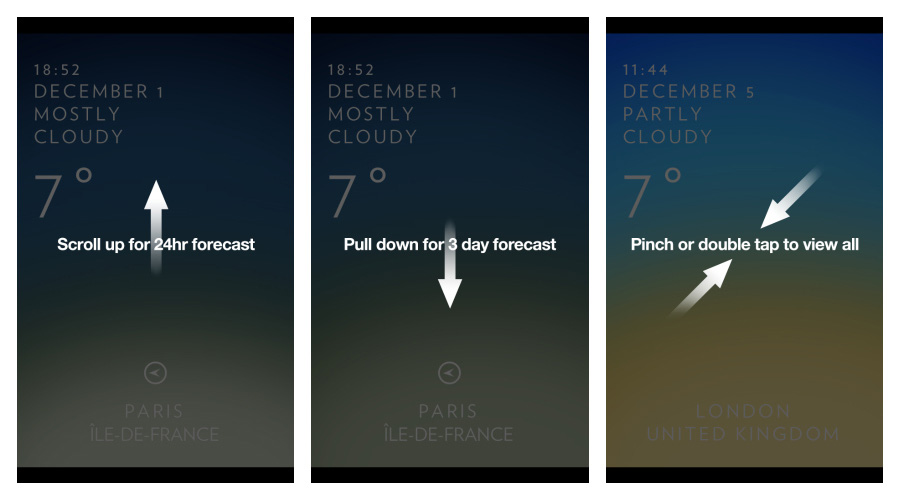 Source: Smashing Magazine
End with a bang! Add a call to action at the end of the onboarding session to improve user engagement.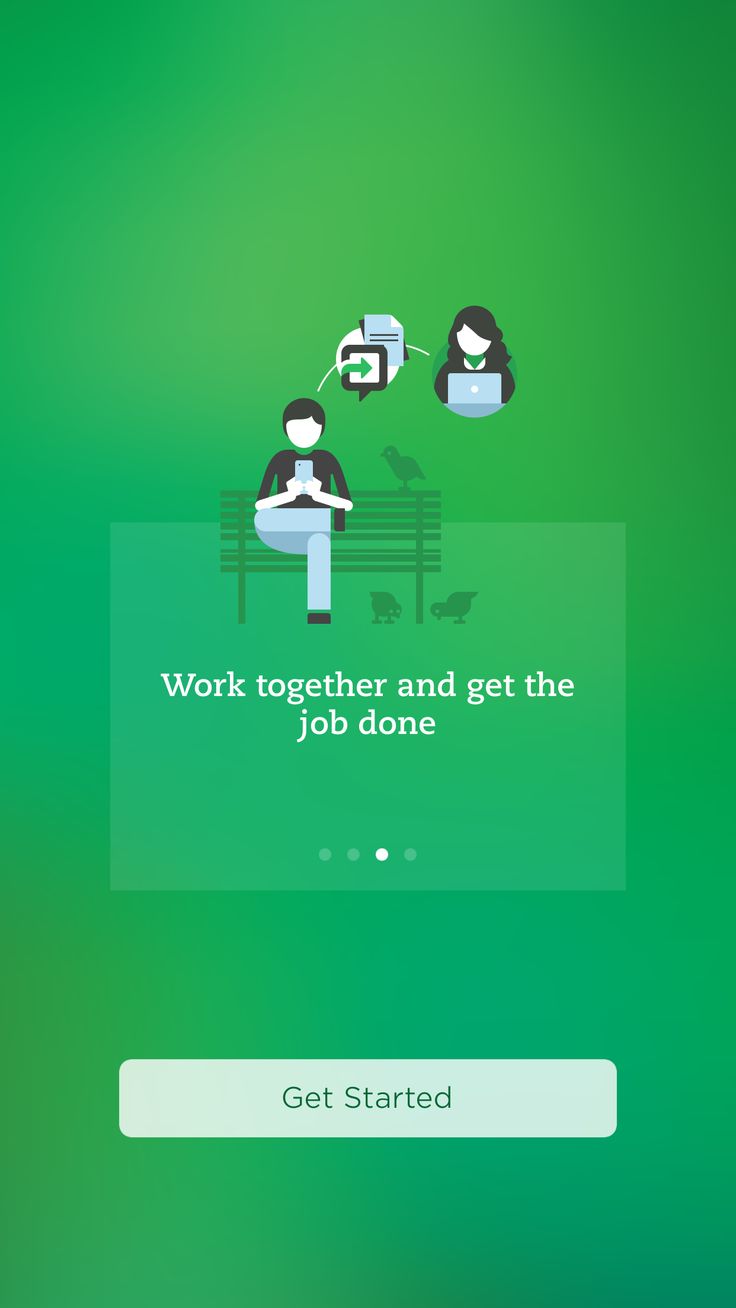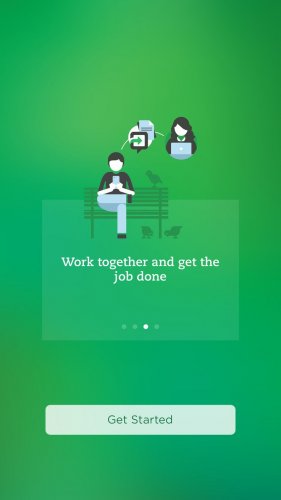 Source: Evernote
Give contextual hints whenever a user encounters an unfamiliar interaction.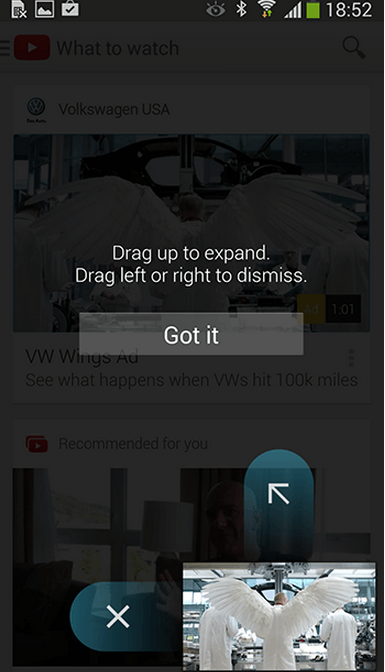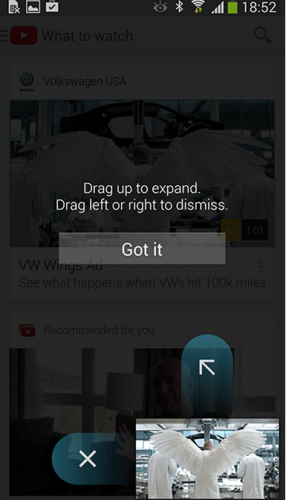 Source: NNGroup
2. Simplify the account creation and sign in process
Make sure there are several different ways to create an account (sign up with Google, Facebook, etc).
Think about providing login-free experience for the fence-sitters. Asking them to create an account before they can see the true value of your app can result in losing potential users. Let them use your app to their heart's content and only demand authentication when absolutely necessary.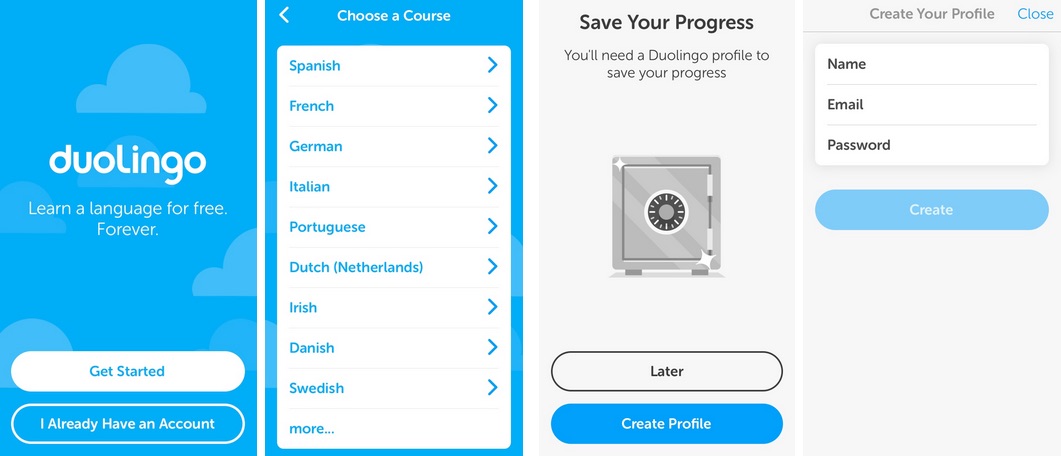 Source: Apptimize.com
If your app requires access to personal data, you'll have to ask permissions.
Some users may actually abandon your app if it asks them to fill-in too many fields with personal info. So only ask for essential data during the onboarding and leave the rest for later.
Another great piece of advice is to ask permission only when a user accesses the feature that requires them.
And don't forget to add context to your requests. Explain what exactly you're asking for, why you need it, and how it will benefit the user.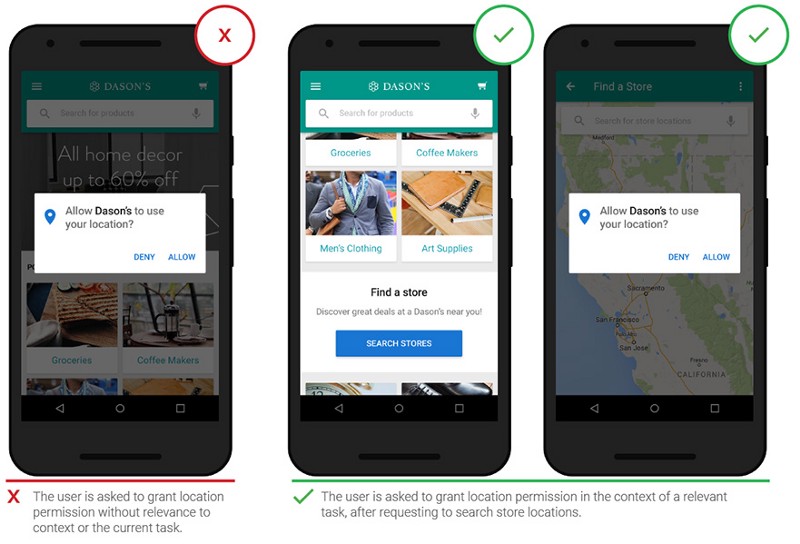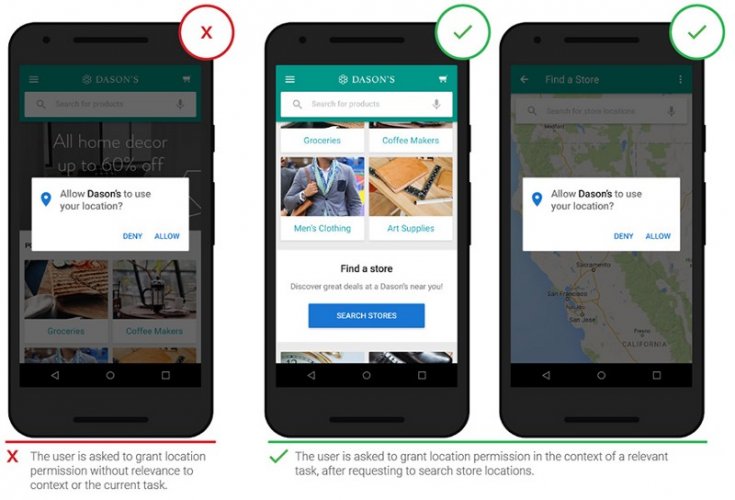 Source: ThinkWithGoogle
3. Add the relevant push notifications
Users who consent to push notifications demonstrate on average 30% increase in app retention.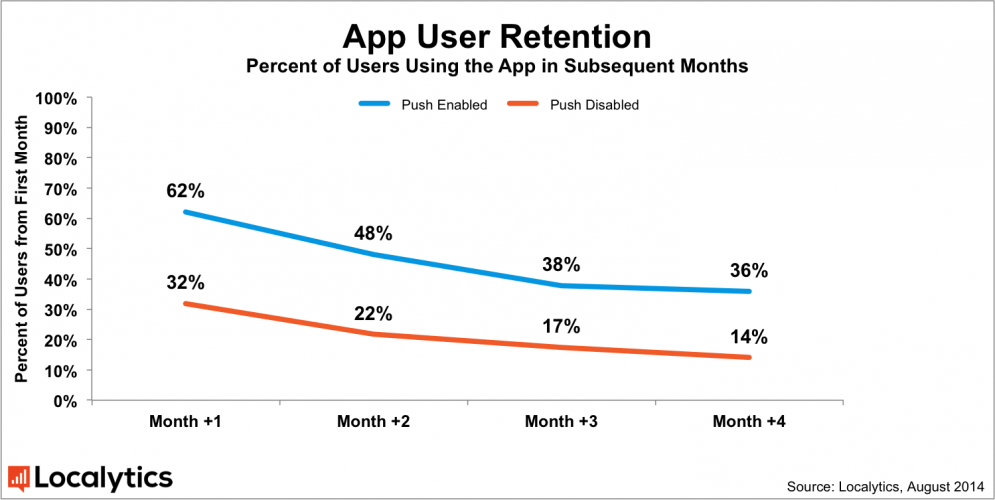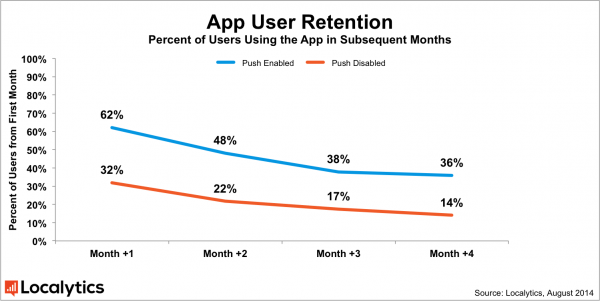 At the same time, more than half of users think that notifications are irritating. One way to fight this attitude is to individualize your push marketing.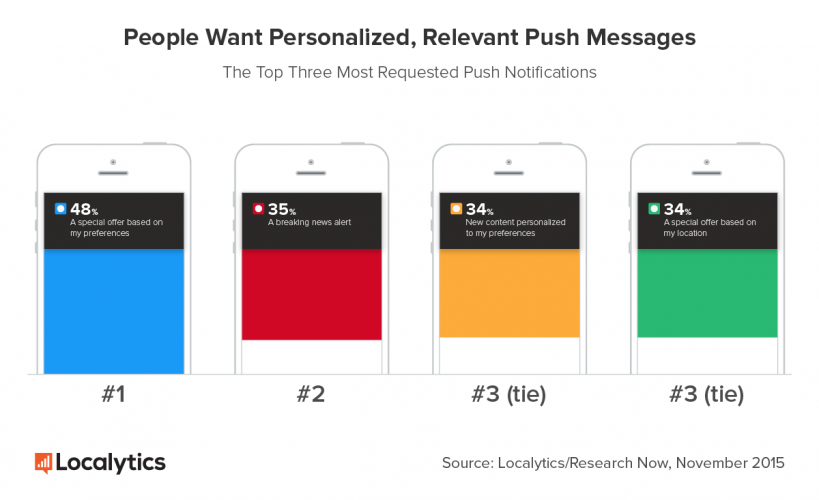 The principle is simple: your users should only receive the notifications that are relevant and interesting to them.
You can achieve this by:
Taking into account the profile info;
Basing your notifications on user behavior;
Combining the two approaches.
When analyzing these push notification strategies according to the three key metrics (conversion, click rate, and user engagement) you can see a clear trend. Generic >Profile-based >Behavioristic >Combined is true for all three stats.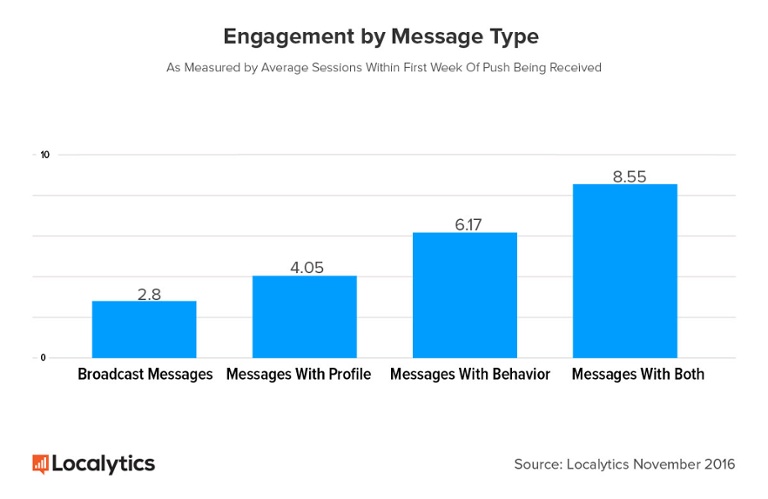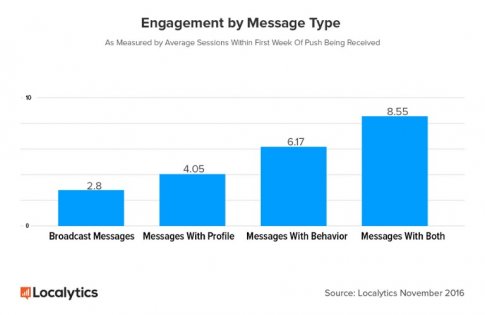 You can enhance your notifications with clickable buttons. Apart from simple Accept and Decline options, you can add some custom actions. The examples range from liking a friend's post directly from your Home Screen to quickly placing a review on the gadget you've bought in an e-commerce app.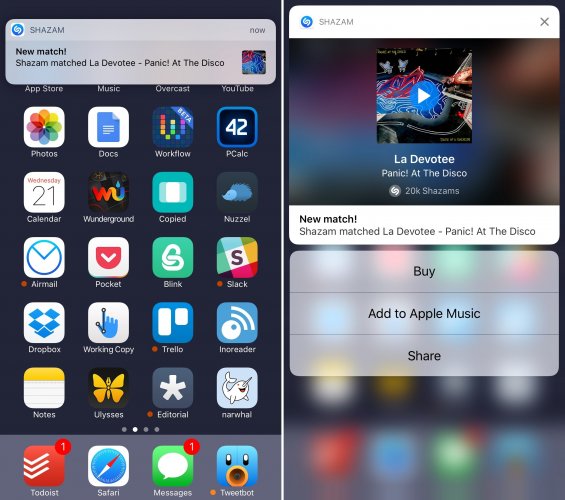 Source: Macstories.net
You can also create Local Notifications. These messages are triggered by events on the user's device as opposed to the regular push notifications that require external services to function.
But how does this look from the user's point of view?
Let's say, you've scheduled a meeting in a calendar app. This action triggers an internal countdown. When it reaches zero, you'll receive a local notification warning you about the upcoming event.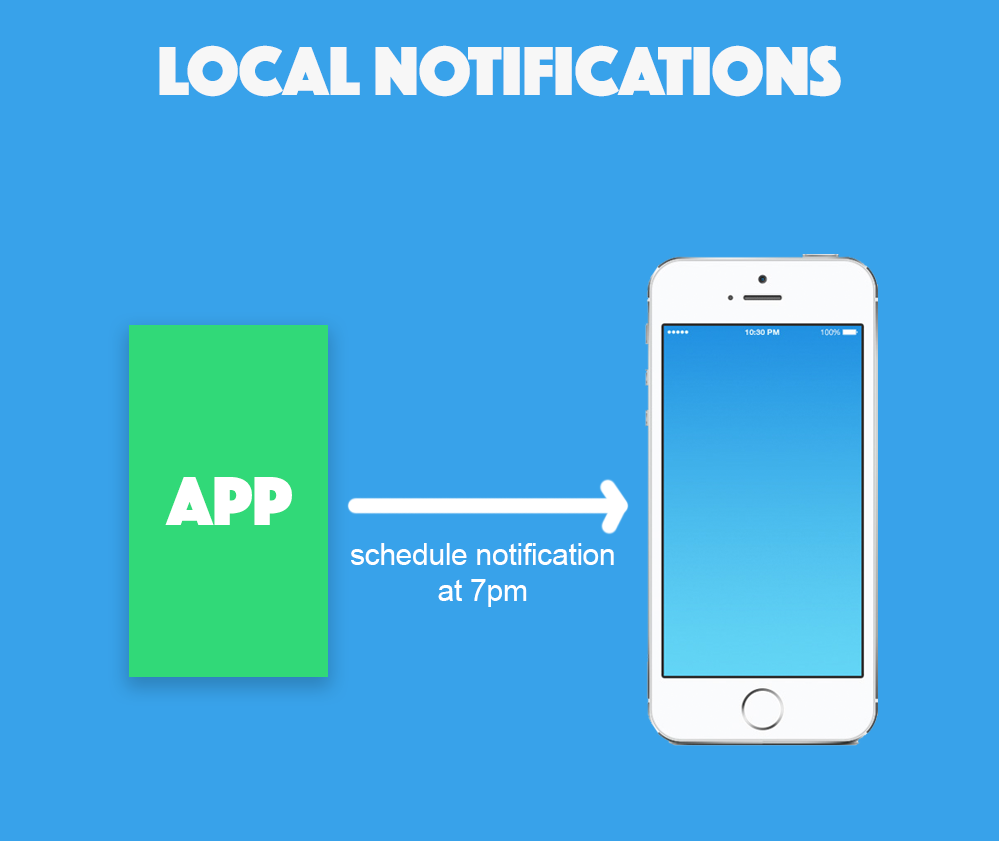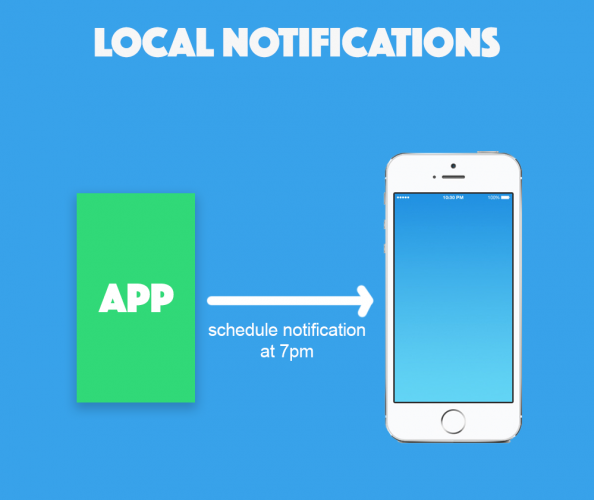 Source: Joshmorony.com
iOS 10 has introduced Rich Notifications that you can now use to your advantage. They allow you to embed media files (images, animations, audio, and video) inside your notifications. For example, when your online store gets a new pair of sneakers, you can send a picture to the potential customers.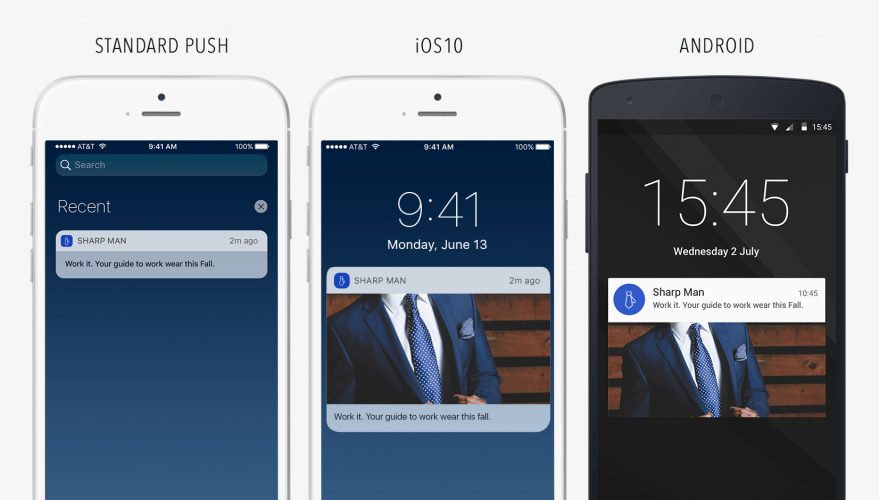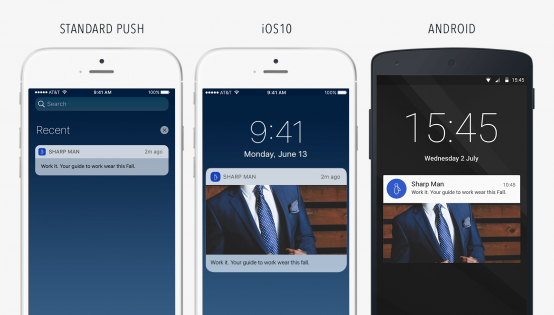 Source: Appboy
After all, one word is worth exactly 0.001 pictures.
And lastly, to combat the churn rate, employ push notifications for users who haven't returned to your app for some time. Remind them about the app value and provide them with personalized content.
For a calorie counter, you may send "You achieved your daily calorie goal a week ago. Count today's calories and keep on track!".
It can be your last ditch effort to stop those users before they abandon your app for good.
The exact period of inactivity before you employ push messages will, of course, depend on the type of your app. A week without your calorie counter can mean that the user has abandoned it together with her/his dieting resolve.
A week without a bouquet from your flower delivery app, on the other hand, is nothing to worry about. Leave such users alone and instead send reminders to the people who haven't made a conversion in the past three months.
4. Use in-app messaging to improve customer engagement
Notifications are usually displayed on the Home Screen while in-app messages pop up inside the app. This makes them instantly noticeable (and quite annoying if implemented badly).
Why send in-app messages if you already use push notifications?
Well, for starters, they can grant your app 27% more launches and almost 3.5 times higher retention. On top of that, the messages triggered by a specific event inside the app (like making a purchase) are 4 times more effective than the ones triggered by the app launch..
But to increase user engagement, in-app messages have to feel as an organic part of your app and not some half-baked mobile marketing attempt.
For example, you can use in-app messages in your onboarding process. When a user accesses a certain feature for the first time, he or she will get a message explaining how to use it.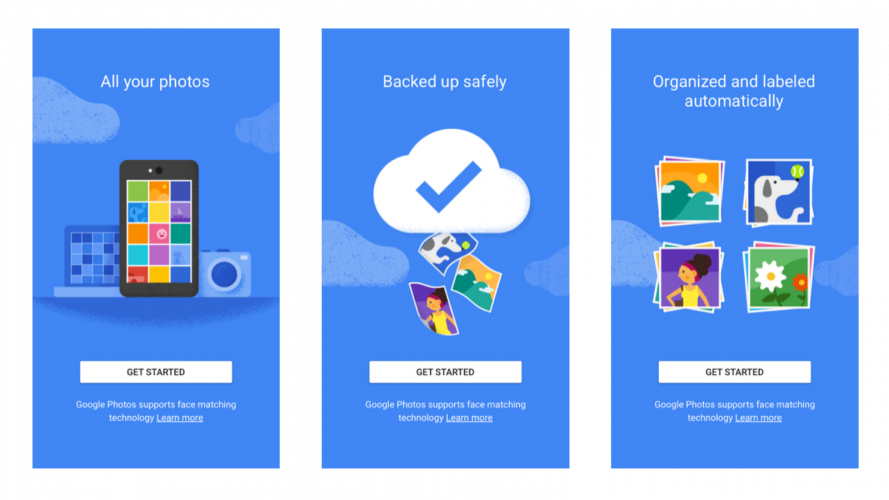 Google Photo uses in-app messages in its onboarding
You can also notify users about your updates and incite them to try out the new features. Or you can predict when your customers are most likely to make a purchase and send them well-timed offers.
Another way to make your in-app messages feel relevant is to segment the user base according to their behavior, interests, age, gender, etc. and tailor-make your messaging to their needs and preferences.
5. Integrate Siri
Chatbots are all the rage now and Siri, Apple's own robotic assistant, is certainly up to the mark.
iOS 10 allows you to integrate your apps with Siri via SiriKit's intents. Now, to perform a simple action like search, users won't have to open your app, then tap the search button and manually enter the query.
Instead, they could say: "Siri, order me a taxi" and get the result immediately.
At the moment, Apple supports only a few types of apps and actions like ride booking, photo search, payments, messaging, QR codes, lists, VoIP Calling, workouts, and automobile radio/climate.
But if your app is not among the lucky few, don't despair. Apple will surely expand the list in its next iOS releases.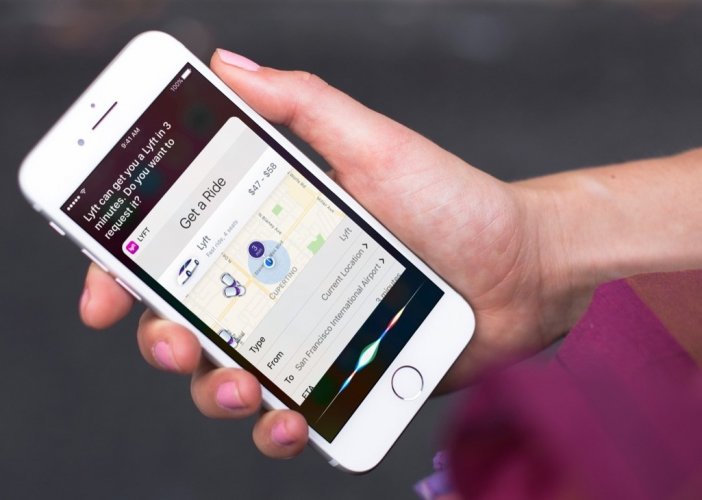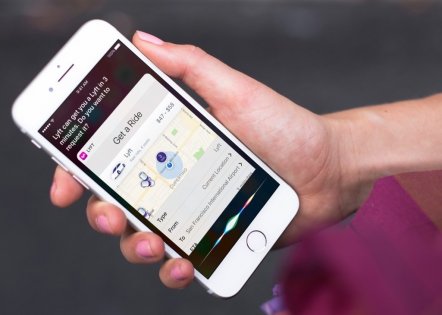 Source: Imore.com
6. Implement Today Widgets
Widgets provide a way for users to catch up with the events and discover what's in store for today. Utilize this feature to inform your customers of time-sensitive events and offers (i.e. a Valentine Day's chocolate-and-crying-tissues sale).
Just keep widgets basic: a simple reminder plus a shortcut to an action inside the app.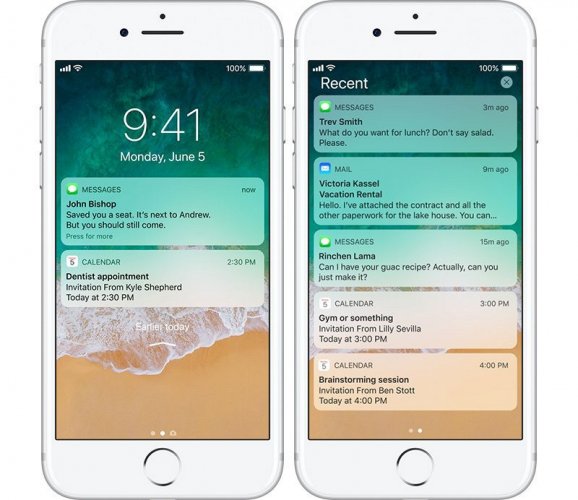 Source: Macrumors.com
7. Add location-based app suggestions
Mobile apps can make suggestions based on your location, habits, or even the current time.
Some music apps display notifications when you plug in the headphones. A GPS system can activate itself when you link the device to your vehicle. Social networks can suggest events that happen nearby.
Local-based suggestions is the core feature of Juvo, our latest iOS/Android app.
The feature allows Juvo users to discover the venues that happen around them and help people from their local communities. The user can adjust the notification radius to receive suggestions for events in their vicinity or see meetups from all over the country.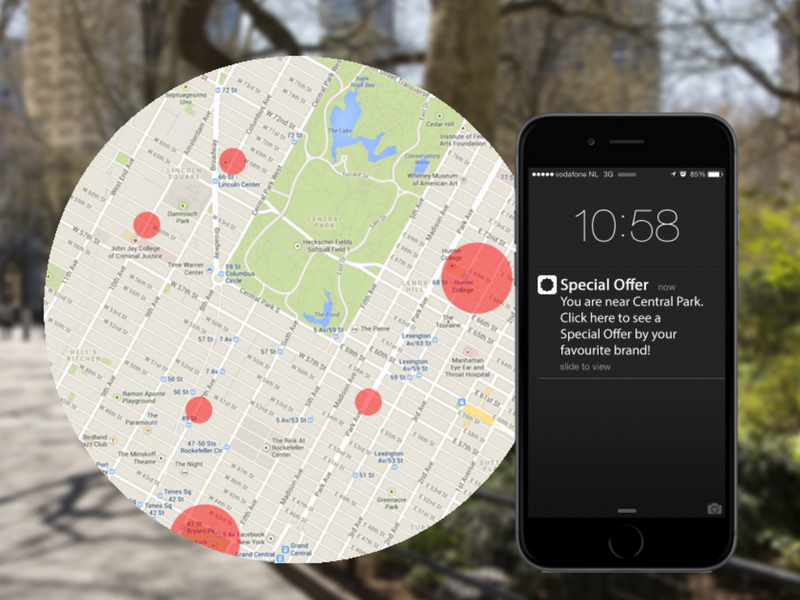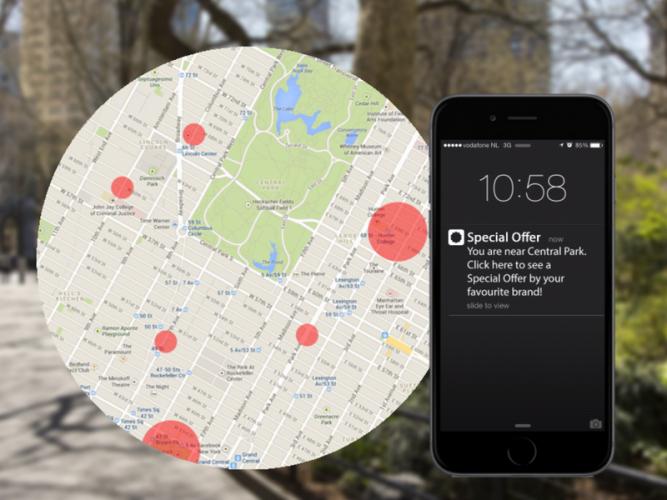 8. Add Home Screen Quick Actions
Another pretty simple yet useful feature comes in the form of 3D Touch and Quick Actions. You can use them to execute app-related actions without leaving the Home screen.
Just press the app's icon a bit harder than tapping to produce a list of supported quick actions. A shopping app can, for example, include such actions as search, today's deals, gift cards, etc.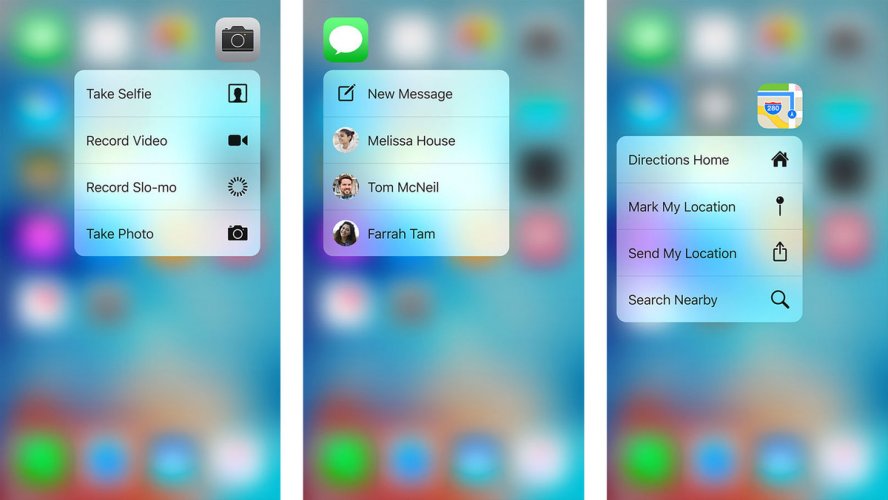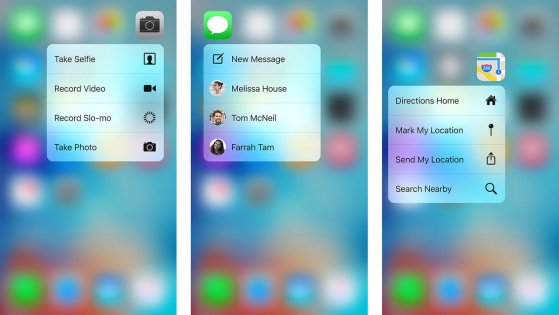 Source: Imore.com
9. Use deep links
Deep links are a special kind of URLs that can take you to a specific part of an app.
Here's an example. What'll happen when you type fb://profile/157298764448054 in your address bar?
If you have Facebook's app on your device, the link will open the app and take you to MindK's FB page. But If you haven't installed the app, the link will instead open your default browser and attempt to load the corresponding URL.
Note: deep linking to Facebook pages seems to be disabled for the current version of the Android app.
But how can this improve customer engagement?
Let's say you've created a deep-linked add for a camera in your e-commerce app. When people see your add, the link will take them directly to your app's page in the relevant app store. Once users have installed the app, the same link will lead them to the digital cameras screen in your app.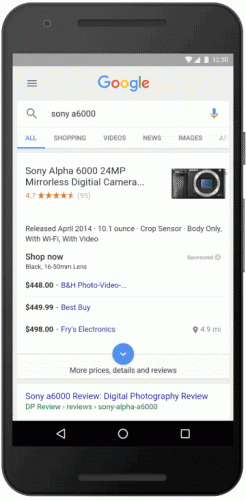 Source: Android Guys
This is called deferred deep linking. You can do the same trick with your push notifications. Or you can use it to enhance your onboarding.
One way to do this is to send out deep-linked individualized invitations. When a potential user taps the URL, it can take them to a customized sign-in screen inside of your app with some of the fields already filled to streamline the procedure.
Hint: a deep link can provide your users with a shortcut to the permissions page in case they've declined something really useful.
Finally, deep links can give you insights into user behavior. Customers can open or install your app via targeted ads, content shared on social networks/messengers/email/SMS, or via the referral programs.
Once again, deferred deep links allow you to assign your referral campaigns, content sharing, or in-app referrals to the services, campaigns or users that attract the most customers to your app.
With the help of Google's App Indexing, your in-app content can now appear in the search results. The search engine will then use deep linking to direct users to the exact piece of content inside of your app.
Finally, iOS 9 has introduced universal linking.
With it you no longer have to create a custom URL scheme when you build your app. Instead it'll use the existing link to the app's home page. Among the advantages of universal linking are simplicity, flexibility, privacy, and safety.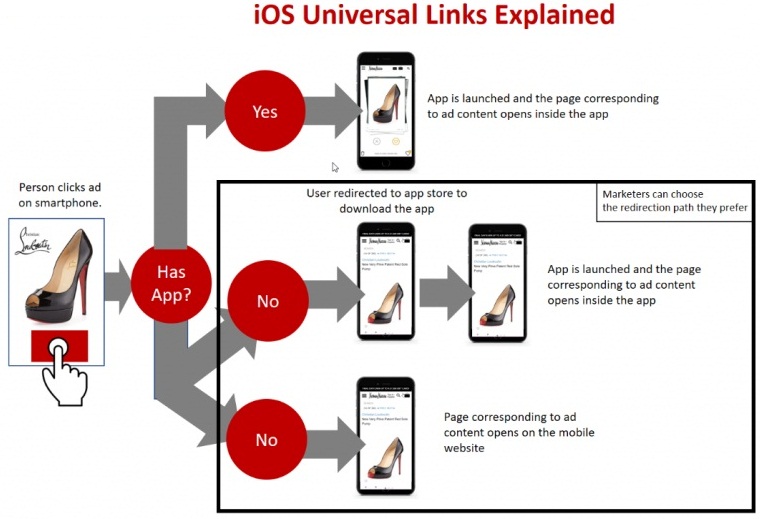 Source: Apsalar.com
10. Add Spotlight indexing
Implementing universal links in your app can give you access to Spotlight indexing.
Spotlight is the portable Google at the heart of your iOS device. Using it you can find any app you've installed, any app you want to download from the App Store or anything else, really.
If your app has a search function you'll benefit immensely from Spotlight indexing. No longer will your users need to open your app to search the content. They can do it directly from the Home Screen.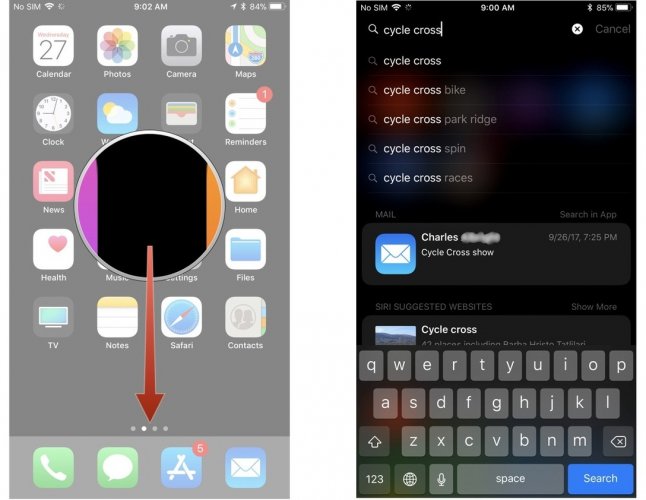 Source: Imore.com
11. Gamify the user experience
You can use people's natural desire to win, achieve and outperform others to make your app more engaging. There are many ways you can add various scoring systems, challenges, achievements, leaderboards, badges, and other game-like incentives to your app.
You can also reward your users for loyalty.
The type of such rewards will, of course, depend on the nature of your app. In theory, they can be anything from freebies, coupons and discounts to special offers, access to premium content or some rad stickers.
As Zan Gilani, associate product manager at Duolingo, told at the Canvas conference: "The first part of that strategy (gamification – Ed.) is to enable our users to set themselves specific small concrete goals that they can achieve every day. Trying to learn an entire language is a huge nebulous goal that takes a long time to achieve. By breaking that goal down into smaller achievable daily goals or tasks we can encourage users to come back every day and to stick with it.
Secondly, the larger goal has to be shown visually, so they can see that they are actually progressing and getting closer to their big goal.
Thirdly users need external triggers to bring them back to the platform. Emails and notifications proved to be the best external triggers and to encourage users to develop a daily leaning habit our testing showed that notifying them every 23.5 hours was the most effective time frame to encourage regular daily use."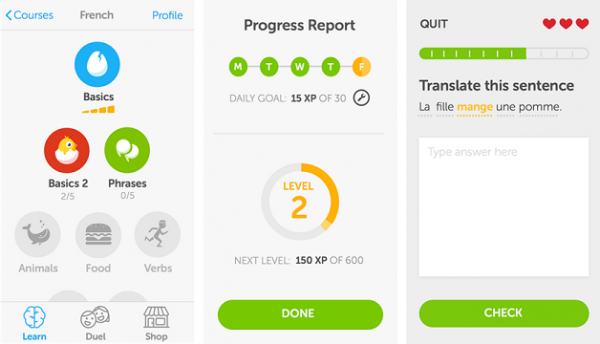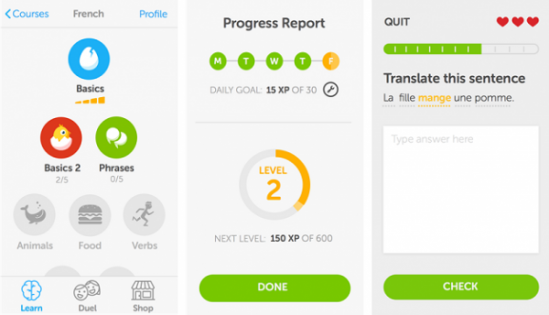 Source: Swrve.com
Gamification works great if combined with other methods, tested and analyzed frequently.
12. Employ analytics
Now everybody understands the importance of Big Data and in-app analytics. If you know enough about your users, you can predict their behavior.
There are a lot of excellent free mobile app analytics tools like ApScience, Flurry Analytics, or Google Mobile App Analytics. With their help, you can determine user interests, demographics, and get other insights for engaging your users and create personalized in-app campaigns.
Wrapping Up
Now you know how to boost customer engagement in your app.
But before you rush to implement these tips, remember that creating a high-quality app is still the first requirement. No amount of tricks and in the world will save your app if it's is a slow bug-ridden garbage.
So take your time and create an app that is worthy of your users' time! And don't forget to listen to their feedback, make your app social media friendly, and update often (every 1-4 weeks + each time a new iOS/Android version releases).
Oh, and remember to run A/B tests for your marketing. You can test your copy, pictures/videos/GIFs in your rich notifications, emoji, deep links, and individualized in-app events (e.g. personal offers for e-commerce apps). Always test a single change at a time and use a control group of app users!
But don't feel discouraged if all of this seems a bit overwhelming. MindK is here to help you. We have a knack for building engaging mobile and web applications. So let us know if you have a challenging project.