Over 13 years in digital transformation consulting, MindK has seen many businesses born from the vast personal expertise of their founders. Take for example, Innmeldt, a Norwegian company that provides pension consulting services. Over the past 30 years, its advisors have helped thousands of people secure a happy and wealthy retirement.
You're probably using a similar consulting business model. Take your expertise and reputation, then hire people that help run the business – consultants, accountants, lawyers, office managers, and so on. Now your revenue isn't entirely dependent on the time you spend on projects. The time that's better spent growing your business.
But there's still a problem with such an approach. In many cases, consulting services require a ton of unpaid R&D time. This means slim profit margins. Some advisors apply an individual approach to each client, even if the solution can follow a standardized methodology. Often, the best approach to scaling a consulting business is to package at least some of your services as a product.  This way, you can:
Serve more customers in less time.

Get predictable recurring revenue with a

SaaS business model

.

Dramatically reduce your sales cycle with a self-serve model.

Offer more transparency in pricing – clients get predictable results for a specific price.

Expand into other niches and markets.
But how does this look in practice?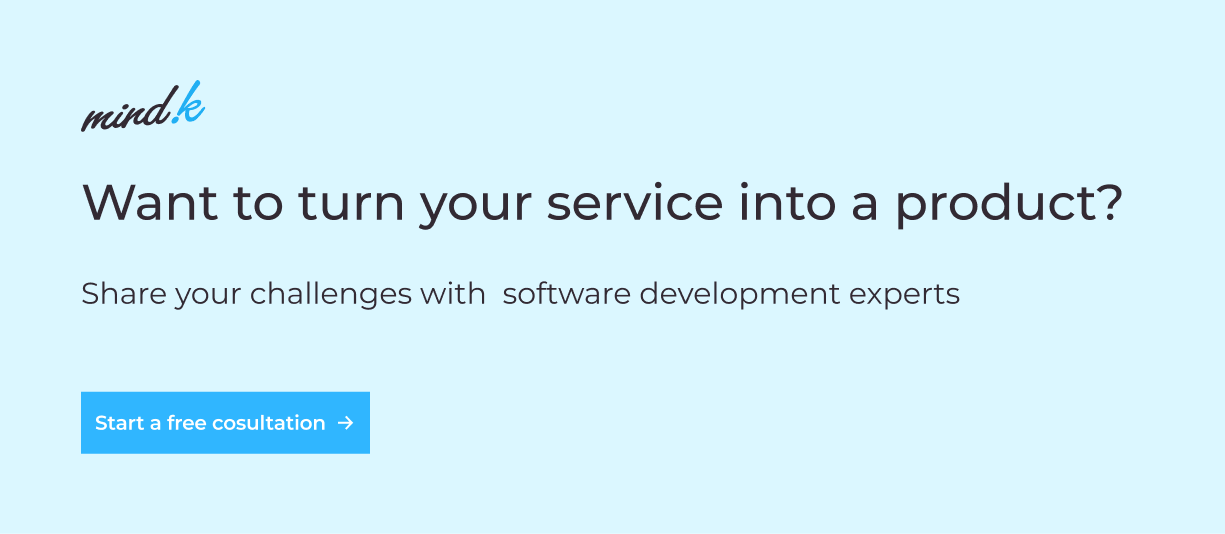 Case study: turning a B2C consultancy into a B2B2C product
For some consultants, productization might mean creating a course to sell online. Others, like Innmeldt, might turn their unique expertise into a SaaS product. 
The challenge
Innmeldt knew everything there was to know about pensions and insurance. They deal with one of the most convoluted retirement programs in the world that requires registering across several systems and calculations using advanced formulas.
But like many consultants, they were pretty new to software development. Our team worked with Innmeldt to brainstorm the ideas for a digital consultancy business. One of the key ideas we highlight during such sessions is the power of standardization and automation.
Take the all-present Pareto principle. For any consultant, 20% of their work represents 80% of the value they generate. Even your lowest-paid employee has several minutes a day where they turn into a superstar that brings you hundreds of dollars. Just remember that 5-minute call that landed you a 50K deal! Consultancy is all about time management. So the trick is to standardize these high-value activities and automate so that you can do more of what truly matters.
The solution
Innmeldt decided to scale up a consulting business with a self-service SaaS solution. It would target large enterprises instead of individuals. Companies that offer better retirement plans can usually retain the top talent. So consulting employees on retirement options is very important. By switching to a B2B2C model, Innmeldt could satisfy this need and acquire thousands of users from a single deal.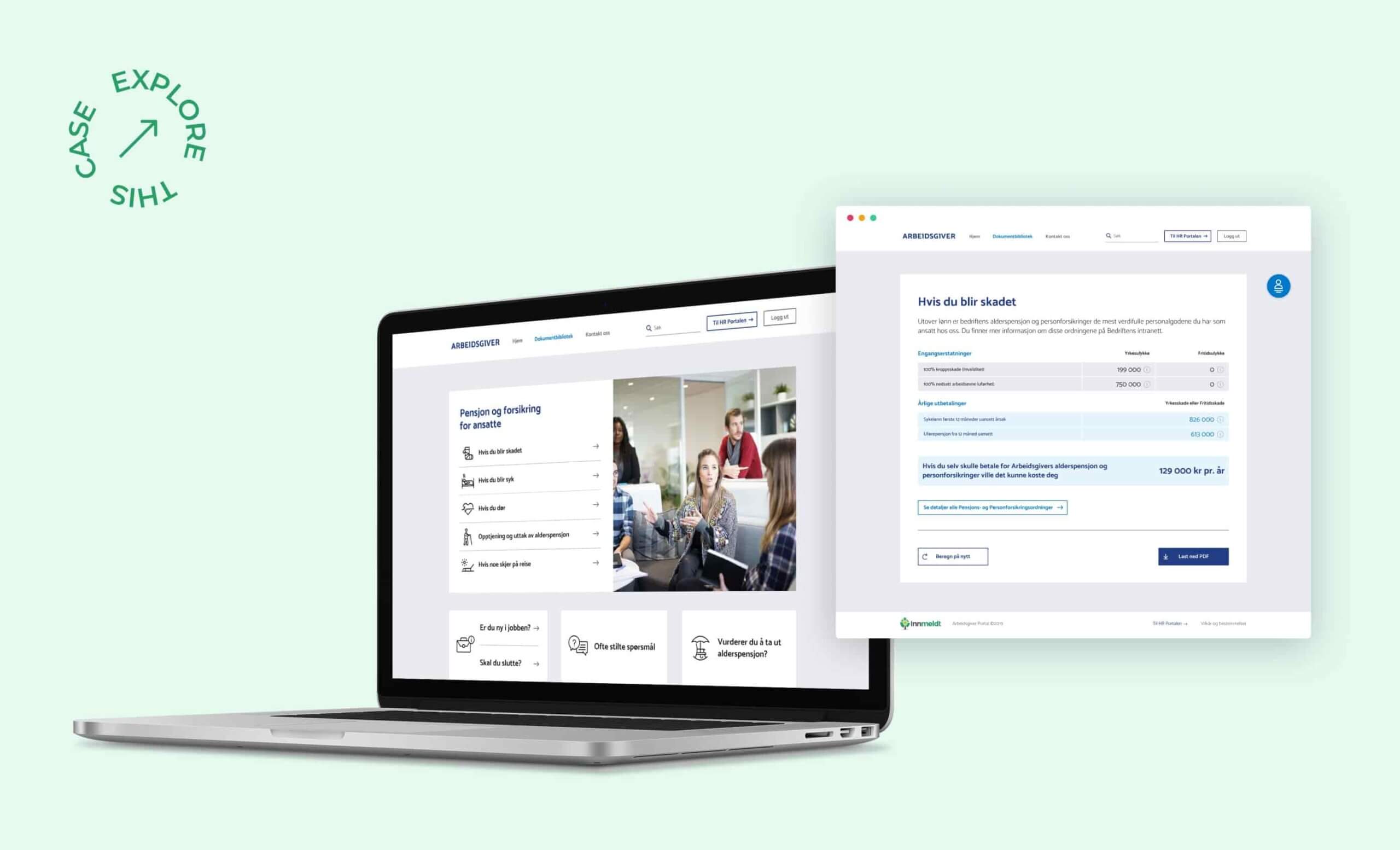 To make this a reality, we designed a web-based system with several key modules:
Flexible HR portal constructor
Corporate users now log in the SaaS system, and set up a customized web portal. They select the suitable template, add corporate logos, change the color scheme, and adjust some UI elements. Each employee gets a personal My Page with all the information, benefits, and pension calculations available at a glance.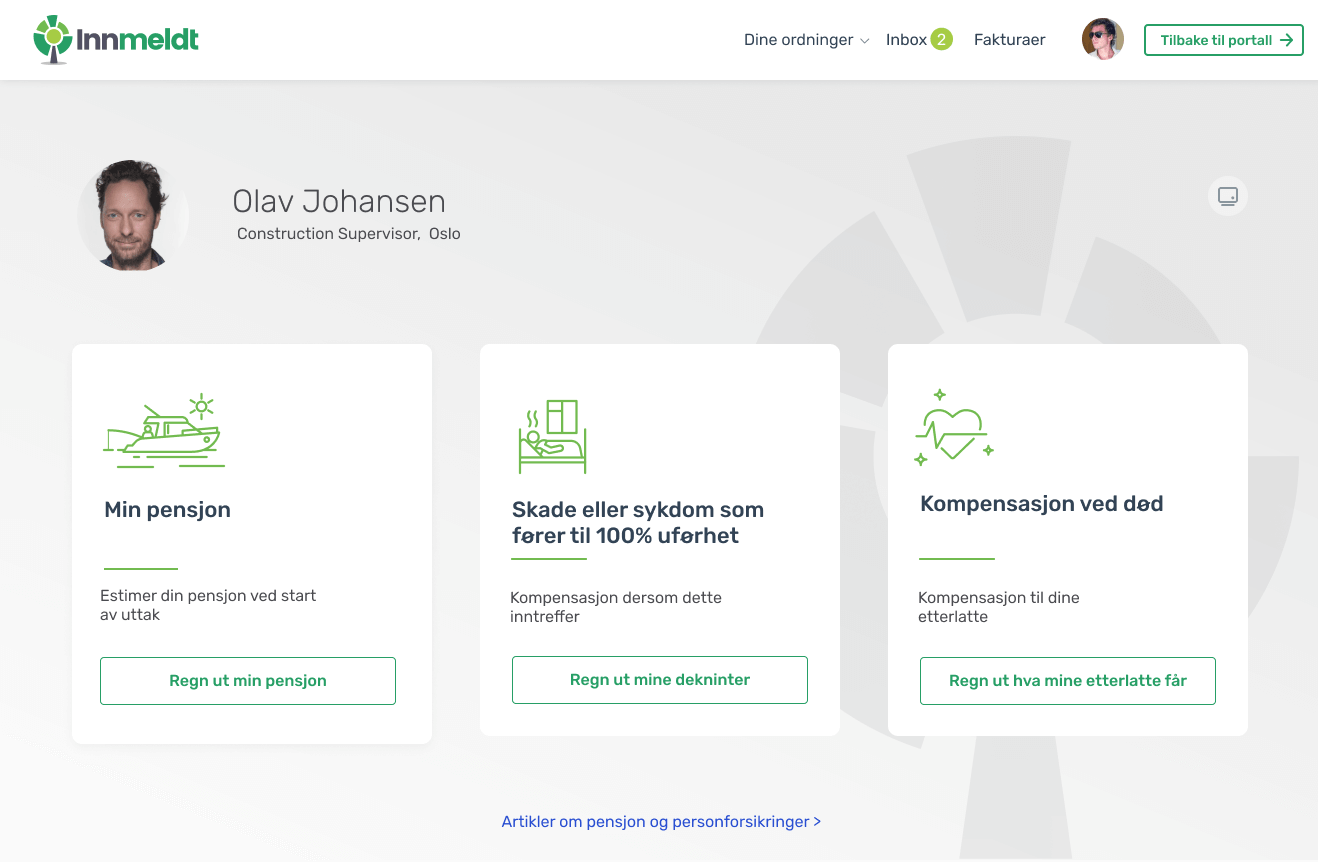 Pension and insurance calculator
Innmeldt digitalized the entire pension calculation process. The backend uses Symfony as its main technology, with PostgreSQL as a database management system. The backend pulls data from Aksio and Norsk Pensjon insurance systems. This guarantees up-to-date data for calculations. To empower these integrations, the team created a Node.js API that allows fast data transfer. And Elasticsearch ensure you can quickly locate what you need in the large amounts of data.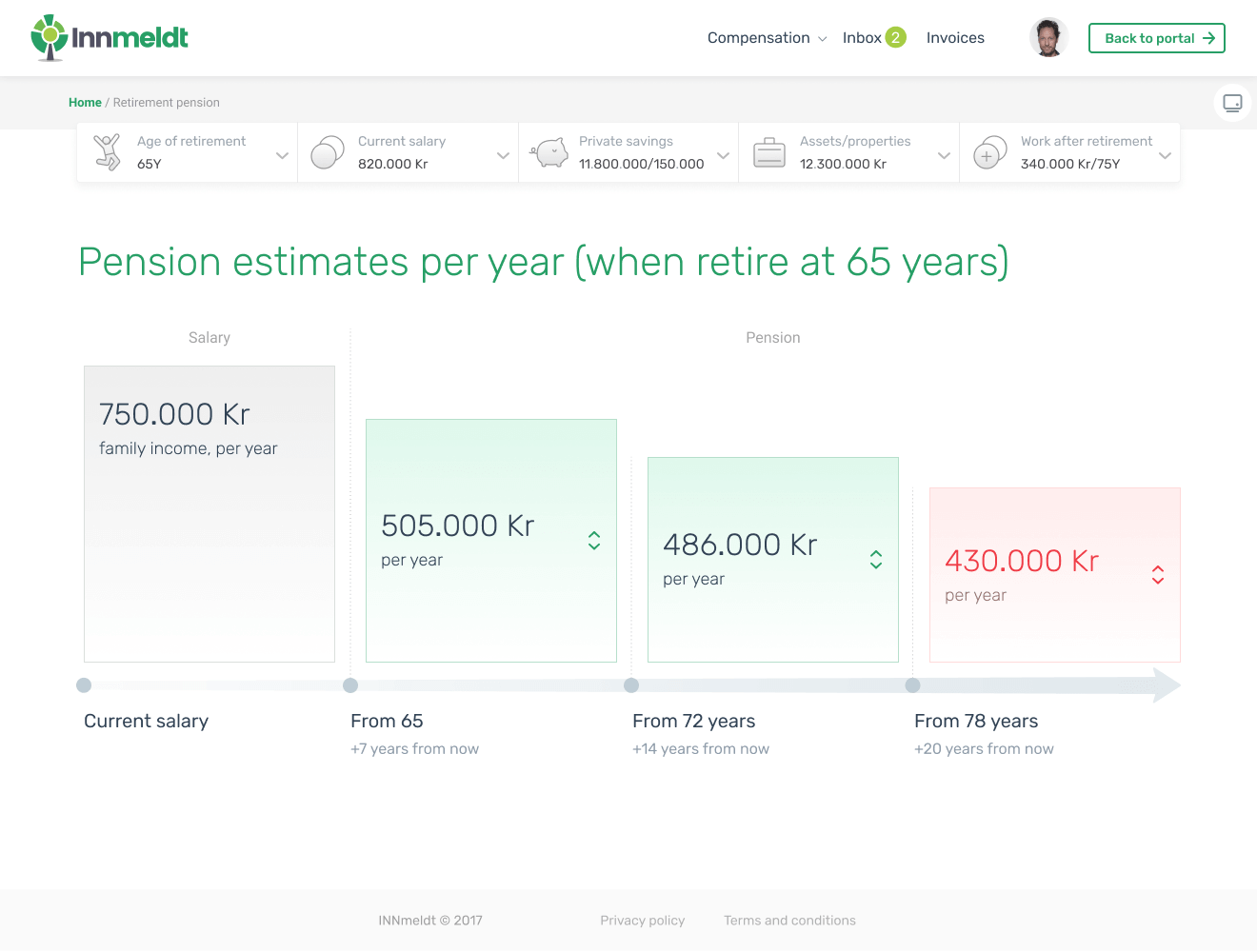 Powerful membership management system
The integration allows users to update personal information, sign up for company events, check product orders, and so on. Managers can group employees by departments, locations, professional interests, customize their rights, organize online and offline events, send group invitations, communicate with team mates, and much more. Together, these options save HR managers several hours a day. 
This built-in feature allows employees to ask questions about insurance and schedule consultations with HR managers. With the help of email integration, managers can see all tickets in one place, whether they come via the portal, email, or phone. Queuing these messages with RabbitMQ allows the handling of multiple requests at the same time without loss of performance or vital information. 
The built-in module allows admins to edit invoices and send them en masse mail. Standardization and automation helps to cut time and eliminate human error. You want to learn more about the technical side of SaaS development, check out our in-depth article on the matter.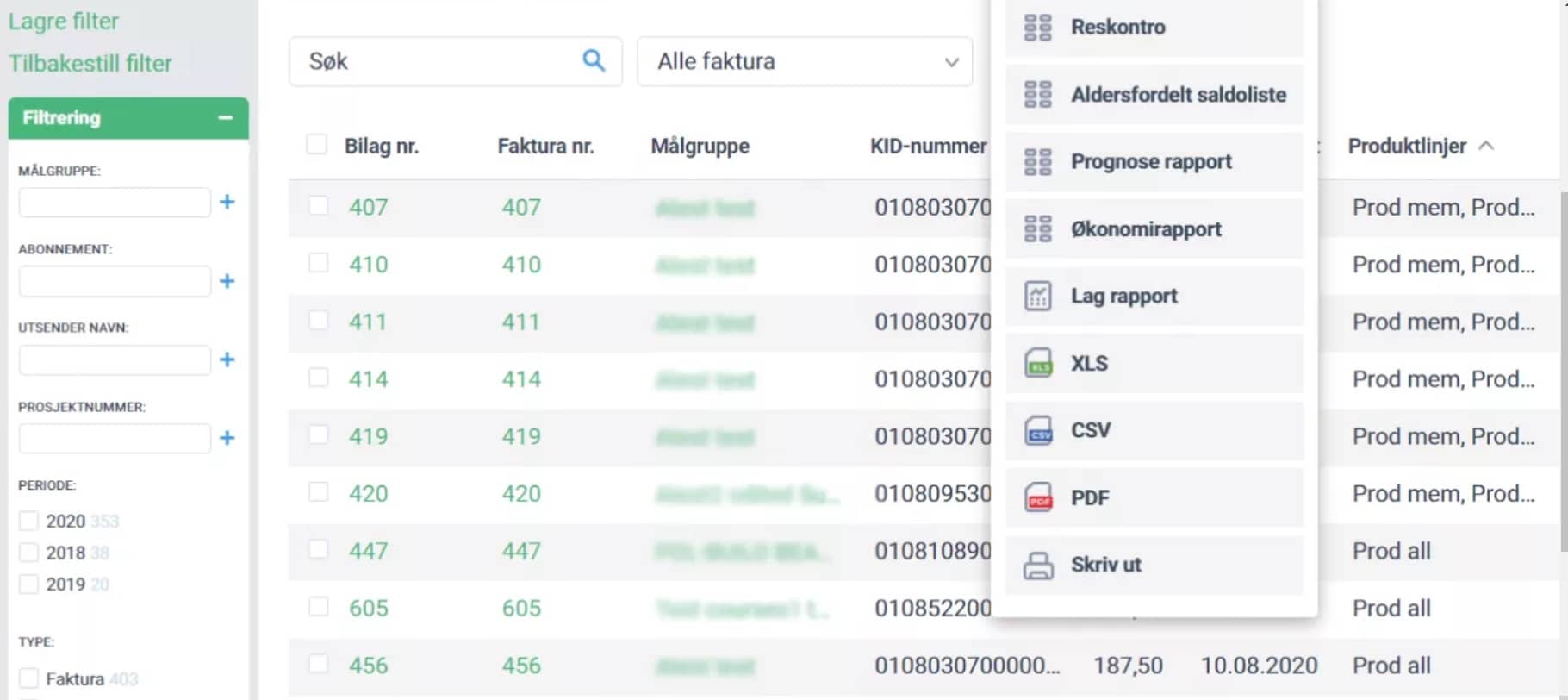 Value from
productized consulting
One of the main challenges for consultancies is to find and train people to become qualified advisors. By creating a user-friendly SaaS product, Innmeldt turned their client HR managers into competent pension consultants, free of charge. Customizable HR portals created a unique advantage for the company. With this new solution, Innmeldt signed a contract with Norway's top 3 employers, greatly increasing its revenue. More than 10 large enterprises are waiting to connect to the system.
Conclusion
Turning your services into a product is one of the best ideas on how to scale a consulting business. Serve more clients at the same time. Conquer new markets. Reveal shortfalls in your processes. Add the wow factor to the customer journey. Create a virtuous cycle of clients recommending your products.
Growing your consulting business is a conscious decision. Get out of your comfort zone. Try new things. Experiment. The journey appears daunting, but it's important to take that first step. 
MindK has helped dozens of companies turn their expertise into successful products. So if you need any help to reach your goals, don't hesitate to drop us a line.