And to help you make an informed decision, here are 10 key features of human resource management software.
One of our clients is a California-based startup that specializes in global hiring. Running their business effectively would've been impossible without modern tools. This was clear from the very start.
What wasn't clear is what kind of tool would satisfy their unique requirements. So the first thing we did was gather with their HR specialists to define expectations towards the new tool. Once you outline your needs, it's much easier to choose and eliminate software vendors.
You can use the HRMS features list below to define your functional requirements for a human resource management system.

Essential human resource management software features
#1 People management
When your company reaches a certain size, keeping all information in spreadsheets becomes more trouble than it's worth. Going through each and every document to ensure records match gets tedious (and introduces lots of errors).
At its heart, a human resource management system is a database of all employee records. The information can include names, positions, date of hire, duties, benefits, insurance plans, performance history and so on. All of this information is linked to the employee's profile so that you can easily find the records when needed.
When this information is available to employees via a self-service portal, your HR managers won't have to answer a ton of repetitive questions. The ability to see your tasks, instructions, and processes makes it easier for employees to start working on new projects.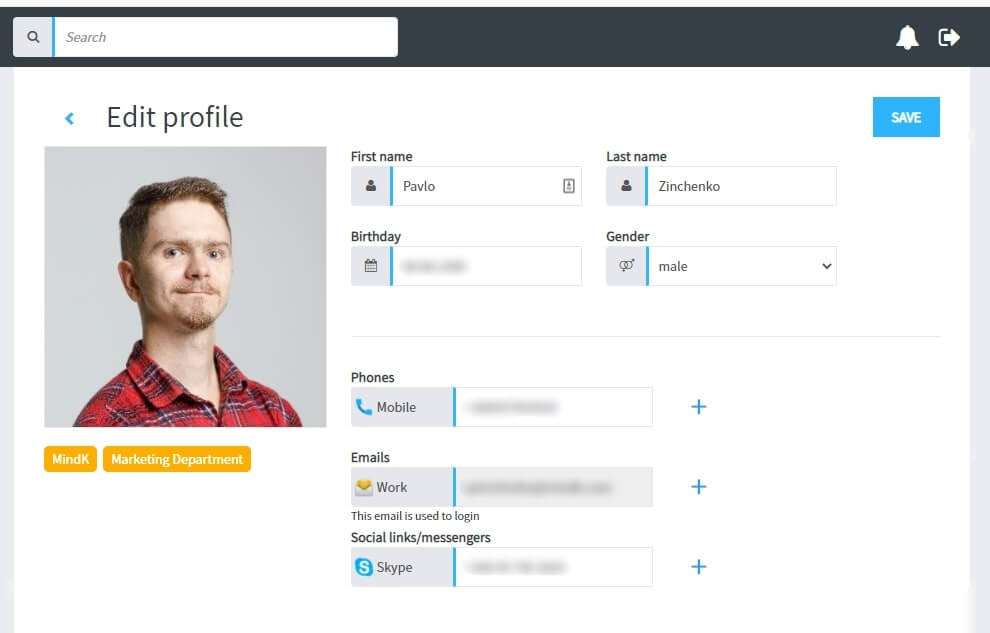 Internal employee database at MindK
#2 Performance and talent management
According to an HBR survey, promoting the right person is one of the best ways to achieve success with your business. Human resource software adds the much-needed objectivity and transparency to the promotion process. Define KPIs for each role, track productivity, and collect feedback from colleagues.
As any HR manager will tell you, managing 360 degree reviews takes a ton of time. HRM software can streamline this process with regular 30, 60, and 90-days reviews. With automated feedback forms, you can gather data from a variety of sources and visualize the insights on a central dashboard.
What's more, you can often run all sorts of tests inside the system to discover how employee skills correlate with company goals, whether they can achieve targets, and meet management expectations.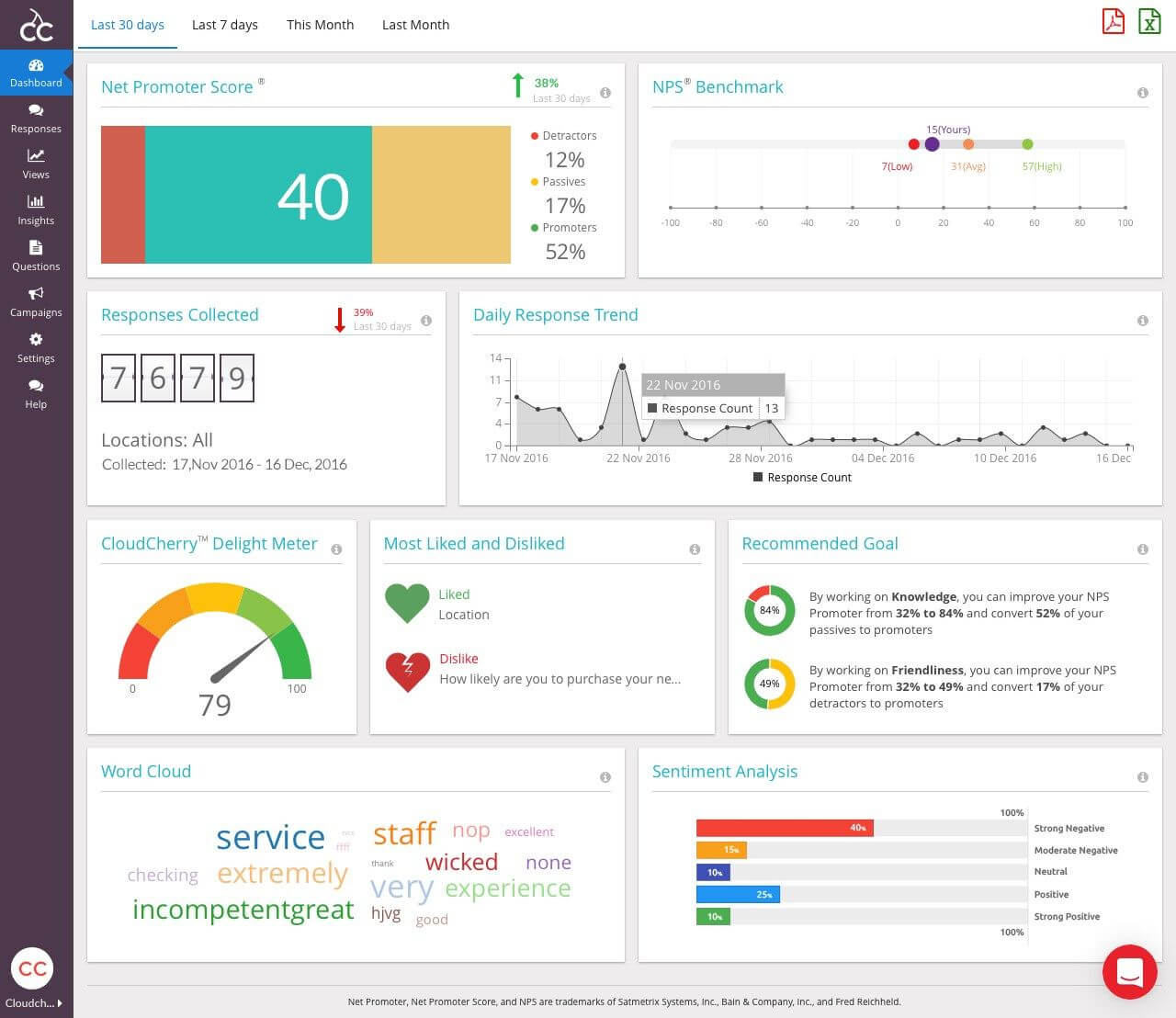 CloudCherry 360 review dashboard
#3 Staff benefits
Managing employee benefits – including salary, healthcare plans, and pension contributions – is a vital part of any company. Often, it's the most time-sapping activity of HR duties.
HRM automation can make it easier to take care of employee wages and administer benefits. Create employee plans, set up eligibility criteria, administer compensations, pay for vacations, deduce taxes, 401k contributions, and fill social security reports- all in one system.
HRM software should also allow regular employees to enroll for benefits, minimizing errors and administrative work.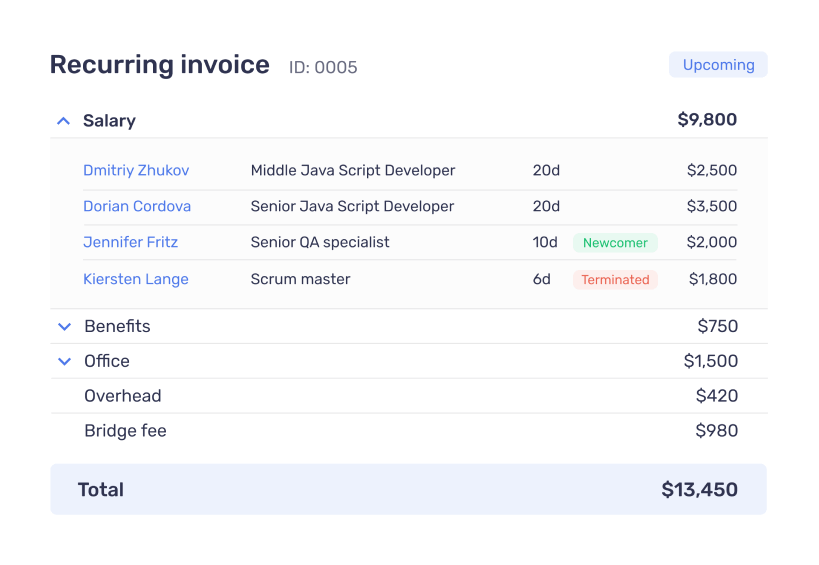 Invoicing module in a custom recruitment solution by MindK. For more information, check the case study
#4 Finances and accounting
82 million US citizens experience payroll issues every year. Adopting a HRM system streamlines your accounting and eliminates human errors. Features you might be interested in are wages administration, tax management, bonus management, commissions, stock options, and long-term incentive management.
Accounting automation is another useful HR system function that can help you calculate wages, deduct taxes, run what-if scenario analyses, and automate accounts payable/receivable.
Managing employee benefits is one of the ways mindK can help you as a custom recruitment & HR development company.
#5 Hiring and onboarding
Tracking applicants is just as important as managing your workforce. Modern Applicant Tracking Systems (ATS) can help you post vacancies across job boards and social media, collect hundreds of resumes, rank them based on pre-set criteria, and organize job interviews.
However, most human resource management systems feature pretty basic ATS functionality. They are often little more than a searchable database you can use to store your vacancies and applicants. Most of them also allow you to post openings on various sites and check your calendar to schedule interviews.
If you represent a large organization or have unique recruitment needs, it often makes sense to buy a dedicated ATS that integrates with your HRM.
Such integration will allow you to seamlessly move the applicant's data once they're hired, automatically launch the onboarding & induction process, organize training, manage benefits, and so on. If you want to learn more about such systems, you can check our article on ATS features, common issues, and their solutions.
Interview scheduling tool we built for one of our clients
#6 Learning and development
According to OECD, technology will transform almost 1 billion jobs by the next decade. Staying competitive, therefore, requires significant investments into reskilling and upskilling of workers. It's no wonder that market leaders, including Amazon and PwC, spend billions to keep their employees up to date.
A corporate Learning Management System is a useful tool that can help you train your employees in a structured and cost-effective way. Just like with an ATS, you can often find basic learning management among HRMS software modules. However, they are typically far less flexible and feature-rich than standalone solutions.
Adopting an LMS can help you discover skill gaps, manage educational resources, organize individual and group training, maintain compliance, issue digital certificates, run aptitude tests, and more. If you want to learn more about this functionality, I'd recommend checking out our article on how to build a modern LMS.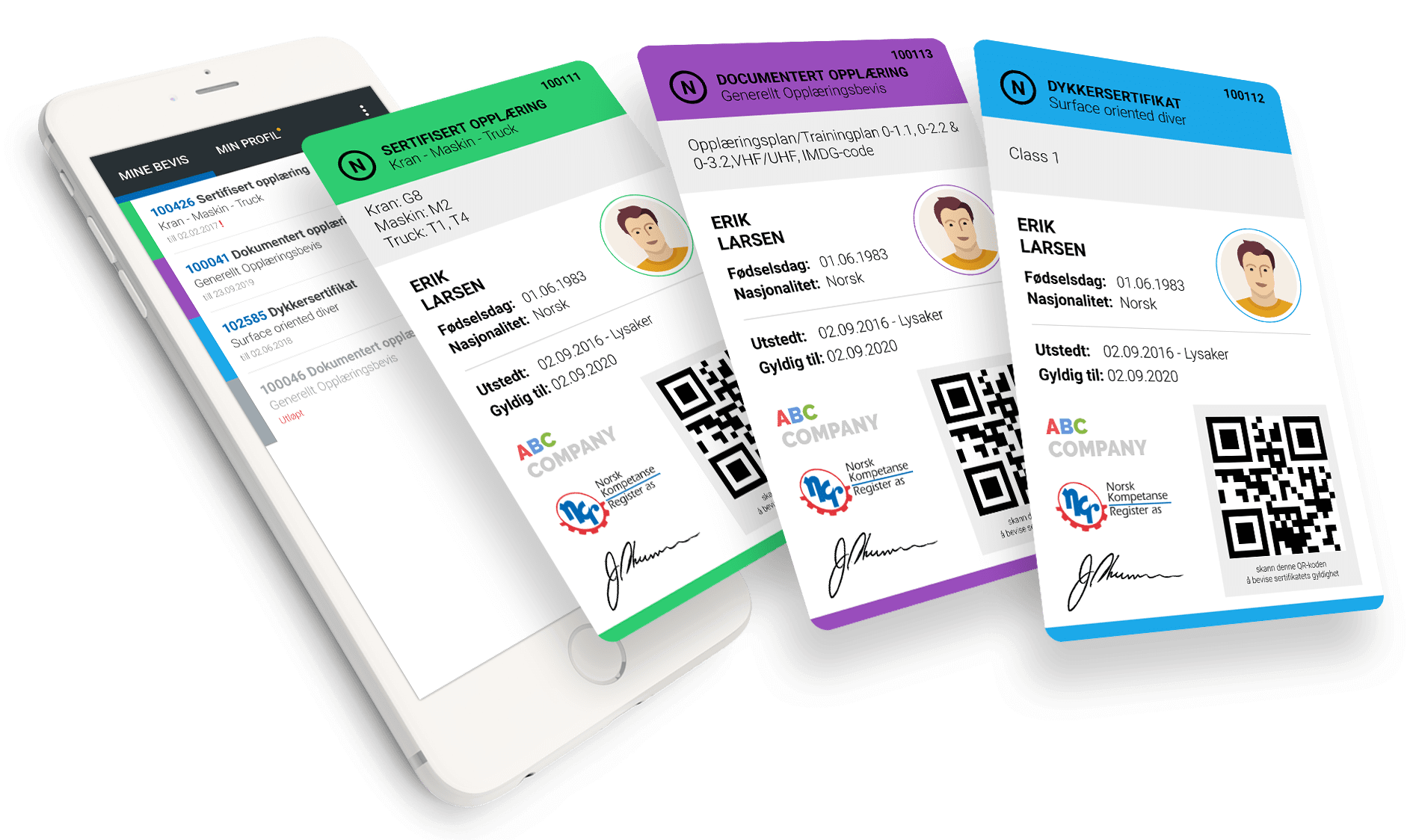 Digital certification app built by MindK
#7 Time and attendance management
Calculating and tracking paid time off (PTO) can be a pain. That's why HRM software often comes with automated PTO management. Simply define how the time off is calculated and the system will make the necessary adjustments when some of your workers take any form of leave.
Schedule shifts across departments, geographies, and projects; get automated notifications when the roster changes; streamline time tracking and payroll with digital timesheets; track PTO used/accrued; clock in/out; manage disability and maternity leaves — all of these are important features that make a good HRS.
At the end of the day, they work together to help you track absenteeism and take care of administrative tasks.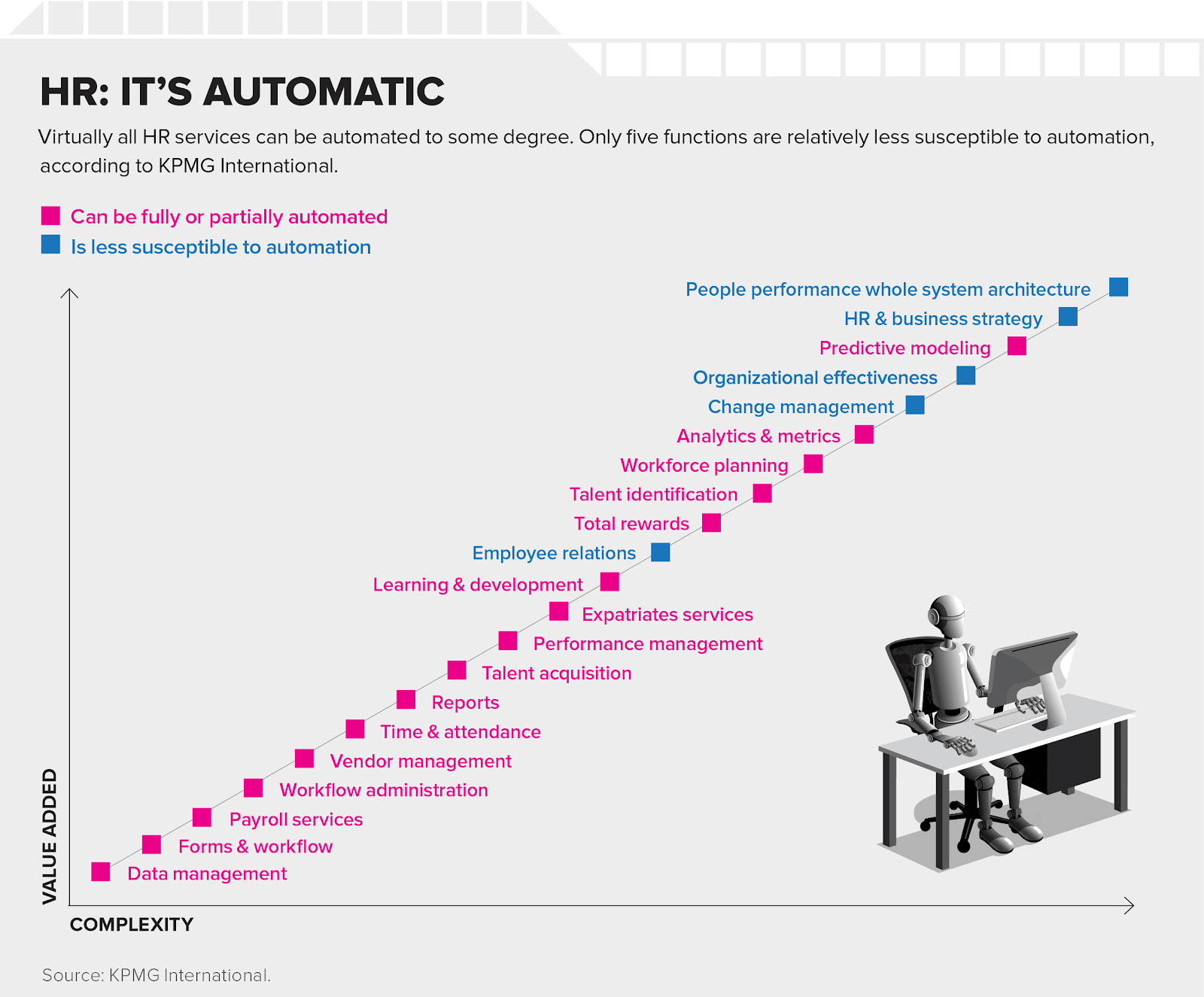 Time & attendance is one of the top HR processes that can be improved with automation
#8 Talent retention
Losing a worker can cost anywhere between 30% and 400% of the employee's annual salary. Many HRM systems help devise and implement basic strategies aimed at retaining your employees. Some of the more advanced solutions employ AI and predictive modeling to discover patterns in employee behavior including:
Risk modeling – discover employees at risk of quitting or under-performing.
Attrition modeling – classify workers based on parameters such as age, gender, family status, education, work experience, job performance, peer/manager relationships, promotions, and pay rises to predict the loss of employees due to natural causes.
Turnover modeling – predict turnover at various departments and locations to reduce the cost of panic hiring.
Talent forecasting – identify high-performing and goal-oriented candidates.
Retention modeling – build psychological portraits of your employees and reveal hidden connections that contribute towards turnover.
By analyzing clusters of employees with similar patterns, HRM software can help you devise targeted retention policies.
At the end of the day, data is just another tool in the HR manager's arsenal. According to Deloitte, complete and accurate data remains one of the main challenges in HR analytics. As your average enterprise has 5-7 systems of record, aggregating and correctly preparing data can become a problem of its own.
Recently, MindK has built a data warehouse solution for one of our clients. It acts as a single source of truth that provides complete and accurate data to a dozen of internal and client-facing systems. Contact us if you want to learn more about the case.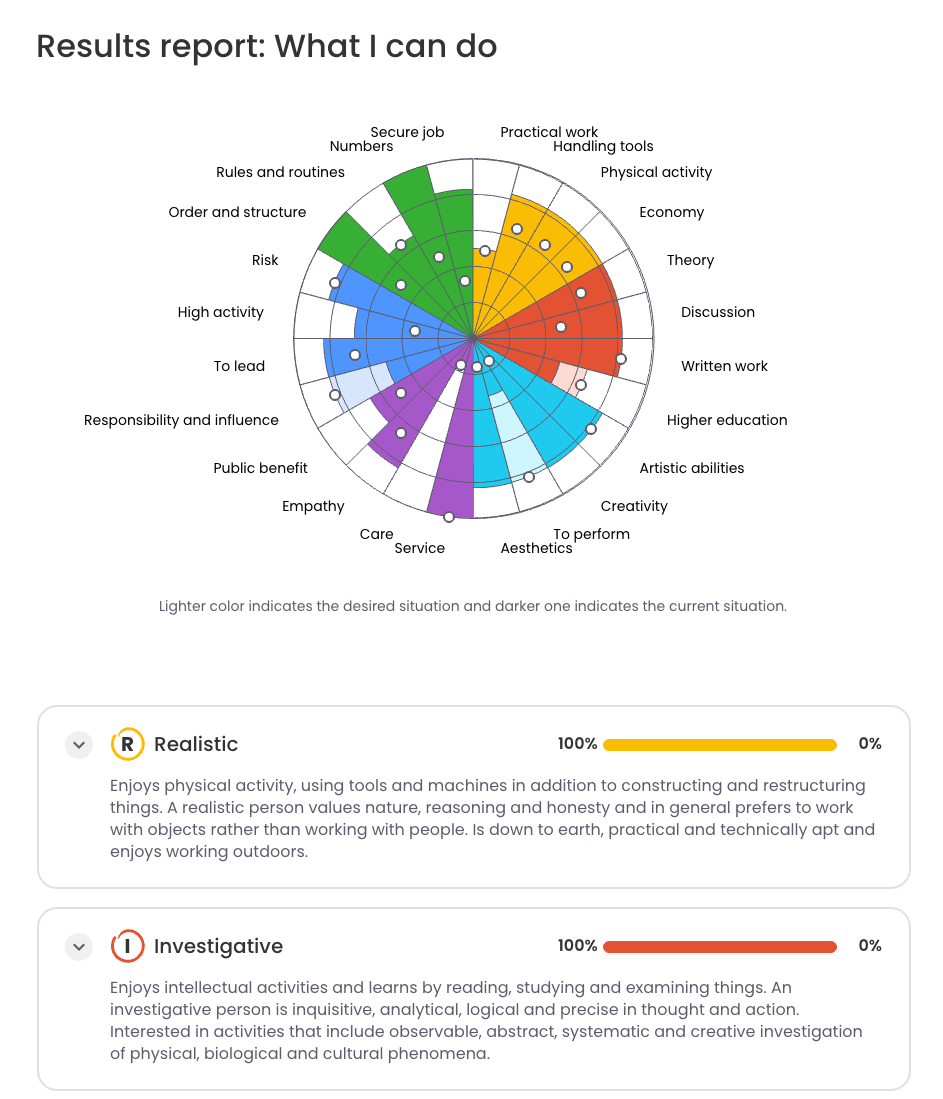 Part of a psych assessment in a custom recruitment solution developed by MindK
#9 Analytics, reporting, and document management
Data is worthless if you can't do anything with it. Just like Big Data has transformed finances and marketing, you too can benefit from information about your employees, past and present.
Your HRM software should come with a variety of pre-built reports ranging from absenteeism to employee performance, staffing needs, and growth by departments. Just as important is the ability to customize the reports, visualize information for easier analysis, and export the insights in a variety of formats.
Easy document management is another perk of a good HRM especially when it comes to industry-specific documents – certificates, licences, and compliance. Spare your time and nerves navigating between folders and outdated files, with automated updates. Then you will have all the required documents attached to a relevant project/task so that everyone gets the content they need as required.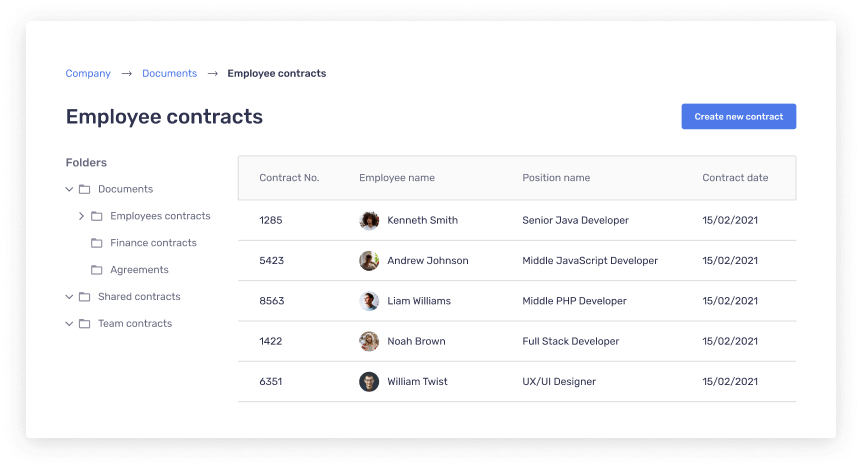 Document management module in the Bridge app by MindK
#10 Security, compliance, and other considerations
While HRMS features are definitely important, non-functional requirements are just as essential.
According to Gartner, entrepreneurs all over the world are becoming painfully aware of cybersecurity threats. HR departments can be one of prime targets for attacks that try to hijack sensitive financial and personal information. It's crucial to make sure your HRMS follows best practices of cybersecurity:
Only properly authorized and authenticated users receive access to private data.
Access to sensitive information is restricted according to the role a user holds in your organization.
A strong password is augmented with another method of authentication (for example, an SMS code).
Sensitive data is stored in the encrypted form on a secure data center/cloud hosting.
The vendor is monitoring vulnerabilities in third-party components used in your HRMS and regularly conducts penetration tests.
User experience is another critical point to consider. Ease of navigation, intuitive design, and fast interface are just as important as fancy features. So make sure the system is easy to use, even for non-technical people, and works correctly on various mobile devices.
You don't want to be left alone when something goes wrong, so make sure you have all the necessary support when operating your HRMS.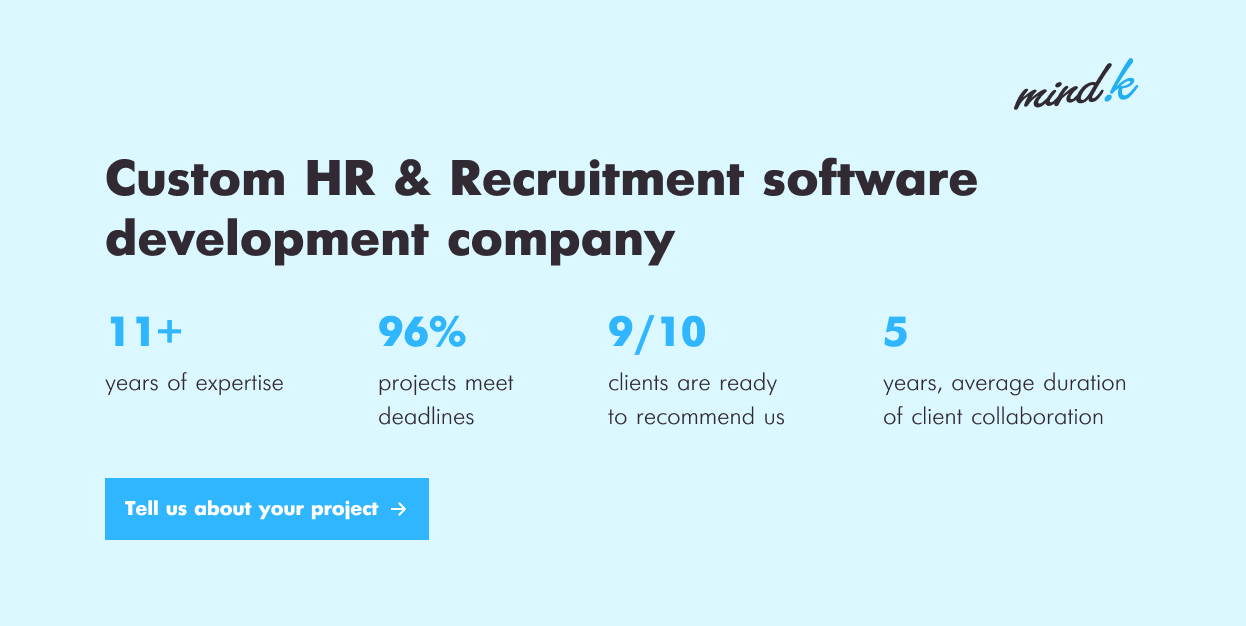 Conclusion
Managing human resources is essential for all companies. Key features of human resource management software are all aimed at freeing the time you spend on routine tasks to focus on attracting, motivating, and retaining top talent.
Sadly, there is no one-fits-all solution when it comes to HRM software. If you want to get a system that fits your requirements, you'll need to assess your HR needs. Determine which features are essential to your company. There could be an existing solution for some. For others, out-of-the-box software may prove problematic.
If that's the case, it might be a great idea to create a tailor-made HRIS system around your company culture and processes.
MindK is a custom development firm that specializes in HR & recruitment software. So if you have any questions or need a team of experts to realize your human resource management software project,, you can always message us. Just fill the contact form and we'll call you back.