But there's still that nagging feeling. There are so many horror stories I heard from my clients and associates in the tech industry. Misplaced trust, blown deadlines, and wasted budgets. All from partnering with a shady vendor! Fortunately, there's a way to prevent these risks when you outsource web development.
Table of contents: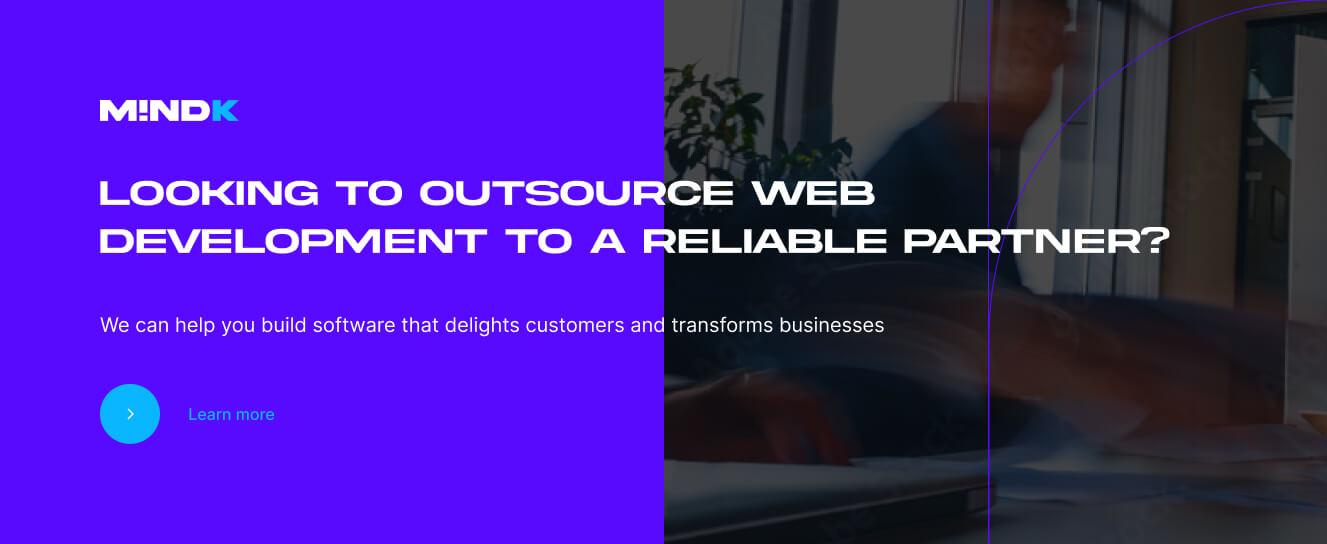 How to vet
web development outsourcing companies
The success of your web project depends on the tech partner you decide to hire. Here are four essential tips to help make the right choice.
Find vendors with the expertise you need 
Unless you already have a trusted company in mind, do your homework first. Start by googling and reading about companies that have projects in your niche or technologies. Use keywords related to your project, like "fintech web development services" or "outsource website development," to shortlist potential candidates.
Read client reviews
When you have a list of promising vendors, investigate how past client's rate collaboration with each company. Clutch is an independent review platform. It provides extensive information about IT outsourcing companies including client reviews and ratings. Read client feedback to shorten the list of potential vendors and move on to the next stage.
Talk to previous customers
Even if the vendor only has 5-star reviews on Clutch, it's still a good idea to reach out to some of their past clients. Find them on LinkedIn, send an email or set up a meeting to ask about their experience with the selected vendor. You can ask whether the team achieved the project and how it dealt with challenges.
Assess their development process
Once you've picked some good candidates, set up a call to ask questions related to their development process. Ask how they manage projects. What procedures do they use for effective communication? How do they control the quality of deliveries? Do they provide support after the release, including updates and bug fixing?
In meetings like these, it's important that you're not the only one asking questions. The vendor should also be proactive to understand your business and requirements.
Following these tips will allow you to learn whether the vendor's capabilities align with your project needs. 
MindK has successfully completed over 170 projects since 2009, with client engagements lasting five years on average. 
What to look for in an outsourcing partner
Tick all the checkboxes on the list below to outsource to a reliable web development company.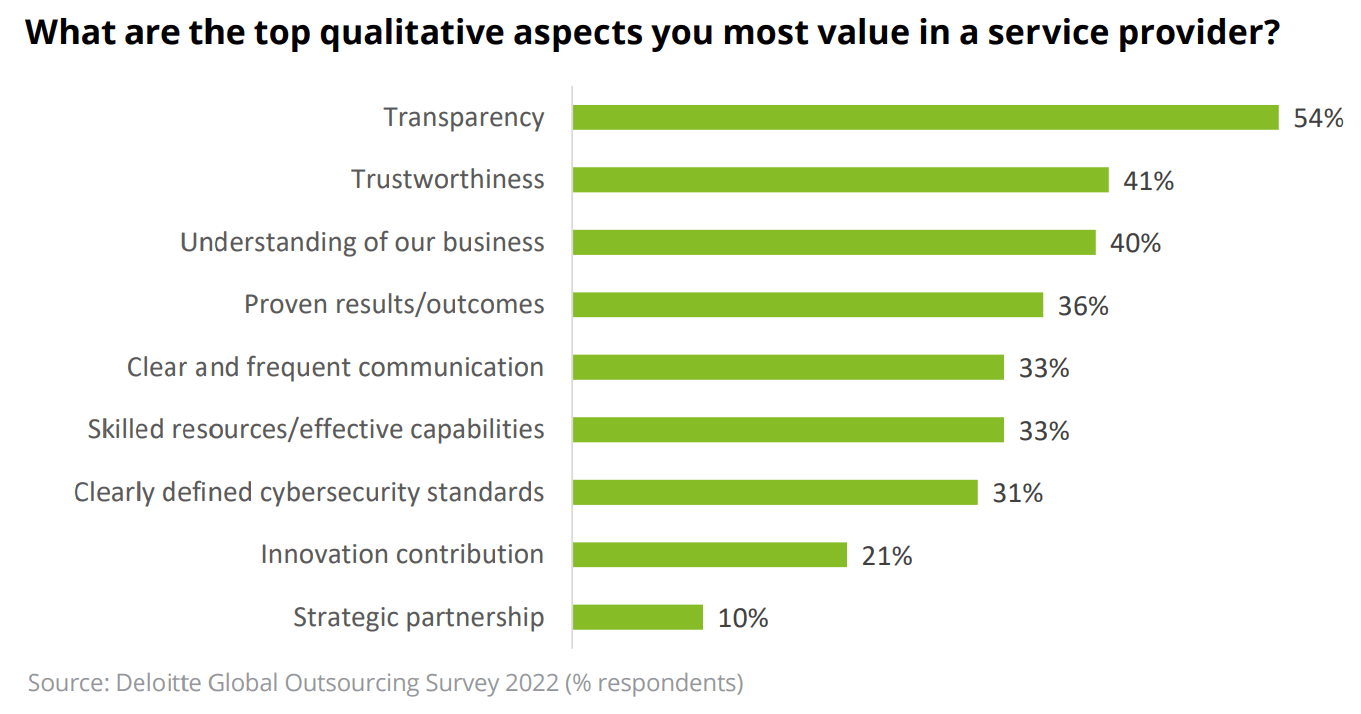 ☑️ Reviews and case studies
Study the company's website in detail ‒ make sure it contains case studies and feedback from previous clients. Plus, check whether a company has reviews on platforms like Clutch. For example, MindK's website has client reviews and case studies filtered according to the project type and industry to help you quickly find the necessary information.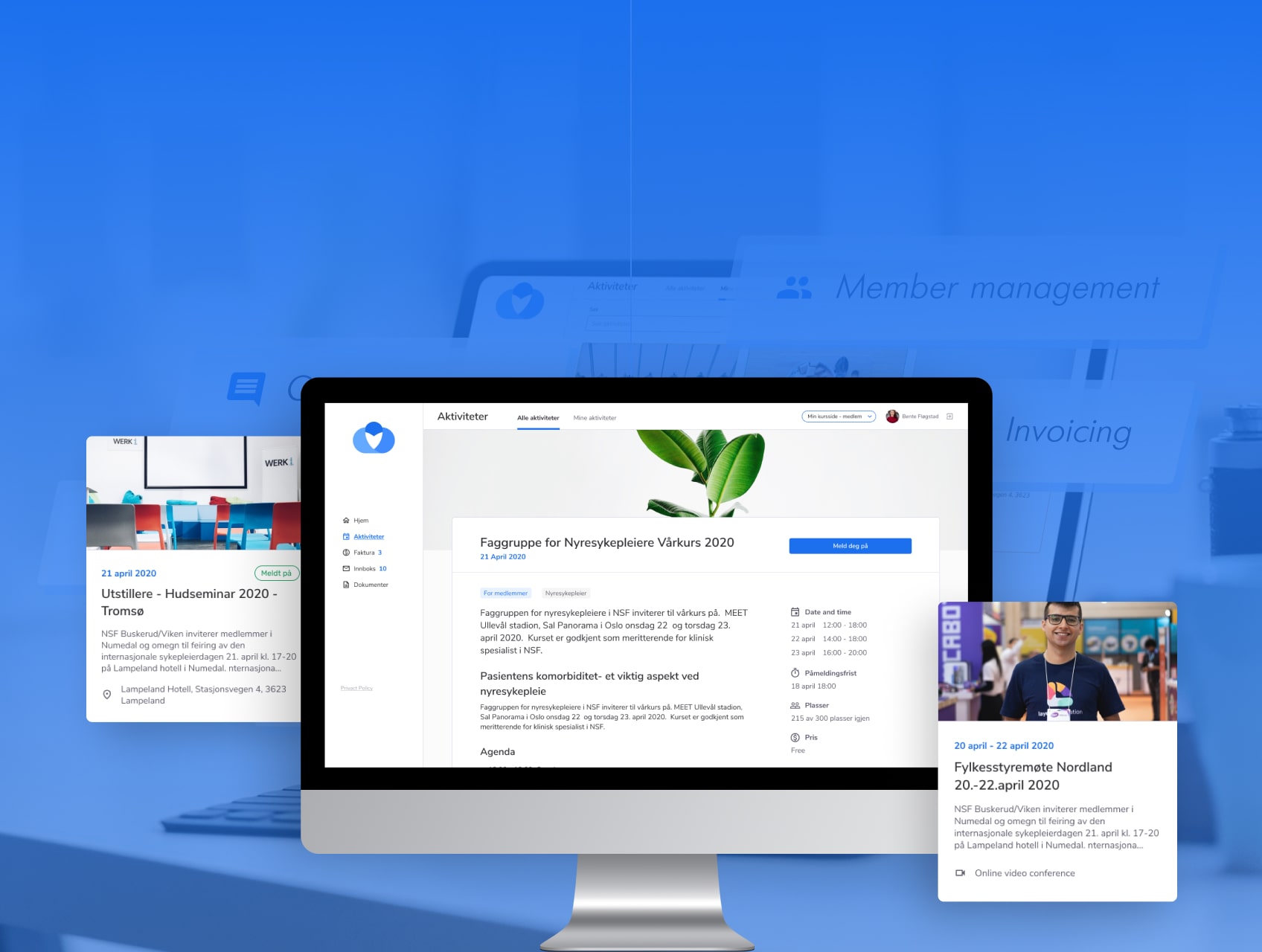 CHOO, SaaS platform for community management and education, developed by MindK [read the case study]
☑️ Experience with similar projects
Look for projects similar to yours in the company's portfolio. It proves the vendor has the right expertise to mitigate potential project risks. For instance, if you need to build medical software, you should cooperate with an outsourcer that has already worked in this niche.
☑️ Knowledge of specific web technologies
When looking through company projects, pay attention to the technologies used. Ensure a chosen company has the expertise and skills in the programming language or framework needed for your app. At MindK, we have an extensive tech stack, including Node.js, React, and Angular. 
☑️ Excellent English skills
Interview developers and evaluate their English skills. Some engineers might have dozens of projects under their belt but fail to convey their thoughts and understand your requirements. 
That's why we pay a lot of attention to the candidate's soft skills during the hiring process. They continue to work on international projects, interacting with clients during daily meetings, Sprint plannings, and application demos. This would've been impossible without regular English lessons and soft skills training.
☑️ Transparent pricing models
The chosen company should have clear pricing models without hidden costs appearing out of thin air. Although each agency has specific pricing offers, you should have to deal with only two pricing options:
With a

fixed price

, the full project cost is defined beforehand according to requirements that are unlikely to change.

With

time & material

, you pay an hourly rate based on the work done and resources used.
You can check our detailed article to learn more about these pricing models. Whatever model you choose, make sure you're on the same page as your tech partner.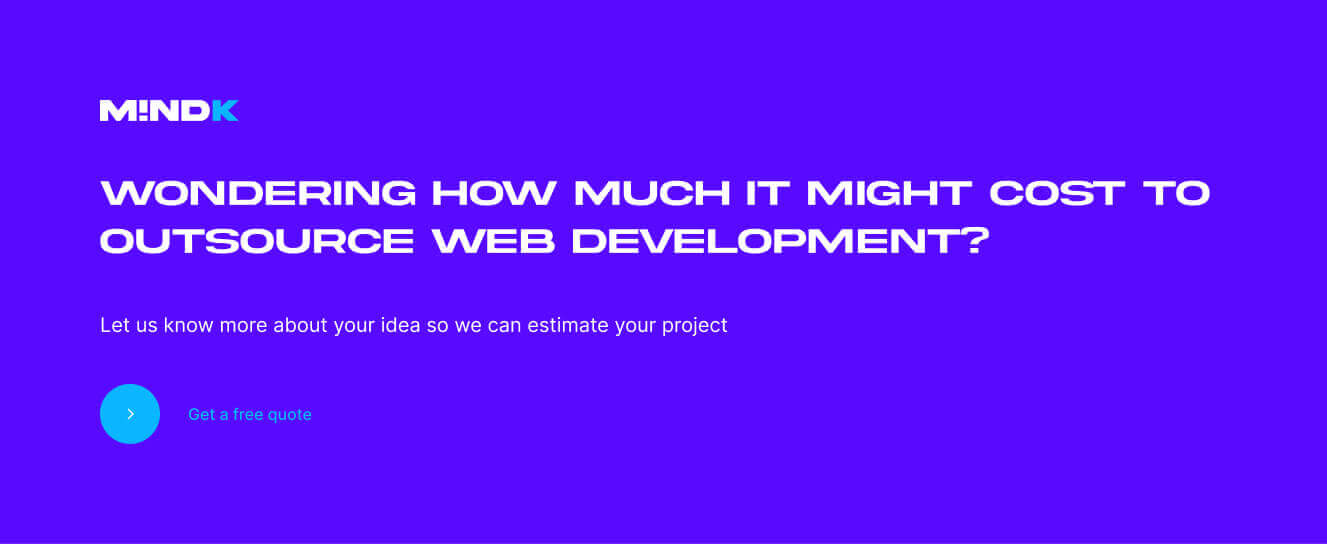 ☑️ Legally binding contracts
When outsourcing IT projects, don't think only about milestones and tech stacks. You need a comprehensive agreement to govern relationships with a tech partner. Such a contract should specify fees, intellectual property rights, liabilities, penalties, warranties, compensations, and more. This prevents any misunderstandings between parties.
☑️ Policies to protect confidential information
A reputable vendor should seal your business relationship with a non-disclosure agreement (NDA). This document specifies information that is confidential and protects you in case of data breaches.
☑️ Flexible engagement options
Make sure your tech partner offers various engagement options to fit your requirements. Consider the project scope, your timeframes and budget requirements, existing capabilities and resources. The level of control and personal involvement is another crucial factor. Check our article for more information about specific engagement models, their advantages, and drawbacks.
☑️ Clear communication system
To avoid hiccups, we recommend agreeing on a communication format before the start of the project. Discuss the expected response times, update format, and their frequency. Make sure your outsourcing partner uses software like Slack and Jira to track the project's progress, milestones, and deadlines.
☑️
Professional team
Last but not least. Ensure you're hiring seasoned professionals rather than inexperienced juniors in need for training. A standard web development team consists of a Project Manager, front-end + backend developers, and QA engineers. You might also need a Business Analyst to assist with requirements, a DevOps engineer to implement automation, and a UI/UX designer.
At MindK, we have experience with a range of industries, including education, recruitment and HR, and energy management. Moreover, we've got certificates in business analysis (IIBA), project management (PMI), and technology (OpenJS Foundation, AWS, and more).

Red flags to avoid like the plague when outsourcing web development
Budget overruns, poor code quality, missed deadlines, misunderstandings, and failed launches can all stem from these issues. Watch out for these red flags if you want to outsource web app development. 
❌Lack of transparency
In my experience as a client and a CEO of a tech company, I found two main factors that make outsourcing a success: transparency and care. Everything else is secondary. So take note when the company is elusive about their processes, timelines, or pricing during negotiations. This might be a sign of darker things to come. 
Transparency is even more important later on. An outsourcing vendor should provide regular progress reports, status updates, and product demos. This allows you to understand what is going on with your project, how the budget is being spent, what difficulties appear along the way, and when to expect results. 
❌Communication issues
Miscommunication is one of the common root causes for failed projects. The team should work well together and be on the same page with the client. You shouldn't be the only one to initiate communication with your outsourcing vendor, or be solely responsible for creating appointments, meetings, and checks. 
You might fall in love with silver-tongued sales reps, but don't hurry to sign a contract. It's always a good idea to talk to the engineers first, ensure they have good English and aren't afraid to speak up. 
By the way, high soft skills requirements are one of the reasons why only 4 out of 100 qualified candidates get through MindK vetting. We also noticed that clients are much more satisfied when they can talk to engineers directly, which we encourage at every step. 
❌Lack of proven expertise
Someone who claims to be an expert in web development but doesn't have a portfolio of high-quality work is suspicious to say the least. Even if all of the relevant projects fall under a strict NDA, an experienced vendor will demonstrate a deep knowledge of your domain and key technologies. 
❌Suspiciously low pricing
I know, it's always tempting to go for the lowest bid. But remember, skilled engineers will never work for a company that pays pennies. So you risk getting a team of deadbeats, a project manager that doesn't account for all the costs, and lots of code that barely does anything. You might also run into some hidden fees and budget overruns. 
It's always a good idea to ask for a detailed breakdown of all project costs. To be on the safe side, check out our in-depth guide on web development costs.
❌High employee turnover
This may indicate that the vendor doesn't treat employees well or that there are underlying issues within the company culture. When barely a month passes that an engineer leaves your project, this paints a grim picture for its success. Expensive onboarding, lost knowledge, and poor morale are some of the issues caused by high turnover. 
That's why top outsourcing companies pay a lot of attention to keeping their engineers happy. For example, MindK has a turnover rate of just 13%. 
Traditional outsourcing vs staff augmentation: which option to choose?
Make sure your tech partner offers various engagement options to fit your project needs and requirements. To pick an optimal model, consider the project scope, timeframe, the budget you can spend, your available resources, and the level of your personal involvement. 
IT project outsourcing (managed services) 
What it means: hire a well-coordinated team of specialists to cover all needs on a specific project. Such a project can be developing a new product, improving the existing one, or implementing a digital transformation.
Project outsourcing

Vendor 
Client 

Provides the project team.

Collects and analyzes the client's requirements.

Manages the team, budgets, deadlines, and mitigates risks. 

Organizes product demos and provides regular updates.

Works with the vendor to collect the project requirements.

Sets the priorities and direction for the project.

Participates in project planning.

Attends demos and provides feedback.
When to use: you have no in-house developers or want to focus on other projects and elements of company growth. 
This was the case for one of the world's leading Corporate Social Responsibility companies. 12 years ago, CEMAsys started a web development partnership with MindK. Since then, the remote team has become an integral part of the client's business.
Team augmentation (outstaffing)
What it means: quickly fill specific positions with remote employees matched to your requirements. Retain full control over the project as there are no middlemen between developers and the client. 
Team augmentation
Vendor
Client

Provide the required talent and handle all administrative tasks.

Motivate developers to maintain high productivity.

Provide tools for work and communication.

Scale the team up or down on demand.

Provide staffing requirements.

Run interviews and test assignments to hire candidates.

Onboard engineers.

Provide direction, oversee the work, share feedback.
When to use: team augmentation is an ideal option for companies that already have an in-house team they need to quickly bolster with specific skills. 
Here's an example. Yokoy is a Swiss FinTech with over $100 million in funding. It needed an experienced DevOps engineer to facilitate the migration from GCP to Microsoft Azure. Such resources are hard to find locally. So Yokoy hired a MindK specialist for six months to re-create the infrastructure and automate deployments
IT consulting
What it means: get advice on all things digital from the industry experts.
When to use: IT consulting can be useful for anything from creating a cloud-native architecture to assessing your DevOps processes, or preparing a new data management strategy. 
The last one was what prompted a large European telecom company to work with MindK. Our experts accessed the company's core business processes and data flows. As a result, the client got a blueprint for enterprise automation and data management to power future growth.
What happens next : how to ensure the success of your project?
There are two ways to start a project when you outsource web development services.
Don't have detailed requirements? Start with product discovery!
🕜Duration: up to 5 weeks
🧑‍💻Participants: Business Analyst, Software Architect, UI/UX designer, Product Manager.
Many clients have rather vague requirements when searching for an IT vendor. This can lead to all sorts of problems. Unrealistic expectations, lack of direction, frequent changes, missed deadlines, and exceeded budgets can undermine even the greatest of ideas.
Fortunately, you can prevent these issues with a product discovery phase. It includes a series of workshops that can help you define the product goals, uncover the deepest user needs, and set clear success metrics. But more importantly, it can turn them into precise specifications for the future product. 
📌Deliverables: Detailed cost estimate, user personas, product roadmap, high-fidelity wireframes or interactive prototype, solution specification. 
Know exactly what you want? Start with MVP development!
🕜Duration: 5 weeks – 1 year
🧑‍💻Participants: Project Manager, Business Analyst, Web Developers, QA Experts, UI/UX Designer (optional), DevOps Engineer (optional).
A Minimum Viable Product (MVP) is software with just enough features to delight early adopters and collect real feedback. This can help you minimize risks, validate demand for your product, save costs, and secure future success.
📌Deliverables: fully-functional product, comprehensive test result reports, server setup.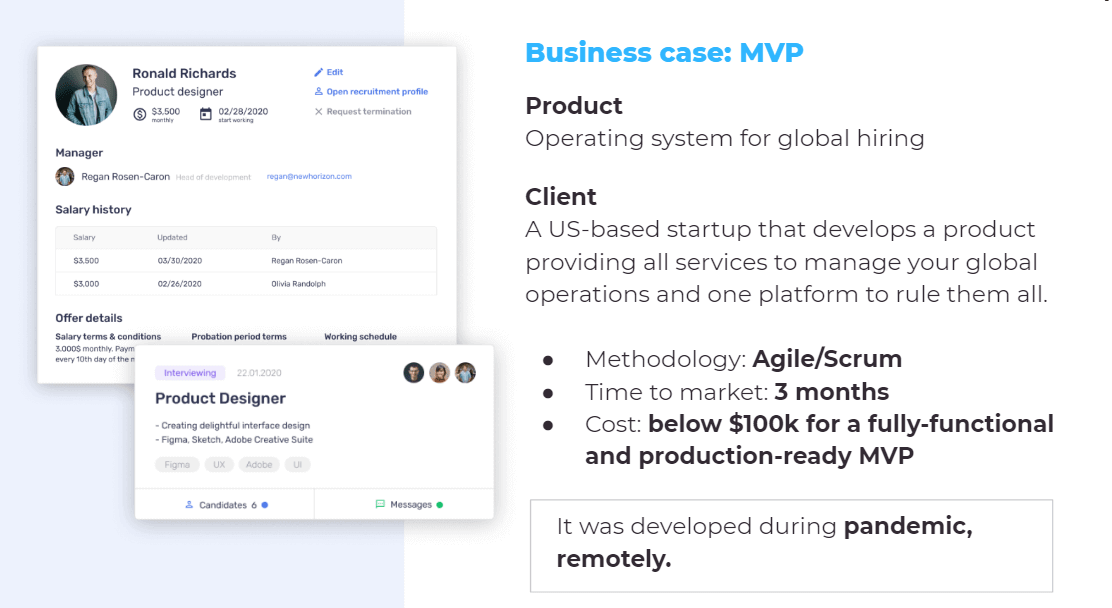 Recruiting SaaS platform built by MindK [read the case study]
Develop a robust web application with MindK
Selecting a web development partner is not a decision to be made hastily. After all, you're choosing a company to bring your ideas to life. So take your time and double-check the information. Ask as many questions as necessary to ensure you outsource web development to a dependable and skilled partner.
You can start your search with MindK. Drop us a line to discuss your project in detail.