Table of contents:

Know the market
As an edtech development company, MindK often talks to founders of early-stage startups. Some of them are searching for additional funding, some are preparing to launch an MVP, some are thinking hard on how to make a lasting change in education. At some point, most of them asked the same questions that trouble your mind:
"Is it a good idea to invest my time and resources into building a startup education business?" and "Is edtech a profitable niche?"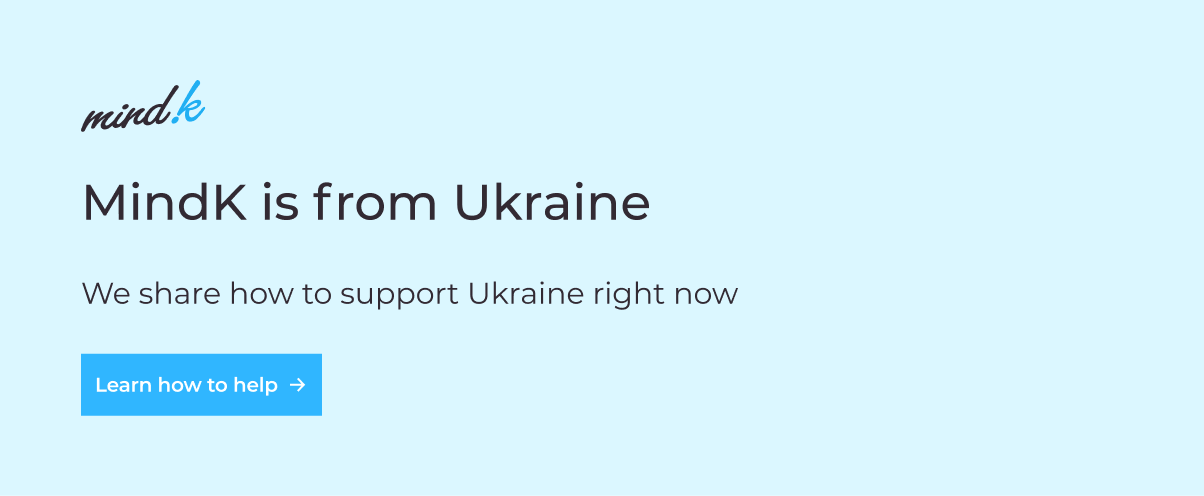 Here's what the data says about the market.
Even before the pandemic, the US edtech sector received $1.66 billion in investments, the highest amount in the past 5 years. While lockdowns ravaged whole industries, edtech companies raised a record-breaking 16.1 billion USD.
Among the biggest winners were Chinese Yuanfudao with its $1 billion series G round, and Zuoyebang which raised 1.6 billion USD in December's Series E+ round.
HolonIQ now expects more than 100 edtech companies to reach unicorn status by 2025.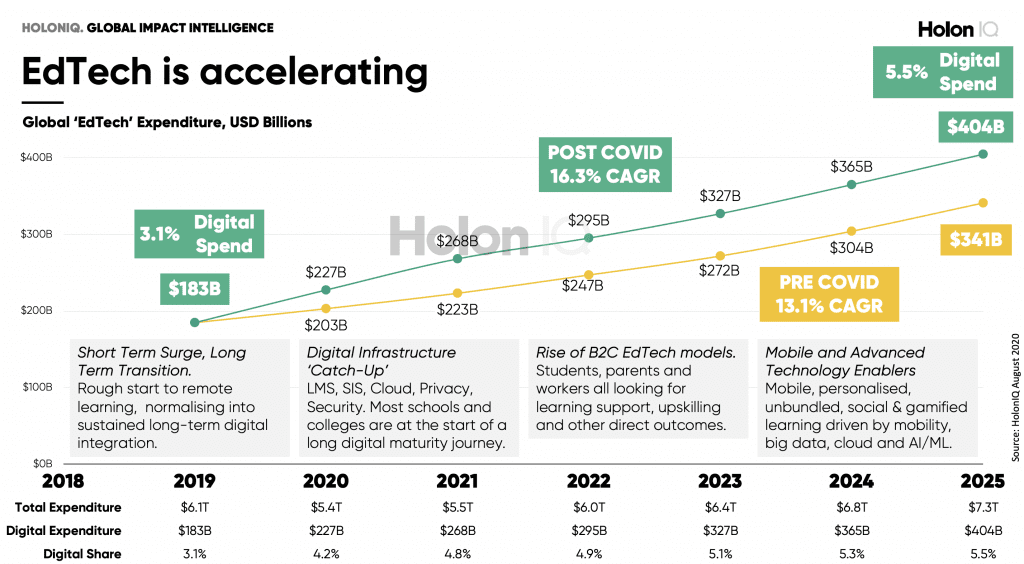 Source:HolonIQ
The pandemic is just one of the factors contributing to the rise of online education.
According to OECD, around 1 billion jobs will be transformed by 2030. This creates a huge need for reskilling and upskilling of the global workforce.
Some of the world's most valuable businesses have recognized this need and invested billions toward employee education:
PwC – $3 billion.
Amazon – $700 million
JPMorgan Chase – $600 million.
Traditional education is ill-equipped to handle these challenges with governments now seeking cost-effective alternatives and ROI. As edtech makes up under 5% of the global education spending, the sector has a huge potential for growth.
Narrow down your niche
No. 1 mistake you can make as an edtech founder is skipping the market research. Edtech is too large of a playing field for a single company, so you'll need to narrow down your niche.
It's important to look at the current edtech landscape to understand whether your idea is unique and enough people willing to pay for your product. It would also help discover trends in your niche, predict market shifts, and to identify competitive advantages.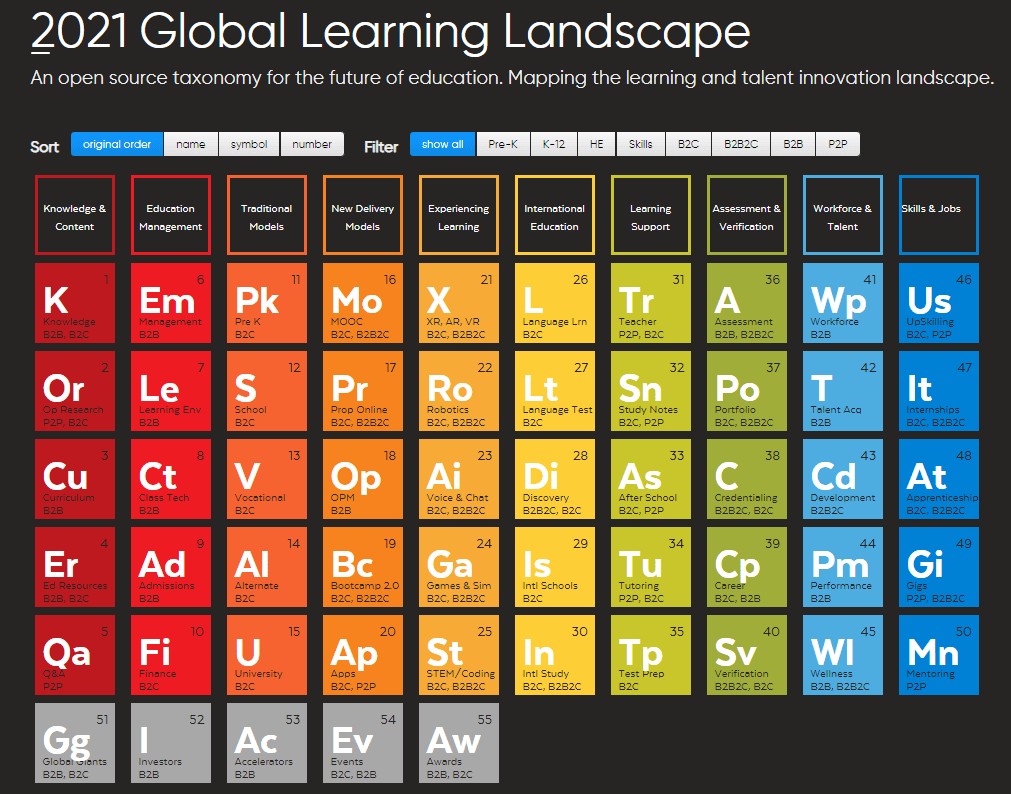 You can check out HolonIQ's periodic table to understand where you stand on the larger edtech market.
Assess the strengths and weaknesses of your competitors – companies that address the same need for the same target audience. Use sites like G2 Crowd, Crunchbase, and LinkedIn to discover competitors or buy research from companies like Forrester, Nielsen, Gartner, and Pew.
After identifying your competitors, dive deeper. Check financial records, recent mergers and acquisitions, pricing and go-to-market strategies, unique selling points, features, and technologies they use in their products.
Your adversaries might also have some competitive defences that will make it hard to carve out a niche on the market. They include:
Data network effects – customers benefit from the data generated while using the product. When switching to a competitor all the data is lost.
Network effects – there's a loyal community around the product that is incredibly difficult to leave behind.
Ecosystem – other businesses build their products on top of the competitor's platform.
These strategies can also help you defend your product against future competitors. So choose at least one to protect your market position.
Keep all your competitors in a single database or Excel sheet while doing your research. When you have all the necessary data in one place, you can draw valuable insights about your niche.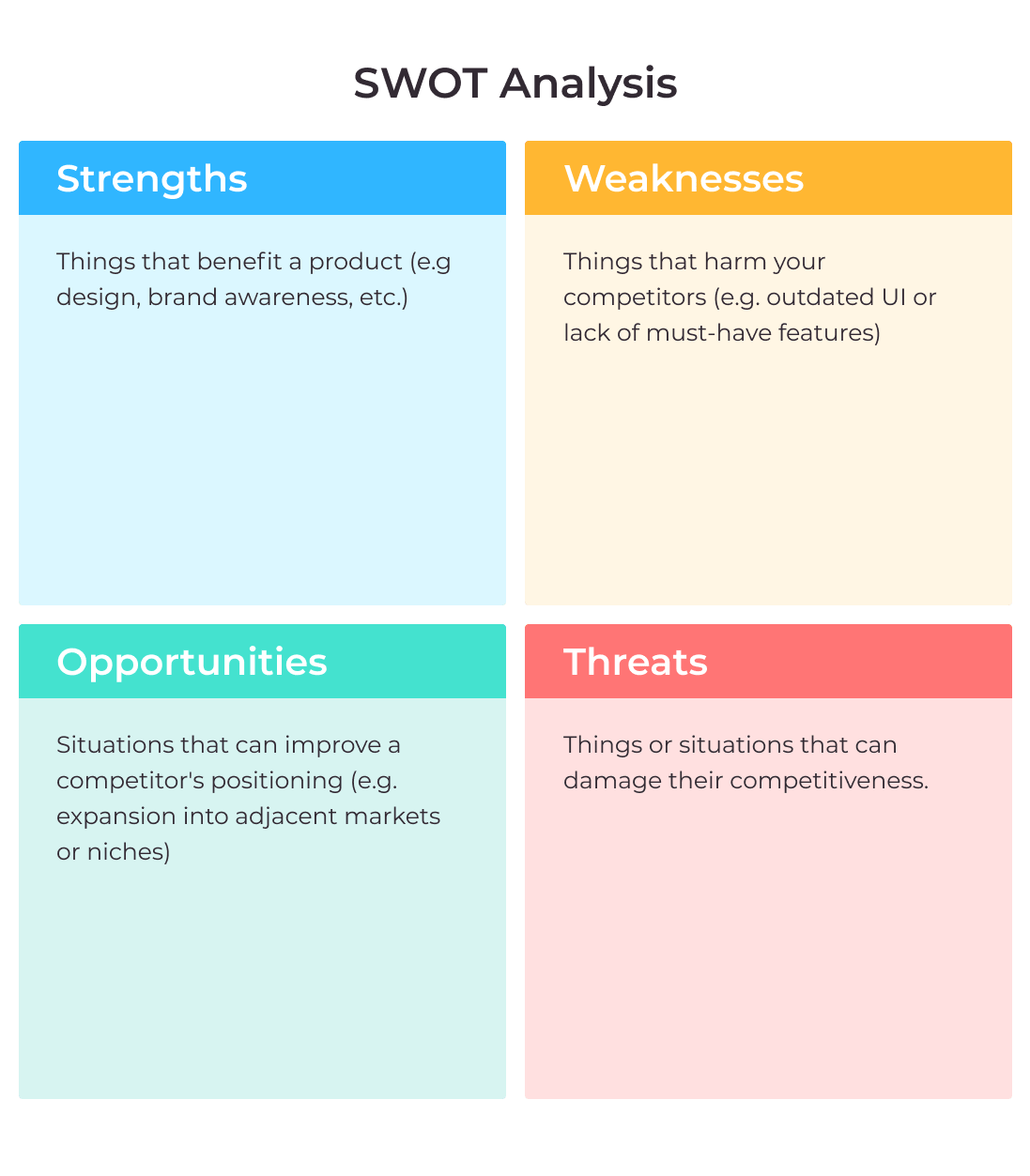 SWOT analysis is one of the oldest methods to compare your competitors
Validate your idea
Now, it might be tempting to start building your edtech product. But first, you need to ask yourself a couple of questions:
Are you trying to solve a real issue that's painful for many people?
How do you know it's indeed a problem?
Did you talk to enough people to validate your assumptions?
According to CBS Insights, 42% of startups fail because they don't address a real need.
One of the best ways to assess the market need is talking to your potential customers. You should, however, approach interviews with great care.
As Rob Fitzpatrick points out in his book "Mom's Test", people lie all the time. The reasons vary, but the most common is that they simply don't want to hurt your feelings. Just like your mom, many users won't say that your idea sucks (and more importantly, why it sucks).
So here are a few tips that can help you with user interviews:
Ask users about their lives instead of your product ideas. You can start with a simple question: who are you and what do you do for a living?
Don't start with problems. Talk about situations where they emerge.
Ask about past experiences. People are awful at predicting their future behavior.
Ask open-ended questions to dive deep into the problem (Why? Where? When? How did you feel?)
Focus on listening, not selling your idea.
Facts, not opinions and hypotheticals. Dismiss anything that goes beyond user first-hand experience (the exception is if you're interviewing an expert)ю
Talk about the outcomes people want to achieve instead of solutions and features.
Find how much users are paying to solve these problems (both in money and time).
Record interviews or take notes and gather them into a single database. After you're finished, thank the interviewee for taking the time and ask for contacts.
Define your unique value proposition
Now it's time to define your unique value proposition (UVP) – a reason people should buy from you and not from your competitors. It is a short and appealing message that describes:
The value delivered by your product.
Its intended customers.
What makes you different.
"For ______ (target consumer) who _______ (need or opportunity) our ______ (product) that ______ (primary benefit)."
To come up with a great UVP, focus on what's important to your target audience, whether it's pricing, functionality, performance, integrations, design, support, or something else. Knowing what's different about your product will help you position it on the edtech market and craft effective messaging.
Choose the right business model
A business model details how you will achieve your goals and earn money as an edtech startup. It describes the main assumptions about your product and how it will create value for your target customers.
Edtech startups have experimented with a number of business models. Some of them focus on rapid growth with the aim to capture a large market share. Others sell products to institutions and monetize them right from the start. What you have to remember is that you're not just growing a user base or going for a cash grab. You're building a sustainable business around the problem you want to solve.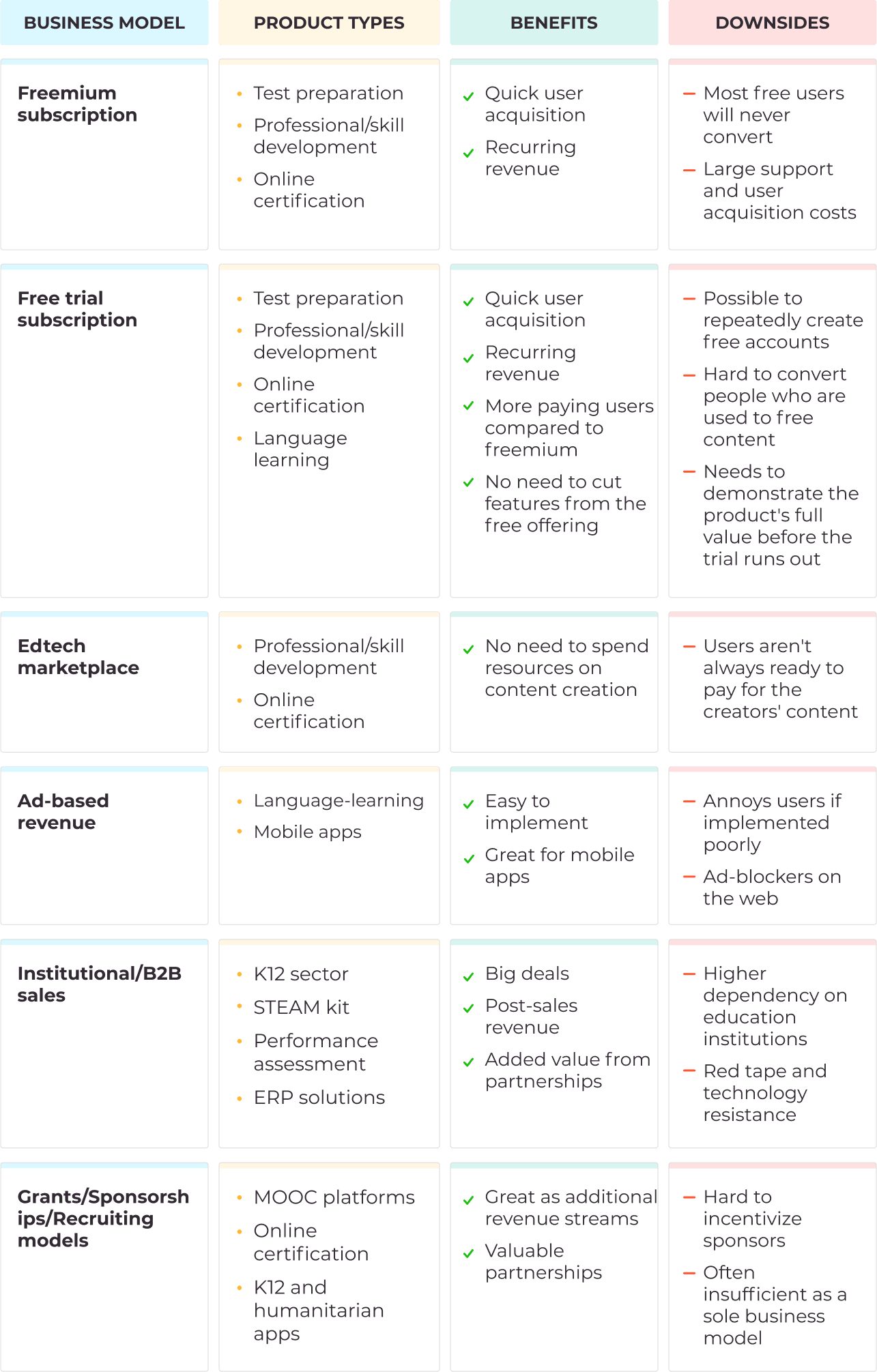 You can read a detailed explanation for each of these models, their benefits and drawbacks in our article on top 7 edtech business models.
Build the right team
The secret to a great edtech product is having a well-rounded team of professionals who are passionate about education.
Being a CEO of an online learning startup is a completely different experience from being an education professional. So try to fill this gap in perspectives. Make yourself a regular guest at conferences, attend local schools and universities, listen to what educators discuss at professional events.
Another ingredient is having somebody who can build a scalable monetization model and develop a go-to market strategy for your product. In addition, your startup will likely need a CTO – a person with enough expertise to design your product and oversee the development team.
Now, you don't necessarily have to employ an in-house team of engineers. Working with an outsourcing company allows you to find highly skilled IT professionals at affordable rates:
Product manager – a person in charge of your product strategy and finding solutions to user problems. It's not recommended to outsource this role.
Project manager – the one who is responsible for the execution of your project. A PM takes care of your budget, scope, schedule, risk, and quality. In outsourcing, they serve as a bridge between the remote team and the client.
Business analyst – a person who translates your business needs into software requirements and specifications.
UI/UX designer – somebody who creates the app's overall look, designs UI elements, and build prototypes that shape the user journey
Developers – the people who write application code, help you choose technologies, and make accurate estimations based on your requirements.
Quality Assurance (QA) engineers ensure your product meets the business requirements by detecting bugs and defects in the app's code.
Depending on your requirements, your project team might also include DevOps engineers, test automation specialists, or other roles.
Note that outsourcing doesn't free you from the need to have at least some technical knowledge. Embrace this responsibility, and you'll get a well-developed solution that meets the needs of your business. Disregard it – and you open the door to some of the risks associated with outsourcing.
In the end, you'll need a strong and well-rounded team, whether you hire specialists in-house or decide to outsource your project.
Learn how MindK can help you build an edtech company as a custom software development firm.
Start with a proof of concept/MVP
Now that you've done all the research and gathered a team of professionals, it's time to validate your education business ideas.
You need to test all your assumptions in a real-world setting. The cheaper, the better.
One of the best ways to show the feasibility of your idea on a shoestring budget is to build a proof of concept (POC). This type of application typically includes just the most essential or risky features. Fancy design is not the point as your aim here is not to impress users.
You need to prove to investors that your idea can work in real life.
Most companies can develop a POC under a fixed-price contract to reduce the risks as you test out your development partner. A small scope of work will ensure you're not wasting too much time and money on incompetent contractors.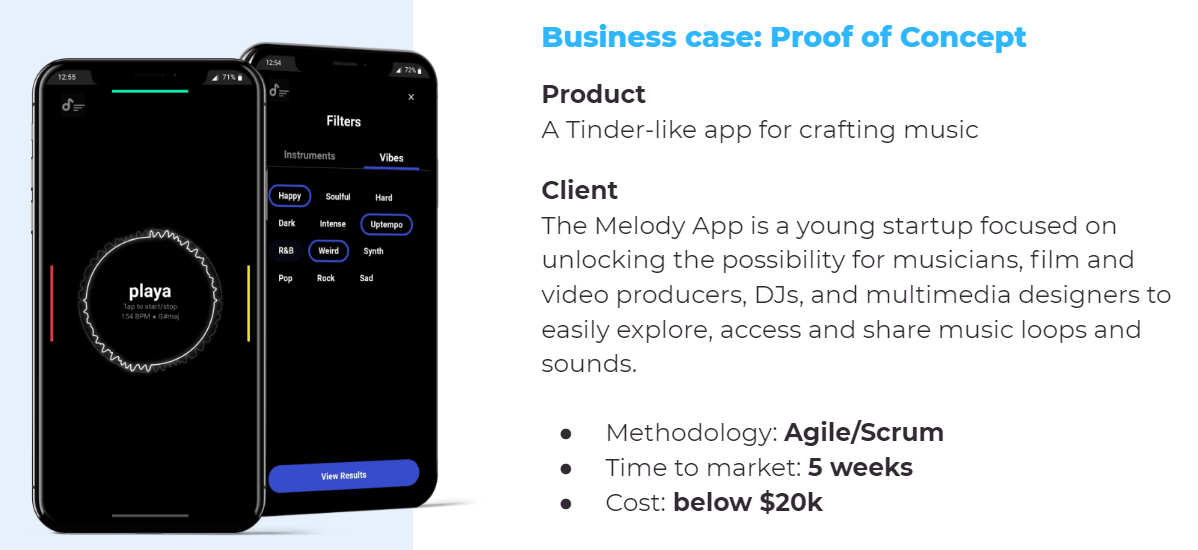 Minimum Viable Product (MVP) is a similar concept.
While POC is all about proving your idea can work in real life, MVP is more about validating that it can delight your customers.
An MVP is never a final product. It should have just enough features to address the core problem of your target customers. The main goal is to gather enough feedback to understand whether you're moving in the right direction.
Starting small decreases the cost of failure and makes success more likely. It allows you, in words of best-selling author John C. Maxwell, to "fail early, fail often, but always fail forward".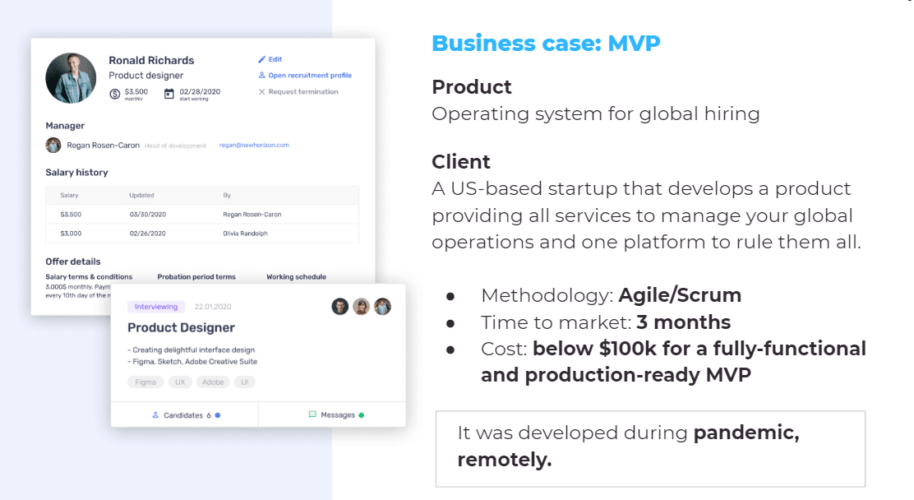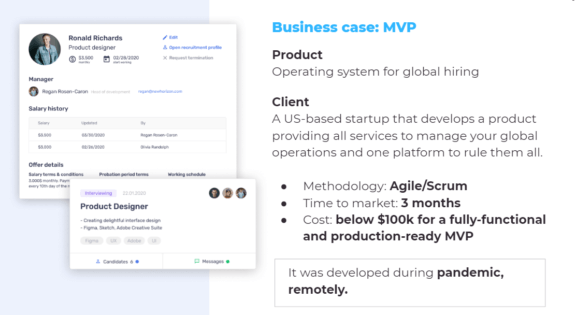 Raise the money
There are 5 main ways you can get edtech funding:
#1 Bootstrapping
Self-funding is risky but gives you full control over the direction of your business.
According to Y Combinator's president Geoff Ralston, it's certainly possible to bootstrap your edtech firm (just ask one of our clients from Luxembourg who funded an online coaching platform with her own money).
#2 Angel investors and VC funding
Both can provide the money you need in exchange for a stake in your company.
While angels generally use their own funds, VCs invest on behalf of other people or companies. They tend to take fewer risks and will never invest in a company they don't believe will provide a return on their funding.
Raising funds early on is all about the dream. According to Geoff Ralston, investors need a story about their future. And the better you are about telling this story – the better the probability of being funded.
According to Geoff Ralston, investors need a story about their future. And the better you are about telling this story – the better is the probability of getting funded.
If you have real evidence that you have product-market fit or that your idea is likely to get real scale – then investors are going to be interested.
As you move to Series A and Series B, you're really going from your dream to Discounted Cash Flow (DCF). Investors can be sceptical of newcomers, so you'll need proof that your startup education business can scale.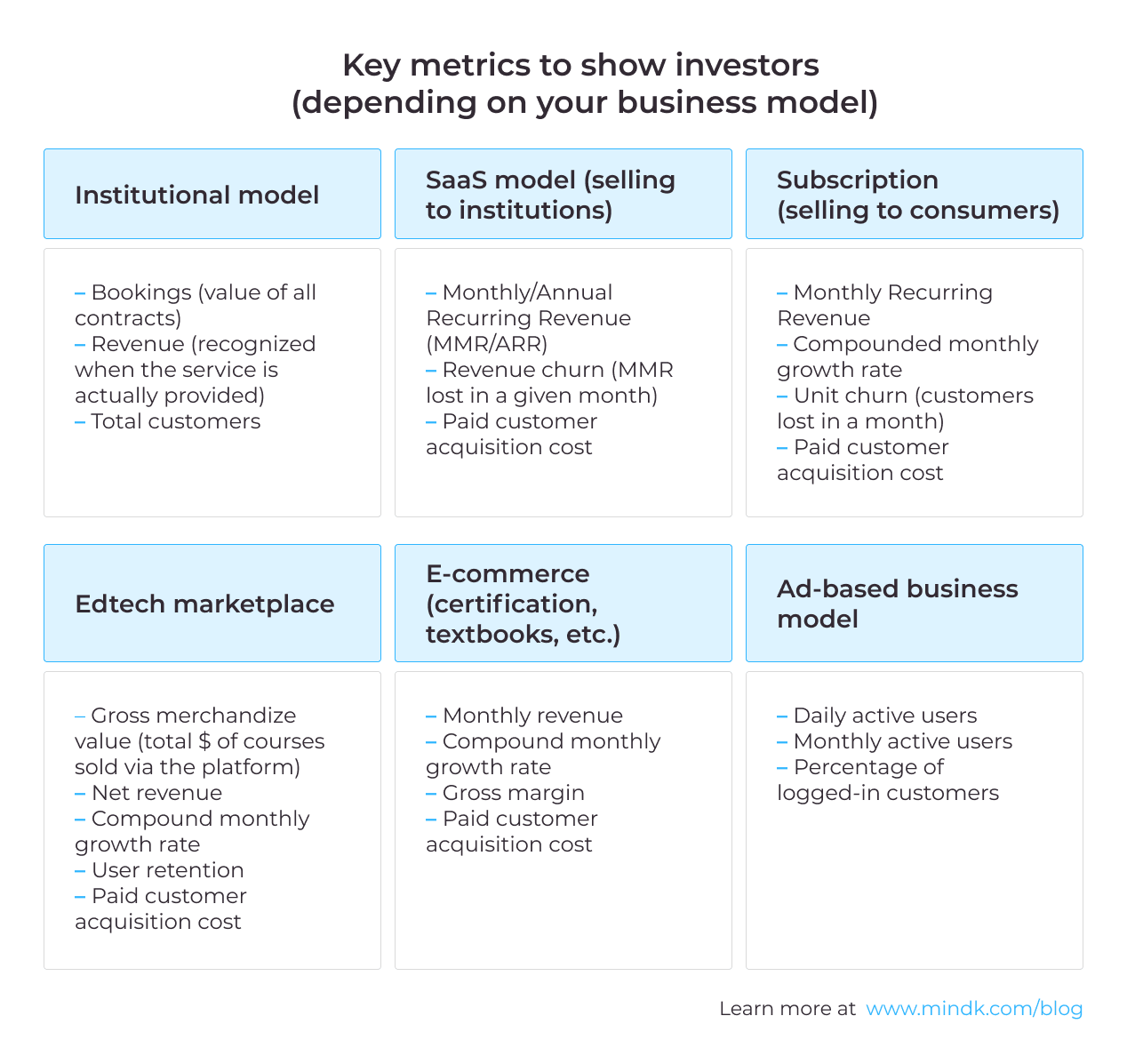 #3 Crowdfunding
In 2016, crowdfunding equity has eclipsed VC funding. Raising a relatively small amount of money from many individuals, crowdfunding gave way to lots of niche ideas and products.
The tradeoff is that you must provide some tangible reward in exchange for funding and get nothing if the crowd doesn't contribute enough funds.
#4 Loans
As an edtech firm, you can take a loan at most banks or use government and state initiatives to get the funding you need.
Good news, paying back is simple and the bank won't have any control over your startup business. Bad news – you'll have to pay the loan back even if your startup fails.
#5 Grants and sponsorships
Governments and companies are often eager to provide educational startup funding. Your product needs to fit certain criteria to be eligible for a grant but you won't have to pay the money back.
Lots of well-known education technology companies used this option to get off the ground or get additional funding. XuetangX, for example, was supported by Tsinghua University and the China Ministry of Education Research while FutureLearn has over 210+ partners.
Grow your edtech business
After releasing an MVP, your top priority should be improving your product and growing your business. But first, it's time to gather feedback. A good question to ask users at this stage is "How would you feel if you stopped using [your product]?"
The people who'd feel "Very disappointed" are your super-fans. By improving the aspects of your product that appeal to your super-fans, you can attract more users like them. Once you have 10 or 100 customers who really love your app, you will know you have a product-market fit. And when you have that, you can be confident you'll have great retention and growth when you begin to scale.
Once you've analyzed feedback your next task is to prioritize work for the next iteration. Before you add a new feature to your roadmap, ask yourself:
Does it align with your vision?
Is the benefit higher than the perceived cost, including time and effort?
Does it improve or complement the existing workflows?
Will it contribute to growing your business (improve growth, retention or monetization)?
Will it detract from other areas of your product?
Can you realize it well and provide adequate support?
Now, shipping a feature is only half of the job. If people don't use it, your features might as well not exist.
You need to market new features and introduce them to existing users. You can highlight them during a quick tutorial or gradually reveal as people start using your product. In fact, contextual hints are some of the most effective ways to make users try out new features.
Product development is a continuous process that includes building new features, measuring feedback, and learning from your market. Sometimes, this means changing the direction of your business. Sometimes – abandoning it for other, more promising opportunities.
But most often, it involves building new improvements as long as they add enough value to your product and help you build a sustainable business.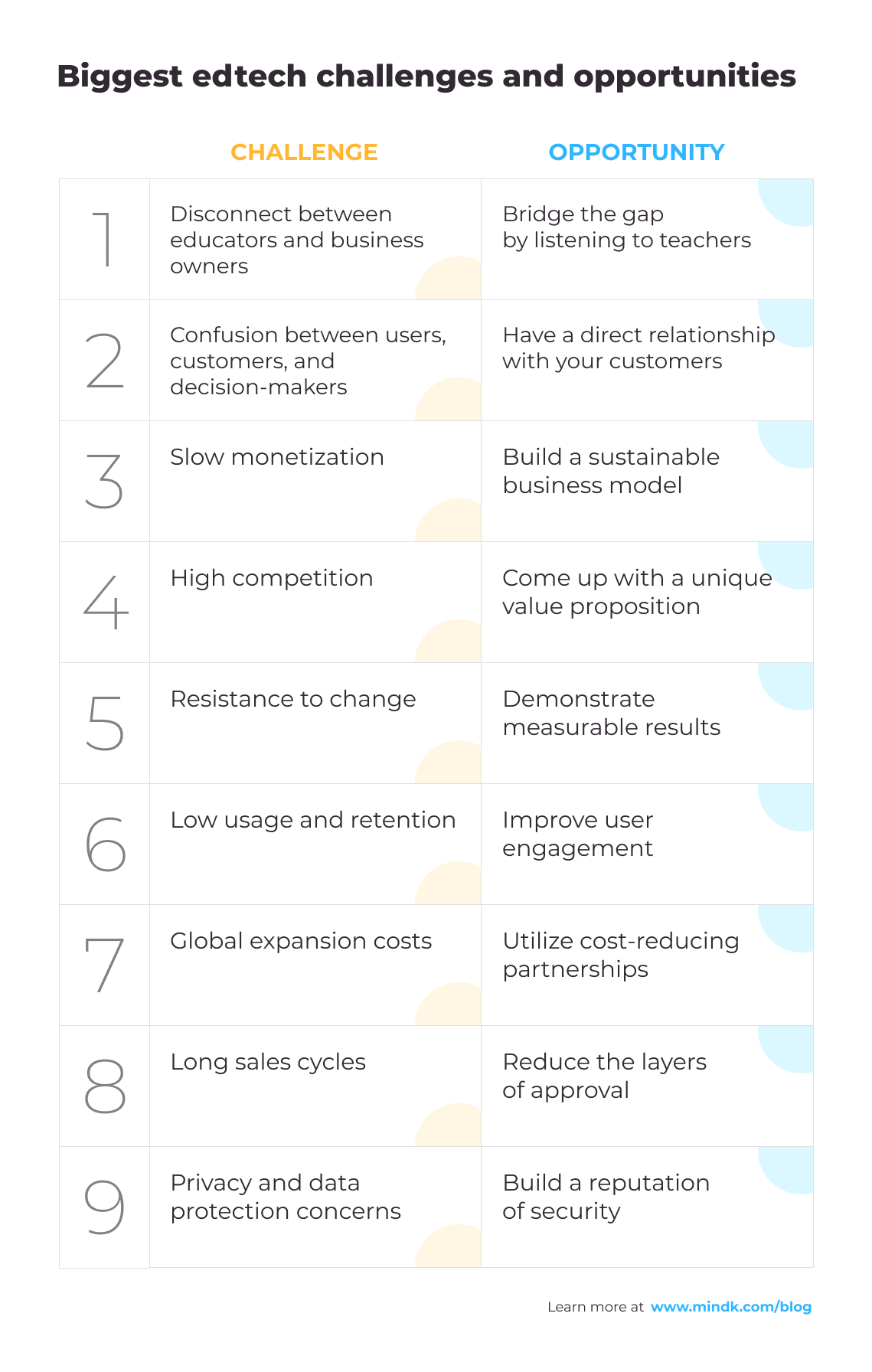 Check out our article for a detailed explanation of the biggest challenges and opportunities in edtech.
Conclusion
I hope this article cleared up most of the questions you had on how to start an edtech company.
Each business has a different path to success. Yet, it's a good idea to follow the best practices, whether you want to build a learning management system or an app for language students.
Start with a need that's driving your potential customers crazy. Research the market to be aware of the challenges and opportunities in the niche. Build a well-rounded team of passionate individuals. Network a lot and listen to education professionals. Treat your product as a hypothesis to be validated in the real world.
The road to success can be long and twisting. Yet one thing is clear – you need to make the first step to reach your dreams.
And if you need some guidance on your way to success or a team of five-star edtech developers to fulfill your vision, you can always rely on MindK.
Just drop us a line.