Most construction companies adopt construction software tech to make all processes work effectively as a unit. Adoption of construction technology allows effectively managing a construction company's workflows, solving issues, increasing sales and making the business more stable and profitable. These are exactly the frequent goals clients pursue when turning to MindK for developing a custom solution.
As the construction process is a long one, and involves a number of different activities, the MindK team decided to create the list of main construction software that can help companies gain a competitive edge and review when it may be better to opt for building a custom solution.
If you still rely on pen and paper in some of the construction workflows, it's a grand opportunity to see what you can improve.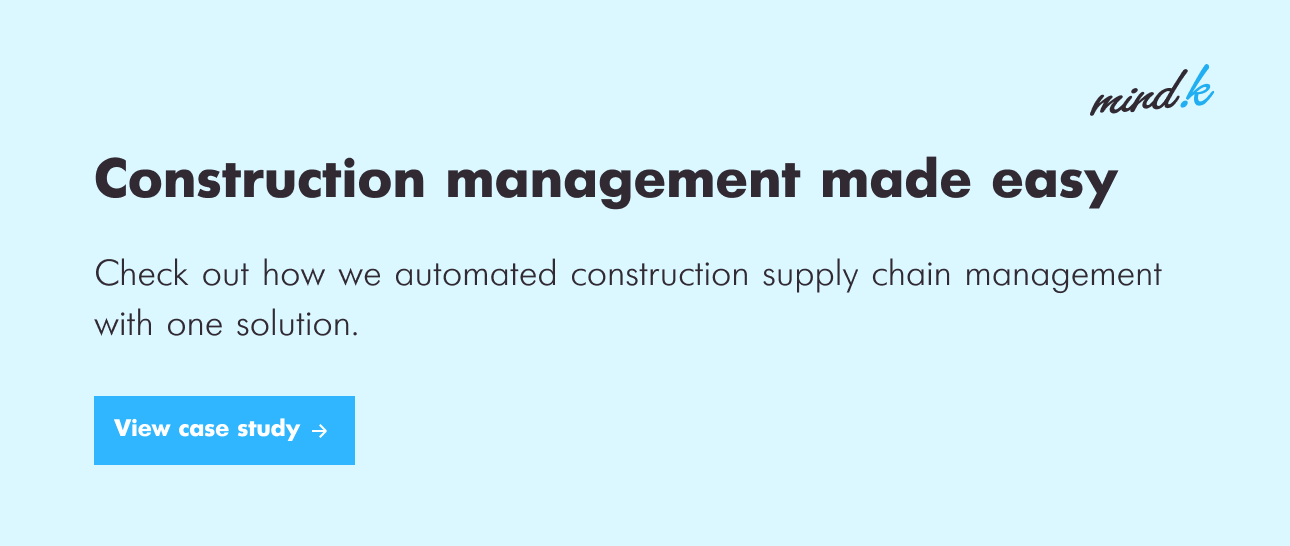 Major construction software for each stage of the construction process
To make the overview of the construction tech more structured and transparent, we'll examine software with a breakdown into phases of the construction process. Generally, the construction flow falls into three main stages: pre-construction, construction, and post-construction.
There are solutions that are characteristic for each of the construction phases, or systems used throughout the whole construction flow. Let's see what these solutions are.
Software for pre-construction stage
Software for construction stage
Software for post-construction stage
Software used on all stages of the construction process
Build or buy the software for a construction company?
Software for pre-construction stage
Pre-construction is the initial phase that refers to cost estimating and preliminary planning of the entire project scope. There are three main construction softwares that benefit this staging point – construction take-off, cost estimating, and bid management systems.
Construction cost estimating software
Construction costs estimates are high stakes. Human error in estimates is almost the most fatal issue for a construction company. Typically, the level of accuracy of the construction also estimates their matching up with final project costs to determine whether the construction company gains or loses profit.
The QuickBooks survey revealed that nearly a third of construction companies did not get the profit they expected. Above that, nearly 40% of respondents are not confident in their estimates.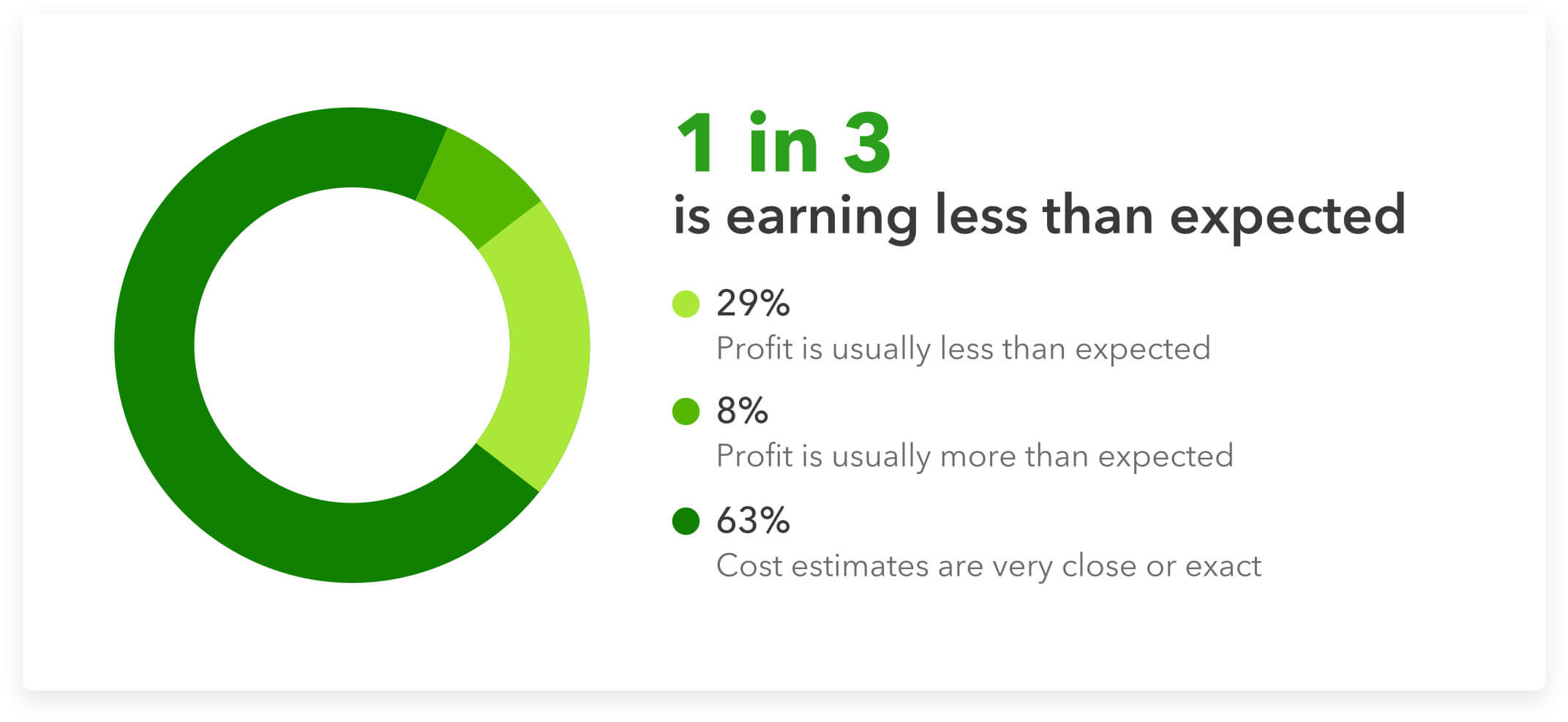 Source: quickbooks.intuit.com
It means that the estimating process deserves special attention and improvement. Construction estimating programs cover everything that deals with estimating costs, material, and labor force.
Among the main benefits construction estimating software can provide are:
Loss prevention as a single incorrect calculation in an estimate can damage a project before it starts and long after that.
Time savings as you can forget about double-checking excel formulas or fixing missing decimals. With an estimating solution, you can input variables and get realistic estimates for any construction project.
Customer engagement as accurate estimates not only prevent losses but build trust with your customers. People usually work with contractors that inspire confidence. If one contractor provides you with a manual pen and paper cost estimation and another suggests a software-based estimate with transparent numbers, tables, and diagrams, whom would you trust?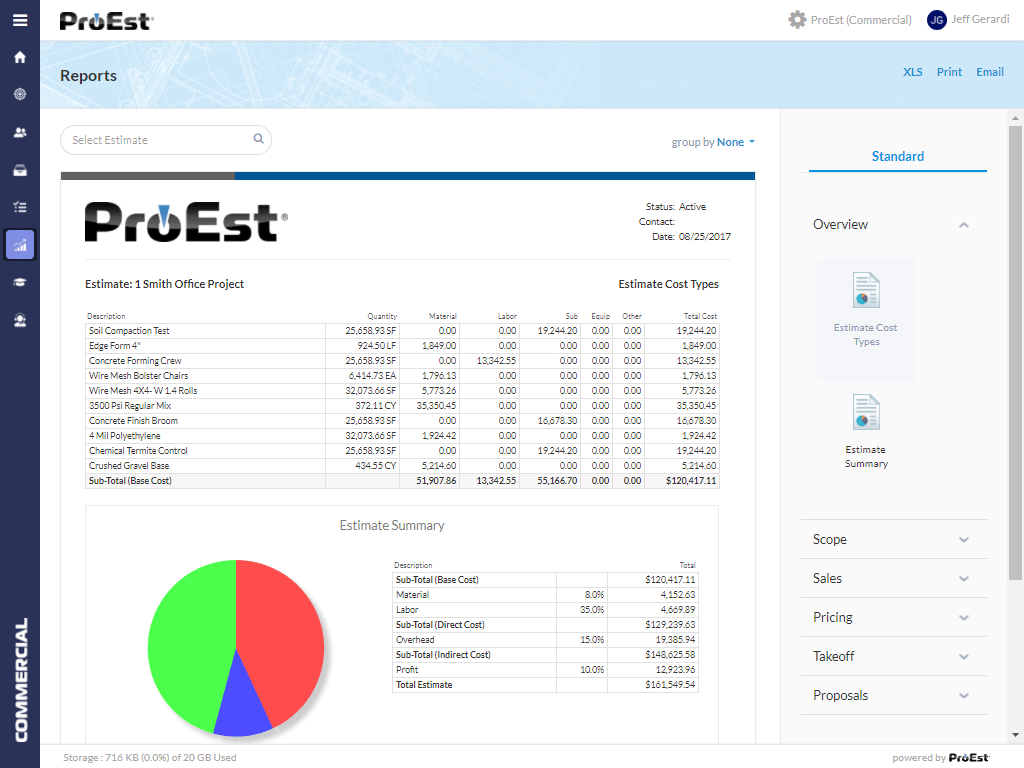 Estimate reporting by ProEst, a feature-rich estimating application
Construction take-off software
The construction takeoff process is very time-consuming as it is focused on detailing all materials and connected costs necessary for construction projects. The take-off estimates are then combined with other estimates (including labor, operational, and other costs) to draw up a final detailed cost estimate for a project.
One of the main advantages construction take-off solutions provide is dynamic changes. Many material takeoffs undergo frequent adjustments in material requirements, quantities, and pricing. The bigger and more complex the project is, the more frequent these adjustments take place.
Take-off solutions allow making any adjustments on the fly thus saving time and streamlining the estimating process.
Another important benefit worth mentioning is the ability to make an automatically-generated list of materials and measurements based on blueprints or design documents. This way, the user uploads the design document into the software, the software reads it and pulls a list of required materials and accurate measurements.
So, if you still traditionally collate this information manually using rulers, pencils, and calculators, a construction take-off solution with this feature will definitely alter your life for the better.
For example, STACK is a popular take-off and estimating tool that enables easy upload of digital plans and complete takeoffs on the go.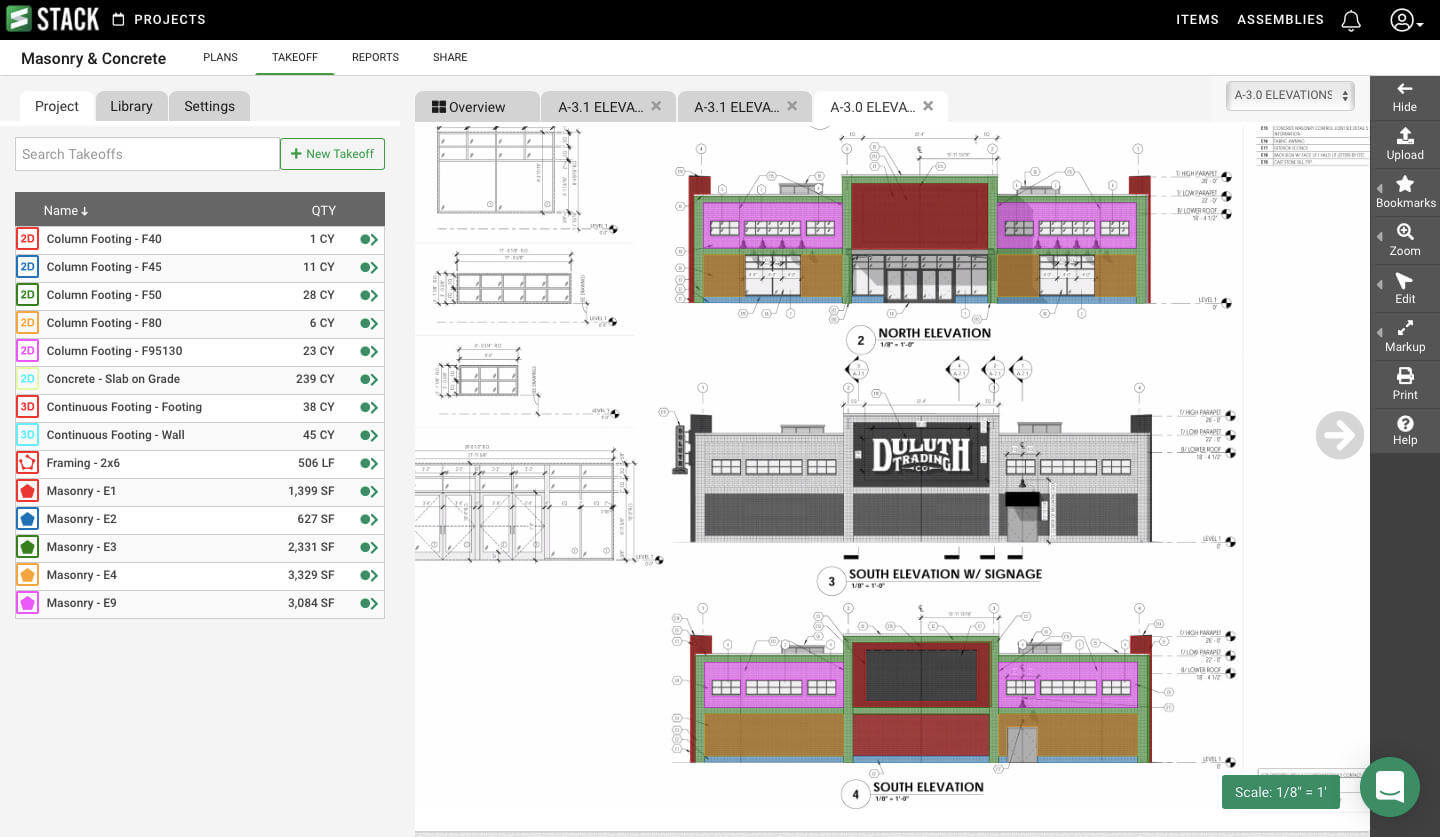 Example of digitalized take-off process by STACK
Bidding and bid management systems
Bid management takes up a lot of time to manually prequalify subcontractors, create an invitation to Bid (ITB), deliver all necessary data so that subcontractors can make an accurate proposal or bid, and manage all further communication flow.
Bid management systems are designed to automate all the tasks involved in the process of creating and submitting construction project proposals. The solution allows pre-qualifying subcontractors and managing their data, tracking compliance, sending ITBs, taking care of the whole process of comparing proposals, and much more.
As a result, among the benefits of using a bid management system are:
faster bidding process as the system allows sending bid invitations to the contractors/subcontractors in minutes, as well as process the replies;
centralized bidding management that allows accessing all necessary data like deadlines, contact information, documents, project plans, and more in one single place, which gives better control over documents;
improved communications as today, increasing complexity of construction projects and tighter schedules and budgets require a stronger collaboration on the reconstruction phase.
Among the top features of the bid management systems are a proposal generator that provides templates to create proposals without much effort, bid comparison to reveal the pros and cons of each bid, and project scheduling to fight the scheduling mess both for contractors and subcontractors.
Bid management functionality can either be enclosed in a separate system or act as an enrichment of the construction management app.
Let's take a few examples for comparison.
SmartBid is a self-sufficient сonstruction bid management platform that helps companies automate bid management, from creating bidding invitations and sharing project documents to comparing proposals and tracking analytics.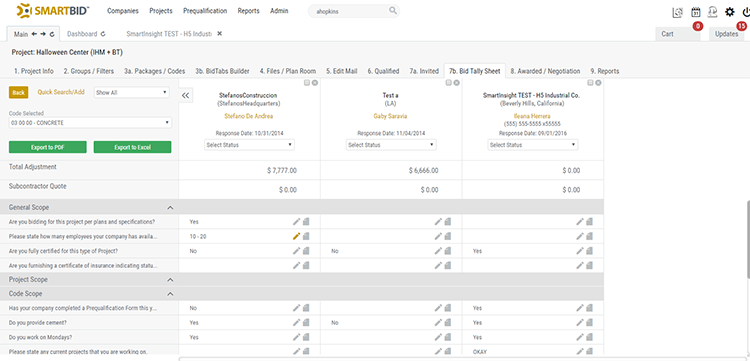 BidTabs by SmartBid enables a contraction project team to calculate and compare bid proposals from subcontractors
Source: smartbid.co
Procore, on the contrary, is an all-in-one construction platform that allows managing construction projects from planning to closeout. This solution includes a bid management functionality along with other construction management features like estimating, accounting, subcontractor management, change order management, and others.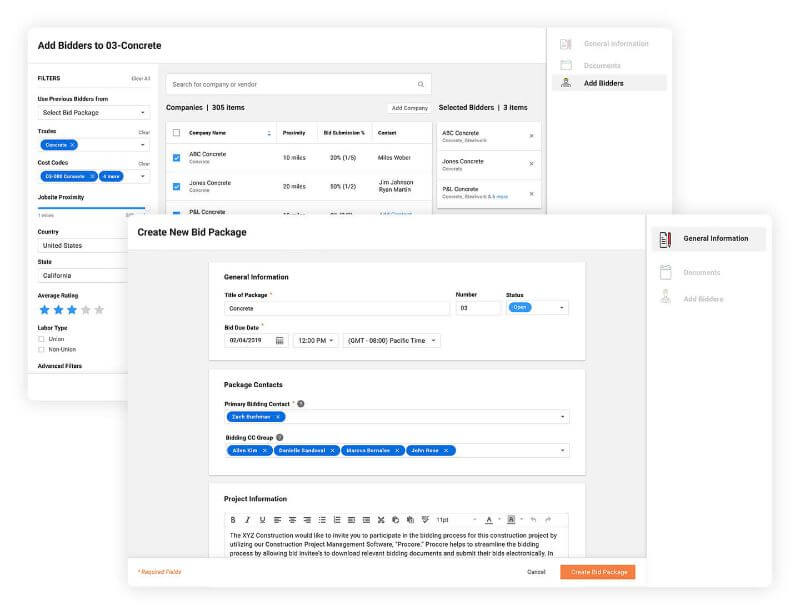 Creating bid invitations in Procore
Source: procore.com
As you can see estimating, take-off, and bidding are very closely related and interrelated. However, all of them cover a separate piece of pre-construction activities. To sum up the above:
Takeoff software is aimed at transforming information from digital blueprints into valuable data used for construction estimating;
Estimating solution helps contractors and subcontractors create the structures and detailed cost and quantity estimates; and
Bidding and bid management system covers the process of creating and managing the bid proposals.
Software for construction stage
This is almost the most important stage of the construction process. Construction software products used throughout this phase are focused on organizing tasks, ensuring clear communication that minimizes misconception, keeping track of costs, progress, and deadlines.
Construction project management software
Project management has never been a seamless task. In our previous article on how not to screw up construction project management, we've mentioned that construction projects differ from others because of their complex, fast-paced nature with lots of variables that cannot be overlooked.
Missed deadlines and cost overruns are the pain points of most construction projects. It is reported that large projects are 20% longer than planned and 80% over budget.
There are a number of reasons why most construction projects do not meet the plan, from poor estimation to shortages of good equipment, suppliers and contractors.
One of these reasons is also ineffective project management that shows the considerable importance of project management software in the construction industry.
Project management software for the construction industry is focused on keeping members organized, managing communication, storing information, tracking tasks and issues, generating reports, and more.
Among the main advantages of using construction management software are:
Improved collaboration between the members involved, managers, workers, stakeholders. The system enables managers to contact, notify and locate their workers for better productivity, as well as keeping stakeholders updated on progress.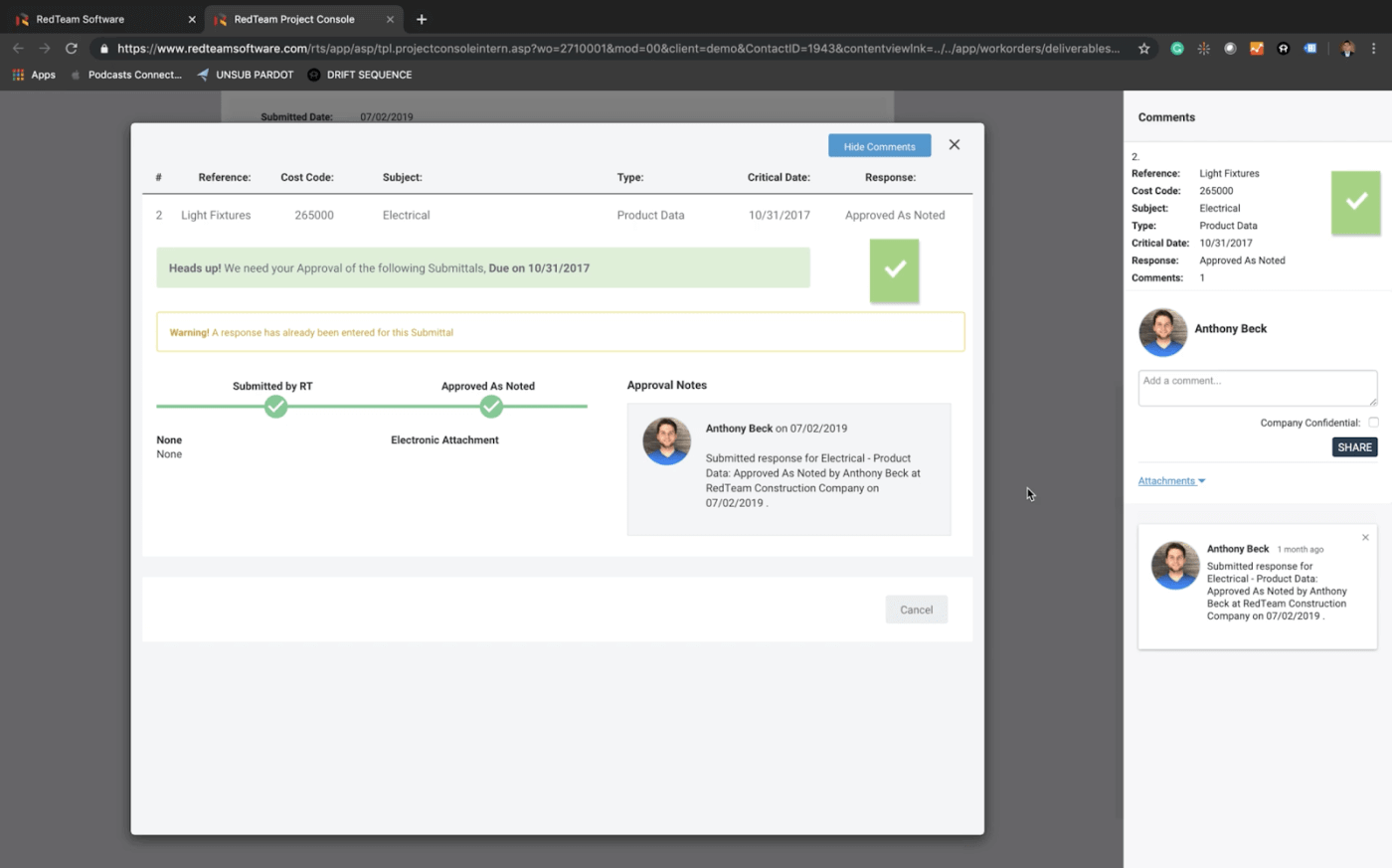 Seamless communication flow in RedTeam
Higher efficiency as it gives an ability to monitor the employee status and performance, thus getting a broader picture of how each task influences the overall project completion and take actions.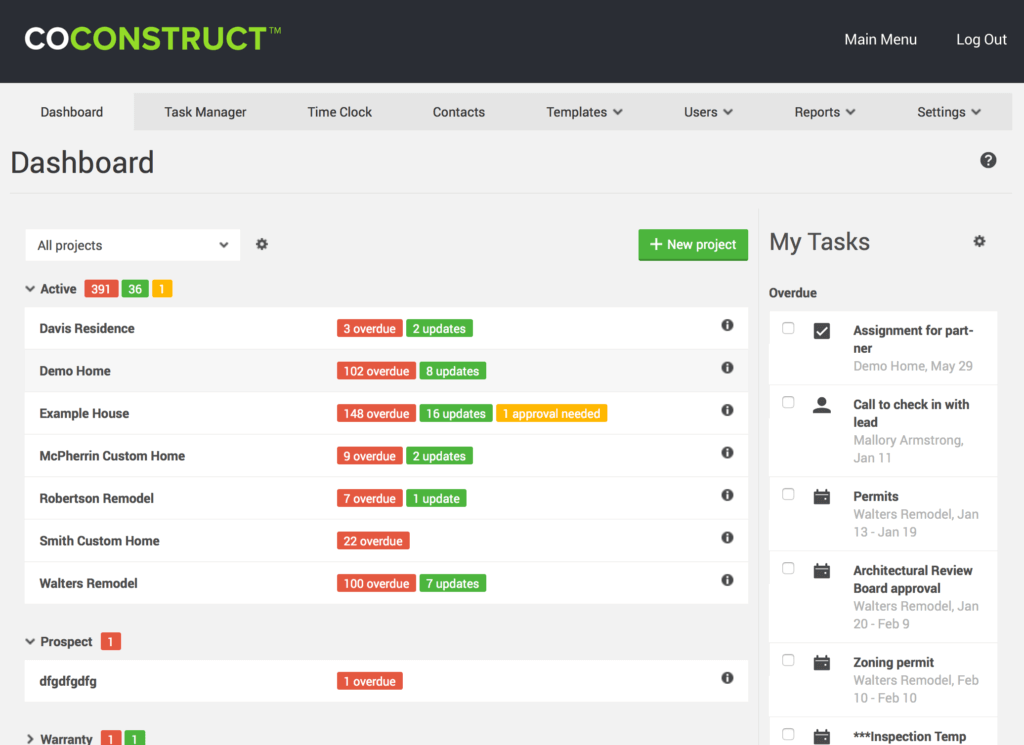 Task management dashboards in CoConstruct
Seamless document flow because construction management software solutions eliminate paperwork and ensure all documents are stored, shared and accessed in one single place, and the sensitive information is secured.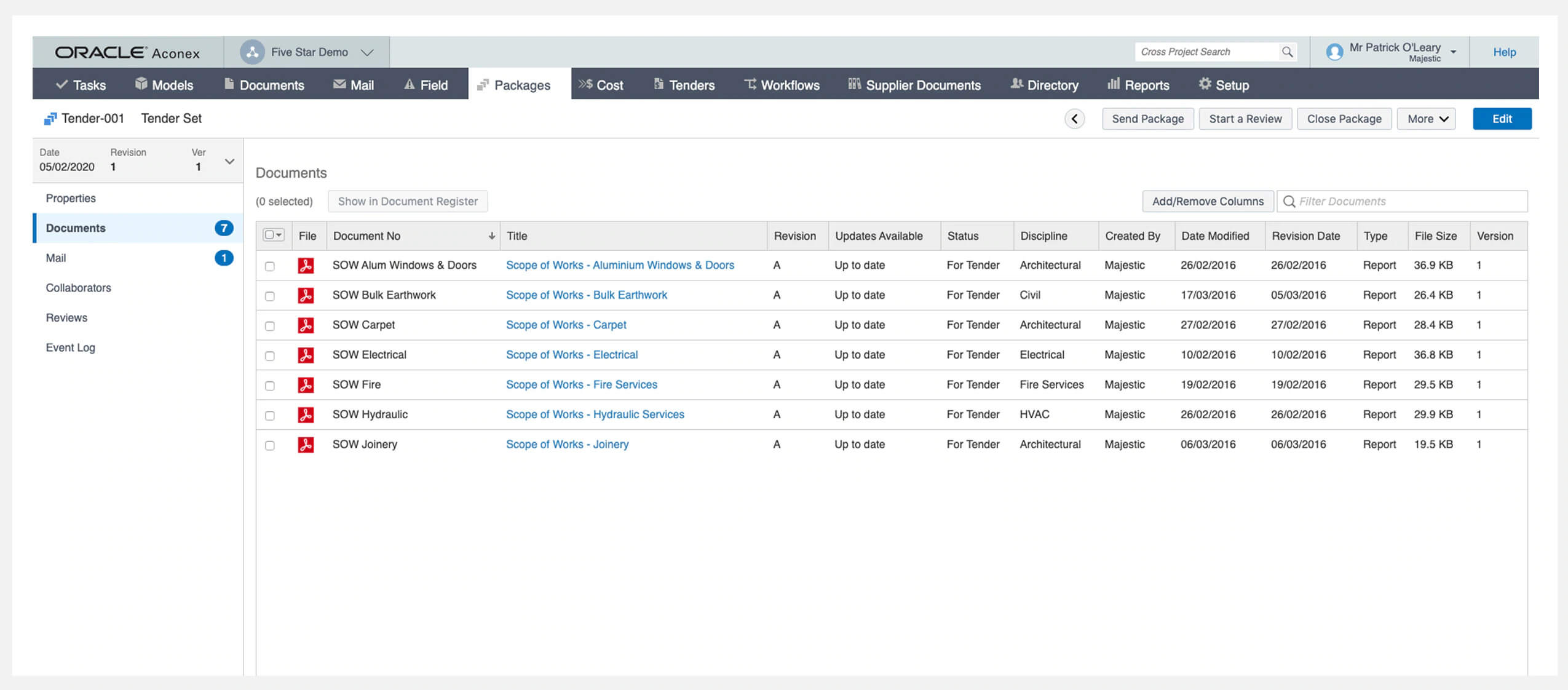 Secure document management in Oracle Aconex
Enriched resource management that allows tracking, analyzing, and organizing resource usage. As a result, it is possible to reveal whether the resource usage fits the initial estimates and optimize resource management when required. Moreover, the data can be stored and used to optimize future construction projects.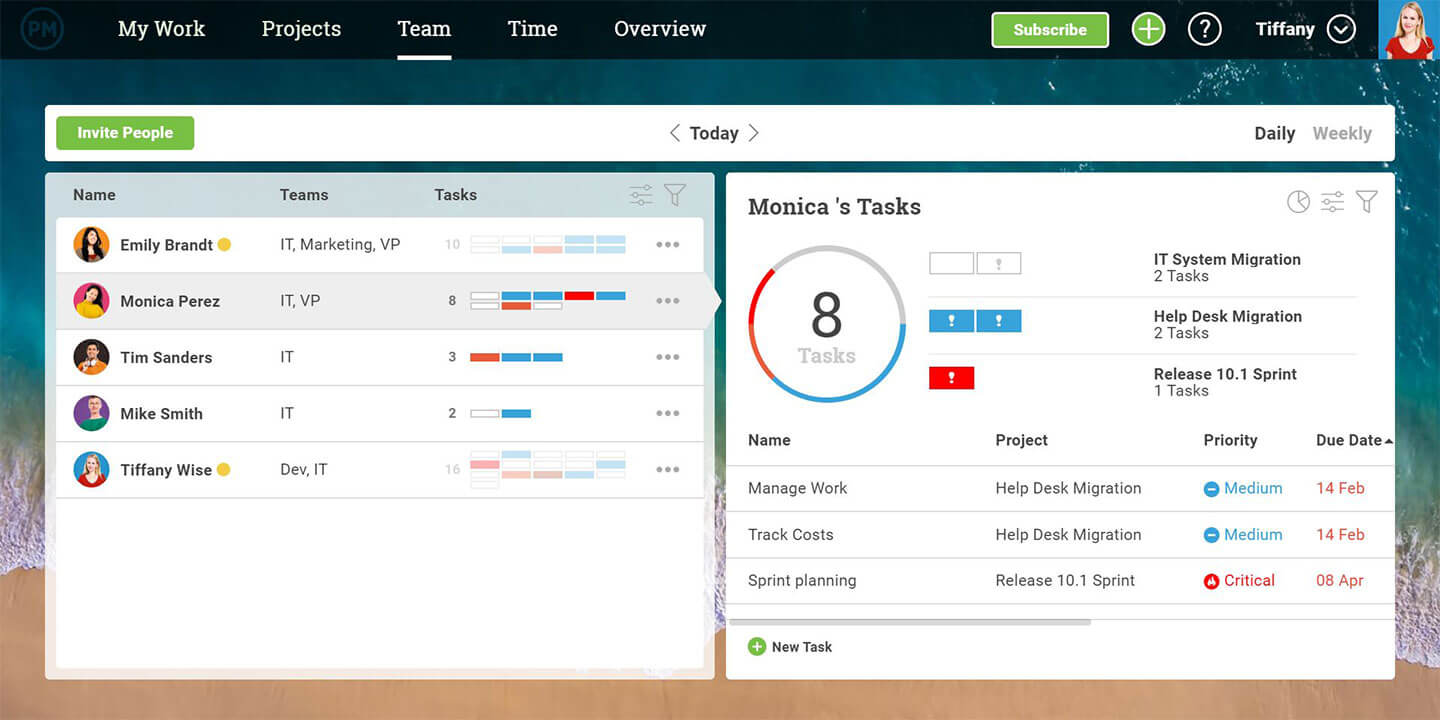 Detailed resource management plans in ProjectManager
Easy scheduling enables a visual plan of the construction project.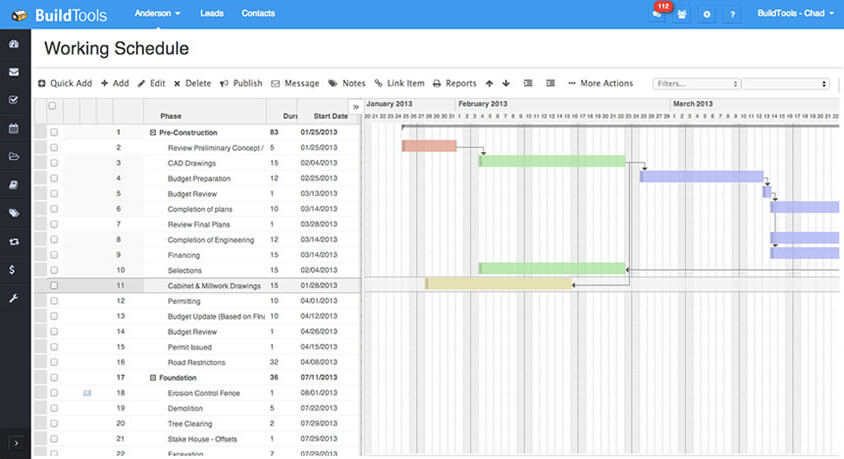 Scheduling module in BuildTools
These are only several examples of useful functionality for construction management. However, there are a number of construction management tools on the market with a different set of features, pricing and integration possibilities.
Contractor management system
Effective collaboration with contractors influences the speed and quality of your construction process. 69% of owners of construction businesses say poor contractor performance is one of the reasons for project underperformance, and 82% feel they need more collaboration with their contractors.
Contractor management systems are specifically designed to simplify collaboration between construction managers, contractors, and subcontractors. The benefits of this type of construction software is a large topic, so we dedicated a separate article on how to build faster, better, and safer with a contractor management system.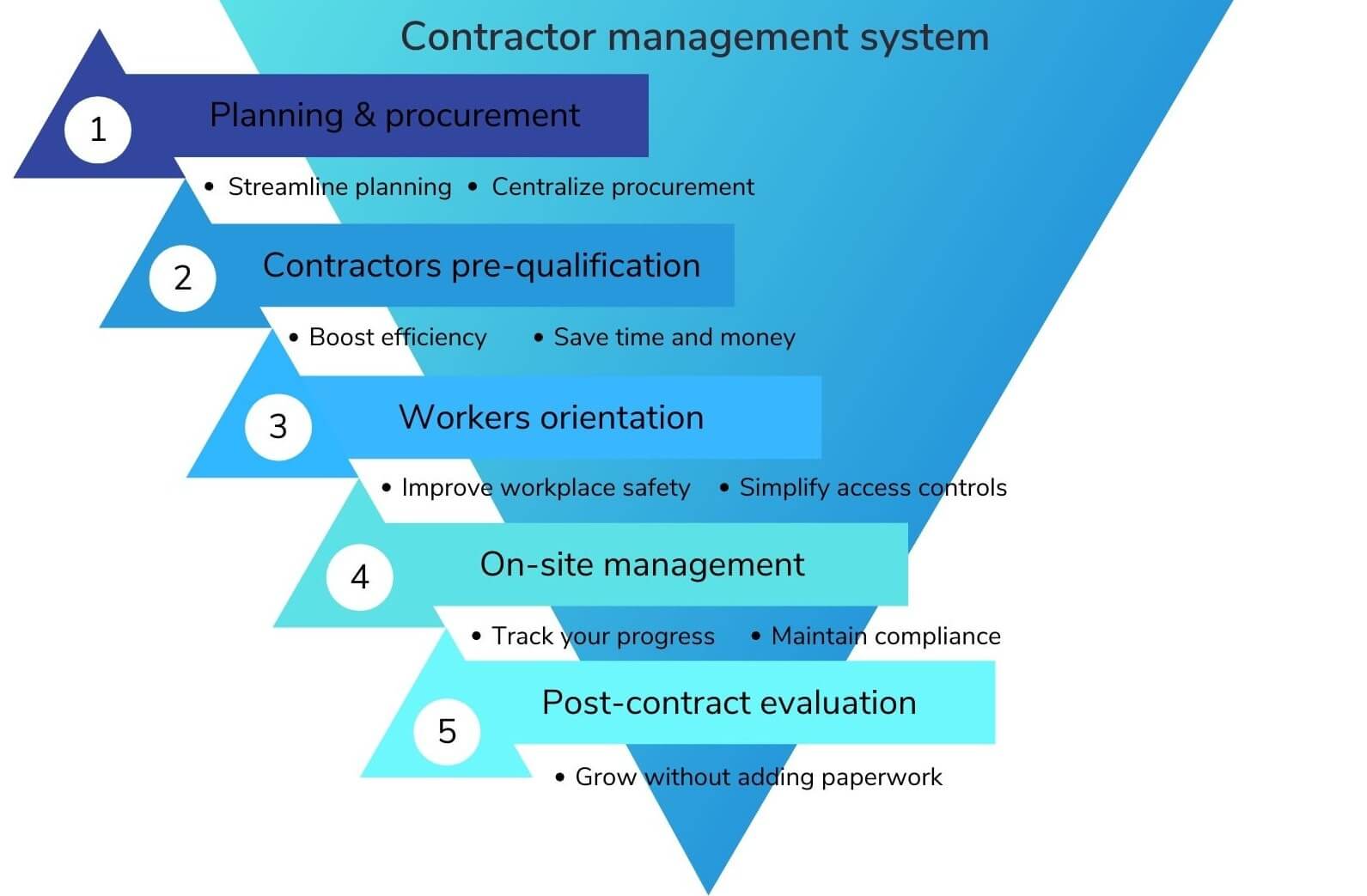 The biggest problem with out-of-the-box contractor software is to find the tool that can support unique workflows with contractors.
As you can see from the diagram above, the contractor management system can cover a number of activities from procurement to on-site management. However, most companies fail to find the ready-made system due to tailor-made contractor management workflows. This is exactly the reason why most of our clients come to us for developing custom solutions.
For example, our client CINX needed a robust system to gather American manufacturers, distributors, and construction companies in one place so that they could purchase the materials and equipment needed. The MindK team developed a feature-rich solution that allows construction companies to order the equipment for their needs in a few clicks. The system we built automates the whole construction purchasing and procurement process and involves a catalog with more than 3 million items.
Now the construction managers can easily place orders, send requests for quotations, generate invoices, and track procurement status. A number of integrations with estimating/CAD systems and accounting systems make the system even more efficient.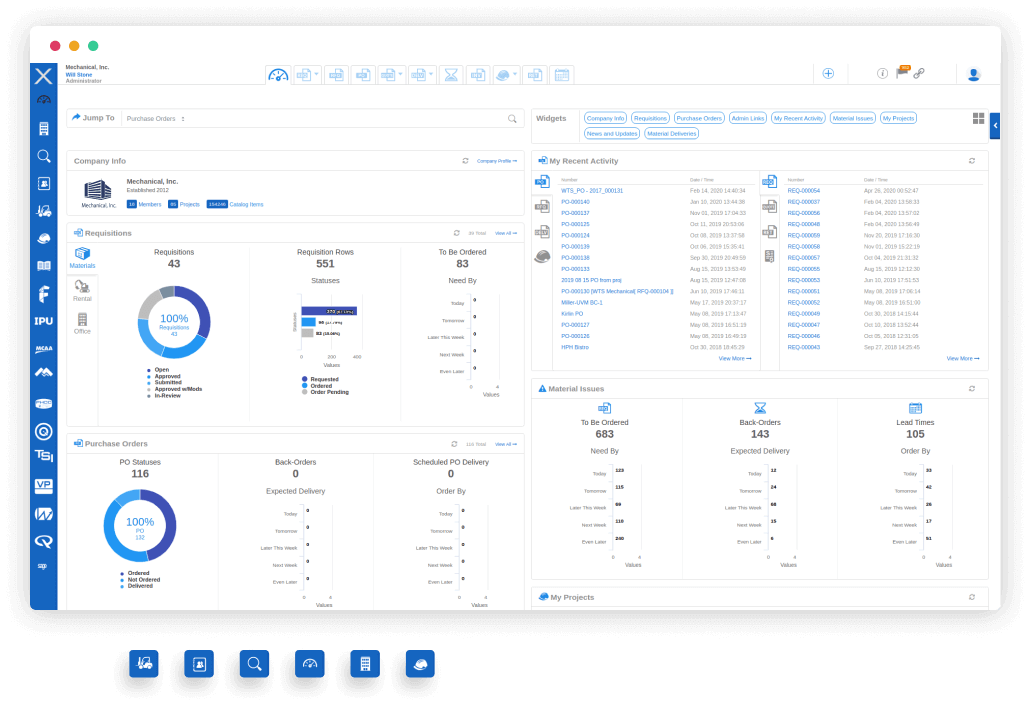 Check out the full case study of the project
Construction accounting software
Accounting is a core aspect of any business, however, it is especially important for construction. There is an opinion that construction organizations are actually accounting companies that happen to build buildings. Do you agree?
It is widely known that accounting software is focused on managing job costing, budgets, payrolls, and reporting. But is there any difference between a general accounting system and the one designed for construction?
There is a difference. General accounting tool helps companies track the organization's financial accounts. Most of its functionality is built around a general record book and involves accounts payable and receivable, as well as tracking capital, revenues, and expenses.
Construction industry accounting software, on the contrary, involves many of these functions but also has additional features specific to the needs of construction professionals. First, construction accounting should support a wider range of service categories like consulting, physical products and materials, engineering, and more.
Second, it is quite easy to calculate the break-even point because of the direct relationship between income and expenses. In construction, there are too many categories of items that make the end payoff harder to determine. Moreover, most construction projects are unique and involve different associated costs.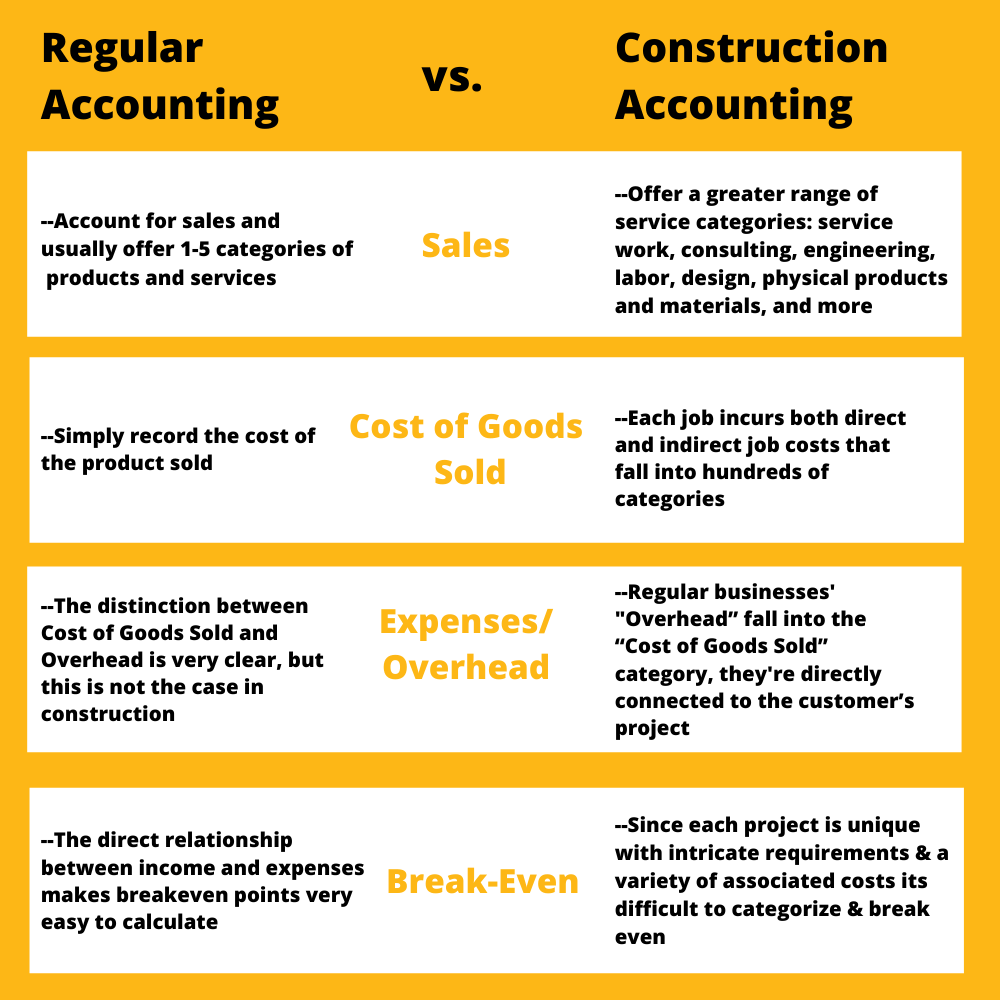 Source: eSub.com
For example, CMiC is an all-around software made specifically for the construction industry to cover accounting and financial management needs. It includes budgeting, corporate and project forecasting, corporate risk management, general ledger, accounts payable, and receivable.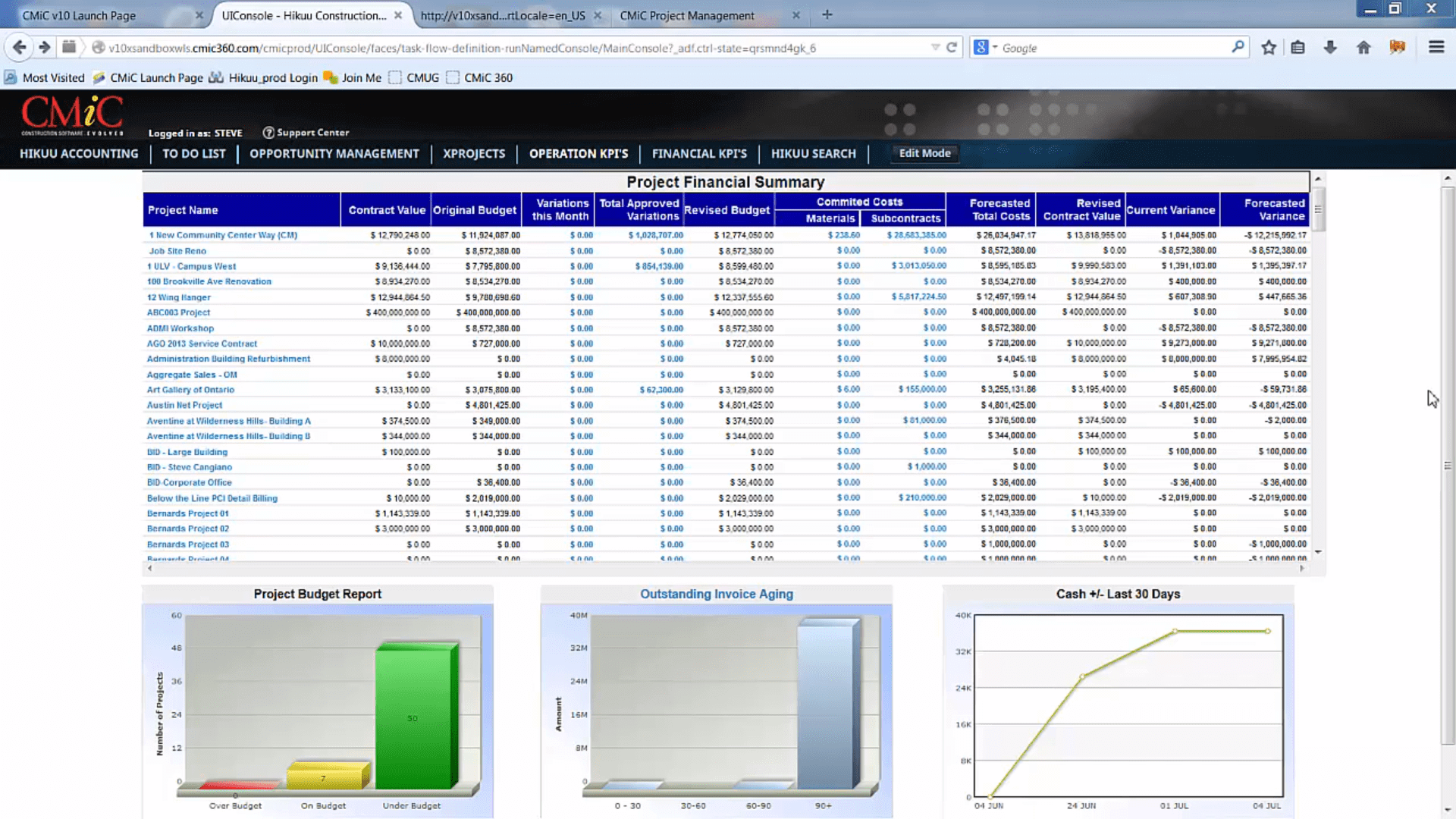 Project financial summary by CMiC
Software for post-construction stage
The post-construction stage is also called project closeout which is the final phase of the project lifecycle. In this phase, it is necessary to collect all project documents and present them to the key stakeholders that requested the building.
One would think – "What can be easier than closing the project when it is over?" However, the construction closeout process can require months of work. This is where project closeout software comes into play.
The goal of the project closeout solution is to help constructor managers stay organized as it helps to collect all the documents required into one single place like submission documents, construction plans, developmental phase documents, specification manuals, and much more. Additionally, project closeout solutions help with warranty management and reporting.
Take for example, Buildr. This is a post-construction solution that covers not only construction closeout and handover with automatically collected documents, but also provides the ability to manage warranty claims, track their progress and response time.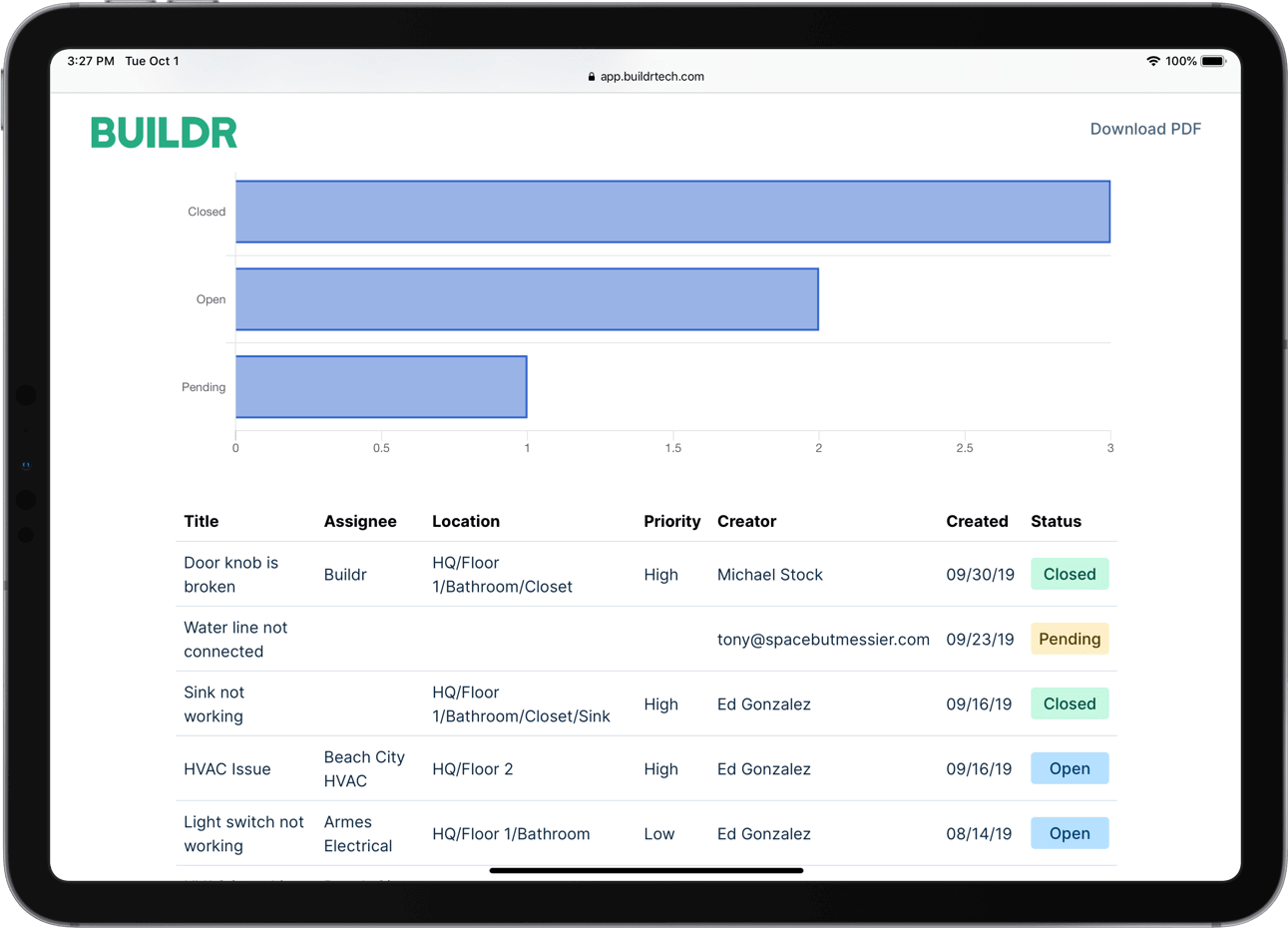 Warranty management dashboard by Buildr
Software used on all stages of the construction process
Besides the stage-specific solutions, there are tools that are actively used in all stages of the construction process, namely:
building information modeling solutions (or BIM);
customer relationship management (CRM); and
human resource management systems (HRM).
Building information modeling is a complex process of creating and managing information throughout the construction project lifecycle. The major output of the process is the Building Information Model which is a digital description of each aspect of the built asset.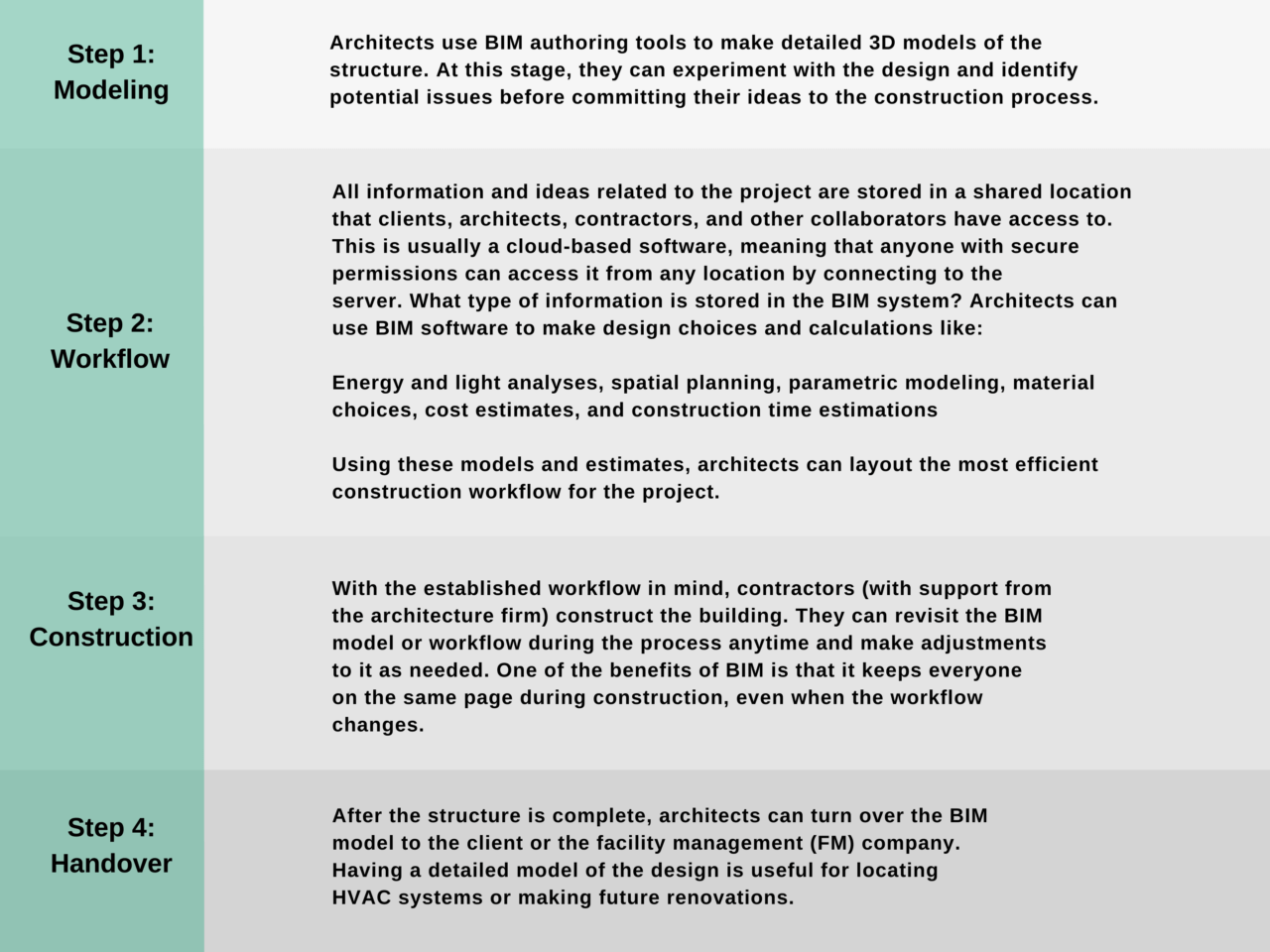 Usage of BIM for each stage of the project lifecycle
Source: hmcarchitects.com
As you can see, the BIM solution benefits each stage of the construction process. This software provides:
cost and resource savings, since BIM provides a foundation to estimate costs related to materials and associated costs to make more informed decisions focused on cost savings like сhoosing more cost-effective materials, finding the prime time to buy and similar;
improved communications and workflow efficiency as it streamlines collaboration between architects, clients, contractors, and other parties involved by allowing everyone access information like models, estimates, design notes in the format they need without a need to duplicate this data elsewhere;
better quality results as BIM helps to make more detailed and accurate calculations and models which leads to a higher quality structure;
ability to engage clients before the construction phase is a great advantage in the construction industry where everyone struggles to correctly interpret architectural drafts, as 3D models allow sharing ideas with clients to better visualize the final result.
There are a number of existing BIM solutions on the market, however, the feature sets may vary. For example, Tekla Structures is known as an extremely constructible structural software for BIM which allows creation, managing, and sharing 3D models with all necessary construction information.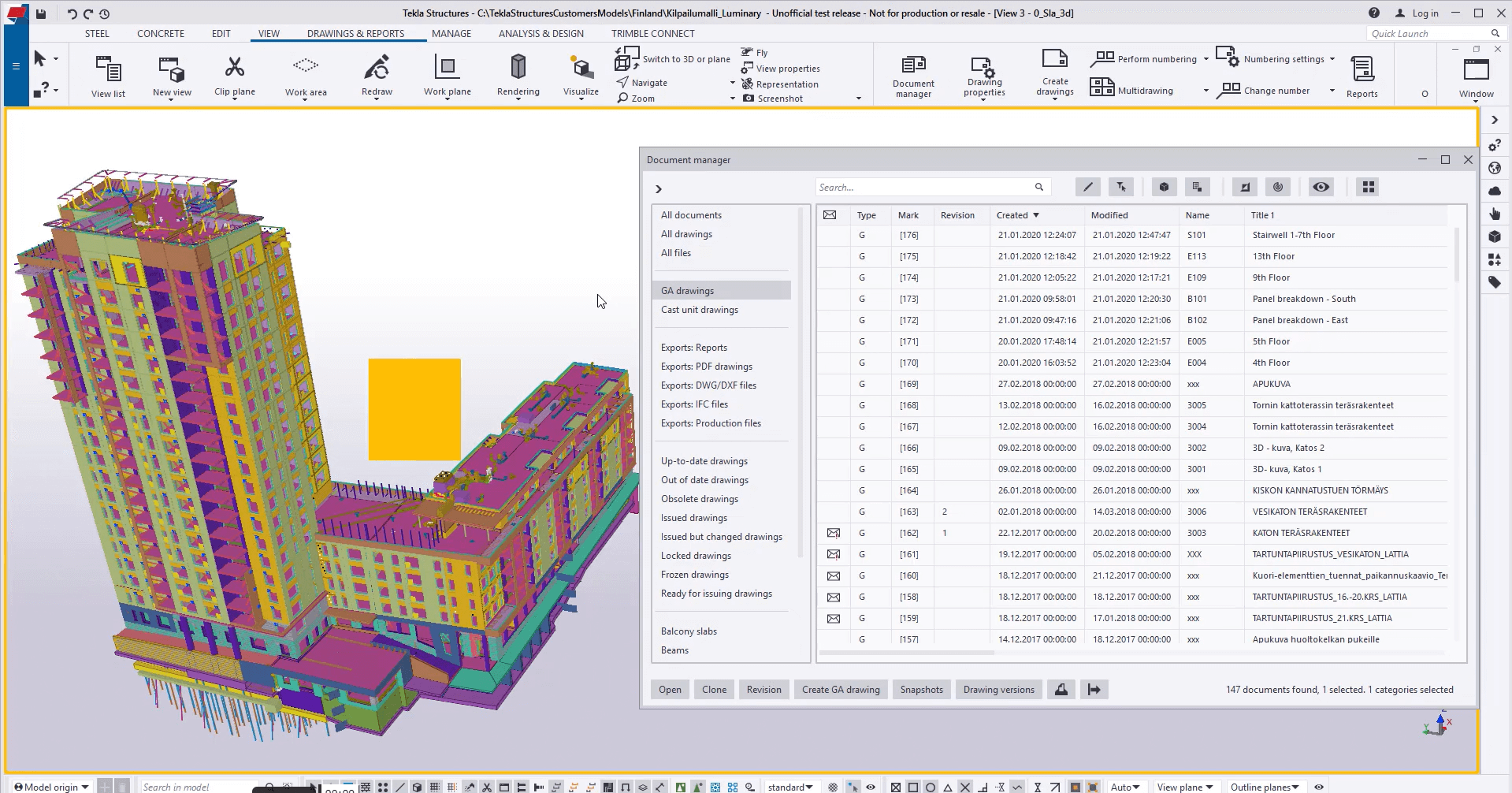 Easy visualization and editing of the drawing views by Tekla Structures
While customer relationship management and human resource management systems for construction are similar to solutions used in other industries, we'll not dwell on them too long.
Сustomer relationship management in real estate as well as in construction is focused on managing data about your clients and previous interactions with them. It boosts customer engagement and helps leave no detail to chance. We've already discussed how to find a perfect CRM in our previous article, so check this out.
Human resource management systems are no less important for construction companies along with any other industry. HRM systems help construction companies satisfy the needs of their workforce, as it enables to:
manage salaries and working hours;
keep track of attendance and leaves;
make assessments and surveys;
support the future recruitment process activities;
and much more.
When you will think about implementing or improving human resource management in your company, take special attention to the key features any human resource management software should possess in 2021.
Now, when you have a complete understanding of what software products can improve the efficiency of your construction process, you may have an obvious question "Should I buy or develop the solutions?"
Build or buy the software for a construction company?
It might be nice to have a clear answer to this question, however, there is none. The construction software providers will claim that it is better to buy their product, while development companies will assure you to build the one for your needs. Although, each and every situation is different.
Out-of-the-box construction apps may fit construction companies with common workflows and little or no need for customization. However, in this case, companies very often face a number of challenges. The most typical ones are a lack or excessive amount of functionality (that the company pays for anyway) and integrations.
As you can see, a construction company is a many-sided business that requires a number of different solutions from simple CRM to specific BIM and construction management tools. All of these systems contain important business data. When the data is spread over various systems it is almost impossible to learn a lesson. API integrations make the situation better as they allow different solutions to exchange the data.
The bad thing here is that many ready-made solutions either do not allow API integrations, or integrations are available in more expensive packages. Additionally, you need a well-experienced developer with in-depth knowledge of integrations to make things work. As a result, you will pay more than you expected.
The custom-built system provides room for customization as it easily allows add/remove features and to create APIs as the company grows and the business environment changes. Custom software is a great fit for construction companies with unique workflows and a need for further system improvements.
If you opt for custom software development for your business, you have the opportunity to develop an all-in-one construction app that will support your specific requirements in all the stages of the project lifecycle. This way, there will be no need to switch between several tools, as the system will store all data and support all activities in one place.
The main disadvantage of this option is cost, for sure. Yes, it is not a cheap endeavor, however, you never really know the approximate price of your project until you ask.
There are a lot of variables like scope, tech-stack, and development company that influence the final cost of the development project. Thus, we recommend you to check out our guide dedicated to software development cost.
Want to develop a custom platform for construction business?
We will be happy to help you with that. MindK team has years-long experience in developing custom solutions for businesses from different industries, including construction and real estate.
Above that, we have expertise connecting accounting, sales, management, and other third-party systems with custom solutions. Check out our Real Estate Software Development Services and contact us if you need an estimation of your future construction app.