Therefore, if you are thinking about creating a recruitment platform, you are on the right track.

Given that at MindK we develop custom software products for recruitment industry, we know firsthand that the employment market today has a number of recruiting challenges that require innovative technology. Hence, there is a range of recruitment tools and systems covering a good part of the talent acquisition requirements.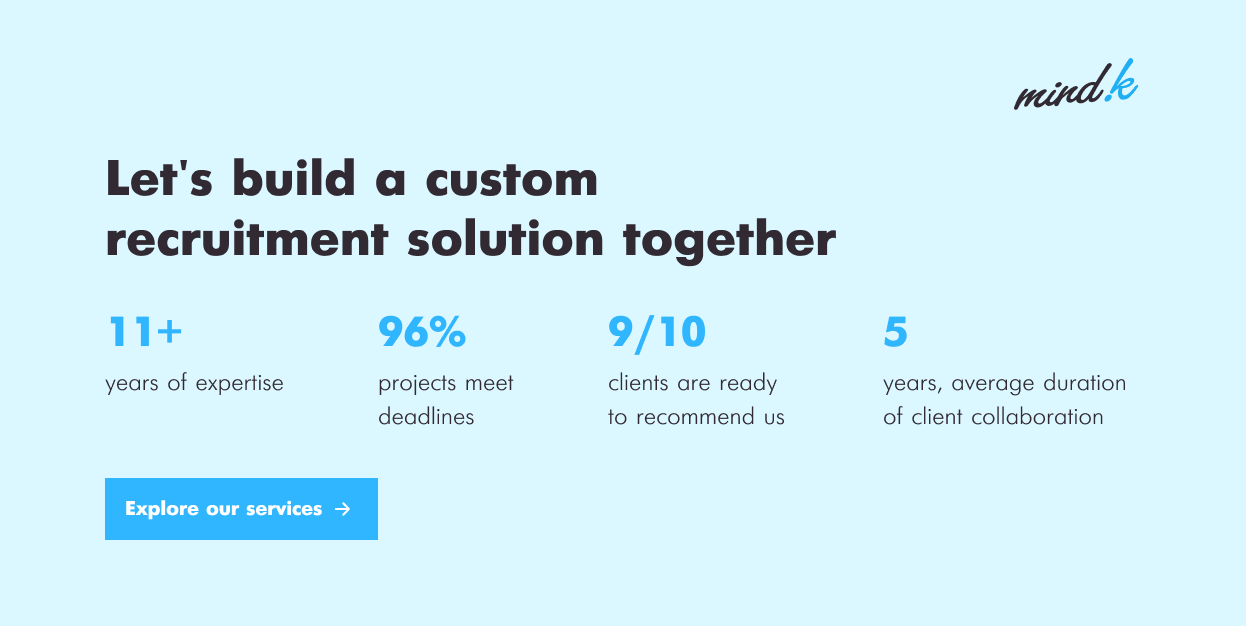 To help you not to miss out on a game-changing type of hiring software just because you don't know it exists, we prepared a deep dive into the recruiting tech landscape. It will help you decide what talent acquisition software is the standout choice for your business in 2021.
Let's get right to the point!
Essential Types of Recruiting Software That Improve The Hiring Process from A to Z
Recruiting software is a general term that refers to any solution used to help recruiters manage the hiring process. These tools have proven to be of significant value in streamlining recruiting workflows.
For example, a few years ago, around 94% of hiring experts admitted that using recruitment tools had a positive impact on the overall recruitment process. Today, recruitment management software has become the best assistant to human and resources departments by covering the entire hiring and recruitment flow.
Since the hiring process is not an easy thing and involves a great deal of tasks, it will take a long time to run through different solutions for each of the tasks. So, let's base our classification of recruitment software toward its main functions, namely:
Sourcing;
Engaging;
Selecting; and
Hiring
The folks from the Talent Tech Labs have also used this classification to provide a graphical chart that will help us puzzle out all the complexity of the recruiting technology landscape.
Besides dividing the talent acquisition tools by phases of the hiring process, they also split the tools into employee-focused and candidate-focused solutions. Relying on this chart, we've singled out the main tools with the potential to better the recruiters' lives during each of the hiring phases.
Phase One: Sourcing
Sourcing is the first stage of the hiring funnel and involves finding and attracting candidates. It means that these tools are completely focused on the proactive search of specialists before they apply for a job.
Most commonly, sourcing is done by promoting job openings by means of job postings, talent communities, and social media. From this perspective, the life-critical solutions here include:
Job board tools and job aggregators
Job boards (or job portals) are a sort of a search engine that showcases job openings. However, take into account that many job boards today suggest additional functionality as a part of their package, like in-build communications tools, branding programs, analytics, and much more. It helps job portals to gain a competitive advantage and scale faster.
The proof is in the example of our client for whom we developed a feature-rich candidate sourcing system Jobbdirecte.no. In addition to job search engine, we've implemented a comprehensive CV and job-post matching, a dedicated admin panel and analytical dashboards for each user role, free and paid distribution channels for job posts, and so on. This helped Jobbdirekte to grow from a job search site into one of Norway's largest job portals and an advanced recruitment tool. Now, more than 25% of the country's population visit the portal each month.
Job aggregators are not the same as job boards. You can think of the job aggregators as so-called Google for open vacancies as they gather job postings from various resources, including job boards, in one single place.
Most of them also vary in features set and opportunities. For instance, SimplyHired provides more add-on applications for better social media compatibility, while LinkUp pulls vacancies exclusively from company websites.
Recruitment and labor marketplaces
Recruitment and labor marketplaces for the most part are focused on the B2B sector. These talent acquisition applications connect employers and recruiters or recruiting agencies. The main benefits of marketplaces are efficiency and transparency.
Transparency is important for this type of application because marketplaces collect all recruiting information and transparently display it in one single place. It enables tracking of KPIs such as time-to-hire, cost-per-hire, recruiting spend, and much more.
Efficiency is gained by the ability to find proper candidates in a short period of time, instead of looking through hundreds of ill-qualified CVs or outsourcing to a recruiting agency.
Note that many labor marketplaces and other top recruiting tools today leverage the power of emerging technologies like AI, machine learning to streamline candidate screening.
For example, not long ago, BountyJobs, one of the leading recruitment marketplaces, announced a strategic partnership with AllyO, the technology company famous for its robust AI recruiting solution. Workable now owns an AI-powered functionality from AI Recruiter for better candidate searching and building robust talent pipelines.
Programmatic job advertising software
Programmatic job advertising solutions allow recruiters to place job ads directly in front of candidates that fit the search parameters. It may sound a bit complicated, but the idea is simple – job ads are displayed around the web where potential candidates spend their time online.
This type of the hiring system has high-potential. The global programmatic ad spending market is anticipated to increase by $148.53 billion in the upcoming four years.
A great example is PandoLogic's, also known as pandoIQ, a programmatic job advertising platform and popular recruitment ad network in North America. It targets candidates across main job sites. Its biggest advantage is the use of AI-enabled automation that eliminates time spent by recruiters on writing manual rules for job ads.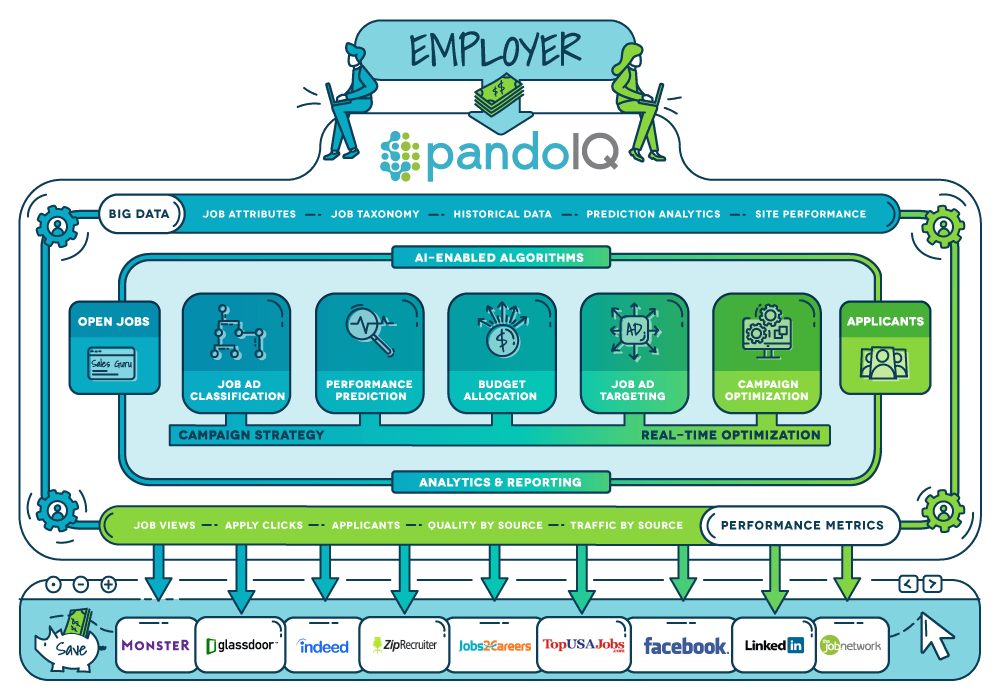 Source: pandologic.com
Phase Two: Engaging
Candidate engagement stage is all about streamlining communication between recruiters and candidates and keeping applicants up-to-date throughout the whole hiring process.
A well running engagement process has much to do with an organization's hiring rate: the better engagement – the higher the hiring rate. Here are the key types of online recruitment software that help a HR team to keep candidate engagement on track:
Recruitment marketing software
Recruitment marketing platforms (RMP) are at the intersection of sourcing and engaging stages. Their goals are to attract, engage and, more importantly, convert candidates by means of marketing methods. This refers to building an employer branding strategy, demonstrating employee value proposition, sparking candidate engagement and bettering candidate experience.
In sum, recruitment marketing solutions directly target the applicants' interest, consideration and awareness.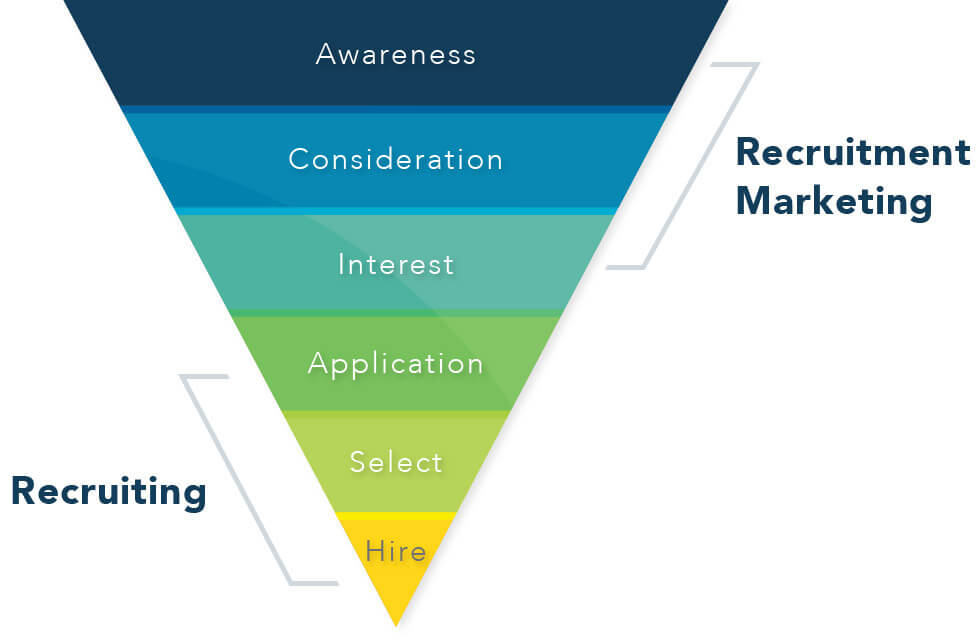 Source: business2community.com
An RMP can be either a stand-alone system, or a built-in module of an applicant tracking system and other HR recruitment software.
One of the most well-recognized tools today is LinkedIn recruitment marketing product. By means of career pages, dynamic ads and pipeline builders, it helps recruiters connect with applicants and employees throughout their professional journey.
Applicant tracking system
An applicant tracking system (or simply ATS) is a solution used by companies to organize, search, and communicate with a large number of applicants. Its main goal is to save time by automating recruitment manual processes and averting human error.
However, ATS are not limited by the engagement functions only. Such solutions can support recruitment needs of all sorts (like receiving and sorting applications, CV storage, messaging and interview scheduling, onboarding, and social sharing).
For example, Greenhouse, a popular ATS, besides applicant tracking suggests 360-degree HR administration functionality. SAP SuccessFactors, another well-loved system, offers sourcing, screening, onboarding, performance metrics and payroll management.
In our other post we've already analyzed the broad variety of the applicant tracking system market and its competition. The conclusion is simple – in spite of the number of available tools, there are great opportunities for emergent ATS vendors with a fresh eye on the recruiting pain points.
Candidate relationship management solution
Candidate relationship management (or recruitment CRM) systems help recruiting and HR teams to maintain the engaged talent pipeline and fill in open positions with qualified candidates.
You may ask "Why do recruiters need CRM if they already use ATS, isn't it the same thing?"? No, these tools have different purposes.
ATS is designed to streamline and manage the application process, while CRM lets specialists create talent pools, as well as build and nurture relationships with passive talent and previous applicants already in the system.
Simply put, CRM acts as an important building block between ATS and recruitment marketing platforms.
Source: pageuppeople.com
However, a number of ATS vendors claim to provide CRM functionality as a part of the package. For example, Lever claims that it combines robust ATS and CRM functionality in one single platform.
Conversational bots
Recruiting conversational chatbots, otherwise known as hiring assistants, help to streamline communication between candidates and recruiters. Common tasks of the chatbots are collecting applicant information, screening candidates, scheduling interviews, answering applicant questions and similar.
The demand for recruiting chatbots keeps growing. Most businesses want to expand their talent acquisition strategies in order to improve engagement and be competitive. For example, IKEA uses recruitment chatbot XOR that allows candidates to apply for open positions via the chat. As a result, they received 85% more applications with the same hiring budget.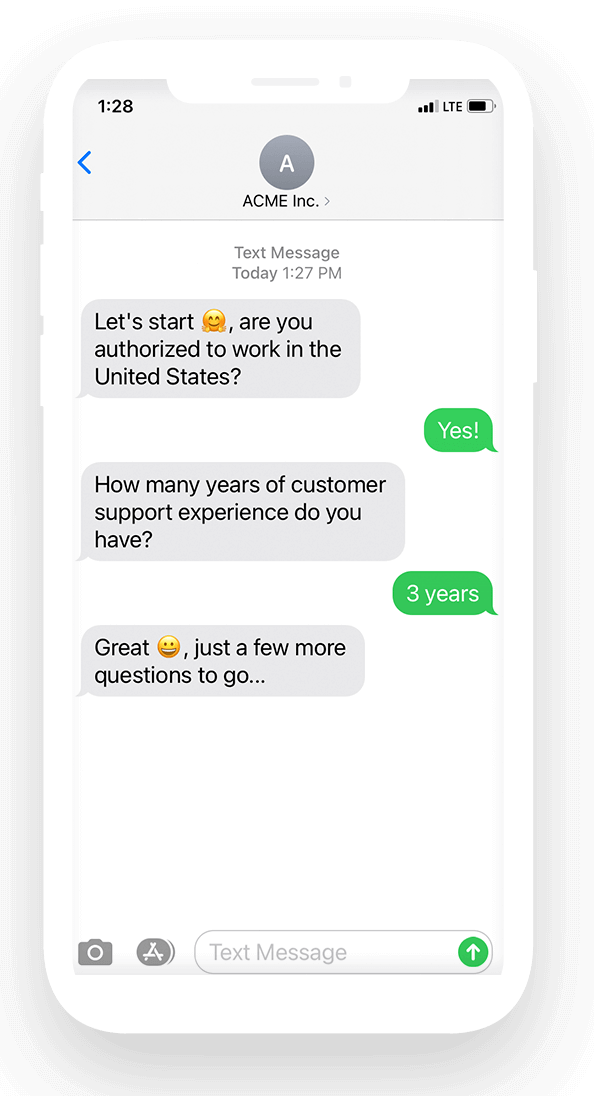 Source: xor.ai
Phase Three: Selecting
The selection stage is dedicated to analyzing who the candidates are and making a choice. This is where recruiting solutions turn the process of choosing top talents into a fast and exciting flow. This kind of recruitment automation software is represented by systems like:
CV screening and parsing software
According to Ideal, the process of screening CVs may consume around 23 hours for one hire. That's why CV screening software that automates this process is a real time-saver for recruiters.
The CV screeners can be divided into three main groups: basic screening, advanced screening and AI-powered screening.
The most basic screening allows screening through applicant CVs for relevant keywords that match the job description. It can be used to do the primary selection of candidates. The advanced tools can work with social media and other sources to gather info about candidate's competencies and enrich CVs. The third group uses natural language processing and artificial intelligence to screen and analyze candidates.
Most often, CV screening is part of ATS, however, there are also separate CV screening products. For example, HireAbility is a customizable screening and parsing solution that parses CVs and structures the obtained information into the format convenient for further work.
Video interviewing platforms
There is no reason to explain the importance of these solutions in the hiring process. They are simply game changers for recruiters as they allow interviewing candidates remotely without losing any visual cues.
However, this type of software went further than simple video interviewing. Some of the modern innovative interviewing tools assess a candidate's speech patterns, facial expressions and other factors to predict whether the person is a good fit for a position.
For example, HireVue, a video interview software makes use of video interviews together with assessments aimed at evaluating the candidates and predicting job performance.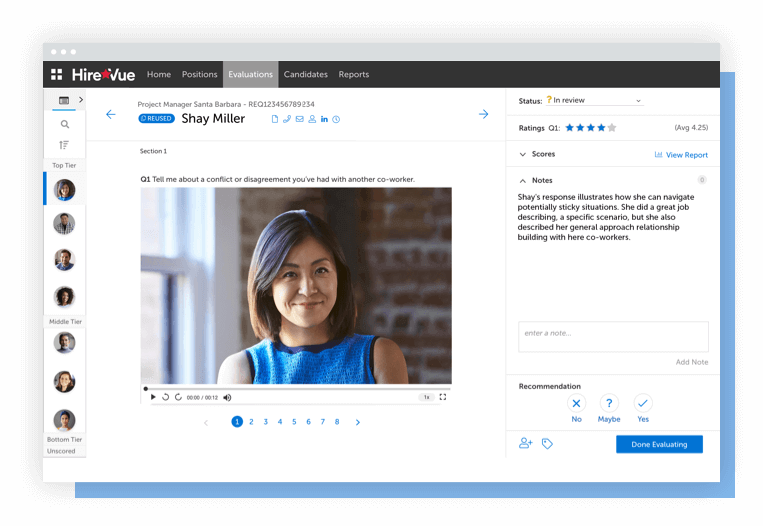 Source: hirevue.com
We at MindK believe that such an innovative approach to video interviewing will have great impact on the hiring process in the nearest future. Research also predicts market growth – the compound annual growth rate (GAGR) of the video interviewing software market is expected to grow at 11.3% until 2027.
Skill and behavioral assessment tools
Behavioral assessing solutions are able to assess various behavioral characteristics of the person, starting from personality factors to leadership potential and learning willingness.
We've already mentioned that similar functionality goes as an extra feature in some of the innovative video interviewing solutions. However, these tools are also offered as stand-alone services. As a rule, they use various methods to access the candidate from simple tests to games and AI-powered analysis.
For example, Hundred5 software uses short screening tests. Pymetrics applies AI and neuroscience games to evaluate a person's cognitive and emotional state. Harver preselects candidates and predicts their potential success based on predictive analytics.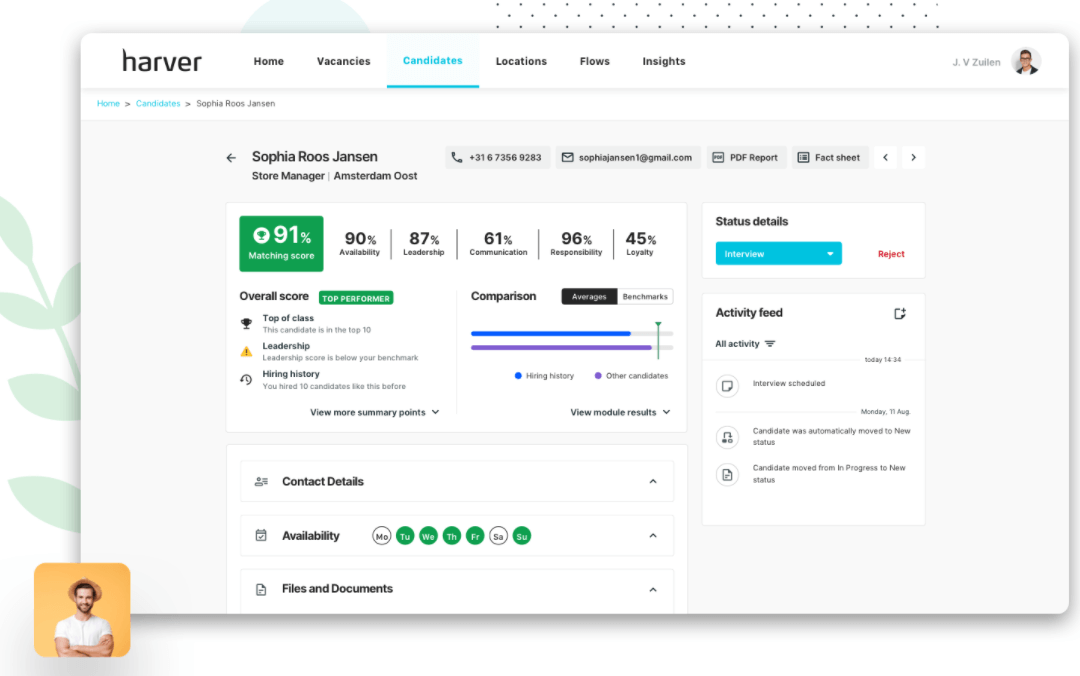 The same goes for skill assessment tools. They use various methods for assessing skills in their solutions. However, most of the skill assessment tools are industry-focused.
For example, HackerRank has tools to evaluate skills in over 35 programming languages, while Self Management Group offers an ability to assess architects, consultants, accountants, lawyers, actuaries, analysts and so on.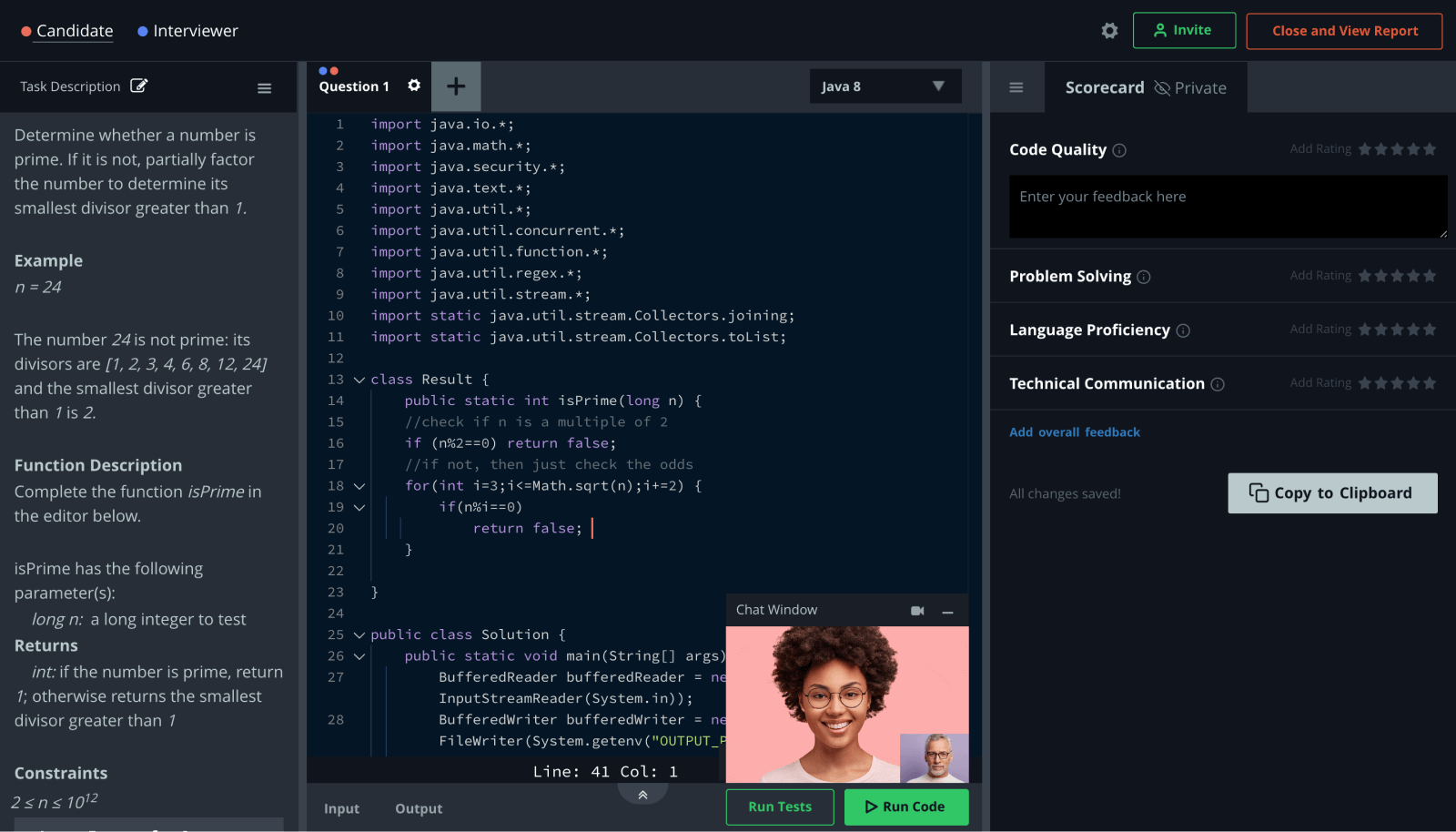 Source: hackerrank.com
Phase Four: Hiring
Employee turnover is a risky thing because employee hiring expenses and efforts are costly affairs. That's why companies use a recruitment management system to assist with hiring and onboarding of their employees.
We won't enumerate separate HR solutions because this features set may be available in many solutions we've already discussed like applicant tracking systems, candidate relationship software, or similar solutions. We will discuss the functionality that ensures an effective hiring process after the candidate accepts an offer.
The first key functionality necessary for the hiring stage is onboarding. Onboarding solutions can cover anything that takes too much time for a recruiter – from administrative paperwork to starting the training process straight away. Some best recruiting software even sends notifications and reminders to the team to say hello to a new colleague.
The next one is online induction and company training. It may seem that induction functionality is similar to onboarding, however, induction is focused on making newcomers equipped with additional company-specific skills required for the position, as well as the organization's culture, policies and health & safety, work norms and similar. Many induction programs are a part of the company's learning & development (L&D) solution or corporate LMS. If you wonder how to develop LMS without losing money, we've already covered this topic – just follow the link and find out.
Pay special attention to analytics when developing an HR solution. Analytics and metrics are among the main human resource processes that require automation in 2021. It allows a macro-level eye view on the processes and makes better data-driven business decisions.
And the last functionality is payroll and benefits. In general, such a functionality helps companies process payroll, maintain employee salary details, calculate bonuses, and more. This sector is really huge and diverse.
Take for example, pension payments and retirement plans. Many countries have complicated pension systems – the exact pension amount is calculated according to advanced formulas, confusing to most citizens. It provides a challenge for HR departments to keep pension calculations transparent for each employee and newcomer.
This is exactly the challenge we helped our Norwegian client Innmeld to eliminate. MindK developed a powerful custom management system that allowed HR managers to provide information about the company's pension, insurance program, and benefits employees can receive from their workplace. Workers calculate their pensions by entering a couple of lines of data and the information is shown in a way that everyone understands.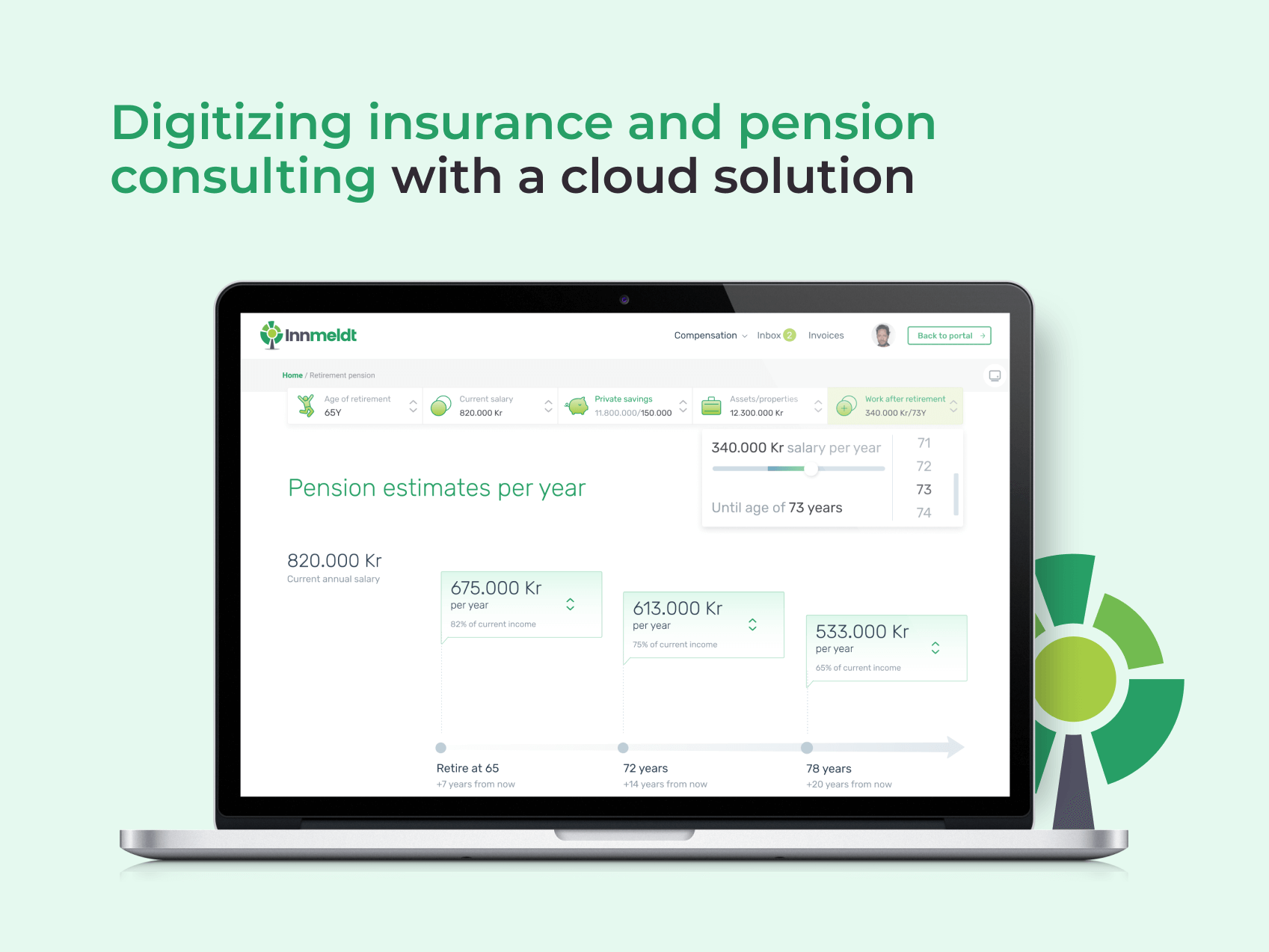 Develop recruitment software with MindK team
As you can see, the recruitment software market is large and multifaceted. A smooth and effective hiring process needs robust tech to make it work at full pace. A gap in solution coverage in any stage of the recruiting funnel may lead to bottlenecks, loss of money and reduced ROI.
So, whether you need a solution to automate your company's hiring needs or want to develop a new product from the ground up, you can always rely on MindK. We have a qualified workforce with experience in building different types of recruiting solutions for companies and startups.
Just look at the robust SaaS product Bridge we've recently built for our client from the USA. It covers the whole recruiting process from the initial application to the final offer allowing the company to manage its talent pipeline in one place.