A construction project management software is virtually the most important tool (or set of tools) among other softwares used in the construction industry. The system is focused on controlling each phase of the construction lifecycle, organizing, and automating routines.
From the MindK experience in building custom products for construction and real estate, the most common challenge our clients want to solve with construction project software is automating unique workflows to boost the overall productivity of the parties involved.
This or any other challenge can be easily overcome with relevant functionality. There is no official one-size-fits-all template for construction management features, however, there are some "pillar" requirements that are worth your particular attention.
To ensure you don't miss any of these construction project management software features, we collected them all here for you. Let's look at them in detail.
7 core features that shape a perfect construction project management software
Cloud-based deployment model
There are two types of construction project management tools – on-premises and cloud-based. The main difference between cloud-based software from the on-premise one is that cloud-based construction management solutions no longer tie users to a physical workstation. It means that users can easily access, share or process project data from any device with an Internet connection.
According to the Global Construction Management Software Market report, the cloud-based segment is leading the market and is considered the best option to use. Moreover, adoption of the web-based project management software for construction is expected to grow in the upcoming years. It's no small wonder because the construction online app for project management:
allows working from different locations,
provides a single source of truth ensuring that all employees work with the same documents and data,
reinforce labor productivity,
improves the communication between the back office and the field, and
ensures data security.
All these factors are crucial in terms of the current fast-paced construction landscape where team members are typically working from various locations and need an easy-to-access solution to manage the construction project.
Overall project planning and scheduling
Construction planning and scheduling lay the foundation stone for the whole construction business process. If the planning is incorrect or incomplete, the project is likely to go off the rails. Good project planning and scheduling functionality minimize such a risk.
The main goal of construction management software features for planning:
Highlight the project scope, taking into account that the construction project plan should be described in detail and visually.
Identify the project schedule that involves milestones and dates to make sure the construction project will not stretch out for an indefinite time period.
Plan and allocate resources properly from project start to completion.
Define activities and task schedules for employees to avoid confusion and operational downtime during the project.
Specify and control the budget to make sure the project meets planned budget constraints.
As you can see, this functionality is all about planning resources including workforce, materials, and costs required to finish the project on time and within budget.
Project planning and scheduling functionality very often includes various Gantt charts that assist general contractors to define the critical path of the project and quickly specify project constraints and task interdependencies.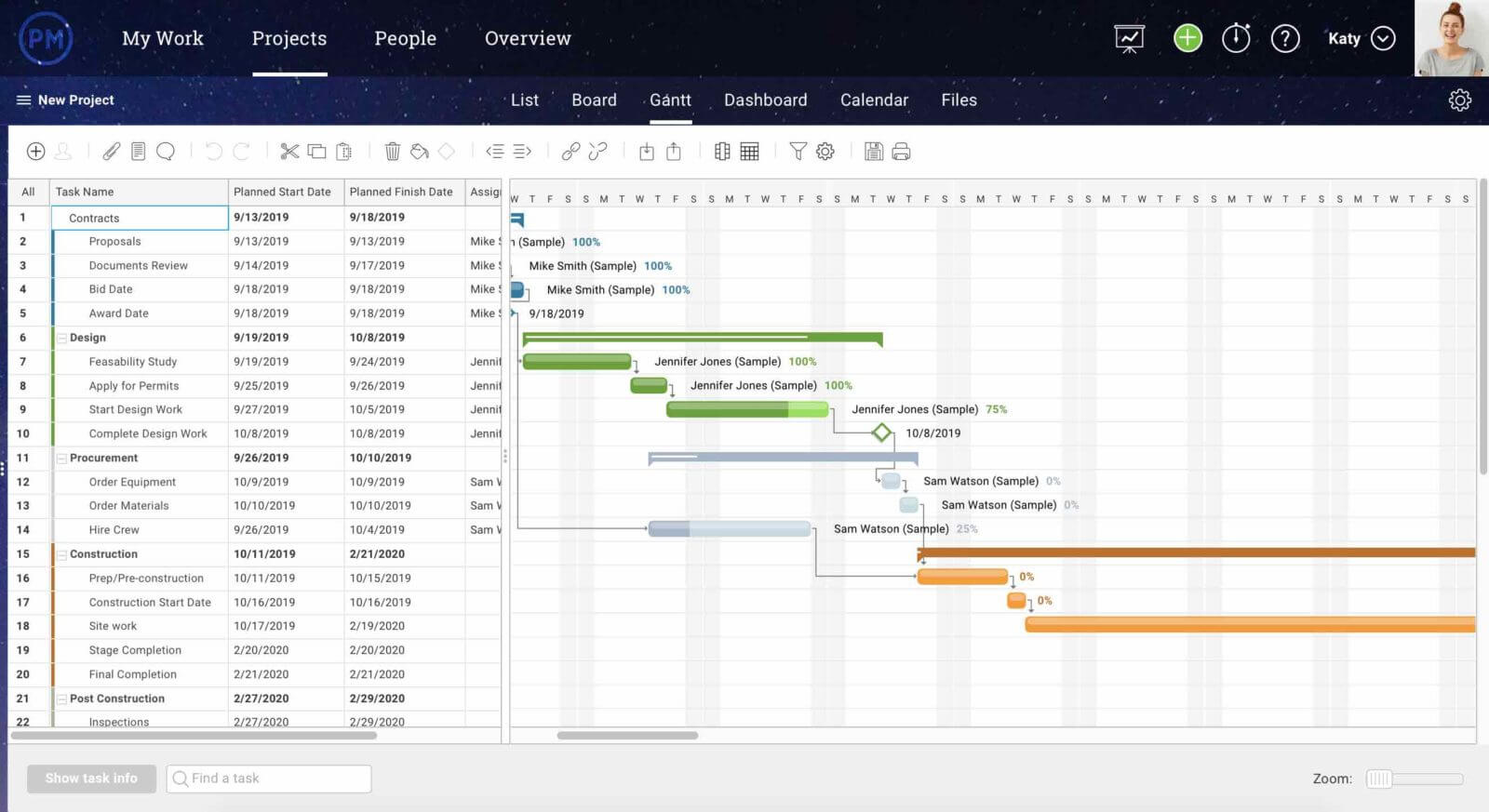 A great example of making construction schedules by means of Gantt chart in ProjectManager.com
The scheduling functionality makes it possible to take into account construction schedule holidays as well as see how employee sick leave and vacation days may influence the overall construction plan.
Applying changes to the schedule is also easy. In this way, you clearly understand how changes influence the project while keeping everyone on the same page with notifications.
At the core, planning and scheduling functionality involves everything needed to prevent delays, avoid budget overruns and reveal hidden risks.
Real-time project tracking
The success of the construction project is directly related to project tracking. Construction projects are often overwhelming. By monitoring the progress on a regular basis, managers have an opportunity to get a broader picture of the work and its output in real-time mode.
Project tracking and monitoring functionality is the best option to determine whether the project is on the right track.
A construction project management app with this feature enables users to be on top of the project, set milestones, tasks, and deadlines by means of a visual dashboard.
Moreover, having a centralized dashboard brings the manager and all parties onto the same page, helps track the project status, and manage tasks on the go.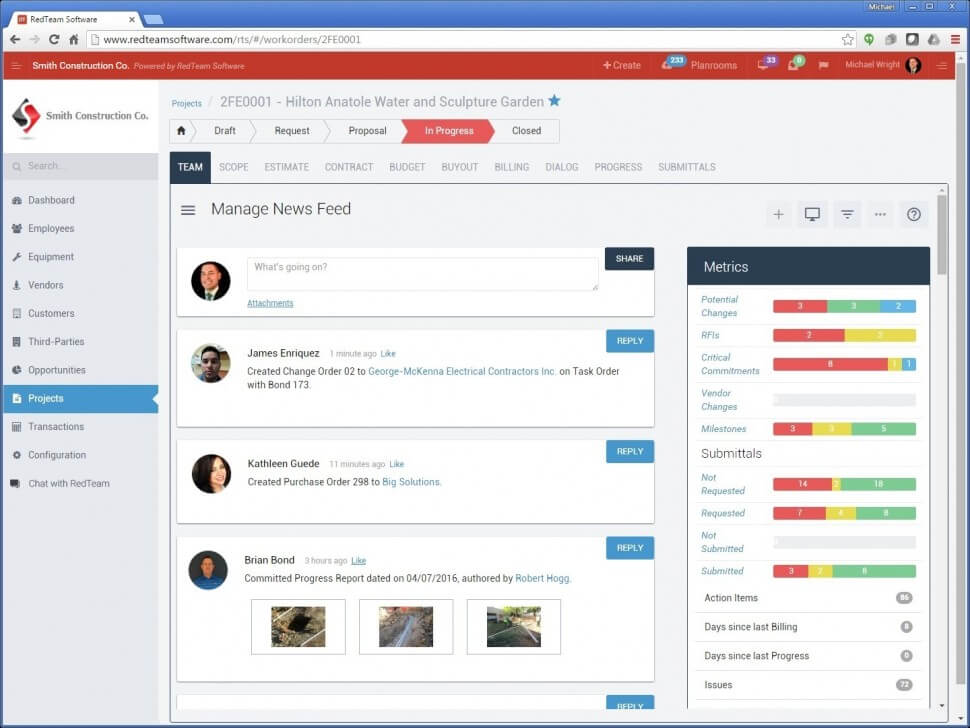 Construction project tracking by Redteam
So, what advantages can project tracking features bring to the table? Apart from improved operational visibility and a centralized source of data, it provides:
better team performance;
ability to reveal issues that may result in project delays;
minimized misunderstanding;
enhanced accountability; and
faster contingency plans;
and much more.
Visually compelling reporting and analytics
The success of the construction project also depends on how stakeholders are informed about progress, shortcomings, and issues that require urgent solutions. Improved decision-making is among the top trends of the real estate industry.
In order to have a complete picture of the project progress and make data-driven decisions, you require analytical functionality like dashboards, and insightful reports.
The best thing about these features of construction management software is the ability to customize. Almost all project data inserted in the solution can be used for project analytics. With customized dashboard functionality, it is possible to make use of previously collected data to create informative dashboards with a few clicks.
For example, making the dashboards with project budget, expenses, tasks, and team performance will help keep the finger on the project's pulse on a regular basis without spending hours making sense of fragmented data.
Explorer software designed specifically for construction project management allows creating dynamic, custom construction management system project reports on the go, and setting up various dashboards to keep track of specific operations.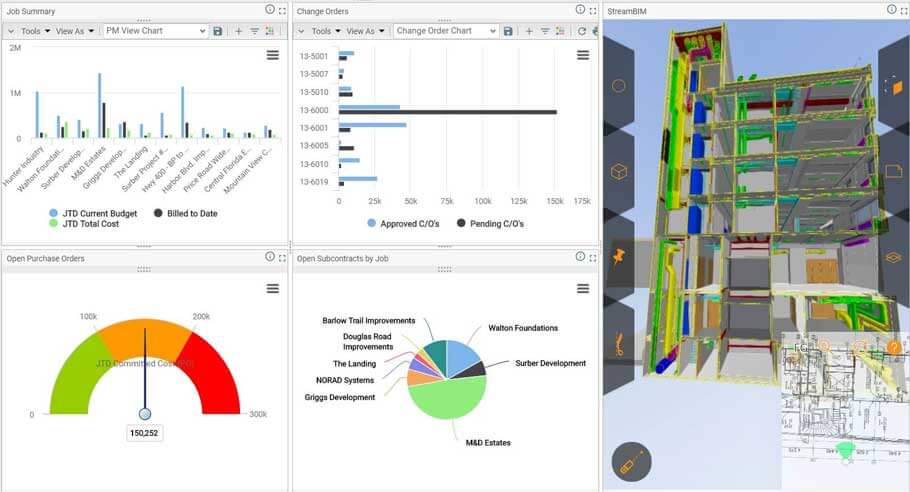 Customized job analytics dashboards by explorer-software.com
At MindK, we ensure every time that dashboards and reports are among the key functionality to bring considerable good to the business. Almost all the solutions on our case studies page involve powerful dashboards, analytics, and reporting features.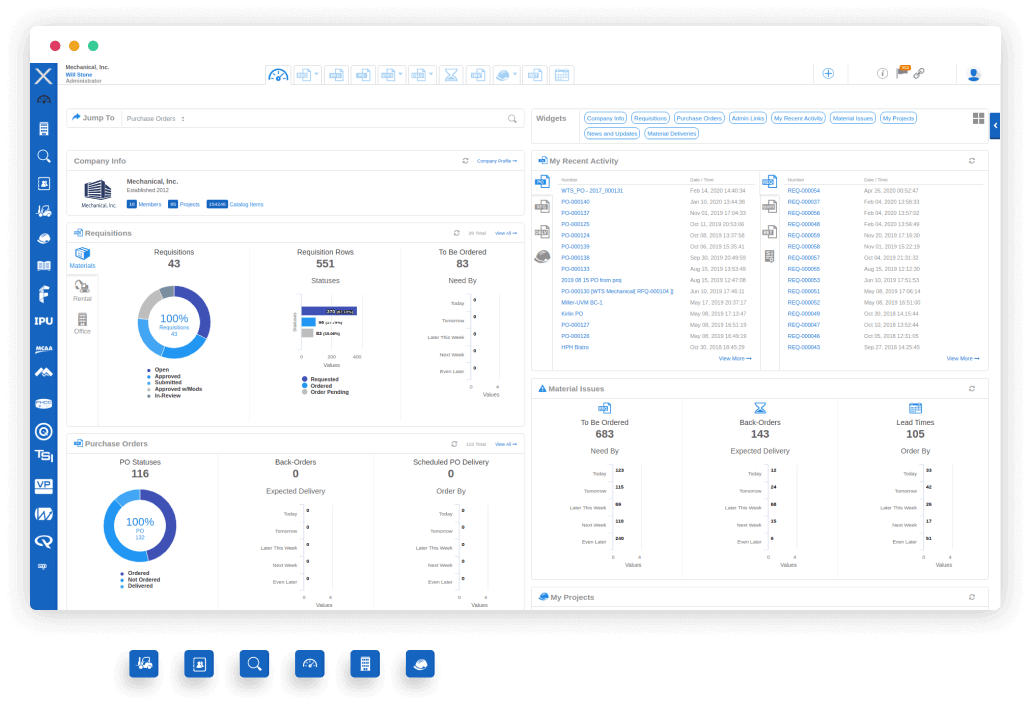 Dashboard of the feature-rich construction platform CINX for managing the supply chain developed by MindK.
Review a detailed CINX case study
Powerful integrations
A construction project management platform cannot function in a vacuum. Having a standalone software will result in disconnected workflows and data silos.
Taking into account that the construction business, due to its complex workflows and number of parties involved, is forced to use multiple solutions, integration functionality is monumental.
Construction Technology Report states that almost 30% of construction organizations use 5 or more software solutions on their projects. More than half of companies transfer data between apps that do not manually integrate which entails time losses, potential human errors, inability to make use of analytics, and much more.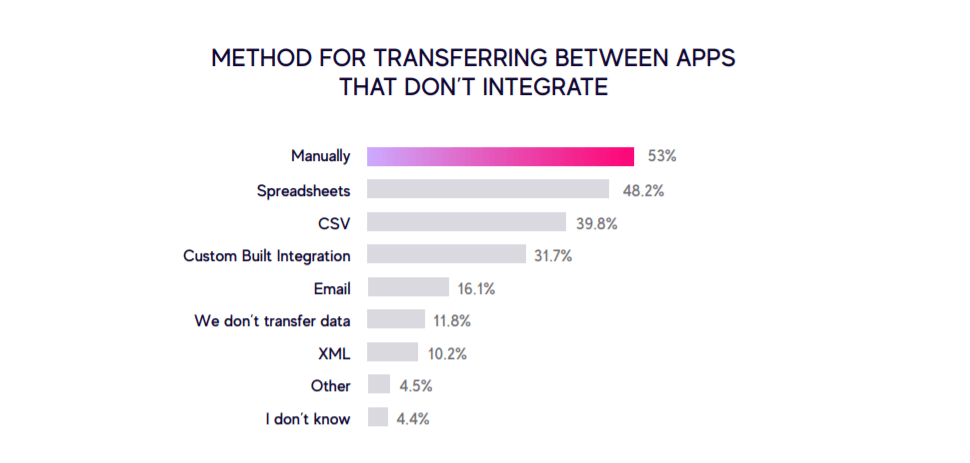 Integrations allow connecting different systems to exchange data faster, easier, and more efficiently by means of Application Programming Interfaces (simply APIs).
With integrations, the data flow runs smoothly between different systems, reducing time spent to collect and enter this data, while empowering report generating as well.
At MindK, we build APIs for most of our projects. For example, on the CINX construction project app, mentioned above, we made more than 20 tools work together. Now CINX platform provides integrations with various systems including estimating/CAD systems like Autodesk and accounting systems like Intuit Quickbooks.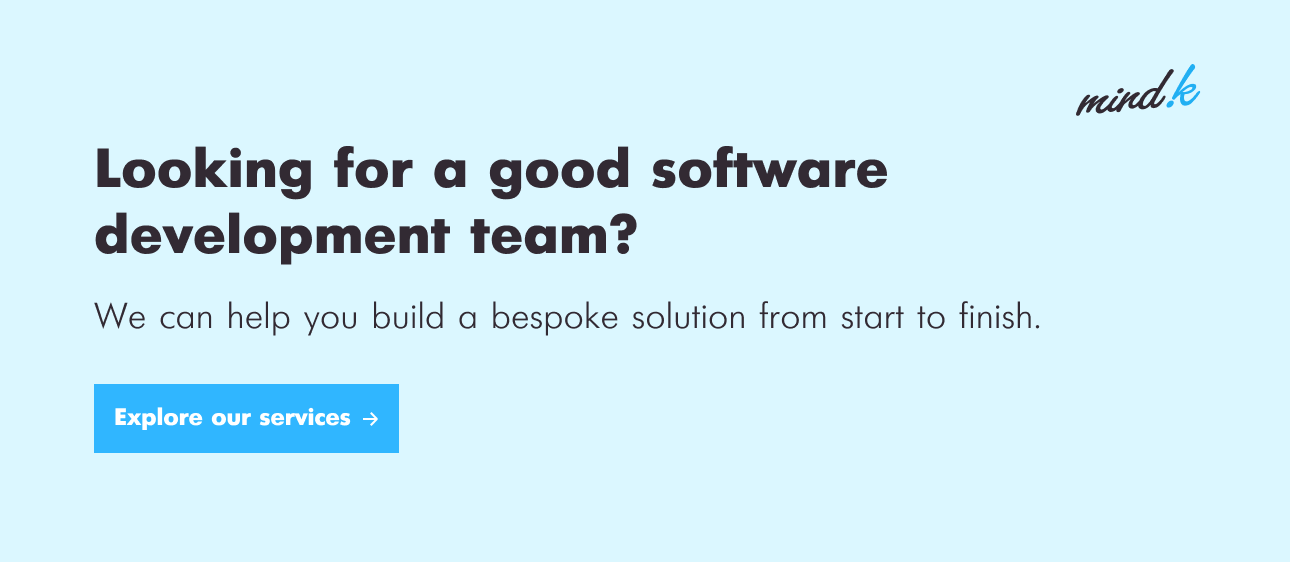 Effective document management
Document management may not sound like a vital functionality, yet, it really is. Did you know that poor document management forces an employee to spend more than 5 hours per week searching different project documents like materials' application sheets, renewed drawings and specs along with other construction documentation? Such an approach causes financial losses.
For instance, the same report by PlanGrid and FMI revealed that several years ago, accuracy issues in documents and information representation cost the construction industry over $31.3 billion!
Apart from wasted time, the lack of a construction management system project documentation may result in:
high rate of the rework because of document version confusion;
сommunication delays;
security leaks;
incomplete or unfinished document packages closeout; and
slow response to construction change orders and similar.
In this light, automated document management is not a matter of convenience. It is a matter of cost savings, efficiency, and performance.
A robust document management functionality provides access to the latest versions of the project documents in real-time and simplifies the process of searching required documents for all members of the project team.
It is also among the must-have construction project management software features for general contractors because managing projects with a number of teams raises the possibility of documentation being siloed.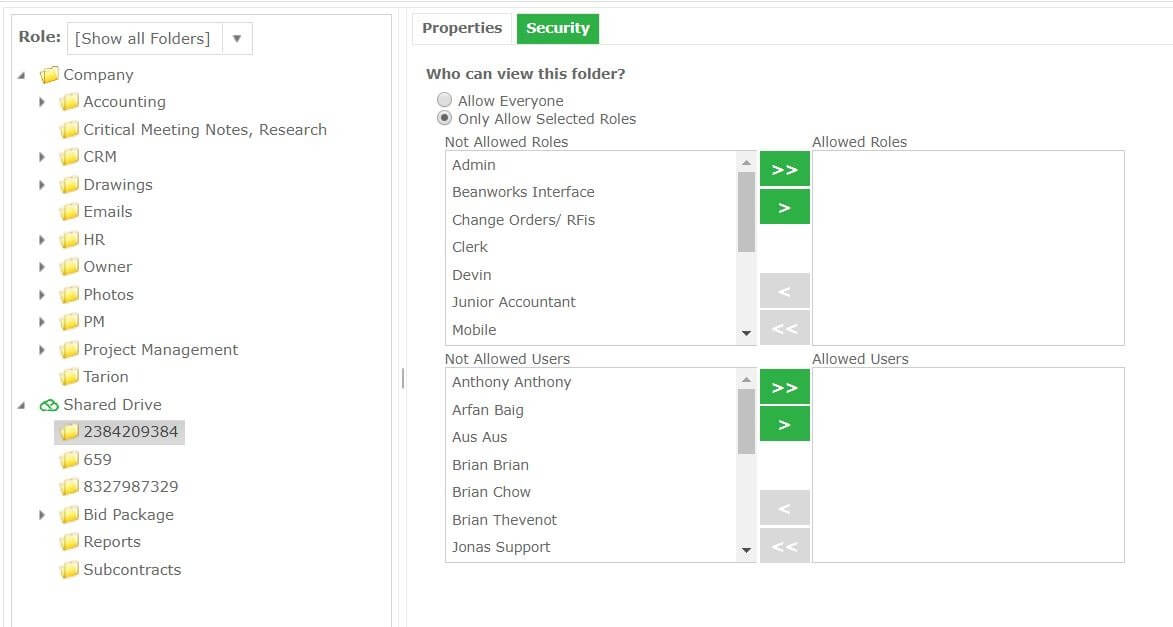 Document management and ability to manage access to data in Premier Construction Software
Source: jonaspremier.com
Ongoing timesheet tracking
Employee productivity is a key factor for any organization's success, and construction is no exception. According to McKinsey's report construction has certain problems with productivity compared to other industries.
The growth rate of labor productivity represented only a 1% increase per year over the past two decades. By comparison, in manufacturing, this number was 3,6%, and 2,8% for the total world economy.
Poor productivity causes overruns in cost and time that is a scourge of many construction projects. To drive productivity of the employees, it should be measured. Timesheet tracking functionality makes it possible.
A construction management system that allows managing time spent by employees is a huge step away from sticky notes, notebooks and spreadsheets.
A timesheet tracking feature enable constant monitoring of on job costs, time offs, overtimes, and many other records important for the overall productivity of the construction project. Above that, the timesheets:
lessen time tracking inaccuracies;
reduce payroll headaches;
minimize lost revenue;
improve communication between the contractors and clients; and
refine data control.
The functionality may include time cards, the ability to verify timesheets, automated alerts and reminders, detailed reporting, and much more.
For instance, a labor productivity solution, eSub Time, provides robust time card management, notifies employees to log the work, sends timecards for approval, allows timesheets comments, and much more.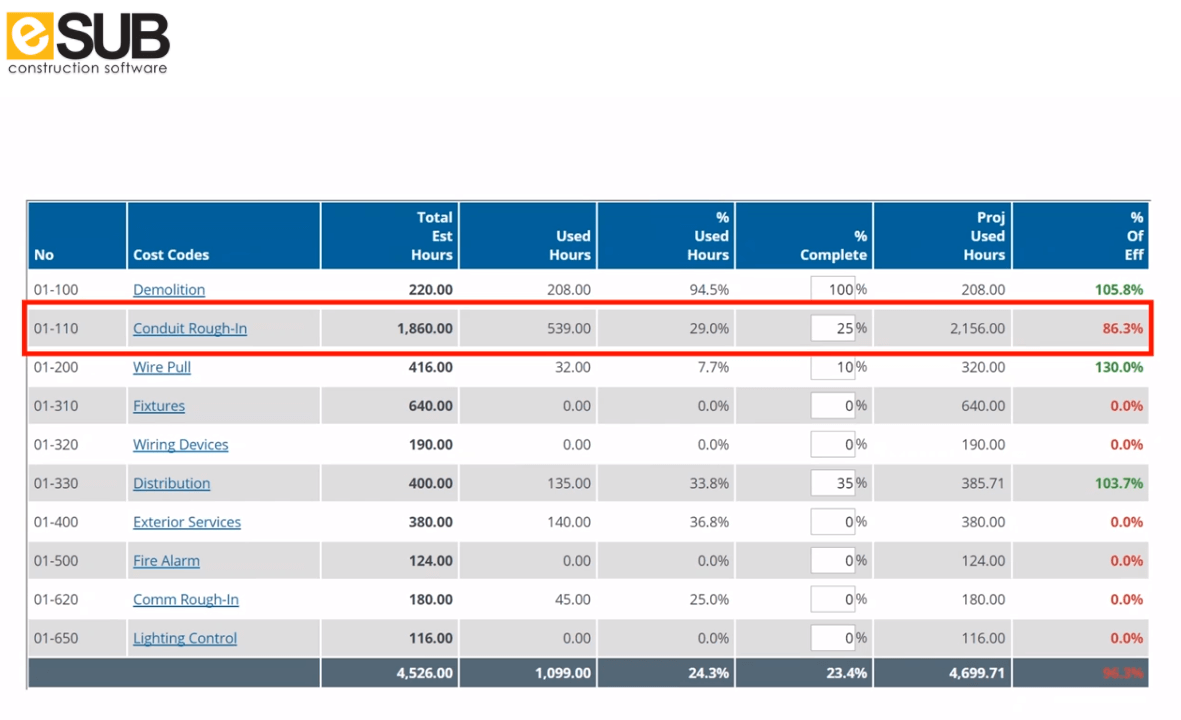 Example of the timecard in eSub
Build a custom construction management software with MindK
Now you have a clear understanding of the essential set of features that will help you implement a construction project software. As you can see it is a powerful tool able to take your construction projects to a qualitatively new level, while additional management features can strengthen its effect.
MindK has experience building construction project management software and other tools for the construction industry. Our team can provide end-to-end development services from business analysis and design to final testing and support.
If you are ready to make the first move towards building a construction app, we would love to offer you our expertise and discuss your requirements.