Although most companies show great results with FinTech outsourcing, there are still a lot of doubts around it. We totally get it. As a company that provides custom software development services for the  finance industry, we talk daily to the clients that misunderstand the concept. Many of them simply don't know the right way to outsource to turn the risks into opportunities.
So today we'll discuss why outsourcing is a game-changer for the financial industry and how to outsource FinTech development services to save time and spare your nerves.
Why does outsourcing development thrive in the FinTech industry?
Before we get into the details, let's first create a foundation of shared understanding for the outsourcing concept. In general, outsourcing is handling certain operations or tasks to an external company or individual, called third-party providers.
In terms of software development outsourcing, it may refer either to the whole scope of software development functions or to its independent components like UI/UX design, business analysis, quality assurance, development, and similar.
Answering the question "Why do most FinTech firms outsource FinTech product development?" is hard to define one universal reason. There are, as a rule, several reasons. In most cases, when making business decisions companies rely on three main factors: Cost, Expertise, and Time.
COST: Lower software development expenses
According to the Deloitte Global Outsourcing Survey 2022, 57% of respondents claim that cost reduction is a primary reason for outsourcing.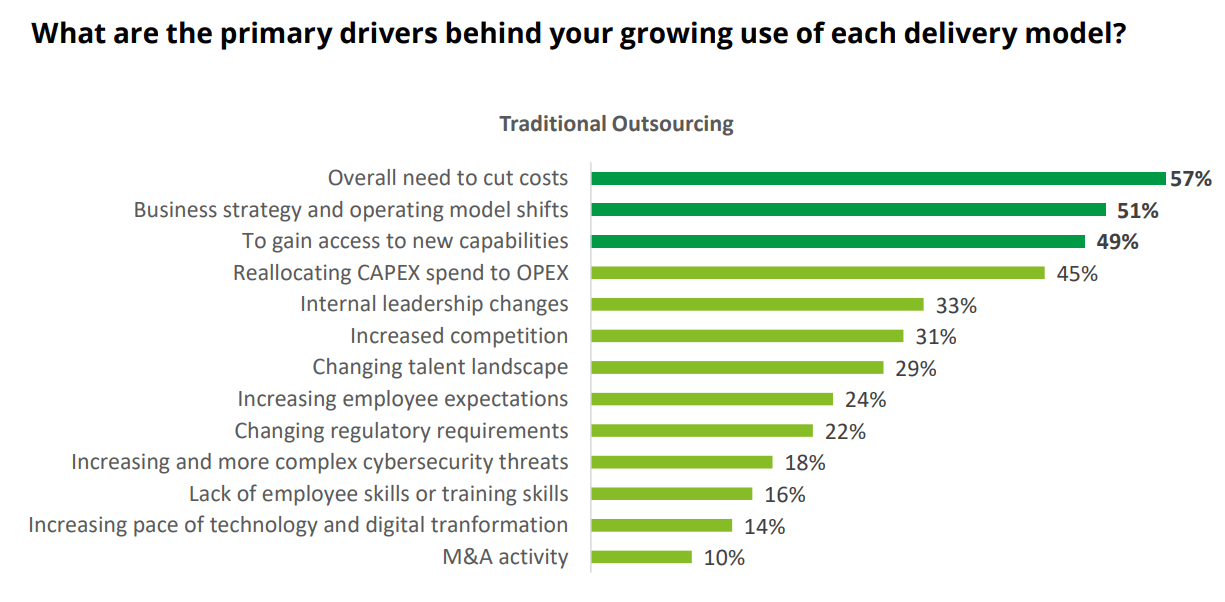 However, a small thing about cost reduction needs to be cleared up. Yes, cost-saving plays an important role when outsourcing, especially in the crisis that shifts the focus back to the numbers.
But cost-efficiency doesn't only mean that offshore tech development companies charge less than local vendors, as many people think. Sure, companies in Eastern Europe, as a rule, have lower rates than ones in New York or London. However, the world turning to remote blurs the stark contrast in rates and brings more focus on expertise, knowledge, and flexibility without a link to location.
In this light, cost reduction is not only about rates, it is about an ability to save money on building and maintaining an in-house team. Expenses for recruiting and onboarding process, office, hardware, payroll taxes, employee bonuses, and scaling team up and down may cost FinTech startups an arm and a leg.
In cases of outsourcing, the company pays only for development of FinTech solutions without hiring people in-house. This way, the development cost is lower compared to developing solutions internally. To sum up, here is what makes outsourcing more cost-effective:
No recruitment expenses.
No additional expenses like taxes, training, onboarding.
No operational costs for workplaces.
EXPERTISE: Access to domain-specific knowledge and skills
The most common reason FinTech firms opt for hiring an external financial software development company is the lack of local domain professionals with the required level of expertise. In light of the tech talent shortage in the US and other countries, outsourcing acquires particular importance.
According to the latest ManpowerGroup research, around 69% of employers in the USA are struggling to find skilled workers, and IT specialist are among the top three hardest roles to fill. Сonsidering the financial industry is very specific and challenging, hiring FinTech developers with domain expertise is a hard nut to crack.
FinTech software development companies usually have expertise in the business domain acquired from previously implemented projects. That's why outsourced tech providers have a better understanding of the FinTech software requirements, primary goals, top financial features, as well as how to address common issues like data security and strict regulatory compliances with modern technologies. They normally have a deeper knowledge of industry trends and may act like business consultants.
Above that, most outsourcing companies like MindK provide not only experienced IT professionals but also qualified QA, project managers, designers, business analysts, and other team members required to make the project a success. This means that we cover end-to-end product development and the client receives turn-key FinTech software for a reasonable price.
TIME: Fast start of the development process
Being able to deliver a great product on the market earlier than competitors has always been a huge advantage. Those businesses that gain this advantage have a chance to lead the race.
For FinTech startups that want to get started with software development as soon as possible, outsourcing is a perfect choice, as there is no need to hire and train resources, build infrastructure, and so on. The only thing the company has to do is to find an experienced reliable FinTech software development company to kickstart the development process.
Besides the fast start, outsourcing companies have all the chances to deliver the FinTech projects within a shorter time compared with in-house teams. Thanks to rich technological experience, well-defined development and delivery processes and dedicated efforts, the development partner can shorten the implementation process and launch products in less time.
Additionally, a lot of banking & financial software development outsourcing companies now make use of an Agile methodology that is an iterative approach to software development able to decrease the time for software delivery. It is stated that Agile teams are on average 50% faster to market.
MindK's team has been applying an Agile approach for faster and better results for about 8 years now. We noticed a great impact not only on the overall team performance and time to market but also on the higher quality of the end product. This way with Agile you receive a number of benefits at once.
If you are interested in how to implement Agile on your project and what your role is as a key stakeholder in the process, we recommend you read our Agile guide. It gives founders and executives an overview of this iterative methodology.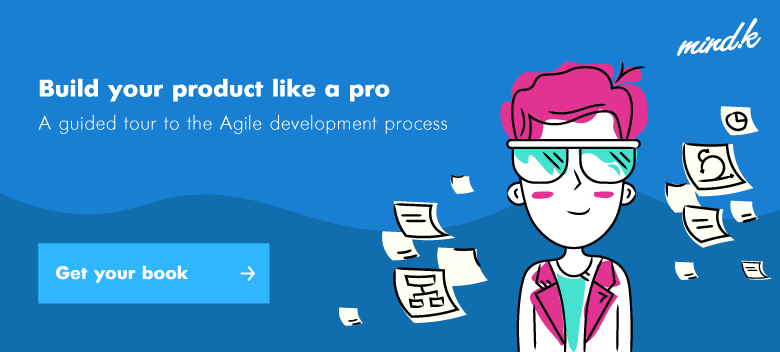 Now that you know why most startups outsource the development of their FinTech applications and why you should also consider it, you may wonder "What exactly is needed to make the outsourcing process a success?". In reality, the outsourcing process is easier than you may think.
4 steps to make your FinTech development outsourcing experience brilliant
The success of the outsourcing process depends on a number of factors. However, our experience shows that the main pillars of success are well-defined project goals, an experienced software development company, a suitable engagement model, and constant communication. These are all factors that can help you prevent the main risks of outsourcing.
#1 Set up business goals before you start outsourcing
A successful relationship with a third-party FinTech software development company begins long before you sign an agreement. The first step is to make sure that you can clearly define the business goals. Make your goals realistic, well-balanced, and achievable.
It's also important to define the end result you plan to receive. One of the reasons why companies fail with outsourcing is wrong expectations. When clients fail to set up the project's objective and desired outcomes, they usually change their minds and priorities during the development process that leads to delays, misunderstanding, and cost overruns.
Thus, start the outsourcing process with "doing your homework", namely:
Work out the general vision of your FinTech project.
Describe the main goals, tasks, and technical requirements you need from the third-party vendor.
Create a list of main functionality your FinTech product should provide (it will help you communicate the project with tech companies and receive a rough estimate).
Decide the budget you can allocate to the development services.
After you cleared up all these factors, you are ready to move to select the most suitable FinTech software development company.
#2 Choose the proper software development vendor
Сhoosing a software development company based on one factor like cost, location, or techstack is a thing of the past. The same refers to industry-specific knowledge that was for a long time not considered important when outsourcing development.
Today the selection process requires a thorough analysis of the company's work, including industry-specific expertise that plays a huge role for some markets including FinTech. Strict regulatory compliances in the banking and finance industry, as well as increasing security challenges, forces financial companies to take a more precise approach in choosing a tech partner.
Here are the key questions you should ask during the selection process:
Does the outsourcing company have experience in the financial industry?
What projects does the company have in its portfolio?
What services is a company able to provide (not all tech providers have the resources to cover end-to-end software development)?
Does the company have well-defined outsourcing and communication processes?
Is the outsourcing provider able to suggest scalability for the future (in case you'll need to scale the development team up or down)?
Does the company possess the specialists and technologies you need for your project?
What do other clients say about working with this vendor (you can check reviews on the company's website or unbiased platforms like Clutch)?
Basically, before hiring FinTech app developers, it is necessary to get as many details as possible. So, ask as many questions as you feel sufficient, then analyze the answers.
If the company meets all your conditions, goals, and requirements, move to the next step – discuss the functionality you need and ask for an estimate. At this stage, we recommend signing a Non-Disclosure Agreement (NDA) to ensure the information you share with a vendor won't be leaked.
Sure, no one will provide you with a detailed estimate right from the start, however, receiving a rough estimate from the development company will show you a lot about the company's working processes.
A rough estimate is a document that provides an approximate price of your project. It isn't enough to define a detailed budget but it can serve as a roadmap. The document also shows whether the company has enough resources and expertise to deliver the product.
Here at MindK, we base our rough estimate on the client's brief and deliver it within two days. Our rough estimate document typically involves the estimate itself, our assumptions, suggestions, project limitations, and our questions. Here is an example of the rough estimate document we at MindK provide our clients.
When you meet with several companies and have a complete picture of their services and expertise, shortlist the companies that meet all your conditions, goals, and requirements. It will help you analyze the companies and come up with the perfect choice.
#3 Choose the most relevant of the FinTech software development outsourcing models 
Engagement strategies (or price models) are different models of cooperation that you have to choose before committing to a healthy working relationship with an outsourcing partner. There are a number of different engagement models, however, we single out the key models that here at MindK proved their efficiency on a number of our projects:
Fixed price.
Time and Materials.
Dedicated team.
We have already accurately reviewed all these models in our article about engagement models you can choose for your projects. Here's a short recap.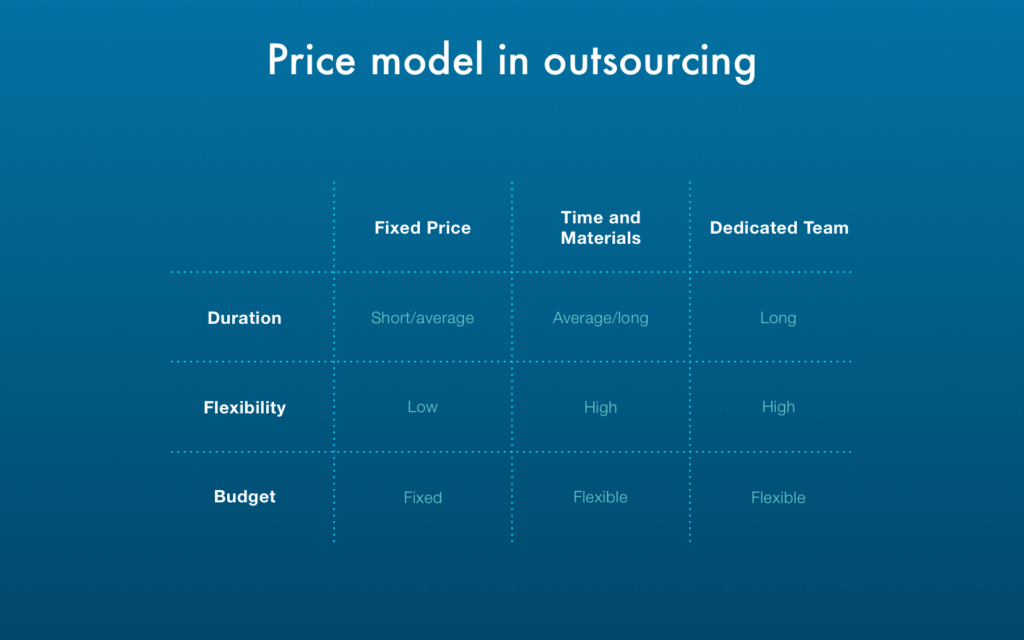 Different price models in outsourcing
Source: outsourcingreview.org
Fixed-price
The fixed price model is rather straightforward. The development company estimates the project and provides a fixed price for its implementation.
The main advantage of this approach is that the price won't change during the development process, thus the client knows the project budget before the development starts. The major drawback is that the price includes all possible risks making the fixed price more expensive than other engagement models.
Time and Materials
Time and Materials presuppose payment for the actual hours of work of the external team. This approach is more transparent because the client covers only the time the development team actually spent on a certain scope of work. Normally, in this case, the company gives a rough estimate of the project, as a result, the actual cost can be either more or less.
Dedicated team
In this case, the development company provides specialists with the required expertise and the client selects them for the team. The software outsourcing company guarantees the high professionalism and strong work ethics of each team member. The cost of the dedicated team consists of the combined salary of all team members (usually billed monthly).
"But how to decide which model is the best fit for my project?" you may ask.
In most cases, a fixed price model is good in the initial stages of developing a Minimum Viable Product or on short-term projects with a well-defined scope of features that are unlikely to change during the development.
Time and Materials work for larger projects when the requirements are not precise enough or will change during the project, while a dedicated team is a wonderful option for those who want to create an offshore IT department to develop or support the product, or augment the existing team.
For example, when we developed a FinTech solution for the Norwegian market that allows lightning-fast calculations of pension and insurance payments, the client opted for a dedicated team, because he planned a long-term partnership, needed a stable team to develop and support his product, and had a monthly budget limit. As a result, the client received a team of seasoned professionals including a certified project manager completely focused on his business needs.
#4 Set up the communication channels
If you think that you can just hand over the development of your FinTech solution to the tech provider then come to check the final result, you'd be wrong. In most cases, the development of any solution, especially in the financial industry, requires constant communication.
Around 25% of outsourced projects fail because of poor communication, so communication plans cannot be underestimated.
At MindK before beginning a project, we ratify a сommunication plan with our client. Such a plan specifies the most convenient means of communication for both sides, who is responsible for different tasks and stages of the project, and how often we need to hold meetings and provide demos.
Beyond that, we add clients to project management tools we use every day, such as Jira and Trello, so that our clients can see the progress and status of each task. We also stay connected through messaging tools, via email, and hold online meetings to communicate progress and clear up any questions which arise during development.
In this way, our clients have a clear understanding of what to expect from us and when, so they can plan their work easily and efficiently. This is one of the reasons why MindK is a development company you can trust.
Develop your FinTech software with MindK
As you can see, in the modern business environment software development outsourcing is a great option to develop FinTech applications. With the right development company, outsourcing can be mutually satisfying and successful.
At MindK, we have been developing reliable custom software solutions at reasonable costs for clients for more than ten years. Check our FinTech Software Development Services to find out how our expertise can help you solve your business challenges.