As a software development company, MindK has been offering IT staff augmentation services for more than 10 years. This approach offers a perfect opportunity for fast-growing startups to quickly scale up their in-house team without skyrocketing the staffing costs.  
Like all things in tech, team augmentation has both benefits and drawbacks. The key is to learn in which situations it is superior to traditional outsourcing or hiring in-house developers. So, here's everything you need to know about IT staff augmentation. 
Table of contents:
The state of the tech sector: employer's perspective
2023 started with massive layoffs at tech giants. Despite this fact, CrunchBase now predicts that the US tech sector will need to fill 375,000 vacancies this year. This means there will be 4 open positions for each engineer fired during the latest spree. Each year the country produces about 60K Computer Science students and 20K coding bootcamp graduates.
This is clearly not enough to cover all the positions. As a result, the shortage contributed both to slower hire times and rising wages since 2020.
According to Forbes, hiring contractors of all types to cut costs will be one of the main recruiting trends of 2023. This will allow companies to forgo costly benefits like paid time off, health benefits, stock grants, and so on. Outsourcing this work to highly skilled engineers from other countries promises even more savings. With the help of contractors, businesses will have the leverage to let go of low-performers among the expensive in-house resources.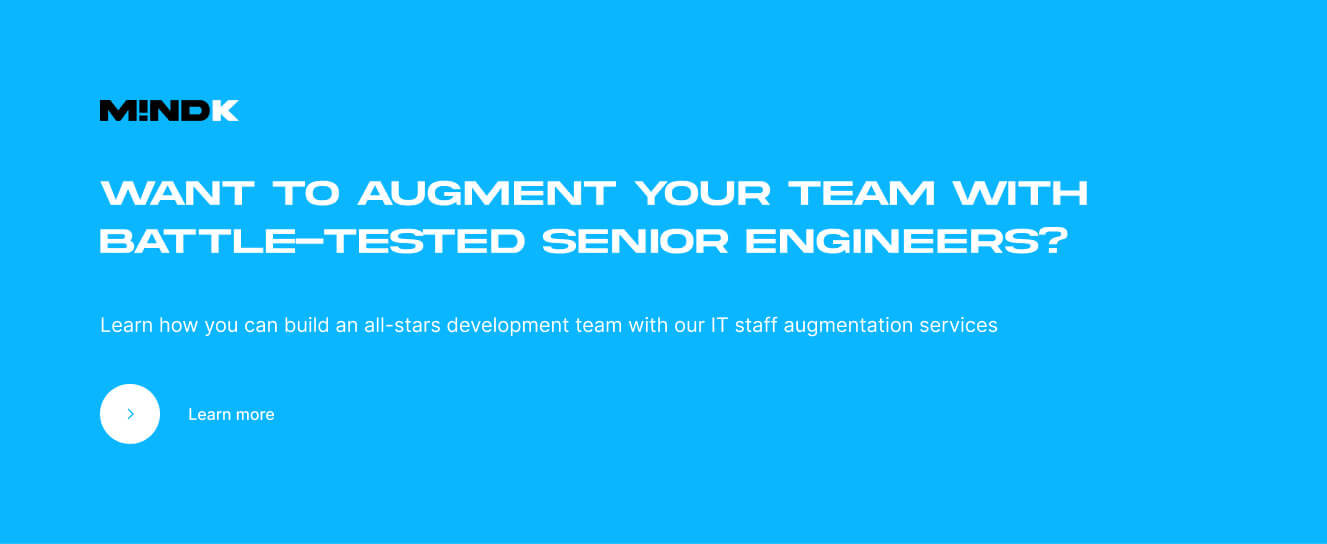 The solution: what is IT staff augmentation?
Data shows there's a rising interest in outsourcing of all types, particularly technical team augmentation. Research by Computer Economics shows that leading companies have raised the percentage of their IT budgets spent on outsourcing by 38% in 2021.
IT team augmentation is a type of outsourcing also known as outstaffing, offshoring, or contracting. Its main goal is to quickly fill specific positions in your company with remote employees that work as a part of your team. You retain full control over the project while your outsourcing partner takes on recruiting, education & training, retention, and ensures high employee productivity. You communicate with engineers directly, without any middlemen in the process. The duration of services usually starts at 3 months.
The staff augmentation model is extremely flexible. You can easily scale from one developer or a test automation specialist to a large team of engineers. Terminating the contract is also typically faster and easier than with other models.
Benefits of it staff augmentation:
Access to a large pool of senior specialists.
Lower labor costs and fewer vendor fees
Faster time to hire.
High flexibility – quickly expand your team, switch developers, extend or terminate the contract without additional fees.

IT team augmentation vs other types of outsourcing
Staff augmentation is just one of the cooperation models offered by outsourcing companies. It's important to understand the differences between outstaffing and other models to choose the one that fits your current needs.
Team augmentation
This model is great for companies that already have some of the capabilities needed to deliver digital products but need to scale up quickly. It's generally a poor choice if you're just starting and have no team or project/product managers. The approach allows you to hire high-skilled engineers that might be otherwise hard to find in your local market. The outsourcing company takes care of all staffing and administrative burdens while you can focus on managing your team and building a better product.
Advantages:
Full control over the staff augmentation project. Manage outsourced specialists like your in-house developers.
Quick start. The model allows you to find the specialists you lack and start cooperation with minimal delay.
Great flexibility. Quickly extend your team with the additional specialists, fire, or switch developers at a short notice. The partnership lasts as long as you need and can be easily terminated or renewed when the need arises again.
Cost-savings. The client doesn't have to pay for overheads and risk management like in traditional outsourcing.
Disadvantages:
Requires tech expertise on the client's side.
The client is fully responsible for managing the developer workload and project schedule/budget.
Needs established development processes.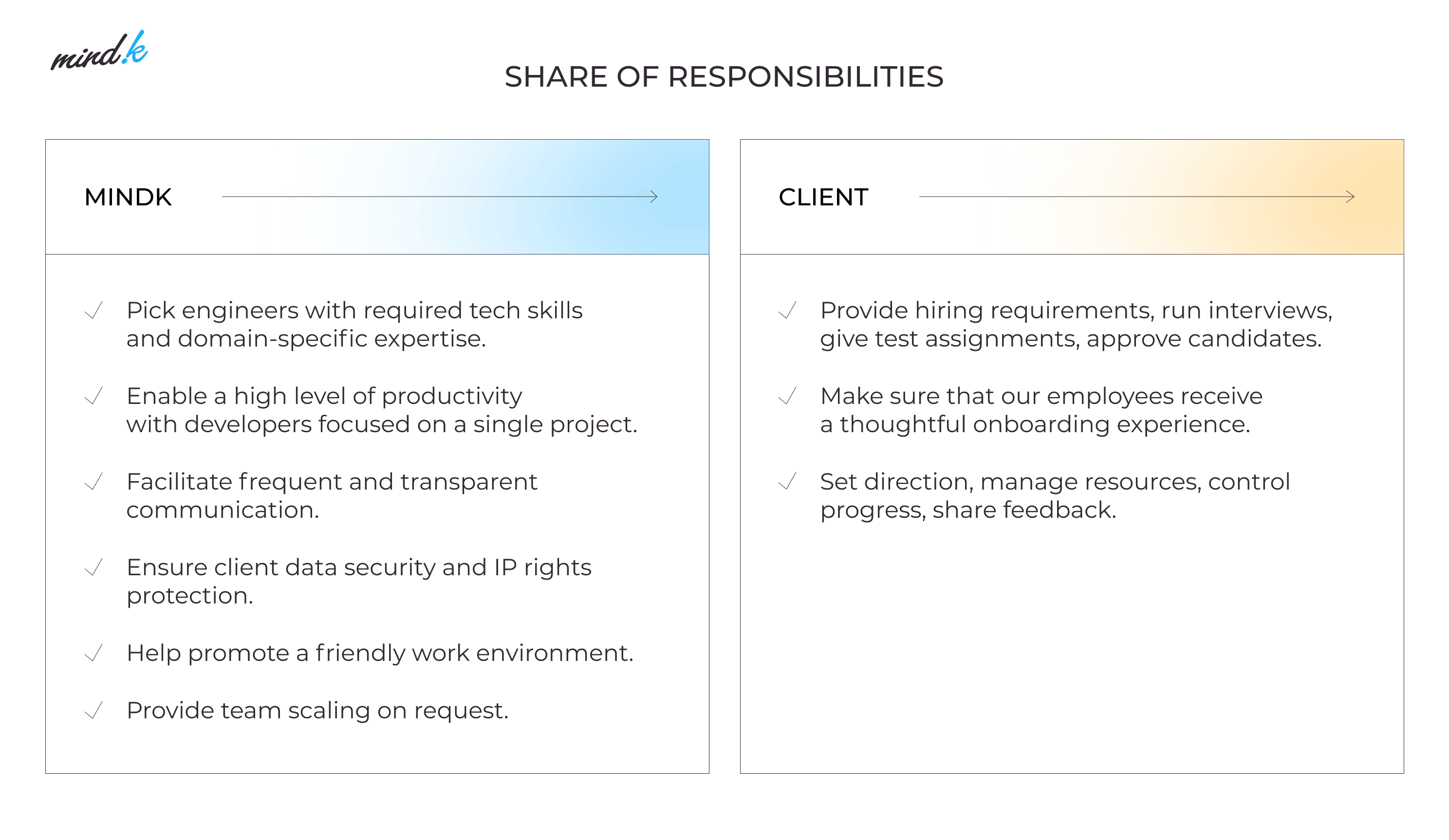 Project-based outsourcing (managed services)
This model is better suited for companies that have no in-house IT teams or need resources to deliver additional products or features. In such cases, the business can outsource the entire project to an IT vendor. The outsourcing partner will typically manage the development team and do all the work needed to deliver a working solution, from UI/UX design to quality assurance and maintenance. When working in the Agile fashion, the client will usually have to take on the role of a Product Owner. They will work together with the development team to assess user needs, help them set the short-term priorities, and define a long-term vision.
Advantages:
No technical skills or knowledge of the IT industry is required. The vendor will provide all the necessary resources and guide you through the development process.
Clear objectives. The client usually signs a contract that outlines specific outcomes they want to reach with the project. The agreement clearly defines the responsibilities of both parties and can specify the project scope, timelines, and budgets.
All required skills in one package. The vendor takes care of most tasks required to deliver a working product. As a result, you save time you can spend on other mission-critical tasks.
Disadvantages:
Less control over the project. Typically, you can't hand-pick all the members of your team or manage their daily activities and workflow.
Higher costs. Outsourcing an entire project is usually more expensive than paying for a couple of developers in the augmented team. As your partner will take on more responsibilities, you'll have to pay for additional expenses like project management.
Lower flexibility. The IT vendor will typically sign an agreement to reach specific outcomes for the client's project.
Changing these conditions will often require re-negotiating the contract. You will need to warn your partner of any changes to the team composition or cancellation of services.
Offshore R&D center
Some companies want to keep the capabilities they need to deliver digital products in-house while enjoying the cost-savings of outsourcing. Such businesses can open their own R&D office in a country with a large tech talent pool and lower salary expectations. This way, you can have complete control over the way you hire, train, and retain your engineers as well as keep track of every aspect of product development.
Advantages:
Full control over staffing, administrative, and product development activities.
Cost-savings from hiring specialists in developing economies without paying outsourcing fees.
Focus on growth and long-term goals. Keep all the specialists in-house and grow quickly by leveraging your employer branding and corporate benefits.
Disadvantages:
Slow ramp-up speed. You need to study the local laws and business climate, do all the legal legwork, open a physical office, and hire all the required specialists.
Large investment, both upfront and in the long-term. The approach only makes sense for companies that want to employ a large number of engineers over a long time. Additional expenses come in the form of administrative, recruiting, and office costs.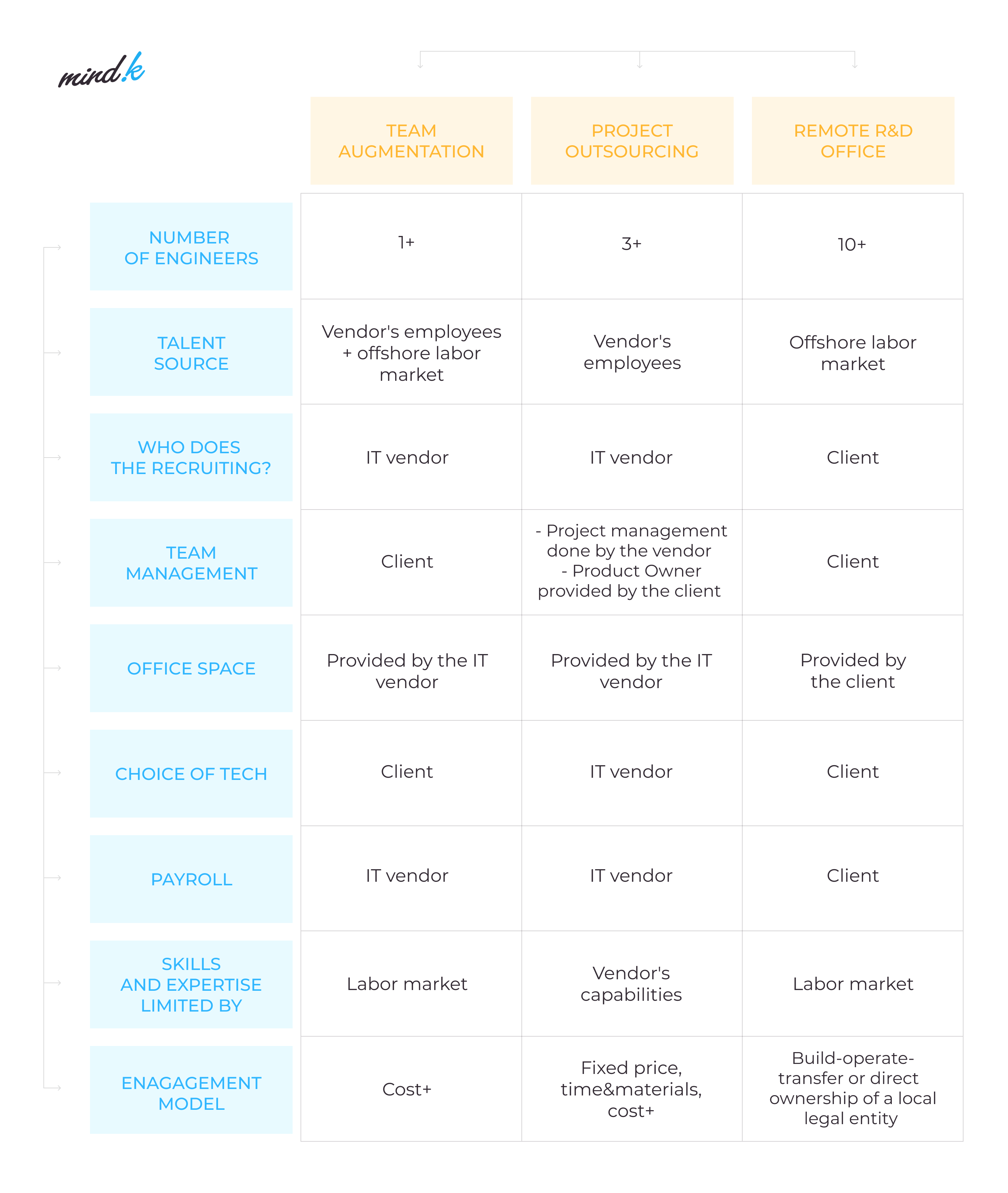 When to choose staff augmentation?
Software development team augmentation is a great choice for fast-growing tech startups. There are several use cases where it might be especially fitting for your company:
You need to quickly scale up your team during an active phase of product development. Outstaffing companies operate in countries with a vast talent pool. Typically, they can provide you with the required specialists in just 1-2 weeks, speeding up the delivery of your product.
Your company is a series A/B startup. In this case, partnering with an outstaffing provider allows you to save up to 60% of your staffing costs by hiring skilled engineers in countries with lower salaries. The cost structure is more transparent and includes fewer fees than traditional outsourcing.
The product you're building has an unusual stack of technologies. Finding skilled engineers in the local market is problematic. IT vendors often employ highly specialized engineers with vast domain expertise that might be relevant to your project.
You already work with an outsourcing firm and want to diversify your risks. Staff augmentation allows you to quickly onboard 2-3 specialists with the required skills, reducing your dependence on your current tech partner.
Your company is working with freelancers. Their pay grade is below the market but their skills leave much to be desired. Outstaffing vendors like MindK invest a ton of effort into the professional development of engineers. Although senior engineers at an outstaffing company might charge more than local freelancers, they are much better at their job.
Build your development team with MindK
How to succeed with software team augmentation [case study]
Your first step is to define your staffing needs. Just like creating an ideal candidate profile for any other vacancy.
If you find it hard to hire specialists locally, you can search for outstaffing companies on independent platforms like Clutch.co, Goodfirms, or Designrush. These sites list top IT vendors in different regions and categories, along with reviews from their clients. You can also contact those clients yourself to get a first-hand account of their experience. We've written an entire article on how to hire a team of trustworthy developers, so check it out for more information.
Sometimes, the vendors will contact you themselves after seeing your vacancy on a job board. Now, let's see what happens next in the staff augmentation process, using one of our cases as an example.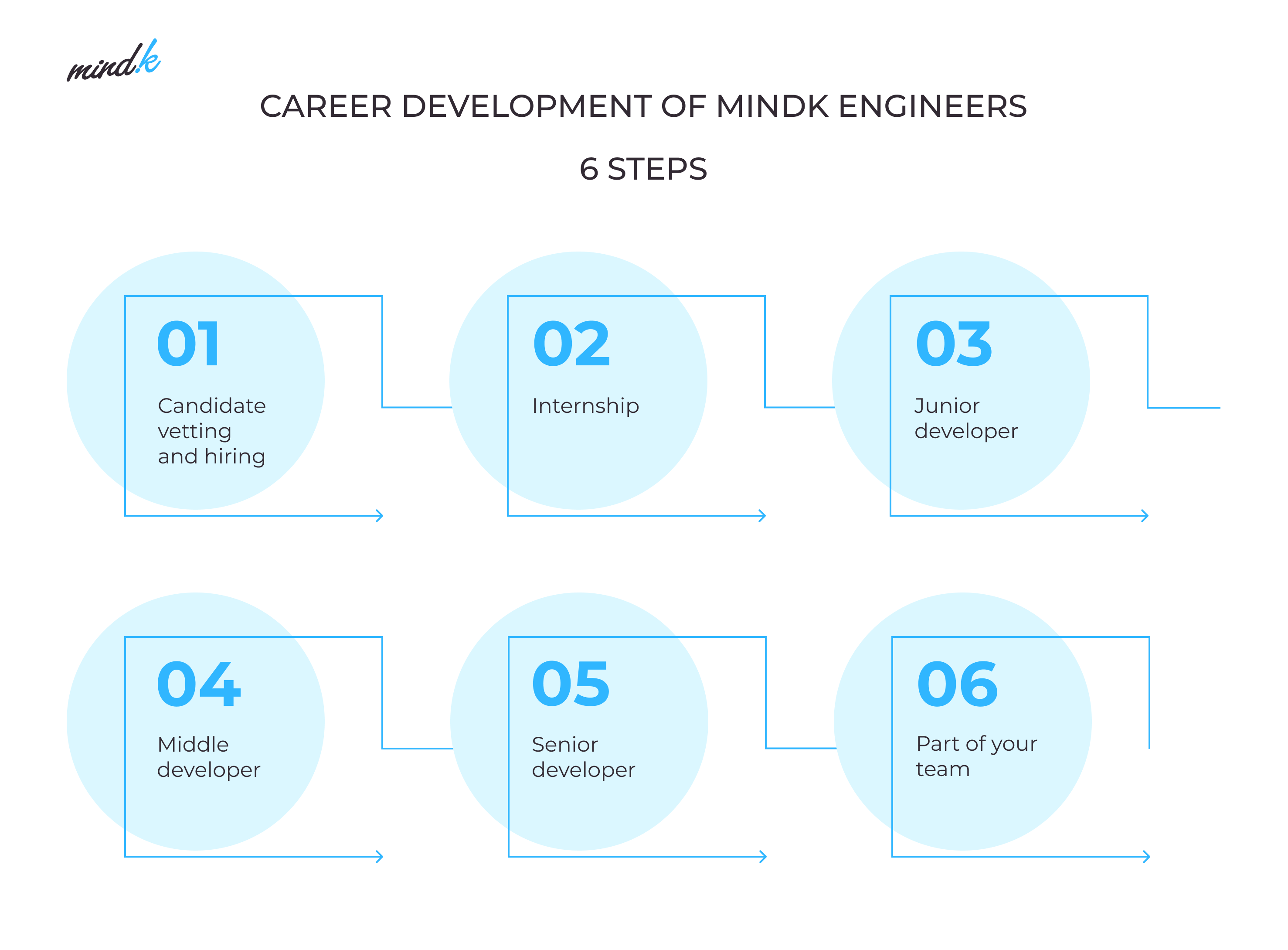 Imagine you're a series A real estate startup from Switzerland with 3M funding. You're building a cutting-edge ecosystem that revolves around spatial data and digital copies of real-world cities. You spent several months looking for a full-stack JavaScript developer on the local market. Your requirements were very high – a deep knowledge of Node.js, hands-on experience with AWS, microservice, and service-oriented architecture, as well as excellent soft skills.
After months of searching, you receive an email from an IT company called MindK. The latter says we have the necessary expertise and would like to discuss it during a quick call. So, what should you do next? During the intro call, it's important to learn about the processes used by the IT vendor to see if you're a good match. You should discuss the working conditions. From our side, we will try to learn everything we can about your job requirements, the reason why you're looking for a new specialist, your interview process, and so on.
After this, we'll typically review our available engineers to assess whether their skills, domain expertise, and culture fit your requirements. The process usually takes 2-3 days. After this, you'll receive the CVs of our most relevant candidates.
Some outstaffing companies operate more like recruiting agencies that will help you find a suitable engineer in their local market. MindK, on the other hand, only offers vetted engineers that have been a part of our team for several years at least. Each MindK employee has a personalized development program, mentorship of senior engineers, and support from the team leads. We invest a lot of time and effort to make sure that our engineers are at the top of their game.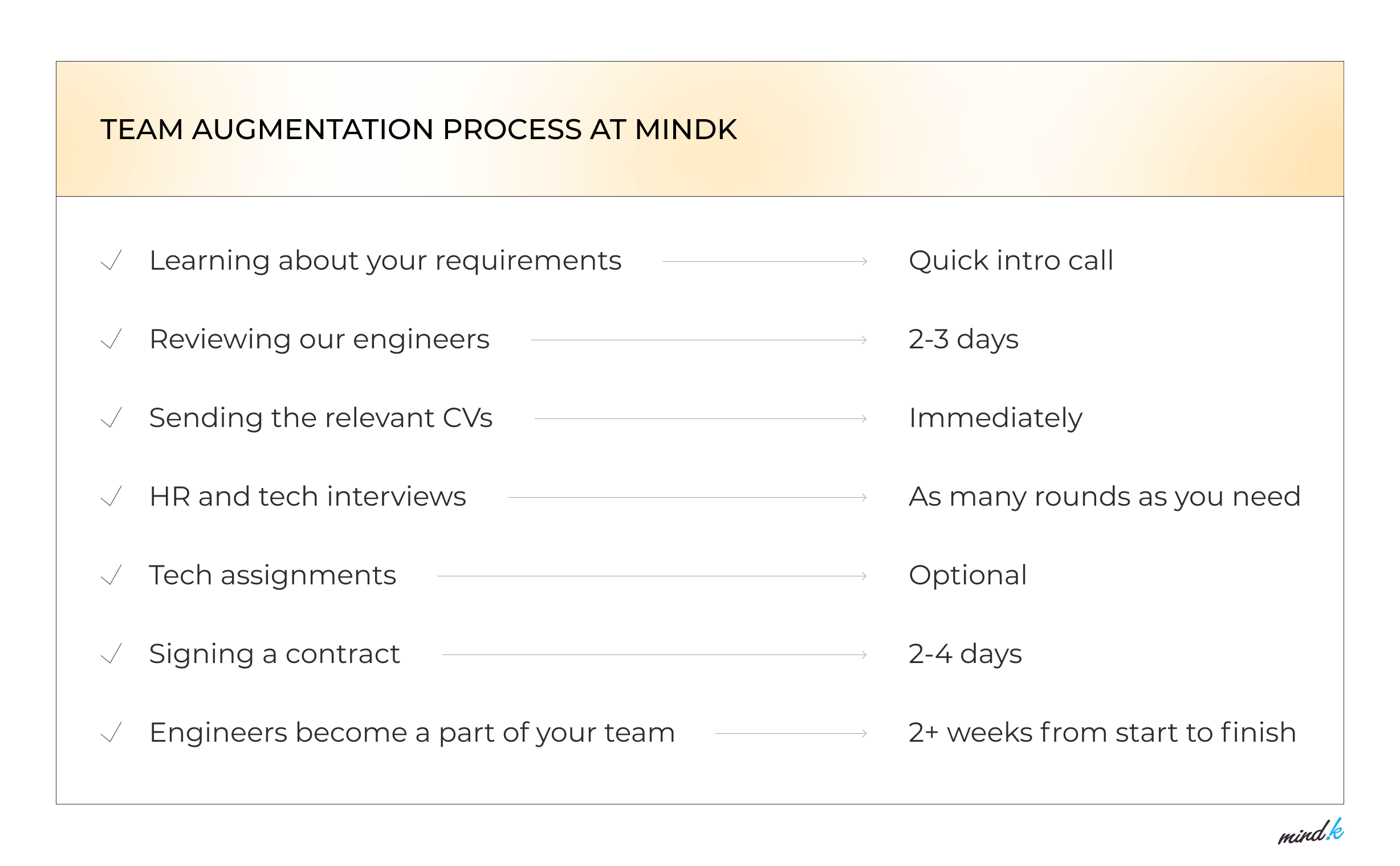 Conclusion
Developed countries face a huge shortage of qualified engineers, which drives the wages through the roof. IT team augmentation model is a key to solving both problems.
Outstaffing vendors like MindK can quickly provide you with highly skilled specialists that fit your ideal candidate profile. They will adopt your tools, development practices, and approaches, becoming a true part of your team. You can manage them yourself, like a typical remote employee. The approach has proven to be more affordable than hiring local engineers and has fewer fees than traditional outsourcing.
MindK team does everything we can to hone the skills of our engineers to perfection. So if you find it difficult to hire top-notch developers, test automation specialists, DevOps engineers, or other highly demanded professionals, we're here to help you. Just fill out the contact form and we'll schedule a quick intro call.